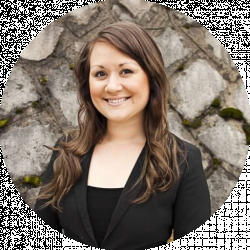 Latest posts by Lacey Jackson
(see all)
Aside from my relatives over the age of 70, I don't know anyone who really has use for a medicine cabinet full of prescriptions. Sure, my house is full of holistic medicine, herbs, teas, and the like, but they all have a designated place in the kitchen (and half the time, in the refrigerator for longevity).
In fact, many of the rare medicines I do have come with instructions to keep them in the fridge. So, alas, my medicine cabinet stands listless. But my family taught me long ago that even if something has a traditional or designated purpose, that doesn't mean you can't reclass it into something else. So, that brings us to these best Lowe's medicine cabinet ideas. 
Bottomline Upfront
I love the idea of putting Lowe's medicine cabinets side by side to create this three-point mirror layout using the Style Selections 15.75-in x 25.75-in Recessed Mount White Mirrored Rectangle Medicine Cabinet. It reminds me of a hotel where I can actually see the same spot on the back of my hair that I forget to straighten.
Coupled with one of those makeup mirrors, you can spend your afternoon completing a professional grooming session. It is made even more effective by the fact that three mirrors naturally amplify light. Most bathrooms have small windows, at best, for privacy.
But that also limits light. With three medicine cabinets side by side by side, you can maximize lighting without having to tear down a wall and shower while waving at your neighbors. 
Selection Criteria
For this list of the best Lowe's medicine cabinet ideas, I compiled modern takes on the traditional medicine cabinet.
These applications make it easy and fun to still use a medicine cabinet but without the quintessential reveal of secret pills and insight into your mental health. I've also included a list of Lowe's medicine cabinets you can use for these very purposes. 
Types of Medicine Cabinets
Don't expect to store a lot of heavy materials in the medicine cabinet. The type of material used in construction will determine how much weight it can support.
A medicine cabinet doesn't usually have more than a few inches of depth because it's generally installed above a bathroom sink, so you don't want it sticking out so far that it knocks you in the face, especially when you have the door open.
Materials
Medicine cabinets can be made from plastic. This is the cheapest material, but it can only be used if you are buying a swing door cabinet. Wood medicine cabinets are more expensive, but they provide a warmer look that can be matched to a nearby vanity or other pieces of furniture in your home. Stainless steel is easy to maintain and offers optimum strength.
Shapes
Now we come to the shapes. Medicine cabinets come in all shapes and sizes. You can get rectangular, square, oval, circular, or pretty much anything else your heart desires. However, the designs usually have a circular or oval mirror as the door will still have the traditional rectangular shape behind it for storage.
Design
Medicine cabinets usually have mirrors, but you can find understated, more functional medicine cabinets that don't have mirrors and have glass doors or solid doors. You can choose framed or frameless. If you want something a little larger, you can get the tri-view medicine cabinet which, as the name suggests, has three separate cabinet sections with individual doors which swing out.
Best Lowe's Medicine Cabinet Ideas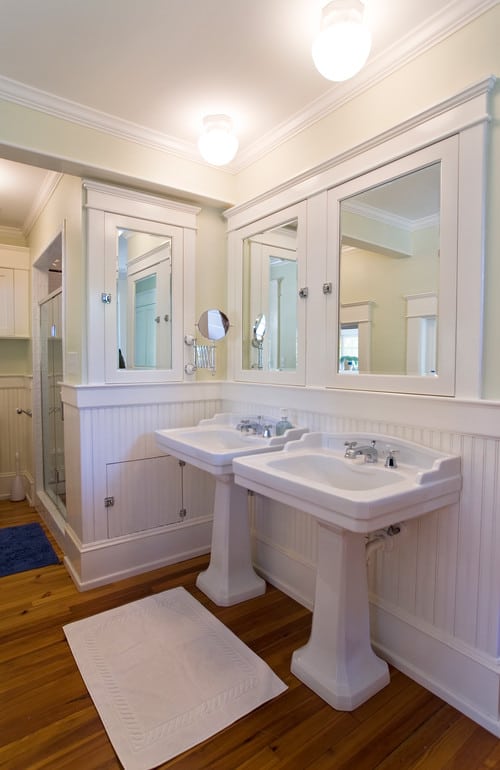 My absolute favorite idea is to use three Lowe's medicine cabinets: two side by side, so they create a double door effect and one on a ninety-degree angle. Now, most bathrooms have a few problems:
The windows are almost nonexistent. This means the lighting is poor.
You either get a medicine cabinet over the sink, which means a small mirror, or you get a medicine cabinet at the ninety-degree angle opposite a large wall-mounted mirror which certainly gives you more views of yourself when you step out of the shower but doesn't give you as much flexibility when it comes to making sure you didn't miss a spot dying your hair at home during COVID.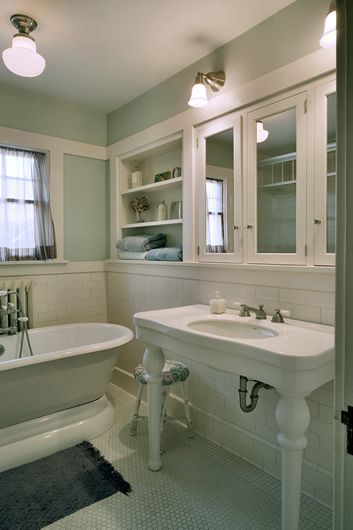 My family has completed professional remodeling for decades. When remodeling a bathroom, one of the ways they go the extra mile is to ensure everything is flush with the wall. This takes only a small bit of effort to produce a final effect that gives the entire room a feeling of openness and warmth.
If you've ever been in an older bathroom, you probably noticed that everything from the sink to the shower or bathtub, all the way to the cabinets, sticks out from the wall. I recommend building everything flush with the wall if you have the space.
How you choose to do this is up to you and your contractor (hopefully), but the final result means your medicine cabinets don't jump out from the wall but line up with the wall. 
If you choose this design idea, I highly recommend you add some shelves along the same wall. I love having open shelves because it's a way for you to add accent pieces and easy-to-reach accessories like hand towels and extra soap.
You can see in the image below that multiple medicine cabinets were installed next to shelves of the same depth.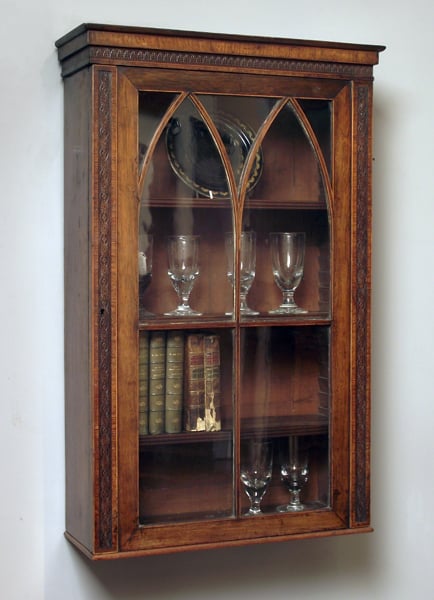 If you don't want to put the medicine cabinet in the bathroom, then don't. Many modern Lowe's products have heightened visibility behind glass doors, and these cabinets can be installed in a foyer, library, living room, and so on. I recommend storing antiques or collectibles you want on display alongside a small stack of books. If you put the idea to good use in a dining room, place some of your favorite glasses at the ready inside.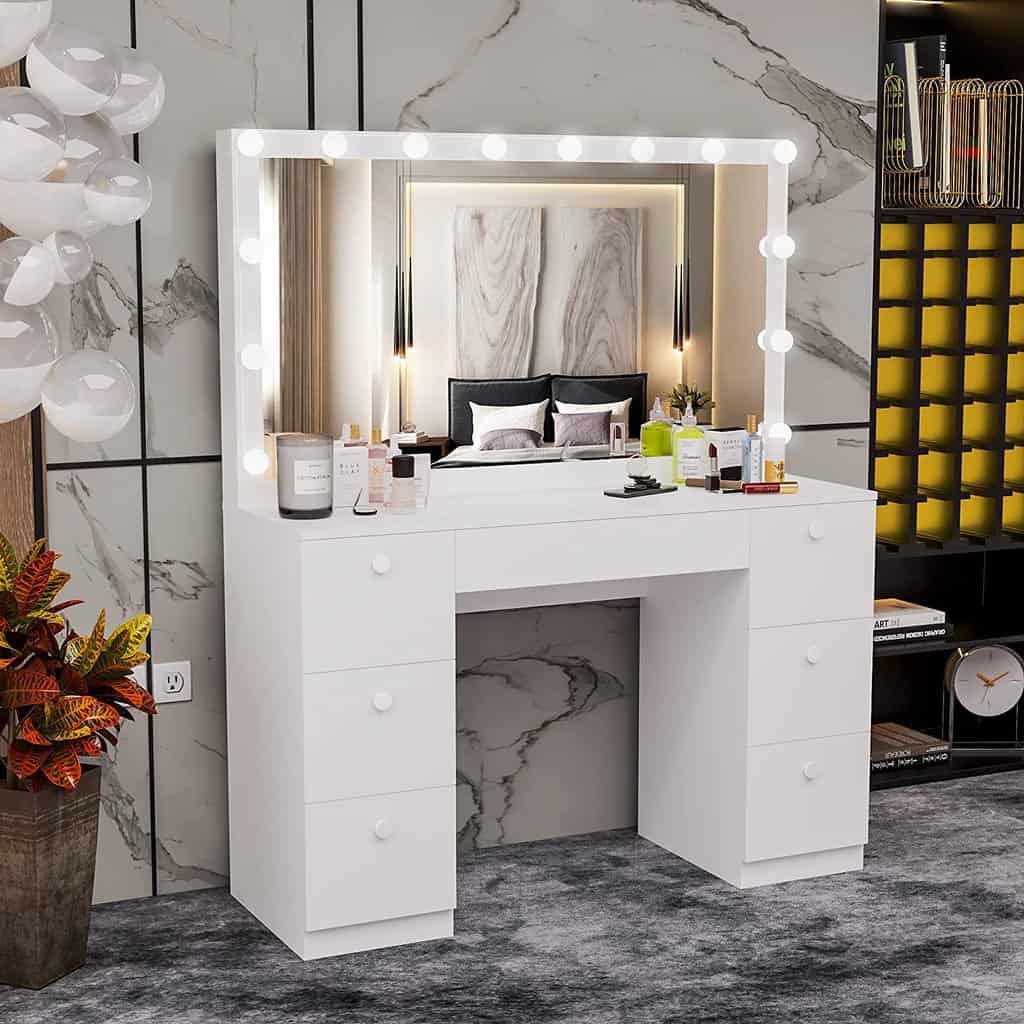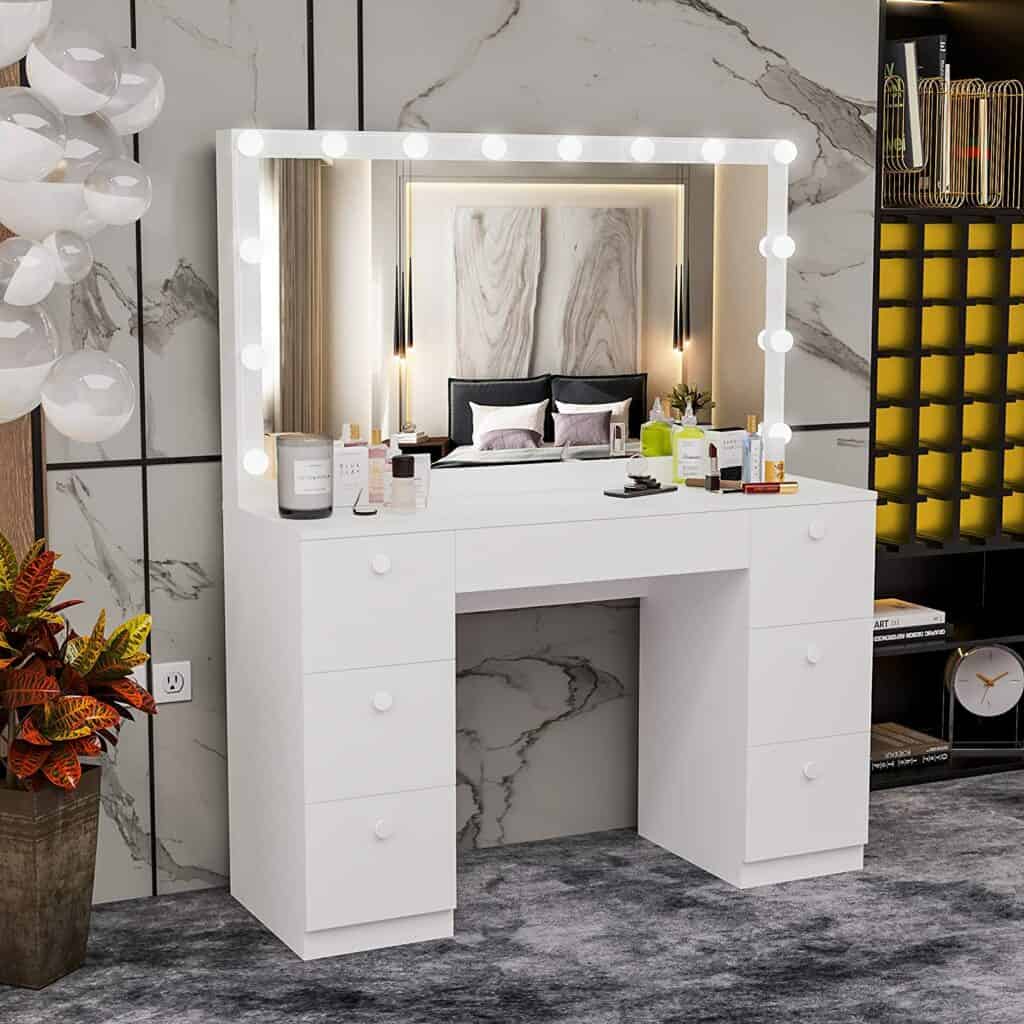 There is no reason a medicine cabinet has to stay in the bathroom. If you have a house with only one bathroom or one bathroom for the master bedroom, you know what a hassle it can be when you are both getting ready for the same event. Even though I can easily use the mirror in the bathroom to put on my makeup while my spouse showers, the moisture, and the fog make it impossible. I end up looking like a sad clown.
What's more, even if I could schedule the makeup application or hair straightening around shower time, it didn't change the fact that our lighting was terrible, and we only had one small window, mostly for ventilation. I missed the days when I had a dressing room with lights all around the mirror to help me get ready. 
So, I picked the Design House Richland medicine cabinet with lighting skin for a dressing room mirror and mounted it on the wall next to my closet. Now I have a place to make myself look like a happy clown instead.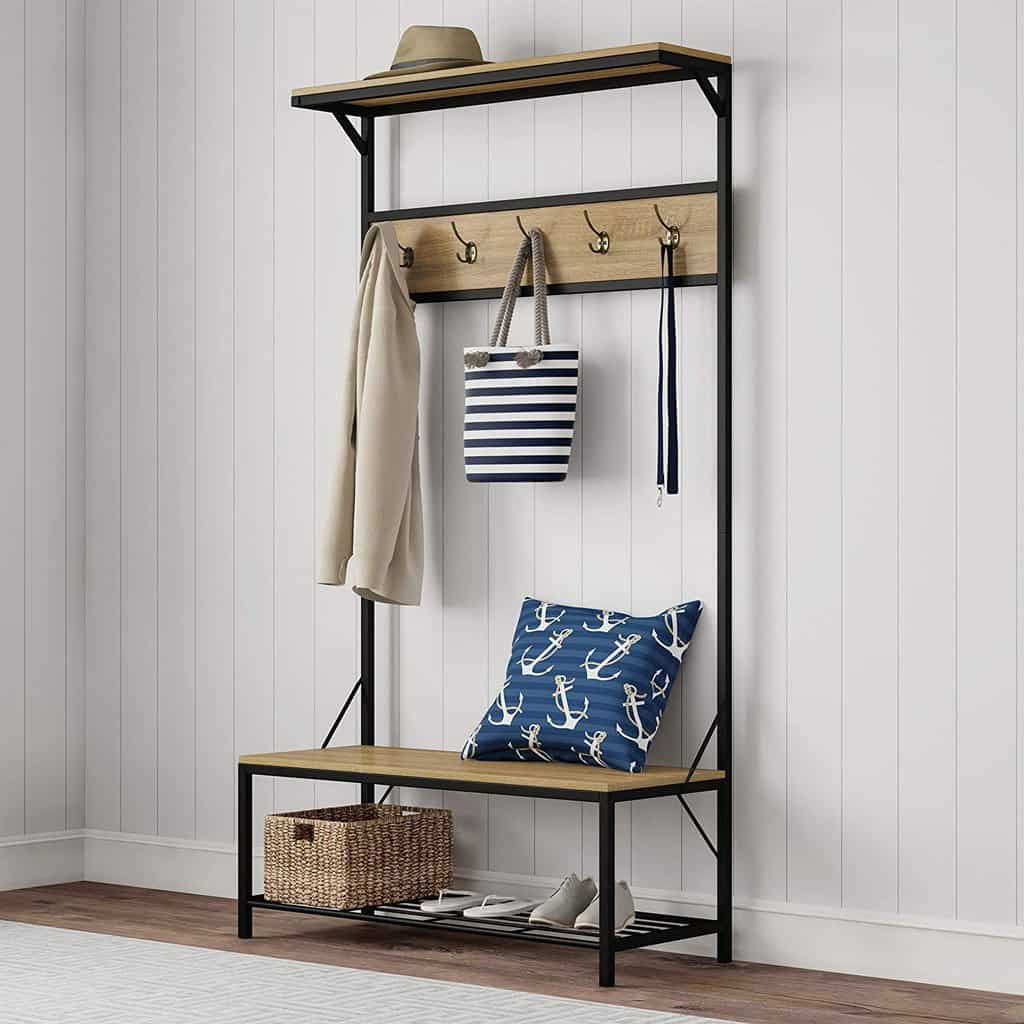 Finally, one of my favorite alternatives for a medicine cabinet is installing it in your entryway. We had a difficult time finding a mirror we liked to fit in the foyer in our old house. The room was an odd triangular design with bad lighting and no windows. When winter came, it was a nightmare trying to get everything into the house from the garage. 
However, we lucked out when we found a large, framed medicine cabinet with lighting. No one knew it was actually a medicine cabinet. I picked the Allen + Roth design because it looked like a regular, framed mirror. That made it the ideal space to store keys and other miscellaneous items, too; no longer did we end up leaving them in a pile on the floor next to the garage door. 
Giving Life to an Old Medicine Cabinet
Now, if your medicine cabinet is outdated but you don't want to replace it, you can still rely on Lowe's to help you add new life.
Lights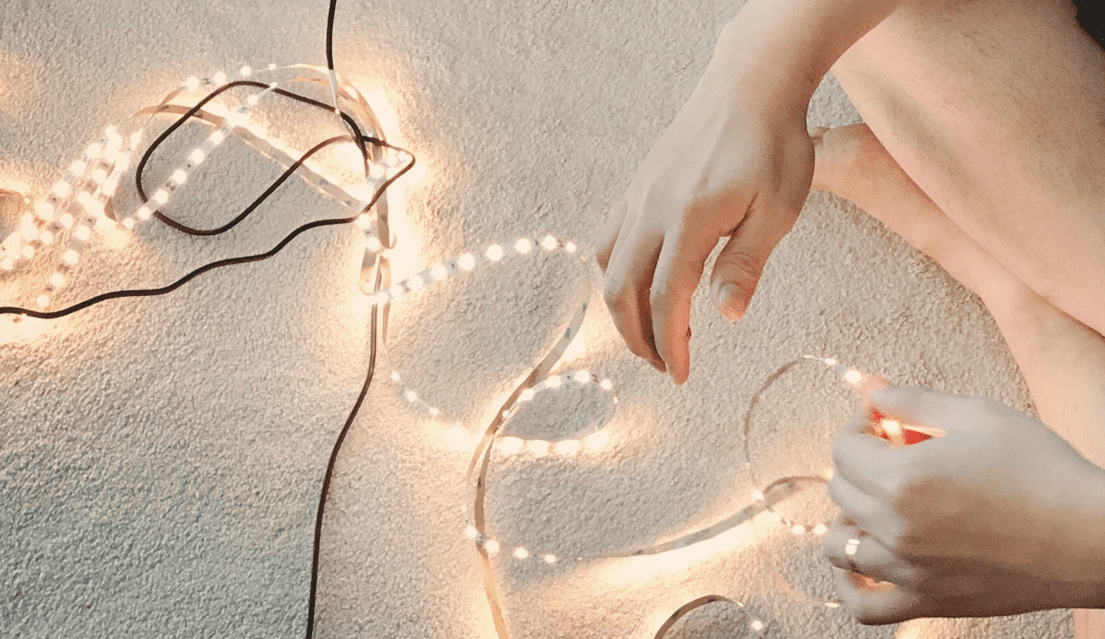 Firstly, consider adding lighting around existing medicine cabinets. You can easily purchase LED strips from Lowe's or similar lighting that you can build around the frame of your medicine cabinet. This alleviates the need to get into any complicated electrical work.
Paint
Similarly, pick up some round 2-inch paint brushes from Lowe's and a small container of the paint you like the most. In their paint section, you can find the type of paint best suited to the material for the frame around your medicine cabinet. 
A lot of older medicine cabinets are made of wood but if you want to revitalize it, you can use those round 2-inch paint brushes without leaving behind a lot of mess and coat the frame in a color that better blends your medicine cabinet into the room where you want to use it. 
This might be keeping it in its existing bathroom but adding a new coat of paint to match or taking it off the wall and moving it somewhere else like a bedroom.
Interior Renovations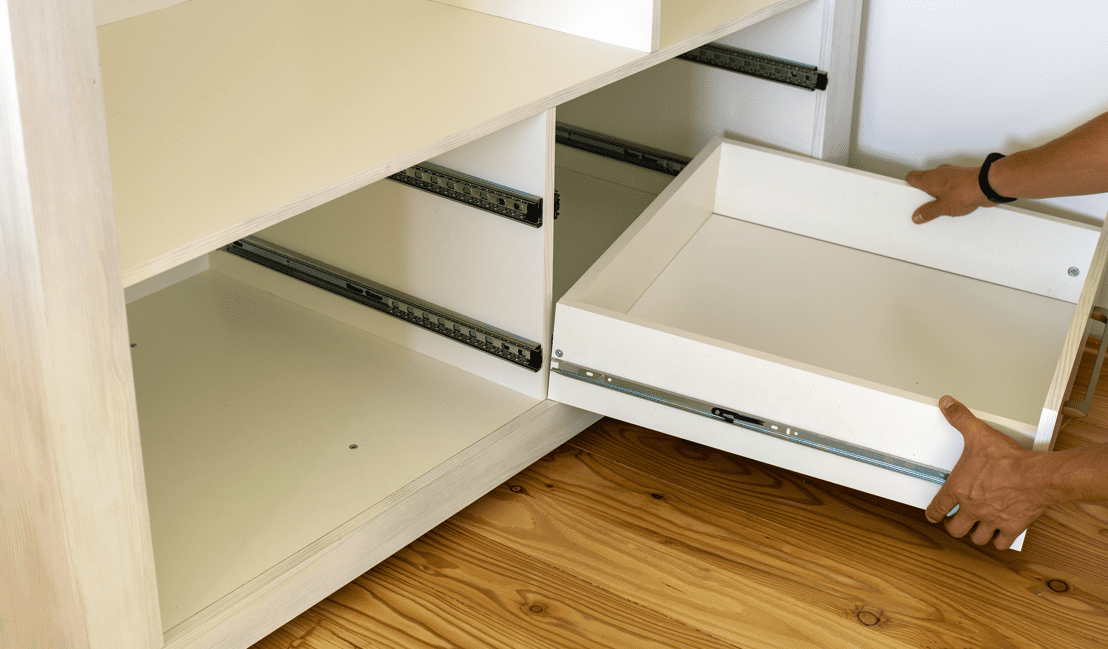 If you want to improve the shelves on the inside of your existing medicine cabinet, you can purchase new shelves (or cut them yourself) made of whatever material you prefer. Outdated medicine cabinets that are constructed entirely of wood can receive a great facelift when you paint the wooden frame and then replace the inside with a mirrored backing and with glass shelves. 
In order to replace the back with a mirror, even if you don't replace the shelves, you need to remove all of the shelves and measure the back of your medicine cabinet so that you can order the precise size you need.
Best Lowe's Medicine Cabinet Ideas: Top Products
If you find any of these ideas inspiring, you might need to buy a medicine cabinet because let's face it, you aren't over the age of 70. I've also included a list of the best Lowe's medicine cabinets you can apply to these ideas. Each of the cabinets that made it to the list did so because they were reliable, creative, came with the hardware you needed, and were easy to install on your own. 
Style Selections 15.75-in x 25.75-in Recessed Mount White Mirrored Rectangle Medicine Cabinet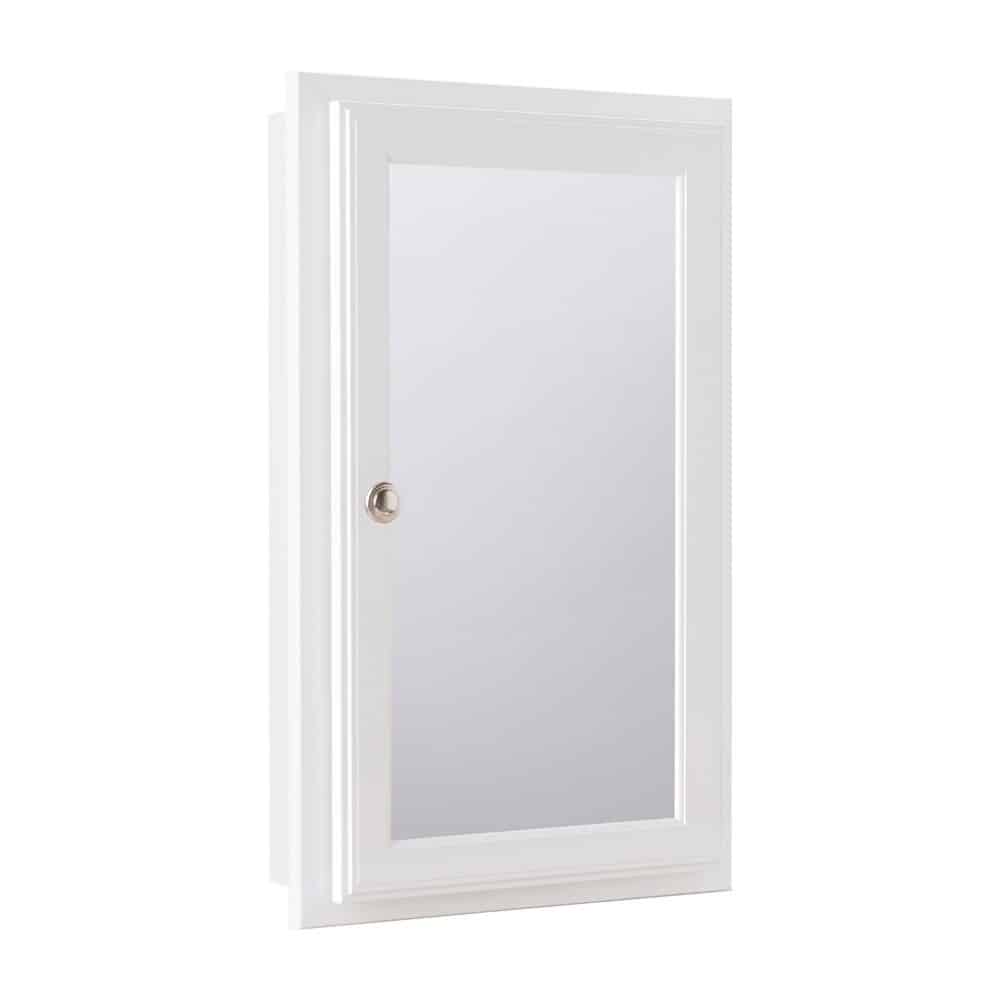 The Style Selections 15.75-in x 25.75-in Recessed Mount White Mirrored Rectangle Medicine Cabinet is the best cabinet for installing more than one side by side. It has adjustable shelves inside so you can choose how you want your storage to be. It's small, but not by much.
It is just under 26 inches high and 16 inches deep. You can get it in black or white. It comes with adjustable hinges and all the materials you need to install on your own.
Style Selections 15.75-in x 25.75-in Surface/Recessed Mount Java Mirrored Rectangle Medicine Cabinet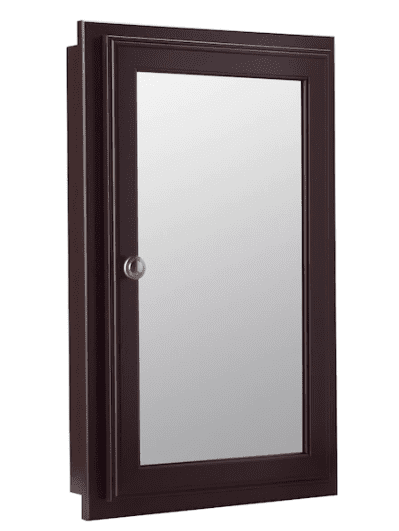 If you don't want black or white but still want something you can display in triplicate, the Style Selections 15.75-in x 25.75-in Surface/Recessed Mount Java Mirrored Rectangle Medicine Cabinet might be a better choice.
This is from the same line by Style Selections, so it comes with the same durability, all the hardware you need to install it, and traditional measurements for medicine cabinets. The difference is it has a rich Java finish, and you can use it as a surface mount or a recessed mount.
This means it's also the perfect choice if you want to line your bathroom walls with medicine cabinets that are recessed into the wall and lay flush with the rest of your tile work.
Design House Richland 30-in x 30-in Lighted Incandescent Surface Mount Nutmeg Oak Mirrored Rectangle Medicine Cabinet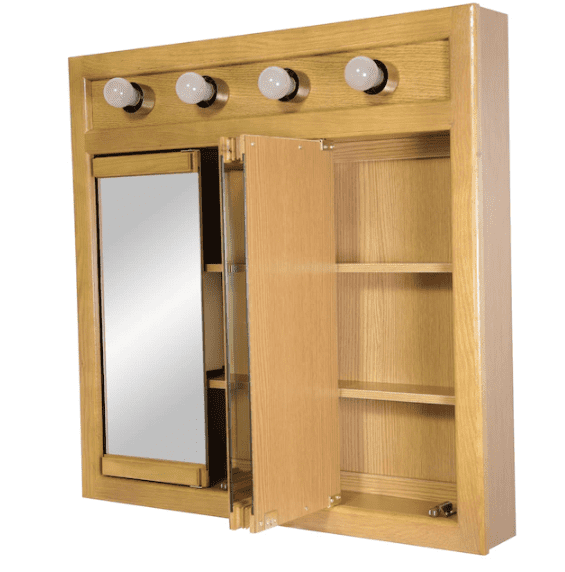 The Design House Richland 30-in x 30-in Lighted Incandescent Surface Mount Nutmeg Oak Mirrored Rectangle Medicine Cabinet is a beautiful oak finish. It has three doors, two stationary shelves, and four light bulbs that are exposed along the top of the medicine cabinet.
The entire oak finish comes with a water-resistant seal, so moisture won't be a problem. It's 5 inches deep, 30 inches tall, and 30 inches wide. I love the wood frame, the mirrored doors, but most of all, the way the light bulbs are laid out along the perimeter, just like you would find in a professional dressing room. 
Allen + Roth Medicine cabinet 22.5-in x 27.5-in Fog Free Surface Mount Espresso Mirrored Square Medicine Cabinet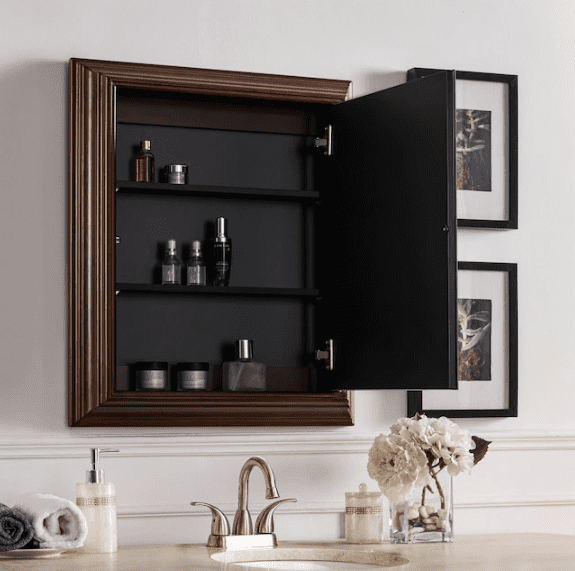 The Allen + Roth Medicine cabinet 22.5-in x 27.5-in Fog Free Surface Mount Espresso Mirrored Square Medicine Cabinet is perfect for an entryway storage cabinet. It has a beautiful espresso-colored finished frame.
The mirror is coated with antibacterial and fog-free properties, which is great if you plan to install it in a mud room or an entryway. It has a magnetic push latch opening with adjustable shelves on the inside. The magnetic push latch opening is what conceals the fact that it's a storage cabinet.
You can install it in an entryway, and it will look just like a mirror for you to check your hair right before you leave for the day; no knobs or lights. 
Allen + Roth 24.75-in x 30.25-in Surface Mount Espresso Mirrored Rectangle Medicine Cabinet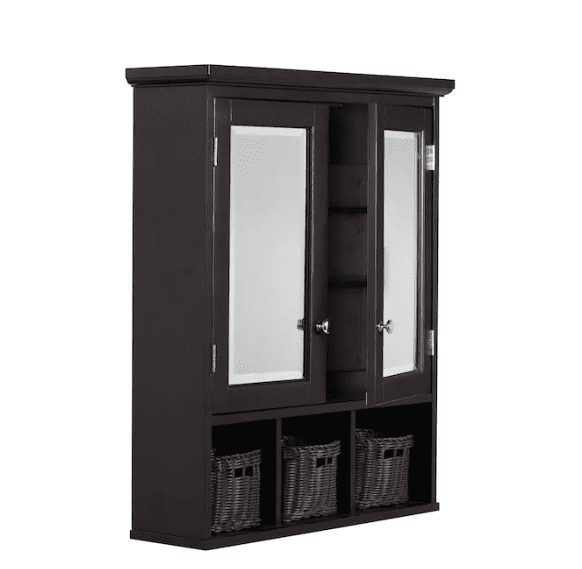 You can kick this idea up a notch with the Allen + Roth 24.75-in x 30.25-in Surface Mount Espresso Mirrored Rectangle Medicine Cabinet.
This cabinet comes from the same line by Allen + Roth, but it has a shelf on top with double doors and three sections at the bottom for open storage. If you're planning to integrate your medicine cabinet into an entryway, a kitchen, bedroom, or any other space, and you want storage for more than just cell phones, keys, or pocket litter, this cabinet has deeper storage and the extra open sections at the bottom that can hold hats, gloves, or glasses.
FAQs
Question: How do I update my medicine cabinet without replacing it?
Answer: If you don't want to replace your medicine cabinet, you can update it by adding a frame or adding lighting around the existing medicine cabinet. In many cases, though, if you do the math, you might find that it's cheaper and easier to swap your existing medicine cabinet with something of the same size frame.
Question: Should your medicine cabinet be the same size as a vanity?
Answer: No. Traditionally a medicine cabinet is a little bit narrower than a vanity. But there's nothing to say you can't make it the same width. Always measure the distance between the lights and your faucet to figure out what height you should use for the medicine cabinet. 
Question: How far above my sink should a medicine cabinet go?
Answer: If you choose to use your medicine cabinet in the bathroom, you should leave at least three inches of space above and below your medicine cabinet. This gives you space between any light fixtures, soap dispensers, and faucets.
Question: Is there a standard size for a medicine cabinet?
Answer: Yes. Medicine cabinets are usually between 20 and 22 inches high. On average, they are 15 inches wide and three to five inches deep. This allows them to fit over a single basin sink or vanity.
Best Lowes Medicine Cabinet Ideas: Bottomline
My favorite idea is using three different medicine cabinets side by side (by side) to create a tri-mirrored experience. Given that the doors open, it is much more effective than just having a large mirror because you can change angles.
This maximizes the light in the room, too, helping you to see everything better. To do this, I recommend buying the Style Selections 15.75-in x 25.75-in Recessed Mount White Mirrored Rectangle Medicine Cabinet in triplicate and installing them side by side. Remember, these cabinets are designed to allow for different door and knob installation, so you get to pick how you want the doors to open based on your bathroom layout. 
Read More: