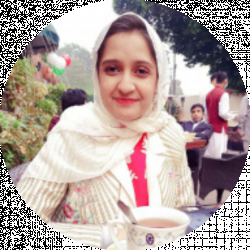 Latest posts by Zunaira Ghazal
(see all)
White is an incredibly timeless color. It's simple, elegant, and fuss-free – perfect for emulating in bathrooms that are already over-cluttered with various fixtures and prominent tiles. I believe that many homeowners tend to remodel their bathrooms with modern whites because of their widespread contemporary appeal.
Out of every white-colored element in such baths, the cabinets make all the difference. All of them might look similar, but it's the small, detail-oriented, and subtle differences that set them apart. It takes a bit of time to get to know them, and I'm here to tell you precisely what you'd need to be looking at.
Below, we'll be looking at 17 white bathroom cabinet ideas that are absolutely unique, bring something new to the table, and are the best of the bunch. I hope that each one of them inspires you as it inspired me.
Bottom Line Upfront
Cabinets are the face of your bathroom, so it's important to pick out the best ones. The thing about white ones is that they come in a wide variety. In this article, I introduce you to some of the best designs across the internet. From sleek, modern concoctions to gilded and marbled iterations, you'll find a huge variety of inspiration here.
Of course, if I had to pick a favorite myself, it would be A Contrast of Finishes because I adore the refined gold-on-white aesthetic with the marble outlook! I find it rather classy and sophisticated with just the right pinch of regal.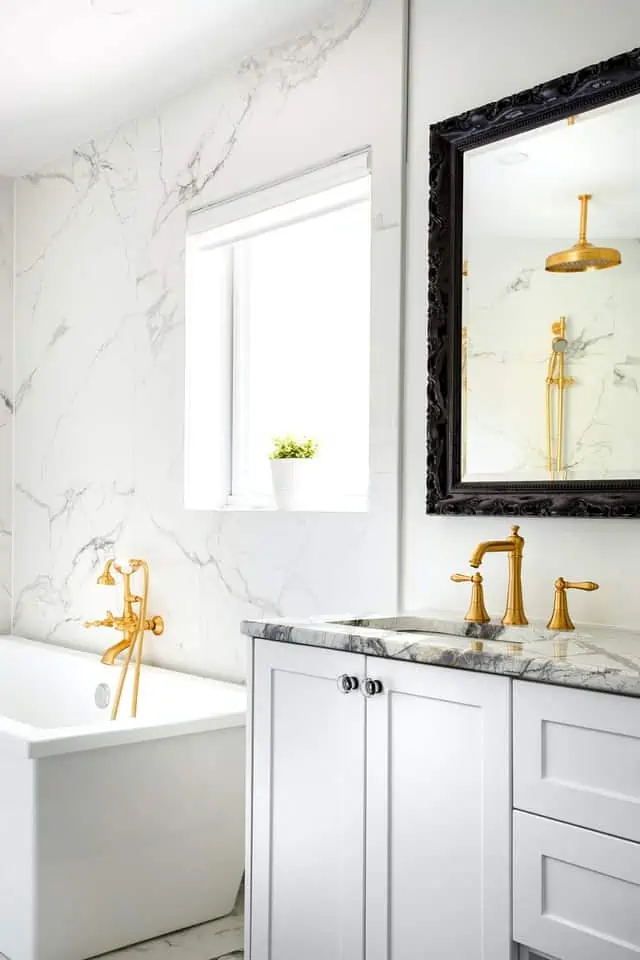 Top Picks
I think white bathroom cabinets are all about the personality. You have to pick ones that make your bathroom look airy and charismatic instead of bland and monotonous. My personal top picks from this list are:
Urban Classic because of its seamless blend of modern contemporary looks. I especially love how the chandelier pulls everything together perfectly).
A Contrast of Finishes because of its understated regal appeal and how the sleek white surface plays in contrast with the gold accents).
Built-in Towel Racks because of all the extra storage and how uniquely it has been incorporated within the design itself, instead of looking like a separate entity).
Selection Criteria
I've picked out the best white bathroom cabinets based on the following criteria:
The ones that feature unique hardware are the main thing used to add contrast to the whole white color scheme of the cabinet design.
The ones that feature distinguished designs – meaning; white cabinets that are not your usual picks. Some feature unique material combos while others have really distinct aesthetics or some feature that sets them apart from the conventional choices out there.
The ones that have been paired with unique materials and lighting. I believe that good lighting can make even the drabbest of interior elements feel fresh, so this was an important consideration for me.
Timeless Black & White
The thing about white bathroom cabinets is that they tend to feel washed out and monotonous if the right hardware does not complement them. This is why I love the contrast of black handles against the white cabinets in this bathroom vanity.
They immediately create a striking visual effect, and it feels like quite a brilliant take on the achromatic theme. Even though the black is used in moderation, it still highlights the ephemeral nature of the white paint, making it feel timeless!
Urban Classic
Gold is another hue that goes well with whites, and the cabinets in this bathroom are a great example of this combination. The shaker-style aesthetic of the doors and drawers is very modern-contemporary. At the same time, the brass hardware brings in a classical touch. Together, the two colors really work well together.
Plus, I simply love how there's a tertiary color accent in the background. The black mirror frame and wall sconces bring their own decadent glamour to the whole bathroom. Although they're not directly on the white cabinets, they still highlight the overall white ambiance.
Experimenting with Shades of White
Anyone who's delving into the white bathroom cabinet idea log should understand that there are so many hues and tints of it out there. From warm eggshell and ivory to shades that lean on the grey scale to cool, crisp tones like powder and snow, you'll see many options out there.
I love this one because it shies away from the typical crisp white paint and takes on the more understated grey-white palette. The cabinets don on a foggy white visage while the black handles and hardware play in contrast with them.
Gold Eclectic
Lovely and immediately impactful, these white bathroom vanity cabinets are embellished with gold hardware and handles. However, instead of being delicate and subtle like we've previously seen, these are bolder and much more out there.
They're not afraid to outshine the white, which is why this entire bathroom aesthetic leans on the eclectic side. I also appreciate how the boldness of the handles is complemented by the thick rustic-wood frame of the mirror hung above the vanity.
With Grey Marble
The white bathroom cabinets in this image brim with sophisticated elegance. For the most part, that's because of the grey marble countertop they've been paired with.
While it's nice when the black handles and hardware set against these cabinets complement a plain white countertop, it's even better if you go for a different kind of accent when you want to shake things up a bit. I love how the gorgeous veining of the grey counter pairs stunningly with the white finish of the cabinets and the striking black handles that adorn them.
Off the Floor
This white bathroom and its cabinets are unique because of their very distinct, off-the-floor, floating design. The subtle, cross-shaped design on the facade is also quite special and looks even more so in contrast to the ring-pull knobs.
But what really sets the tone for this bathroom is the overmount sinks coupled with the tiffany-lamp style light fixtures that have been affixed to the wall. I think that their warm gold light reflects nicely against the mirrors and throws a cozy glow that pairs really well with the whites of the cabinets.
Whites with Greys
I believe that white bathroom cabinets require the right kind of ambiance to be built around them. If you're leaning towards a cool, Pinterest-worthy aesthetic, then grey would be your ideal secondary color scheme.
Just look at this picture for some inspiration. The white cabinets with black hardware would have been simple and conventional had it not been for the understated greys that have been meaningfully introduced through the floor materials and accent wall.
Plain White against Textures
White is a hue that thrives on contrast, so whenever you're curating cabinets in this color, make sure that your surroundings are interesting enough to carry it.
I found this image to be a great example of the plain white cabinets surrounded by light, bright Carerra marble accents throughout the rest of the bathroom. This makes the cabinets a highlight and a nice breaking point that pulls the whole space together.
Introducing Shapely Contrast
You might have noticed that most white bathroom cabinets take pride in their shaker-style aesthetics. While that makes for a timeless overall look, you need to find innovative ways to make the whole ambiance more interesting. One of these ways is by emulating shapely contrast.
Take a look at this bathroom; the simple, straight-laced white cabinets here are made more interesting via the composite mirror shape. Together, both these elements complement as well as bring out the best in each other.
Wallpaper for Contrast
Aside from great environmental accompaniment, I think that all white bathroom cabinets also need an excellent, eye-catching background. I believe it plays on the contrast and creates a great visual hook. You can do that in several ways, but the most dynamic one is using wallpaper.
This bathroom features an interesting wallpapered backdrop that contrasts strikingly with the warm whites of the vanity cabinets.
Note here that the color scheme of the wallpaper has been deliberately chosen to evoke an achromatic ambiance, but you can always deviate from that and choose other colors. Navy blue, juniper green, and even teal are quite popular these days.
Shape, Style, & Material Contrast
I picked the white bathroom cabinets in this image because they stand out for multiple reasons. The most prominent of them is their absolutely unique design. The cabinets don't just reside under the vanity, like in typical bathrooms, but meander in a classic, timeless style all the wall towards the ceiling. This immediately gives the space a more lavish aura.
Now, the brass hardware, wall lights, marble countertop, and herringbone style backsplash all come together to deliver an even more distinct visual appearance to the whole bathroom. Together, the shape and style of the vanity work nicely with the material contrast to deliver a truly dynamic space.
A Contrast of Finishes
Here's something I learned as an architect – the finish of your white cabinets matters a lot. Whether they are matte or glossy can define the very ambiance of your bathroom.
The one in this picture literally features the best of both worlds. While the vanity drawers and cabinets are embossed in matte, the countertop and backsplash are a glossy white. Both finishes play in perfect contrast with one another, ensuring that the bathroom ambiance feels well-appointed and visually dynamic.
Built-in Towel Racks
While we've primarily been focusing on the visual aspects of white bathroom cabinets, here's one that brings functionality to the forefront. I absolutely love the corbelled open shelf at the bottom where stacks of fresh towels can be kept within handy reach. Most vanities focus on closed storage, so this one is definitely a breath of fresh air.
Without Handles
Handle-less cabinetry has been making the rounds in sleek, high-end circuits of interior design. I specifically picked this image to show how you can interpret this idea in a bathroom. The white floating cabinets here are the epitome of sophistication.
They really couple well with the seamless marble finish on the backsplash and floor. Together, both of them make a bold statement that makes this bathroom truly unique.
Highlighting Shapes
At first glance, this bathroom just looks like a typical contender for this list with shaker-style cabinets/drawers and black hardware. However, a closer look will reveal how there's a very distinct shape accentuation going on here.
You see, the bold black frame of the mirror sets a subconscious shape effect that is reflected in the outline of all the doors and cabinets of the vanity. Both elements complement each other via shape. The contrast of the backdrop is set off with subtle design elements like steel hardware, dotted floor tiles, and plain painted walls.
FAQs
Question: Do white bathroom cabinets ever become outdated?
Answer: Regarding style, white cabinets are timeless enough to never go out of style. This color is incredibly versatile and can be applied to both classics and modern cabinetry. Regardless of your interpretation or theme, you can rest assured that white cabinetry never goes out of style.
Question: What color hardware goes with white bathroom cabinets?
Answer: Once again, I'd like to emphasize that white is a timeless hue. It goes well with almost all hardware finishes. If you're looking to create a striking, monochromatic contrast, you can opt for stylish black hardware. Brass fixtures can evoke a sense of luxury when paired with white cabinets. Then there are the typically brushed nickel and stainless steel fixtures. They can do the job just as well, but they don't bring anything fresh to the palate.
Question: What color should I paint my wall with white cabinets?
Answer: White cabinets don't stand eye level in the bathroom, which means that you'll need to choose an eye-catching backsplash to make them work. Many people opt for texture-based alternatives like marble. Still, you can pick out from a combination of bold and light paint colors depending on the ambiance you're going for.
White Bathroom Cabinet Ideas: Conclusion
I don't know what your favorite color is, but trust me on this; white bathroom cabinets are slated to remain evergreen through thick and thin, so they're an excellent choice if you're pondering a revamp/remodel. If I were planning a bathroom remodel myself, I'd certainly pick out the Without Handles look! It's compact, smart, and shies away from any visual clutter, making it excellent for interpreting it in smaller spaces!
I hope this list helps you come up with new and exciting ideas for your own undertaking while making you appreciate what's already out there.