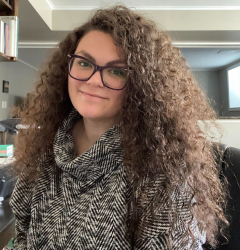 Latest posts by Candace Osmond
(see all)
What's the most disorganized spot in my home? My Kids' playroom. But had you asked me that same question five years ago, I would probably have gone with my bathroom sink with the kitchen sink coming in a close second. And not because I was naturally disorganized. I'm something of a clean freak myself.
This guide is a by-product of my obsession with sink cabinets. Here, you'll see a detailed list of the 24 best sink cabinet ideas I've ever come across. These solutions will help you optimize the area under your sink regardless of your small sink space.
The Bottom Line Upfront
I'm a massive fan of the whole farmhouse style. If my kitchen was large enough, I'd incorporate a sink cabinet like the Furniture-Style Sink Cabinet idea. It's like a dresser with a farm sink!
Top 3 Picks
If I had to pick my top 3 ideas from the list, these are the sink cabinets I'd choose.
Best Overall: Furniture-Style Sink Cabinet: When it comes to combining storage and prep space with function and form, nothing quite beats this Furniture-Style Sink Cabinet.
Best for Cabinet Bathroom Sinks: Modern Vanity bathroom Sink Cabinet: I'd pick this Modern Vanity Bathroom Sink Cabinet for the perfect functionality-elegance balance.
Best for Kitchen Sinks: Under-Sink Kitchen Cabinet: If you'd like a kitchen sink cabinet with two tiers of products, go for this unit with two pull-out organizers.
The Best Sink Cabinet Ideas
Apply any of these sink cabinet ideas to streamline your kitchen, bathroom, and laundry room.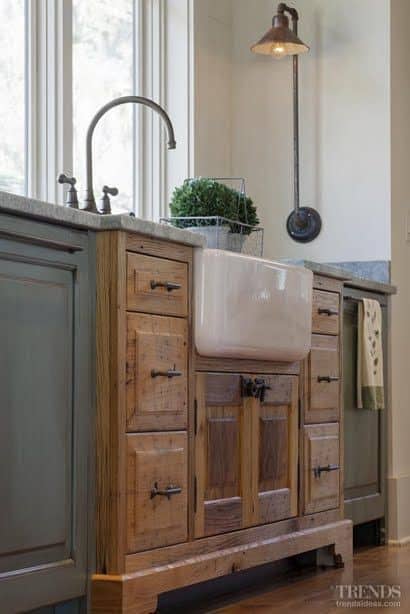 I first came across this masterpiece of an idea in my neighbor's newly remodeled kitchen. If not for the sink, I wouldn't even have noticed the unit was a kitchen sink cabinet. Another hallmark of this furniture-style cabinet is the inclusion of a flower pot and the use of lighting.
Add the convenience of drawers to any sink kitchen cabinet using easy-to-install stock rollouts as shown in the cabinet idea above. The drawers are made-to-fit, giving you convenient access to all stored items while simultaneously ensuring minimum wasted space.
Install rods on the cabinet door to make additional room for other supplies in your under-sink cabinet. As shown in the image, you can use these rods to hang toilet paper rolls, trash bags, etc.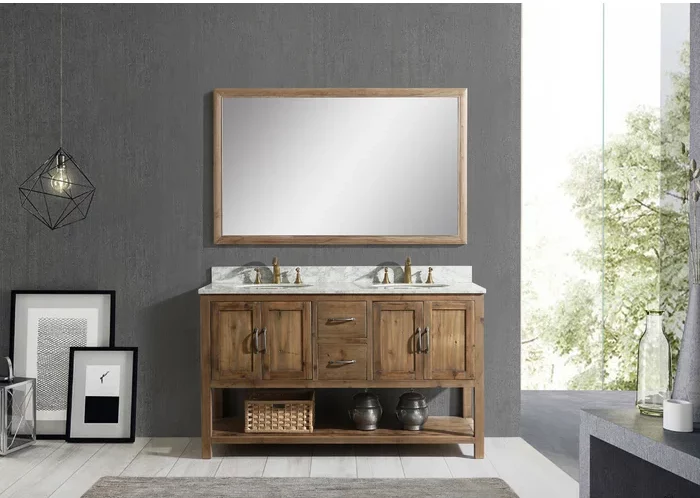 This His & Hers bathroom sink cabinet is the perfect option for couples with large bathrooms. You could also call it the His & His or Hers & Hers bathroom sink cabinet. Ultimately, if you and your significant other lead busy lives and prefer getting ready together, you'll love this unit.
In addition to giving you your own space in the bathroom, this sink cabinet also packs plenty of storage space. Foundstone (the company behind the design) has fitted it with multiple drawers and cupboards, as well as floating storage.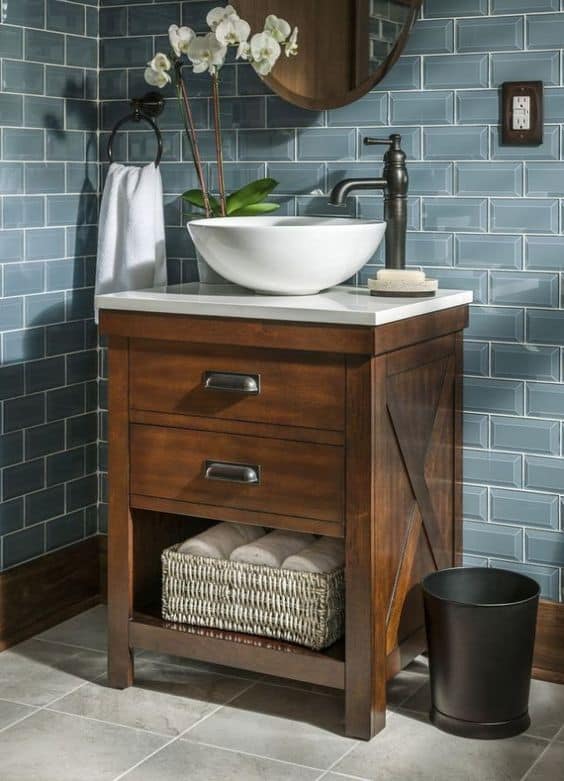 Vessel sinks have been all the rage lately, and for good reason. They're often the first design that comes to mind when I think about contemporary styles. So, if you'd like a sink that leaves everyone in awe, this vessel model is the perfect option.
The two drawers and an open-slated shelf on the bottom of the unit provide ample room for storage. Also, if you go with this design, treat the top with Osmo Polyx Oil to provide a protective water-resistant finish. This final touch will make it suitable for wet bathroom environments.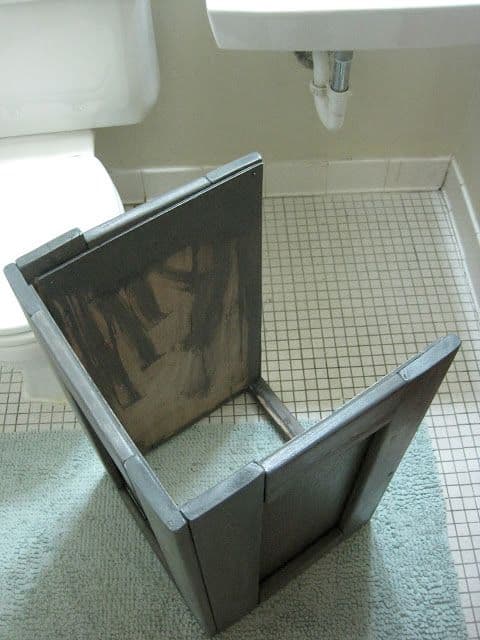 Are you scouring the interwebs looking for the easiest DIY-able fix to cover your bathroom's ugly sink? Stress no more because this faux sink cabinet has got you covered. The cabinet is easy to build and will slide in front of your sink and conceal it. I built one for my sister's laundry room sink a month ago. And I gotta say; it adds a design aspect to the room as well.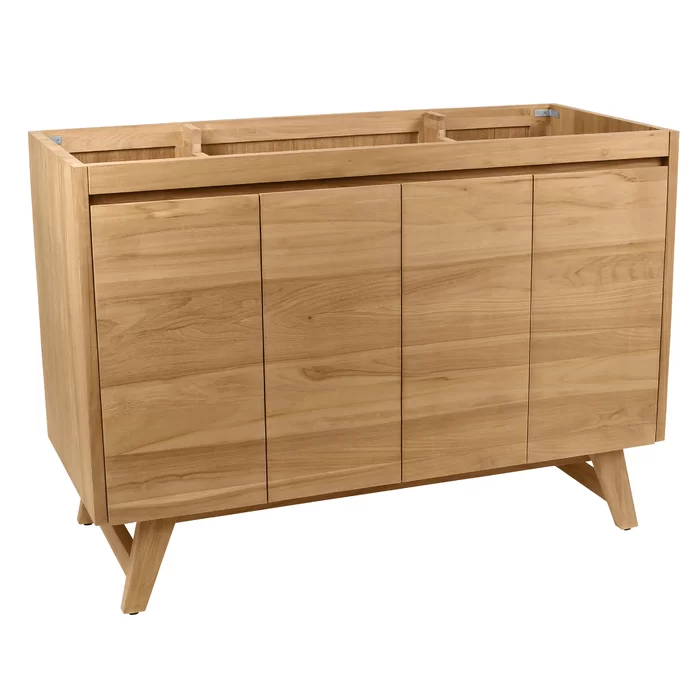 Isn't this gorgeous? Crafted from naturally resilient hardwood, this Frieda bathroom sink cabinet features sleek, handle-free doors and angled legs. The entire piece resembles something straight out of the mid-century.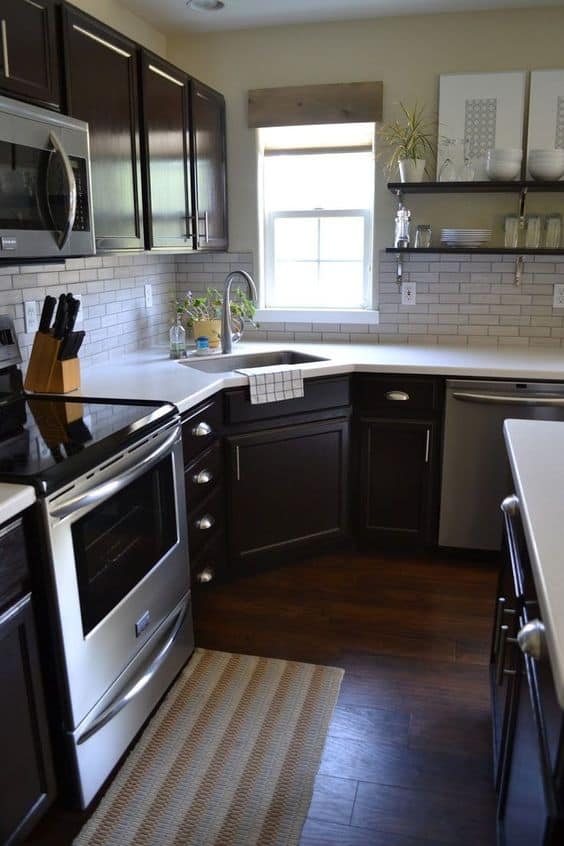 We spent weeks during the pandemic renovating our tiny kitchen. And I wanted a corner sink cabinet for the view. But ultimately, I lost the battle with my husband as he preferred a centered one.
Why did I prefer a corner kitchen sink cabinet? Well, they're unique, customizable, space-saving, and can create unique focal points in any kitchen. It's undeniable that the kitchen space pictured above boasts some extra flair.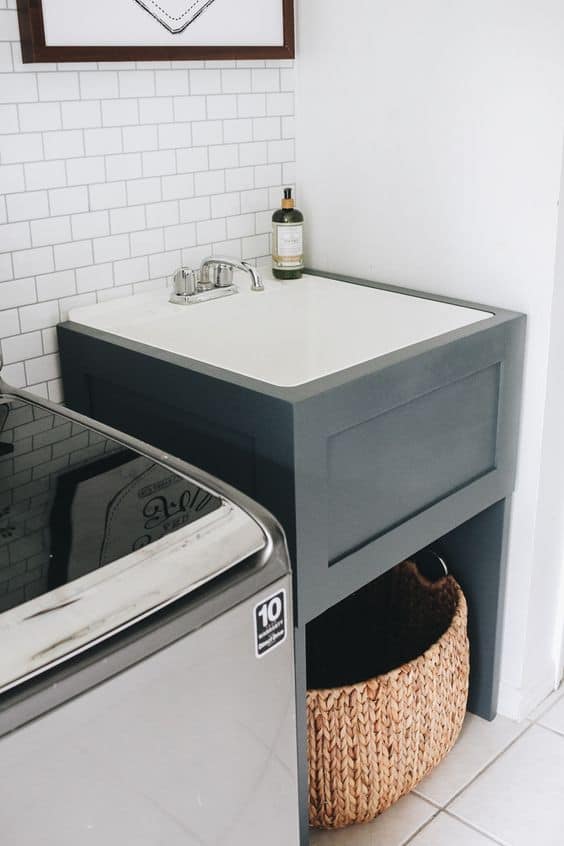 Do you hate seeing your things lying around on your bathroom cabinet or prefer your towels hidden away? Yes? I do too, so I know you'll love this under-vault unit. It allows you to tuck away your towels and utilities into a basket.
The natural-looking basket is also a great aesthetic addition to the bathroom space.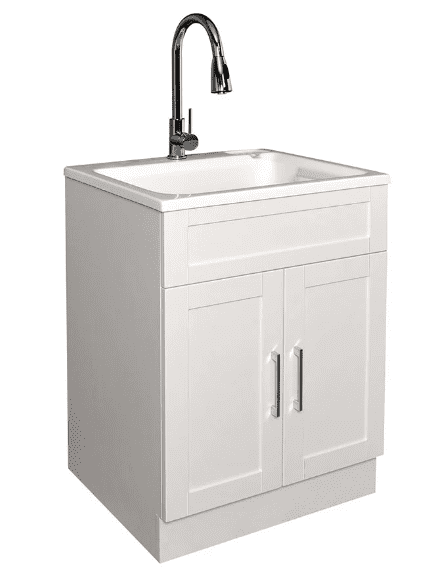 Utility sinks are created to work harder than their kitchen and bathroom counterparts. That's evident from the fact most people use them for gross stuff they wouldn't like in their other sinks. My husband and I, for instance, use ours to clean dump dirt water after moping and clean paint supplies.
So, after years of devoted service to our needs, I decided to show it some tender loving care. Time constraints meant I couldn't construct a faux vanity from scratch at the time. So, I went with this RuggedTub cabinet from Homedepot instead. This remains one of the best purchase decisions I've ever made.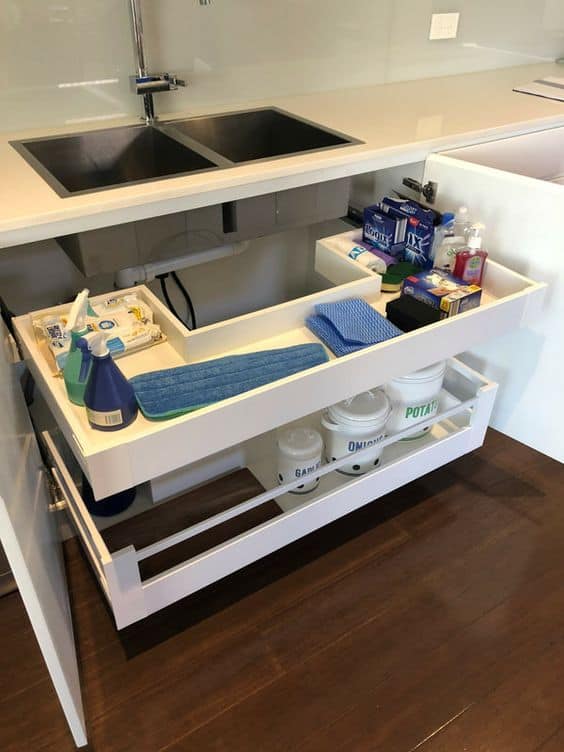 Who said you could not introduce a sink cabinet in kitchens where space is at a premium? This under-sink storage cabinet idea comes complete with a storage area underneath. To make your stored supplies easily accessible, add a system of shelves to the under-sink cabinet. The image above shows that these shelves are perfect for storing cleaning supplies like sponges and dishwasher detergents.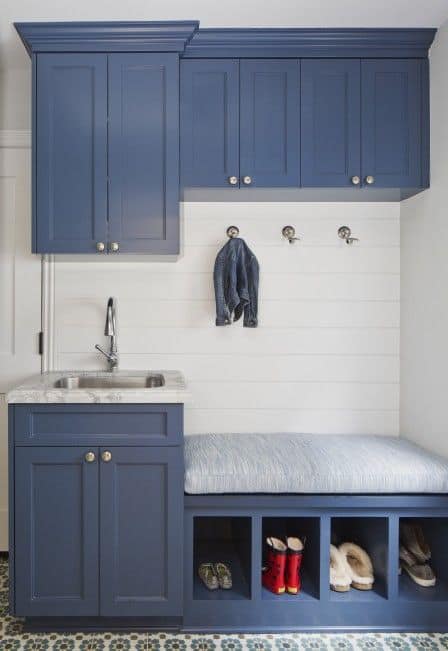 If you already have a fully functional mudroom with a deep sink, this blue mudroom cabinet is the perfect hallmark. The design includes both wall and base cabinets, so you'll never run out of storage space. Feel free to top off the entire look with a built-in bench beside the sink.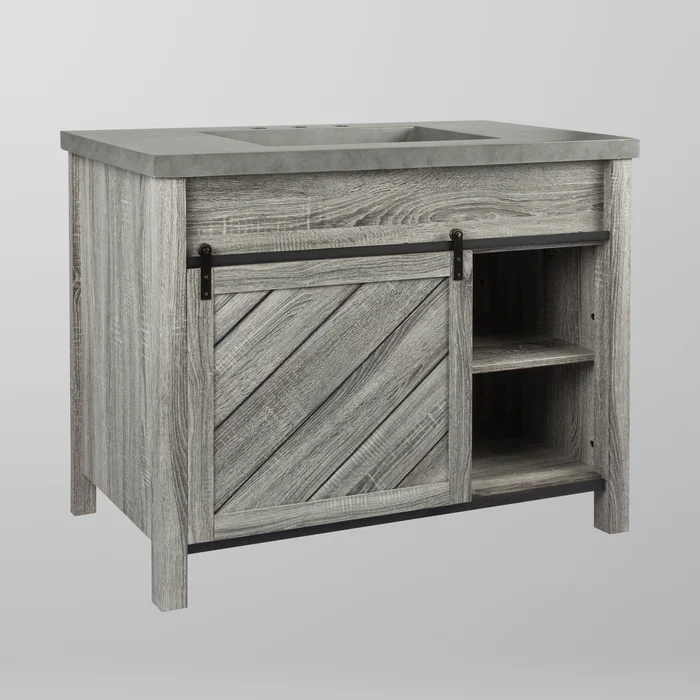 Utility sinks aren't exactly cute. And honestly, I do not think anyone expects them to be. They're made to provide a deep sink you can use to clean things you wouldn't want in your kitchen.
That said, this doesn't mean you cannot (or shouldn't) give the "not so pretty" sink a little makeover. That's the idea that popped into my head as I reviewed this Christopher vanity sink cabinet. The unit comes complete with a sliding door.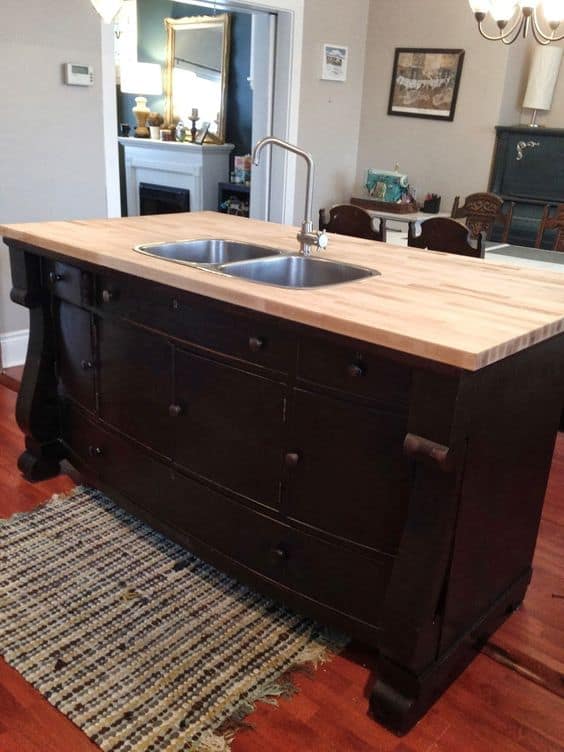 Do you have a farmhouse-style kitchen and are looking for cabinets that can match its natural feel and unpretentious design? Look no further than this natural wood sink cabinet. This sink cabinet also proves that you don't need to break the bank to get a luxe look.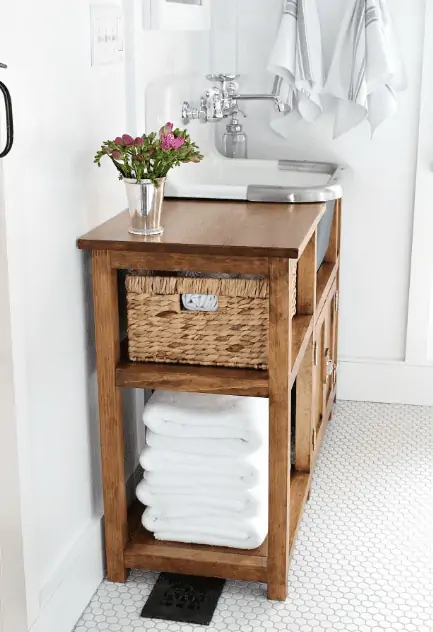 What can you expect with this rustic sink cabinet idea? For starters, a pinewood construction with natural variations that can handle whatever paints and stains you throw at it. The knots in the wood and all the natural imperfections add charm and character to the piece.
Unfortunately, like all wood sink cabinets, this DIY Mount Sink Cabinet hates water. Ensure you wipe any water droplets on the surface after each use, and you should be golden.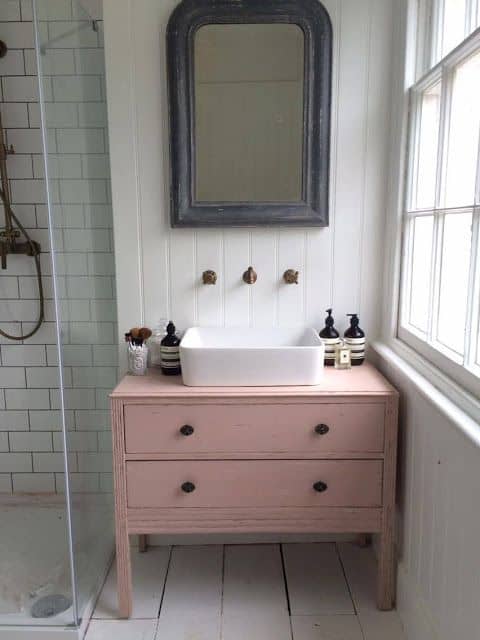 Did you intend to search tirelessly for unique antique pieces that meet strict criteria for conversion and restoration? What if I told you-you could create an equally elegant and inviting piece using your regular chest of drawers?
Don't take my word for it. Judge for yourself using the similar re-design pictured above. I look forward to constructing one for my daughter when she's old enough to use it.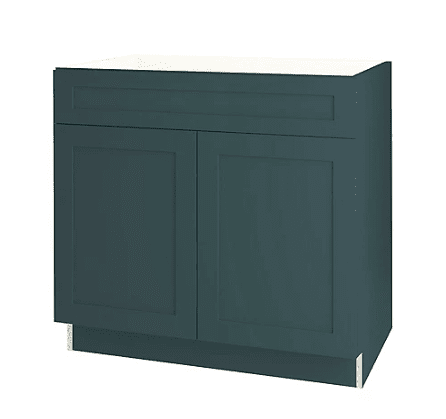 For a compact kitchen sink base cabinet that can also accommodate smaller items, this Thomasville Nouveau Rhett Cabinet should suffice. I'd also recommend customizing the cabinet's door with floating shelves for added storage space.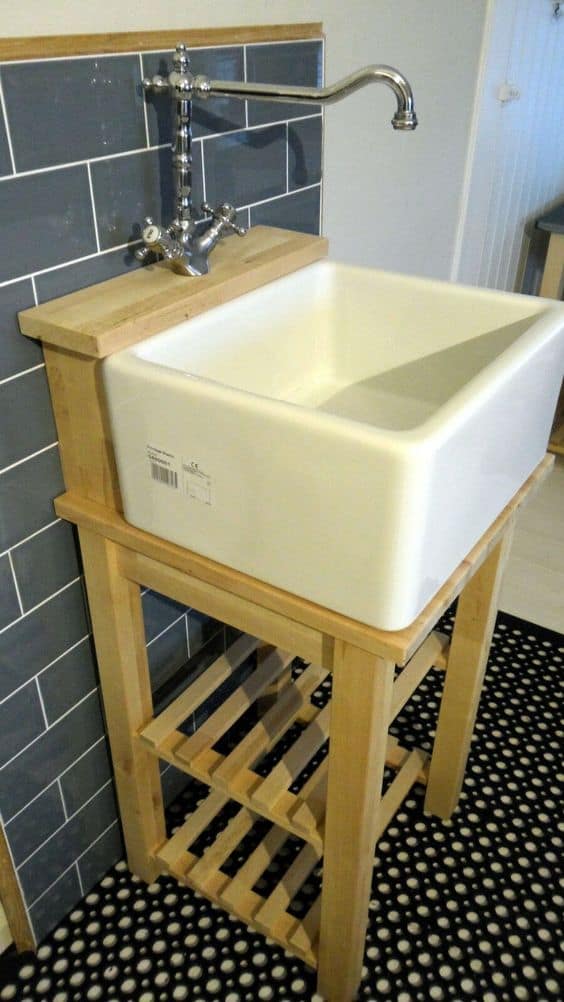 Have you been staring at your utility sink and wishing you had thought of decorating it in the past? Worry not. Better late than never. This sink stand is a fantastic option for those who love utility sinks' no-nonsense, industrial aesthetics.
Install two shelves underneath the sink and use these open spaces to store fresh towels and other household utilities.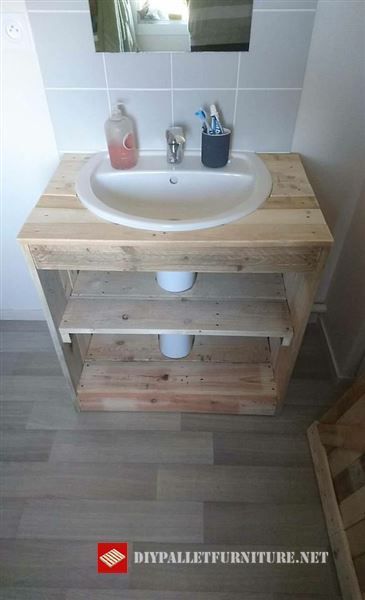 My husband and I remodeled our bathroom around six months ago. Throughout the re-designing phase, there was one thing we both couldn't wait to do, i.e., cover the bathroom sink. Yes, it did its job just the way it was. But we both felt like it killed the vibe in the newly remodeled area.
The solution? We built a simple shelved cabinet to wrap around the sink. It looks just like the one above. Having said that, before settling on this sink cabinet idea, ensure the natural feel isn't too rustic for your style.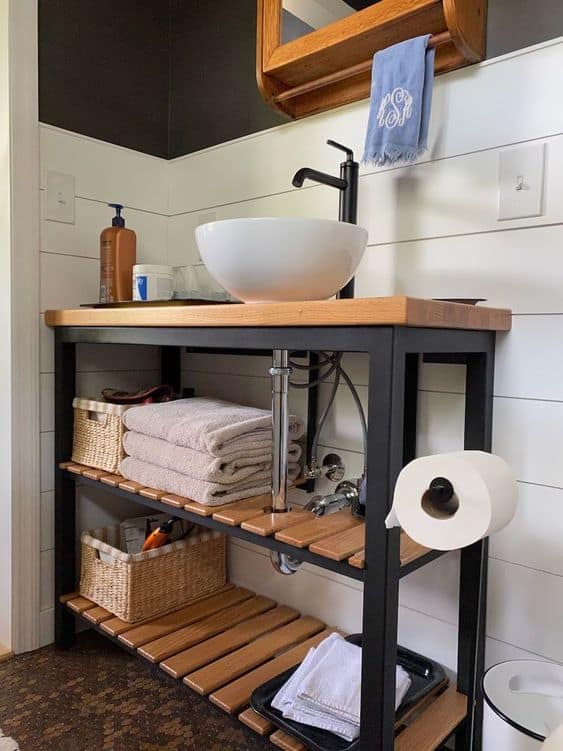 What pops into your mind when you think of a bathroom makeover? Is it a statement rainfall shower? Or perhaps it's a huge, freestanding bath for two. A vanity sink cabinet with a basin unit comes pretty low on the must-have list for most people. I think that's a huge mistake.
As this modern vanity sink cabinet proves, these units will provide a practical and stylish storage solution in any bathroom.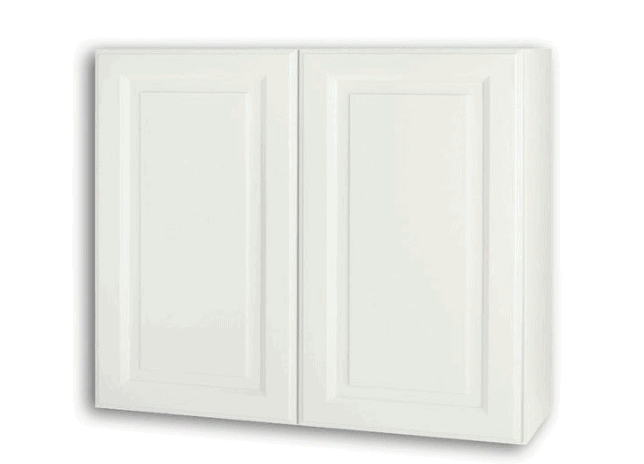 My mom's favorite, this Thomasville Nouveau Newton cabinet links the stove, sink, and workspace in a functional work triangle. The unit is perfect for compact kitchens and also boasts spacious cupboard storage areas. Transfer anything that seems to clutter the space into one of the cupboards.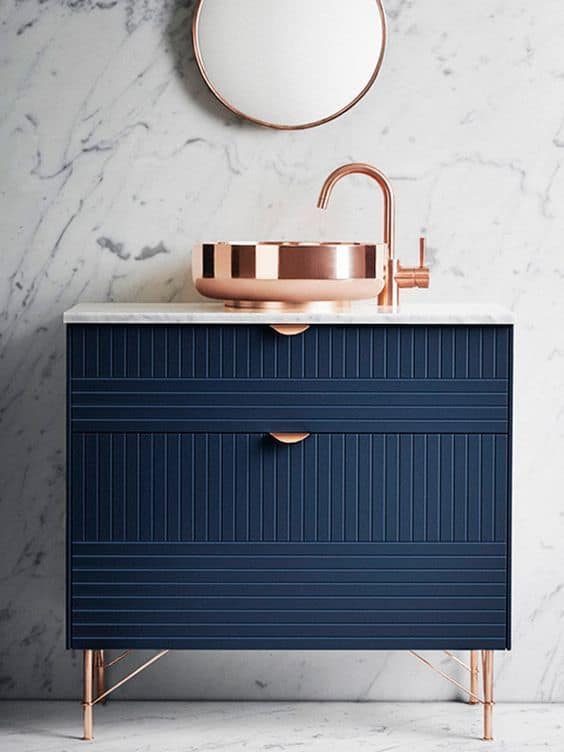 This super sink cabinet is pretty much what a designer's wildest dreams are made of. I love the use of narrow slats to create a simple but stunning design. Now I want to do this with all my cabinetry. I'm sure my husband won't notice…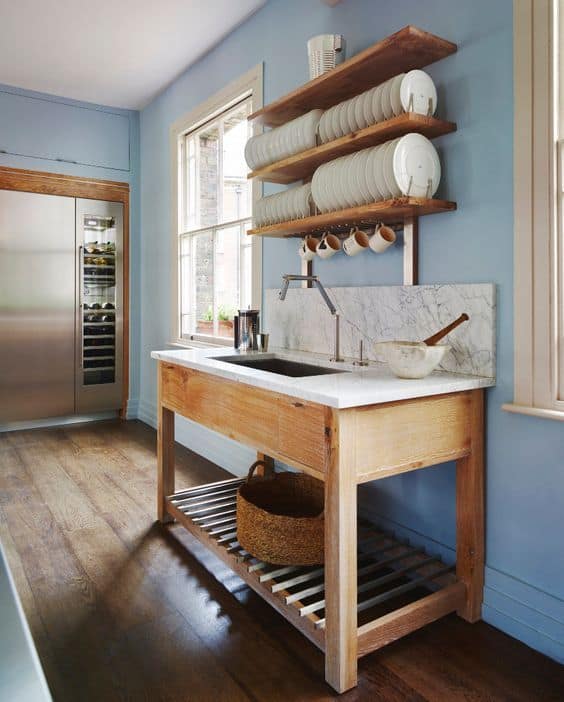 If your style leans more on the quirky side, you'll love this modular kitchen workstation. It's perfect for small-scale apartments and a gorgeous DIY solution for those who prefer taking matters into their own hands.
I suggest experimenting with a wide variety of materials and finishes. At least until you find a combination that flawlessly complements your unique kitchen design and décor.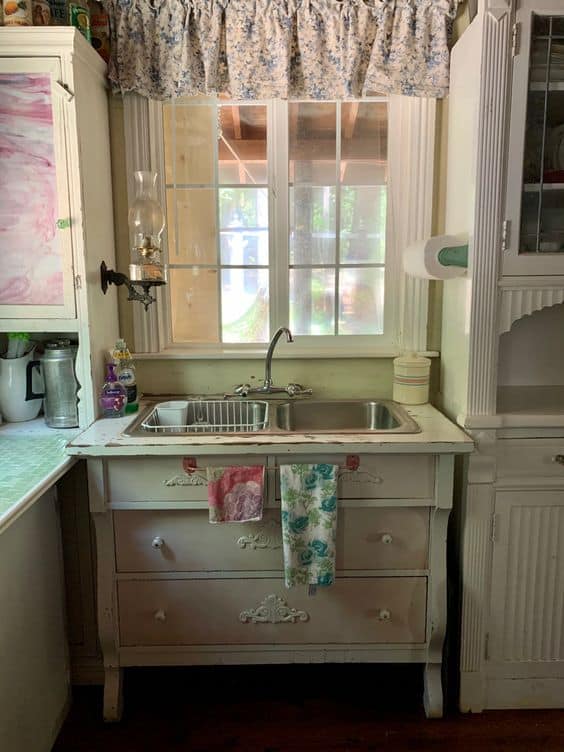 If you'd prefer a classic sink cabinet concept, take an old dresser with natural variations and remodel it into one. Do you intend to have the sink cabinet against the wall? If yes, I also recommend optimizing the scheme of the backsplash with antique patterned tiles instead of standard ceramic tiles.
Most freestanding kitchen sink cabinets are simple; think drawers, shelves, cupboards, etc. Others, however, go the extra mile and use nifty tricks to help maximize storage space. The cupboard picture above is an excellent example of the latter.
The baskets this freestanding sink cabinet retails with are a great way to keep the space more organized. You can either show off the contents inside or hide them with a sheet cover. The baskets' construction also adds a natural feel to the space.
Types of Sinks to Consider for Your Cabinet
The first step in selecting a sink is determining how and if it'll fit into your desired base cabinets. Next, determine the sink's look and functionality. After all, you want a sink that'll leave guests in awe and still fulfill practical purposes for its environment.
With that in mind, let's explore the different types of kitchen sinks suitable for base cabinets.
Farmhouse Sinks
Farmhouse sinks are easily recognizable by their apron or exposed front walls. They're also usually large and ceramic. You can find them in copper and stainless steel as well. Pros of farmhouse sinks include their chic, charming aesthetics and enlarged width and depth.
Under-mount Sink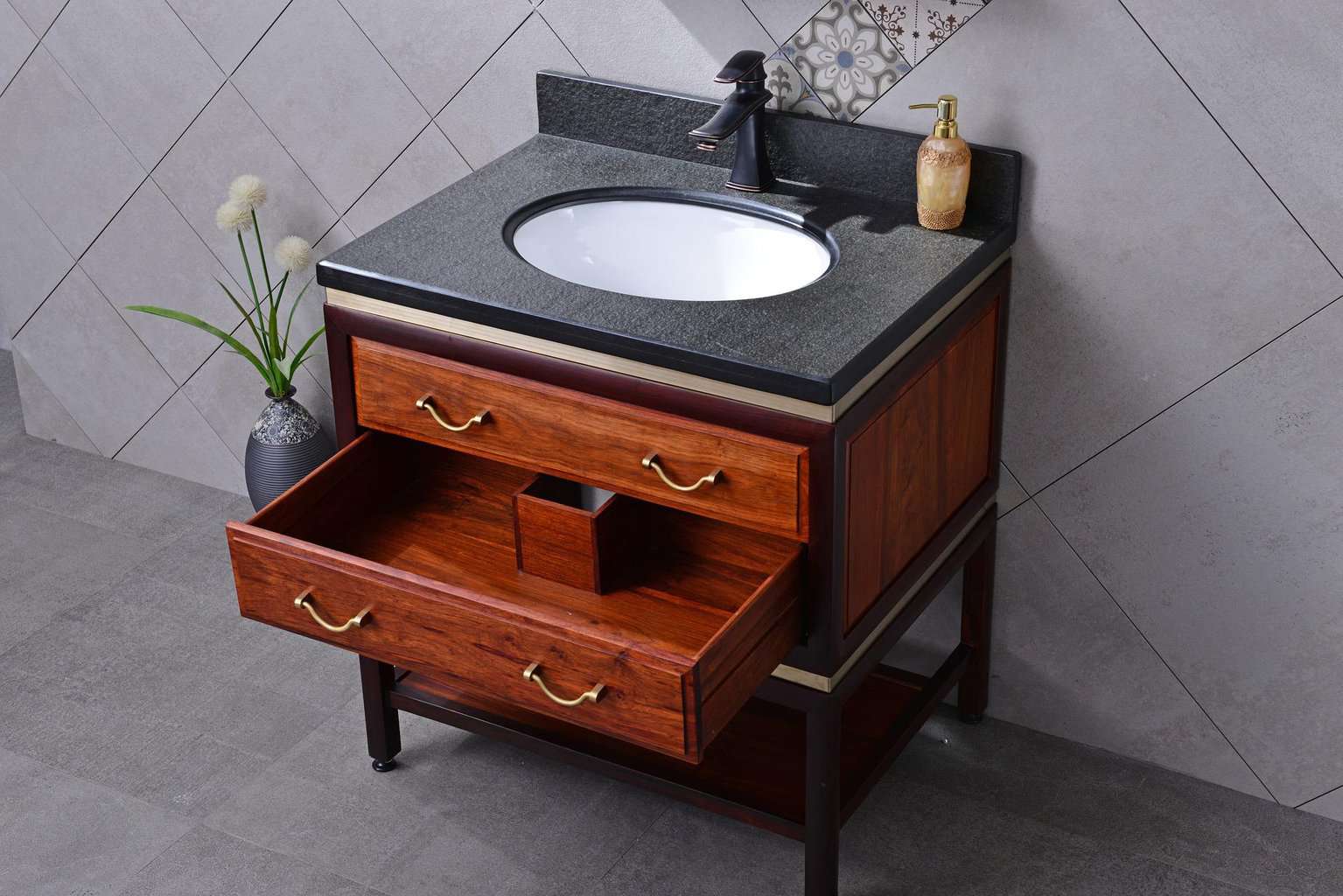 If you love all things modern, an under-mount sink is a way to go. These are typically attached to the bottom sides of kitchen countertops, supported by base cabinets.
Top Mount Sink
Drop-in sinks aka top mount sinks are the most common type of sink. Better yet, top mount sinks are the easiest to install. No special skills are required. So, if you'll be doing most of the remodeling yourself, a drop-in sink is the way to go.
Vessel Sinks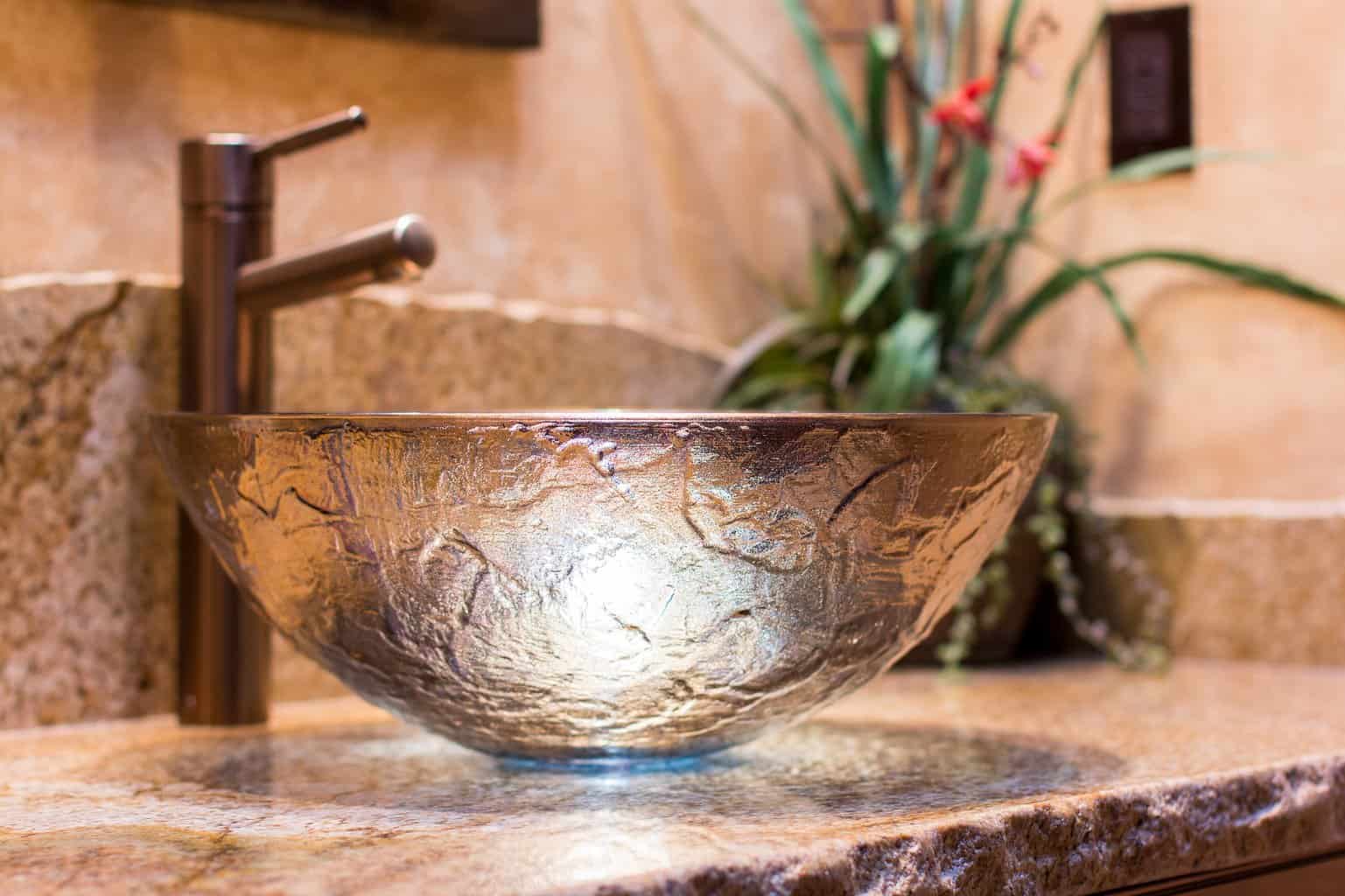 Vessel sinks are simply basins that sit on top of your bathroom vanity cabinet. That's the main feature that sets them apart from insets like traditional under-mount and drop-in sinks. I've included several vessel sink models in the review above.
The Island Sink
Island sinks combine standard sinks with kitchen islands. They use designs that fit in the middle of your kitchen and have pillars that house the necessary plumbing fixtures.
Single Bowl Sink
As the name suggests, this is a sink whose basin isn't divided. They're usually available in compact sizes, making them ideal for small apartments. The opposite of a single bowl sink is a double bowl sink.
Double Sinks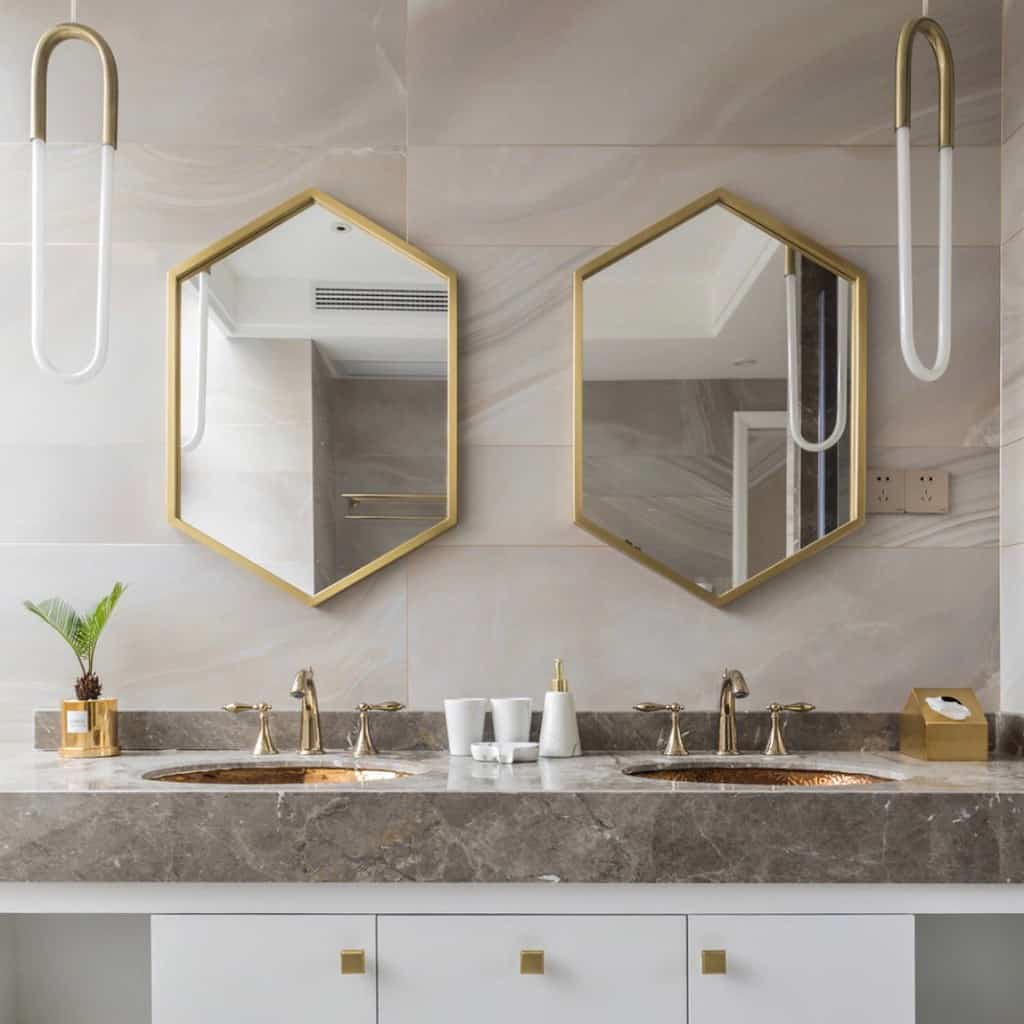 Also, as their name suggests, these kinds of sinks have their basins divided into two. They allow you to wash your dishes in one bowl while simultaneously using the other to rinse and dry.
Wall-Mounted Sink
One of the most common bathrooms sinks in older homes and apartments. Like single bowl sinks, these are preferred due to their space-saving nature.
How Wide Does a Sink Cabinet Need to Be?
How tall your next sink cabinet needs to be will depend on a few factors. These factors include the size of the sink and how much room you're willing to dedicate to the cabinet.
That said, there are standard sizes and general guidelines you can expect to run into when ordering a ready-made cabinet. These include:
24-inch sink cabinets
30-inch sink cabinets
36-inch sink cabinets
48-inch sink cabinets
60-inch sink cabinets
72-inch sink cabinets
Another factor that will affect the sink cabinet you pick is its design. For example, farmhouse apron-front sinks will typically require larger sink cabinets compared to regular-sized sinks.
What Can You Use for a Sink Cabinet?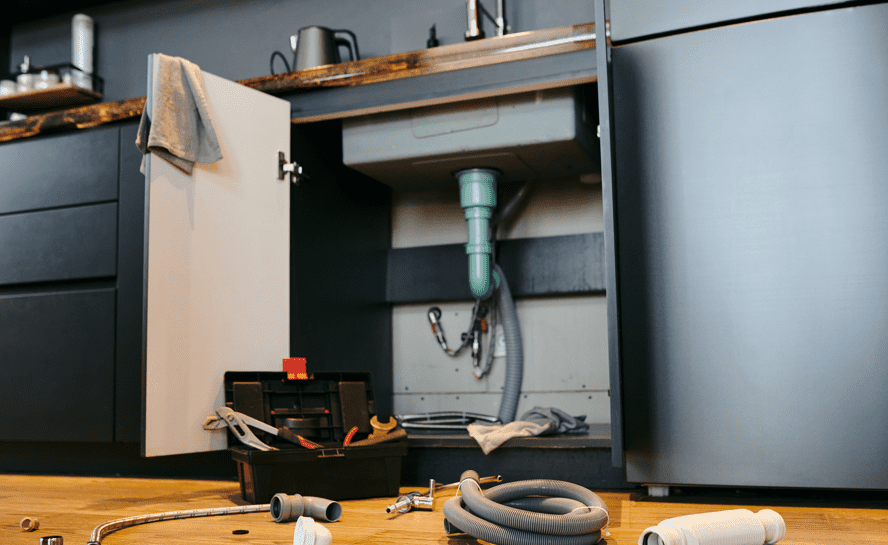 Reasons people get sink cabinets to vary from one person to the next. Here are some of the most common.
Hiding unsightly pipes
Providing storage spaces in tiny apartments
Sink cabinets can double as linen closets
Giving a home a simplistic, fresh aesthetic
They can serve as the focal points of a kitchen, laundry room, or bathroom space
Since cabinets promote free space on your sink, you have less clutter to pick up regularly
FAQs
Question: What Kind of Cabinet Do I Need for a Sink?
Answer: The cabinet you get will depend on where you're going to place it. You can buy one small enough for kitchen sinks or opt for bigger models designed for laundry rooms and bathrooms. Also, ensure the material best suits your needs and the kitchen, bathroom, or laundry room environment.
Question: What is the Bathroom Cabinet Over the Sink Called?
Answer: The bathroom cabinet mounted securely over your sink is known as a wall-mounted vanity cabinet. It gives your bathroom a relaxed, contemporary look.
Question: Do You Need a Specific Cabinet for a Sink?
Answer: If the sink cabinet will be the kitchen's main focal point, then yes! You'll need to take some time and ensure you get the design right.
Bottom Line
There you have it. An in-depth look at everything from compact corner solutions to bold and beautiful vanity ideas that add instant luxe. Which one are you going with? If you want something rustic but modern with an original touch, I recommend going with the Furniture-Style Sink Cabinet idea. And for even more great recs, check out our website!