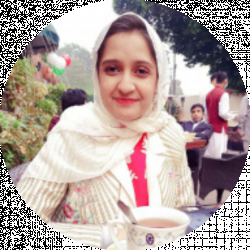 Latest posts by Zunaira Ghazal
(see all)
Ah, navy blue…the color of royalty. It's cool and sophisticated, and you can bet that it will emulate a certain gravitas in your space! As an architect and interior designer, I can attest that navy blue kitchen cabinets are here to stay. Many homeowners used to prefer bright white and grey colors for their kitchens in the past. But, these days, they're choosing more statement-worthy colors.
Out of these, navy blue became a fan favorite because of its natural charisma. I mean, imagine entering a kitchen with bold, navy cabinets! It's bound to give the user a pause thanks to its visual oomph!
Anyway, I love this trend, and I'll be sharing some great ideas from the internet right below in this Navy blue kitchen cabinet ideas…
Bottom Line Up Front
Navy blue cabinets are a timeless trend in kitchen interior design. But there are many ways to interpret this color scheme. It all depends on the style of your cabinets and what kind of materials you're pairing them with. So, this list is all about exploring different options and coming up with ideas that are unique.

If you're wondering which navy blue cabinet idea wormed its way into my heart, then it would be "With Floating Shelves
." That's because it features a super unique interpretation!


I mean, not everyone has the guts to completely forego a top-cabinet unit and opt for floating shelves instead
! I especially love the contrast between the navy blue bottom half and a posh marble upper one. It's definitely one of the best looks I've seen so far.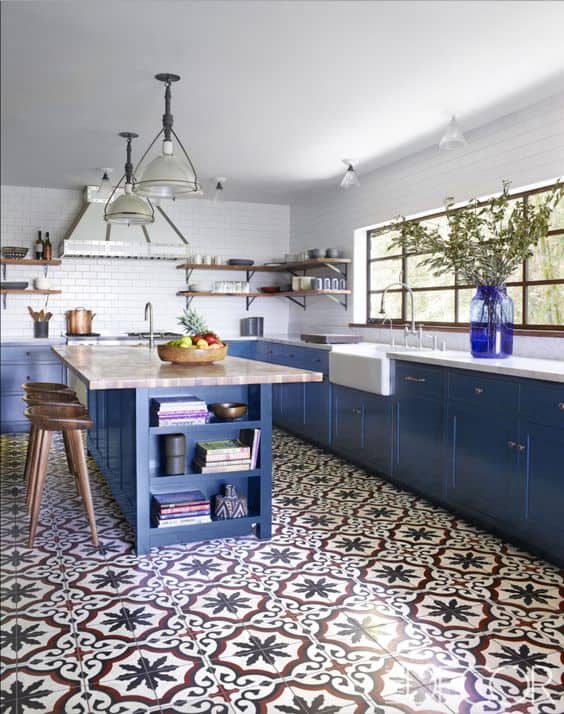 Top Picks
Here are a few of my top picks:
Navy Blue Victorian
I've been a huge fan of the kitschy English Victorian aesthetic ever since I saw it featured in one of my course books. So, this kitchen with navy blue cabinets was an instant hit with me.
All the wooden details here are simply to die for! And the herringbone-patterned floor brings out the best in the dark blue of the cabinets. The natural matte finish of the wood is especially beautiful! It highlights the gloss of the cabinets stunningly!
Farmhouse Chic All the Way
This is another top pick of mine! I love it because it is cluttered in a deliberate way! It helps break up the smoothness of the blue kitchen cabinets without parting from the theme. Everything in this space is blue, but it's all very strategic. I appreciate how the accents and accessory placement sets it apart from most!
Selection Criteria
To the untrained eye, all navy blue cabinets might look one and the same, so my selection criteria was all about…
Cabinet Styles
The style of the cabinet is the most dominant factor in deciding how the navy blue color might come across on it. So that's the first thing that I looked for. You wouldn't believe what a difference it makes to apply the same color on cabinets whose basic design is different from each other.
Material Pairings
Another one of my selection criteria was how the navy blue cabinets had been paired with other materials. It could be the backsplash, the flooring, the light fixtures, or even the hardware. Every little detail makes a difference!
Navy Blue Kitchen Cabinet Ideas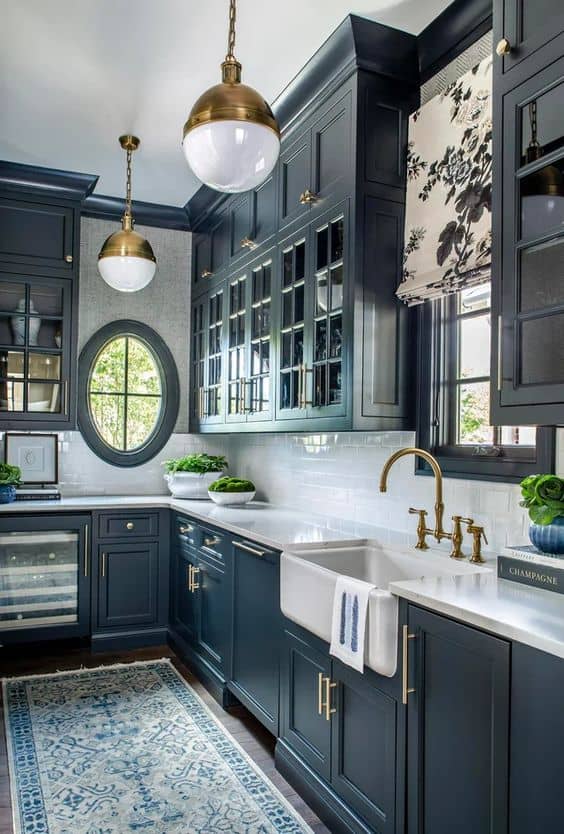 I've always had a thing for glass-paneled cabinet doors. There's something very classical and sophisticated about them.
So, it's no wonder that this particular navy blue kitchen cabinet idea drew me in. It's a whole floor-to-ceiling ensemble, and I'd suggest you use it in large kitchens. That's because it might end up making a smaller one feel too cluttered.
Other than the glass panels, I also find the neo-classical detailing to be quite appealing in this one. I mean, look at that frieze at the top and the shaker-style recess on the bottom cabinets. It's an entire mood!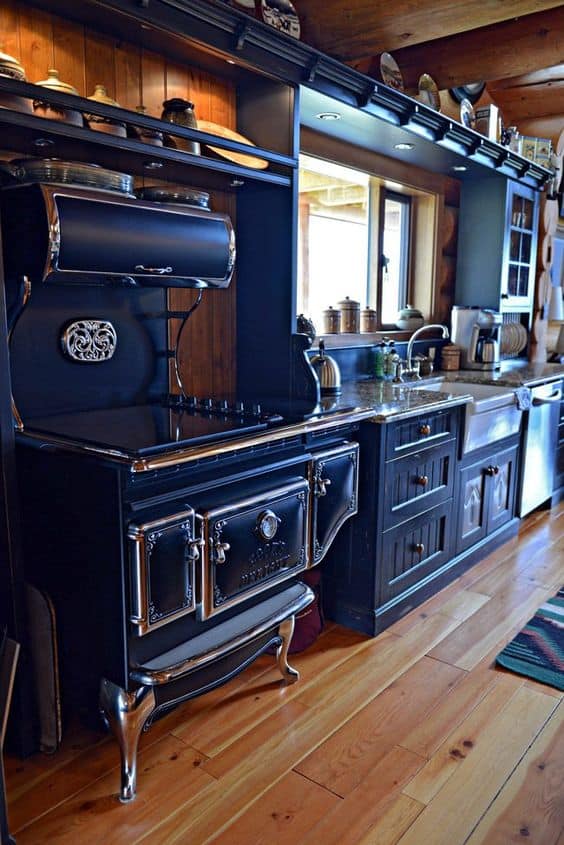 Okay, so this navy blue kitchen feels like it's straight out of the set of Charlie & the Chocolate Factory! It's a quirky amalgam of steampunk-meets-retro, which is an overall eclectic fusion – one that you might not have seen ever before (I certainly hadn't!).
Anyways, I was really drawn in by the Victorian accents. I also appreciate how they fuse with the space-age vibes of the accessorizing. The navy blue cabinets have a very home-spun look about them. It's a vibe that is complemented and matched by the lovely wooden floors at the base.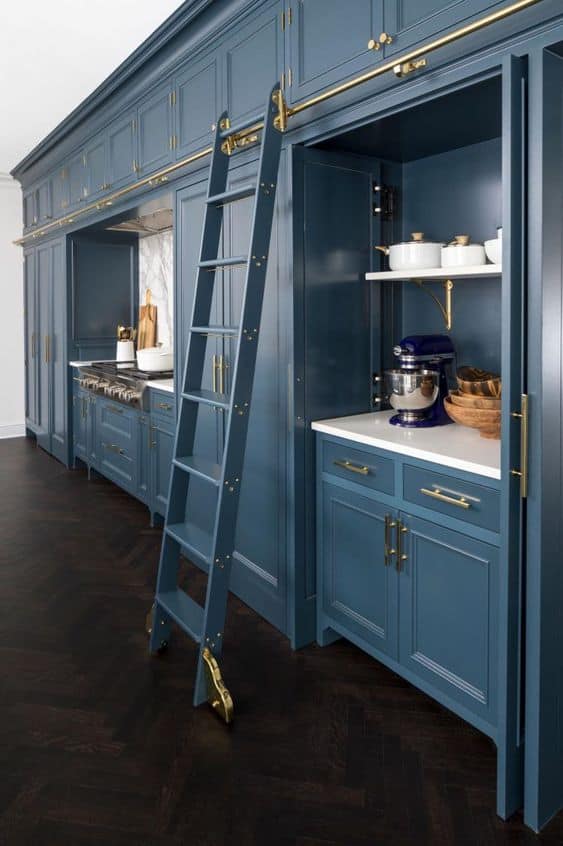 The very first word that came to my mind once I saw these navy blue kitchen cabinets was: timeless! The floor-to-ceiling look has been quite
beautifully
interpreted! Also, if you're worried about reaching the top cabinets, there's also a Beauty & the Beast-style ladder here. It's an excellent way for you to navigate the upper half!
Honestly
, my inner designer is quite impressed by the whimsy of the whole look. The brass hardware stands out
gorgeously
against the blue paint! Additionally, the dark espresso floors add an immediate gravitas to the entire design. Then there are the white walls in the backdrop that provide a nice backdrop!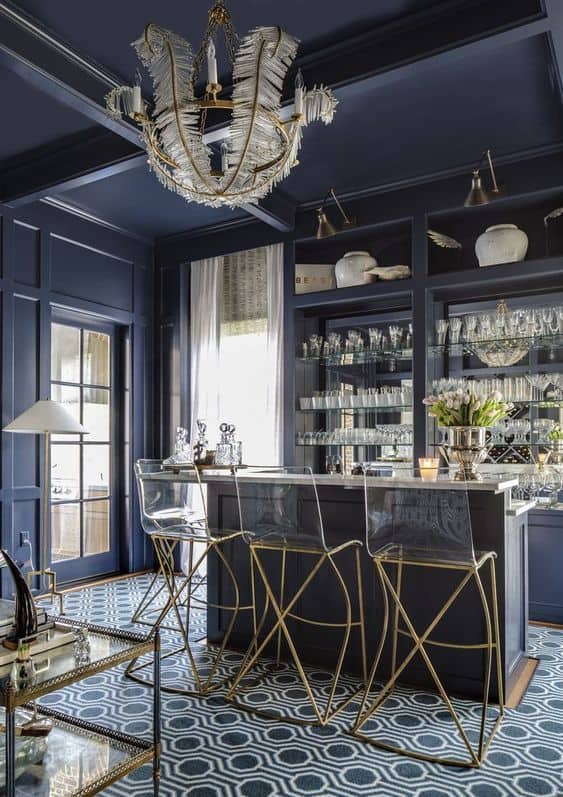 Here's another fantastic example of tone-on-tone! Here, the navy blue cabinets
are accompanied by
navy blue walls and ceilings! Yes, it's quite dramatic, and I wouldn't recommend it for small spaces, but somehow, it works here.
That's because there are lots of strategic visual breaks throughout the space. The navy blue cabinets are as solid as they come, and the first major break here is the floor. It has a unique retro-meets-eclectic pattern that immediately draws you on. But it's actually the white parts of the tile that make all the difference.
Moreover, the cabinetry itself
is designed
to provide a dynamic aesthetic. The glass backdrop and all the items placed on the open shelves take the focus away from all the blue.
Also, I adore all the stylish furniture that
is spread
all over the room. Everything is super tasteful and refined, from
 the gorgeous contemporary bar stools to the feathered chandelier
.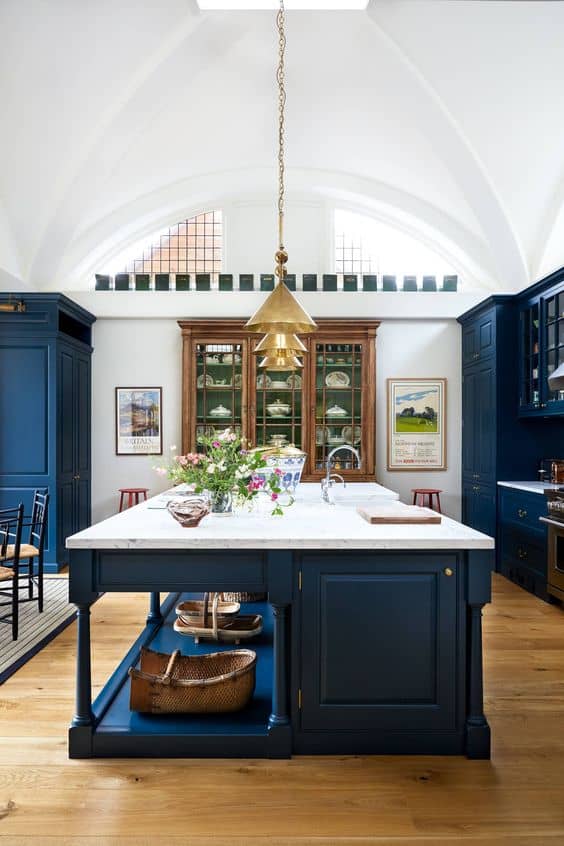 This idea is for people who are looking for navy blue kitchen cabinet inspiration for new construction or gut renovations
! You see, cathedral ceilings have a way of making even the most cramped of spaces feel glamorous!
This particular kitchen, with its navy blue cabinets, would have looked so typical without this type of ceiling
.
That said, the cabinet styling is also pretty unique in this one. The panels are classical and iconic. I love how there's a wooden showcase in the center that contrasts with the bold charisma of the dominant navy hue. It's all very dynamic, and I'd recommend using this idea in a modern kitchen reno.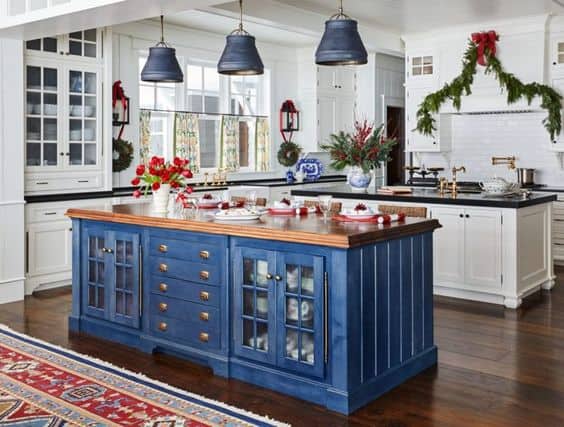 This kitchen stood out to me because only the center island features navy blue cabinets. The rest of it is
simply
white. It's a very nice contrast and a great way to highlight the blue parts.
Moreover, I appreciate how this combination works in a nice contrast within the room.
The blue cabinets stand out
beautifully,
while the rest of the kitchen provides a nice backdrop
. It's all very understated and sophisticated.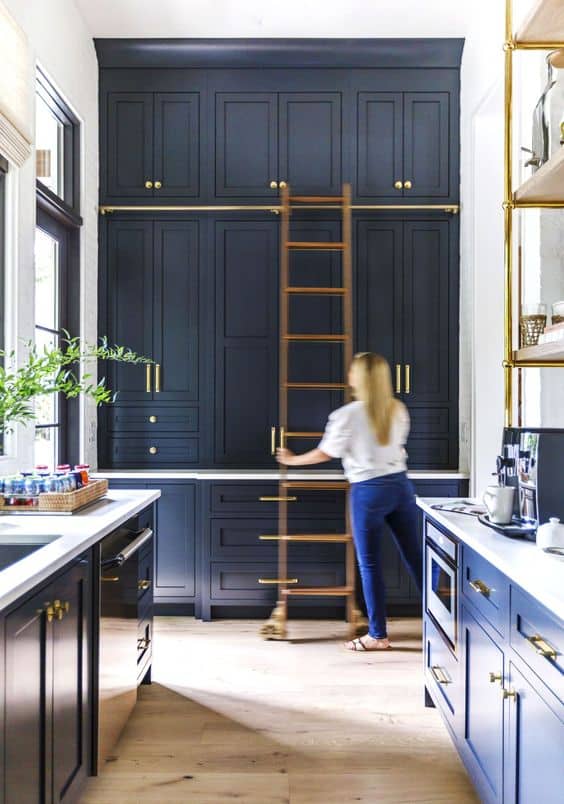 Some might say that navy blue cabinets might be too much for a galley kitchen. These people have not seen this specific rendition, I believe. I love how the aisle opens up to an entire floor-to-ceiling cabinet system! Everything feels seamless because it's the same navy blue as the galley cabinets.
However, this version has a whole ladder that one can climb to reach the top. The brass accents and light wooden floor also add to the appeal and breeziness of the ambiance.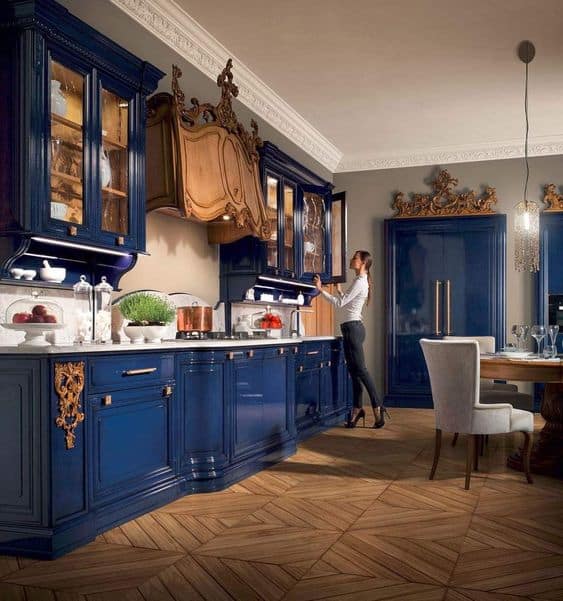 Details, details, and even more details – that's what you'll find in this Victorian-era-inspired kitchen with navy blue cabinets
. What drew me in was the elaborate woodwork (look at that iconic hood!). And what kept me was the sophisticated navy blue cabinets with their light sheen!
Honestly
, this kitchen is a study in contrast. There's so much visual information here! Your eyes would definitely keep moving around (which is a sign of a good interior design). The herringbone-patterned floor is another cherry on top and pulls everything together!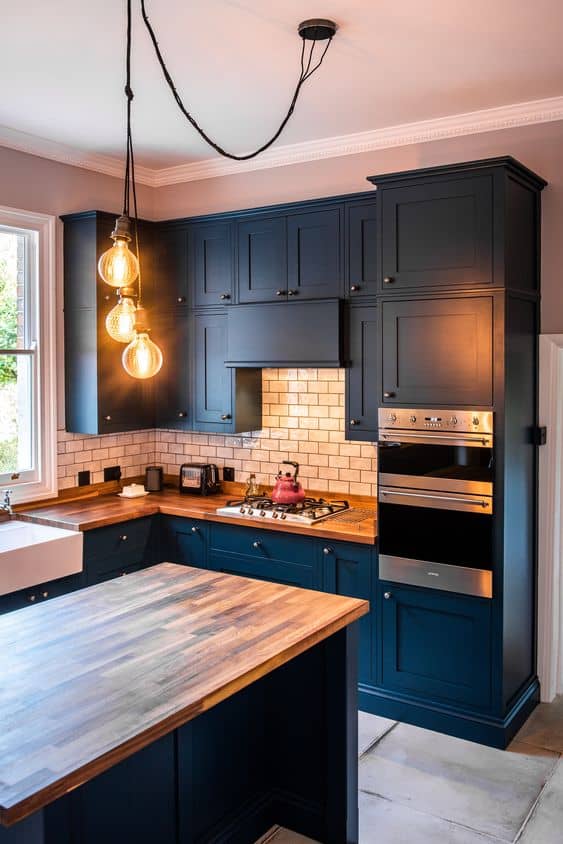 If you're a fan of the rugged industrial-chic aesthetic, then these navy blue kitchen cabinets would impress you
.
I love how these simple shaker cabinets
are spruced
up with unique lighting and materials
! It's a great way to add interest to the whole room!
The first thing I noticed about this particular kitchen was how the dim gold lighting adds a lot of gravitas to the blue cabinets
. The second thing was how the matte finish of the door-leaves contrasts with the subway tiles. Together, these small details make up a
totally
impressive whole.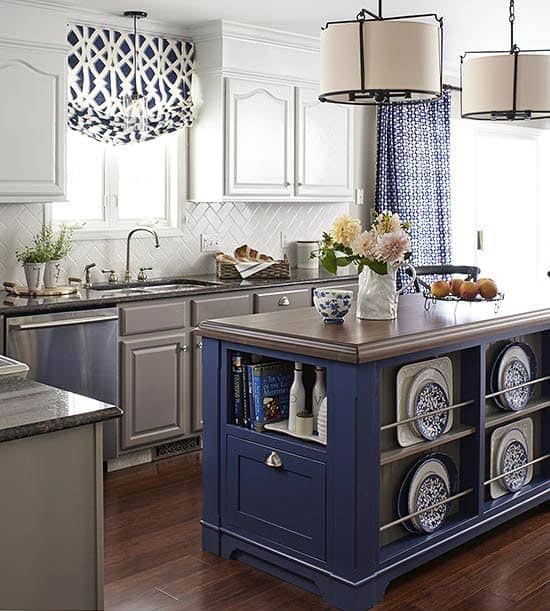 If you're more into homely aesthetics, then this kitchen with navy blue cabinets would be right up your alley
. Its farmhouse-chic detailing is super on-point! It feels as if the whole room has
been plucked
out of a 50s American dream.
I love the bold use of fabrics and textures that work in tandem with the blue cabinets. The blinds on the window create a nice focal point! The pendant lights also create a wonderful visual break. It's all very charming and kitschy.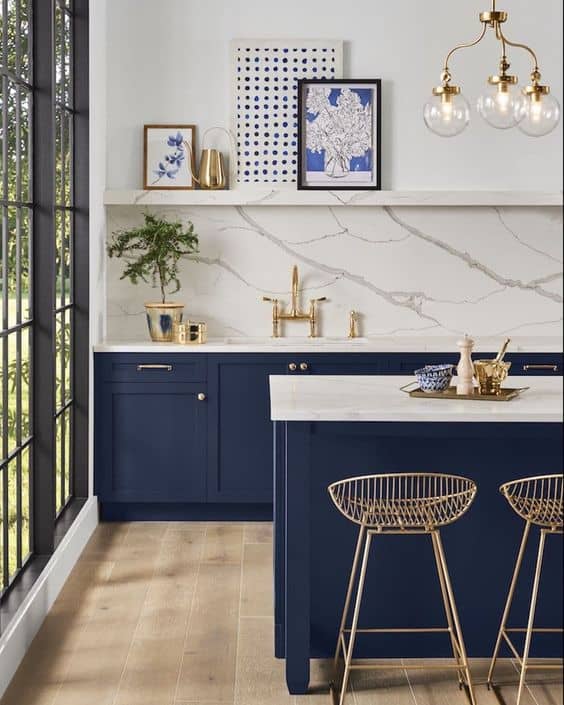 While we've looked at top-to-bottom navy blue cabinets on this list, here's one that provides a nice visual break. I love how the entire upper half of this kitchen is super breezy!
It's all thanks to the floating shelves and how they are complemented by the white backsplash, marble accents, and brass decor. In stark visual contrast, the bottom half is a lovely navy blue. The cabinets are closed and work in a nice, understated synergy with the rest of the decor.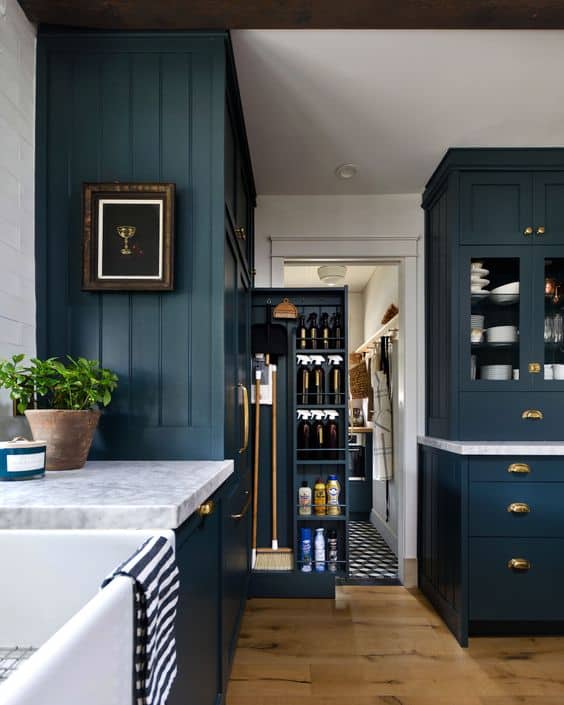 Okay, so these navy blue kitchen cabinets have my heart! It's because they're paired with lovely blue panels of the same color.
There's this general misconception in the design world that tone-on-tone doesn't
really
work
.
But this kitchen is a great example of how you can use the same color in all parts of the room while playing with textures
!
Plus, the accenting here is brilliant. Everything compliments the navy cabinets and wall panels, from
 the posh marble counters to the white cutlery inside the cabinets and the brass hardware
!
Mixing With Wood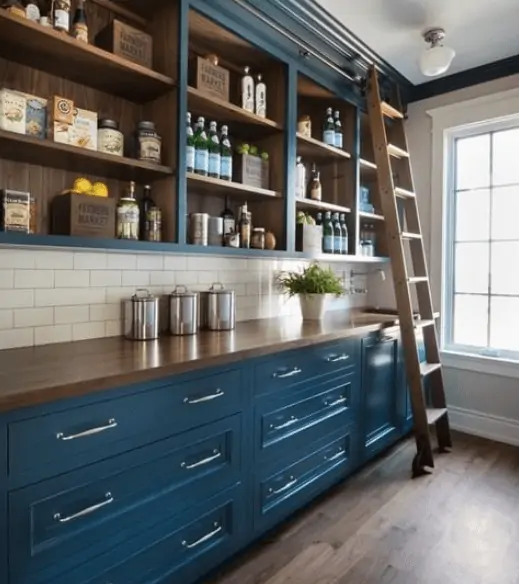 If you're looking for a charismatic and decadent look, then this idea would be quite perfect for you! I chose this because I love the unique combination of navy blue with sumptuous dark wood. The entire aesthetic is so rich and luxurious! I especially love the super-organized styling of all the products displayed inside.


I also appreciate how the cabinets reach all the way to the ceiling and cap everything off with a nice cornice. Then there's the fact that there are no doors on the upper cabinets. This highlights the combo of dark wood with the navy paint even more.
FAQs
Question: Why should I opt for a navy blue kitchen?
Answer: Well, first of all, it's a color that exudes timeless class. No matter what the next big trend in interior design is, you can rest assured that your navy kitchen will remain as stylish as ever.
Question: What materials go well with navy blue kitchens?
Answer: As a general rule, always contrast a primarily dark color scheme with lighter, brighter materials. So, if you're working with navy blue kitchen cabinets, then I'd suggest you pair them with white marble countertops and backsplash. Wood is also a nice option, but be sure to pick out the species with lighter grain.
Question: What color should I paint my walls with navy blue cabinets?
Answer: Once again, it's all about contrasting dark colors with light ones, so try to paint your walls a light-neutral shade of cream, beige, or white.
Navy Blue Kitchen Cabinet Ideas: Conclusion
As you can see, navy blue cabinets have a really strong personality (part of the reason why I love them so much!). There's just something about them that simply draws you in and totally here for it. I hope you like the ideas I've curated for you and understand how to implement them with your own flair.
As for my favorite, it's With Floating Shelves because it's got this inherent elegance that is quite challenging to emulate in interiors. I love the creative amalgam of top-white and bottom-blue here and how this distinction ultimately sets this particular kitchen apart!
Read More: