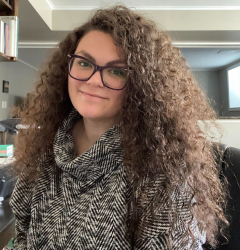 Latest posts by Candace Osmond
(see all)
Welcome, homeowners! I'm sure you've heard about the trend to paint or stain your kitchen cabinets darker colors. Dark kitchen cabinets can be incorporated into a range of different home themes, which I'll describe in today's article.
Ready to learn about the best dark kitchen cabinet ideas and how to use them in your own home? Read on and let's explore these cabinets together!
Bottom Line Upfront
This is my time to SHINE! If you've read any of my fiction books or articles, or just checked out my social media you'll understand just how much I love all things dark. I mean, my author tag line is literally 'dark souls, warm hearts' LOL
If my husband would let me paint the entire house charcoal, I would. Alas, I must live vicariously through beautiful ideas like these. My fav on the list is, hands down, The Best Dark Green Kitchen by Jessica Brigham. I adore dark tones, but I also love olive colors. Something about this kitchen just sings to me!
Top 3 Ideas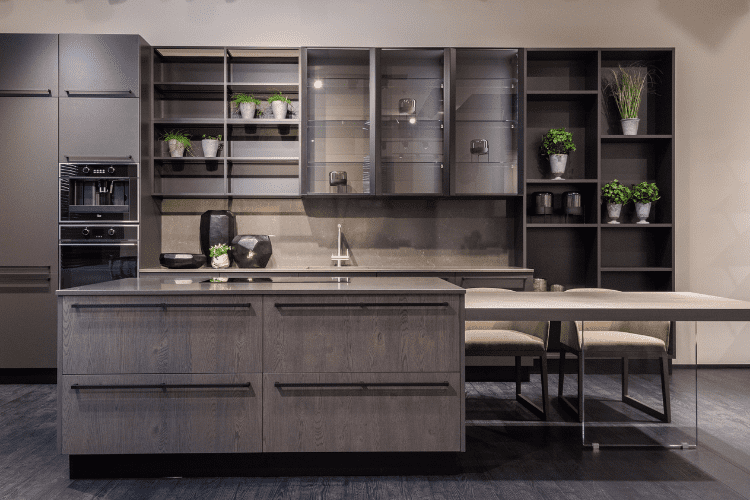 I have 24 amazing cabinet ideas to show you, but first, I want to go over these 3. These 3 ideas stand out as the absolute best for small kitchens, large kitchens, and DIY cabinet projects. Before we uncover all 24 kitchens below, check these out for inspiration!
Best Dark Cabinets for Small Kitchens: Trendy Dark Kitchen Cabinets by Back Splash
Small kitchens can look positively luxurious when they're styled like this. Matte black and dark brown come together in harmony.
Best Dark Cabinets for Large Kitchens: North Scottsdale Home I by Fisher Custom Homes
What a beautiful, timeless kitchen! These cabinets showcase the natural textures of wood.
Best DIY Dark Kitchen Cabinets: Kitchen Cabinetry by Thomas Home Center
You can stain your own kitchen cabinets at home to get cabinets that look just like these. Aren't the deep tones beautiful?
Stunning Dark Kitchen Cabinet Ideas
Let's dive right into it! These are the best dark kitchen cabinet ideas on the internet. In this section, you'll find a wide range of different kitchen styles that all feature dark cabinets. If you need a little inspiration for your own kitchen, check out what makes each of these kitchens with dark cabinets unique!
1. Best For: Transitional Kitchen – Kitchen Remodel by Dora Brigham Interiors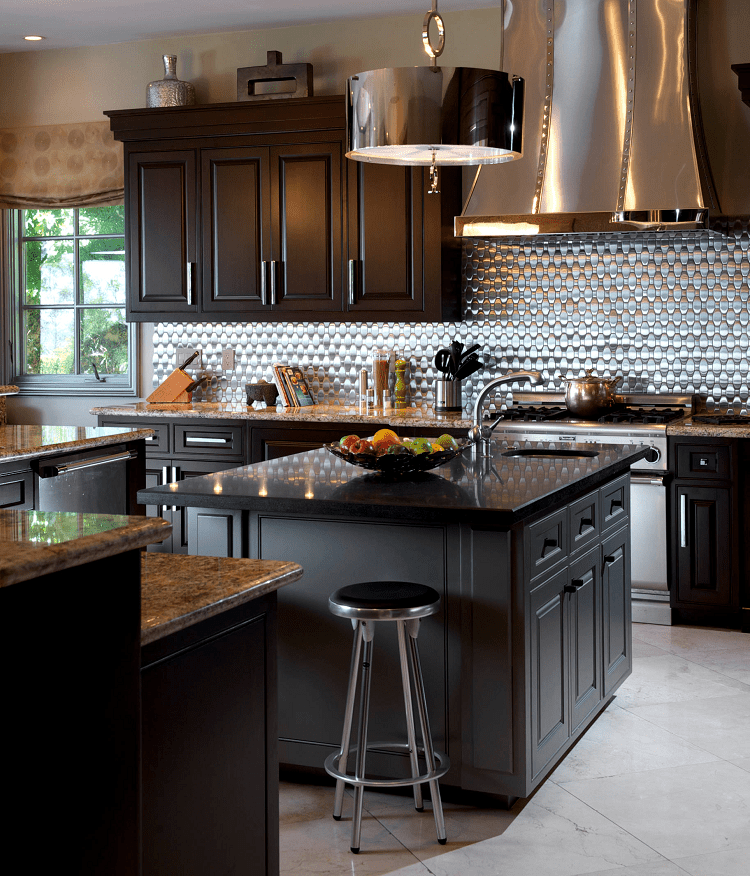 The warm, dark cabinets keep this transitional kitchen cozy and inviting. See how dark woods and steel pair well together, because neither color is intrusive? Another thing to love about this kitchen designed by Dora Brigham Interiors: this picture shows you don't need an enormous kitchen to have a kitchen island.
2. Best For: Elegant Cabinets – Ashbury Heights Residence II by Candace Barnes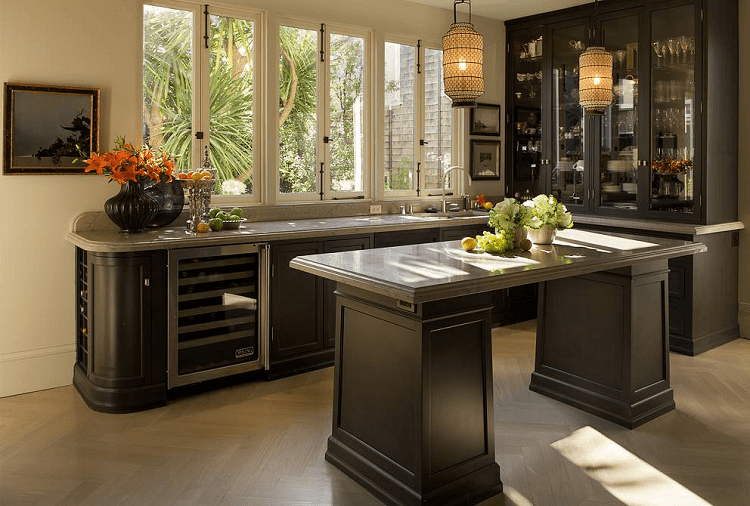 You'd have to feel like a modern-day king or queen in this beautiful kitchen. The gorgeous, tall dark cabinets on the right showcase large glass doors. A wine cooler has been seamlessly fitted in beside the cabinets on the left. White walls and additional lighting keep the room from feeling too dark.
3. Best U-Shaped Kitchen Idea – Transitional Kitchen – Salt Lake City by Michelle Montgomery Interiors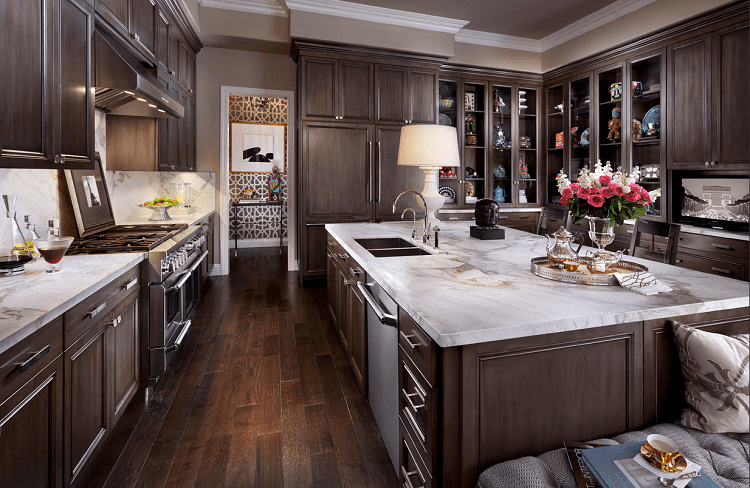 Got a big family and a big kitchen? This idea might be just what the doctor ordered! Dark wood flooring and cabinets have been implemented into this kitchen. Paired with silver accents and white marble countertops, this kitchen screams "modern and classic" with every detail. Adding the large dark display cabinets in the back right was a nice touch, too.
4. Best Brown, Beige, and White Kitchen Idea – Showplace Wood Cherry Kitchen by Swanson Kitchens, Inc.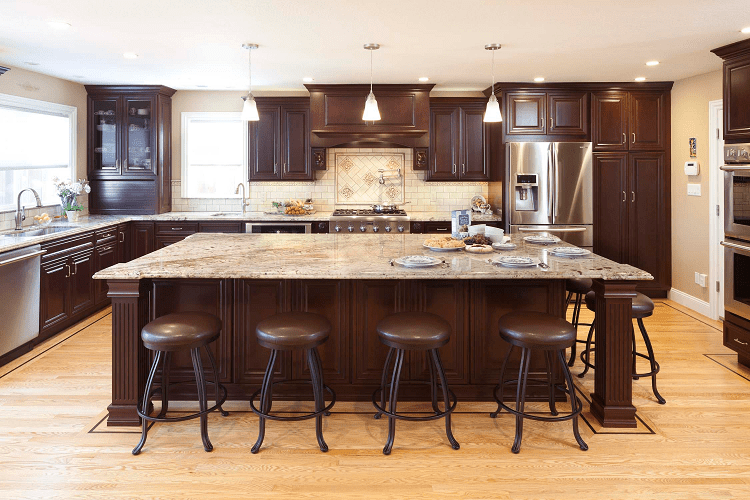 It's hard to beat the beauty of cherrywood. The top and bottom cabinets, as well as the kitchen island, all feature natural, glossy cherrywood. Cherrywood offers warmth due to its red undertones. The warm woods make this kitchen, which feels like a mix of modern and classic styles, feel inviting and homey.
5. Best For: Cool Tones – KSI Designer Kitchen by Jim McVeigh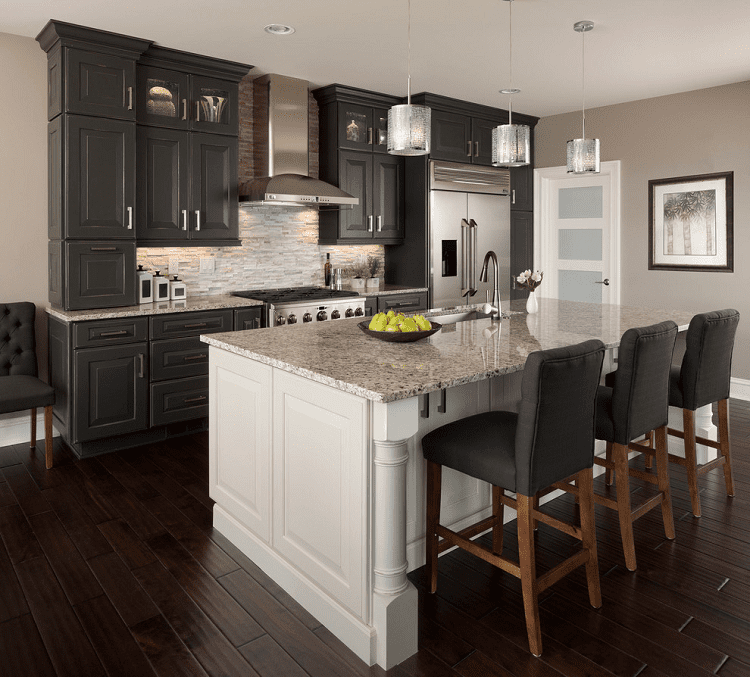 Welcome to your palace of steel, quartz, and charcoal! Steel accents like the cabinet knobs and cooking appliances lend a touch of the future to this room. Quartz countertops are stunning and resilient.
The charcoal cabinets bring the look together. If you're a fan of cool tones over warm tones, I'd recommend replicating a color scheme like this one.
6. Best For: Lake House Vibes – Lakes of the Isles Sleek by Lind Nelson Construction Inc.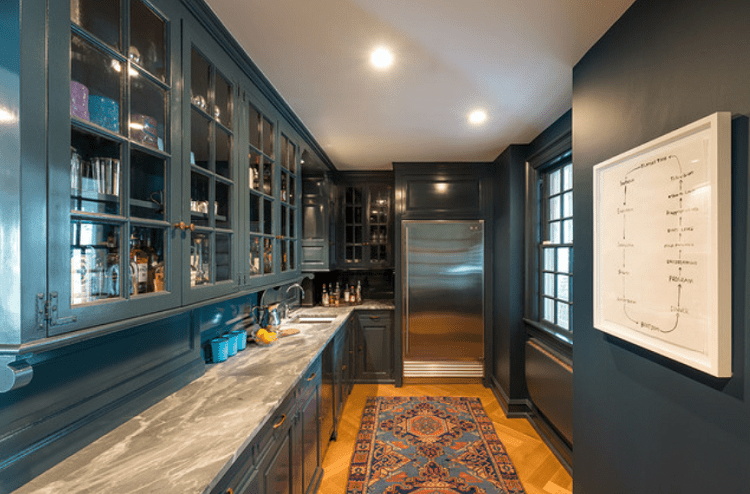 Ahhh… doesn't this gorgeous blue kitchen let you imagine yourself living happily in a lake house? The nautical color scheme and perfect symmetry are everything a lake house needs.
Tall top cabinets with glass doors are not just pretty, but also helpful. You'll never accidentally reach for the wrong cup drawer when you can see all the contents inside.
7. Best White and Black Color Scheme – Black Kitchen Cabinets by Elizabeth Lawson Design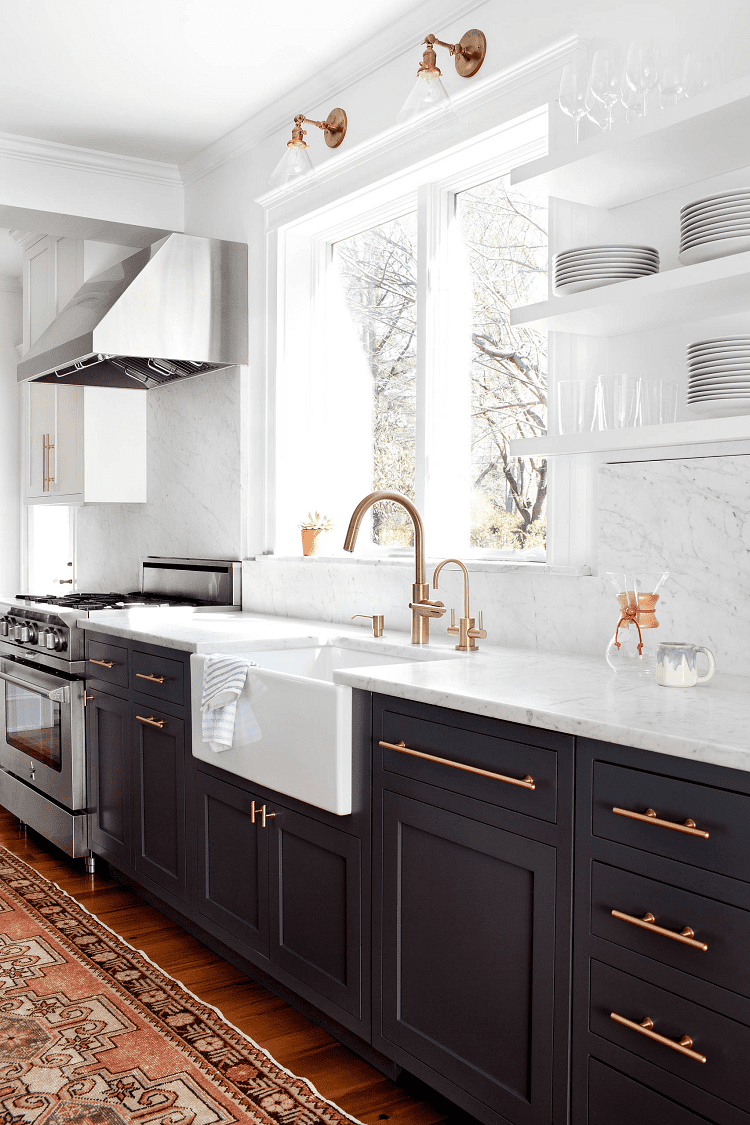 What a perfect balance of light and dark, like the yin and yang. The top half of the walls in this kitchen feature everything white-white walls, white marble countertops, white window panes, and even white dishes.
The bottom showcases gorgeous black cabinets. The black cabinets add depth to a room that would look washed out if everything was solid white.
8. Best White and Black Color Scheme – Kitchen Cabinetry by Thomas Home Center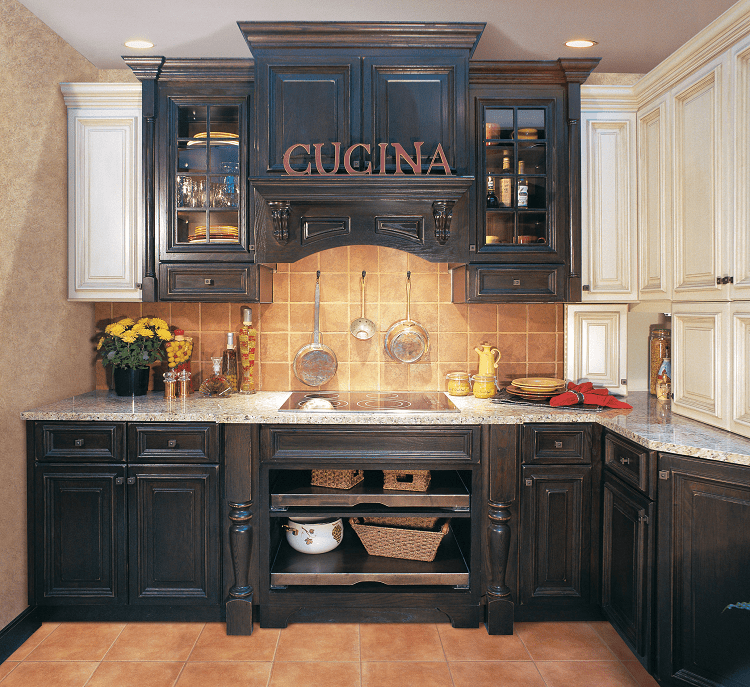 What a beautiful traditional-style kitchen! Warm, dark wood cabinets against the brown walls create a homey-looking room, doesn't it? You can make these cabinets yourself with wood stain.
To contrast the brown cabinets, Thomas Home Center placed white cabinets beside them so the room wouldn't look too dark. Downlights installed just in front of the cabinets give the space an illuminating glow.
9. Best For: Traditional and Rustic Charm – Traditional Kitchen & Bar Remodel by Charleston Building and Development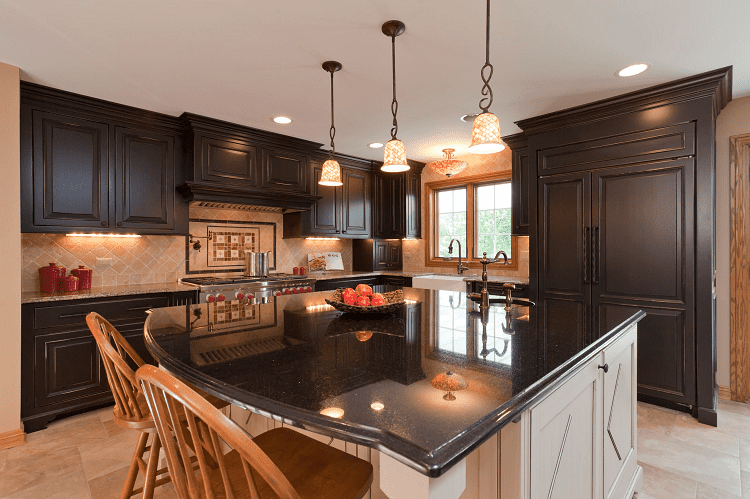 What happens when you blend traditional and rustic style? A big and beautiful kitchen, that's what! The dark kitchen cabinets lining the left wall are simple, sleek, and elegant.
Using that same dark wood for the pantry was an excellent choice because it helps cement the dark wood theme. Tawny tiles and beige walls make it so that the dark wood isn't starkly contrasted against a white background.
10. Best Modern Dark Kitchen Cabinets – Viva Vogue by LORNA GROSS Interior Design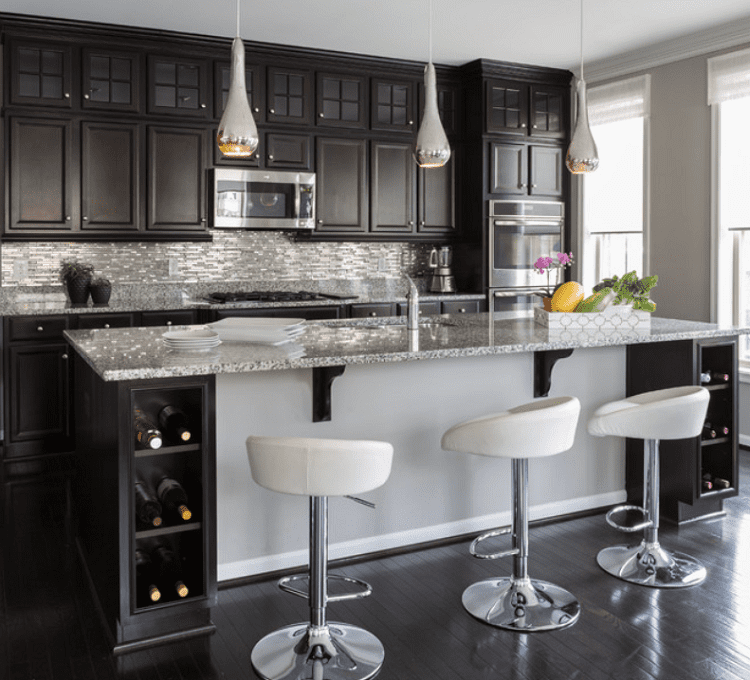 This kitchen looks so modern it almost feels like something out of a science fiction movie! Each dark cabinet lining the back wall is sleek and perfectly uniform.
The contrast of the dark wood against white and silver isn't jarring because of the dark wood floors. Incorporating silver, like the stainless steel appliances and silver barstools, helps give this room an extra-modern feel.
11. Best Dark Cabinets for Large Kitchens – North Scottsdale Home I by Fisher Custom Homes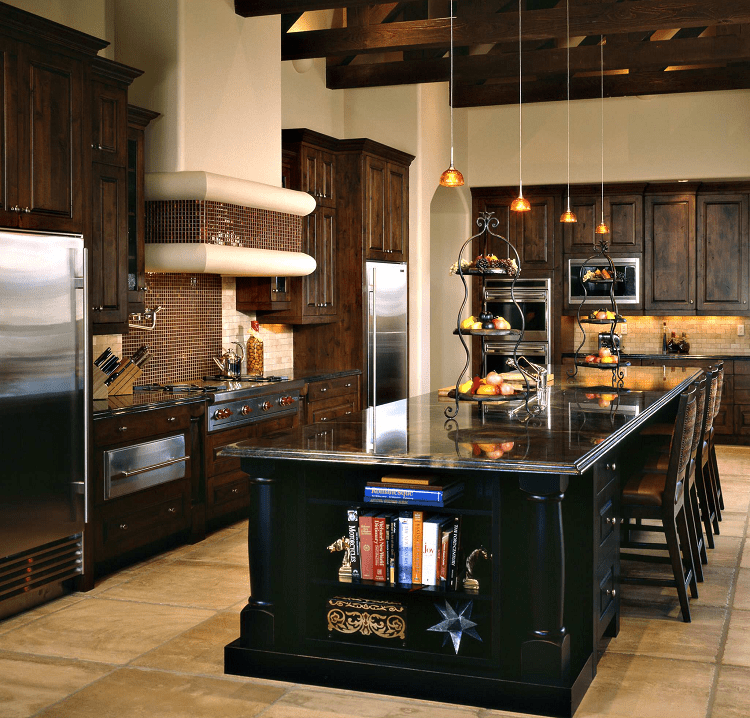 If your kitchen has tall ceilings, this is the kitchen design for you! These cabinets aren't quite as dark as some of the others we've seen today, so this is perfect if you want dark brown instead of nearly black.
Dark wood rafters hung with warm, dimmed lights and red brick accents bring even more warmth into this large room. See how that makes the large space feel cozy?
12. Best For: Timelessness – Traditional Kitchen with Dark Cabinets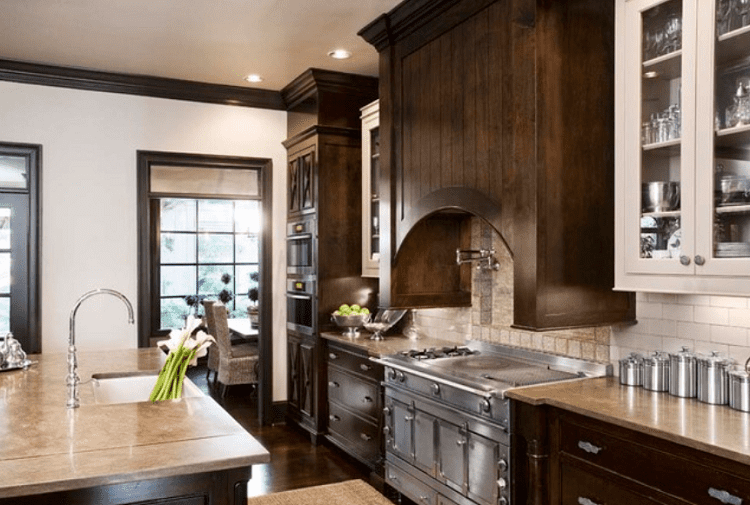 Wow, this traditional-style kitchen has some showstoppers. The dark cabinets have the classic "X" design, which adds some comforting farmhouse style. The kitchen hood is also made of dark wood, and so are the crown moldings.
Adding dark brown crown moldings to fit with the cabinets creates a luxurious feel that will always be in style. This is a great idea of how you can incorporate different wood colors and textures cohesively.
13. Best For: Sharp Contrasts – Miami Traditional Kitchen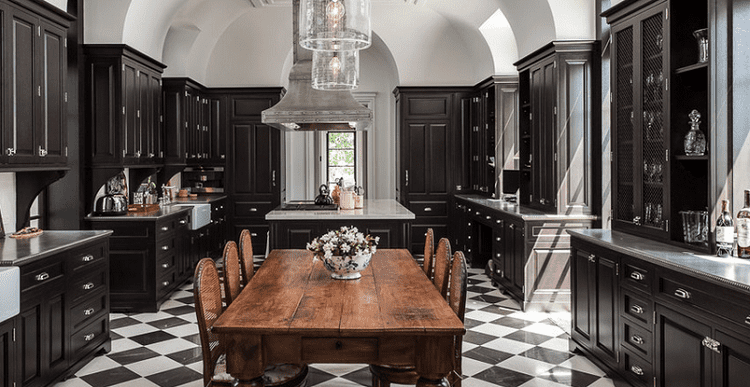 It's like I'm staring at an optical illusion, but it doesn't hurt my eyes. It seems like the dark brown cabinets are endless in this expansive kitchen. The kitchen looks even larger than it really is thanks to the high ceilings and pattern on the floor.
I've talked a lot about how to blend dark wood in so that it doesn't contrast sharply with white, but you don't have to do that. This kitchen shows off how you can use sharp contrasts stylishly.
14. Best Charcoal Cabinets – Charcoal Gray Kitchen Cabinets by Countertop News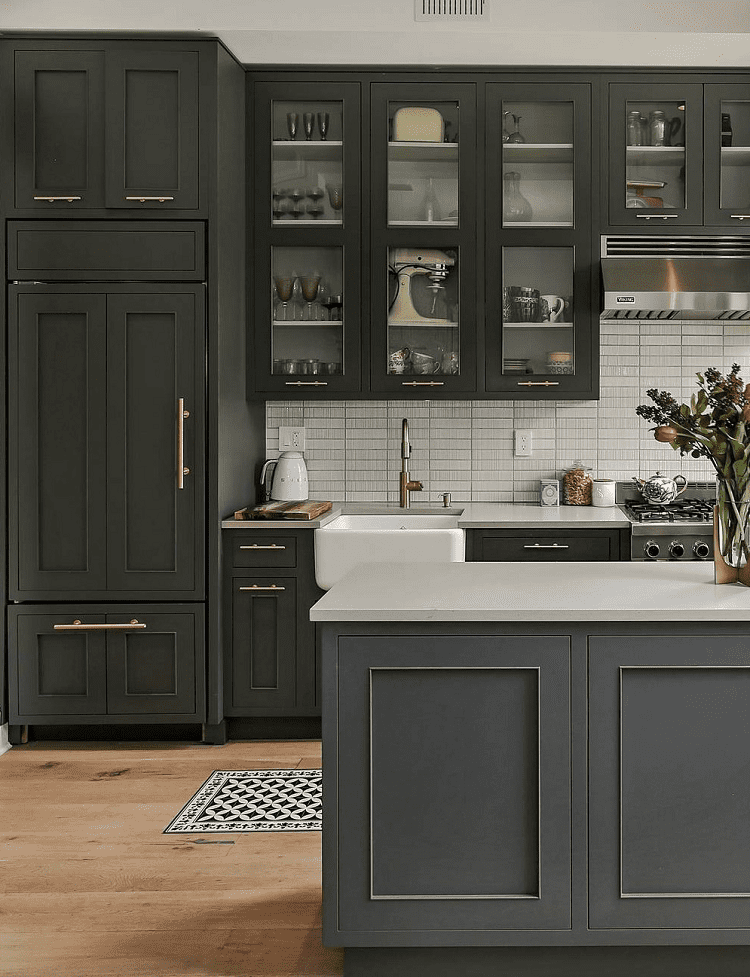 Look at the gorgeous smokey charcoal color used for these cabinets! While this kitchen does show off modern style, it also feels down-to-earth thanks to the minimalistic cabinets and simple ornamentation. In this picture, the charcoal cabinets are paired with silver and white accents.
These colors stand out against charcoal, so the room doesn't feel washed out. Consider having cabinets with glass doors like the ones pictured here if you intend to use this color scheme because you can fill the see-through cabinets with kitchenware and dishware for pops of color.
15. Best For: A Pop of Dark Blue – Dark Blue Kitchen Cabinets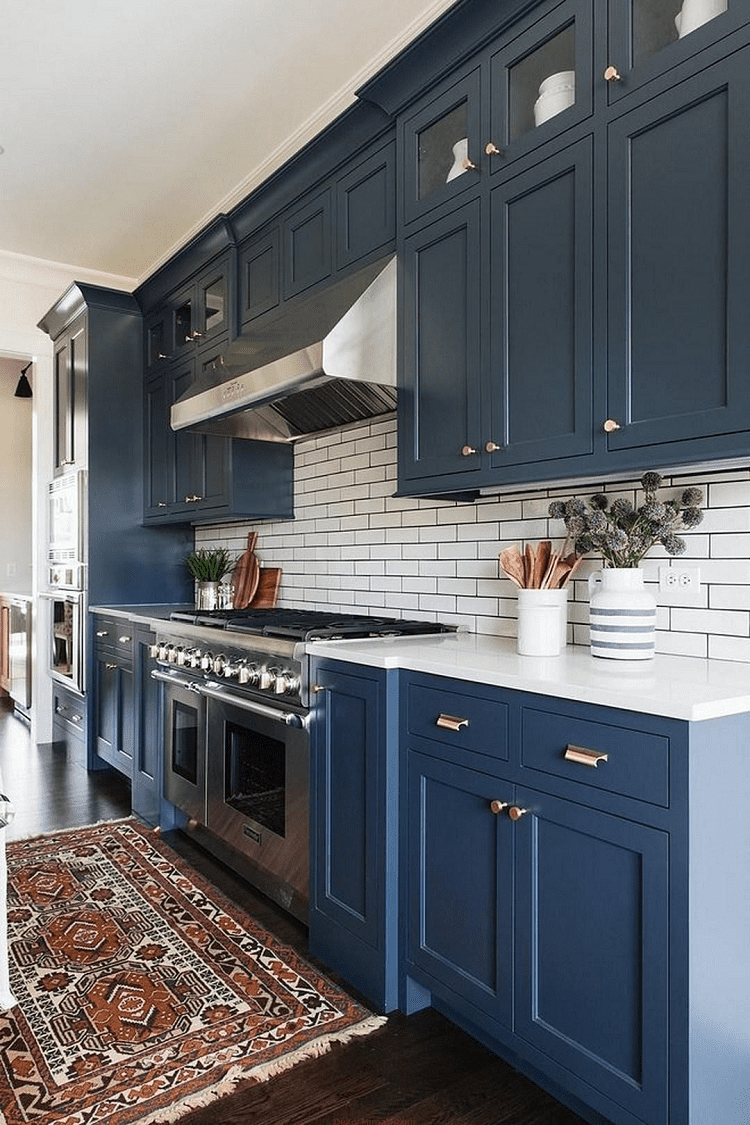 This picture shows how you can make a simplistic style really pop! These cabinets are a gorgeous shade of blue, which makes this classically styled kitchen unique.
Using a white, brown, and gold color scheme throughout the rest of the kitchen allows the blue to stand out without competing with other bold colors. As an aside, throwing a rug on wooden floors makes the space look more inviting.
16. Best For: Natural Wood – Rustic Kitchen by Evgeny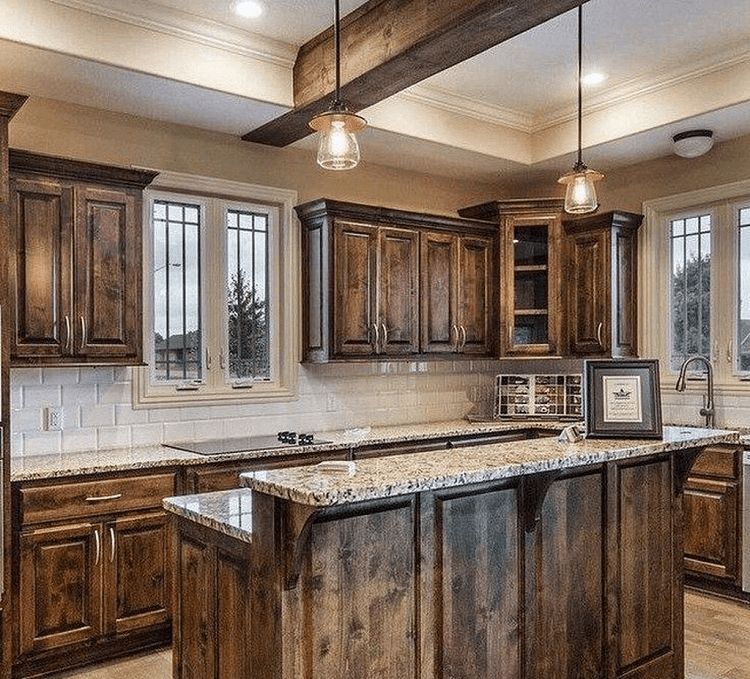 Welcome to your gorgeous natural kitchen! If you're a fan of how natural wood textures look, you're going to love this. All the cabinets showcase natural dark wood.
The rafters and kitchen island match because they're made with the exact same wood type. It goes to show that you don't need a million bells and whistles and fancy things to make your kitchen beautiful.
17. Best For: Dark Kitchen Cabinets with Wood Countertops – Dark Kitchen Cabinets with Oak Countertops by IKEA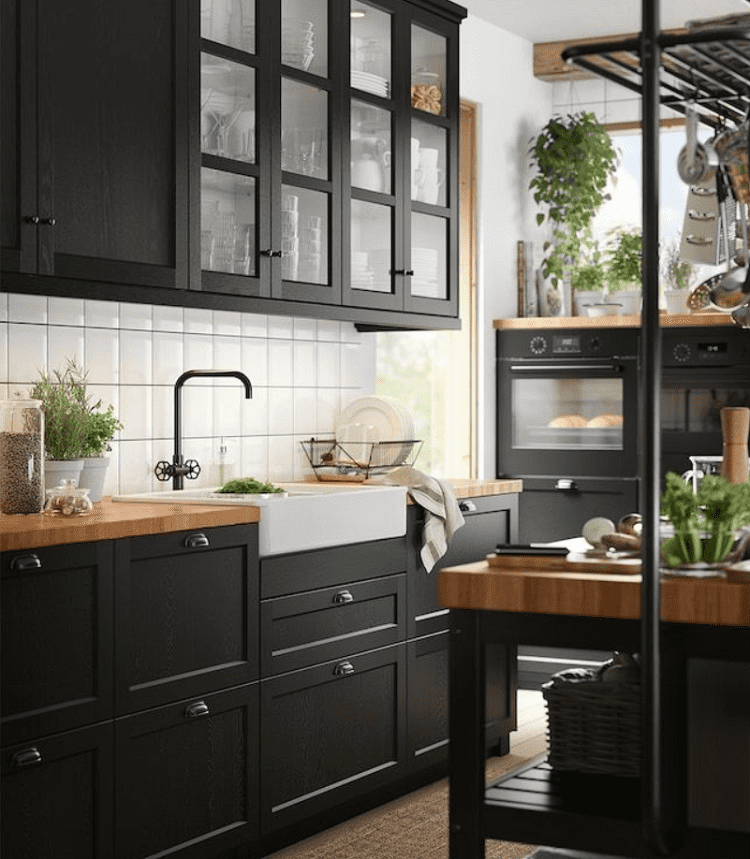 IKEA really did it this time. Choosing matte black cabinets is a bold, stylish choice. They're made to feel homey with the oak wood countertops to achieve the modern brown and black aesthetic.
Black kitchen appliances and black iron fixtures match the cabinets perfectly. Did you notice even the sink is black? Adding succulents and other plants here and there adds life to the space so all the matte black doesn't look grim (the white walls help, too.)
18. Best Dark Cabinets for Small Kitchens – Trendy Dark Kitchen Cabinets by Back Splash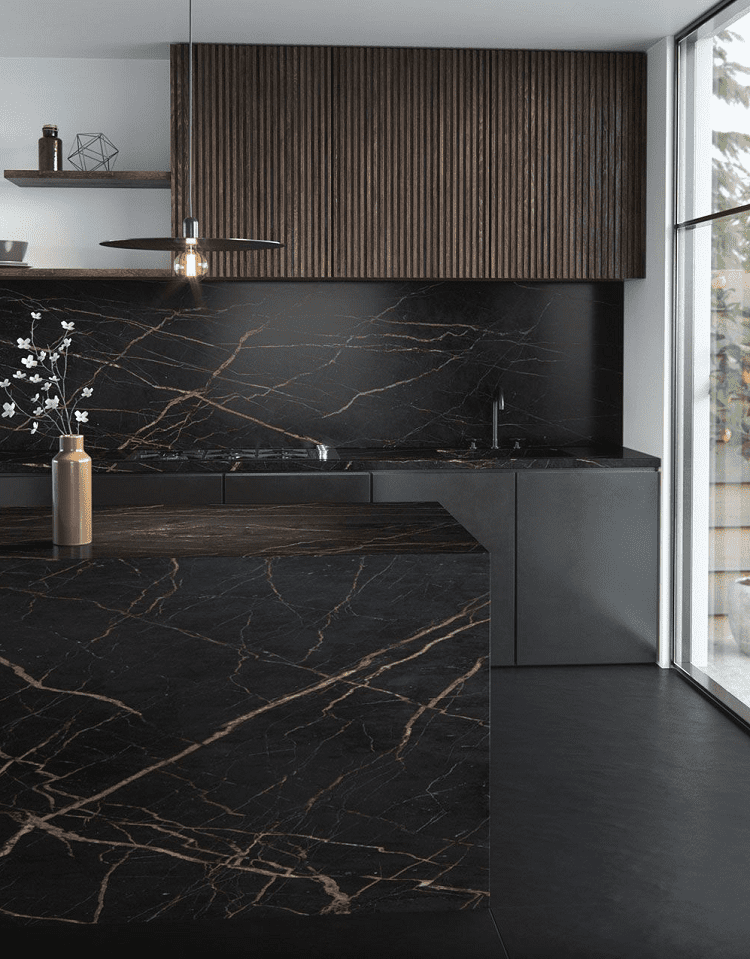 This kitchen is a true work of art. How much more luxurious can you get? The kitchen island, countertops, and wall behind the sink are made of black marble.
The black and dark brown cabinets don't feel too dark, because a giant window to the right lets in plenty of natural light. Gold accents bring the look together because gold and marble are like peanut butter and jelly.
19. Best For: Bold Flashes of Gold – Black and Gold Cabinets by Back Splash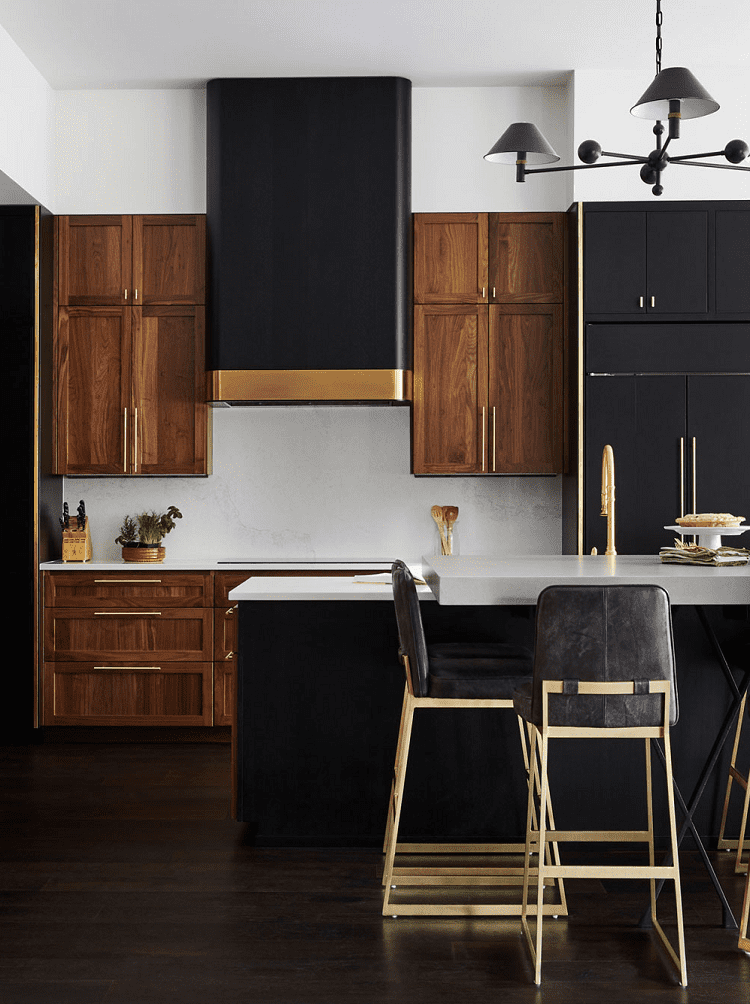 Here's another stunning black and gold kitchen for you to look over! I've never seen black and dark brown cabinets styled together in such a fresh, unique way.
Accenting it all with big splashes of gold? Stunning. While this kitchen keeps it simple, its extravagance is in the color scheme used. The gold really pops against the neutrals.
20. Best For: Uniformity – Top Dark and Dramatic Designer Paint Picks by The Black Goose Design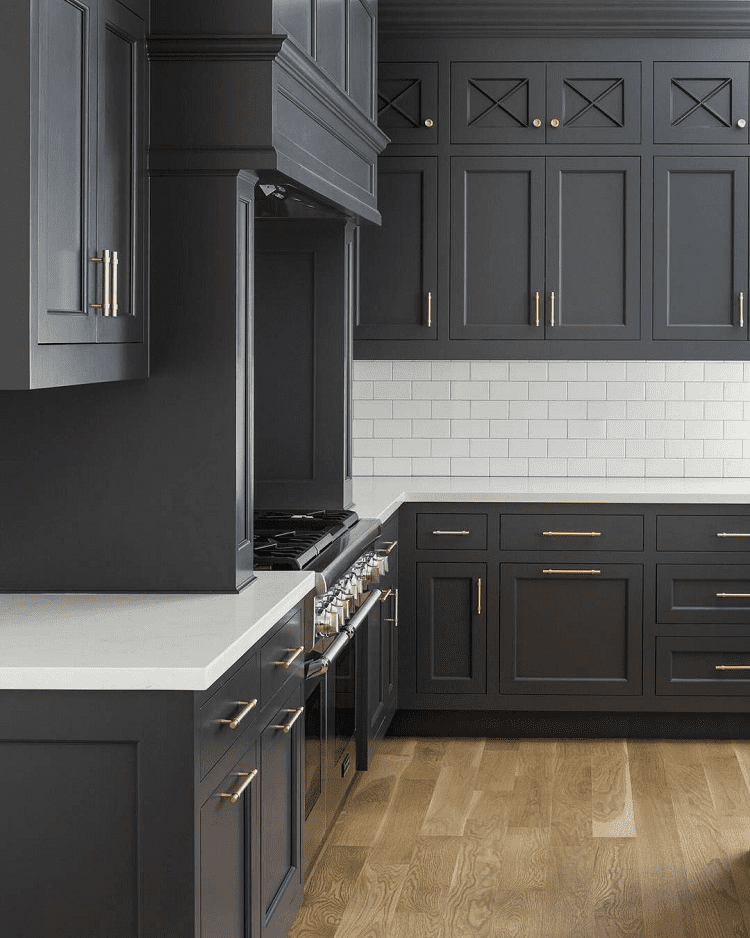 As advertised, these are dark, dramatic cabinets. If you like minimalism and uniformity, I'd take this picture as inspiration for your own kitchen. The colors used are neutral and modern: charcoal, white, and silver. You just can't go wrong with the clean and pristine look of this kitchen.
21. Best Green Kitchen Cabinets – The Best Dark Green Kitchen by Jessica Brigham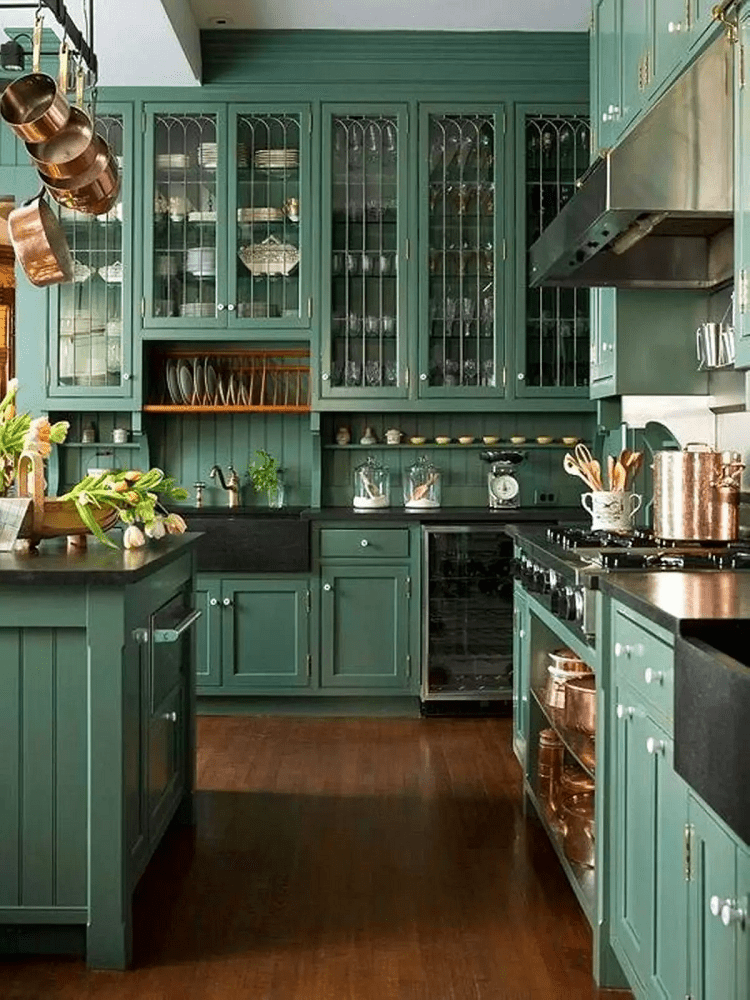 Isn't that dark jade color one of the most gorgeous colors for cabinets you've ever seen? If you're after a bold pop of color but aren't sure how to incorporate it, check out this kitchen from Jessica Brigham.
The unique black sink and wooden floors are neutral colors that look excellent with this shade of green. Placing flowerpots and rose gold accessories around adds a hominess to this kitchen and even more personality.
22. Best For: Auburn Kitchen Cabinets – Deep Auburn Cabinets by Rebecca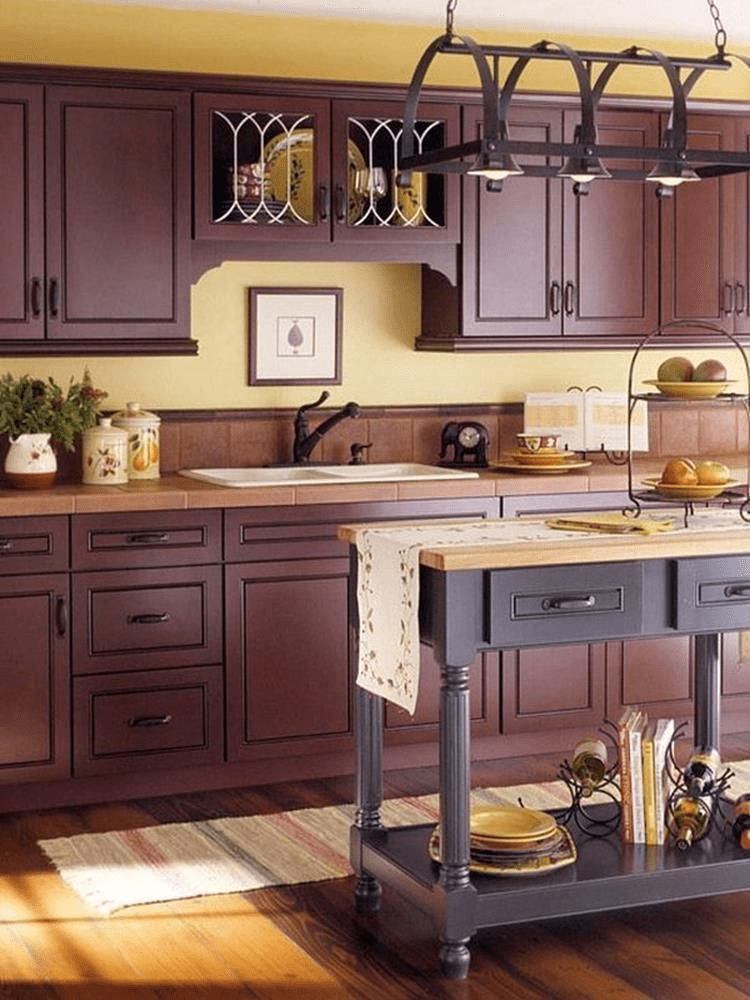 Nothing says warmth quite like deep auburn cabinets. This kitchen by Rebecca is timeless with dark wood and beautiful black accents. Light brown tiles make up the countertops, while homey porcelain cookie jars sit on top as a decoration. This picture looks like you could just jump right into the frame and live there.
23. Best For: Best Cherry Wood Cabinets – Cherry Kitchen Cabinets from Lily Ann Cabinets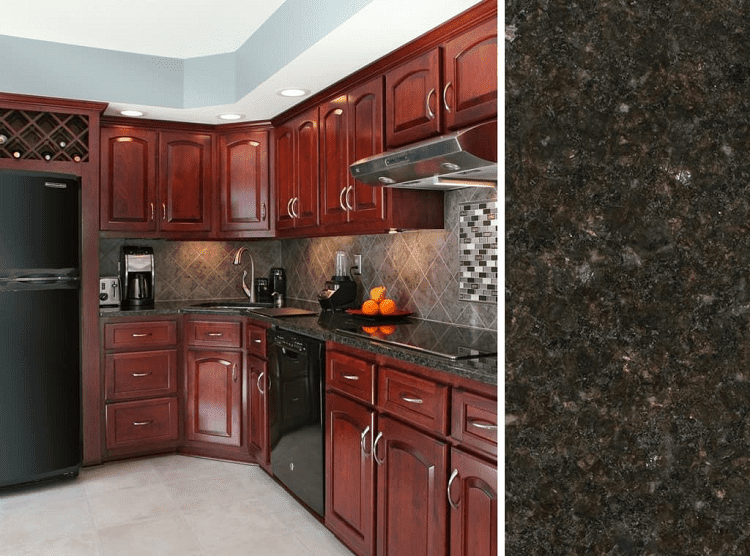 This shade of brown is as close to red as you can get! Homeowners covet cherry wood for its durability and beauty. Cherry wood cabinets are dark, but they aren't quite as dark as many of the other cabinets we've seen.
If you'd like to add more dark colors in with the cherry wood, consider renovating so you have a black fridge and black stove like the ones pictured here.
24. Best Glossy Cabinets – Emerald Cabinets from Southern Living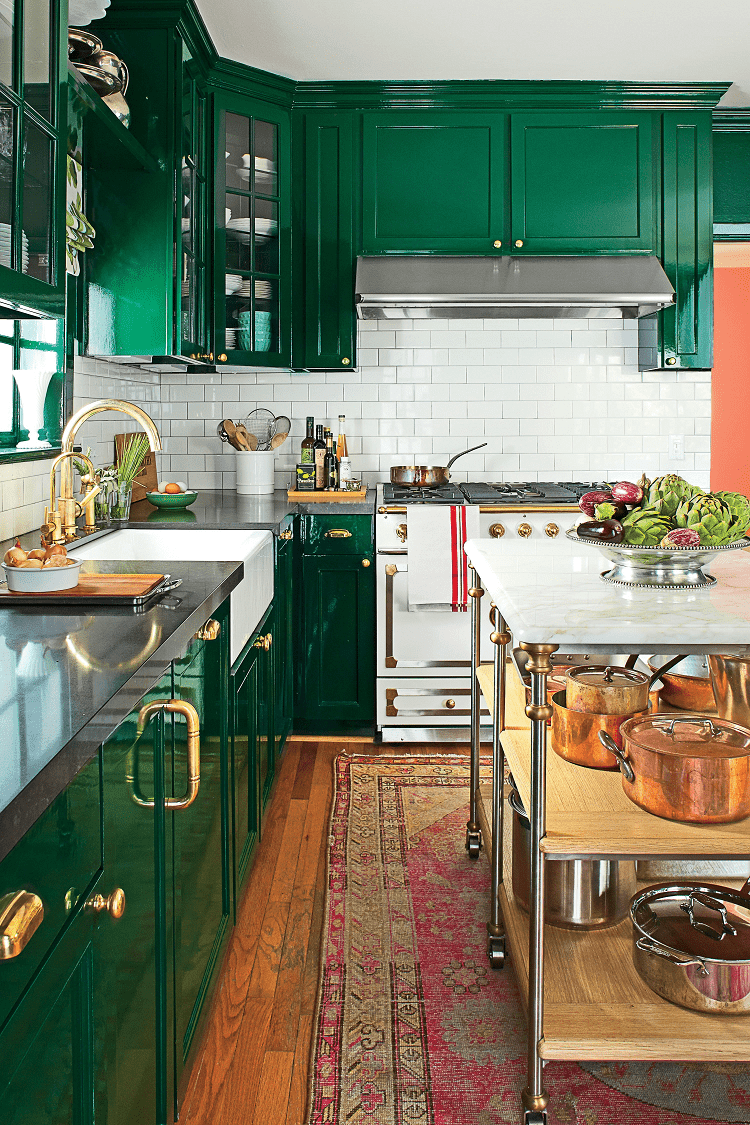 Talk about boldness! Everywhere you look in this kitchen is emerald, emerald, emerald! These glossy green cabinets paired with white and gold accents make the entire room feel luxurious.
Even the faucet is gold! If you wanna try something new and shake up your usual color palette, I'd recommend trying out these glamorous emerald cabinets in your own kitchen.
What are the Best Color Choices for Dark Kitchen Cabinets?
Curious which colors make for the best dark kitchen cabinets? I've got 5 popular choices right here with a recommendation for which paint will give you the nicest color. Be sure to look through these if you plan on DIYing your own cabinets or having a professional paint them for you.
Charcoal: Paint Recommendation: #N500-6 Graphic Charcoal Semi-Gloss Enamel Interior Cabinet and Trim Paint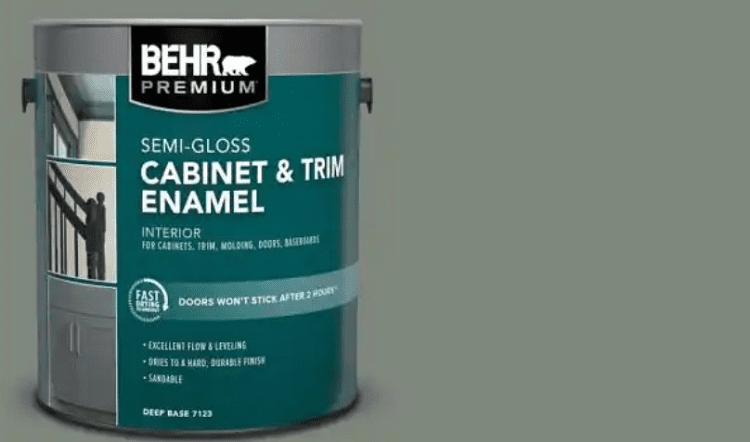 This smokey shade of charcoal pairs beautifully with silver, white, and (especially) gold accents. You can choose to buy this paint with a semi-gloss or satin finish.
Navy: Paint Recommendation: Valspar Signature Satin Naval Hgsw3351 Interior Paint + Primer
How royal and pretty! This shade of navy will offer your kitchen a subtle pop of color that would look stunning against beige and white. You can only buy this paint and primer with a satin finish.
Forest Green: Paint Recommendation: PPG 1145-7 Night Watch Semi-Gloss Exterior Latex Paint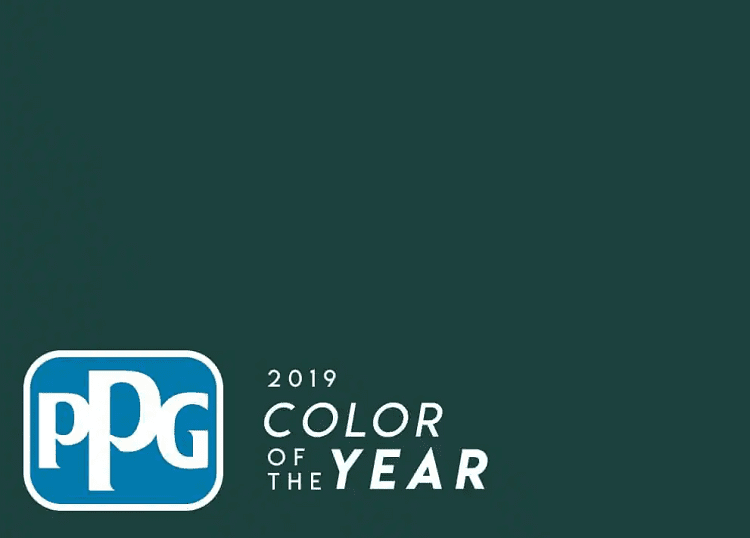 Allow me to introduce you to the paint that won Color of the Year in 2019! This gorgeous green can be bought with a satin, eggshell, matte, or semi-gloss finish.
Dark Stains: Paint Recommendation: Rust-Oleum Ebony Stain & Polyurethane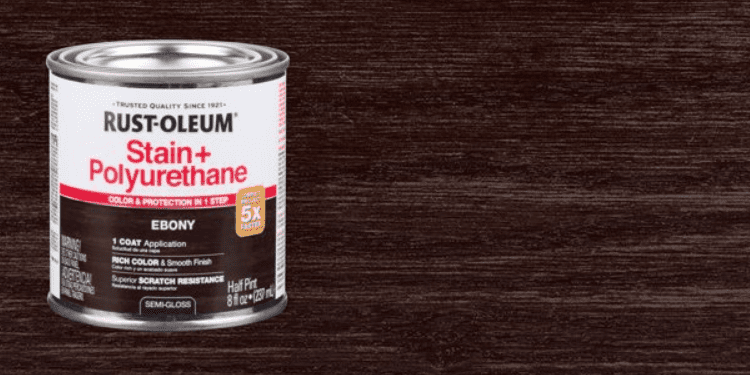 Some of us like the look of wood's natural texture. You can choose to stain your cabinets instead of painting them with a beautiful dark stain like this one.
Black: Paint Recommendation: Valspar Signature Semi-Gloss Black Magic Hgsw6991 Interior Paint + Primer

This soft black paint looks lovely in modern homes. This color is available as a semi-gloss. Anti-scuff technology makes it durable for years.
Pros and Cons of Dark Kitchen Cabinets
Want to know more about the pros and cons of owning dark kitchen cabinets? I'll fill you in.
Pros
Dark cabinets fit with many different styles
Trendy and classical
Lots of colors to choose from
Can use paint or wood stain
Makes other colors pop
Luxurious aesthetic
Cons
Can make a room feel gloomy
If you stain your cabinets, you can't get the natural color back again
Shows dust easily
What Styles Work Best with Dark Kitchen Cabinets?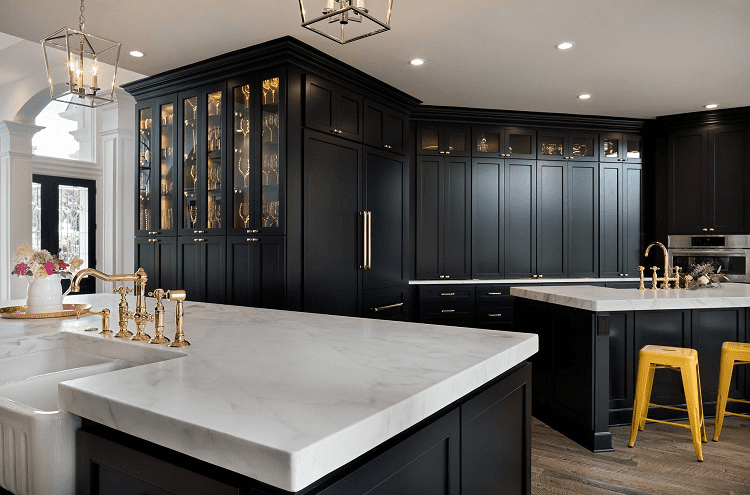 Still not sure which styles would work the best for your new dark cabinets? Don't worry! I've got 3 great ideas for some popular kitchen styles right here. All of these themes work well with dark colors, so you've got plenty of options to give your own kitchen the personality that best reflects you.
Modern
Modern style already incorporates dark colors, anyway. When you think of modern-style homes, you think of silver, black, brown, white, and an accent color like silver or gold. Black, charcoal, dark brown, and even colorful kitchen cabinets look gorgeous with a modernized theme.
Farmhouse
Oh, the coziness of farmhouse style! Many people think of white cabinets when they think of a farmhouse kitchen, but you can have black, charcoal, and dark brown cabinets, too. Even a dark green could be incorporated into a farmhouse kitchen if you felt so inclined.
Rustic
Rustic kitchens feature warm, dark colors. Dark reddish-brown cabinets always go well with the color schemes incorporated into a rustic home. You'll get bonus points for installing cabinets that show off the wood's natural, rough texture.
FAQs
Question: Are Dark Kitchen Cabinets Outdated?
Answer: Dark kitchen cabinets are most certainly not outdated! Many people choose to use dark cabinets for their modern-style homes. Dark colors have always been in, and I suspect they always will be.
Question: Is it Better to have Light or Dark Cabinets?
Answer: That's entirely up to you. The trick is to balance dark with light in your own kitchen to give it a balanced aesthetic appeal. If everything is dark, your kitchen is going to look glum. With too much white, your kitchen will look too pristine and sterile.
Question: Are Dark Cabinets on Trend?
Answer: As a matter of fact, dark cabinets are on-trend. Dark cabinets can be incorporated into so many different styles (like rustic, farmhouse, modern, traditional, and more.) I don't see this going anywhere anytime soon.
The Final Curtain
We've reached the end of the many trendy dark kitchen cabinet ideas from around the internet! Did you learn something new today?
Is there a particular cabinet idea that caught your eye? I bet it was my fav The Best Dark Green Kitchen by Jessica Brigham, wasn't it? If you'd like to learn even more about how to renovate your kitchen with style, please come check out our website!