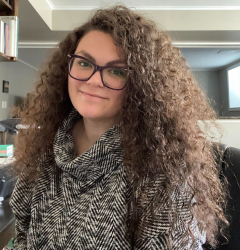 Latest posts by Candace Osmond
(see all)
Blue is a beautiful, versatile color that can either take center stage or stand in the background to let brighter colors pop. You'll be on-trend if you paint your kitchen cabinets blue because this year is all about creating zen vibes in your home.
After seeing the 8 best modern blue kitchen cabinets, I'm sure you'll see why! My guide will walk you through new ideas, shades of light and dark blue, and the process of choosing new cabinets. Ready to redecorate?
Bottom line Upfront
Black is my go-to color choice for just about everything in my life. However, I do tend to use jewel tones, like emerald or navy. And, in this case, a deep, dark muted navy-blue kitchen like The Modern Fairytale Kitchen in Blue just speaks to my soul.
Top Picks
If you want to see the 3 best modern blue kitchen cabinet ideas, then take a look at each of these. These chic cabinets fit in exceptionally well with a modern, sophisticated home. Their color, accents, and design are absolutely stunning.
Where Can You Get Blue Kitchen Cabinets?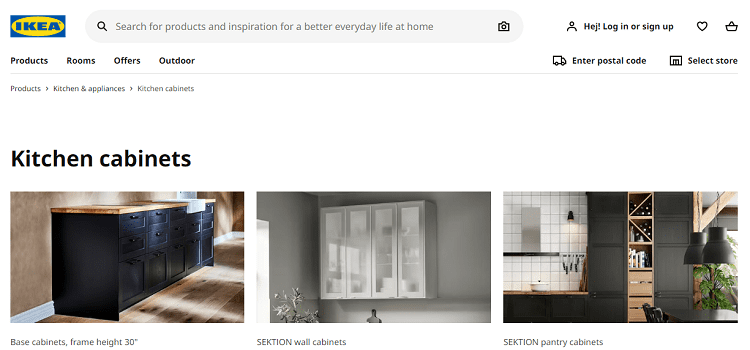 There are a few places you can go to for blue kitchen cabinets. These are some of the most popular and convenient places to go to, but you should consider visiting a local cabinet maker instead.
Buying a one-of-a-kind cabinet from a local professional supports an independent artist and gives you a specialty furniture piece.
Home Depot
The good news: there are Home Depots everywhere around the nation! If you go inside one, you'll see a huuuuuuuuuuuge aisle filled with cabinets and cabinet accessories. You can buy the cabinet, the cabinet fixtures, and the color of paint you want all in one store.
Popular Shades of Blue: Satin Blue Oasis, Coastal Blue, Navy Blue, Deep Blue, etc.
Rona
If you shop for cabinets and paint online from Rona, you'll find a seemingly endless selection of cabinets and paint to choose from. Rona is an enormous department store with a long history of satisfied customers.
Popular Shades of Blue: Dark Blue, Medium Blue, Brilliant Blue, Deep Blue, Ink Blue, etc.
IKEA
IKEA is the trusty store that has it all. You can shop for furniture, eat some food, and spend a whole day walking around the store without getting bored. They have a huge variety of cabinets, accessories, and paint just like the other stores.
Popular Shades of Blue: Check out the POPPARE brand from IKEA for vibrant blue shades!
Kraftmade Kitchens
If you're conscious about shopping ethically but can't find local cabinet makers in your area, check out Kraftmade Kitchens. This brand is committed to reducing their carbon footprint and providing jobs for talented artisans.
Popular Shades of Blue: Different shades are available for different cabinets!
Local Cabinet Makers
This is my top recommendation for receiving a high-quality cabinet. Buying a handcrafted cabinet will give you a furniture piece you'll treasure forever. It supports a local business. It ensures you'll receive a cabinet made from beautiful wood that's been painted by a professional.
Blue Cabinet Finishes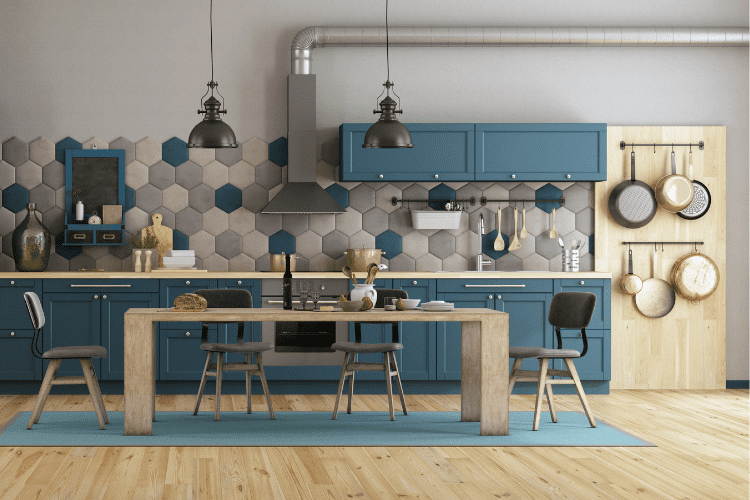 There are several ways to change your cabinet's color to blue. You can paint the wood, stain it, etc. This segment will walk you through these options and how to successfully use each material yourself.
Paint
You'll have a huge array of blue shades to choose from if you want painted cabinets. By going to any Home Depot or Lowes in your area, you can pick from a wall of blue sample colors.
When going to buy paint, make sure you're buying interior paint. You can buy paint + primer or buy the primer and paint separately. If you buy the primer and paint separately, apply the primer first and allow it to dry before painting over it.
Pros
Can choose a matte, satin, semi-gloss, or gloss finish
Available in every color
Apply by yourself or a professional
Wide range of prices
Cons
Can chip over time
Sometimes you must apply paint and primer separately
Tips for Painting Your Cabinets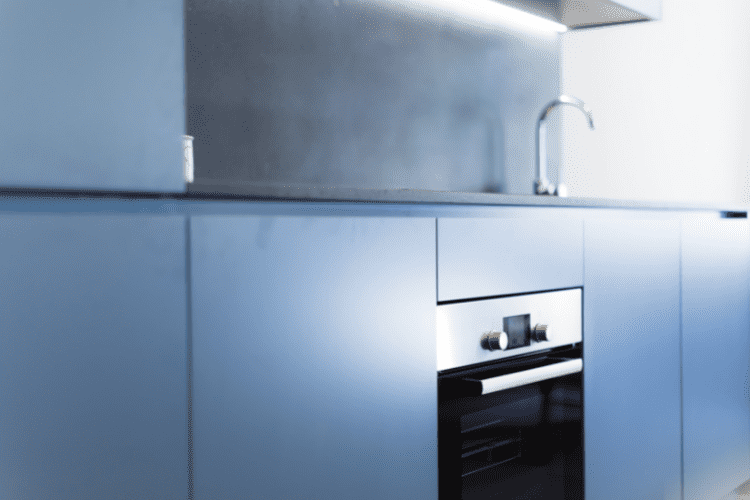 So, I've done this first-hand several times and I have a few tips to share. My first attempt didn't go well. I used regular latex interior paint to revamp an old bathroom vanity. It chipped and peeled pretty much immediately.
The trick is to lightly sand the surface first. This gives the paint something to adhere to. Then, be sure to use proper paint. This can be an acrylic Kitchen & Bath paint, or maybe something by Rustoleum that's formulated for painting over old cabinetry. Do 2-3 coats, and lightly sand between each coat.
If you're looking for some color suggestions for blue paint for kitchen cabinets, I suggest going with Sherwin Williams Dark Night for a subtle, deep blue tone. But if you want something more vivid, try Sherwin Williams Loyal Blue. And, for a lighter, more airy look, try Sherwin Williams Byte Blue!
Stain
Staining is a classic way to change wood's natural color. You can find lots of blue wood stains online. To make sure you like the way a particular stain looks on the variety of wood you have, test out how the stain looks on a spare piece of wood. Use the same wood the cabinets will be made from.
When staining, imagine that you're trying to push the color into the wood's fibers. If you don't want to use a paintbrush, you can use a rag. Firmly move the rag in circles to soak the wood with the stain.
Pros
Easy to apply
Not very expensive
Wide variety of colors available
Can mix various shades of blue to create a custom shade
Seals the wood against bacteria and moisture damage
Cons
You can accidentally stain unevenly
Wood stain fumes can be harmful
Tips for Staining Your Kitchen Cabinets
Okay, so here's the thing about stain. It needs a super porous surface to really sink into. You can't apply stain over something that's a) already stained or painted or b) has a melamine finish. So, your options are to either sand cabinets with an existing stain/paint or work with unfinished cabinets.
A lot of people think of wood stain and probably only picture varying tones of brown tones. But you can get wood stains in other colors such as blue. Personally, I love the selection from Home Depot!
Thermofoil
Ever heard of this option? Thermofoil is made from vinyl that's been heated up very, very hot. Vinyl is an incredibly durable material that's even used for exterior home features, so it's engineered to last.
Pros
Flexible and durable material
Hard to chip, crack, or dent
Lots and lots of blue shades
Less expensive than wood
Cons
Doesn't have a naturalistic look
Melamine
You may be wondering, "What is melamine?" Chances are, you probably have a ton around your house and you don't even know it.
Melamine is the fancy word for engineered wood. If you want melamine cabinets, you'll have to be on the lookout to make sure you buy the right paint. Paint that works well on melamine will specify that it does. Paint that doesn't say this won't provide you with a high-quality finish.
Pros
Less expensive than wood
More resistant to moisture damage than wood
Very accessible
Incredibly durable
Beautiful aesthetic appeal
Cons
Some people prefer the look of natural wood
Acrylic
Choosing to have your cabinets made from acrylic is the modern way to go. Acrylic is a pristine, glossy material that appears positively futuristic. While these cabinets might be a touch more expensive, you'll be happy to know they're exceptionally durable.
It's simple to create acrylic products in any color. If you want acrylic cabinets in blue, you'll find many have been made in every shade between pale blue and dark navy.
Pros
Gorgeous glossy finish
Available in many blue shades
Modern aesthetic
Highly durable material
Cons
The Best Modern Blue Kitchen Cabinets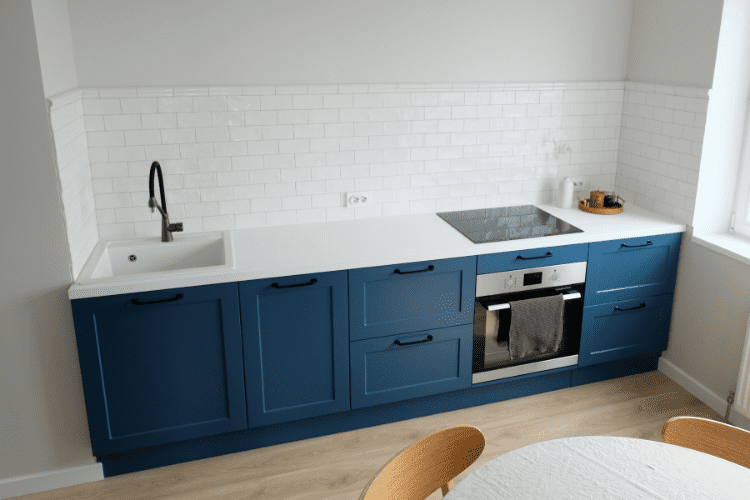 Any of these would be great options for your kitchen. Whether you're replacing the entire thing or just adding a nice blue modern kitchen cabinet to the space.
Mix and Match with Home Depot Pre-Mades
Home Depot has an entire line of pre-made kitchen cabinets that you can get in Neptune Blue. It's a dark, but not too dark, blue color over shaker-style doors. I think it's perfect for a modern setting, especially if you top it with a light marble countertop!
Pros
Inexpensive
In-stock item
Comes assembled
Cons
Wayfair Blue Kitchen Pantry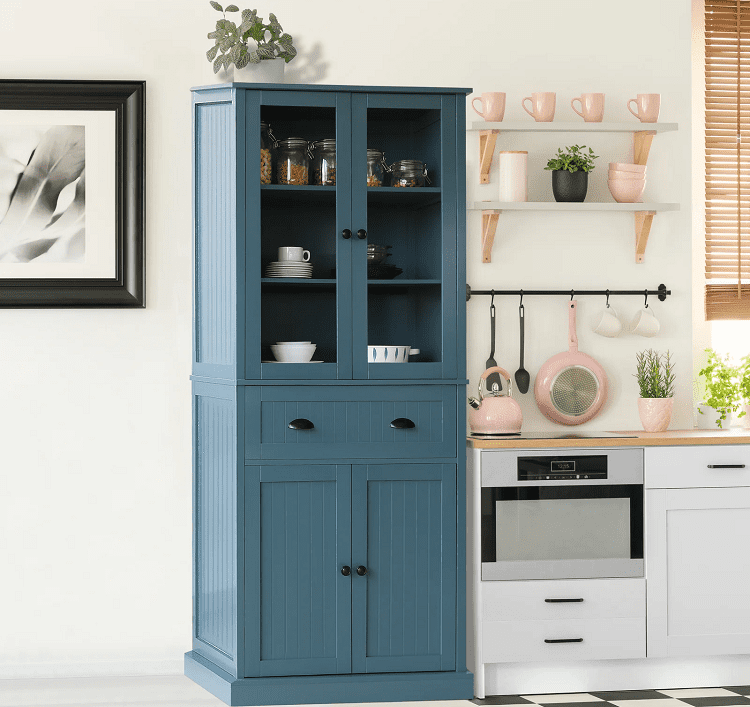 I'm going gaga over this blue kitchen pantry from Wayfair! (full disclosure, Wayfair is one of my fav places to shop online). It's sturdy, well-built, and is freestanding which means you can easily slip it into your existing kitchen to add a dash of blue, or you could move it to another area of your house if you wanted.
Pros
Trendy wainscotting detail over shaker doors
Fully assembled
Free shipping
Cons
Made of MDF so it's prone to water damage
Blue Kitchen Island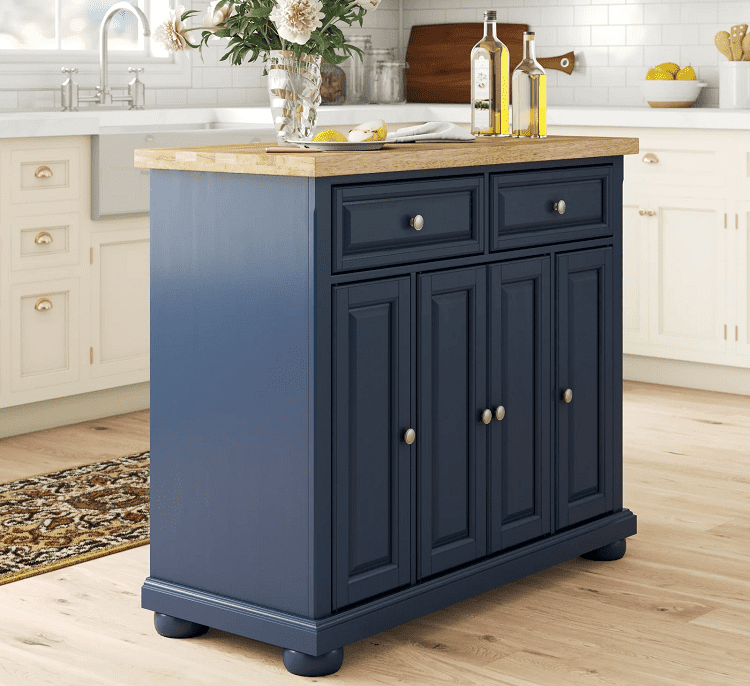 This blue kitchen island from Wayfair is the cutest thing I've ever seen. It comes with everything you need, ready to go. And you even get a gorgeous butcher block style top with it. With two drawers and three separate sections beneath them, you get tons of extra storage for the kitchen. And the best part? It has locking wheels, so you can move it around as you need.
Pros
Free shipping
Comes with countertop
Locking wheels
Cons
Best Modern Blue Kitchen Cabinet Ideas
We've gotten to learn all about how to choose the best blue cabinets, and how to change the cabinets' color yourself. Let's move on to the 8 best modern blue kitchen cabinet ideas based on style, tone, and practicality.
I've separated these by the best dark blue cabinets and best light blue cabinets. See which shade of blue and kitchen set-up you like best!
Modern Dark Blue Kitchen Cabinets Ideas
Best Modern Style: Darkest Blue Cabinets with Gorgeous Granite Countertops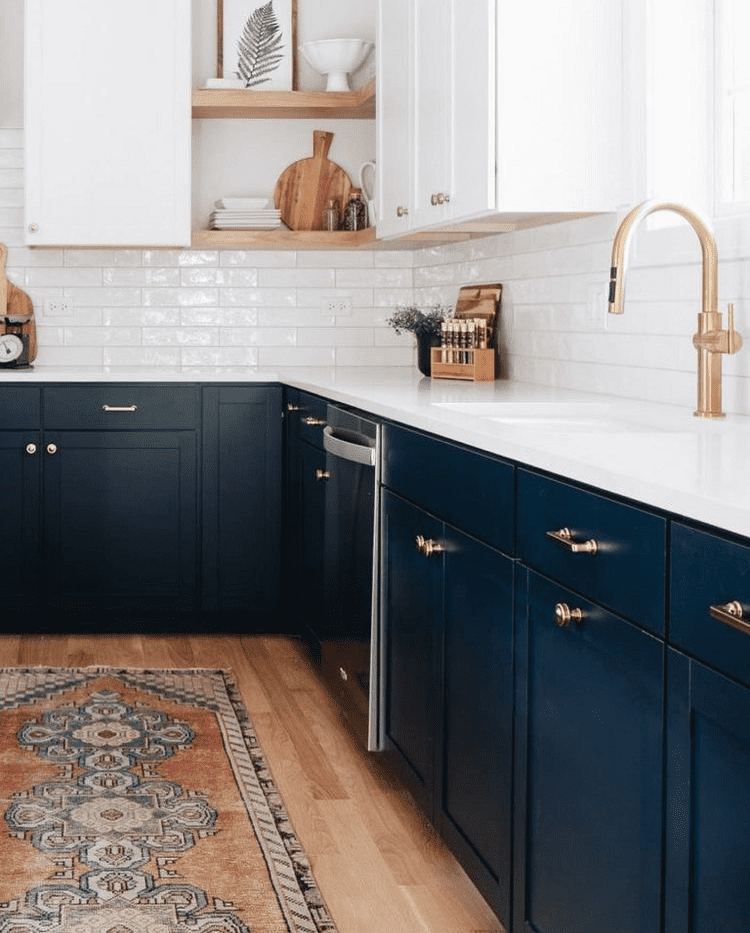 It's hard to get more modern than these darkest blue cabinets. This color scheme was incredibly well-thought-out in my opinion. I can't stop staring at it! All the light colors exist above the counter while the dark colors are placed below the counter.
The top cabinets are solid white while the bottom cabinets are dark blue. What ties the two together are their matching golden accents, which can be found all around the kitchen.
Best Color Combination: The Ultimate Combination – Blue and Gold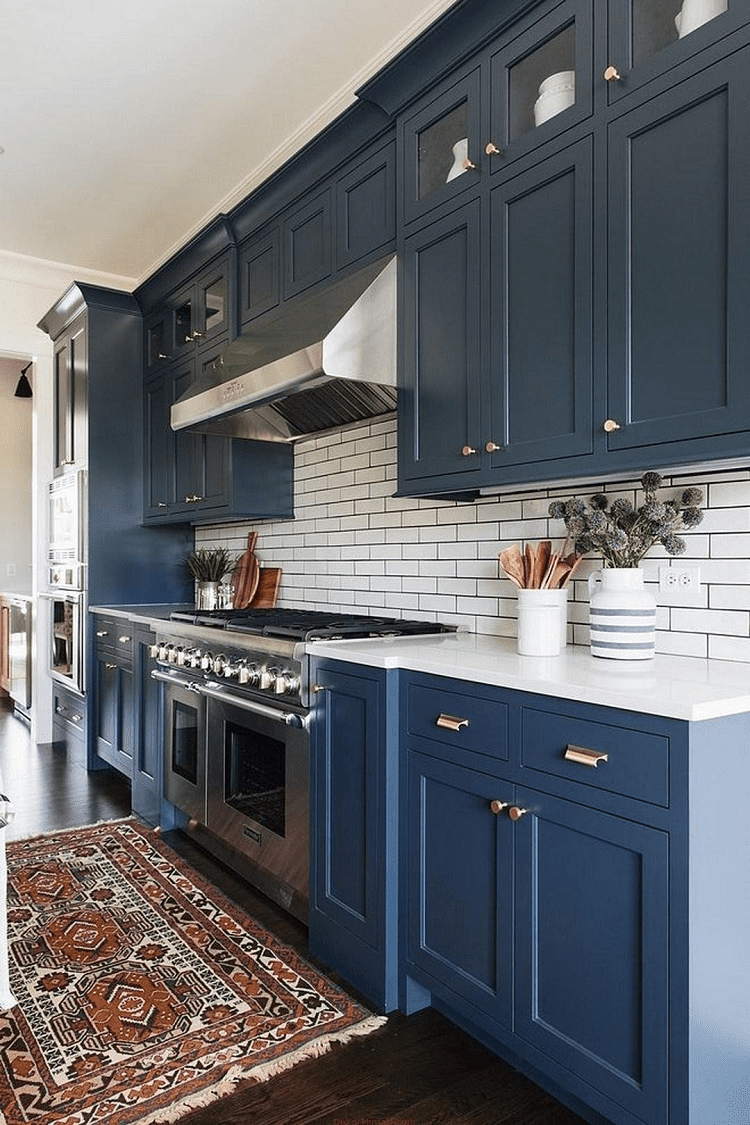 Ah, this is the best example of why blue and gold are meant to be. Back in my Interior Design days, I would always advise clients to match these two whenever I could. They just work so well!
This idea is perfect for large kitchens that show off a cozy look while making use of bolder colors. While homey, the Aegean blue cabinets with golden pulls have character. You can warm up the space by adding a warm-toned rug like the one you see in the picture.
Best Overall and Best Dark Blue Kitchen Cabinets: The Modern Fairytale Kitchen in Blue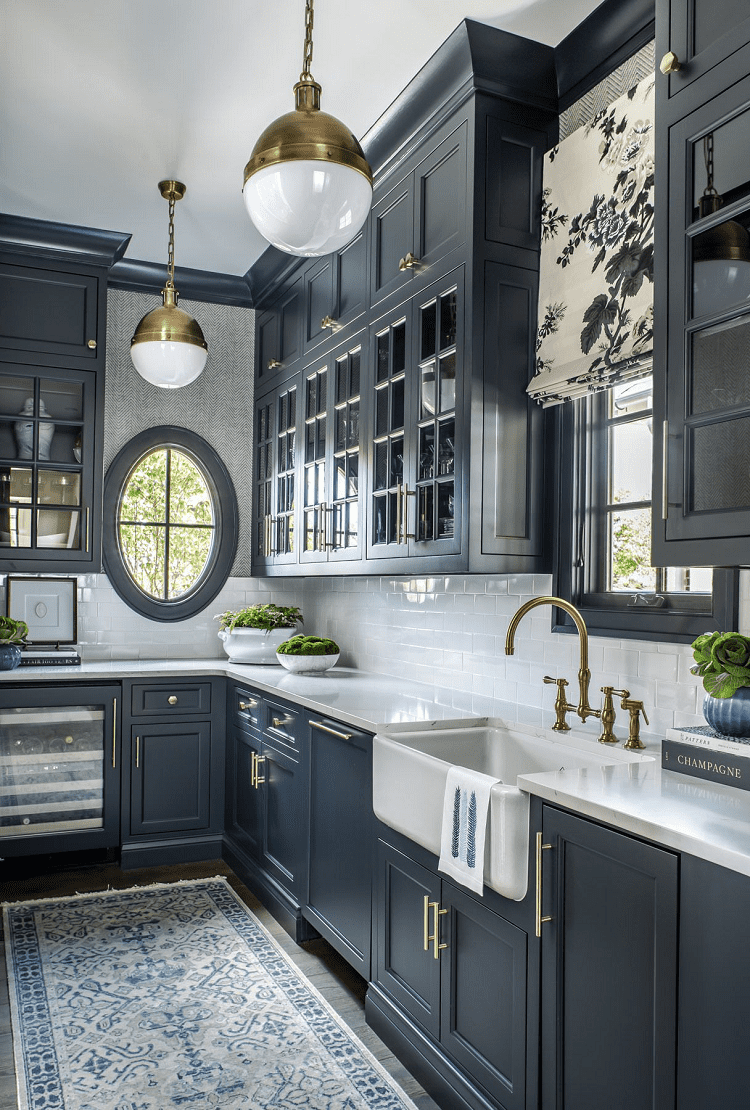 Wowza! This kitchen is a showstopper. Not only are the uniform bottom cabinets and elegant top cabinets a gorgeous shade of Prussian blue, but the circular window frames are as well! Gold accents adorn every part of the kitchen, from the cabinet pulls to the faucet to the ceiling lights. Paired with all the succulents and shrubbery, this shows how you make a fairytale kitchen come to life.
Best Bar-Style Kitchen Cabinet Idea: The Hub of the Home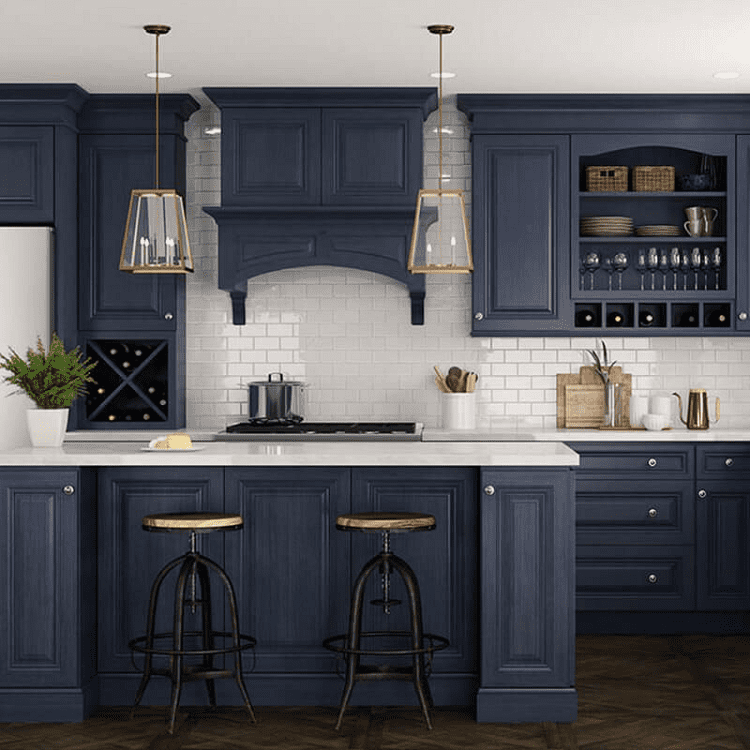 Wanna spend some time drinking wine with your SO or best friends? Remodeling your kitchen to double as a bar might be the way to go! If I had my time back, I'd add a bar set-up to my current kitchen.
If it's usually you hosting events, check out how this wine storage has been stylishly incorporated into the cabinets. The cabinets themselves are a bold yet calming indigo blue. Unlike the other dark blue kitchen cabinets, these feature silver accents.
Best Modern Light Blue Kitchen Cabinets
If you're looking for some great ideas to get you inspired, you've come to the right place!
Best Neutral Kitchen Cabinets: Holy Trinity of Neutrals – White, Light Brown, and Blue-Gray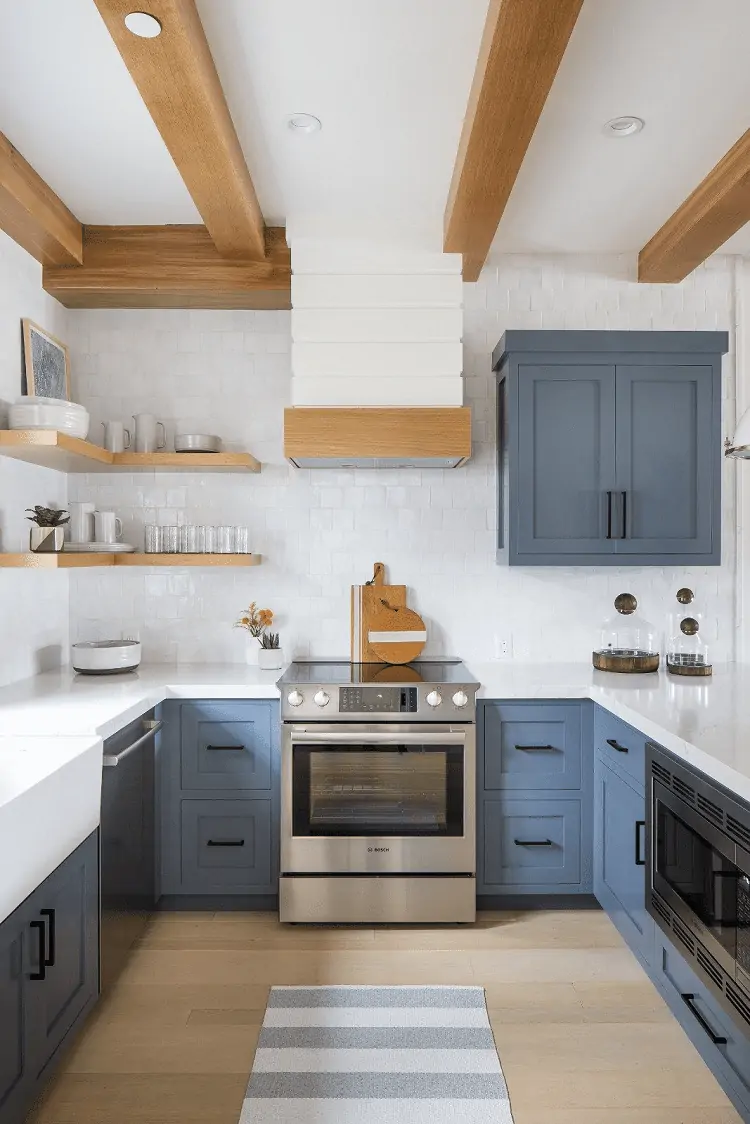 If you aren't a fan of loud colors and would like to keep your kitchen as calming as possible, I've got the perfect idea for you.
This minimalistic kitchen features air force blue cabinets that blend with their surroundings rather than demanding attention. Around the cabinets, you'll see honey blonde wood, white, and black. Choosing a simple color scheme is a great way to keep yourself from overdoing it with bold touches.
Homiest Kitchen Cabinets: Your Homey Blue Kitchen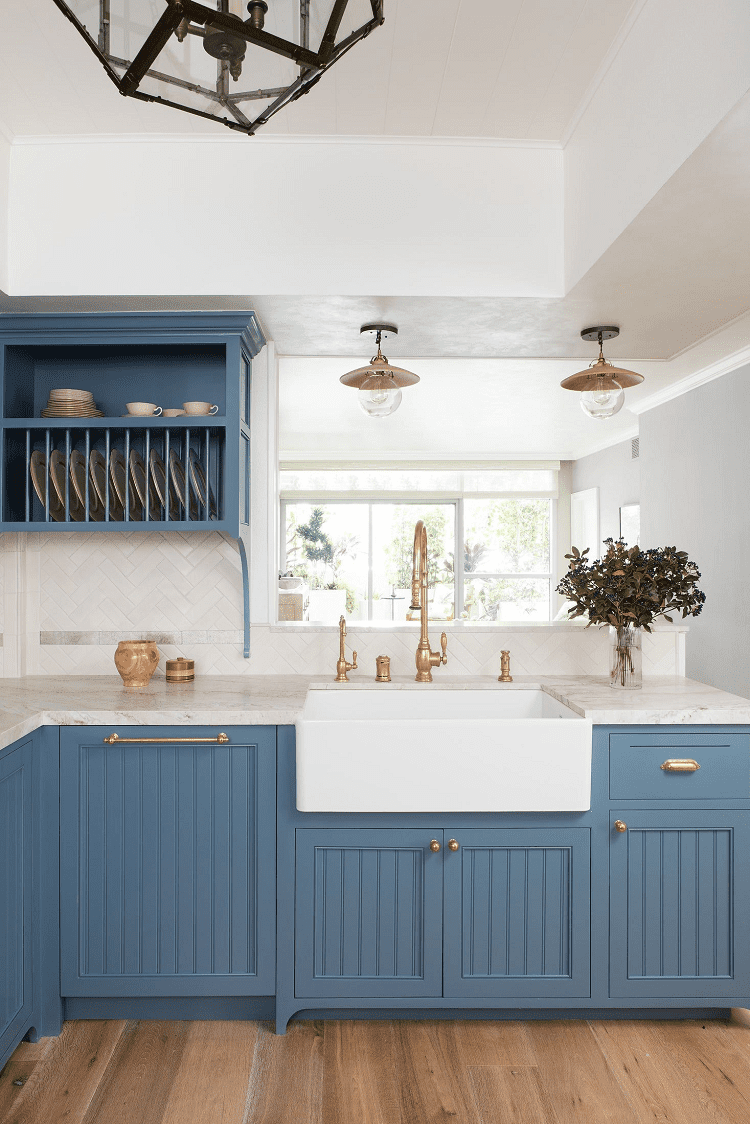 This kitchen is inviting despite its use of cool tones. I just want to pull up a stool and chill with a cup of coffee. The colors used here are the classic palette for incorporating blue: blue, white, and honey blonde wood. Having a color scheme that pops without being overly complicated is key to creating a modern, aesthetically-pleasing space. My favorite part? The details on the cabinet doors look stunning.
Best Pale Color Palette: Get the Cape Cod Look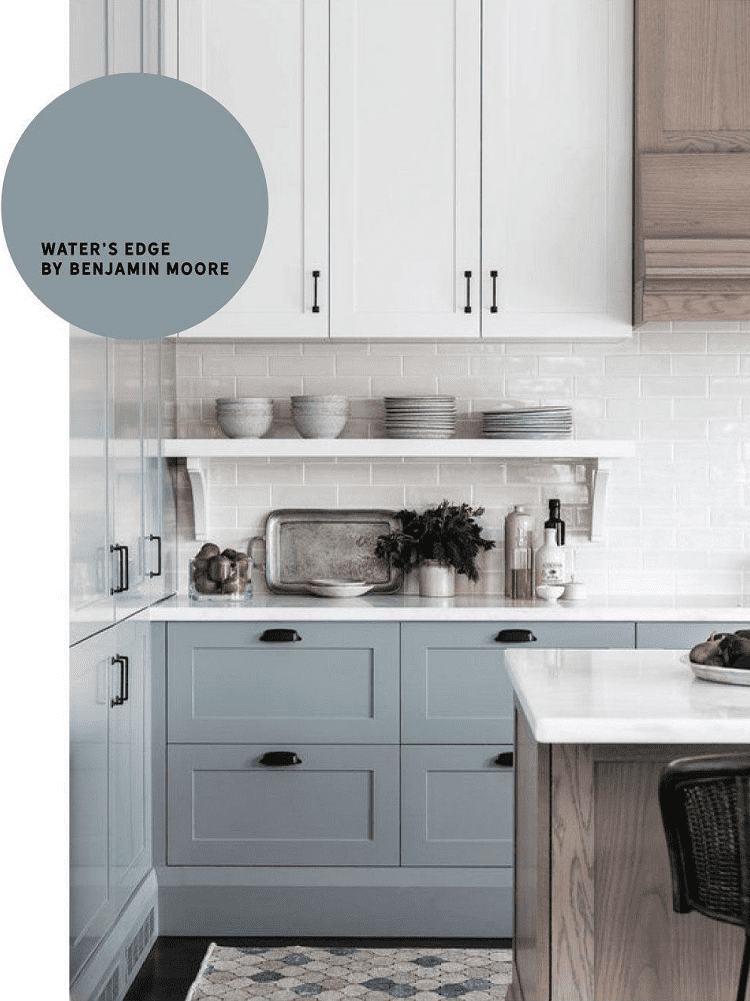 Ah, it's like you were just transported to a luxurious vacation home in Cape Cod! This pale, muted color scheme with a few black accents makes for a homey and welcoming kitchen.
Powder blue was used here, which gives the kitchen an almost dreamy or ethereal effect. The natural wood kitchen hood plus the dishware being on display brings the look back down to earth.
Best Light Blue Kitchen Cabinets: Happy Light Blue Kitchen Cabinets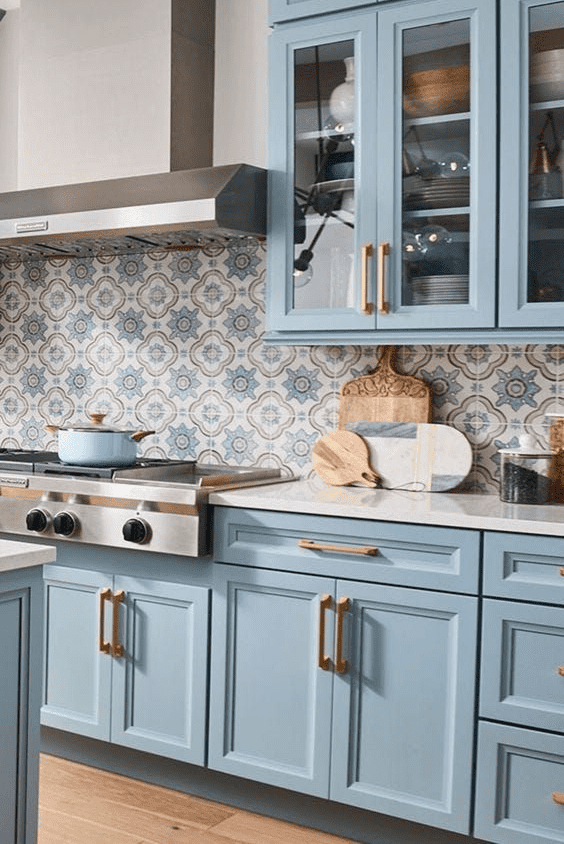 If you're a fan of light blue over dark blue, this is the look I most recommend. These baby blue cabinets with big, chunky golden pulls are the way to make a statement with your kitchen. The glass doors for the top cabinets are an absolute must. This shade of blue, plus the gold accents, plus the glass doors create an elegant and sophisticated atmosphere in the room.
FAQs
Question: What are the Best Blue Colors for Kitchen Cabinets?
Answer:
• Sherwin-Williams in Naval
• Behr in After Rain
• Behr in Wave Top
Question: Is Blue Good for Kitchen Cabinets?
Answer: Yes, blue is a beautiful choice for kitchen cabinets. Blue can blend in or stand out. Light, dark, and medium blue come in a wide variety of aesthetically pleasing shades. Overall, blue is a calming and stabilizing color.
Question: Are Blue Cabinets Trendy?
Answer: Blue cabinets are very on-trend right now. Blue and green are two particularly popular colors this year. Since blue offers a calming, natural vibe, it fits in with 2022's mood.
Stay on Trend
I hope you enjoyed learning through my modern blue kitchen cabinets guide! Are you interested in renovating your kitchen to feature dark blue cabinets? Light blue cabinets? I highly recommend The Modern Fairytale Kitchen in Blue if you love deep, muted tones like me.
Upkeeping a modern kitchen style means keeping up with what's, well, modern. That's what my website is here to offer. For more helpful tips about decorating a modern home, come check out our site!
Read More: