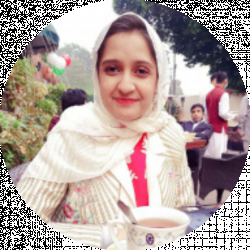 Latest posts by Zunaira Ghazal
(see all)
Any designer can tell you that wood is one of the most commonly used materials in interior design – especially in kitchens, where entire cabinets are made out of it. However, very few will tell you there are actual wood grades (Prime, Standard, Common, etc.). 
Now, kitchen cabinets need to be as sturdy as can be, and the highest grade of wood you could go for is hickory. I love this wood because of its amazing shock resistance (no cracks with accidental banging!), it's heavy, and it's hard enough to ensure heirloom quality!
I also love its gorgeous, distinctive grain and how it creates such a rich visual texture! Honestly, there's too much to love about this material and how it manifests in kitchen cabinet designs, so here's an entire list of ideas you can get inspiration from!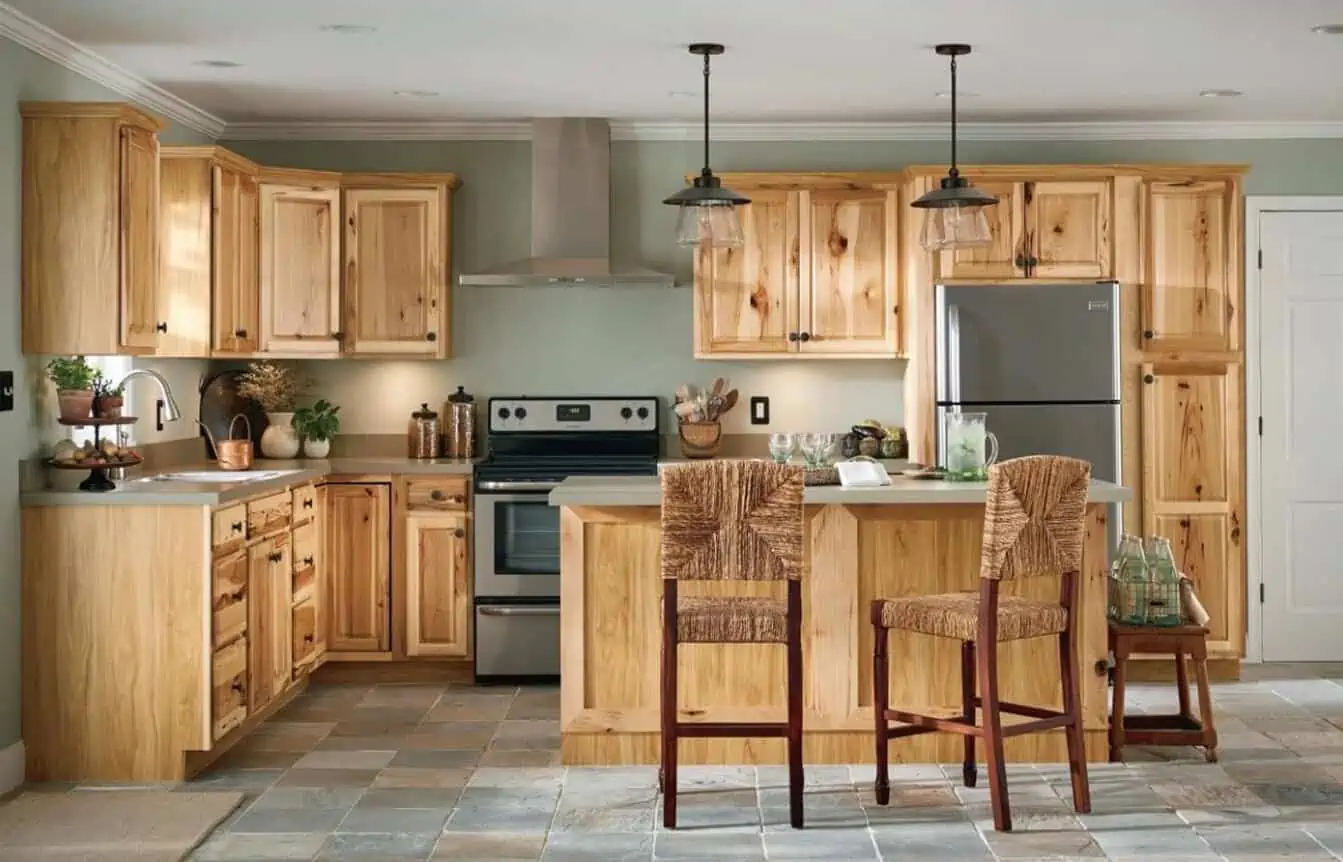 Bottom Line Up Front
Hickory wood is globally known for its strength and rich grain, which is why it's one of the best picks for kitchen cabinets. As a designer, I can tell you that there are so many ways to interpret it in various styles, and this list is about exploring them.
As for my favorite, I adore the Classic White & Wood aesthetic. There's just something about the contrast between the white of the background and the texture of the hickory wood! It's perfect for those who appreciate the simplicity of modern and minimalist styles.
Top Picks
Here are some of my top picks from this list, along with reasons why I love them:
Classic White & Wood
White and wood have always been a favorite combination, and how it has been used to articulate this lovely hickory and marble kitchen is truly exemplary. If you've ever been a fan of minimalist spaces that are cozy yet stark, then this is the kitchen design you need to put on your inspiration board.
Hickory in the Details
I love this hickory kitchen because of its dynamism. It's bold, vintage and features the kind of detailing you don't normally see in typical kitchens. I also love how the hickory wood has been paired with other bold and understated materials to deliver a spirited outlook.
Hickory Cabinets with Mid-century Appeal
Bold, classic, and cleanly designed, this mid century-style kitchen stars hickory cabinets in full glory. It's a gorgeous amalgam of charcoal-painted upper cabinets, white backsplash and counter tops, along with hickory bottom cabinets. I love how all these diverse aesthetics pull together to present a holistic whole.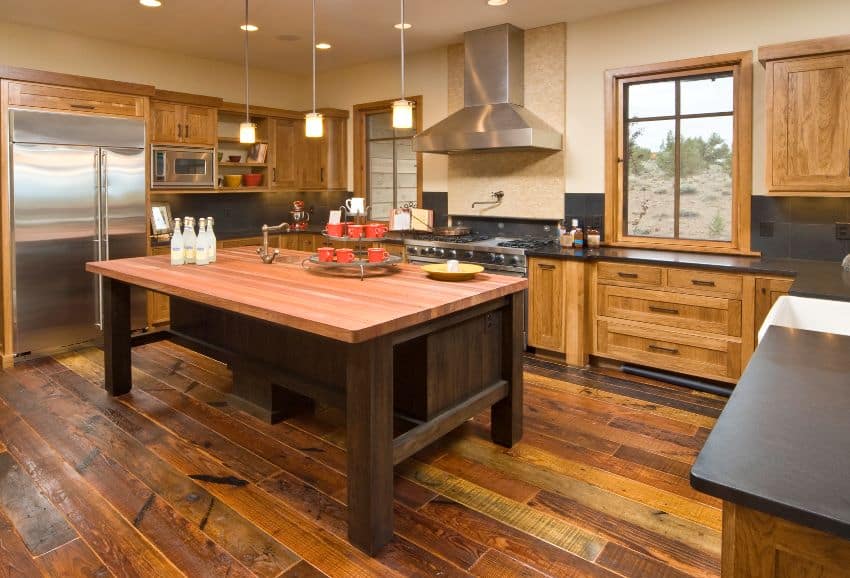 Selection Criteria
Here's what I was looking for while curating this list:
Diversity
Since hickory wood has such a distinct grain, not many styles it is interpreted in exist. So, my goal for this list was to find as many diverse designs as possible, so that you can also experience the variety out there.
Mix and Match
Although the show's star is mostly hickory, I've also tried to curate designs that mix and match it with other colors and materials. As a designer, I find that contrast is a lovely tool to have in your belt. Mixing and matching the right colors can elevate your interiors to the next level.
Rustic Glamour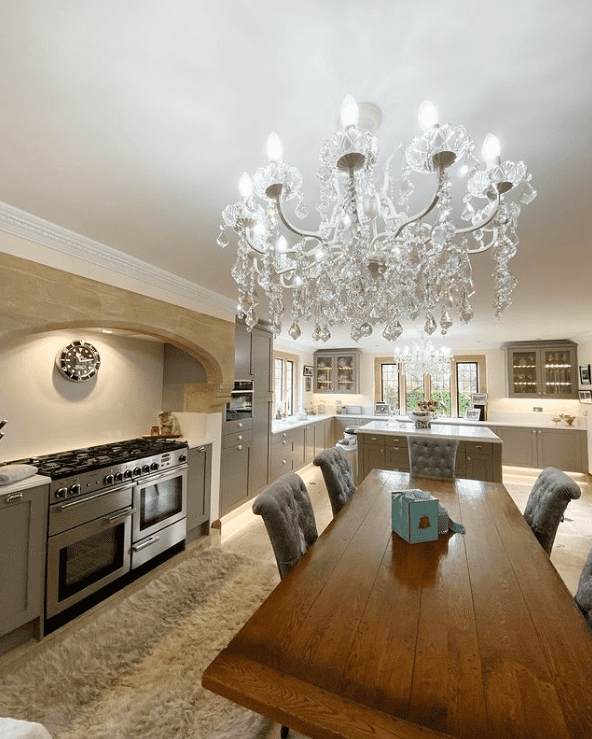 I love how this hickory kitchen is multifaceted – i.e. the use of multiple materials makes it so dynamic! The visual balance appeals to my inner designer. I especially appreciate how the hickory wood has been used to create dramatic highlights in contrast to the rest of the smooth finishes.
The overall styling is also quite noteworthy. Homeowners, here's a pro tip from a professional: a classical chandelier can make even a rustic interior feel luxurious. That's a lesson learned from this lovely interior.
Raw & Textured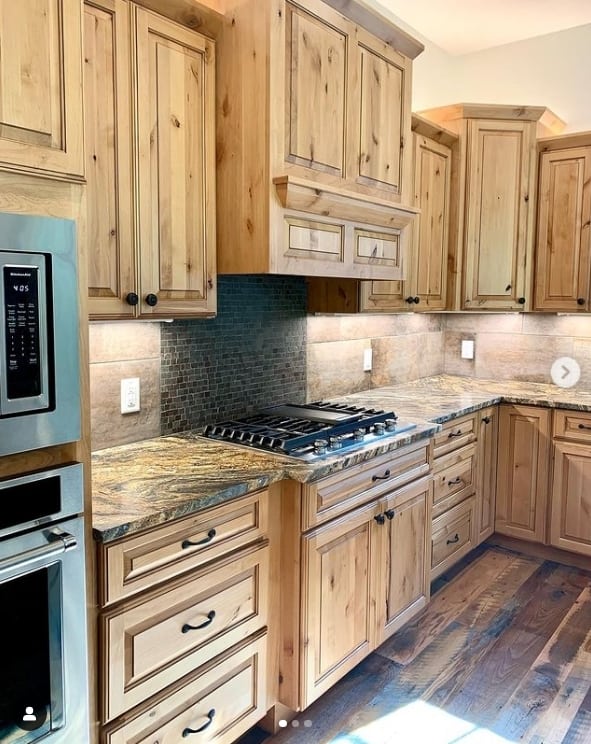 Any fan of textures would love this hickory kitchen cabinet aesthetic. The raw, organic vibe of this space appealed to me. It's hardcore rustic, and each texture brings a layered flavor to the overall design. The cabinets themselves are the best part of the design, and I appreciate how their lightness has been contrasted with darker materials on the backsplash and the floor.
However, I would advise you to emulate this look in a large kitchen. A smaller one might feel too visually cluttered, thanks to the texture. Also, try to use bright light (both natural and artificial) here, as it would help alleviate the sense of too much wood.
Hickory Going Modern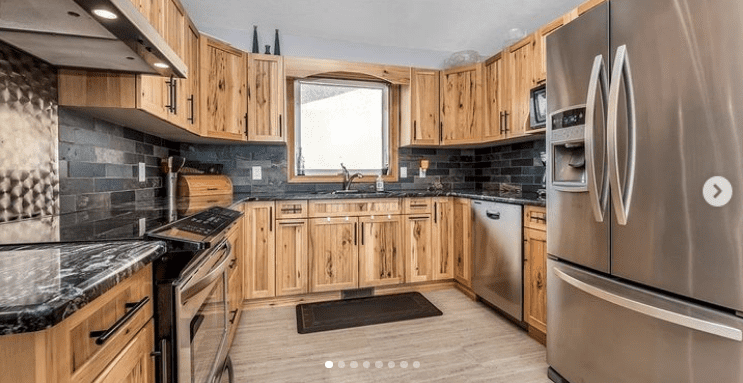 The modernist twist of these hickory kitchen cabinets is truly inspiring. I love the clean lines and how the shape of the cabinets brims with contemporary appeal. I also like the use of black subway tiles and stainless steel appliances – both play in contrast with the cabinets' rustic aura, making them feel modern. 
Cottage Core at its Finest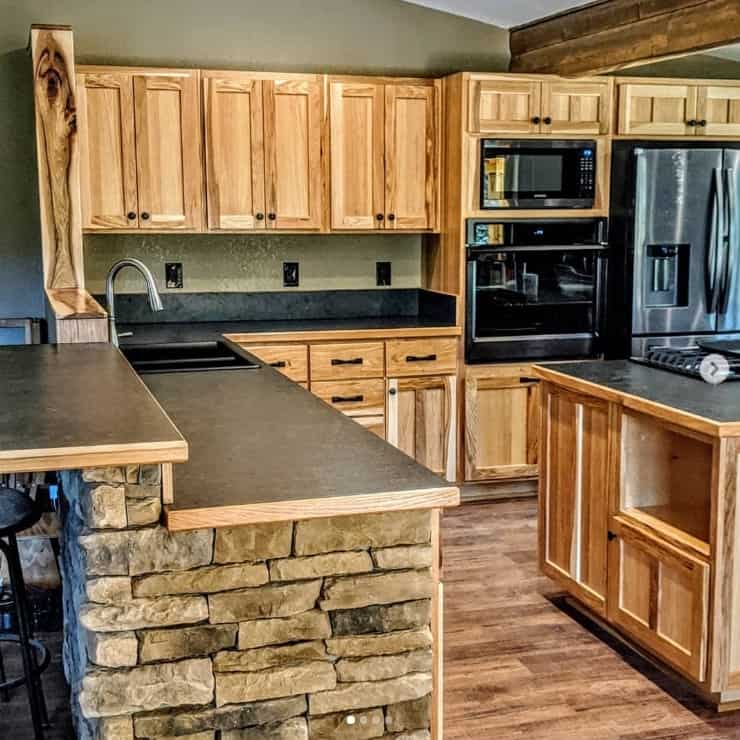 So, the cottage core aesthetic has been making a huge splash across all design platforms. People love how it's super cozy yet stylish, and this hickory kitchen captured the essence of this theme quite well. Once again, the texture of the cabinets plays a huge role in getting that cozy, rustic feeling across.
Then there are the lighter textures across the ceiling and counters that I found quite lovely in the way that they contrast the rest of the ambience. Overall, this kitchen is cottage-core at its finest, and I love it.
Classic White & Wood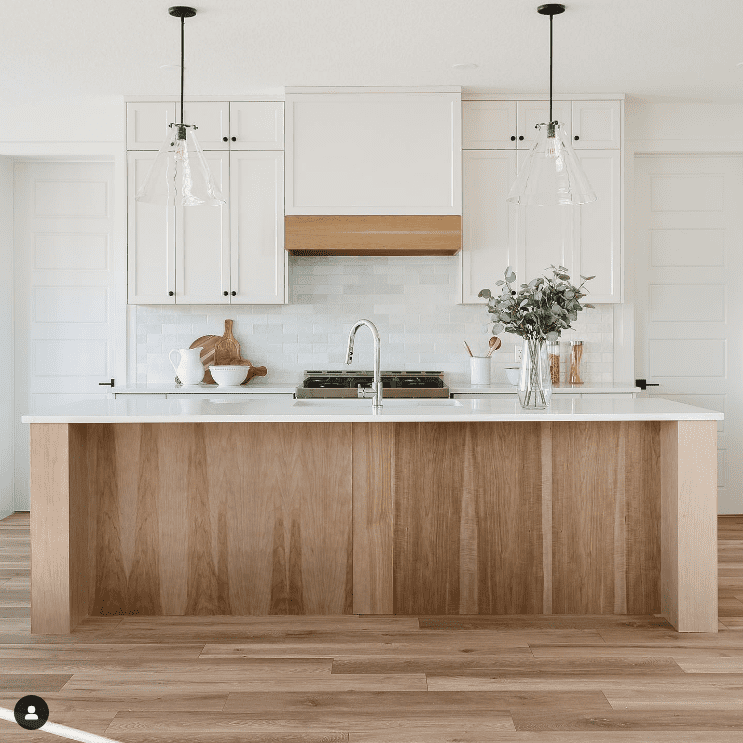 Ah, white and wood. The most fashion-forward, timeless, and modernist combination out there. I often come across this combo – especially in magazines and popular design websites. It's one of the best fusions, and hickory wood is the best choice to articulate the wood parts. As you can see in this kitchen, the bold texture of the wood makes the white parts shine in this kitchen. Had it been smooth, the ambiance would have felt flat instantly!
Industrial Chic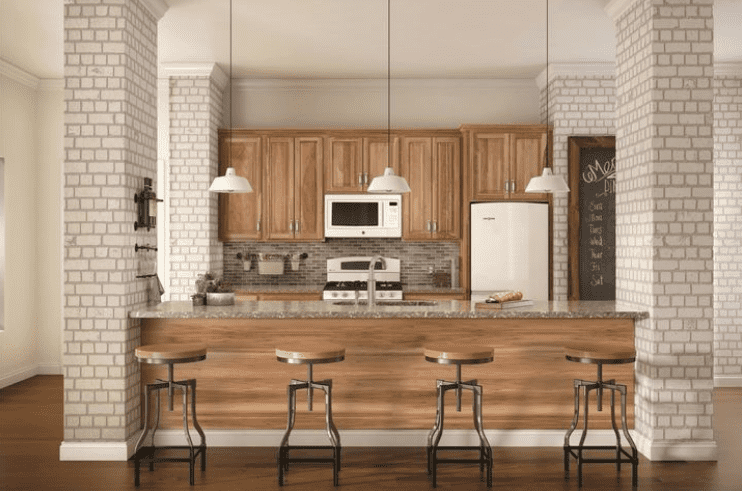 Whoever thinks that industrial interiors can only be transcribed through warehouse chic materials should think again because this kitchen with its hickory cabinets is here to prove otherwise.
I immediately fell in love with this interpretation because it uses the bold texture of the hickory wood and fuses it perfectly with well-chosen materials like subway tiles, retro pendants, and industrial-chic bar stools. It's such a holistic and well-designed look – definitely worth putting on your inspiration board.
Hickory in the Details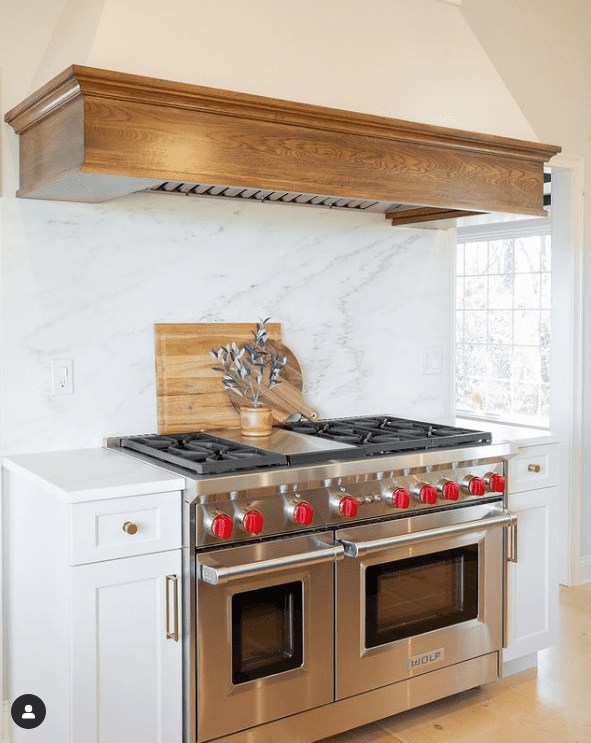 They say that God is in the details, and this kitchen, with its hickory cabinet detailing, definitely proves that. This deliberate vintage accenting takes the whole thing to a new level. It's what attracted me to this kitchen in the first place.
I love the hickory wood lattice at the bottom of the wood and how it has that classic 90s appeal. Then there are the accompanying materials like the smooth marble backsplash, and stainless steel oven with its large red knobs give the whole design an unparalleled dynamic appeal.
Hickory Being Minimalist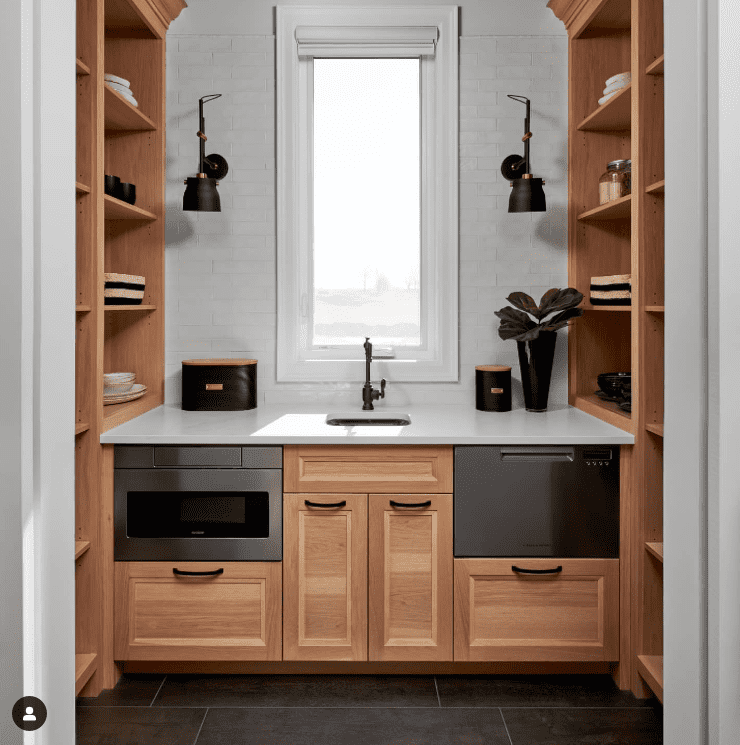 This mini-kitchen has been dressed in the best of hickory wood and a combination of smooth white materials. I love its clean, modern aesthetic.
While the previous kitchens we've looked at on this list have seen hickory in all its textural glory, here, it has been smoothed out to represent that modern aesthetic while still keeping that cottage-core look. Even the utensils have been chosen in black and white to complement the overall theme.
With Black Accenting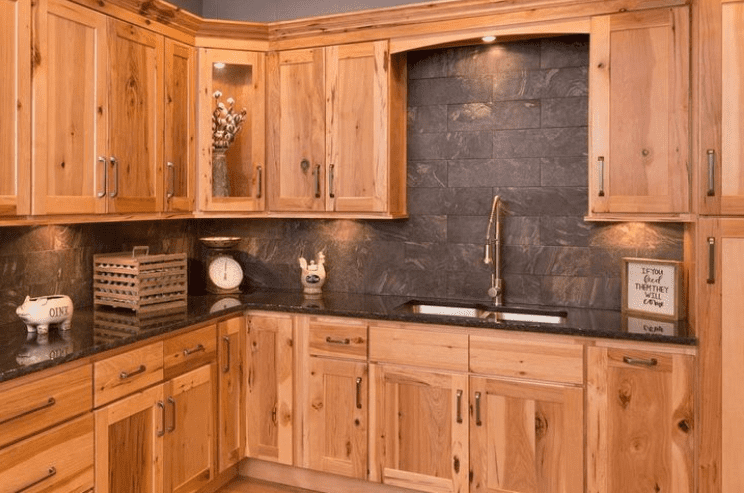 We've seen how cool hickory wood looks against white; now it's time to look at how it fares against black. Here, the bright, cherry finish and gorgeous natural texture of the hickory wood play front and centre in all its natural glory. I love how it has been played out to perfection with the golden lighting.
Then comes the black backdrop. The backsplash, with its rich charcoal texture makes the hickory stand out even more. The fusion of contrasting materials has been carried out quite expertly, and the accessorizing has been carried out to perfection. 
Hickory Cabinets with Midcentury Appeal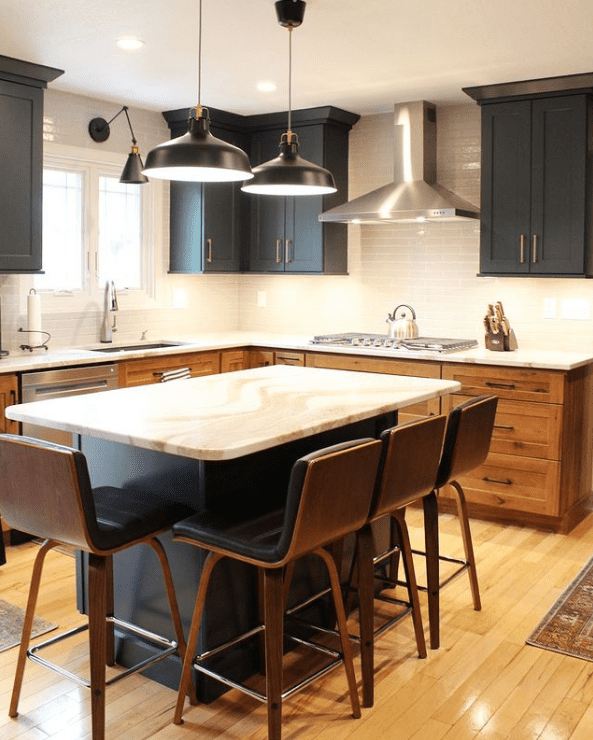 Out of all the hickory kitchen cabinet ideas on this list, I love this one the most. It's bold, beautiful, and lovely. The real charm of this kitchen is that it features a fusion of various materials.
Everything works together in the most wonderful fashion, from the charcoal upper cabinets to the white countertops and gorgeous midcentury barstools. Even the light fixtures have been selected to present a midcentury front, and the entire kitchen feels like a true classic. 
Loft Style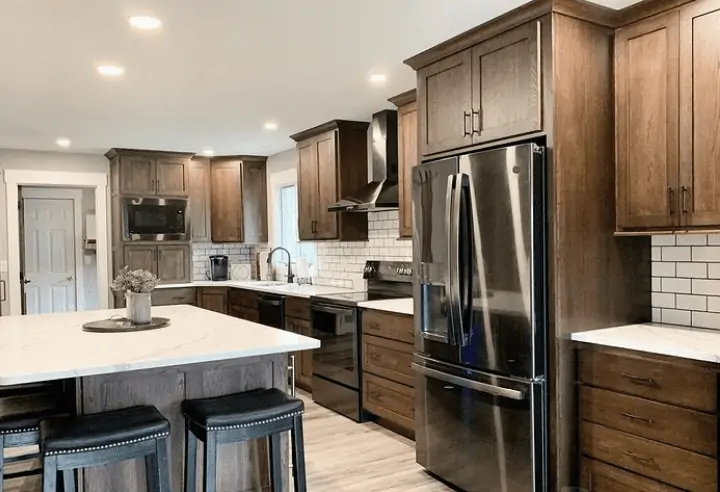 This stylish urban chic kitchen has used hickory wood to its full advantage. I love how it has this distinctly industrial vibe and yet still manages to look cosy and welcoming.
It's largely due to the inviting texture of the wood and how it contrasts beautifully with New York-style subway tiles and stainless steel accessories. The rough finishes and combination of light and dark tones work wonders in presenting a holistic, pulled-together front.
Contemporary to the Fullest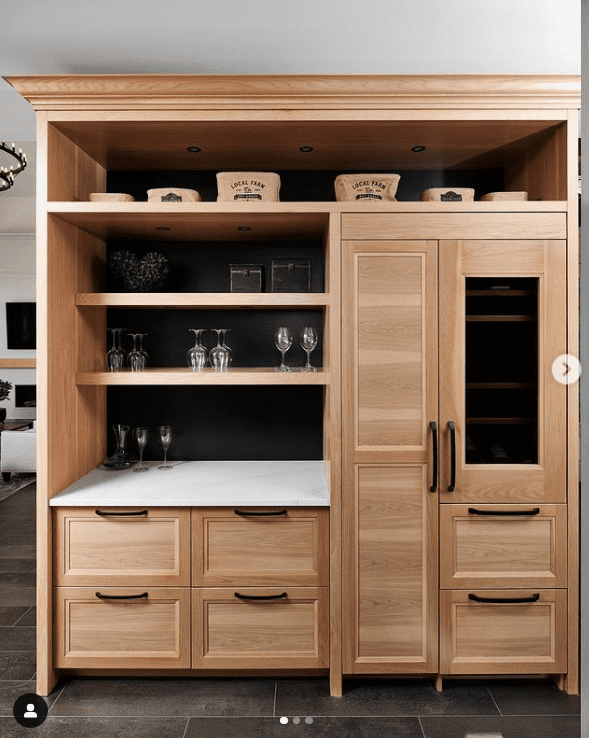 At first glance, it may seem like hickory is a hardcore rustic style wood, but you can use it to achieve a contemporary look – just like it has been done in the kitchen! I love how the wood texture has been used to complement the modern design of the cabinet.
As a designer, I appreciate how the direction of the hickory wood's grain has been strategically used to create the cabinet's design. I also love how it has been complemented with a pain black backdrop and accessorized with modernist glass utensils – very sleek and a la mode!
Navy Blue & Hickory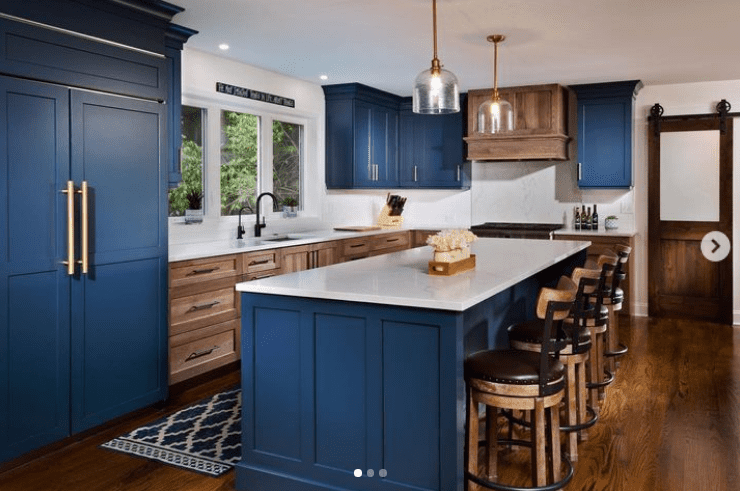 I realize that this listicle is largely about kitchens entirely made up of hickory cabinets, but I wanted to put this one on the list. The dichotomy of navy blue and wood works so well together. I love how the navy blue cabinets have been used for accenting. All the different materials in this kitchen pull together really well to present a dynamic whole.
Hickory in Open Kitchens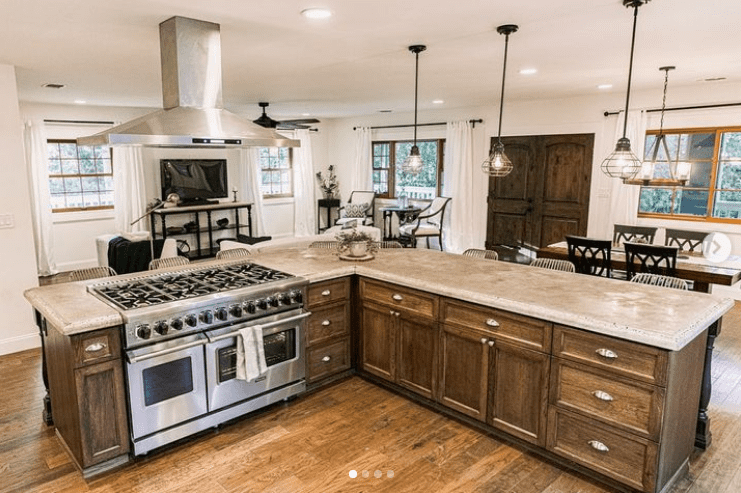 Using hickory wood in open kitchens can make a bold style statement that will carry through to the rest of your house. The example in this image is great. I love how the backdrop has been finished in a creamy white so that the texture of the wood can stand out.
I also appreciate how every detail has been strategically placed so that everything is visually balanced. Just a slight imbalance would have made the whole room feel different.
Hickory Kitchenette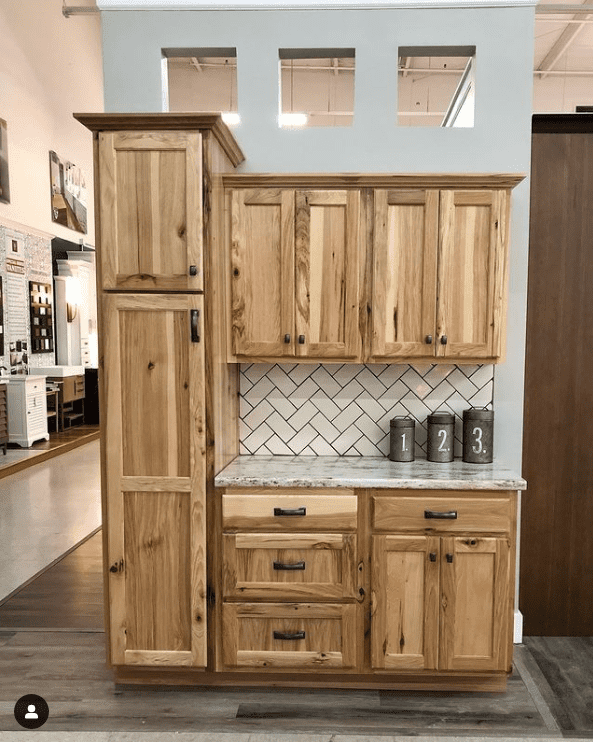 We've seen a lot of big kitchens done in hickory wood, so here's a tiny one. I love how the marble countertop and herringbone patterned subway tiles work in contrast to the wood grain. It's super attractive, but best of all? I think it takes away from the traditional aspects of wood. It's still very rustic but with all the best bits of contemporary style mixed in.
Natural Hickory Cabinets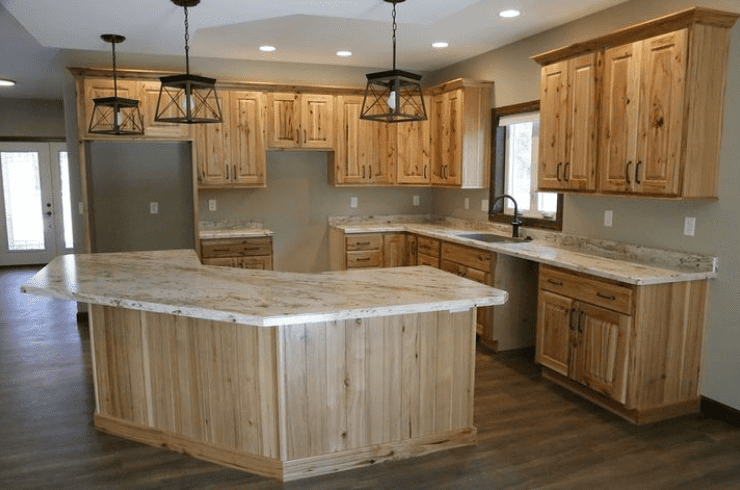 Hickory wood wears staining well, but it also looks amazing in its natural finish. Just take a look at these cabinets – they're light, gorgeously textured, and look really rich. I also like how this original finish works in tandem with the open floor plan of the kitchen. A closed-off space could not have handled so much visual richness.
Stained Hickory with Whites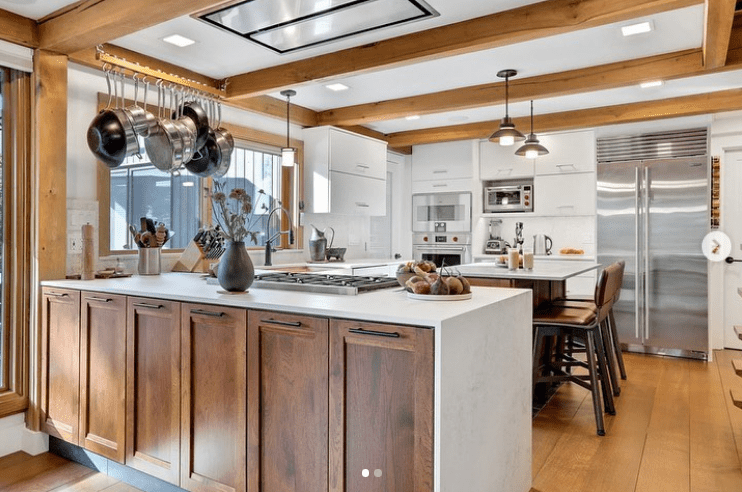 We've seen natural hickory cabinets against a white backdrop, so let's look at how they might come off when you stain them. Honestly, I love the darker look of the hickory cabinets and how it stands out gorgeously against the stark white of the backdrop. The whole look is a cross between minimalism and rustic chic. 
Complete Cottage Style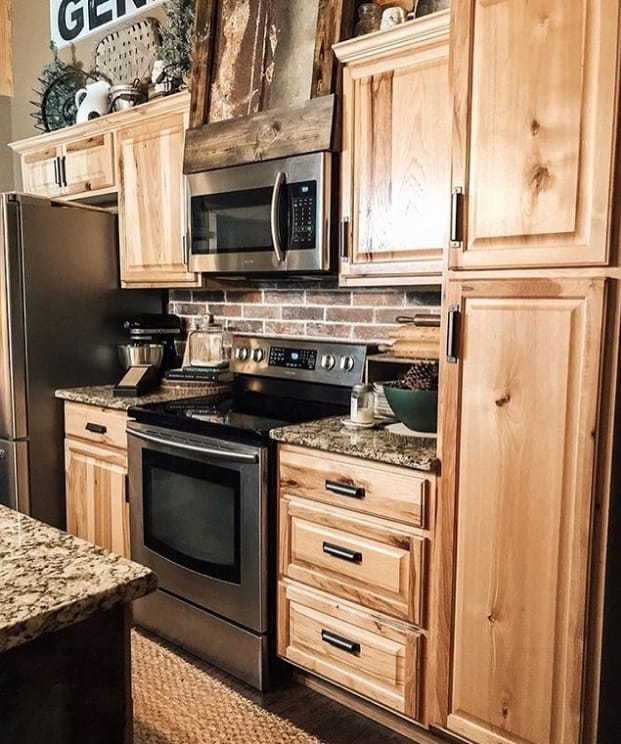 I immediately fell in love with the cozy, homely appeal of this kitchen with hickory cabinets. It takes the distinct texture of this wood and elevates it to a whole new level by mixing it with similarly natural textures. From exposed brick to the beige backdrop and jute rug, all the materials here complement the style of the hickory wood. Honestly, it looks like the cabin in the woods that goldilocks walked into, and I'm here for this look!
Painted Hickory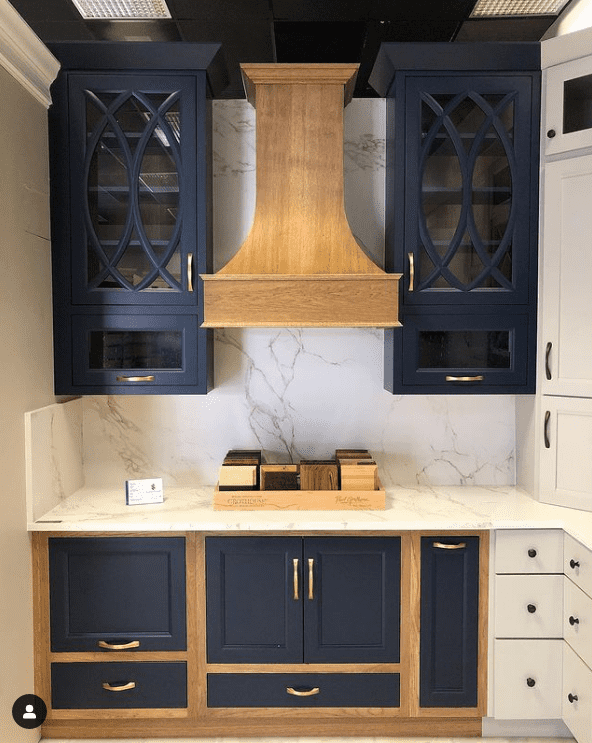 This kitchen stood out to me because it uses hickory wood as a tertiary element. In layman's terms, the wood's texture is used to deliver the room's accents, while the blue-painted cabinets are used as the main color scheme.
It's a smart idea – especially for those who don't want too much texture in their space. I would advise you to use this idea in small or medium-sized kitchens – the ones that would seem too cluttered if you use hickory wood in all its full glory.
Timelessly Hickory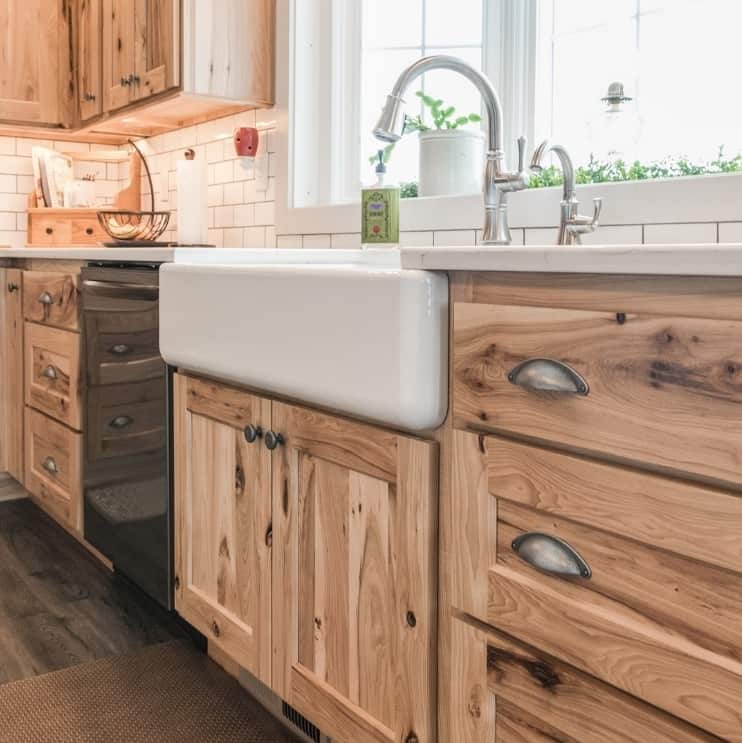 I love this hickory kitchen because the cabinets have been very strategically complemented with vintage fixtures. The sink, especially, stands out in brilliant contrast against the ruggedness of the wood. I especially like the contrast of the sleek vs. raw finish that makes the whole look feel very interesting, dynamic, and bold.
Pros and Cons of Hickory Kitchen Cabinets
Here's all you need to know about the advantages and disadvantages of choosing hickory cabinets:
Pros
Strength: Hickory wood is synonymous with resilience, so that's obviously the first advantage that I wanted to point out. If there's one thing that is guaranteed with this wood type, it's absolute strength and durability. They'll always stand strong no matter how hard you bang these cabinets.
Unique grain: The distinct texture of hickory wood is another one of its positive points. If you like the types of wood that have a personality, I suggest you put this one at the top of your list.
Low maintenance: Hickory wood is also low maintenance. Once these cabinets are installed, I can certainly assure you of heirloom quality. You won't need to take constant care of it at all – just the occasional wipe-down with a soft cloth will keep them looking new for the longest time.
Cons
Humidity: Ah, yes. Although low-maintenance, hickory wood is highly susceptible to humidity. However, you can definitely counter this con by varnishing it with proper sealant.
Expensive: The biggest hurdle people face when opting for hickory cabinets is the expense. Solid wood cabinetry is extremely expensive on its own, but hickory is doubly so because of its great strength and distinctiveness.
Limited thematic interpretation: Furnishing your entire kitchen in hickory wood cabinets can result in limited style applications. Meaning, you can't go beyond the rustic, cottage-core, farmhouse-style themes.

FAQs
Question: What color is hickory wood?
Answer: Hickory wood has a very mixed grain. It's a mixture of light and dark textures that's unique and rustic.
Question: What styles of cabinets can I interpret in hickory wood?
Answer: There are several cabinet styles that would look amazing in hickory wood. They include the rustic style, the farmhouse style, the natural style, and the stained look, where you can finish off the hickory with your preferred stain.
Question: Is hickory wood a good choice for cabinet doors?
Answer: Yes, hickory is an excellent choice for cabinet doors as it is known for its resilience, amazing strength, and reliability. 
Question: Does hickory wood change color over time?
Answer: Yes, hickory wood does become slightly darker over time. It's not a big change, though. While it is originally cream-colored, it darkens to a rich amber over time.
Question: What are some alternatives to hickory wood cabinets?
Answer: There are many alternatives to hickory wood cabinets. If you want a cheaper yet sturdier option, go for pine wood. Oak wood is another preferred alternative because of its wide availability and good affinity to staining. Then there's also the less expensive cherry wood that ages like fine wine while also providing excellent durability.
Hickory Kitchen Cabinet Ideas: Conclusion
So, as you can see, hickory wood is a symbol of strength, and it looks amazing when you design kitchen cabinets out of it. I love how these cabinets are boldly textured, diverse in style, and able to emulate a lot of personality in any space!
Once again, I especially love the contrast of hickory wood cabinets with a white background – it's very modern. It dives away from the traditional rustic look that hickory wood is associated with!
Read More: