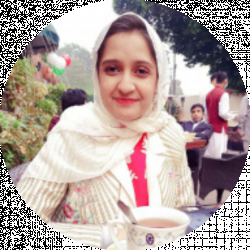 Latest posts by Zunaira Ghazal
(see all)
So… many people confuse console cabinets with sideboards and other types of credenza. As a designer, this is quite a dilemma because I have to explain it to them every time.
So, when the opportunity came to write this piece, I jumped on it. For those who don't know, console cabinets are used to decorate or accent an empty alcove. They are primarily featured in hallways, lobbies, and grand foyers, but you might also see them in living rooms and bedrooms.
Now that you know what they are, there's an entire list of designs, how to style them, and what might look best where:
Bottom Line Up Front
Console cabinets are like the jewelry of a room – you mainly use them to accessorize while adding a bit of extra storage in the room. This listicle explores several different console table designs and how you can style/accessorize them.
My personal favorite is the Retro Rainbow console. It's equally large in size and personality. I love its rainbow color scheme and how it owns it like a total boss. We'll look at it in more detail below.
Top Picks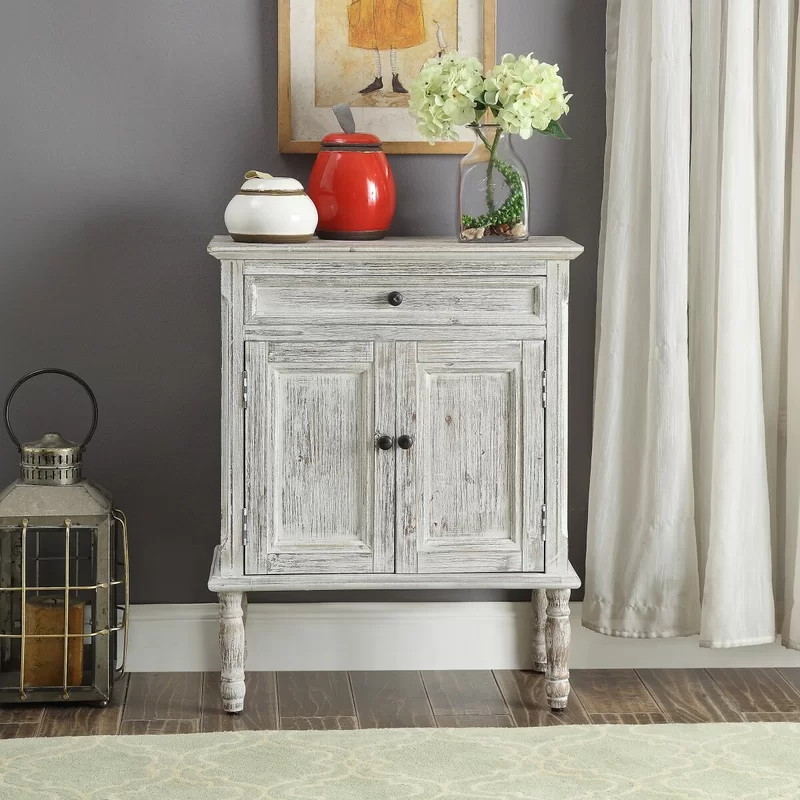 Here are some of my top picks, along with reasons why I loved them so much:
Retro Rainbow-

This console cabinet's bold, colorful design takes me back to the Memphis movement in the 80s. But the thing I love the most is the precarious balance of modern and retro looks in this console. It's such a unique look, and I would love to have something like this in my home!

Mirror Mirror-

This console cabinet features the most stylish color combination; silver and gold. Both are glamorous colors and can add a high-end ritziness to the space. To have them so artistically translated into a modern console was truly a sight for a sore eye, which is why this became one of my top picks.

Artfully Distressed-

Although last on the list, this console cabinet is one of my top picks because of its lovely finish, bold presence, and understated elegance. It has a beautifully rustic-chic appeal that called out to me, and I can assure you that despite its compact size, this cabinet has a big presence.
Selection Criteria
These were the major things I kept in mind while curating cabinets for this list:
Variety
Console tables are the type of furniture that can be found in every home. Therefore, I wanted to curate a wide variety for this list. From classic to modern, and contemporary to glam, you'll find all sorts of console cabinets on this list.
Aesthetics
Console cabinets are used for accenting a room, so their primary purpose is to be, quite frankly, pretty. Therefore, I tried to pick out pieces that were not just diverse but also beautiful. You'll find every cabinet here to be unique and expressive.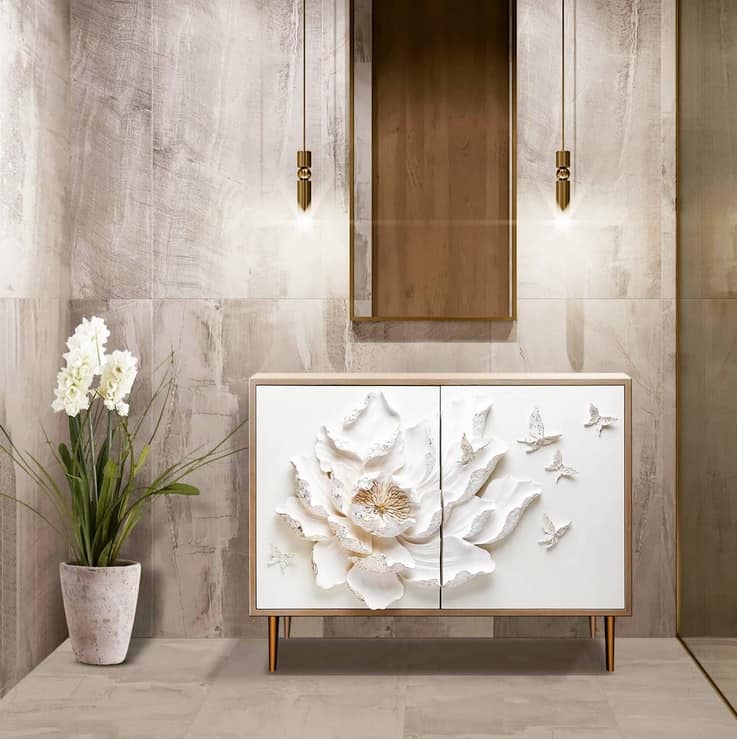 I love this console cabinet because of its gorgeous 3D-printed design. I have this thing for modernist cabinets that take on a contemporary twist, and this one hits all of my sweet spots. I mean, look at that stunning flower! It makes the whole cabinet come alive!
Then there's the brown/copper detailing on the sides and bottom. It creates a beautiful contrast that is complemented by the neutral-colored backdrop.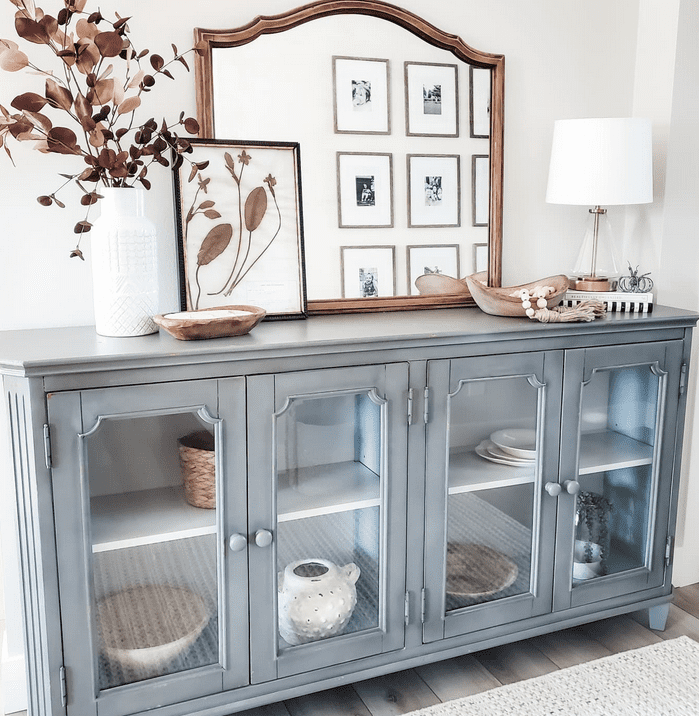 Okay, so now let's dive into this modern-classic console cabinet. I love its gorgeous grey finish and how it has been styled with copper and brown decor for contrast. I would advise a console like this to be furnished in an ample space. It is relatively broad and might make a small space feel cluttered.
Other than that, try to minimize the decor items you put inside. If you stuff it up too much, it will compromise the classic elegance of the design.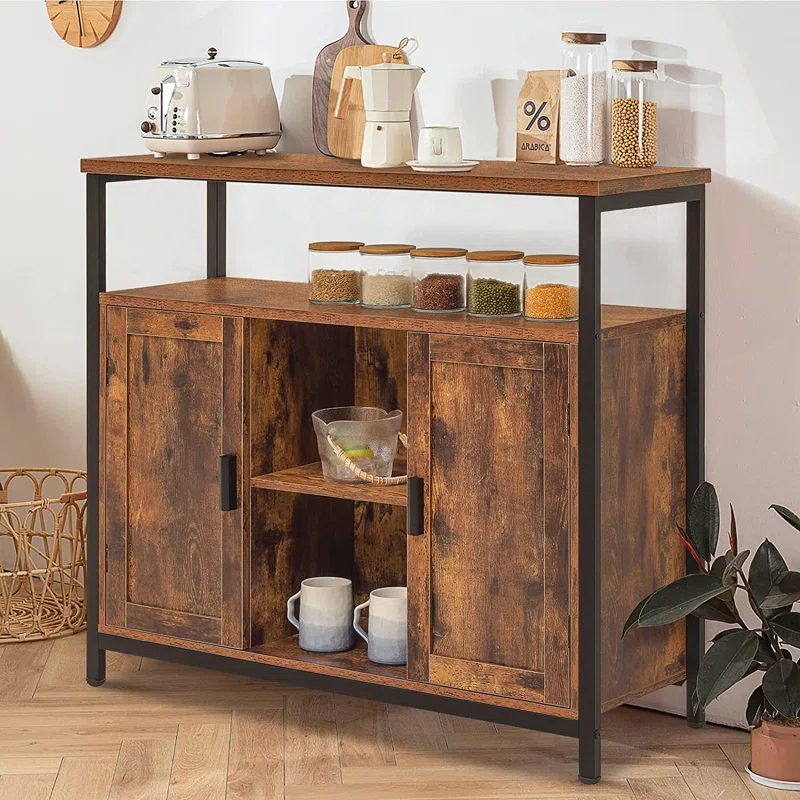 Black accents and distressed wood – a classic sign of the industrial style, and this cabinet dons it like a chic cloak. I love how bold it looks – plus, there's so much capacity to store stuff there. Also, there's a unique versatility to its design. You can place it in all sorts of interiors, and it would retain its statement-worthy look while adding to the space's ambiance.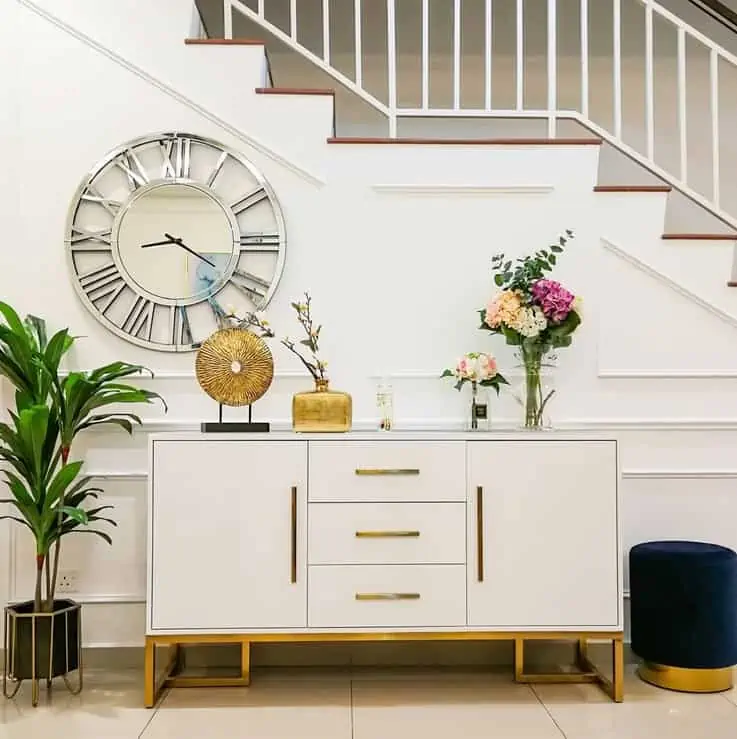 Ah, I adore this console. It's sleek, modern, and compact – perfect for placing in small homes and apartments. I love how this design is super trendy. The white finish is gorgeous on its own, but the contrast of brass/gold hardware makes it even more appealing.
If you're opting for a console cabinet like this one, I recommend decorating it with golden embellishments. You can also couple those with brightly colored flower arrangements on the side for a good look.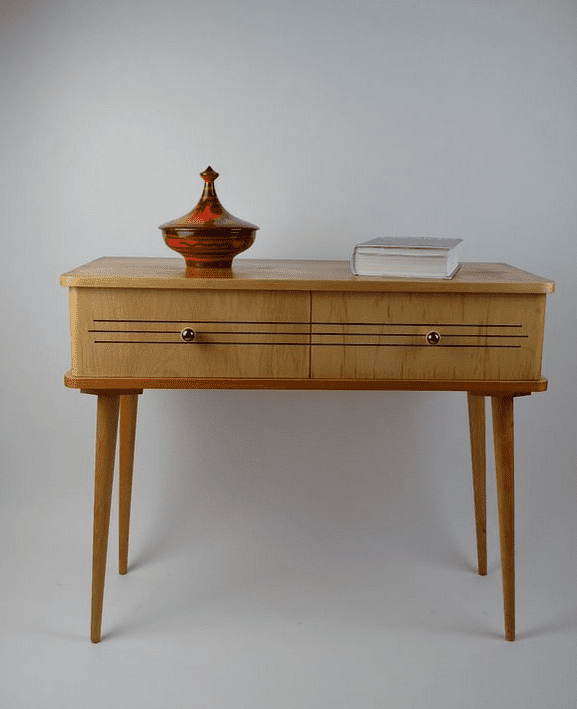 So, this console table is a hybrid desk, but I wanted to put it here nonetheless. That's because I've personally used many similar tables as consoles in small spaces. It's the unspoken rule of interior design that you can use something compact and stylish like this to uplift a space if bigger objects tend to seem too bulky.
Other than that, I appreciate this console's fusion of Scandinavian and Zen aesthetics. You might want to accessorize it with a cluster of books on one side and a chintzy porcelain vase on the other.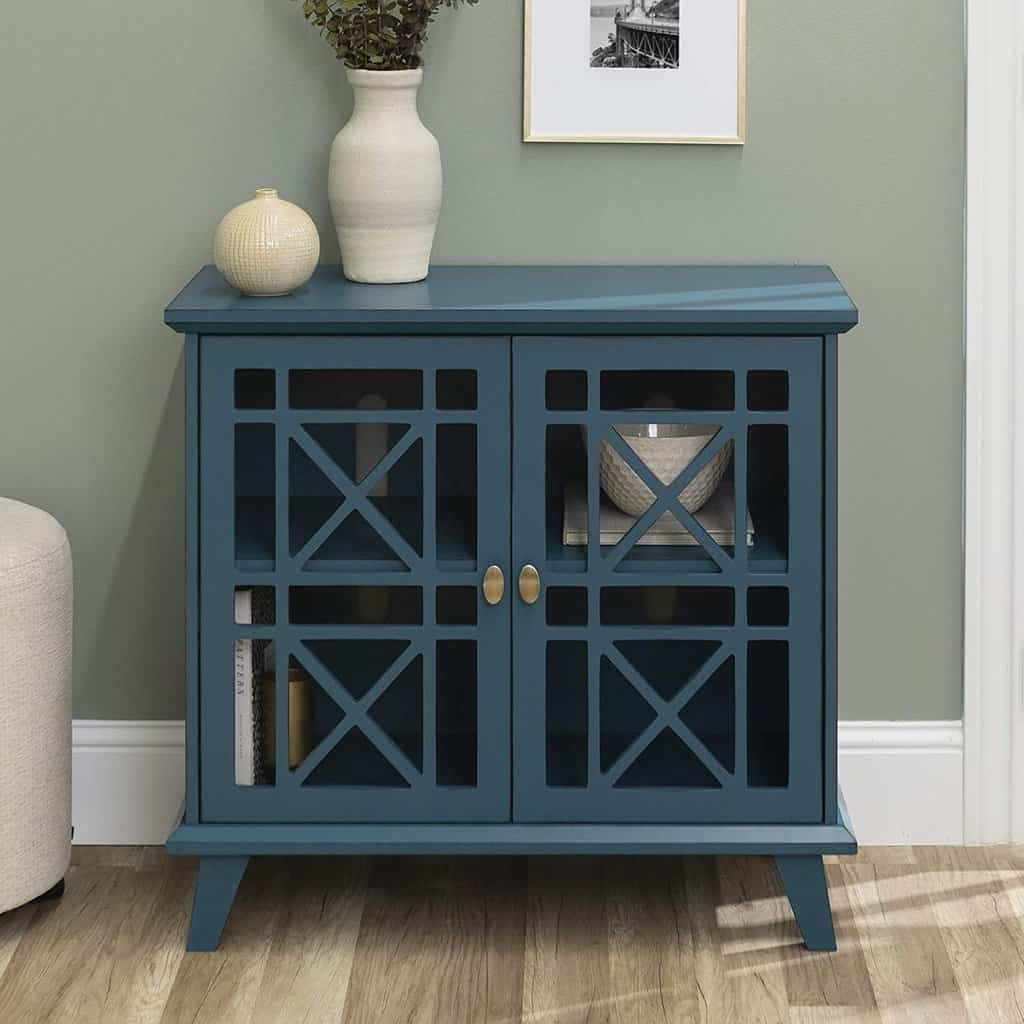 Teal is a royal color, and this console cabinet wears it like a jewel. I love how the color makes the geometric design of the doors even more expressive. Even at a glance, you can tell that this cabinet demands attention and will become a great focal point no matter where you put it.
However, I do recommend that you be minimalist with its storage. If you put too much stuff inside, it's only going to take away from the geometric pattern of the doors.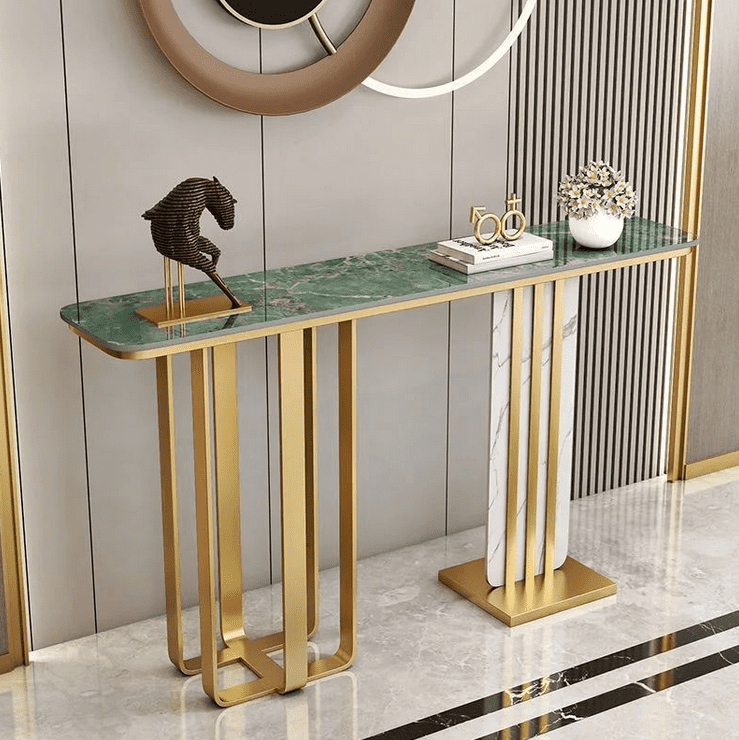 You'll love this gorgeous console table if you want something smart and sophisticated. It has a very high-end, upscale aesthetic. The use of marble instantly makes it look expensive, and I adore the brass accenting.
Overall it's pretty lightweight, but the understated glitz of the design is to die for. I advise you to place it somewhere highly visible and decorate it with brass decor. Elaborate tiffany lamps would look great, but you can also opt for a small sculpture.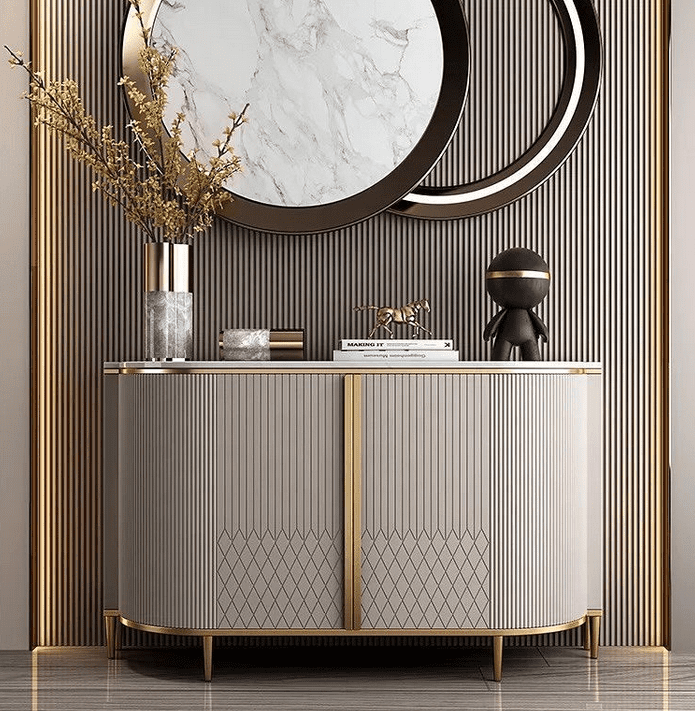 Here's another glamorous console cabinet. Made of lacquered wood, stainless steel, and marble, it's a design that spoke to my soul. It's not just bold and beautiful but also super swanky and ritzy. I love the neutral color scheme and how it has been topped up with golden accents to create contrast. 
Now, as a designer, I would recommend you not to feature this table just anywhere. It's got the kind of design that needs to shine, so you better place it in an obvious place. It would help if you paired it with a backdrop that complements its swanky design.
A simple white wall would make this cabinet fall flat. I would advise you to go for similar fetters and gorgeous lighting to ramp up the whole thing.
#09 Coastal Farmhouse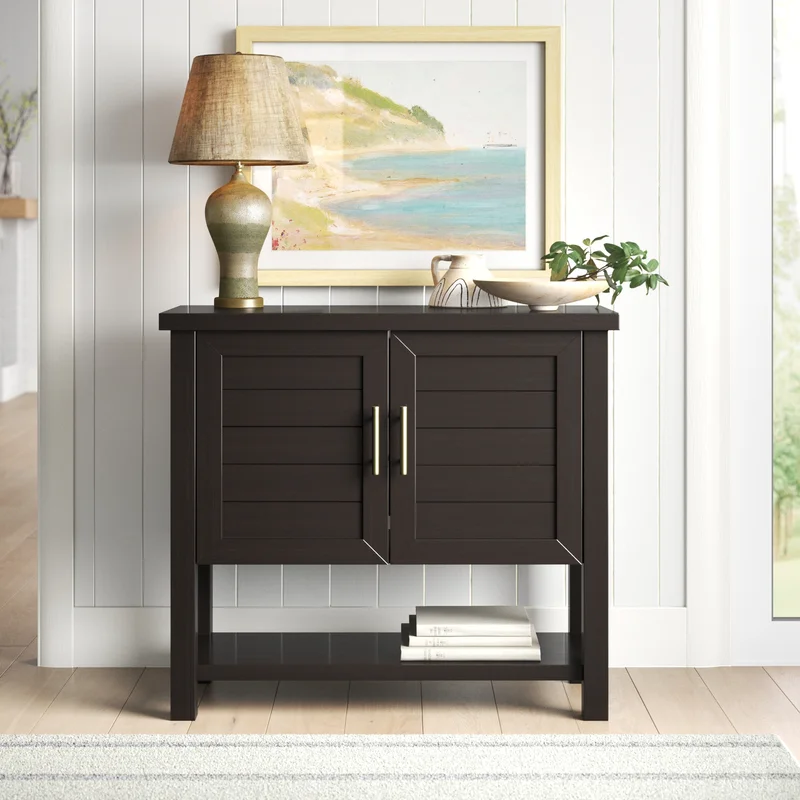 Simple and lovely, this two-door console cabinet is as sweet as they come. Its espresso finish and straightforward design are timeless – you can bet that this piece of furniture will remain relevant years from now, even when everything else has gone out of style.
I also love its generous storage capacity and its visual versatility. Just put it up against a plain white wall, and it will shine.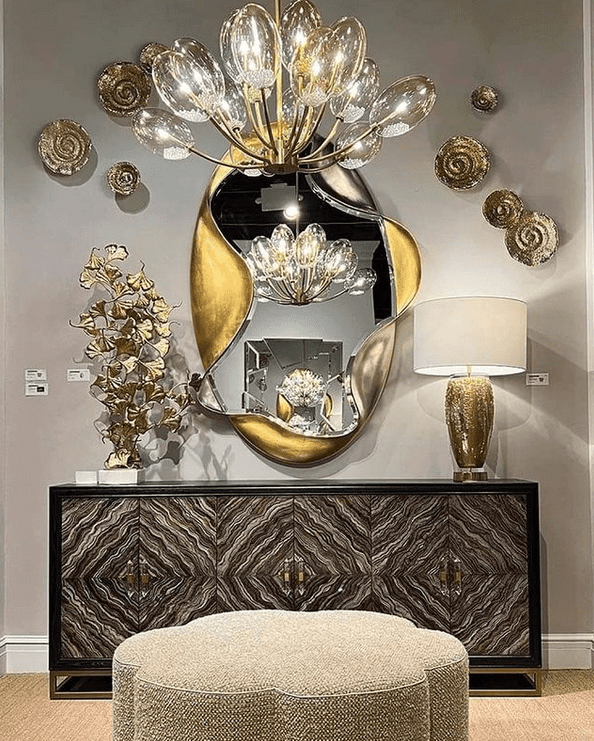 Let's take a look at something traditional now. This console cabinet has all the trappings of a vintage-traditional look, but its clean lines and straight-laced articulation make it feel very modern. It's the best contemporary combination, and I recommend it to all those who like heritage-style furniture with a minimalist twist. You can use lighting and brass decor to elevate its look.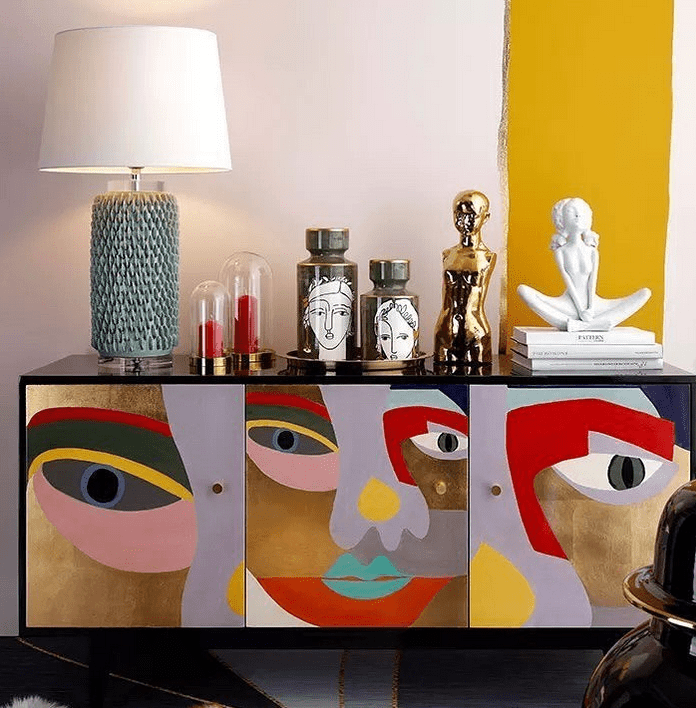 Oh, to be a modernist who appreciates classic retro – it's a tough call because it's a true challenge to find furniture pieces that fit the perfect balance of bold yet clean. This is why I instantly fell in love with this console cabinet's minimalist yet colorful design.
It's brimming with personality and is perfect for introducing a gorgeous, rainbow-hued focal point in a space. I advise you to place it in large foyers, lobbies, and living rooms. Small spaces are unfit for something that has so much character.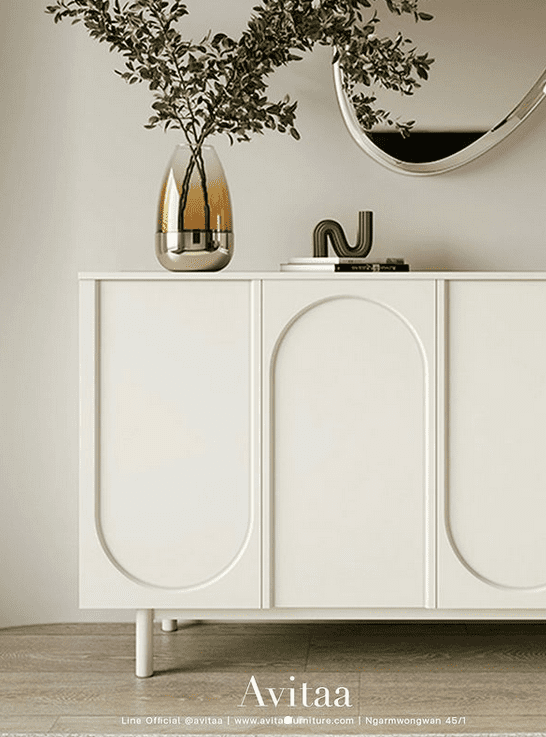 I would assume that shaker-style cabinets are some of the most common ones, but they certainly don't work for consoles. This is one of the best alternatives. Instead of the typical rectangular recess, these cabinets feature a round-arched recess in the middle, and I love it. It's unique – made even more so by the direction of the recess alternates on each cabinet leaf. 
I also like how this console gives off a minimalist vibe. That's largely thanks to its white finish. You can embellish it with contrasting accessories. I'd recommend sleek brass decor or autumn-rustic items if you opt for a farmhouse chic look.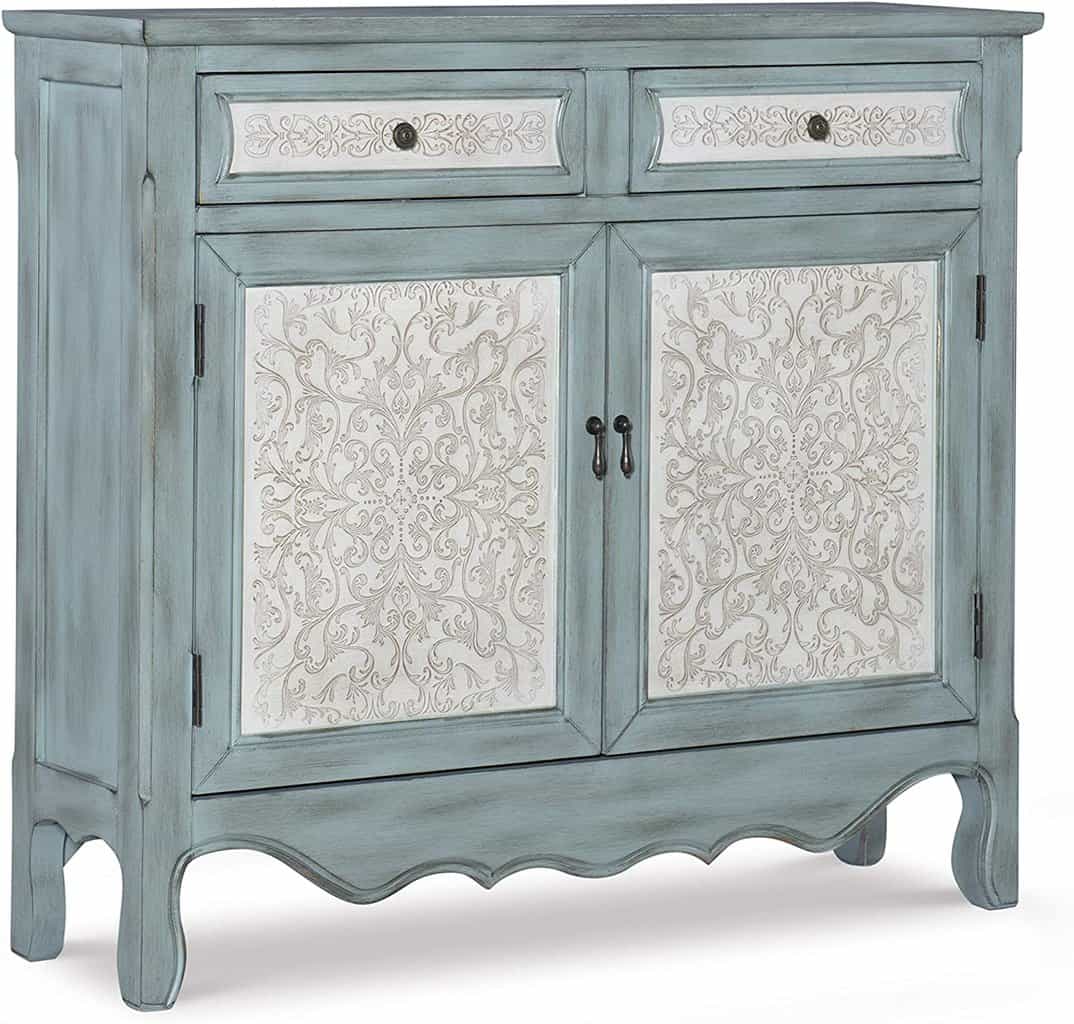 This lovely vintage core console cabinet features a bright, candy-floss color scheme. It embraces its pastel-neutral color scheme and is slated to be the perfect statement piece for farmhouse chic, shabby chic, rustic, and eclectic style interiors.
I love its blue-and-white texture and would recommend that you embellish it with white or gilded decor to curate the perfect contrast.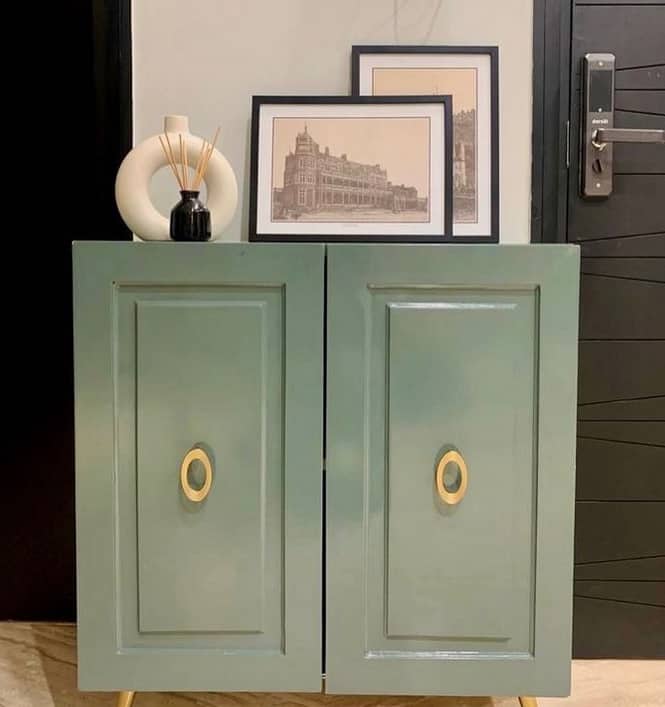 We've seen glitzy, modern, and even retro designs till yet – so here's something simple, timeless, and classic. I feel like this console cabinet is the type that would never go out of style. It features a very straightforward design, but the combination of green finish and gold accents makes it stand out.
Another great thing about this cabinet is that it's versatile. That means no matter what type of interior you place it in, it will hold its own and look great nonetheless.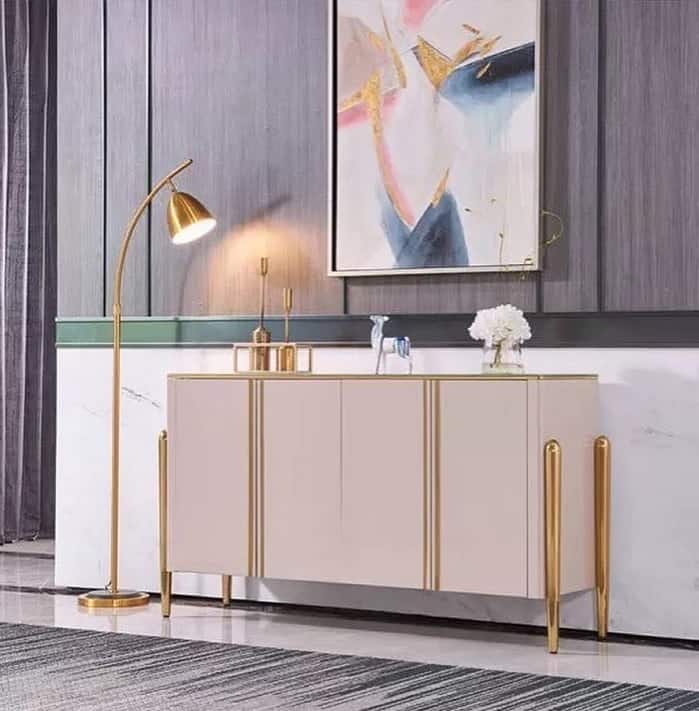 Okay, modernist cabinets are always clean, sleek, and very straightforward. This one is all of those things, but it's also delicate and luxurious thanks to its gold accenting. Therefore, I just had to put it on this list! I adore the unique beige-and-gold combo and the bold style of legs that creep up each corner of the cabinet's body. 
Now, the thing about this console cabinet is that it comes off as luxurious yet understated. So, it won't work well if you place it in small or medium-sized places. It would be best if you made its surroundings strategically empty for its design to shine.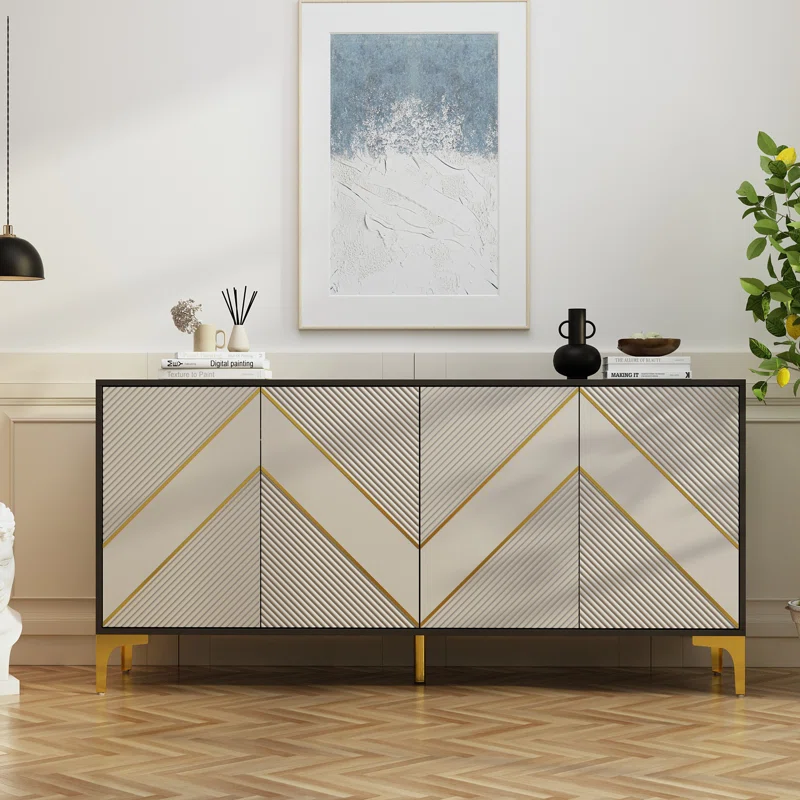 I am a big fan of bold accents, and this console cabinet is a fine example of how you carry them off with style. Everything about this console is statement-worthy, from the black boundary to the zig-zag design on the front. I love its entire countenance and would recommend you place it in a big hallway or open-floor living room for maximum impact. Maybe even pair it with beautiful lamps and accent lighting for that added impact.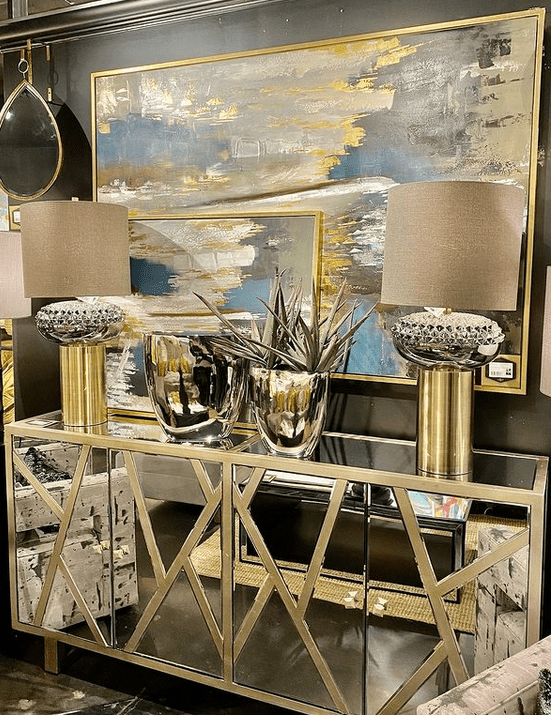 Dressed up in full-on glamour, this console cabinet is a veritable star. I love the fragmented mirrors across its body – it's very abstract and eye-catching. I also love how the silver chrome of the mirrors has been complemented with gold lacquer. It makes for an eye-catching combination and an excellent contrast.
I recommend pairing it with glitzy lighting – lamps on the cabinet's surface would look great and enhance its overall aesthetic quality. Just make sure to choose ones that complement the silver-gold combo of the design.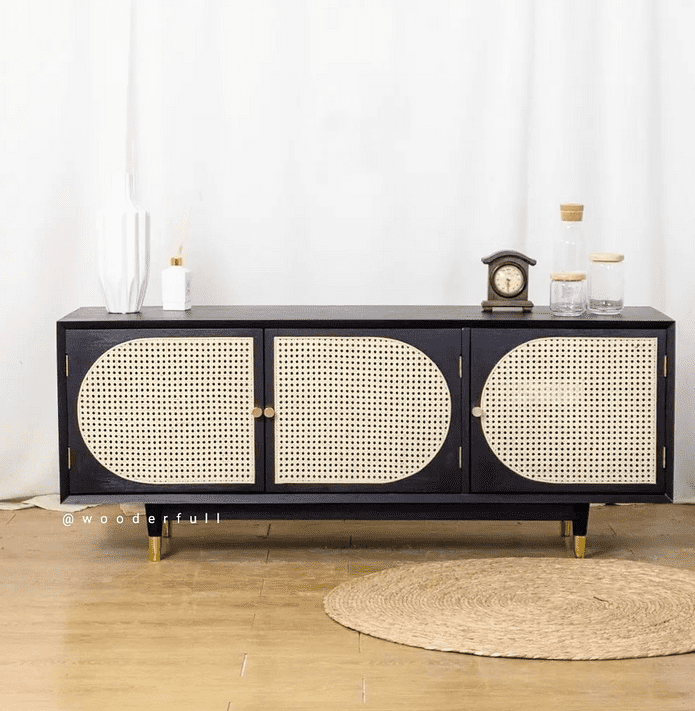 I have a soft spot for cane cabinets, and this one caught my eye because of its bold black-and-natural finish. I would recommend something like this for living rooms. It would also make an excellent media console, especially if you've placed your LED on a plain wall. You can put fresh planters and gold decor objects on its surface for the best impact.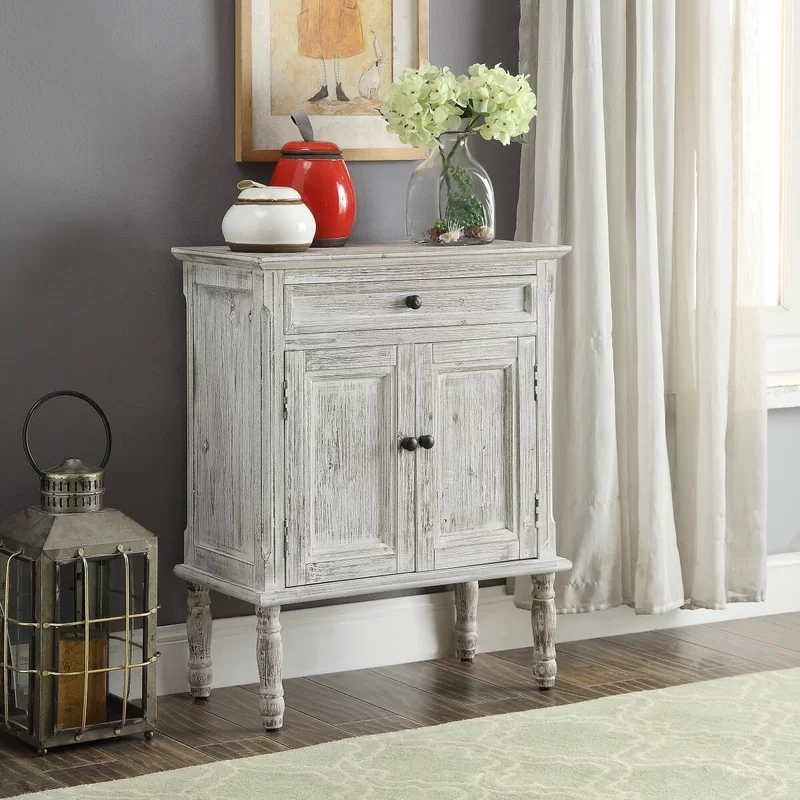 At first glance, I was attracted to this console cabinet's lovely, down-to-earth design. I love its artfully distressed finish and how it appears so stylish in the classical style design. The neutral color scheme is also very versatile – I can imagine putting this cabinet in literally all sorts of interiors!
It would make for a contrasting accessory in a contemporary living room, an attractive focal point in a farmhouse/shabby chic bedroom, and even a lovely statement piece in a contemporary lobby.
FAQs
Question: Why do I need a console cabinet?
Answer: Console cabinets mainly provide accents and add extra storage in a space. So, if you feel like your room is a little empty and you could do with a bit of added storage, then they are the perfect thing to go for.
Question: What sets a console table apart?
Answer: I would say that it doesn't take up a lot of space. It's shallow, compact, and can be as wide as you need it to be.
Question: Console table, side table, end table – what's the difference?
Answer: Okay, so the console table is categorized as credenza (the furniture you put against a wall). Side tables are paired with beds and have this specific style of storage that is characteristic of them alone. End tables are paired with sofas and may or may not have storage options. Most of them have sculptural bases and are mainly used for decorative purposes.
Best Console Cabinet Ideas: Conclusion
So, these console cabinets are some of the best out there. I hope you like the diversity on this list and appreciate how each cabinet showcases a distinct personality.  As for me, my personal favorite is the Retro Rainbow console. It's just so eye-catching! The abstract faces on each cabinet door make for a fantastic design, and I can bet something like this would never fail to make a statement!