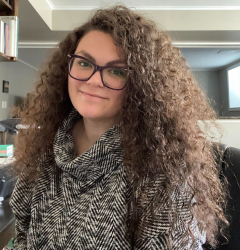 Latest posts by Candace Osmond
(see all)
As a former Kitchen & Bath Designer, I've dealt with my fair share of cabinet manufacturers. Some are good, some…not so good. Shiloh Cabinets is one of the good ones, I promise. Their attention to detail, quality, and function is unparalleled.
Not to mention, they stay on top of current trends with cabinet styles. But I've got more to say about the Shiloh Cabinets brand, so buckle up!
About The Shiloh Cabinets Brand
Shiloh Cabinetry is a product line by W. W. Wood Products Inc., a company located in Dudley, Missouri. The company is run as a family-owned, private business, as it has since its inception in 1977.
Over the decades, W.W. Wood Products has been a leading manufacturer of custom cabinetry and wood moldings for distinguished homes. Its products are designed to maximize value and function while simultaneously providing customers with unmatched style and distinction.
Shiloh Cabinetry also offers accessories and extensive customization services to ensure all its clients receive truly original masterpiece creations.
What Does Shiloh Cabinets Offer?
Shiloh Cabinetry prides itself on its ability to meet and even exceed any homeowner's cabinetry needs and expectations. It makes you wonder, "What exactly does the company offer?" Well, that's precisely what you and I are about to evaluate.
Styles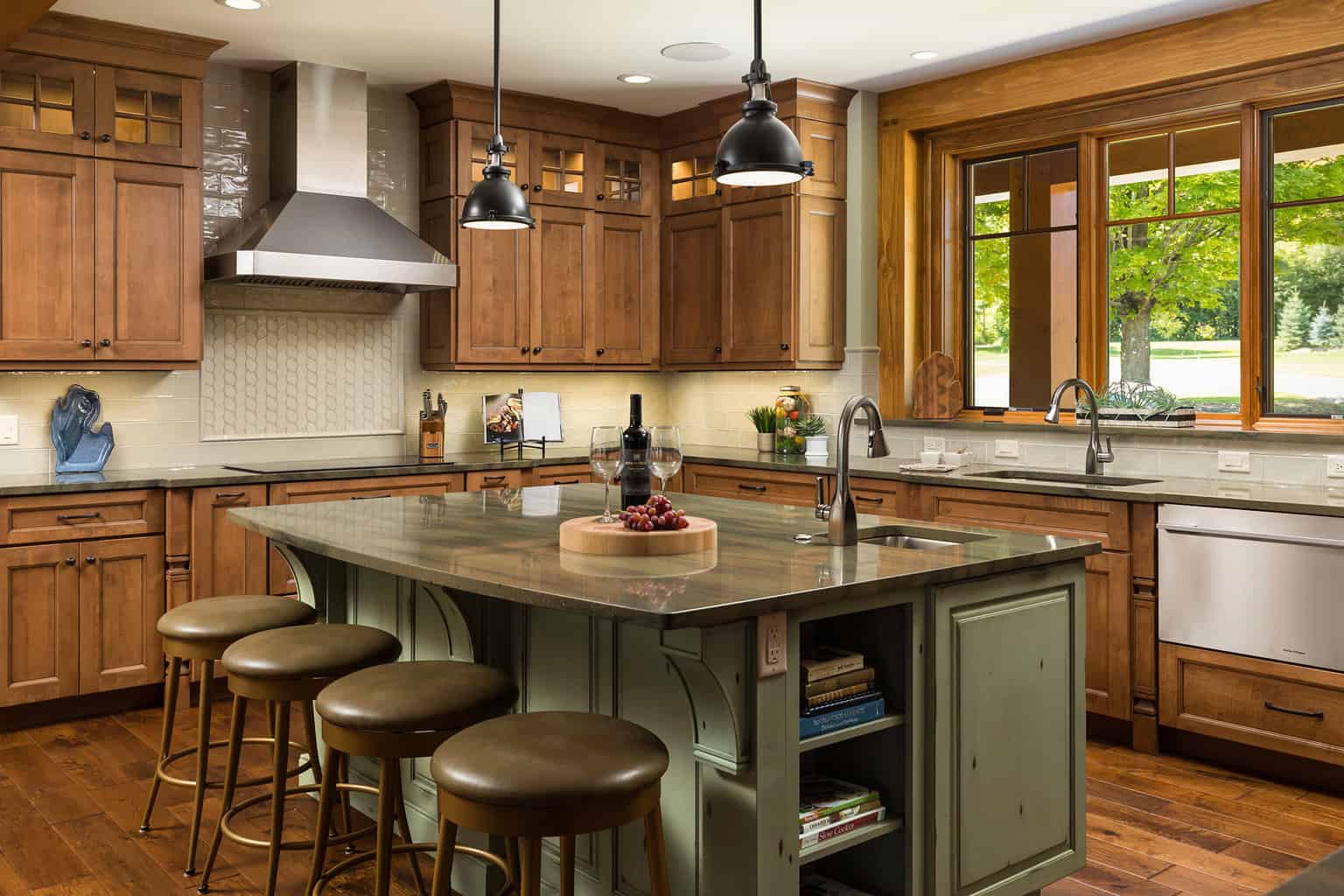 I've already highlighted that Shiloh Cabinetry allows you to achieve whatever look you desire with your cabinet pick. Well, bringing that desire to life starts with the drawer and door front style you pick.
For instance, Shiloh's door styles are available in themofoil, cherry, knotty alder, maple, hickory, and red oak. Each wood species has several options and finish designs. The Maple door style, for instance, retails in 10 distinct finishes, ranging from rich espresso options to light frosted ones.
You can pick three major door styles: flat panel, raised panel, and glass framed. They offer two glass framed door styles; wood mullion and aluminum frame doors. Their aluminum frame doors are further divided into three glass frame doors in two finishes – brushed stainless and aluminum look.
On the other hand, their wood mullion frame doors have been divided into 17 unique styles you can pick from.
Shiloh's flat and raised panel doors appeal to those who desire a more contemporary look and simpler lines. Like all other door styles, Shiloh builds both designs in-house to ensure consistency and quality.
Their flat and raised panel designs range from contemporary to traditional and transitional, capitalizing on the latest trends.
Finishes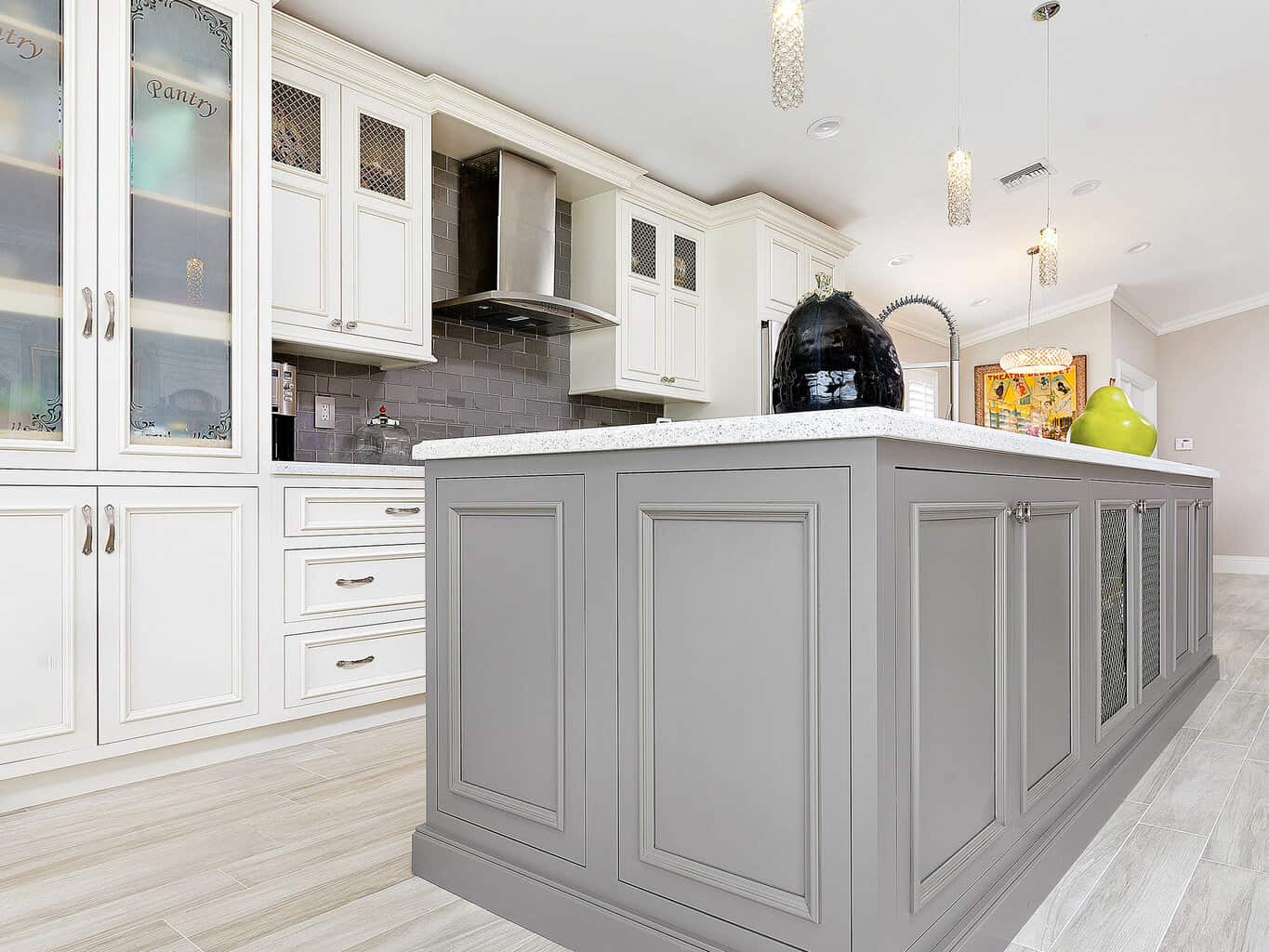 This is where Shiloh Cabinetry really shines and blows every competitor out of the water. My favorite finishes from the company are vintage and weathered. Under vintage, the aged-looking cabinets retail in seven unique stains on cherry, knotty alder, maple, hickory, and oak. Shiloh's artisans apply treatments to achieve that perfectly classic, worn, vintage style.
Weathered finishes come in seven unique stains on cherry, knotty alder, maple, hickory, and oak. These finishes require the use of several finish techniques to award your cabinets a very distressed, antiqued look.
Other finish options available include glaze, highlights, and Olde world. Hickory will hand-apply glazes to your cabinets at no extra charge. The highlights are lighter than glazes and are available in Café highlight and Slate Highlight.
Shiloh uses hand-applied techniques on cherry, knotty alder, maple, hickory, or oak to achieve the aged Olde World look. These techniques include paint crackle, water spotting, rock dents, dry brush glazing, wearing, glazing, edge & panel gouging, and worm holing.
Traditional painted finishes are also available in 8 base colors on wood. Shiloh cabinetry will color-match to any sample, and you can pick your preferred special finish technique (between sand-through, distress, or wear.)
Islands

If your kitchen is your home's heart, then the kitchen island will be the heart's oasis. Kitchen islands are where people gather to entertain, play games, do work, chat, and eat. Kitchen islands have also been focal points in kitchen designs over the last few years, thanks to their sheer versatility.
Shiloh Cabinetry also understands that. Hence why they're offering a beautiful collection of "islands that'll stand out as separate pieces of your dream kitchen."
The cabinets on their kitchen islands are also more than just base cabinets. They allow you to transform them for many purposes, including shelving systems for cookbooks and décor. That said, if you're mainly going to use your island for storage, stick to the base cabinets.
Shiloh also allows you to get the custom look without paying a "custom price." But ensure you get the measurements correct and consider things like the island's countertop and weight limit. Also, figure out any "over-the-top" custom features you'd like included in your cabinets beforehand. My sister's island from Shiloh cabinetry came with features like open shelving and wine racks, which give it a unique look.
Range Hoods

I wasn't kidding when I said you'd hit the jackpot with Shiloh's cabinetry offerings. Every range hood from the company is designed and built by skilled craftsmen in-house. This ensures quality, as well as consistency.
The main purpose of these hoods is to ventilate your kitchen and remove the heat, smoke, and steam from your cooking. By doing that, range hoods also trap and absorb any grease that would've landed on your appliances or cabinets' surfaces. Range hoods designed by Shiloh also help ensure your home looks great from the floor up to the ceiling.
What's more? You'll need to note two types of range hoods before placing an order on Shiloh's website: ductless or ducted. Ducted range hoods, aka vented hoods, will vent the air it traps to the outside. Ductless, aka re-circulating, on the other hand, simply 'clean' the air and circulate it back into the kitchen.
And please, don't go for the basic, unattractive models either. Go for a range hood that you'll love to look at daily.
Turned Legs


Ranging from simplistic to ornate, furniture feet and legs add style to almost any piece of furniture, including cabinets. They're like their own pairs of shoes. Even more impressive, like all other cabinet components, cabinet legs retail in a wide array of styles and designs.
The Shiloh Cabinets brand focuses on turned leg styles, which are some of the most intricate designs available today. A turned cabinet foot or leg is created by rotating a wood dowel on a lathe. Eye-catching disks, swellings, and nodules are then chiseled and shaped into the wood.
Shiloh uses disk-like shapes to create thin or flat designs in the wood. The swellings are used to create a contrast. What's more? Shiloh Cabinetry's extensive collection of turned legs permits you to pick the style you think perfectly suits your interior design.
Each leg is offered in varying cuts, heights, and widths for use in even special applications. Feel free to go all out when picking your favorite turned leg styles.
Vanities

"Elegance in wood." That's the simplest way to describe Shiloh Cabinetry's vanity selection. Designed with you, the customer, in mind, all their vanities are designed to fit in bathrooms, kitchens, entertainment rooms, etc. Whatever area in your room you think a cabinet is needed, one of Shiloh Cabinetry's will feel right at home.
What's more? Like all their other cabinet offerings, their vanities feature custom styling and have access to Shiloh's 300+ finishes. These should keep you within reach of the latest trends so you always get what you want. Feel free to take advantage of their numerous accessories and custom options while ordering your vanity.
How Are Shiloh Cabinets Made?
Shiloh cabinets are made with hardwood doors (mainly walnut and maple), soft close hinges, and choices of stains available on demand. Other types of hardwood you can pick include white oak, red oak, hickory, cherry, poplar, and alder.
Parts of the cabinets are also made out of plywood. This plywood is nicely finished with smooth edges, so customers don't have a hard time dusting and cleaning.
The soft close hinges I just mentioned are also available for drawers designed by Shiloh cabinetry. These drawers retail with hardwood side panels and dovetail joints to ensure smooth operation. Also worth noting, all these drawers are full-extension.
Another thing about Shiloh's cabinets that sets them apart is that their doors are inset as a standard. So unlike most other brands, you won't have to pay extra to have your doors on the inner part of the cabinet. While shipping your cabinets to you, Shiloh will also pack solid wood-hanging rails. Use a level to install these correctly.
To top it off, Shiloh offers a 10-year manufacturer's warranty for all its cabinets. This is unheard of in the cabinetry industry.
Shiloh Cabinets Inspiration
Now that you've defined your budget and cabinetry construction expectations let's review some inspirational ideas from the company's cabinetry collection.
Help your kitchen space come alive with these Shiloh dark grey kitchen cabinets. The dark weathered tone adorns the solid timber in a manner that's hard not to love. March the surrounding appliances with these cabinets, so nothing is left looking out of place.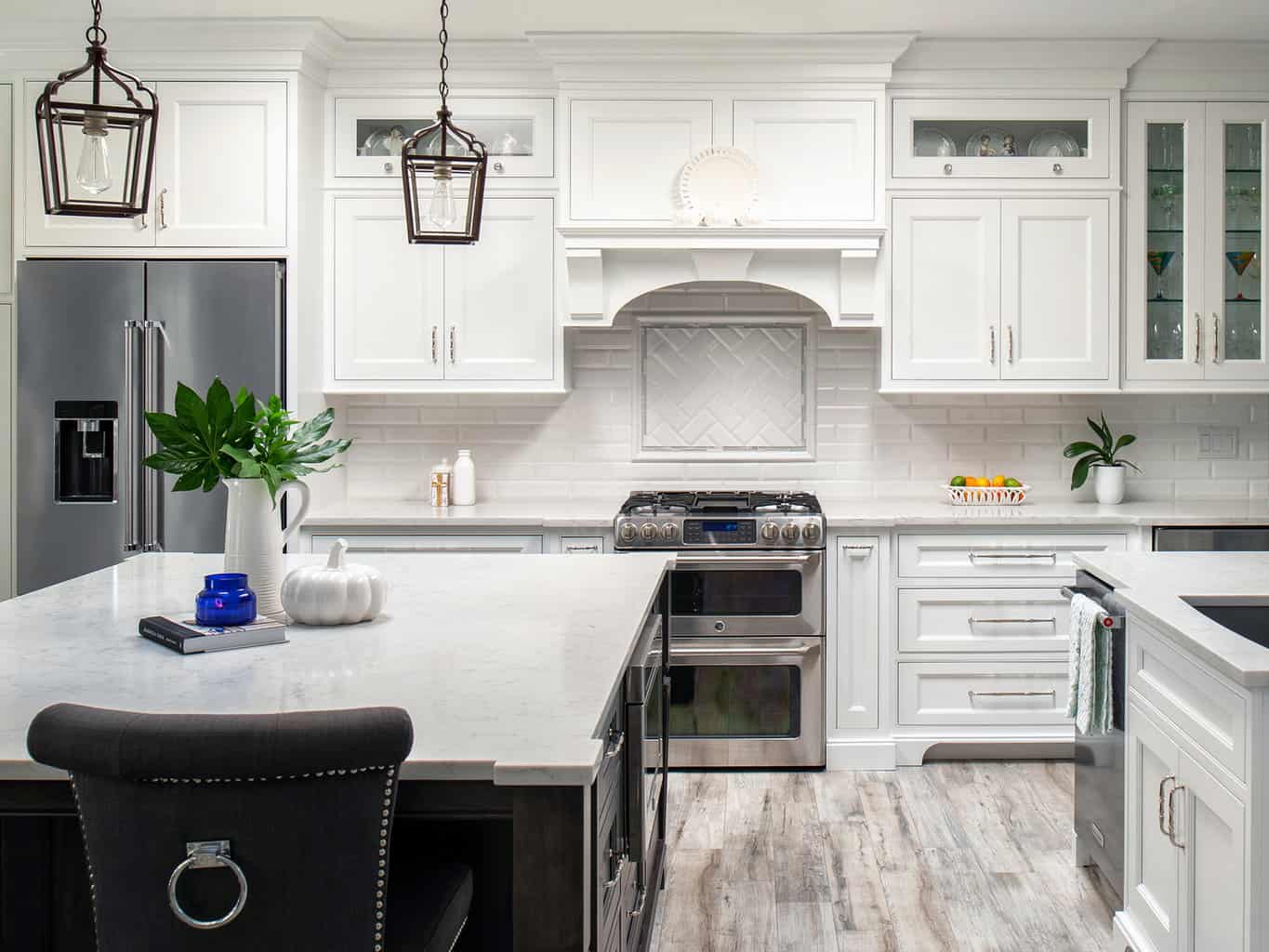 Why not modernize your living space with these Shiloh Cabinetry square raised cabinets? The elegance of cream-colored wood compliments any modern aesthetic with much-added charm. The overall luxury look, polished wood, and durable exterior make these cabinets a dazzling option you can't go wrong with.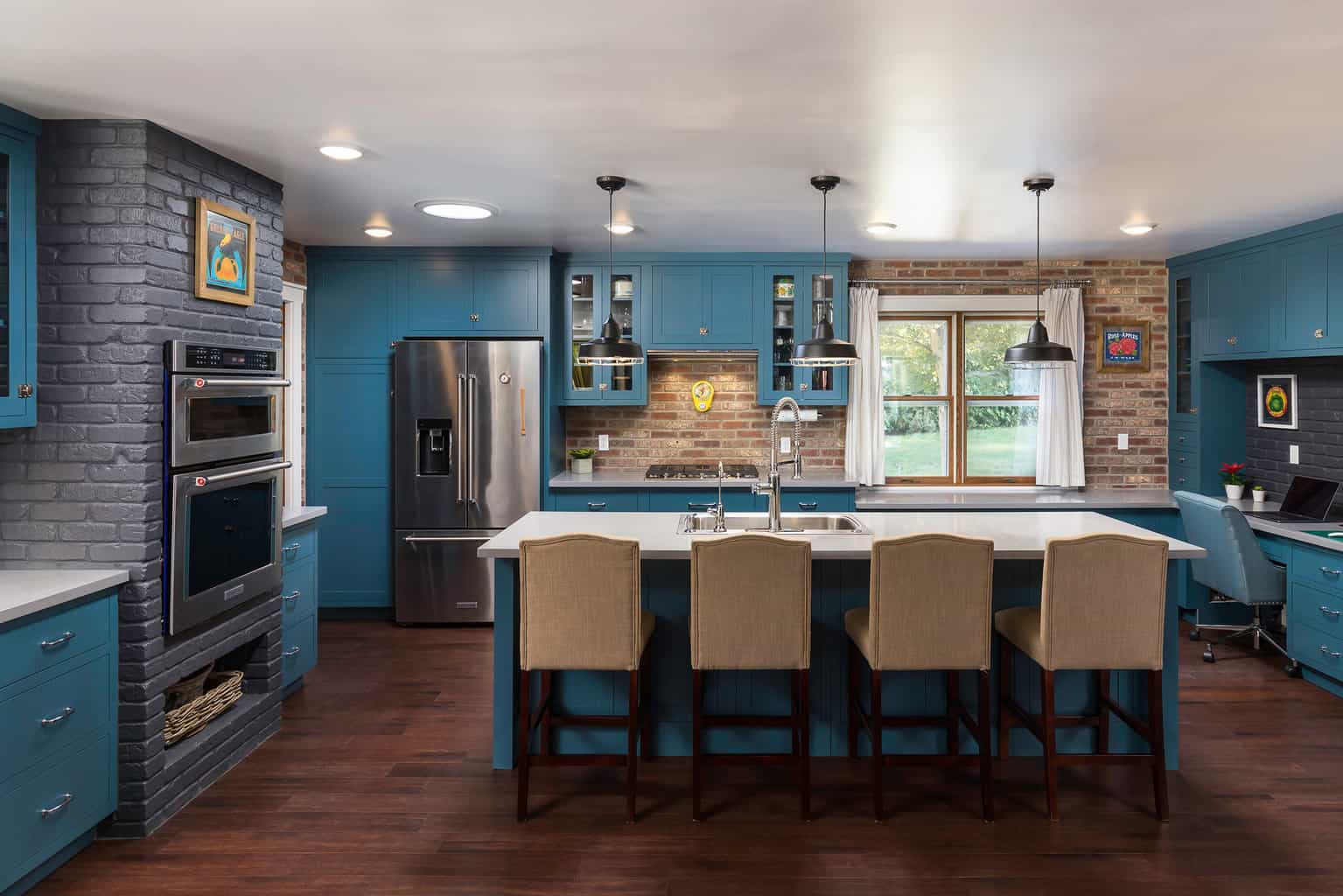 The blue kitchen cabinets and the matching central island add an eye-catching swath of period-appropriate. It all comes together to ground the center of the open kitchen, a perfect complement to its white ceiling.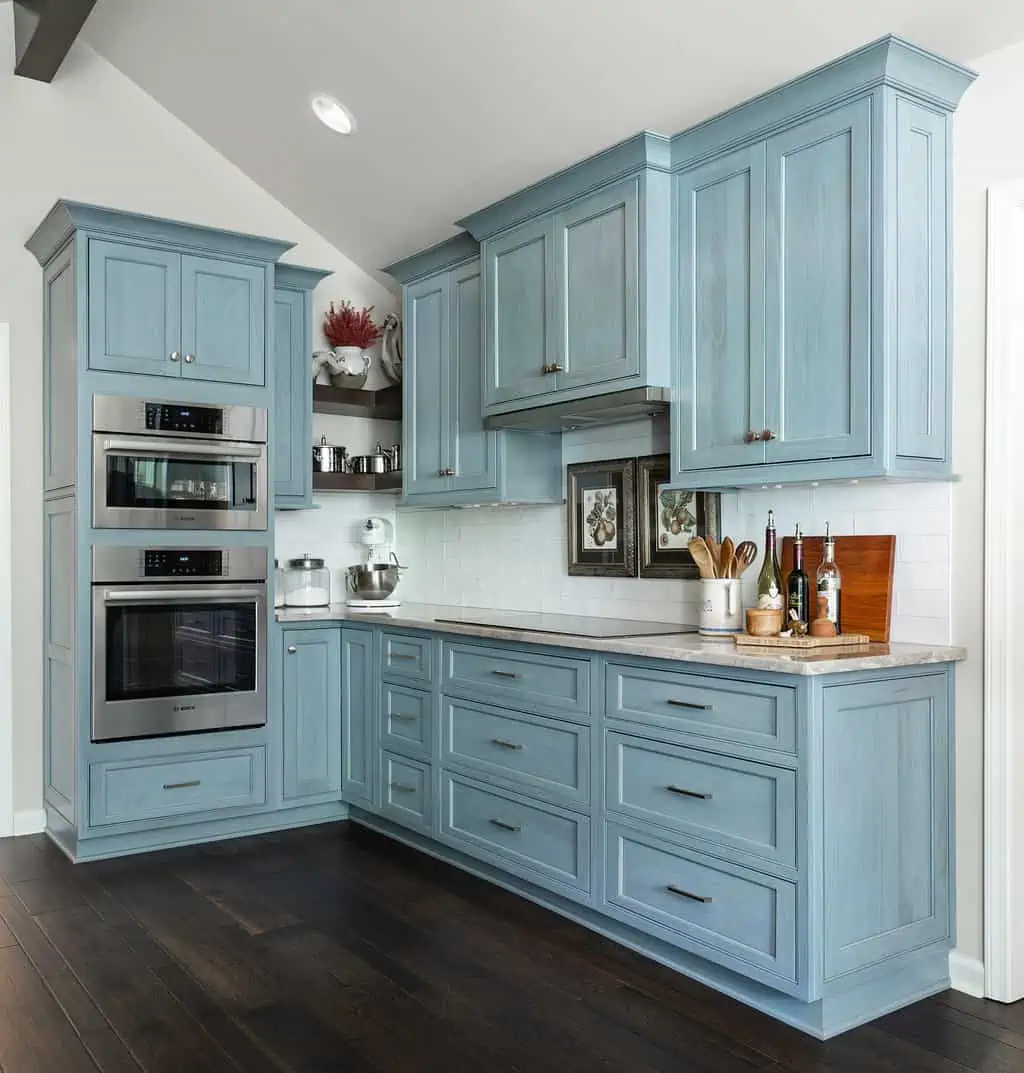 While blue kitchen cabinets have been becoming modern classics in recent years, this inspiration tones it down a little. The cabinets are drenched in light blue paint, contrasted with a bright wall, and accented with a black floor. The whole look really stands out and creates the mood.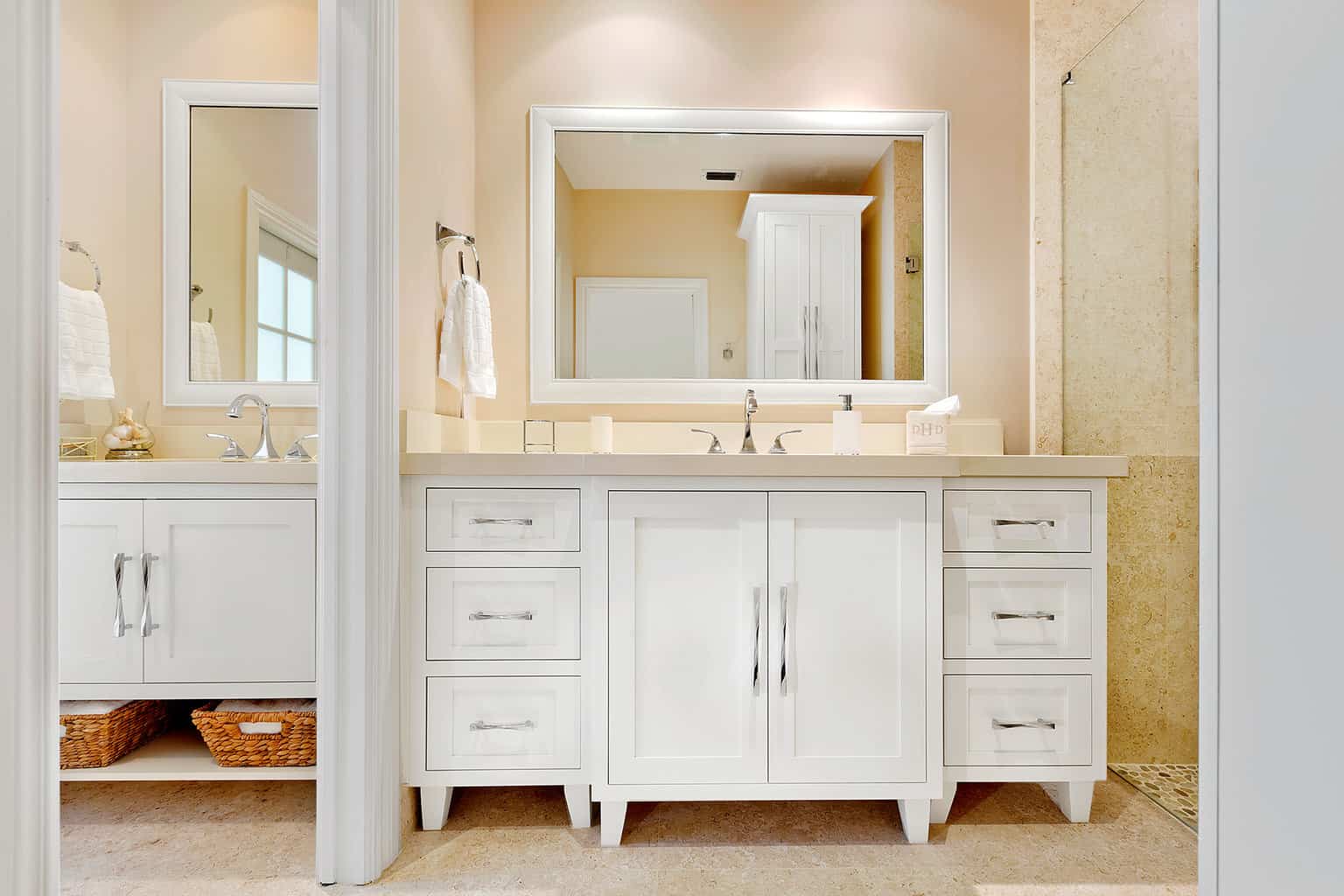 It's refined, sharp, and exquisite like no other. This cabinet selection will deliver unrivaled glamor that your guests are sure to love and chat about. This unit is also built to last, thanks to the premium-grade timber used to put it together.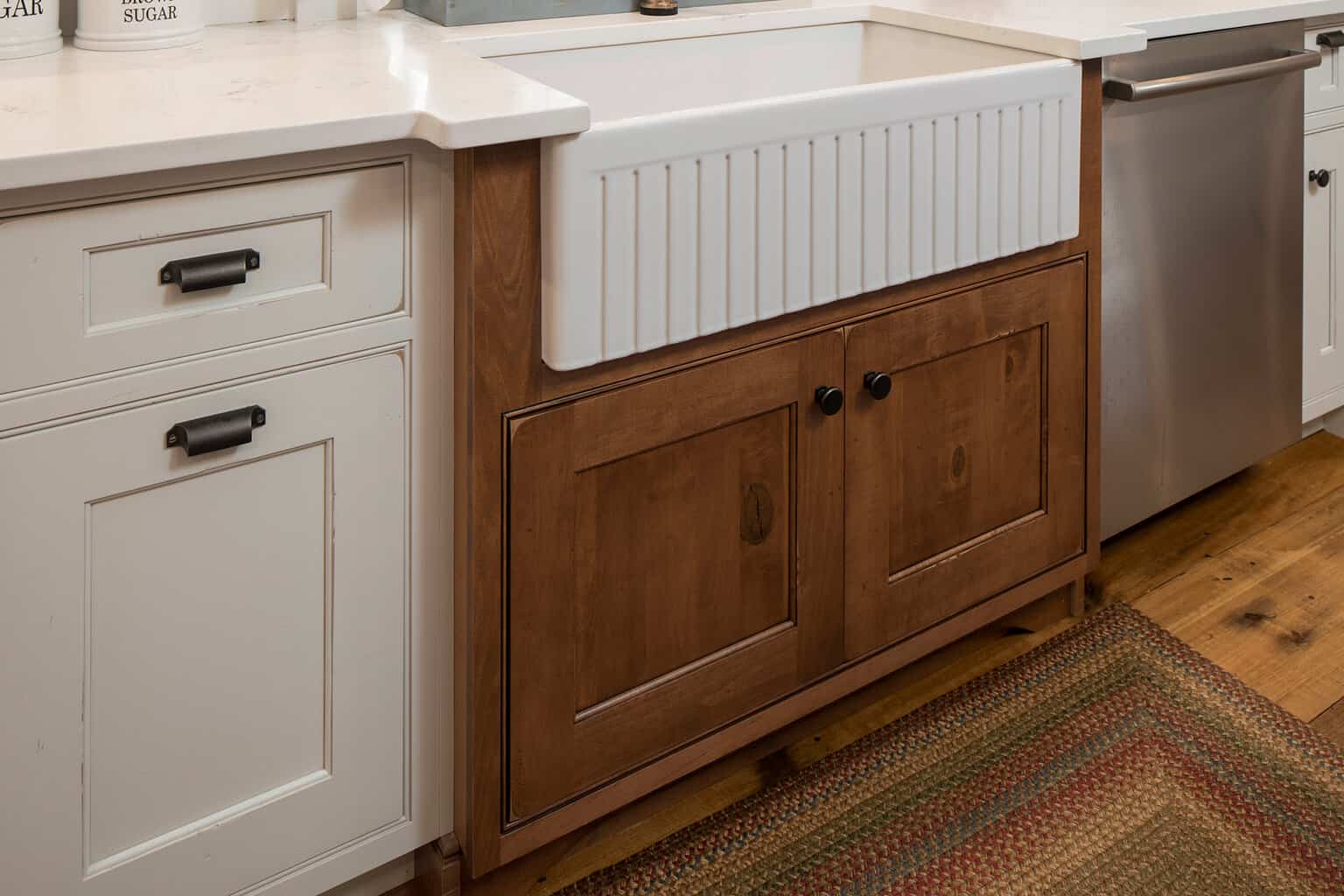 This is a true space saver with transitional elements all around. Both the brown and off-white cabinets have an antique feel that comes off of them. We have their robust edges and color arrangement to thank for that. I'd recommend integrating these into your kitchen space to complement the surrounding space elegantly. The rich, distinguished look will instantaneously create a sense of awe.
Where Can You Buy Shiloh Cabinets?
Wondering where you can buy your favorite Shiloh cabinets for your home? Fret not! I've got you on that front as well. At the moment, you can only get Shiloh's cabinetry offerings through the company's official site or a licensed distributer. Here's the link to their products page.
Caring For Shiloh Cabinets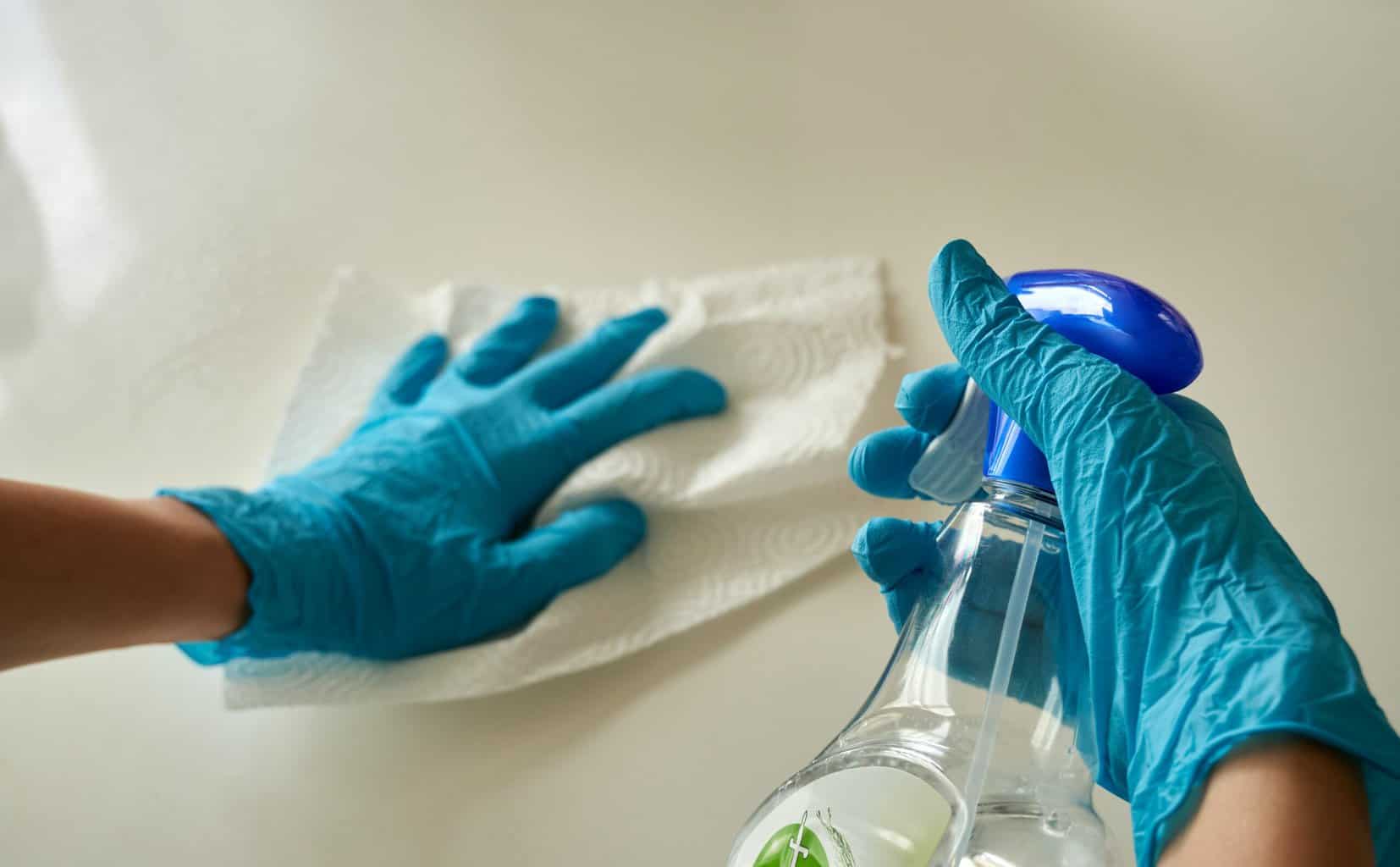 If you'd like to prolong the exquisiteness and life of your Shiloh products, cabinet care is a must. With a routine cleaning schedule and proper upkeep practices, rest assured your cabinetry will provide years upon years of service.
With all of that in mind, I've got some basic cabinet maintenance tips for easy cabinet care.
Avoid Abrasives
Never use powdered cleaners, steel wool, or scouring pads on your Shiloh cabinets. These cleaning methods might penetrate your unit's surface and allow moisture or food to enter moving forward. This will, in turn, slowly cause the finish to deteriorate.
Keep Away from Excessive Heat
Avoid having your cabinets anywhere near a source of heat directed to their surfaces.
Excess Moisture
Always immediately dry off any areas on your cabinets where water has spilled. Do not place tea or coffee makers where the steam can directly impact the cabinet's surfaces. Don't attach towel racks to your cabinets' door interiors. Never drape wet towels over your Shiloh cabinet doors.
I'm glad my contractors shared all these tips with me when I decided to go with Shiloh Cabinets. Otherwise, my investment would've gone down the drain within the first two years.
Wipe Every Spill Right Away
Try your best to always keep the cabinet's surfaces dry by wiping spills promptly using a dry cloth. Pay special attention to the areas you think water will be more prevalent, such as sink cabinets.
Basic Cleaning Tips
Do not use self-polishing, soaps with dye, or ammonia-based cleaners on your cabinets.
Avoid using sponges or dishcloths to clean the cabinet's surfaces. They may contain remnants of harsh detergents that can harm your cabinet's finish.
To remove daily spills, grease, or oil, use a mild soap and water solution, then dry with a dedicated lint-free cloth.
Abide by these easy-to-follow Shiloh cabinet care tips, and your investment will continue to look stunning for years to come.
Alternatives To Shiloh Cabinets
It's clear: Shiloh is a brand worth taking into consideration. Not only are their offerings versatile, but they also best cater to everyone's needs and personal preferences. But, if you'd like to consider alternatives before committing, the following brands are well-received as well.
#01 Kraftmade Kitchens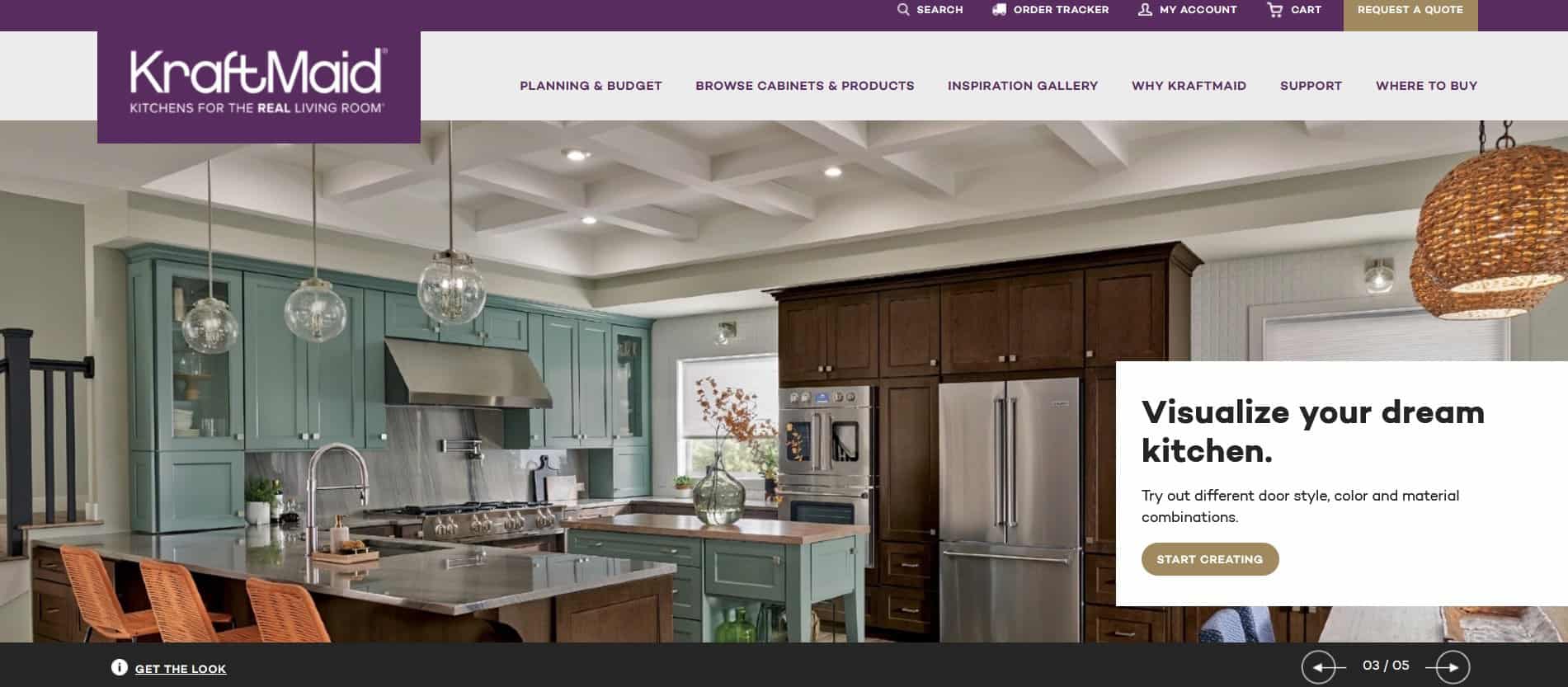 Kraftmaid cabinets are some of the most well-constructed and designed units for the discerning homeowner. If you're after a value of quality unmatched by most other brands, sometimes even Shiloh, Kraftmaid is the company for you.
I actually worked for a design firm called Craftmade Kitchens once, and we used Kraftmaid cabinets. It was always confusing for clients, haha! KraftMaid cabinet offerings are available in shop-built or fully customized, stock production, and semi-custom options. The company is also committed to offering all its customers the best quality at the most affordable prices.
#02 Jarlin Cabinetry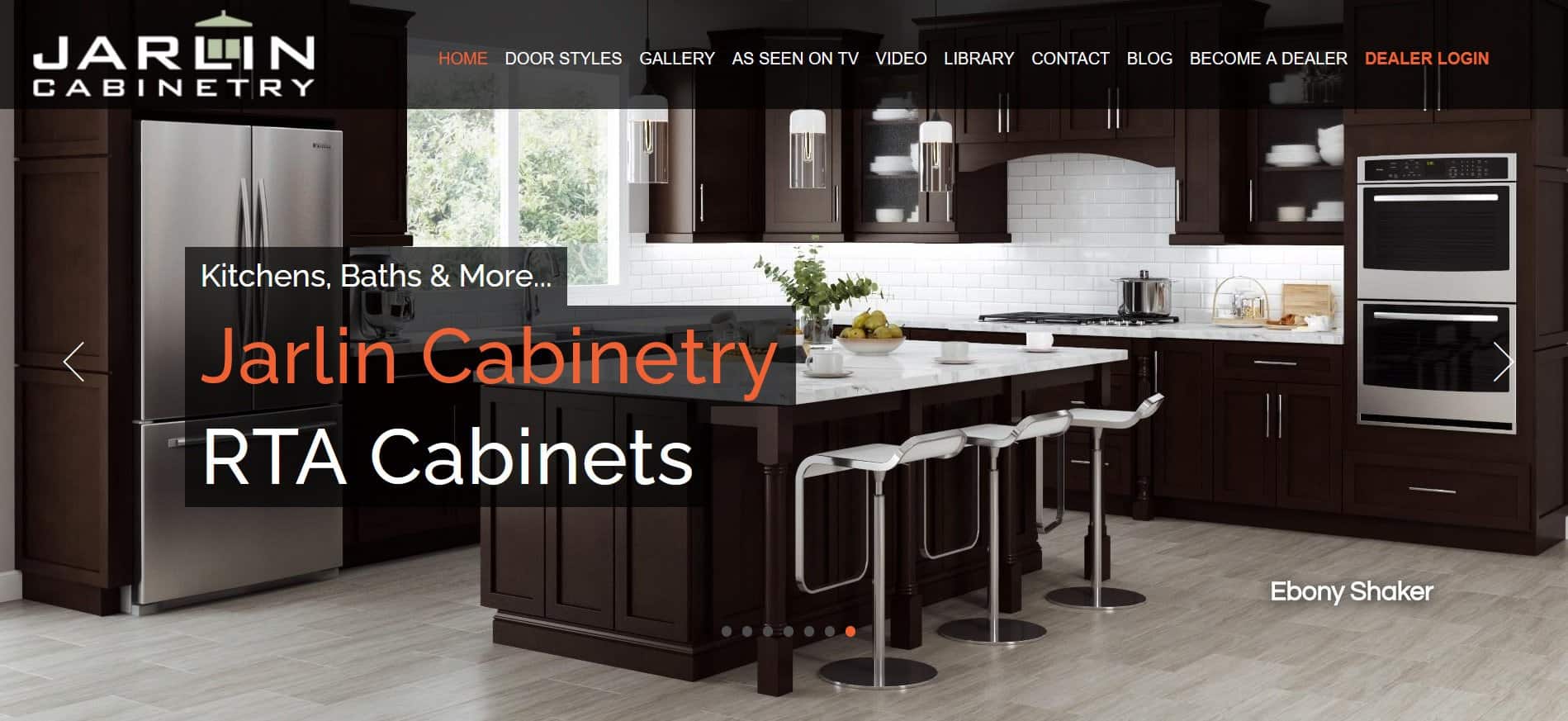 If I had to pick a cabinet brand that's at par with Shiloh cabinetry, it'd be Jarlin cabinetry. Like Shiloh, Jarlin offers some of North America's best construction quality and finish options. Jarlin was established in 2007 and has quickly grown to become a leading kitchen cabinet brand alongside Kraftmade and Shiloh.
#03 Kemper Cabinets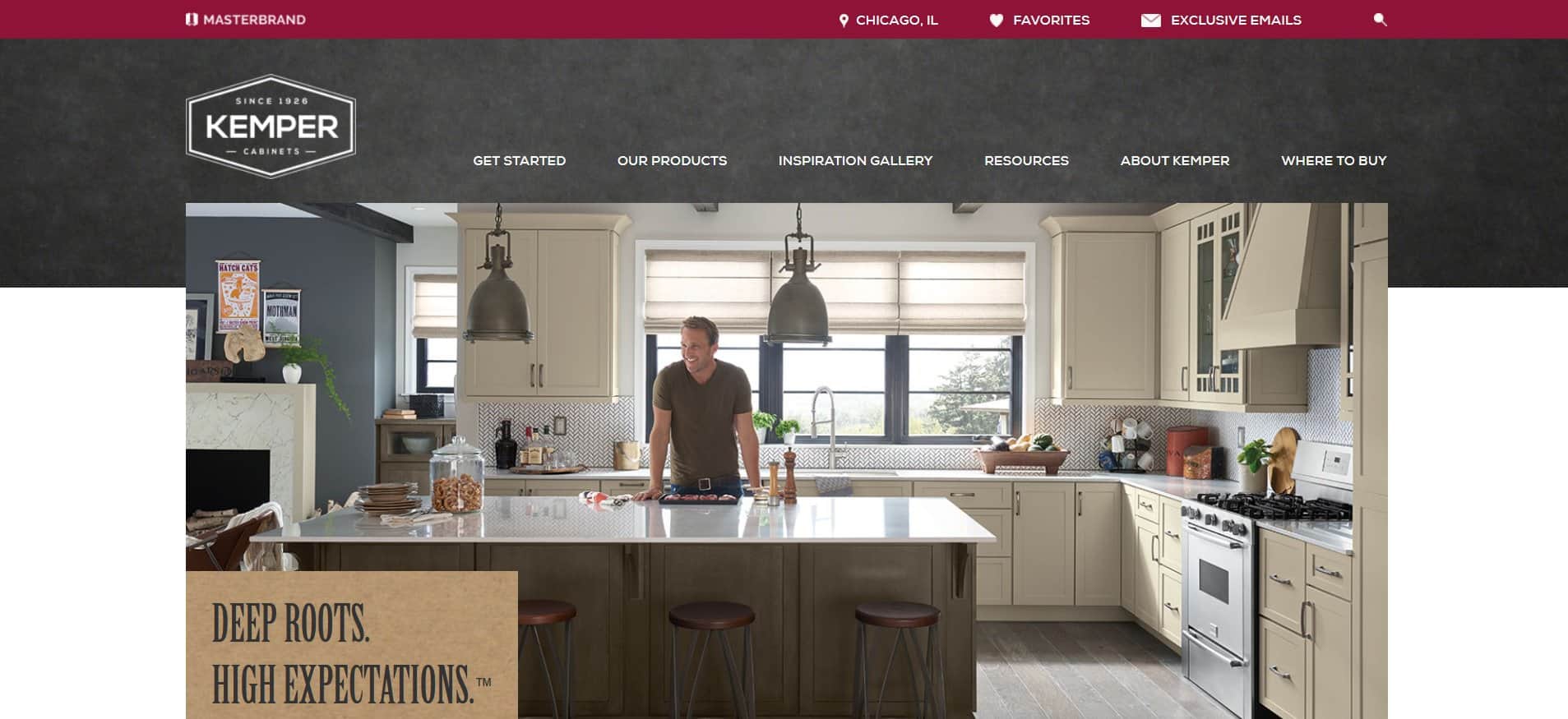 Kemper Cabinets can help you realize the dream of a well-organized, beautiful kitchen or home. Like Shiloh Cabinetry, their products retail in many finishes, wood species, and door styles. Unfortunately, this company's number of finish combinations can't quite rival Shiloh's.
Still, you can rest assured Kemper Cabinets will have a personalized and unique cabinet solution tailored to your needs.
FAQs
Question: Is Shiloh a Good Kitchen Cabinet?
Answer: Featuring cabinets made from the highest-quality materials and constructed using superior methods, Shiloh is among the most reputable cabinet companies. Add to that its 60+ door styles in cherry, knotty alder, maple, hickory, and red oak, and over 200 finish color options. Plus, Shiloh cabinets are competitively priced with many extras, like glazes, finished sides, and toe kicks.
Question: Who Owns Shiloh Cabinetry?
Answer: Shiloh Cabinetry is a product line of W. W. Wood Products, Inc., which has remained a family-owned business since its inception in 1977. The company is headquartered in Dudley, Missouri, where all the Shiloh cabinets are also made. The town is 2 1/2 hours south of St. Louis, Missouri.
Question: Do Shiloh Cabinets Come Assembled?
Answer: No, Shiloh cabinets do not come assembled, but they are ready to assemble. But worry not. The package will include a detailed step-by-step guide you can follow to put your cabinets together without a hassle.
Bottom Line
Shiloh Cabinetry is one of the most popular customizable cabinet brands available today. They offer everything from beaded inset and flush inset to full overlay and standard overlay cabinet designs. That's all any homeowner needs to show off their personal style.
This cabinet company also offers many aesthetic stains and reasonably priced paint glaze finishes. The company really is dedicated to producing all their cabinets with your desires in mind.
Read More: