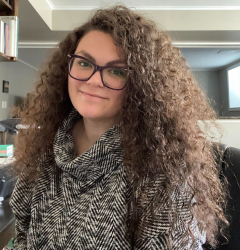 Latest posts by Candace Osmond
(see all)
The short and simple: Yes, it's worth your money. But I bet you want some proof, right? Thanks to decades of craftsmanship, the company will deliver personalized, high-quality designs that'll stand the test of time. But those are just fancy words. I want to break down what makes Aristokraft cabinets so amazing so you can see for yourself.
Aristokraft also prides itself on its ability to craft cabinetry solutions that offer value, selection, and style. Today's article will be an in-depth guide into everything Aristokraft stands for. Let's check and see whether the brand deserves the recognition it's received as one of the nation's top cabinetry brands.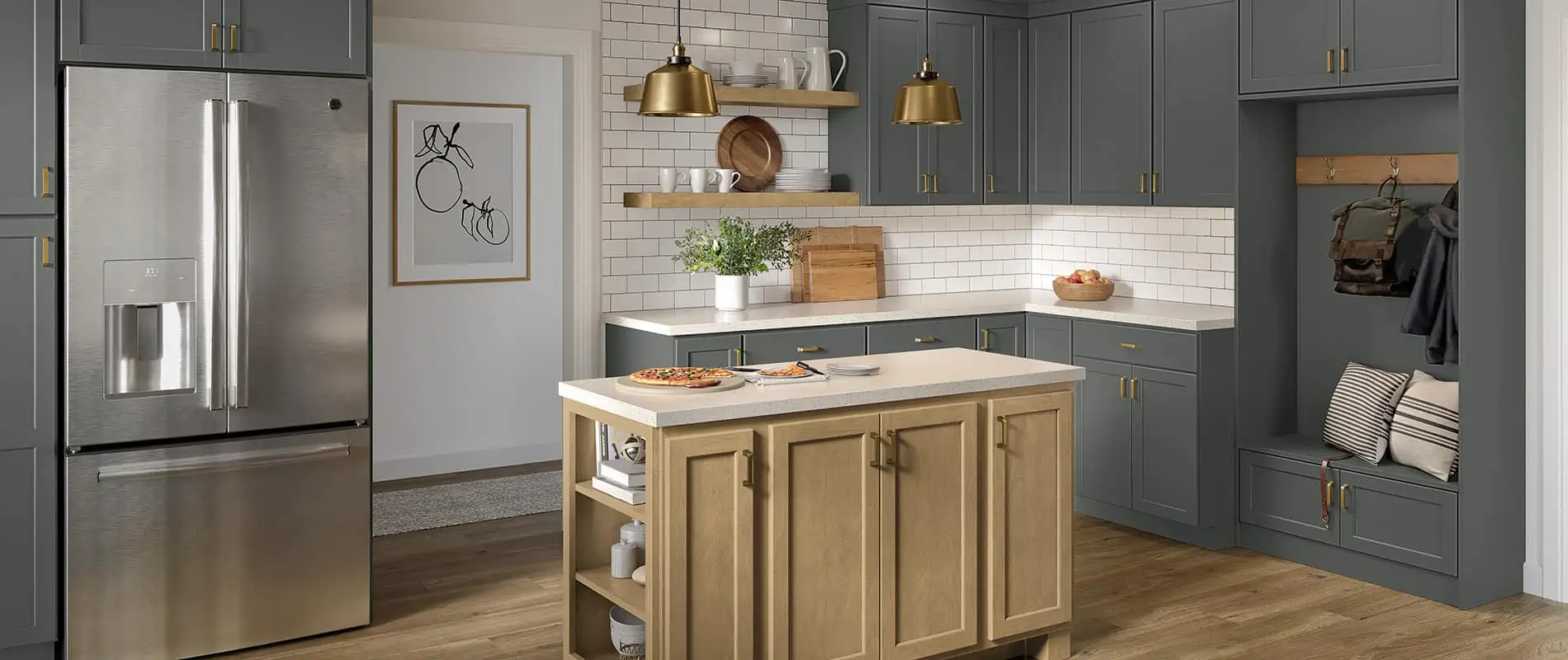 About the Aristokraft Cabinets Brand
I love this brand; I've followed their work for years and scoured magazines for their design inspirations back when I worked as a Kitchen & Bath Designer.
Aristokraft is a subsidiary of MasterBrand Cabinets, Inc., a cabinetry solutions company founded in 1926. Over the decades, MasterBrand has built an image as one of the most reliable cabinet brands: it's undeniable that Aristokraft has played a considerable role in this success story.
Aristokraft was established in 1954 in Jasper, IN, where it's still headquartered. The company's unique selling proposition is its ability to deliver stylish finishes, curated colors, top-requested cabinet accessories, and relevant door styles.
What's more? Today, Aristokraft is an industry leader known for its value, selection, and style and comprises a breadth of quality cabinet solutions. Need I mention that all their cabinetry solutions are certified by KCMA (Kitchen Cabinet Manufacturers Association)?
The certification implies Aristokraft is dedicated to surpassing minimum industry requirements to demonstrate leadership in growing areas of concern and importance.
What Does Aristokraft Cabinets Offer?
Good question. Every solution that Aristokraft offers reflects its 65+ years' worth of know-how with dependable hardware, easy-to-clean interiors, and modern finishes. Here is a rundown of everything that distinguishes the brand from its competitors.
Door Styles
While picking your door style on Aristokraft's page, you can choose a combination of two categories, "Browse By" and "Available In." Under browse by, you'll find color, color with glaze, and wood tone. Under available in, you'll find birch, maple, and paint.
Under their door styles, you'll also find Aristokraft's new PureStyle design. PureStyle combines the beauty of paint and the durability of laminate to deliver a stunningly stable and environmentally friendly solution.
Every component of this 5-piece door style has been continuously wrapped to attain a flawless appearance that will leave everyone in awe. Each PureStyle door's end result is an extra-crisp look with a quality finish and clean details.
Regarding PureStyle's environment-friendliness, they're cellulose-based and haven't been constructed using any toxic substances. The substrates are MDF (medium-density fiberboard), made from wood extracted from forests with eco-sustainable systems.
Pro Tip: Keep in mind that things always look different online than they do in real life. Always ask for samples or where you can see their cabinets in person.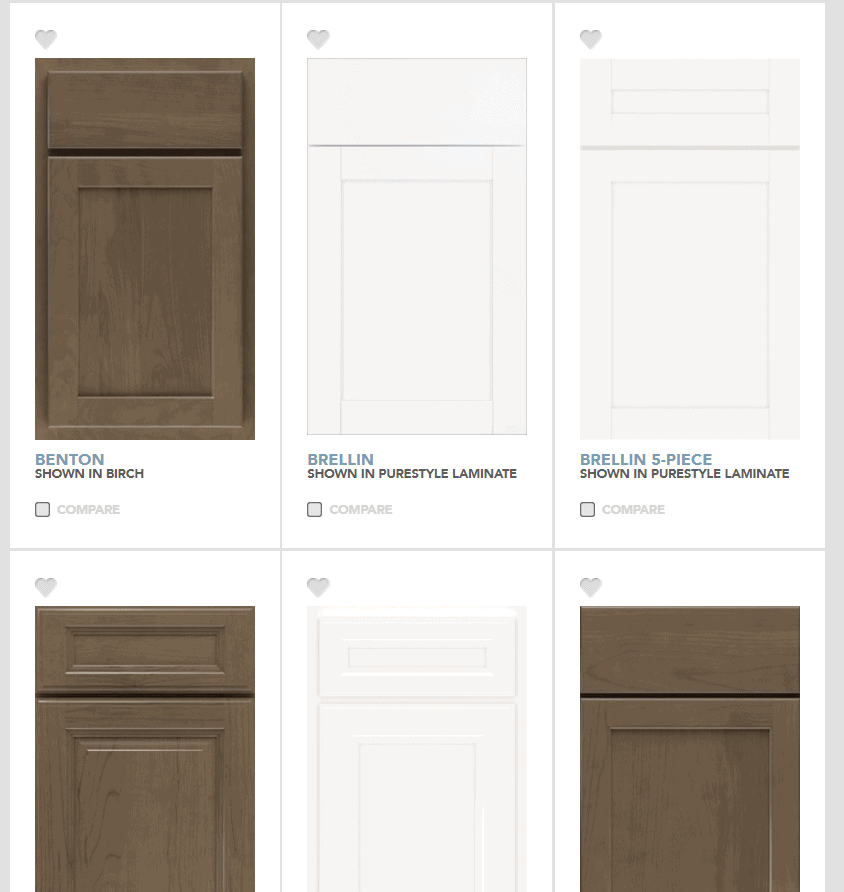 Wood Species
Would you like to craft a specific feel and look for your room? You'll want to understand the three main wood species Aristokraft will use to build your cabinetry (and their differences) first.
Maple
The first is maple, a medium hardwood with a curly, wavy, or straight grain. Popular for its shock resistance, maple also boasts a light, uniform appearance that'll produce a smooth, clean look once stained. I love maple wood for cabinetry because it's fairly hard, easy to work with, and stains really well.
Another plus of going for maple wood is that Aristokraft can finish it to resemble other woods. It can even resemble more expensive softwoods or hardwoods, like cedar and cherry. I'd suggest going for Maple if you're going for a light, airy kitchen or a dramatic one with darker finishes.
Birch
The second wood species Aristokraft uses for its cabinetry solutions is Birch. This is a smooth hardwood with curly, wavy, or straight grains. The wood also boasts a high-shock resistance level that takes any stain perfectly.
Note that birch is mostly a light-colored wood species whose shade varies from cream to light yellow. I always say it's similar to maple but will save you a bit of money in your kitchen budget.
Oak
The third wood species available at Aristokraft is Oak. Oak has a coarse grain that'll vary from straight to distinctive sweeping arch patterns. The wood is also found in white and red varieties, which will stain well in standard finish colors.
In my opinion, oak is beautiful. But because of the grainy look, it's best not used in modern settings unless you pair it with a sleek door style such as a flat panel or shaker.
Finishes and Colors
The feel and look of your cabinetry will be highly influenced by the finish and color you pick. And that's regardless of whether you live in an uptown city loft or a country cottage.
Lucky for you, Aristokraft's assortment of finishes and colors has covered you on that front. Depending on the material and door style you pick for your cabinets, the brand allows you to pick one of 29 distinct finishes and colors. Woah! Crazy, right? Here is a breakdown of the finishes:
Birch Woodtone
Umber
Sarsaparilla
Saddle
Quill
Natural
Flagstone
Cafe
Burlap
Maple Woodtone
Under maple wood tones, you'll find the same finishes and colors as those under birch wood tones. So, I won't bore you with a repetition of the same list.
Paint Colors
White
Stone Gray
Greyhound
Colada
Purestyle Laminate Woodtone
Purestyle Laminate Color
White
Stone Gray
Greyhound
Glacier Gray
Colada Admiral
Purestyle Laminate Color with Glaze
Toasted Colada
Silver Lining
As you can see, Aristokraft's wide assortment of cabinetry styles and finishes really does live up to MasterBrand's promises and reputation. Also, the finish you pick should perfectly merge with other elements in the room. After all, you want "cohesive" interior decor at the end of the day.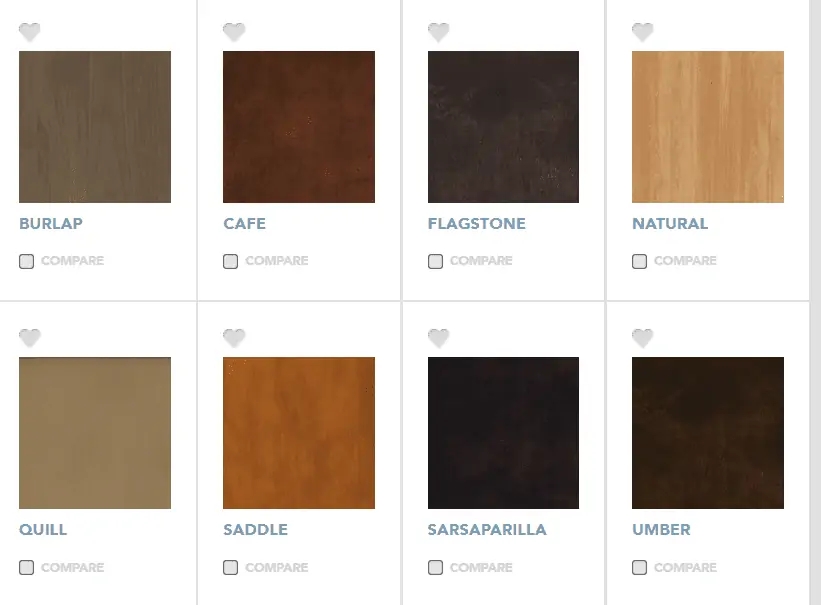 Moldings & Accents
Getting new cabinets isn't just your opportunity to award your bathroom or kitchen an updated look. It's also your golden chance to customize your storage solutions with space for every last item you have in either room. That's where Aristokraft's moldings and accent selections come into play.
On the brand's products page, you'll find 56 distinct embellishments divided into six categories. I won't list them all because that's just overkill, but here are some of the main categories you'll find.
Accents
Corbels
Legs and Feet
Moldings
Specialties
Wood Hoods
Under accents, for instance, you'll find wall cabinets with mullion doors, wall cabinets cut for glass, refrigerator cabinets with mullion doors, decorative end panels, and a box column filler. The "Specialties" category has only one embellishment (that's also my favorite), i.e., The country sink base.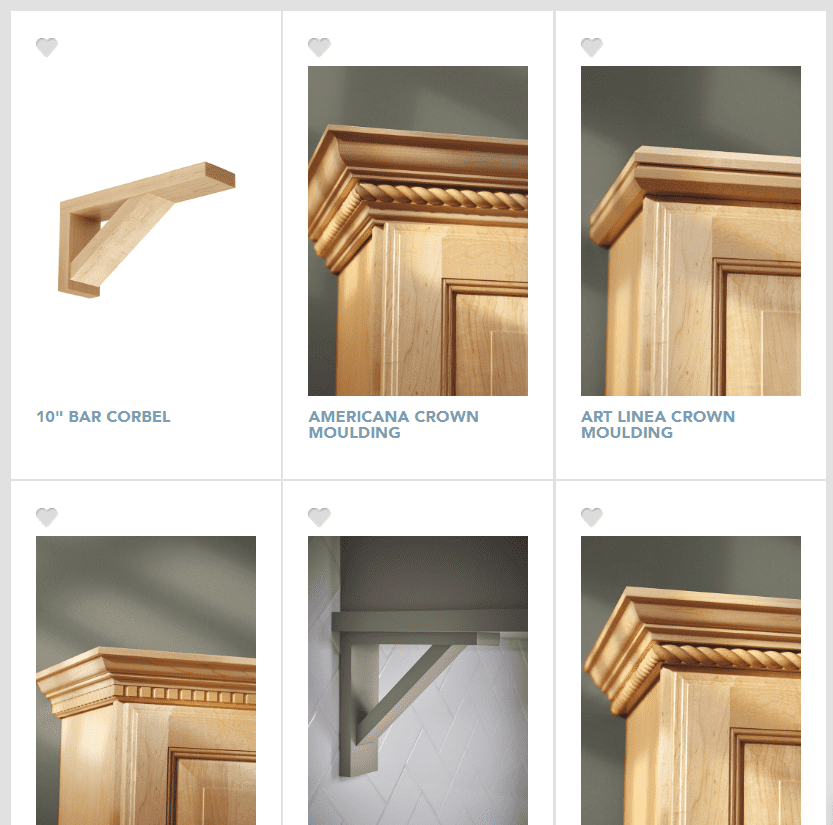 Warranty
All of Aristokraft's cabinetry solutions are covered by a manufacturer's 5-year limited warranty on all manufacturing defects. A lifetime manufacturer's warranty has backed their drawer hinges and guides.
The warranty covers Aristokraft's discontinued designs as well. Just provide your original order number if you'd like to replace a discontinued part under Aristokraft's warranty replacement policy. Send the company an email and provide the colors, style, and size you'd like on your replacement.
Aristokraft Cabinet Accessories
One of the main reasons I see people remodeling their spaces is to add more storage space. I mean, we could all use more storage, right? As such, Aristokraft Cabinets' designers have done their homework researching how homeowners work in their kitchen spaces.
Using the data from these observations, they've designed many cabinet accessories that'll solve any homeowner's storage problems. Aristokraft's wide selection of cabinet accessories includes:
Utility shelves
Base cabinets with roll trays
Base pullout cabinets
Tall wall appliance garages
Desk file drawers
Pantry pullouts
Aristokraft has divided these accessories into 10 categories to make your selection process easier, depending on your storage needs. How nifty! That's pretty genius, I haven't seen that with other leading sites. The categories are:
Baking
Cleaning
Coffee
Cooking
Crafting
Entertaining
Everyday essentials
Family
Pets
Work from home
Aristokraft Cabinet Visualizer
Has your busy schedule made it impossible to visit showrooms or model homes to see cabinetry solutions in person? You're in luck. Aristokraft has a powerful, visionary tool that'll allow you to design your future kitchen from the comfort of your home.
If you're like me, you'll love this tool because you can play around with in your own time. Create multiple spaces until you land on a combo you love.
The cabinet visualizer lets you pick flooring mixes, backsplashes, colors, countertops, and cabinet designs in real-time. Experiment with the different colors and material schemes Aristokraft provides until you're done imagining your perfect kitchen.
Follow this link to start visualizing your kitchen space right away.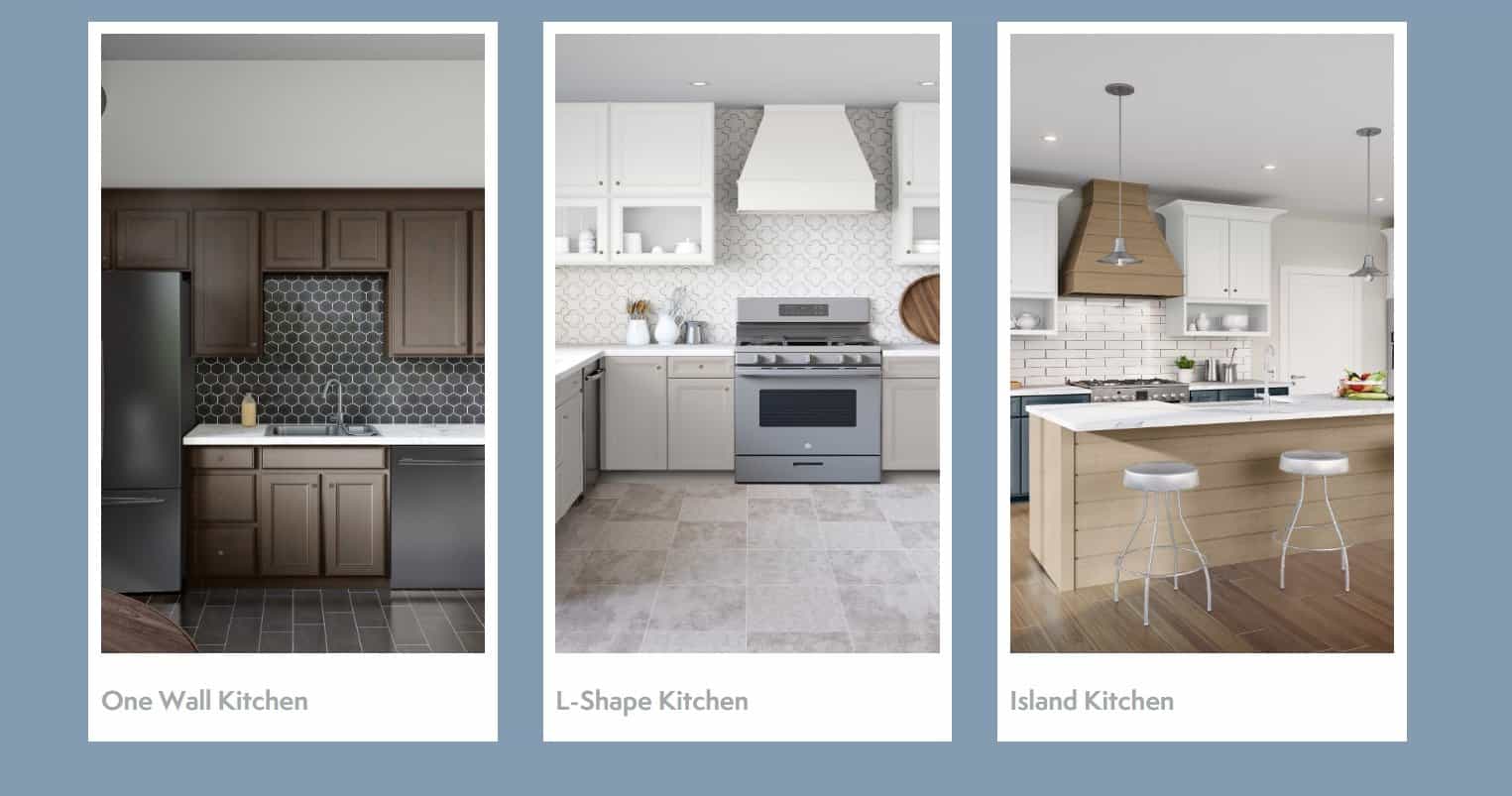 How Are Aristokraft Cabinets Made?
Construction is a huge player in choosing cabinets for your home, trust me. Don't skimp on this. Cabinets can look nice on the outside, but if they're not built well, you'll be replacing them in a few years. Aristocraft Cabinets offer three levels of construction quality on all their line of products. These are Standard, Select, and All-Plywood construction.
Cabinets
Their standard and select base cabinets are made with ⅜-inch thick furniture board (sides, back, and bottom). The main difference between their base and wall cabinets is that wall options feature a ½-inch furniture board top and bottom.
Both standard and select Aristokraft cabinets also use 6-way adjustable hinges. The select versions, however, have been oomph-up a little with the quiet, smart stop self-closing hinge. This feature is also available in their premium All-Plywood cabinet constructions.
Speaking of their All-Plywood constructions, they boast the same measurements as their standard and select counterparts. The only difference is the plywood construction and finished veneer exteriors instead of laminate exteriors.
Drawers
Under their drawer construction specifications, select and all-plywood options share specifications. These include ¾" Nominal thick all wood sides, ¼" thick plywood (on all four sides), dovetail joints, and a 21" depth on base cabinets. They've also been fitted with Aristokraft's new concealed, full-extension drawer guides with Smart Stop quiet closing mechanisms.
Pro Tip: Dovetail drawers are one of the best you can get *finger guns*
Construction specifications for their standard drawers are ½" thick furniture board sides (front and back), ⅜" thick furniture board (fasted into four sides), stapled butt joints, and a 20" depth on base cabinets.
Aristokraft Cabinets Inspiration
I assume everything you've learned about Aristokraft cabinets has pushed you at least an inch closer to making a purchase decision. In that case, here are organization ideas from Aristokraft's gallery to help you set off on the right foot.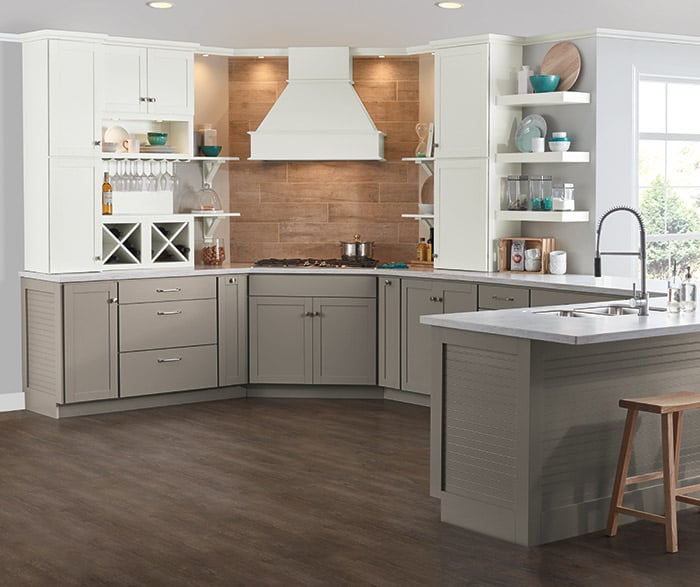 Say goodbye to run-of-the-mill cabinetry solutions. Here, the bronze hardware, wine rack, range hood, floating shelves, and Brelline cabinets lend warmth to the room's clean, transitional style. The only thing that'd take the design up a notch is a brighter finish on the hardware.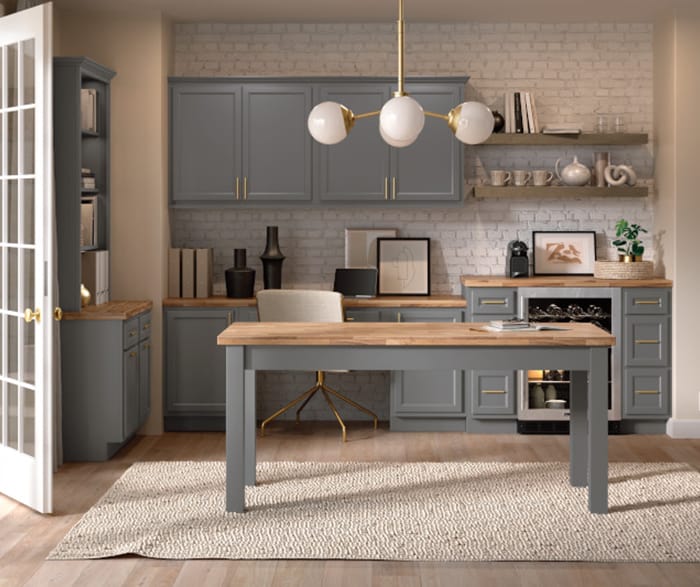 White and grey kitchen cabinets will always have a place in most homeowners' hearts. (it does in mine!) And they're often worth the investment. But what if you thought outside the box and took a risk with color when picking your Aristokraft Cabinets' finishes?
As you can see, with these Dana Purestyle Laminate cabinets, the end result can be fantastic (and unique.)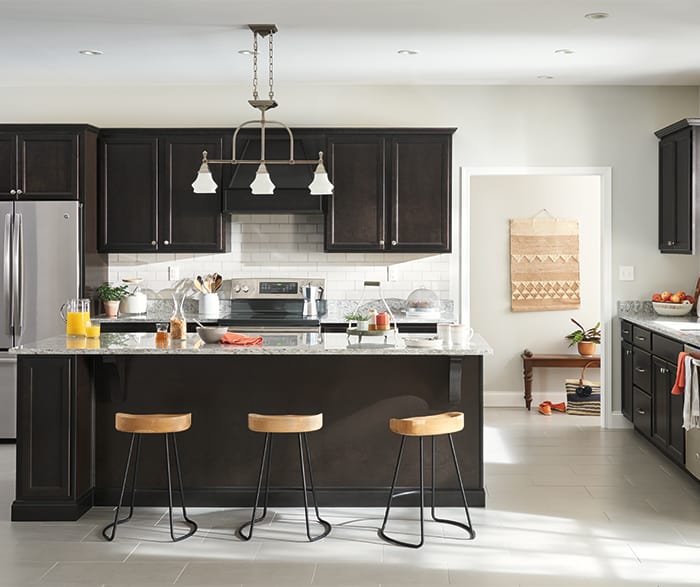 Who said you couldn't use rich, dark brown finishes to create nice contrasts to backsplashes that add a pop of color? This Birch Cabinets idea from Aristokraft shows how you can easily pull it off effectively.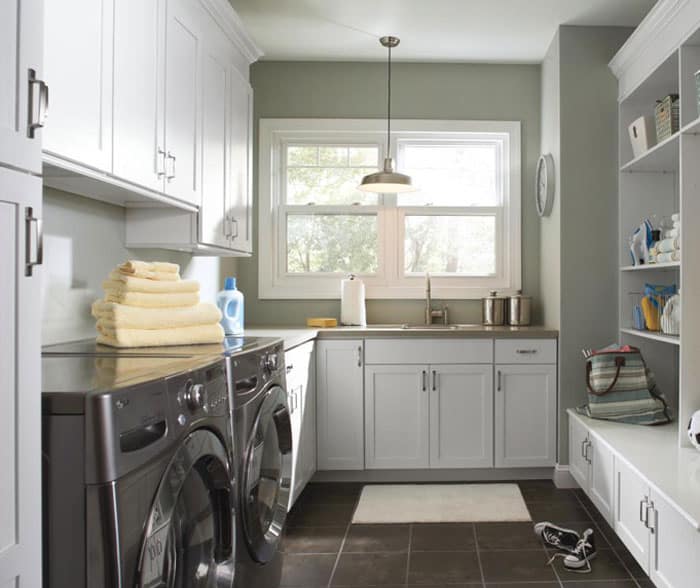 A dreamy, all-white laundry room adds a clean, bright, refreshing look. That's precisely what these Winstead Laundry Room cabinets delivered. That said, no one said you couldn't add a little bit of drama. I'd suggest incorporating touches of contrasting cabinet hardware.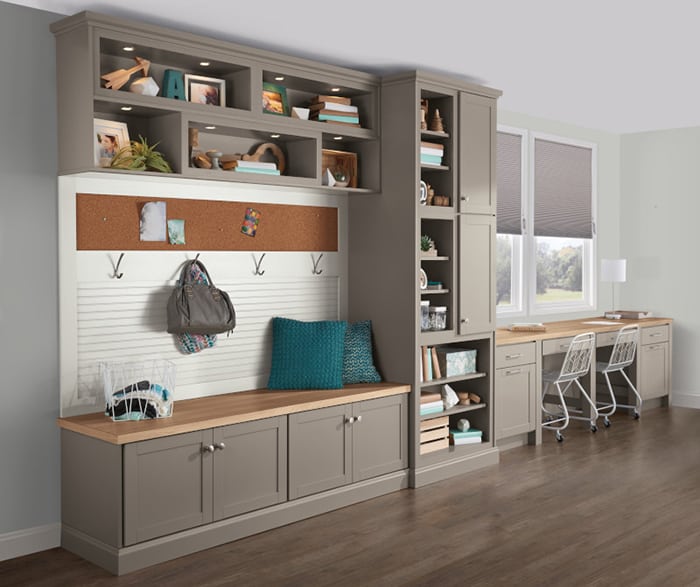 Homeowners are increasingly embracing stone-gray finishes thanks to their versatility. Cabinets with these finishes will look like they belong in any room throughout your home, be it the kitchen or mudroom. Consider coupling these Gray Laminate Cabinets look with dark, natural wood countertops as shown in the inspirational image above.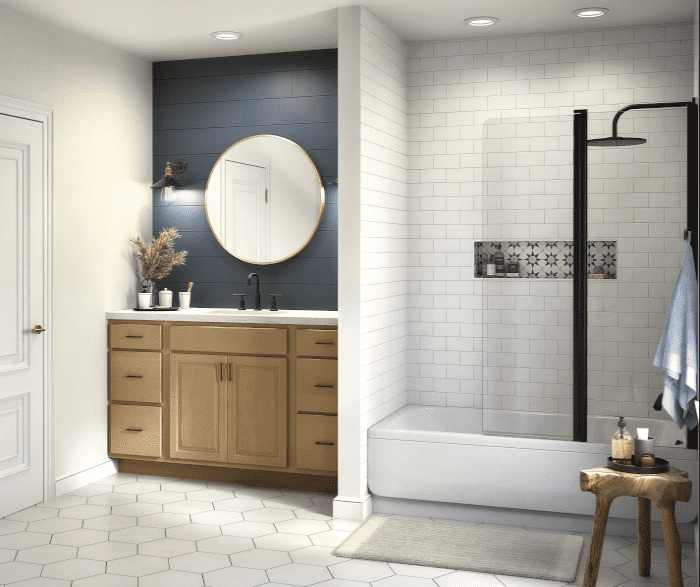 Moving into the future, expect to see quill finishes grow in popularity in the realm of cabinetry solutions. Here, Aristokraft Cabinets shows you how you can incorporate their Casual Birch Bathroom cabinets throughout a timeless design.
The cabinets' easy living quill finish will complement any transitional-style decor.
Where Can You Buy Aristokraft Cabinets?
Aristokraft cabinets are only available through the company's network of dealers. Once you've settled on your preferred door style and finishing option, head to Aristokraft.com to begin the purchase process.
From the homepage, you'll see a page at the top right corner labeled "Where to Buy." Click that. On the next page, type in your street address, city, state, or zip code. Lastly, click the search icon, and a list of Aristokraft Cabinets Dealers near you will pop up.
Aristokraft will also display each dealer's contact details and exact address in the listing. Contact your preferred dealer with any requirements not listed on Aristokraft's website. They'll provide you with a quote as well.
Caring for Aristokraft Cabinets
Once your Aristocraft cabinets have been installed, start by whipping down their interiors and exteriors using a damp cloth. This will eliminate dust on the surfaces but remember to dry them immediately using a different cloth. Also, watch out so you don't scratch the surface while whipping off the dust and/or debris.
Moving forward, maintain similar, regular interior and exterior cleaning sessions using damp clothes, followed by drying.
To clean general soil, grease, or oil, use a clean cloth dampened with warm water and mild soap. After cleaning the dirt or spill, rinse using a different damp cloth and dry the surface thoroughly. Note that it's essential to clean any spills right away. Prolonged exposure to them (be they water, food, or other liquids, can discolor or cause permanent damage to your cabinet's finish.
Regarding cleaning items, you should avoid self-polishing waxes, abrasive cleaners, strong soap, or harsh detergents. These, like spills, can destroy your cabinets' factory-applied protective finishes. Also, avoid using dishcloths to dry or clean your cabinet surfaces, as they may contain remnants of grease and detergents.
To conclude, always treat your cabinets the same way you would your other fine furniture. Never hang damp towels on their hardware to dry, and remember that excessive moisture causes wood to expand and damage the finish. To top it off, cabinets next to the oven, dishwasher, range, baseboard areas, and sink are most susceptible to excess moisture.
Treat your Aristokraft cabinets accordingly, and they'll reward you with long-lasting beauty.
Alternatives to Aristokraft Cabinets
I get it: before investing your hard-earned cash in any particular company, you have to ensure you're getting the best deal. You can do this is by looking at the company's closest competitors.
With that in mind, here's everything you'll need to learn about Aristokraft's biggest competitors.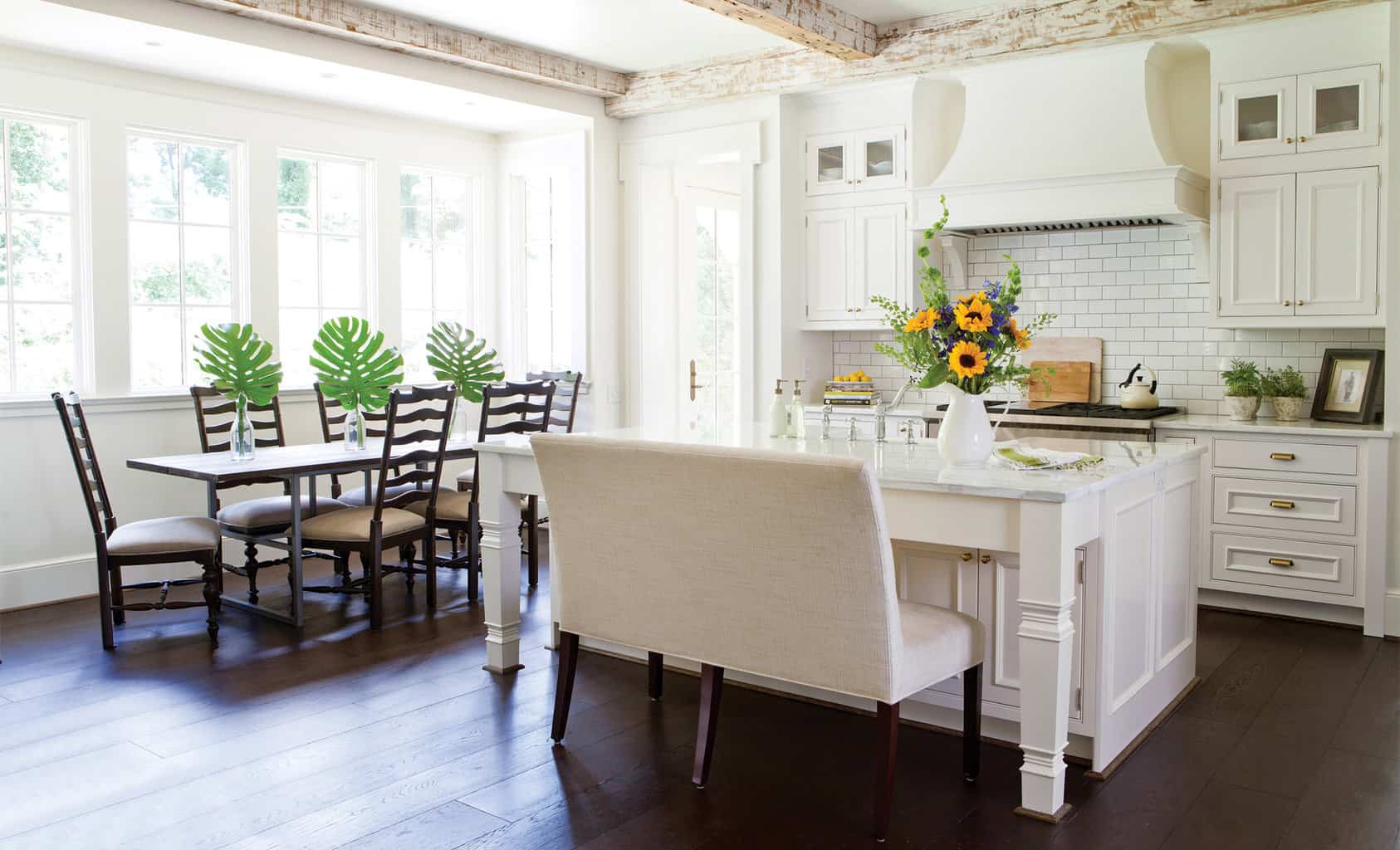 Wellborn Cabinets awards you a custom cabinetry look, without the custom cabinet price. The wide selection can be flawlessly matched to any customer's home, offering them great financial flexibility without sacrificing quality or style.
Like with Aristokraft, Wellborn's cabinets are carefully crafted from high-quality woods, including birch and maple. Take good care of them, and watch as they serve you for a lifetime. That said, note that Wellborn's solutions aren't as "overly affordable" as those by Aristokraft.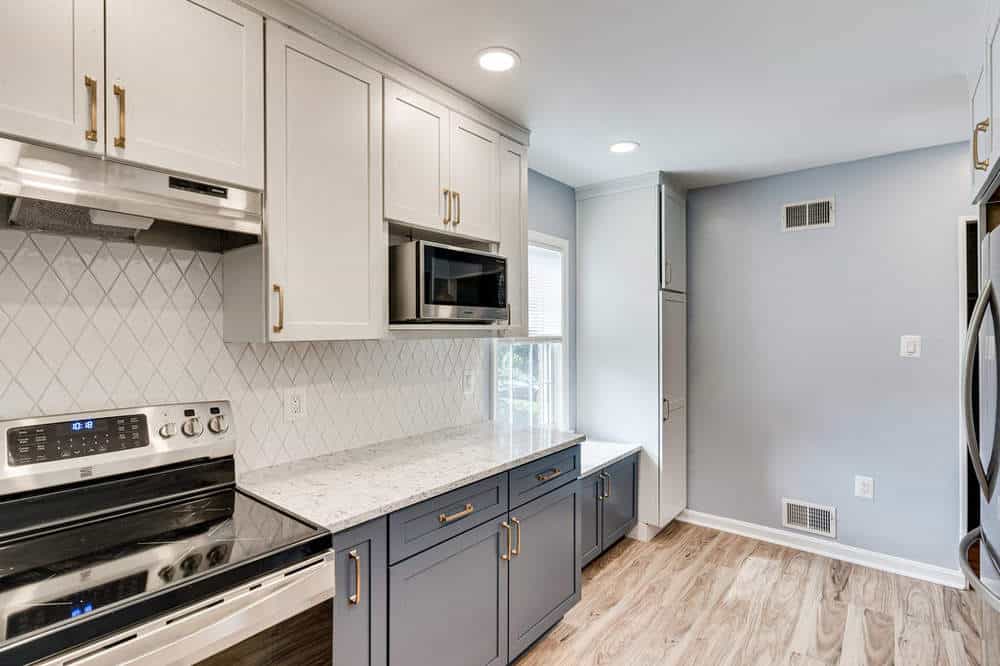 Like Aristokraft Cabinets, Merillat Cabinetry offers stylish and affordable bathroom and kitchen cabinets with unique features. The company has three product lines: the masterpiece collection, the classic collection, and the basics collection. Each collection has cabinets suitable for every room in the house, be it your kitchen or entertainment center.
Merillat Cabinetry is also well known for its hard-to-beat cabinet accessories. From large drawers and base swing-out shelves to pull-out trays and spice inserts, you'll find an assortment of options at Merillat.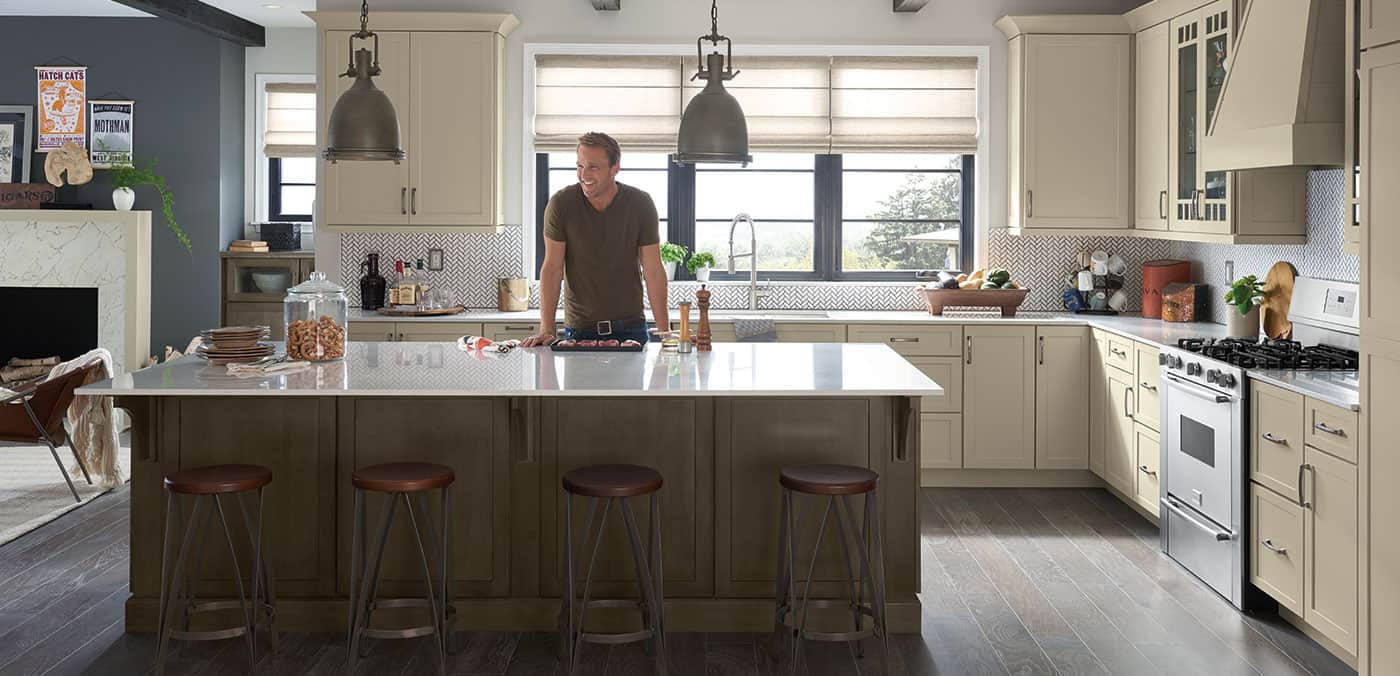 Kemper Cabinets is one of the best nationally recognized cabinetry brands today. Homeowners also widely recognize their cabinetry solutions as some of the most reliable, durable, and aesthetic. Expect an array of design options from their product lines with many different wood species.
Kemper Cabinets also offers many storage options to suit any homeowner's needs and personal preferences. Reach out to one of their dealers, and they'll help you find the best wood species and finishes for your needs.
FAQs
Question: How Do You Clean Aristokraft Cabinets?
Answer: The recommended way to clean Aristokraft cabinets is to use a clean towel dipped in a solution of warm, soapy water. Dry the surfaces immediately using a separate cotton cloth once you're done. Also, Aristokraft recommends cleaning any spills on your cabinet surfaces right away.
Question: Are Aristokraft Cabinets Discontinued?
Answer: Like other cabinetry brands, Aristokraft discontinues some of its product lines occasionally to create room for new ones. Note that the company's warranty still covers their discontinued units.
Question: Who Makes Aristokraft Cabinets?
Answer: Incepted in 1954, the Aristokraft brand is part of a larger company, MasterBrand Inc. MasterBrand is currently the second-largest cabinet manufacturer in North America.
Aristokraft Cabinets Brand Guide: Final Thoughts
From my guide, it's evident that Aristokraft has the value, selection, and style required to bring any vision to life. Their cabinets come fully assembled and are delivered directly to your home, ready for installation. All their designs can be adorned with moldings and accents to award your kitchen renovation the customized look it deserves.
Plus, you'll want to take advantage of their 60+ years of affordable prices, attention to detail, and craftsmanship. Perhaps then you'll find out why the company remains one of the most trusted brands in the sector. If my review wasn't enough to convince you, check out my other guides on the best kitchen cabinet companies!
Read More: