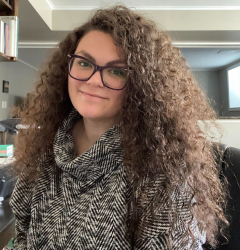 Latest posts by Candace Osmond
(see all)
Kemper cabinets have been wildly popular for almost a century now (since 1926), and for a good reason. They're extremely durable, they retail in a wide selection of finishes, and when cared for, they can last generations. I've seen their products in magazines and catalogs for years now.
Beyond sheer practicality, all cabinetry offerings from the Kemper cabinets brand are also beautiful additions to both modern and traditional homes. Top that off with the fact they're all crafted using precision engineering and backed by the manufacturer's lifetime warranty.
About The Kemper Cabinets Brand
Founded on February 9, 1926, as Kemper Brothers, Kemper Cabinet is one of America's oldest cabinet companies based in Jasper, IN. The brand builds all its cabinets using modern engineering advances while retaining the old-world flavor of traditional beauty.
What's more? Kemper Cabinets delivers its cabinetry offerings in an array of outstanding design options that allow for semi-custom solutions. You'll get to pick the design, door style, color finish, and even wood type you'd like on your cabinets.
In 1998, Kemper became a subsidiary of MasterBrand Cabinets, Inc, the largest cabinet manufacturer in the United States. Masterbrand Cabinets, Inc. Still operates a 280,000 square ft. plant in Richmond, IN, which has fueled Kemper's renowned dominance.
The parent company of MasterBrands is Fortune brands.
What Does Kemper Cabinets Offer?
As you can see, Kemper Cabinets has been at the forefront of homeowners' desires since its inception. Today, the company continues to innovate with modern cabinetry solutions for every budget and lifestyle. Their cabinets are for any space or room that can benefit from functionality and style.
Door Styles
Kemer provides the latest door trends with the most popular colors and finishes. Their wide selection ensures that clients always get what they're looking for, regardless of their personal preferences. With that in mind, all of Kemper Cabinets' offerings have been divided into three distinct lines: Echo, Choice, and Emerge.
Under Echo, you'll find the following door styles: Antrim, Brisbane, Faye, Granbury, Hopkins, Kleyborn, Larsen, Leyton, Marimac, Newcomb, Trillian, Warren, and Willowby.
Under Choice, you'll find Amstead, Antrim, Butler, Caprice, Cotter, Dewitt, Dutton, Faye, Gallatin, Genova, Granbury, Gordon, Hardin, Justin, Kingston, Kleyborn, Larsen, Leyton, Lynnville, Marimac, Newcomb, Northrope, Rennie, Shafer, Taro, Trillian, Troxel, Warren, Warwick, Willowby, and Herrington door styles.
The last product line, Emerge, retails with some of the aforementioned door styles, as well as a few unique door styles. These unique selections include Whitman, Tate, Shanley, Landry, Kirby, Burke, and Decker.
Wood Species
Kemper's innovative solutions start with their smart material selection. Like other leading cabinet manufacturers, Kemper swears by using hardwood face frames and plywood cabinet boxes for durability. And since no two hardwoods are alike, the brand has gone a step further. They ensure that every wood species they use will result in unique variations of versatility, strength, and appearance.
Kemper's wood selection includes Maple, Walnut, Hardwood, Cherry, Alder, Rustic Alder, Quartersawn Oak, Rustic Hickory, PreStyle, Laminate, MDF, and Specialty Laminate.
Finishes And Colors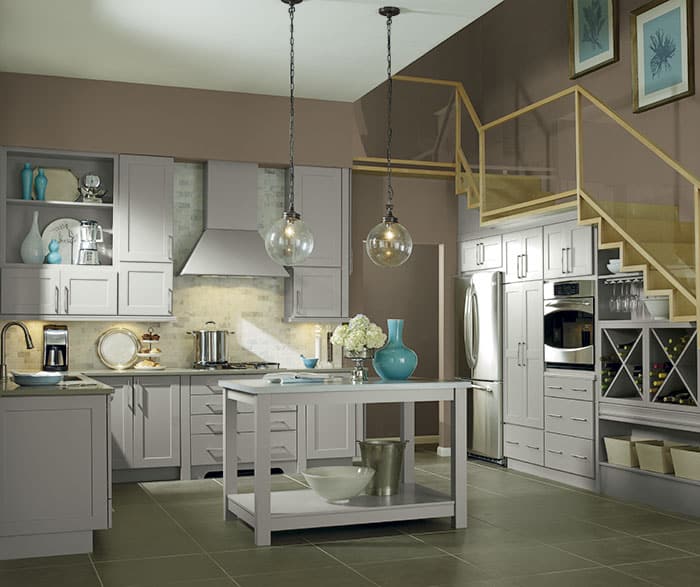 Kemper Cabinets offers an overwhelming 270+ collection of finishes and colors. These include coastal plain, abyss, agreeable gray, distance, coconut, egret, fleeting green, forest floor, cloud, brightest white, and more.
Note that all these finishing colors fall under four distinct finish categories: solid color, color with glaze, woodtone, and woodtone with glaze. Finish Color tones are also divided into three additional categories; dark, medium, and light.
As you can see, saying that Kemper Cabinets features a wide selection of finishes-colors- and wood species combinations would be an understatement.
Warranty
Since 2001, Kemper Cabinets has sold all its products with a limited lifetime warranty. That implies that as long as the original customer owns the home, they'll be free of defects. And should anything happen to the cabinets, either in workmanship or material, get in touch with Kemper cabinets. They'll sort it out right away.
How Are Kemper Cabinets Made?
I always say how a cabinet is built will determine its functions and how it looks at the end of the day. Note that shelving, hinges, and even finishing options on Kemper cabinets will vary depending on the homeowner's requests. Here are some points to show what you can expect from the brand.
Each of Kemper Cabinets' semi-custom units features quality construction and details, like ⅜" thick furniture board, back, top, and bottom. Not to mention the hefty ⅜" load-bearing back panel extending the whole width of Kemper Cabinets. The back panel provides unwavering structural strength and support throughout the cabinets' entire lives.
Due to this unique construction approach, you'll also notice that most Kemper cabinets don't feature obstructing center dividers. Other finishing features on their standard cabinets include unfinished backs, matching laminate sides, and ⅜" thick furniture board I-beam braces.
Kemper has also integrated their SmartStop technology into all its standard cabinet doors. This feature provides gentle, controlled self-closing whenever the door is near the cabinet's face frame. Kemper also allows you to turn off the feature with a switch flip.
Their standard drawers have also been fitted with a system allowing easy access and self-closing. This is the SmartStop IHC drawer system, which among other things, accommodates the drawers' full extension under-mount rails.
All cabinet drawers are 4-sided, clear-coated, solid wood dovetail drawer boxes with laminated plywood bottoms.
Kemper Cabinets Inspiration
In this section of the article, we'll explore a few of Kemper Cabinets' popular cabinetry solutions. Use these as inspiration for your home improvement project.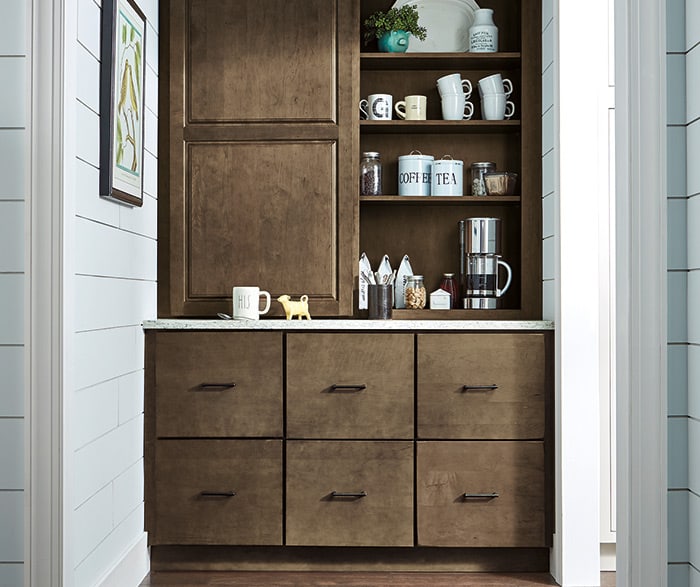 This Farmhouse-Style cabinetry solution embodies modern aesthetics while retaining a bit of tradition for an eye-catching contrast between both styles. The cabinets have a Morel stain, making them stand out from the bright walls around them and the cabinet's countertop.
The large drawers below and the cabinets up-top allow the homeowner more storage while making it easier to store large objects.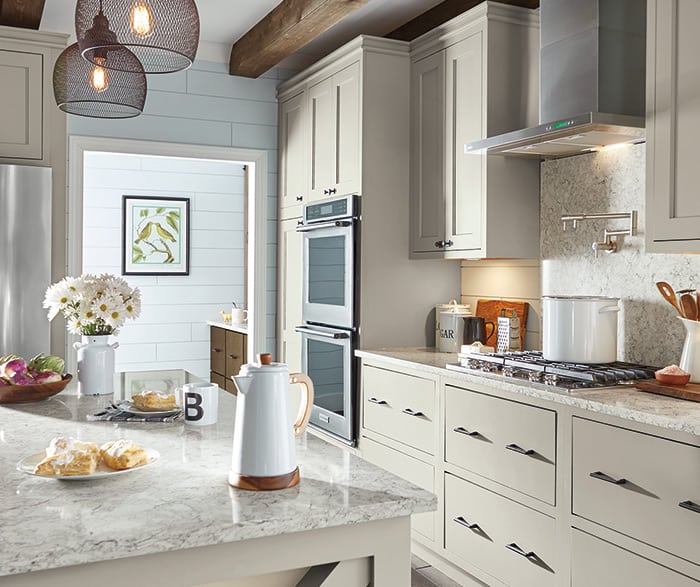 Grey cabinets stand alongside white as one of the most popular choices for kitchen cabinet color. As this Modern Farmhouse-Style kitchen proves, it's a shade that lives on the edge. Depending on the lighting, it leans back and forth between a refreshing warmth and neutrality.
Special details like the unique island design and a matching backsplash all tie together to create a dream-worthy kitchen space.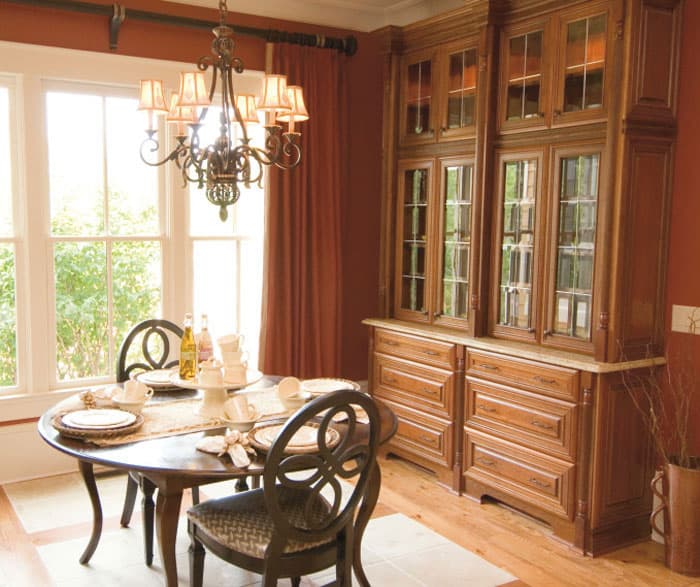 The warm cinnamon coloring of these cherry cabinets is right on trend. Of course, it's not as popular as it was in the past. But you can still pair it with both traditional and contemporary elements. The cabinets are also extremely spacious, allowing you to tuck away all your treasures, from delicate crystals to fine china.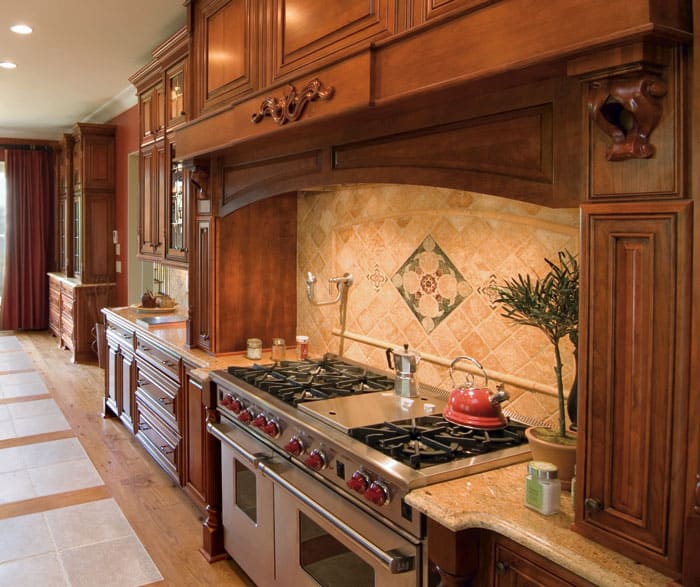 This kitchen cabinetry system offers a built-in elegance with an unlimited storage option. The setup includes a traditional color finish and matching surroundings, including cabinet hardware, the backsplash, and the floor. I also admire this homeowner's determination to use a monochromatic color palette to create a transitional space. The look is further complemented by the limited use of pops of colors.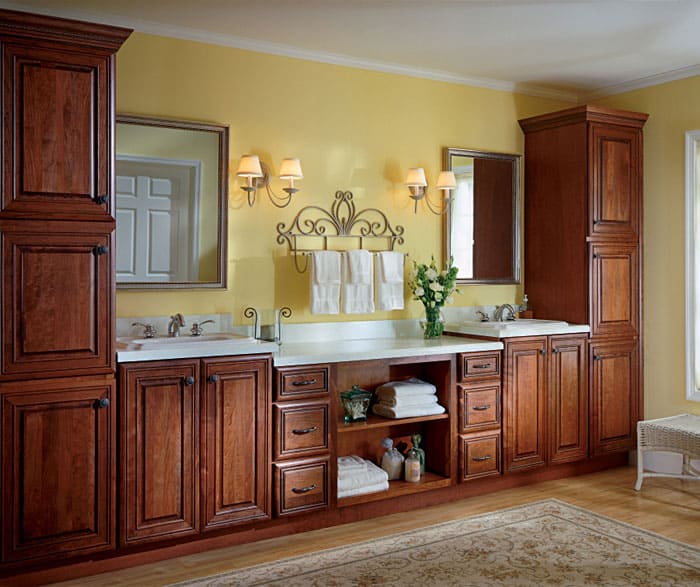 With these Cherry Bathroom Cabinets, you'll love the juxtaposition of cool whites and creams against the natural wood's earthy feel. The vanity is also fitted with a double bowl system, so you can easily share the space with your spouse or roommate. The spacious cabinets and shelves are enough to accommodate anyone's towels and toiletries.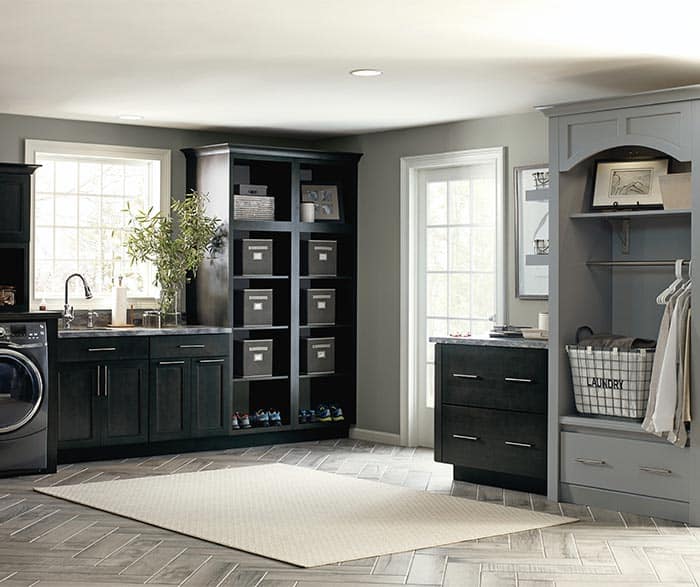 Darker shades of gray have been, at times, knocked as dull colors not fit for laundry spaces. As these Dark Gray Laundry Cabinets prove, however, it all depends on the textures and colors in the space. The only thing I slightly dislike about this cabinetry solution is the open storage spaces on the shelves.
Where Can You Buy Kemper Cabinets?
You can only buy Kemper cabinets through their network of dealers worldwide. To find one, head to Kemper Cabinets' homepage and find the link labeled "Where to Buy" at the top right corner. Click the link, and Kemper Cabinets will redirect you to a page where you'll be required to type your zip code.
Once you're done writing, click the search button next to your zip code. A few seconds later, Kemper cabinets will display a rundown of their contact dealers closest to you. Pick your preferred dealer, then click the "contact" dealer button.
You'll get redirected to a pop-up form. There, fill in all the fields as required, and press Submit at the bottom when you're done. Now sit and wait. A representative from Kemper Cabinets will get in touch with you.
Caring For Kemper Cabinets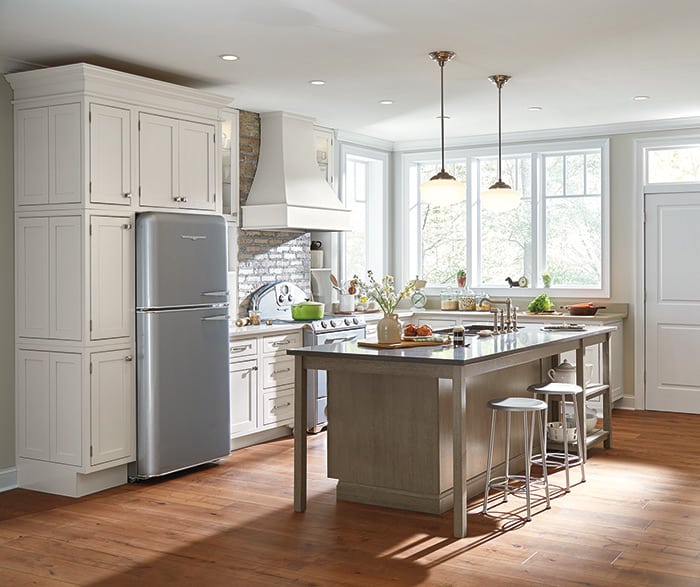 Proper care and cleaning are necessary to ensure you make the most out of your cabinetry investment. If any of the details below are unclear in any sense, reach out to Kemper Cabinets immediately. You'll find their contacts on their website.
Remember, cleaning your Kemper cabinets incorrectly increases the chances of damage and may void their warranty. Here's everything you'll need to know about proper Kemper Cabinets' cleaning guidelines.
Cleaning Agents
A soft, lint-free cotton cloth is usually enough to dust off your cabinets. For the thorough cleaning sessions, Kemper recommends a solution of mild soap and warm water. After cleaning the surfaces, use a different lint-free cotton cloth to wipe the surfaces dry.
This mild soap-warm water combo will also come in handy when dealing with stubborn stains. Ensure you dust the cabinets at least once every two days and thoroughly clean them using damp clothing once each month.
Spills and Splatter
You're advised to wipe up watermarks and spills as soon as they occur. Give special attention to areas around your dishwasher and the sink. Prolonged exposure to spills, be they grease, oil splatters, or food spills, can permanently discolor your cabinet's finish.
Also, avoid draping damp dish towels over your sink cabinets' door. In the long run, the moisture from these towels will cause permanent water damage to your cabinets' door. A better, out-of-the-way solution you can employ instead is a sliding towel rack.
Cleaning Glass Doors
If the cabinets you got from Kemper are glass door designs, handle them with extra care amidst cleaning sessions. Spray your ammonia-free glass cleaner on a clean paper towel or soft lint-free cotton, and wipe the glass gently.
You do not want to spray the cleaner directly on the cabinets' glass. Why? Well, it could drip and get in between the glass and the door frame. This can cause damage to your Kemper cabinets in the long run.
Cleaning Products to Avoid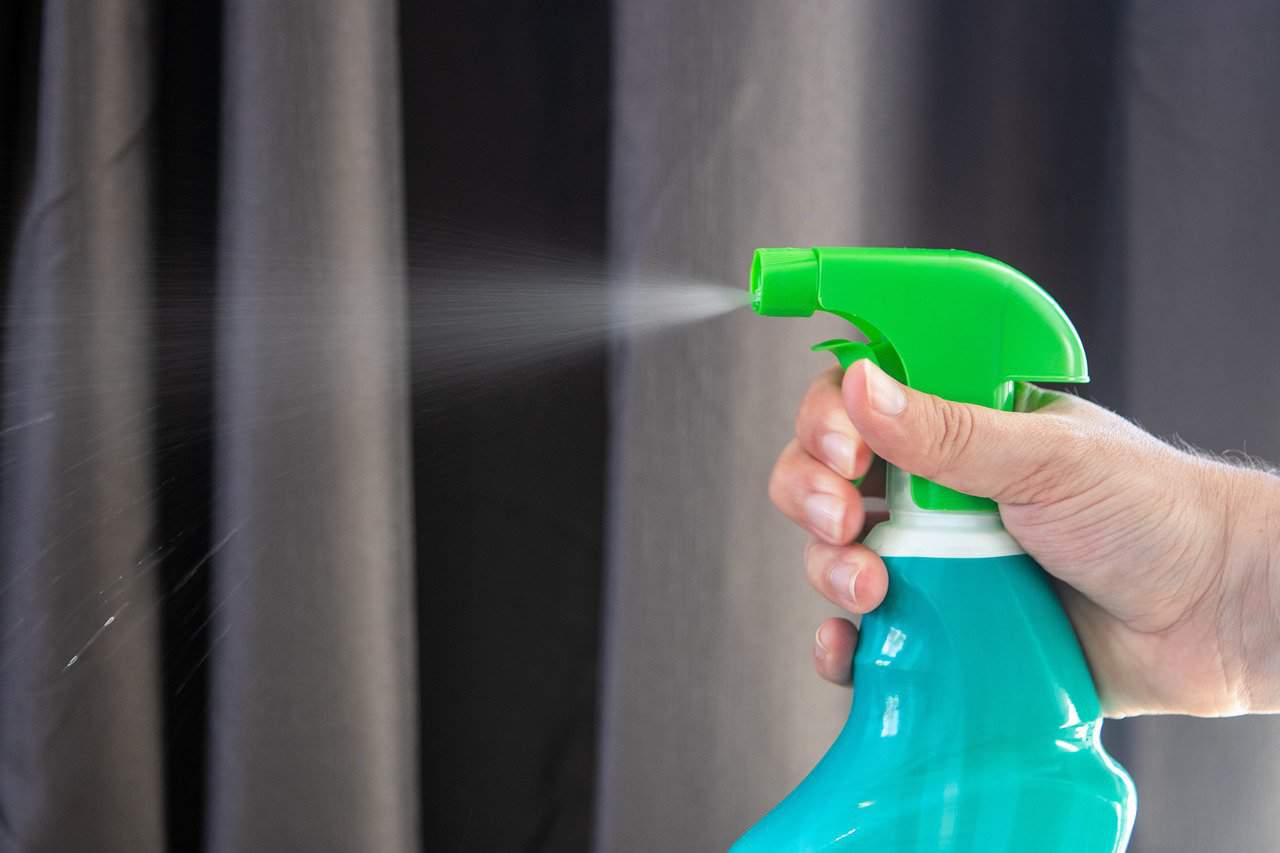 Under no conditions should you use any of the following to clean our cabinets' surfaces:
Silicone-based polishing, waxing, or cleaning products
Bleach or any other cleaning product that has bleach
Ammonia or cleaning products with ammonia
Petroleum-based or solvent-based products like paint thinners, nail-polish removers, or mineral spirits
Dish clothes or sponges. These usually contain particles from your utensils that could scratch your cabinets. They may also contain oil and food residue that may affect your cabinets' finish.
Abrasive cleaning products like steel wool, scouring pads, scouring powder, or tub and sink cleansers
Any harsh chemicals
What About Waxing and Polishing?
As with most other brands, Kemper advises its customers against waxing or polishing their cabinetry surfaces. If you do, the polishing and waxing compounds might build up on the surface over time. Eventually, these manifest themselves in the form of yellow, streaky, or hazy streaks. No one wants those.
Ever Heard About Light Damage?
As with all other home pieces of furniture, don't install your cabinets in a manner they're exposed to direct sunlight. Plus, Kemper cabinets aren't designed for outdoor use applications. Only use them inside homes or other buildings.
What does exposure to sunlight do? For starters, it tends to darken the shade of natural wood products. Sunlight also fades painted wood surfaces, thermofoil surfaces, and laminated surfaces.
And if your kitchen or bathroom windows allow sunlight to hit every square inch of your space, get some blinds.
Protection From Heat Damage
Do not place any Kemper Cabinet directly above an appliance that heats up during operations. This includes everything from your toaster and grill to the oven. I'd even recommend going as far as investing in a heat shield for your cabinets. This is especially necessary for people with small kitchen spaces that tend to get extremely hot amidst cooking sessions.
Alternatives To Kemper Cabinets
Kemper Cabinets has become synonymous with cabinetry offerings for millions who have interacted with the brand. The company has become the go-to platform for all things RTA cabinetry.
But Kemper Cabinets, as highly rated as it is, isn't the only cabinet brand you could consider. I'd recommend trying three alternatives to Kemper if Kemper's products didn't quite cut for you.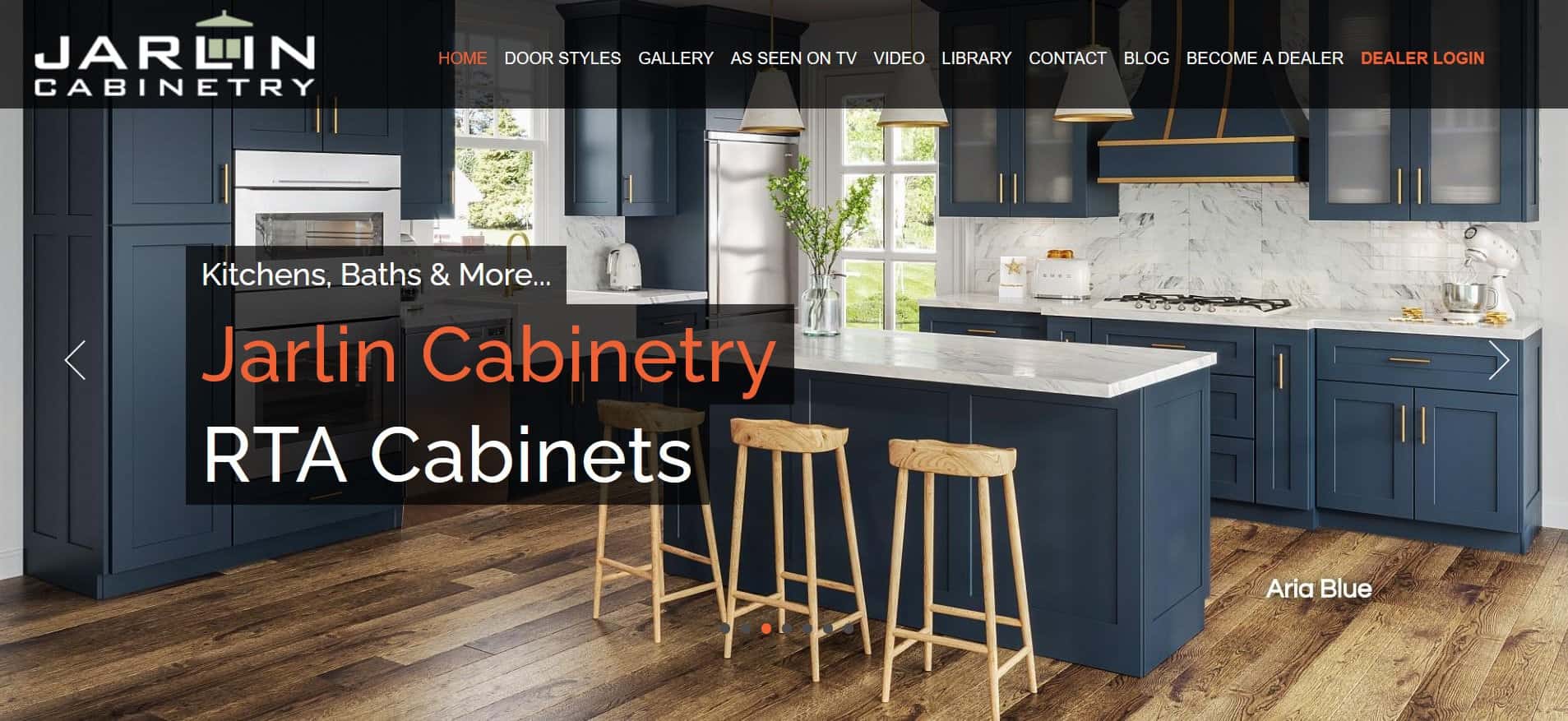 Every cabinetry offering from Jarlin Kitchens is built to last, thanks to the brand's unique design features and superior hardware. The cabinetry brand also ensures solid wood constructions and durable finishes across all their product lines.
The only downside with Jarlin Kitchens is their line of cabinets isn't as diverse as that of Kemper. That said, only a few cabinet brands can match Jarlin in terms of consistent quality.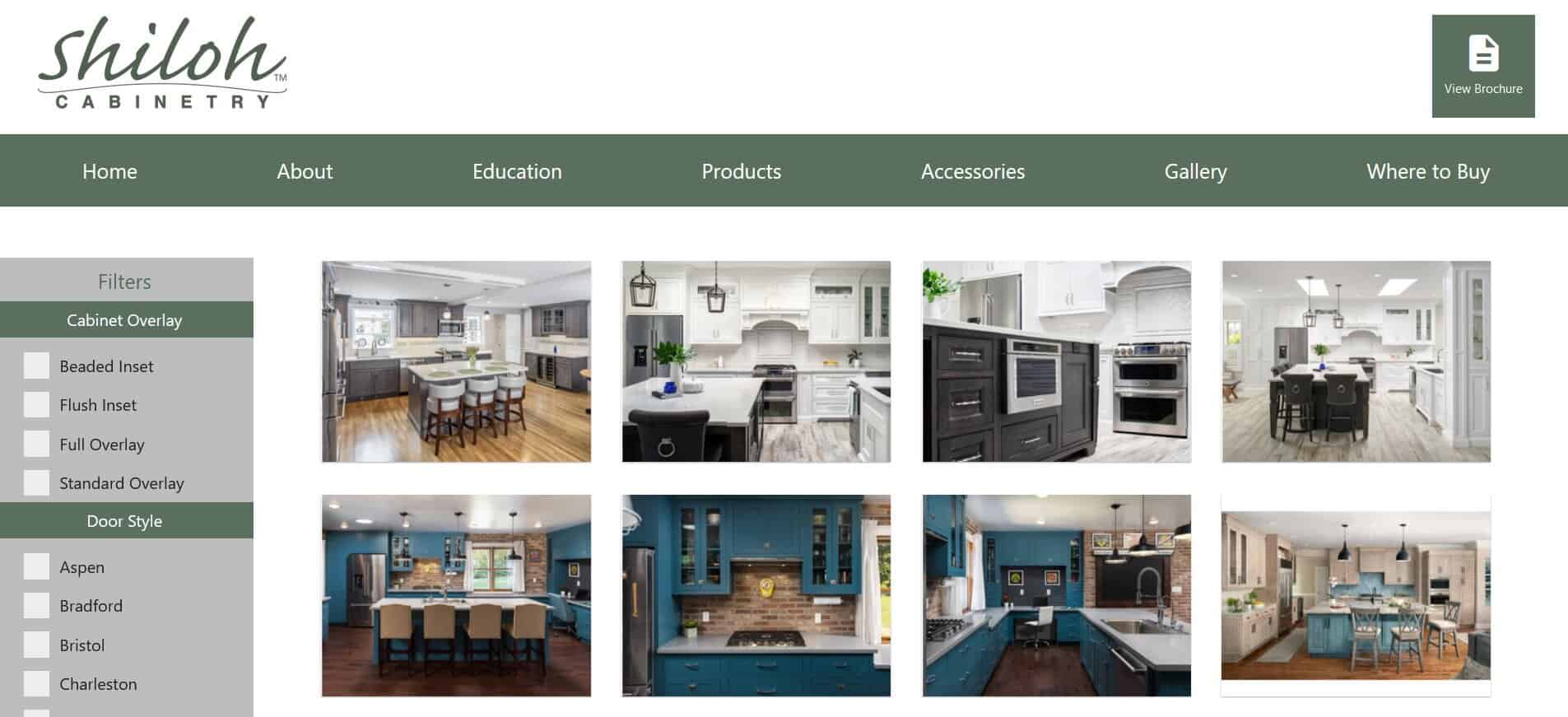 A major reason that Shiloh Cabinetry has enjoyed its robust growth over the decades is its family-style of management. First, it allows them to respond quickly to the ever-changing cabinetry industry. Second, it allows the owners to focus and ensure quality is attained by the teams of hardworking members throughout their company.
With that in mind, visit Shiloh's homepage to explore the brand's custom pieces. Their selection includes vanities, freestanding islands, turned legs, and unique wood hoods assured to compliment your space beautifully.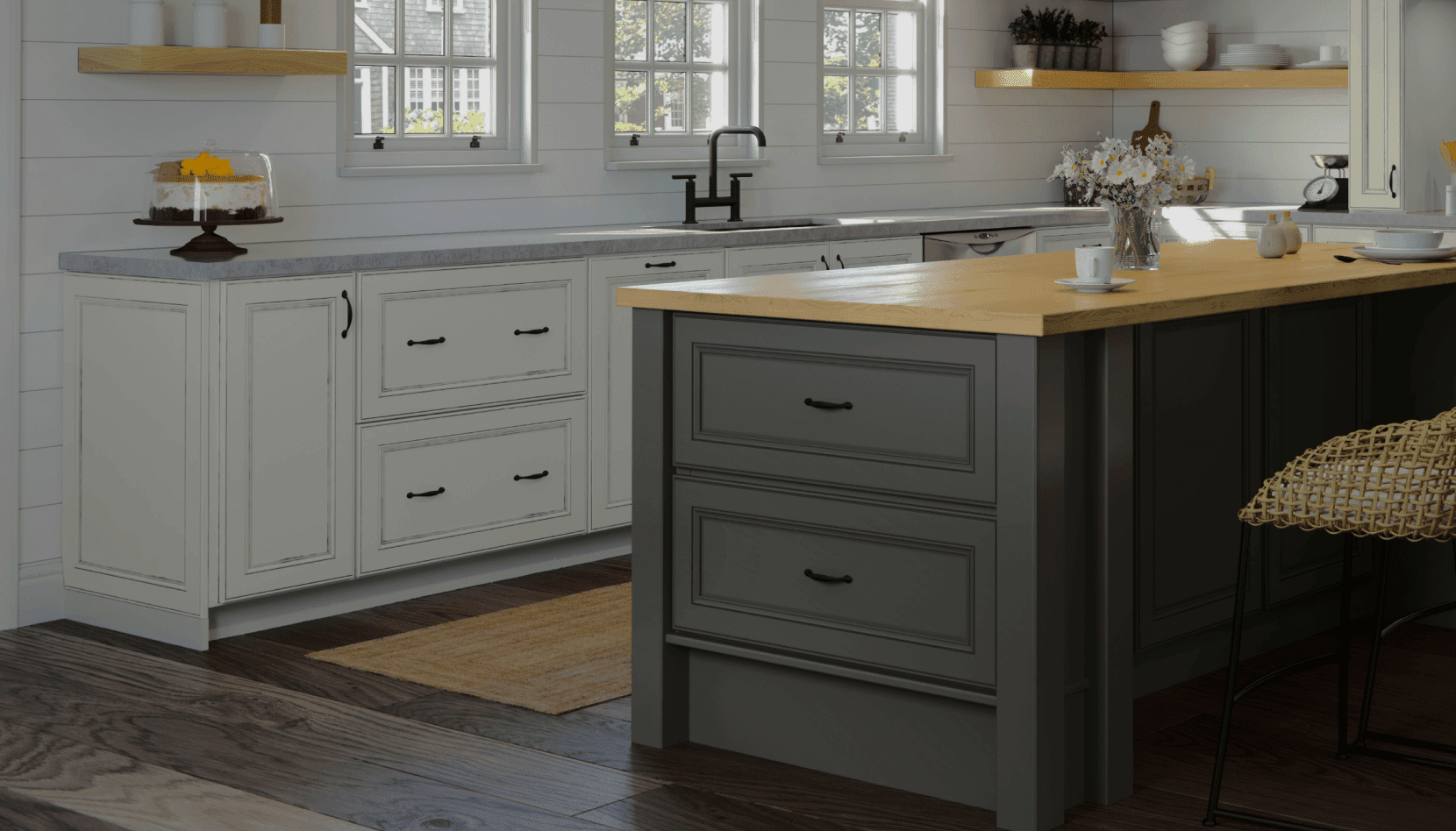 The talented crew of artisan woodworkers at Timberlake Cabinetry is devoted to the fine art of cabinet making. They create high-end cabinetry solutions using only the finest solid woods and fine furniture-building and finishing methods.
What's more? Timberlake Cabinets is committed to environmental preservation, unlike most of its competitors. They've even been awarded the Environmental Stewardship Seal from KCMA, which recognizes their environmentally sound guidelines in sourcing quality materials.
FAQs
Question: How Do You Clean Kemper Cabinets?
Answer: To clean Kemper Cabinets, use a damp, lint-free cotton cloth dipped in a mild soap-warm water solution. Remember to wipe the moisture off the cabinet surfaces when done, as it can ruin the finish over time.
Question: Who Makes the Best Quality RTA Cabinets?
Answer: Kemper Cabinets is one of the best manufacturers of RTA cabinets today. The brand specializes in ready-to-assemble and pre-assembled stock cabinets and stands out for its selection of wood and finishes.
Question: What Does RTA Cabinets Stand For?
Answer: Simply put, RTA (Ready-to-Assemble) cabinets are cabinets you put together yourself. Also known as "stock" cabinets, these units are made to specific standards before shipping. The cabinet components are then packaged in boxes and sent to the homeowner, who will put the individual components together.
Question: Who Are the Largest Cabinet Manufacturers in the USA?
Answer: The top four biggest cabinet manufacturers in the USA today are MasterBrand Cabinets, American Woodmark Corp, Masco Corp, and ACProducts, Inc. Remember the Timberlake cabinetry I mentioned under "alternatives to Kemper?" It's a subsidiary of American Woodmark Corp the same way Kemper is a subsidiary of MasterBrand Cabinets.
Bottom Line on Kemper Cabinets
Kitchen cabinets should be beautiful, durable, and functional. If you agree, Kemper Cabinets should be top of your recommendation list. The brand offers semi-custom RTA designs that check all the boxes, including an impressive assortment of finishes, materials, and styles. The fact all their cabinets are backed by a lifetime warranty is just the cherry on top.
Read More: