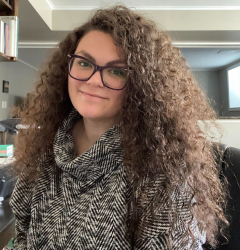 Latest posts by Candace Osmond
(see all)
If you're like me, you believe reputable brands represent peace of mind and an assurance everything will perform as advertised. Well, in the realm of cabinetry offerings, the Bertch Cabinets Brand is as reputable as it gets. Bertch strives to be the leading provider of cabinetry solutions throughout America, and that effort is evident in all its products. Here is everything you'll need to learn about the brand and why they're (probably) your best bet.
Bottom Line Up Front
Bertch Cabinets, in my opinion, is one of the best brands out there. Yes, it offers what any other quality cabinet maker would, but it goes above in some areas. My favorite aspect is that the special finishes, like glazing, faux distressing, etc., aren't done with a machine but by the hand of real people. I think that makes it so much more special and unique!
About Bertch Cabinets
Bertch Cabinets is an American furniture manufacturer dedicated to traditional cabinetmaking arts. The brand's products include vanity tops, mirrors, bathroom storage solutions, vanities, glassware, kitchen cabinets, and cabinet doors.
At the beginning of 2021, Dura Supreme announced its acquisition of Bertch Cabinet Mfg. This was part of Dura Supreme's expansion into the semi-custom cabinetry market. Dura Supreme itself is owned by GHK Capital Partners LP, a Greenwich, Connecticut, private equity firm.
What's more? Bertch Cabinets Mfg. Produces and assembles all its wood components on-site in Waterloo, Iowa, where it's based. They also have additional production facilities in the neighboring towns of Oelwein and Jesup.
What Does Bertch Cabinets Offer?
Here, I'll prove that Bertch's team has put time and thought into the company's cabinetry offerings to meet anyone's needs.
Before we start, note that Bertch divides its products into two categories: Kitchen and Bath
In the Kitchen
Under the Kitchen products category, you'll find the brand's cabinetry solutions broken into several groups. These are Kitchen Cabinets, Accessories, door styles, glass kitchen cabinets, and wood & finishes. I'll expound on the kitchen cabinet accessories in the next section.
Door Styles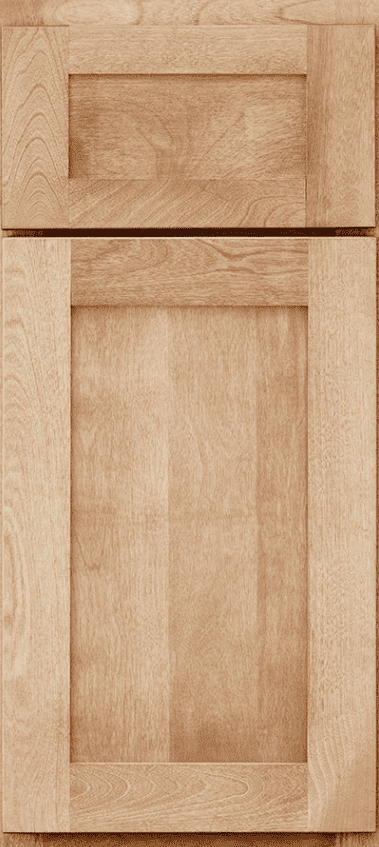 Let's touch on the door styles, which are over 80. Some of the most popular picks from the company's selection are:
Weston
Quincy 3
Rainer
Logan
Northbrook
Marcus
Lexington
St. Thomas
Edgewood
The door styles have been further divided into three product series, namely Kitchen+, Marketplace, and Elan (Full Access.)
My Fav Pic for Door Style: I love the simple design that Edgewood offers, but appreciate the slight inside bevel that lets this otherwise modern door style fit with just about any style!
Glass Door Styles
Glass Door styles are 16 in total. They include Diamond, Mullion, Bernini Mullion, Clear with Texture, Clear, Clear Bevel, Clear Bevel Custers, Clear Bevel Windowpane, contemporary, Double Clear bevel, Country Mullion, Pascal Mullion, Quadrant Clear bevel, Raphael Mullion, Traditional, and Windowpane.
Woods and Finishes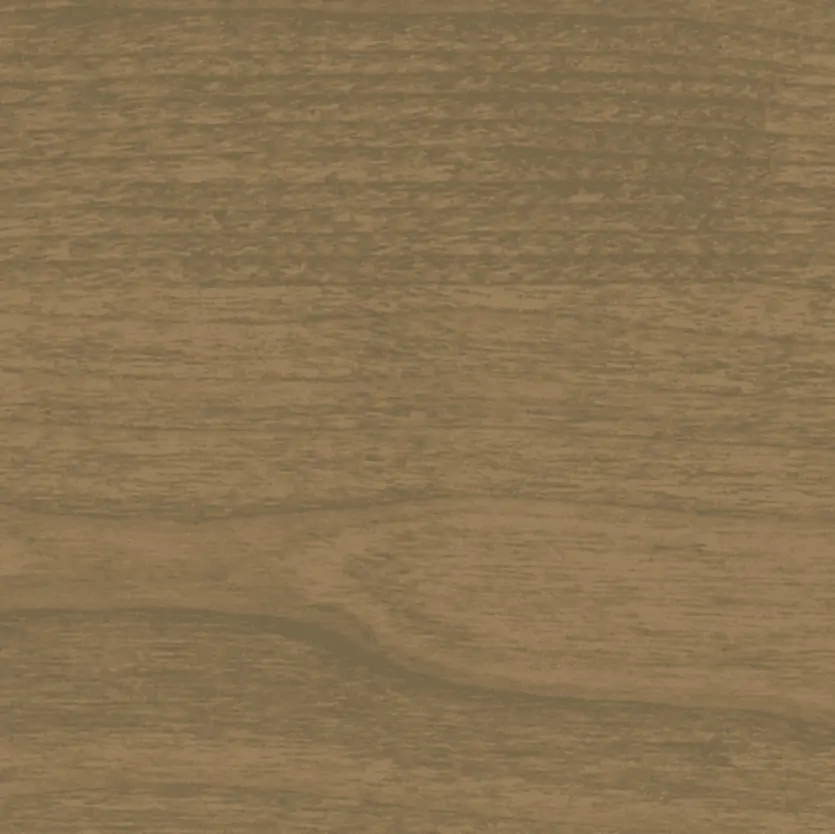 Under the woods and finishes subcategory, you'll find a list of Bertch's woods and finishes. Their woods selection includes:
Alder
Ash
Birch
Cherry
Hickory
Maple
MDF
Oak
Pine
Quarter Sawn Oak
Red Birch
Walnut
My Fav Pick for Wood Species: You can keep prices down with oak, one, and birch. But I'm a sucker for a gorgeous walnut!
Their Finishes selection is a bit smaller:
Glaze
Solid Color
Stain
Foil
Bertch Cabinet has also included a hues selection section. Their hues are gray, brown, green, gold, white, orange, blue, and black. As you can see, under the Woods & Finishes alone, you'll find more than 100 options.
In the Bath
Under the Bath products category, you'll find five distinct products: vanity tops, bath vanities, showers & surrounds, bathroom storage, and mirrors.
Bath Vanities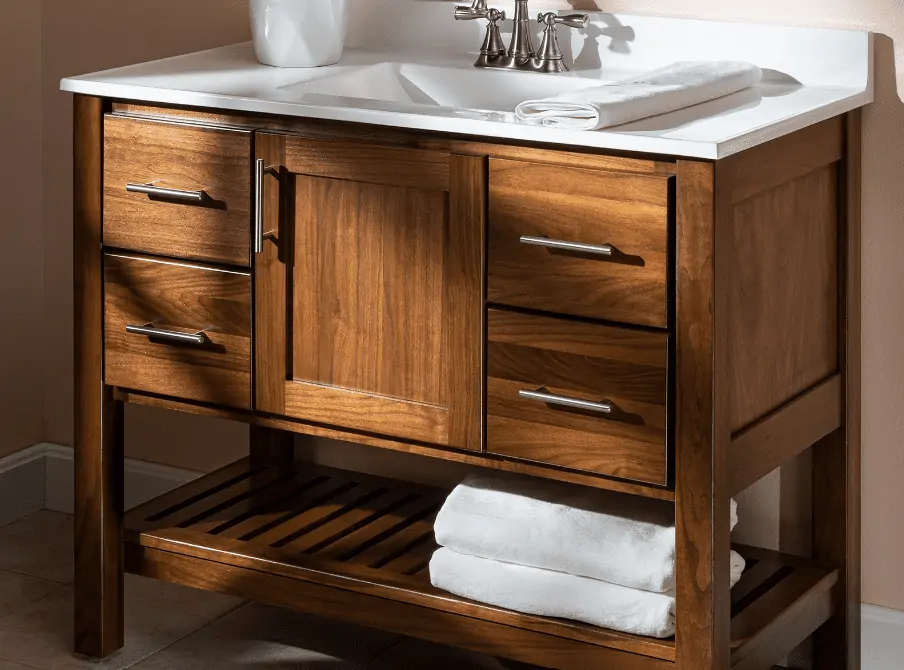 Bath Vanities has been subdivided into a wide selection of vanity styles, wood & finishes, hardware styles, legs, and accessories.
Vanity Tops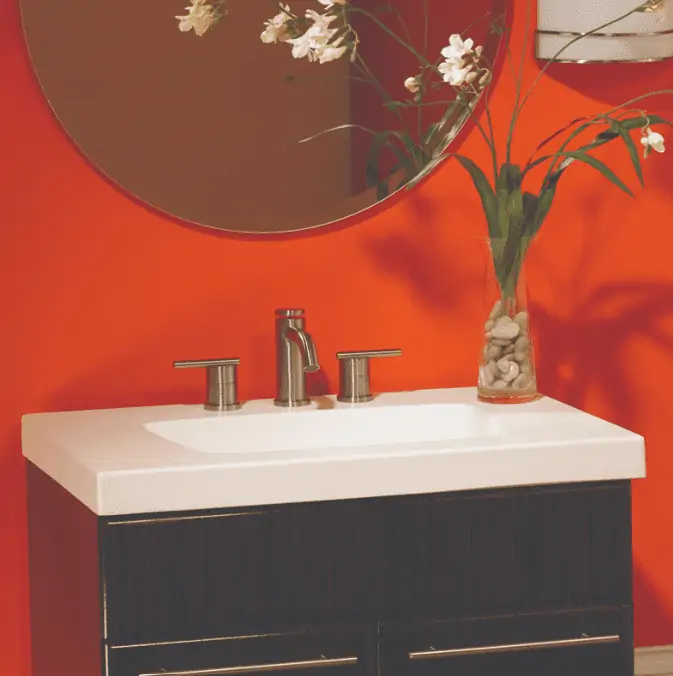 Like bath vanities, vanity tops have also been subdivided into two; top styles and materials & colors. The materials & colors are platinum, concrete, and white. Top styles include:
Veencia Top
Custom top
Rectangle Bowl-Non-Recessed
Newport Bowl
Showers & Surrounds
Showers & Surrounds only have two option classes, namely moldings and materials & color. Materials & colors include galena, latte, pebble, baltic, and more. Inside moldings, you'll find:
outside corner
deluxe batten
batten
inside corner moldings
Bathroom Storage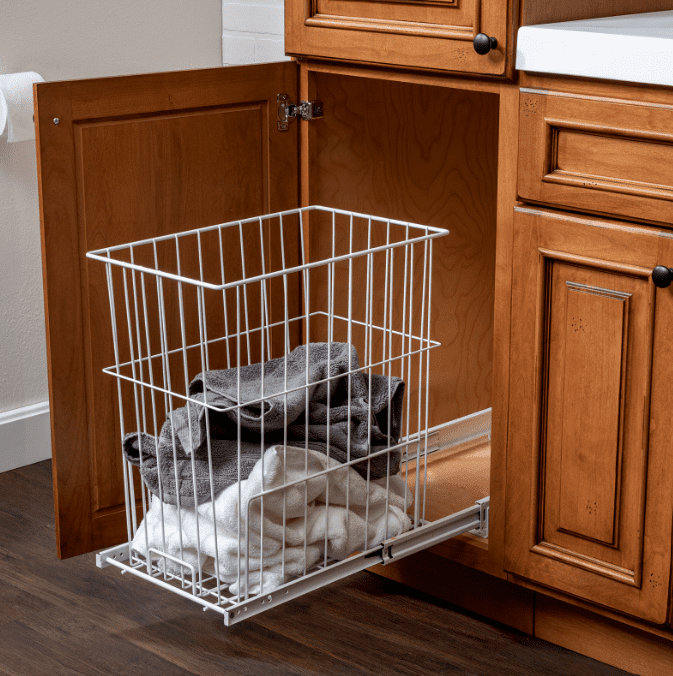 Inside bathroom storage, you'll find seven distinct sub-divisions that are again subdivided into woods and finishes:
Wall cabinet
Tri-view medicine cabinet
Linen cabinet
Corner medicine cabinet
Base sink reverse cabinet
Linen hamper cabinet
Floating shelves
Mirrors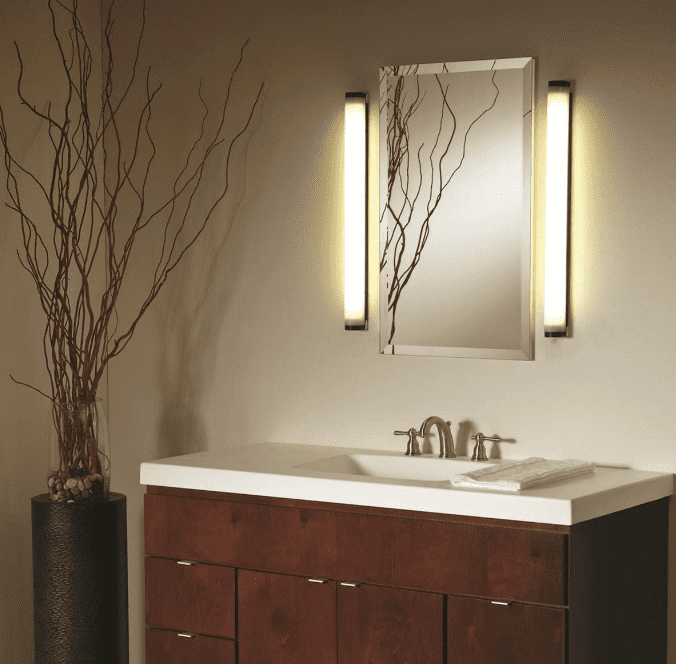 Under the Mirrors subcategory, you can choose from 10 distinct mirror types. These are:
Round
Medallion
Framed
Framed with crown top
Round with a square frame
Horizon
Metropolis
Custom
Architectural framed
Contemporary mirrors
I really love that Bertch Cabinets allows you to request a combination of these accessories, woods & finishes, door styles, and more as you see fit. That applies to both its bath and kitchen product offerings. Are you now convinced that they'll meet anyone's needs and personal preferences?
Bertch Cabinet Accessories
Here, Bertch Cabinets proves that cabinet accessories are only limited to our imagination. Not sure where to get started with Cabinet Accessories? Check out their selection. Here is a brief list of the company's offerings.
1. Lazy Susans For Corner Cabinets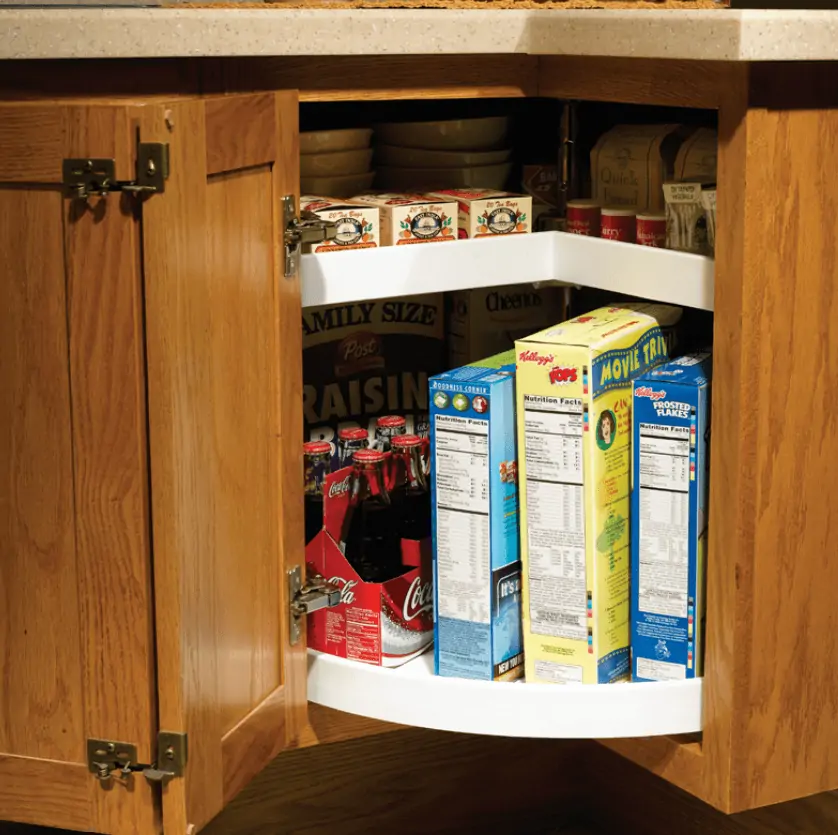 Once Bertch Cabinets is done with your space, chances are you'll have at least one of those hard-to-reach corner cabinets. If not appropriately outfitted, these spaces become dead spaces that no one dares open. Over time, they become spaces that no one even remembers.
Lucky for you, Bertch offers two solutions to these pesky corner cabinets: the blind corner half-moon lazy susan and not-so-lazy-susan pots and pans organizer. Pick the option you think best meets your needs and personal preferences.
I used to hate lazy susans…until I got one myself. Now I can't imagine living without it!
2. Base Cabinet Slide Out Storages
The beauty of these slide-out storages is that you can add them to almost any base cabinet Bertch design. They'll work particularly well in cabinets that you intend to use to store heavier items, like pans, pots, and plates. If your kitchen doesn't have much in the way of base drawers, I'd highly recommend these bins. It'll save your back and your sanity.
3. Hidden Drawers with Cutlery Tray Organizers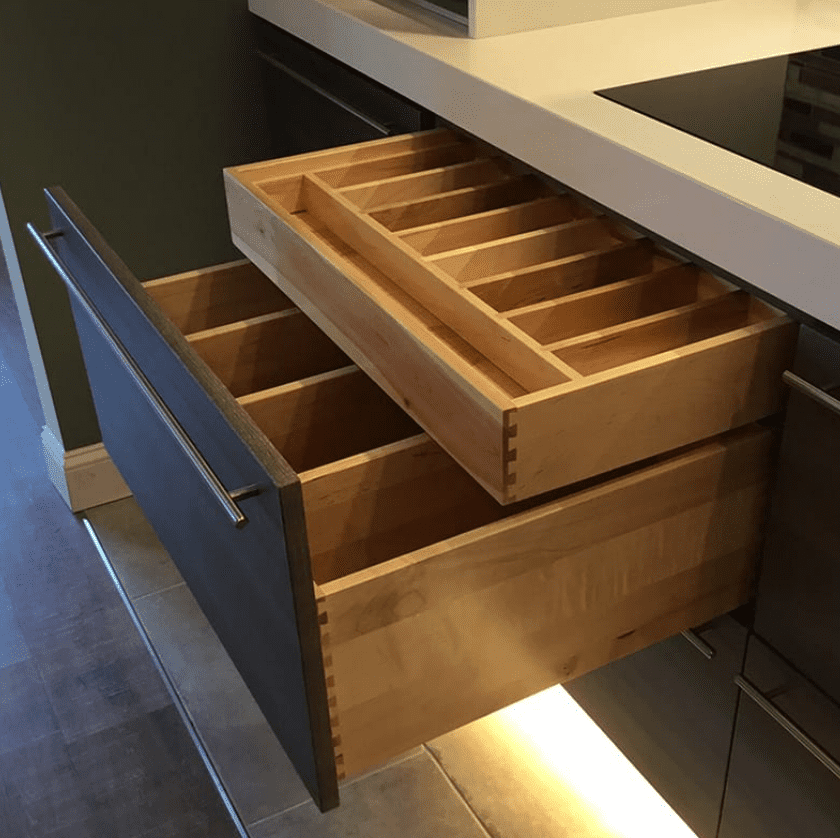 Yeah, I know you can find a wealth of cutlery tray organizers in the market. But having a hidden one that looks like an integrated part of your drawer and fits snugly? That makes all the difference in the realm of kitchen remodels.
The two types of Cutlery tray organizers that Bertch offers will help bring order and peace to the mess that was once your silverware drawer.
4. Cookware Pullout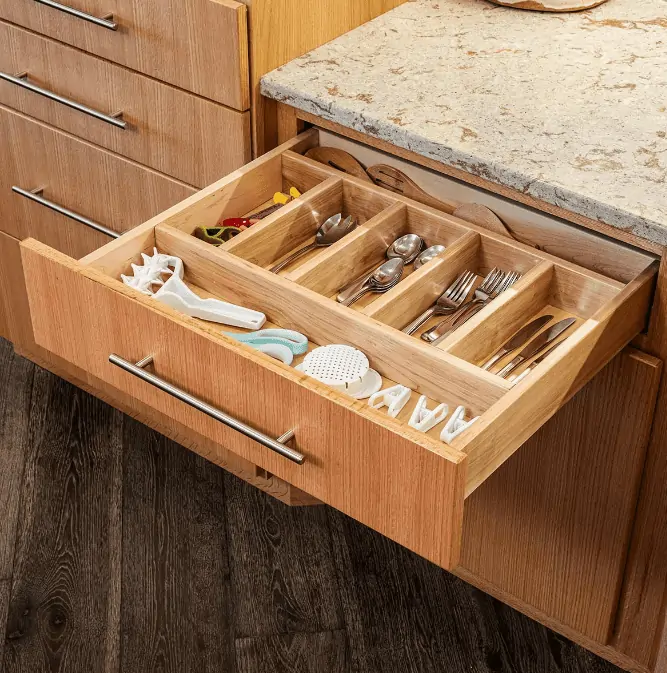 Arguably the most frustrating area in most kitchens is the jumbled cookware drawer next to the stoves. Chances are you opted for decorative containers on your counter. While they cut the hassle of rummaging through drawers, they're still one more thing on your kitchen counter.
Bertch Cabinets offers its customers an even better solution: a cookware pull-out organizer. Located in full-height base cabinets, these accessories provide the perfect vessel for keeping utensils organized. Another bonus is that these pullouts also accommodate knife blocks. Talk about optimum decluttering.
5. A Pullout Spice Rack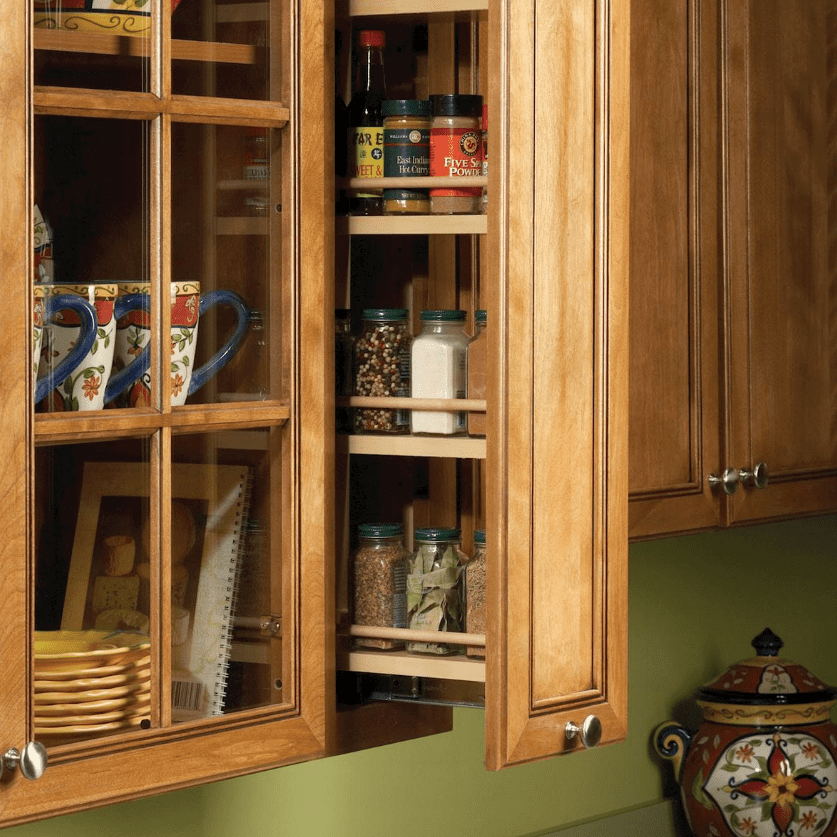 Having oils and spices at arm's reach from your stove is an essential feature for any home chef. Bertch cabinets' craftspeople understand this, so they've included a perfect solution in their semi-custom creations: A narrow 10" to 13" cabinet pullout.
This accessory should preferably be in the cabinet next to your stove. You won't have to leave your cooking area to retrieve the spices. Bertch even allows you to request spice drawer inserts instead. They can trim these to fit any drawer size.
6. Tray Divider Rollouts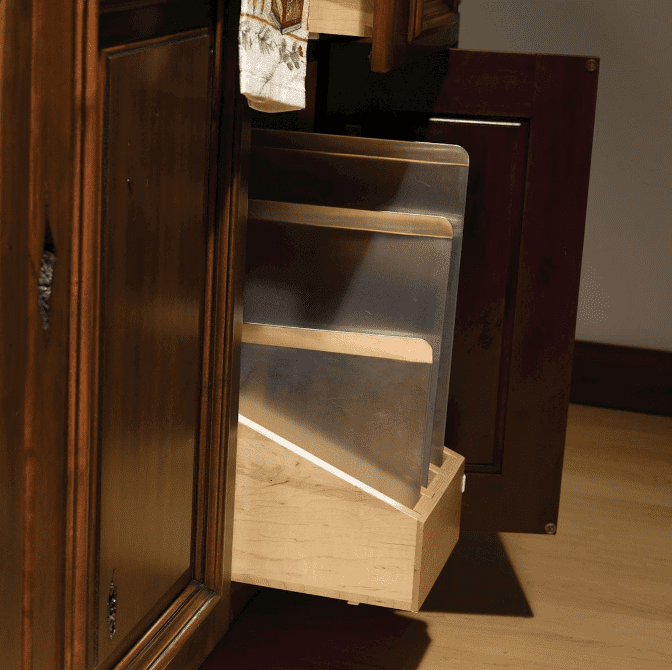 My Hot Take: If you only get one accessory for your kitchen, let it be a tray divider for the love of God. Just trust me on this one. Not only does it save space and organize your trays, but it also keeps them from cluttering up your kitchen.
Tray divider rollouts work excellently to keep baking tins and baking sheets upright and organized inside your cabinet. They are also one of the most versatile cabinet accessories Bertch offers. You can fit them in narrow 10" to 13" base cabinetry, horizontally in large, deep drawers, or vertically above your ovens.
When I order my cabinets from Bertch, I'll request a tray divider rollout in the cabinet nearest to the oven. I intend to use these to store cookbooks, serving trays, charcuterie boards, and cutting boards.
7. A Recycle Center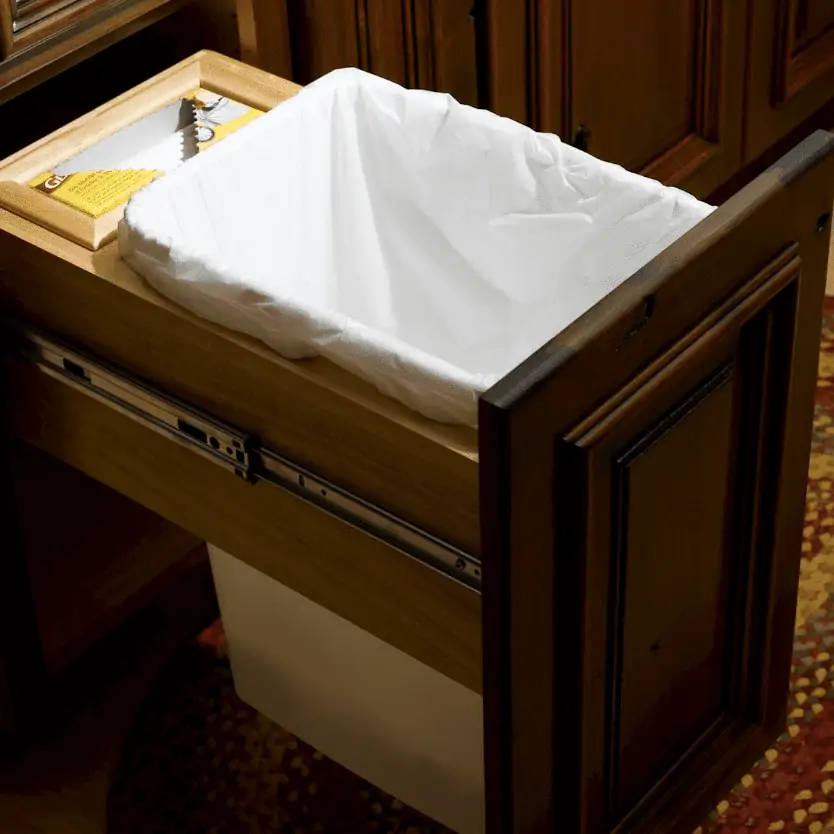 Not all kitchens have a chef, but all kitchens have trash. I don't remember who said that, but I remember the lesson they taught me: when dealing with custom or semi-custom cabinets, never get one without a pullout trash organizer.
Before I learned about this cabinet accessory, I had a stand-alone trash can in my kitchen. It took up valuable space in the kitchen and was nothing short of a negative impact on my workflow. Bertch Cabinet allows you to request custom-made slots for trash cans in your cabinets. Go for the double trash pullout they offer because it works great for sorting recyclables and regular trash.
8. Charging Drawer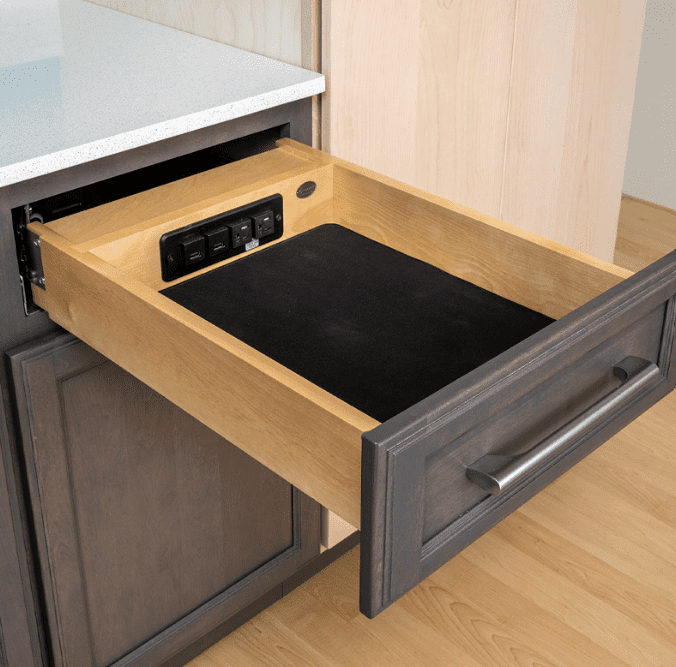 Are you tired of family members placing their charging devices on the kitchen counter? This is something that drives me absolutely batty. Currently, I just toss everything in a basket on the table, so I'm definitely going to look into one of these.
A kitchen tech center or charging drawer is also beneficial if you use your iPad to display recipes. Bertch's team will install this cabinet accessory to the topmost drawer on your base cabinets.
Additional Custom Storage Accessories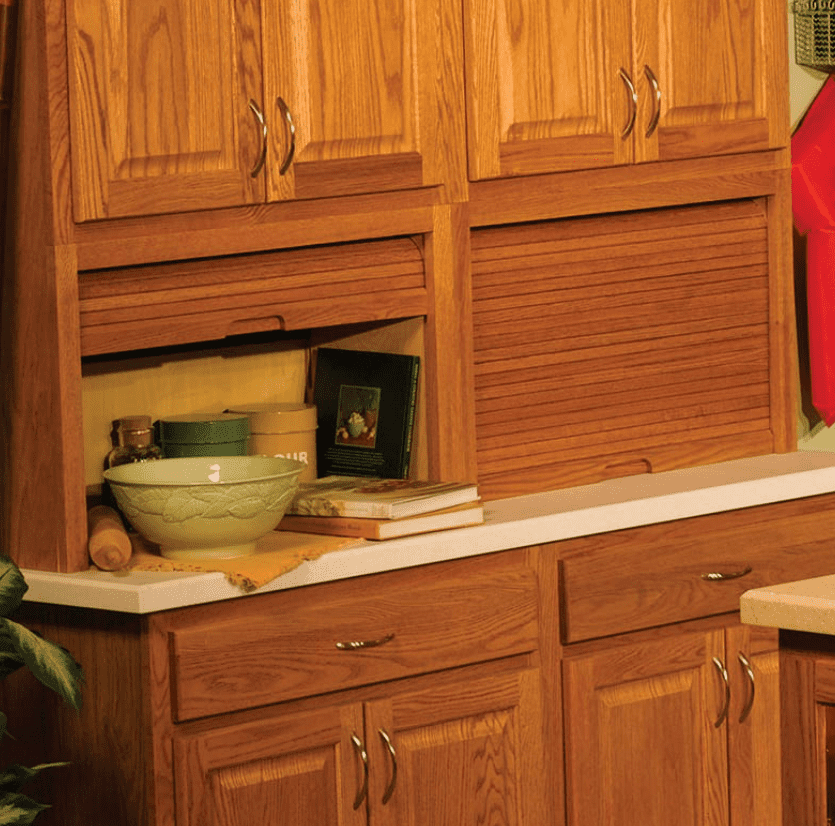 I have to cut the list short (you can only have so many words in one article, right?) That said, I'd recommend you take the time to think through items you believe will need dedicated storage spaces.
Do you want an accessory that allows you to display your beautiful dinnerware? Ask Bertch cabinets to incorporate an open plate rack cabinet into your selection. Do you want to hide everyday dishes? A hidden drawer with peg organizers will come in handy.
Additional cabinet accessories that Bertch Cabinets offers include, but aren't limited to:
Base Super Organizers
Hidden drawers with sliding tops
Tambour doors
Wood hood
Butcher block tops
Drawer front bins 2-tier dividers
Vanity pullout organizers
Cutting board drawer
Drip Tray
Condiment Drawers
Lid storage inserts
How Are Bertch Cabinets Made?
Bertch cabinets' doors feature a 5-piece construction, plywood veneer, MDF, or ¾' thick solid wood. The exact material will depend on the style the customer picked. As for the drawer fronts, they are made of MDF, plywood veneer, a 5-piece construction, or ¾" of thick solid wood. Again, the exact material depends on the customer's requirements.
Beyond that, Bertch Cabinets' drawer slides are fitted with full extension under-mount, soft motion self-closing systems with easy release mechanisms. The brand's hardware selection includes soft-close concealed hinges.
For the finishes, Bertch's team of craftspeople hand-sands the surfaces before applying the sealer and top coats. This approach ensures exceptional stain, moisture, and chemical resistance while retaining the cabinet surface's clarity.
Bertch Cabinets For Professionals
Did You Know! Bertch Cabinet also partners with professionals in the industry to deliver beautiful, full-featured bathroom and kitchen cabinets at affordable prices. Where do you lie below?
Dealers: How does Bertch ensure it forges lasting bonds and relationships with its incredible network of dealers across the nation? Through its commitment to outstanding service, consistent availability, uncompromising quality, and collaborative approach. Plus, Bertch gives you more control and products at affordable prices, so you're competitively priced. They quote you their price, and you put your markup on that. This eliminates any middlemen, so you can make a handsome profit and remain competitively priced.
Builders: In most cases, cabinetry solutions are only as good as the brand between the builders and the end users. Builders should only go for the best brand that offers premium features and hands-on craftsmanship. That sounds precisely like Bertch to me. Bertch is the one-stop shop for all Builders' needs and requirements. They offer wide ranges of products any builder may need to coordinate schemes, door styles, and/or colors.
Interior Designers: With Bertch's vast array of hardware options and cabinetry solutions to pick from, customizing your customer's spaces becomes easier. You can rest assured reflecting the homeowner's character, style, and personality won't be a hassle.
Bertch Cabinets Inspiration
If you've decided to try Bertch Cabinets, here is a rundown of some of their most popular cabinetry offerings. I'm in love with every single one of them.
1. Northbrook Birch White Cabinets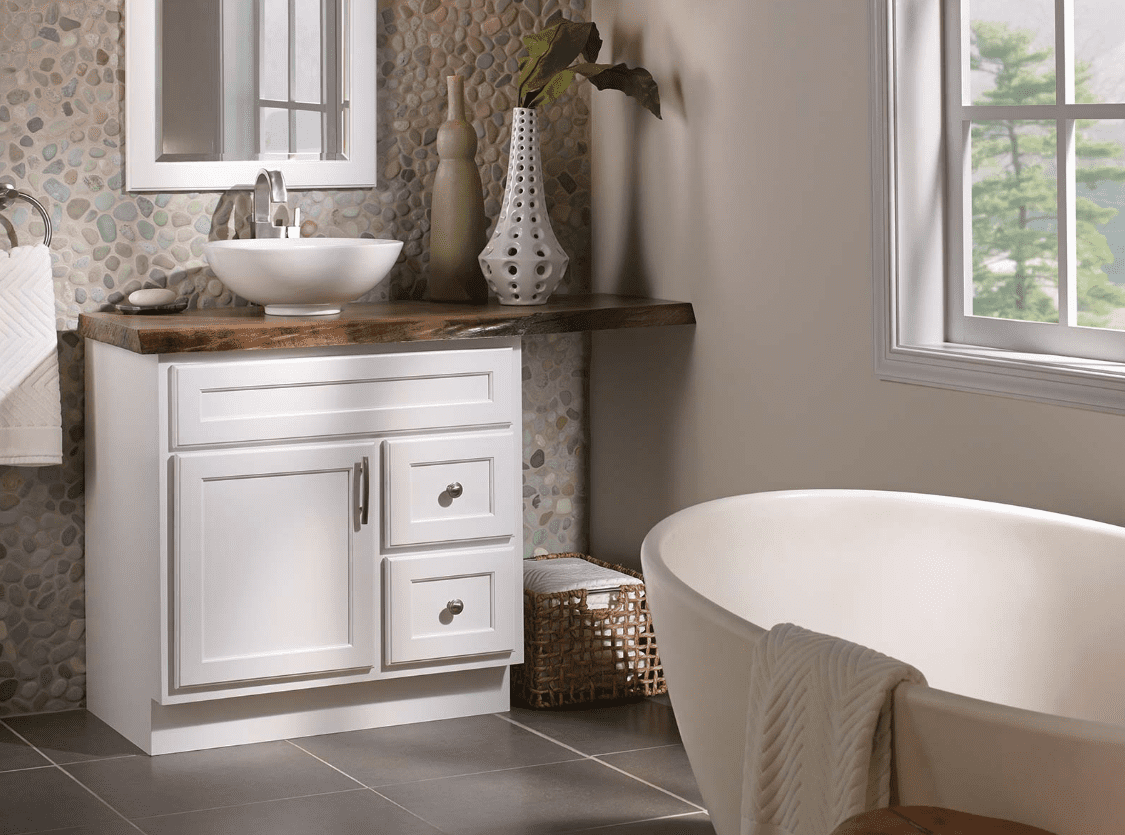 Sometimes less is more, and I think that's the case in this bathroom storage solution from Bertch. The white and brown perfectly blend in with the wall behind to create a clean, aesthetic space that'll help you relax. The only downside is that this unit has one of the most limited storage spaces of all Bertch cabinetry solutions.
2. Interlude Walnut Dawn Vanity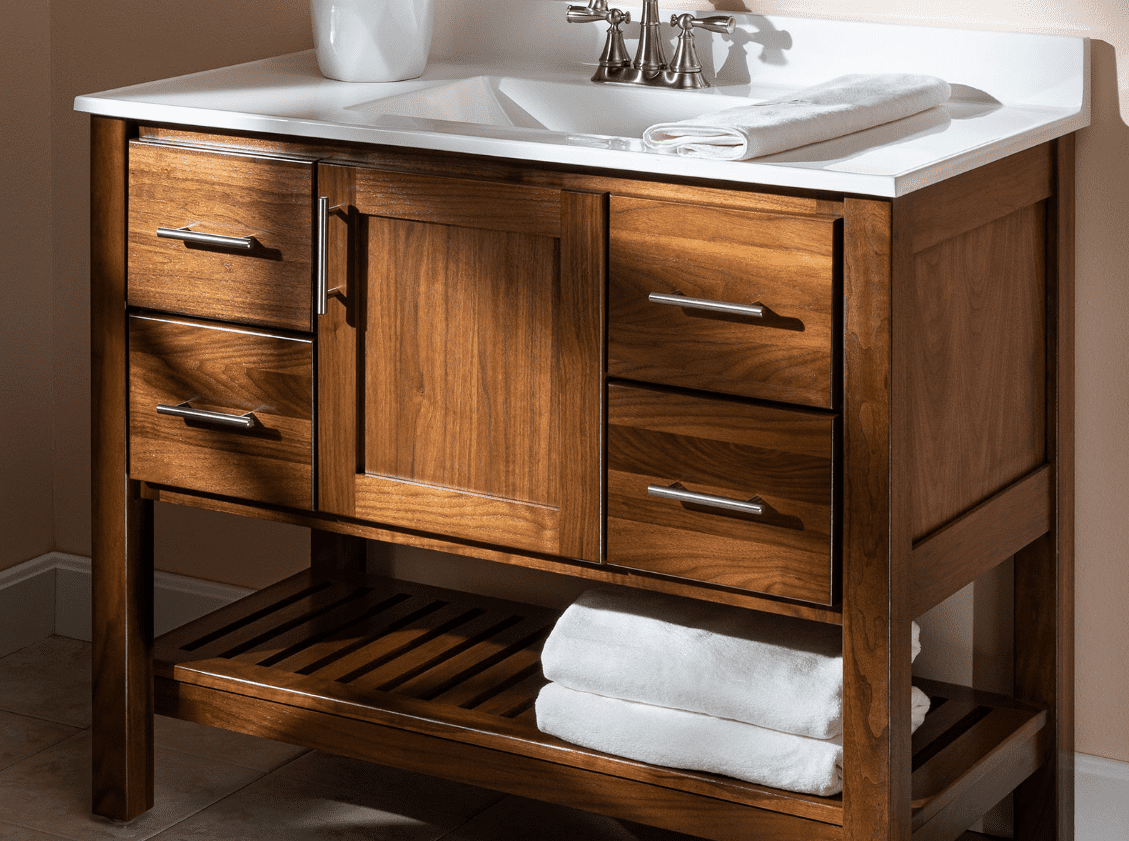 Everyone understands the importance of keeping the bathroom, however small, organized. This cabinetry solution from Bertch offers sufficient storage space for meticulous towel and toiletry organization. Despite its compact nature, this bathroom design also retails with a dedicated sink space atop it. There is even a spare shelf room underneath the cabinets where you can place extra towels.
3. Lexington Birch White Cabinets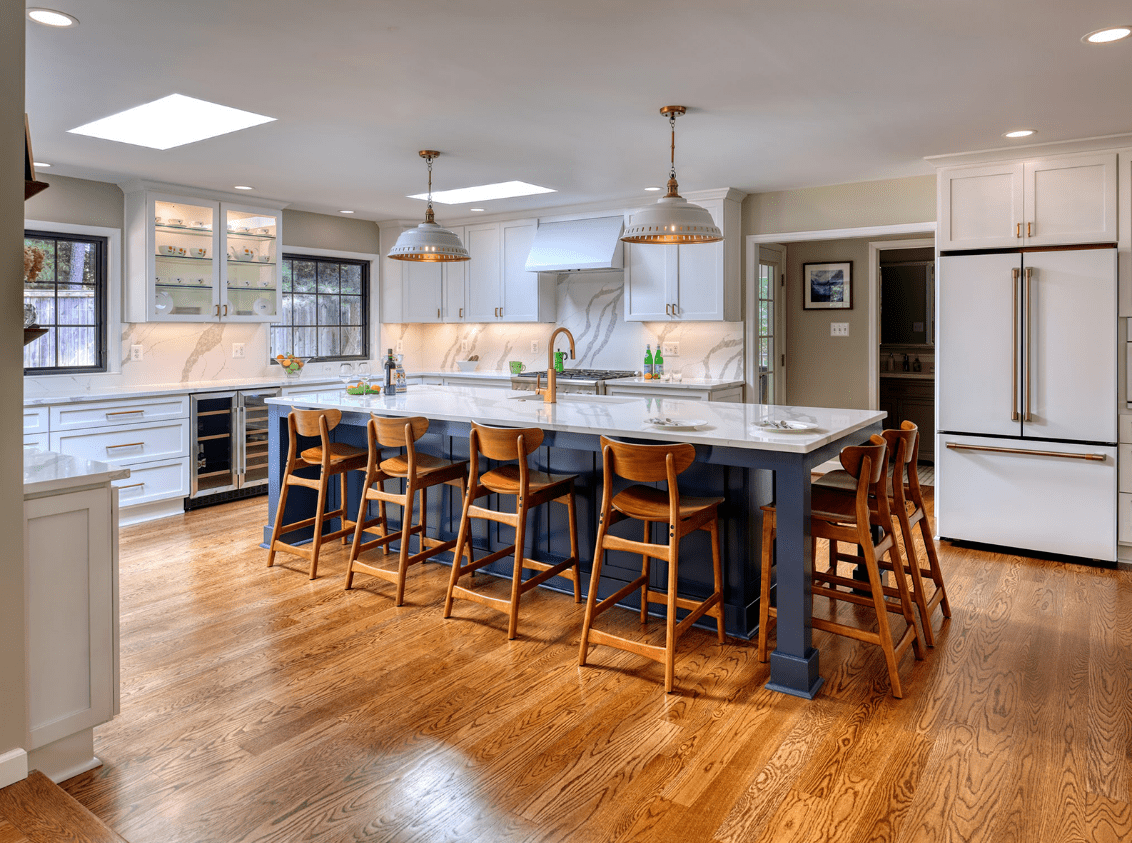 My appreciation for these Lexington Birch white cabinets is two-fold. First, the molding and woodwork around the cabinets are impeccable. They drive home the sleek aesthetic that the homeowner must've been looking for. Second, the ample storage space the wall and base cabinets offer is critical to any kitchen space. I doubt I'd pick the cobalt finish for the island's cabinets.
4. Ebony Birch Cabinets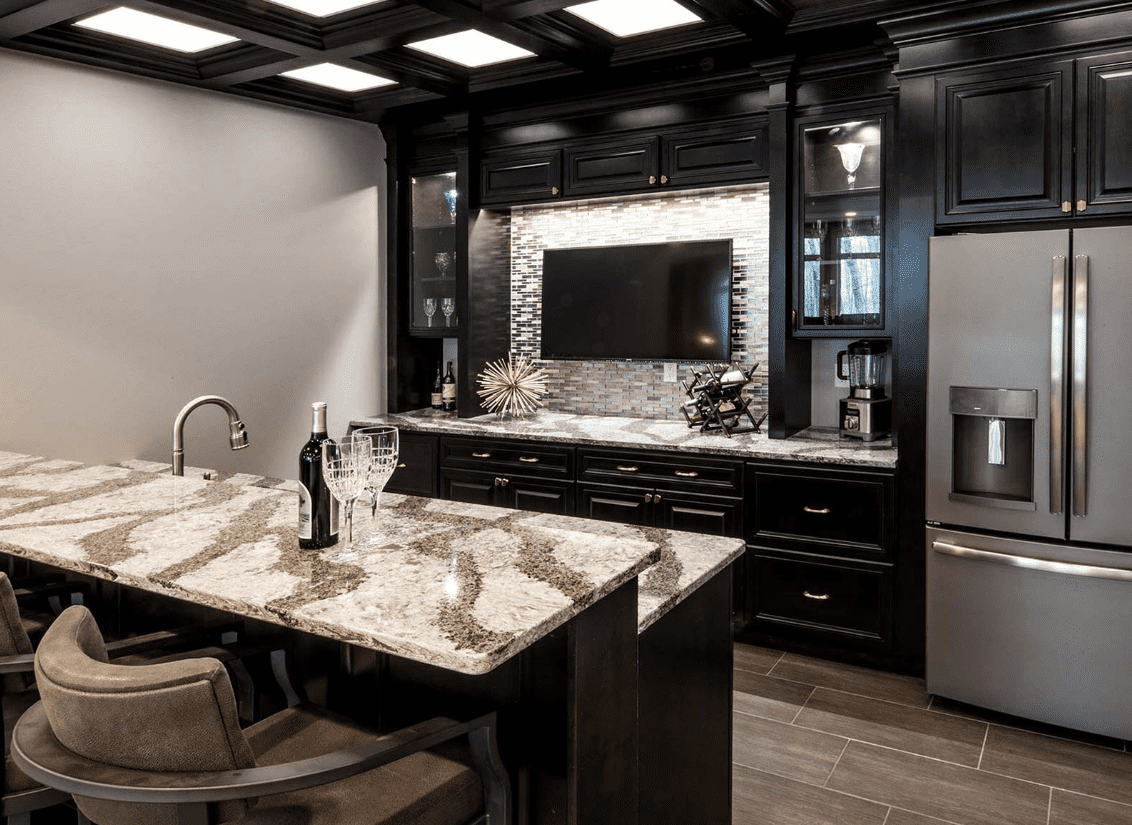 This Ebony Birch Kitchen space features a matching ceiling that emphasizes the transitional appeal the homeowner was aiming for. The antique glass inserts, large TV screen, and elegant crown molding cap off the room tie together for a captivating background.
5. Edgewood Birch Indigo Cabinets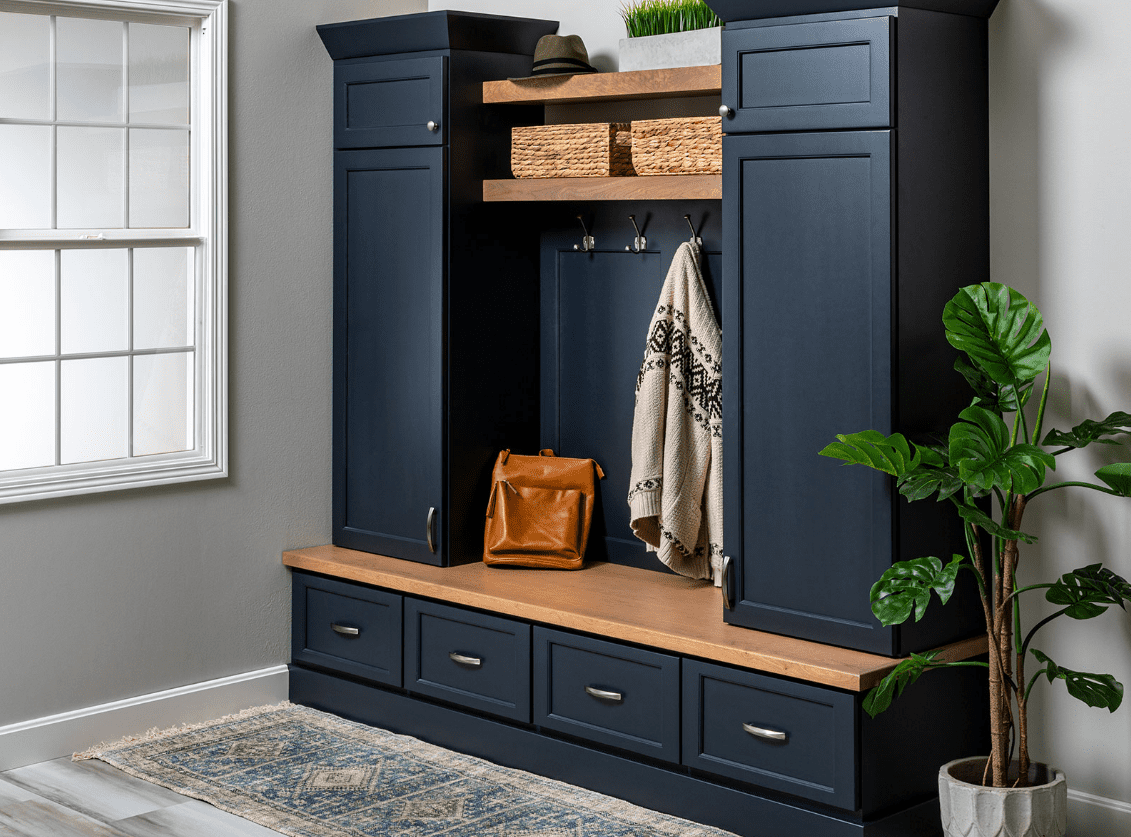 One of the best parts about having a mudroom or entryway cabinet is it can be your home's focal point. Take this beautiful mudroom space, for example. The owner has utilized planters and indigo birch wood cabinets to create a space that'll leave any guest in awe. The indigo perfectly complements the brown surfaces.
Another significant aspect of this setup is the sheer number of storage spaces these cabinets deliver. The only downside is that the two small cabinets at the top-most level may be hard to reach for shorter individuals.
6. Bright White Laundry Room Cabinets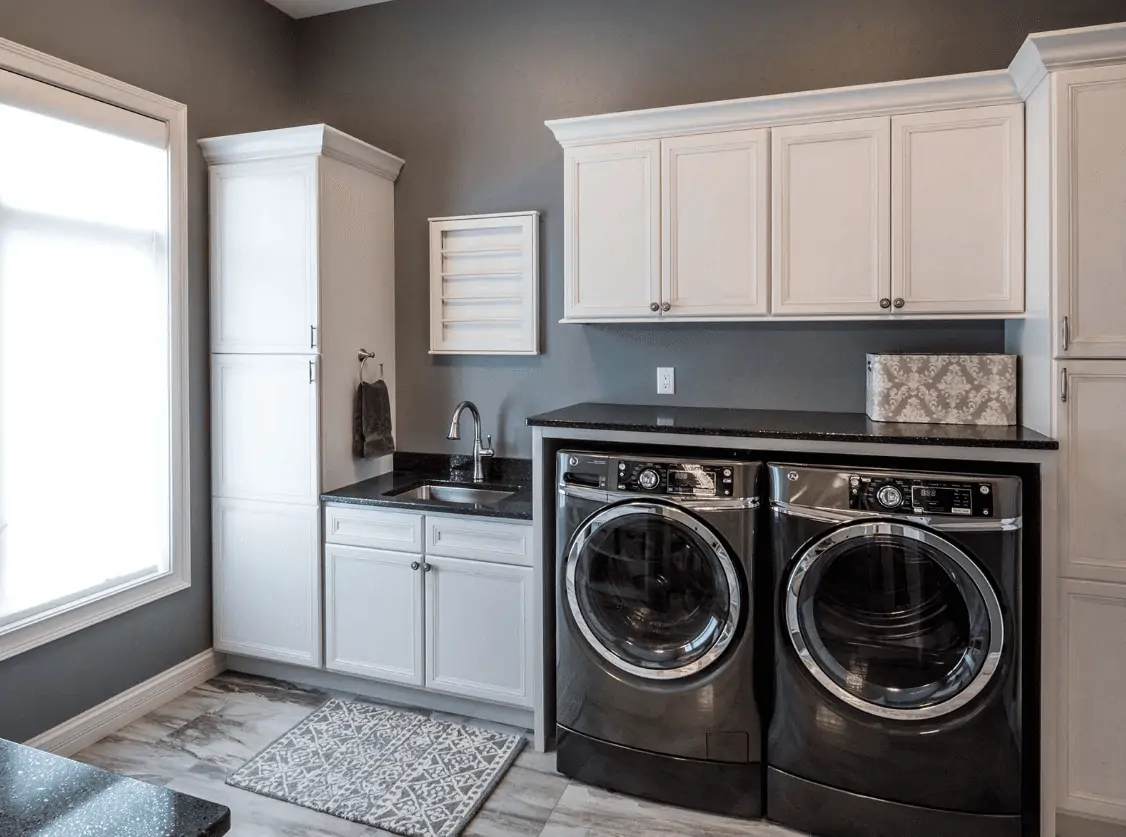 I love the splendid use of upper and lower cabinets in this bathroom space. This combination has freed up a counter space any homeowner can use to reduce clatter without giving up on storage. Also, I love the homeowner's use of a countertop finish that blends in with the room's room and the laundry machines.
Where Can You Buy Bertch Cabinets?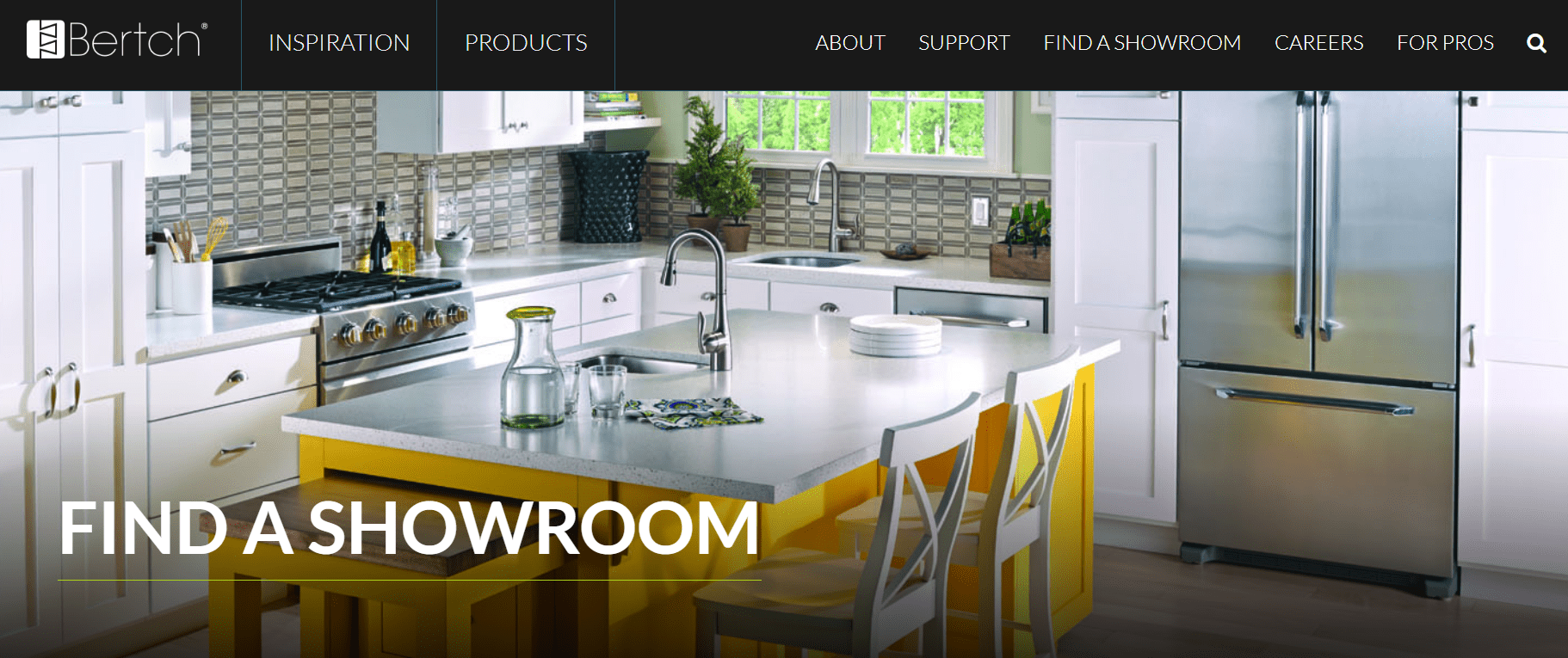 To buy one of Bertch's Cabinets offerings, visit the website homepage. Once there, scroll to the bottom and find the link labeled "Find a Showroom." Click it, and it'll lead to a page where Bertch will require you to type in your zip code.
Bertch should take you to a page with a rundown of all the dealer showrooms near you. Bertch allows you to filter the list according to the desired products, bath, or kitchen.
The list should also include how far the dealer is from you and the city they're in. Once you've picked your preferred dealer, click the "Map & Details" button under the " Dealer Info" column. The address and contact info of the dealer should pop up on your screen.
Caring For Bertch Cabinets
Let's talk maintenance. Bertch wants your cabinets to retain their "shine" for years. They've also put together a detailed maintenance guide to help you care for the new cabinets.
Dusting: First, only dust your Bertch cabinets using moist, lint-free cotton or microfiber clothes to keep them clean. Dip the cloth in a combination of mild soap and warm water. And always only use white cotton clothes, lest the hues on your colored cloth bleed dye onto the cabinet's finish.
Avoiding Moisture Damage: To avoid moisture damage, thoroughly wipe the surfaces using a dry lint-free cloth after cleaning. A small amount of moisture may not affect the cabinet. Over time, however, the build-up could damage their surfaces in a myriad of ways. What's more? Always contain spills immediately after they occur. Use the concoction of mild dish soap I just mentioned to clean the tougher messes. But avoid using any nylon scour pads or abrasive cleaners on the surface. These tend to damage cabinets' finishes.
Cleaning Glass Doors: If your cabinets have glass doors, handle them with care. Rather than spraying the glass with the glass cleaner, spray the glass cleaner on a white lint-free cloth. Next, wipe down the glass using the fabric. Spraying the glass directly would cause the runoff to seep between the doorframe and the glass, damaging the door over time. Remember to wipe the glass door's surface with a dry lint-free cotton cloth after cleaning.
Things To Avoid
Mounting heat-producing appliances below the cabinets
Products containing bleach
Products containing ammonia
Spray polishes with silicone or petroleum solvents
Abrasive cleaning products like scouring pads, scouring powder, and harsh detergents or strong soaps
Alternatives To Bertch Cabinets
Would you like to see how Bertch Cabinets stack up to the competition? You're not alone. Most people do the same thing before making a purchase decision to improve their chances of making an educated one.
Here is a list of Bertch Cabinets' competitors you can explore.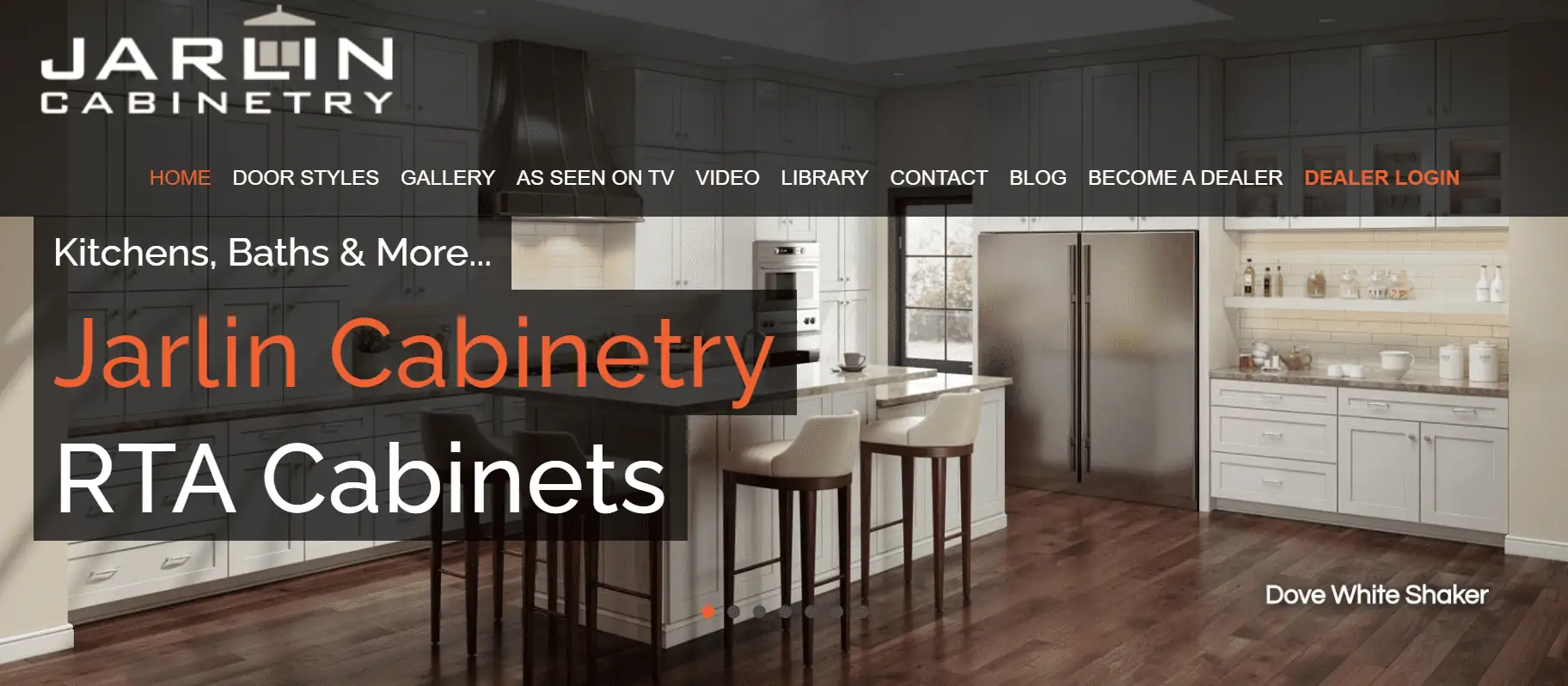 Jarlin Kitchens is a manufacturer and wholesaler of fine, stylish, and distinctive cabinets for both bathrooms and kitchens. Like Bertch, they offer a wide array of cabinetry solutions featuring durable finishes, superior hardware, and solid wood constructions.
A feature that sets Jarlin Kitchens apart from most of its competitors is its competitively-priced solutions. Rest assured, you'll end up with your desired cabinets with the right combination of finishes, materials, and extras – all at a price that won't break the bank.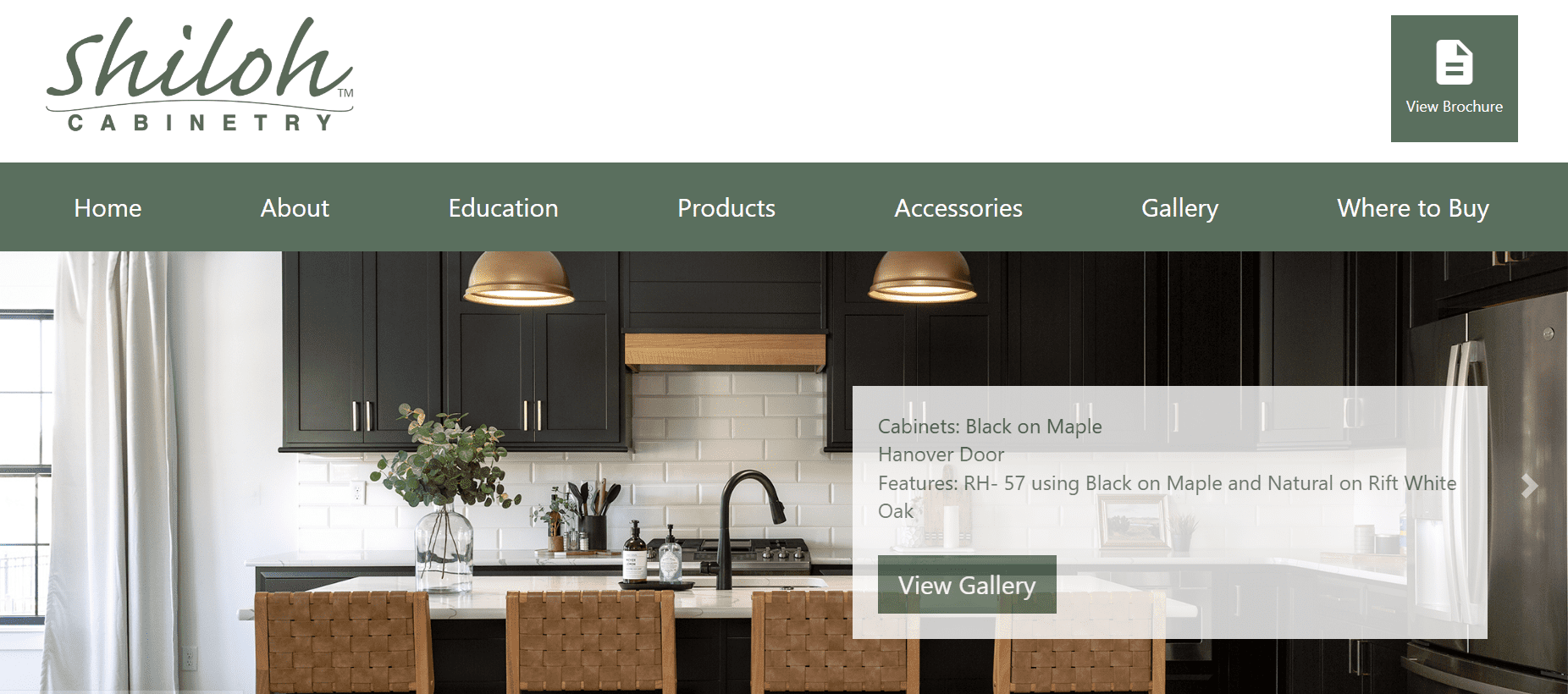 Shiloh Cabinetry is an American-based, family-owned company whose primary focus, like Bertch, is quality. Offering many construction options with classic finishes and door styles, Shiloh's solutions are a timeless addition to any space.
Like Bertch, Shiloh also offers a large variety of unique hoods and cabinet accessories to ensure unique solutions every time.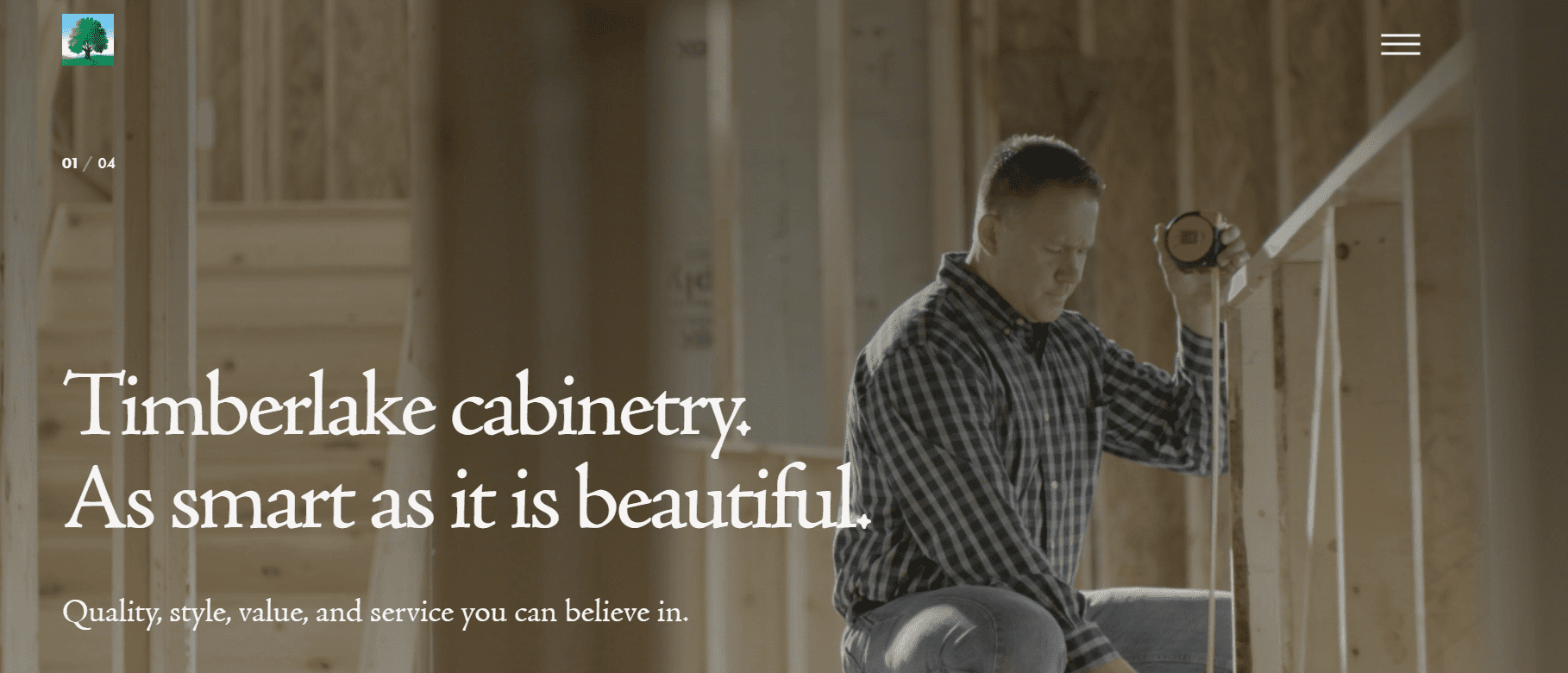 Timberlake Cabinets is another leading manufacturer of quality wood kitchen and bathroom cabinets for both new-home and remodeling markets. All their cabinetry solution are also easy to clean, aesthetic, and have been built to last.
Over the decades that Timberlake has existed, the company has also proved extremely popular with builders and realtors.
FAQs
Question: Who Bought Bertch Cabinets?
Answer: Bertch Cabinets' client base includes everyone from regular homeowners and interior designers to distributors and builders. The company's network of distributors is spread out across the country.
Question: What Are Bertch Cabinets Made Of?
Answer: Bertch's high-end kitchen cabinets feature solid wood dovetail drawers. The cabinets' casework is constructed using plywood sides, while most drawer fronts and door styles are 5-piece solid wood. The other small portion of drawer fronts and door styles is available in MDF or plywood veneer. The actual material depends on the client's preferences.
Question: What Are the Top Cabinet Manufacturers?
Answer: Leading cabinet companies and manufacturers include MasterBrand Cabinets, Timberlake, American WoodMark, KraftMaid, Shiloh, and of course, Bertch Cabinets. The Timberlake Cabinetry brand is a subsidiary of American WoodMaker Corp.
Bertch Cabinets Brand Guide: Final Words
Bertch Cabinets allows you to look at your personal preferences and style first when picking cabinetry solutions. Do you prefer clean-lined and modern? Warm and inviting? Quirky or coastal? What about custom cabinet accessories? Once you've nailed down your desired style, the options Bertch offers to help achieve your look are endless.
If you need help making a final, educated decision, the brand's team has still got you covered. Visit the Bertch showroom near you and speak with one of their designers for ideas and inspiration. You can also look through their photo gallery and see what speaks to your style the most. Don't be shy; go check out my other detailed reviews of the best cabinet companies!
Recommended Reads: