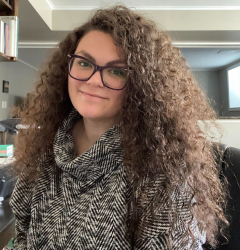 Latest posts by Candace Osmond
(see all)
Sure, watching HGTV and daydreaming about million-dollar homes is fun. But reality dictates necessity; sometimes, there's simply no space to squeeze in the butler's pantry. That said, there is always room for value, and the Wellborn Cabinet Brand allows you to have it in spades.
I love their quality, attention to detail, and range of finishes and accessories. I can't wait to break it all down for you in this Wellborn Cabinet brand guide!
Bottom Line Upfront
I would 100% recommend Wellborn Cabinets to anyone with a budget. They're a cabinet maker on the higher end of quality and offer so much customization. And, if you're looking for unique finishes, this is the company to look at.
About the Wellborn Cabinets Brand
The company has been making beautiful, high-quality cabinets with an eye for value for more than 55 years. The extensive experience explains why both easy-to-clean designs and state-of-the-art finishes can be had at affordable prices at Wellborn Cabinets.
Founded in 1961 in Ashland, Alabama, Wellborn Cabinet is a building materials company specializing in bathroom and kitchen cabinets. Brothers, Paul and Dough Wellborn, co-founded the company in a 20-foot by 40-foot building behind their home. That starkly contrasts Wellborn Cabinet, Inc's 2.2 million square foot facility today.
What's more? Over the years the company has existed, it has made six product lines of quality bath and kitchen cabinets. Each of these creations has reflected the family-owned company's long history of manufacturing innovative products and delivering excellent domestic customer service.
Today, the cabinet brand is still solely owned by the Wellborn family and operates from Ashland, Alabama, where it's headquartered.
What Does Wellborn Cabinets Offer?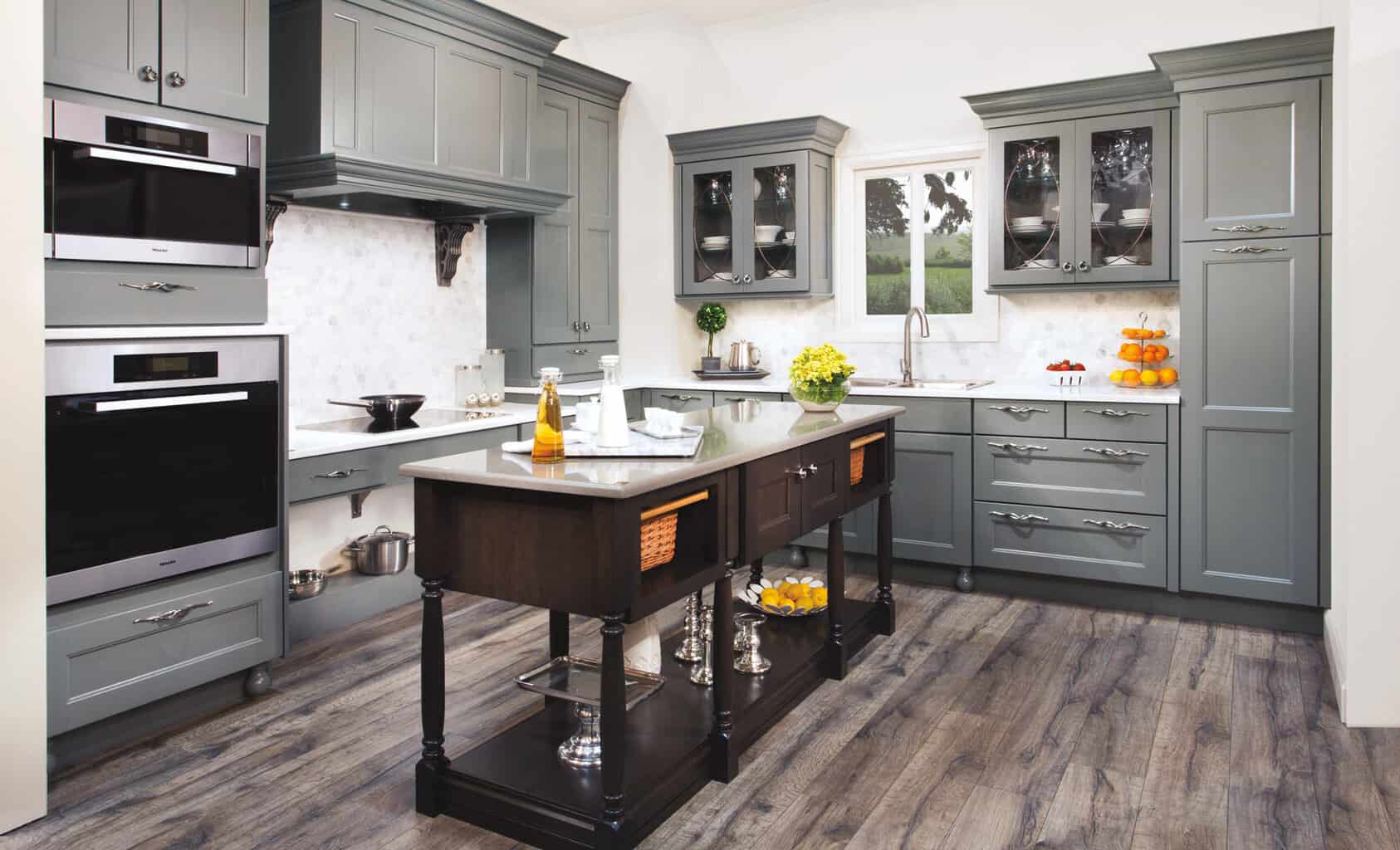 You're going to fall in love with these cabinets, I promise. I spent hours ogling their online catalog and perusing their gallery.
The wood species, color, finishing technique, door style, and construction of all cabinetry components will make the strongest visual statements. They'll also impact your wallet the most before your wellborn cabinets are installed.
With that in mind, it only makes sense that you understand all the options Wellborn Cabinets offers. That's what I'll discuss below.
Door Styles
If you're planning a complete home renovation, your cabinets' door style is probably one of your most critical choices. That's why the depth of door style options a cabinetry brand offers can make or break your home's final look. Where does Wellborn fall?
Well, one look at its door styles selection, and you'll be assured they're dedicated to meeting their client's needs.
Wellborn Cabinets' creations have been divided into five distinct product lines: Elegant Bath, Home Concepts, Estate Series, Select Series, and Premier Series. Inside each product line, you'll find the following door styles:
Square
Slab
Recessed
Raised
Arch
My fav is definitely the square style. I'd mix it with rustic elements to get that modern farmhouse vibe I love. Inside each product line, you'll also find a drop-down of the different door construction styles by Wellborn cabinets. These are vertical, miter, horizontal, cape & tenon, beaded center panel, and applied molding.
Wood Species
No two wood species are built the same. Stains tend to exaggerate the difference between closed and open grains and other markings in woods. Wellborn understands that, explaining why they've offered their clients eight distinct materials:
character cherry
character maple
cherry
hickory
laminate
maple
MDF
oak
You'll find links under each wood species title on the brand's website. Clicking these will redirect you to images of cabinets Wellborn has designed using the wood in question. Use the images as inspiration when designing your own space.
Also worth noting, if you pick solid wood, expect it to change its appearance as the wood ages. For instance, the lightly colored cherry shades tend to be "mellow" and add depth over time. Most will find these characteristics desirable, and I hope you will as well.
Finishes and Colors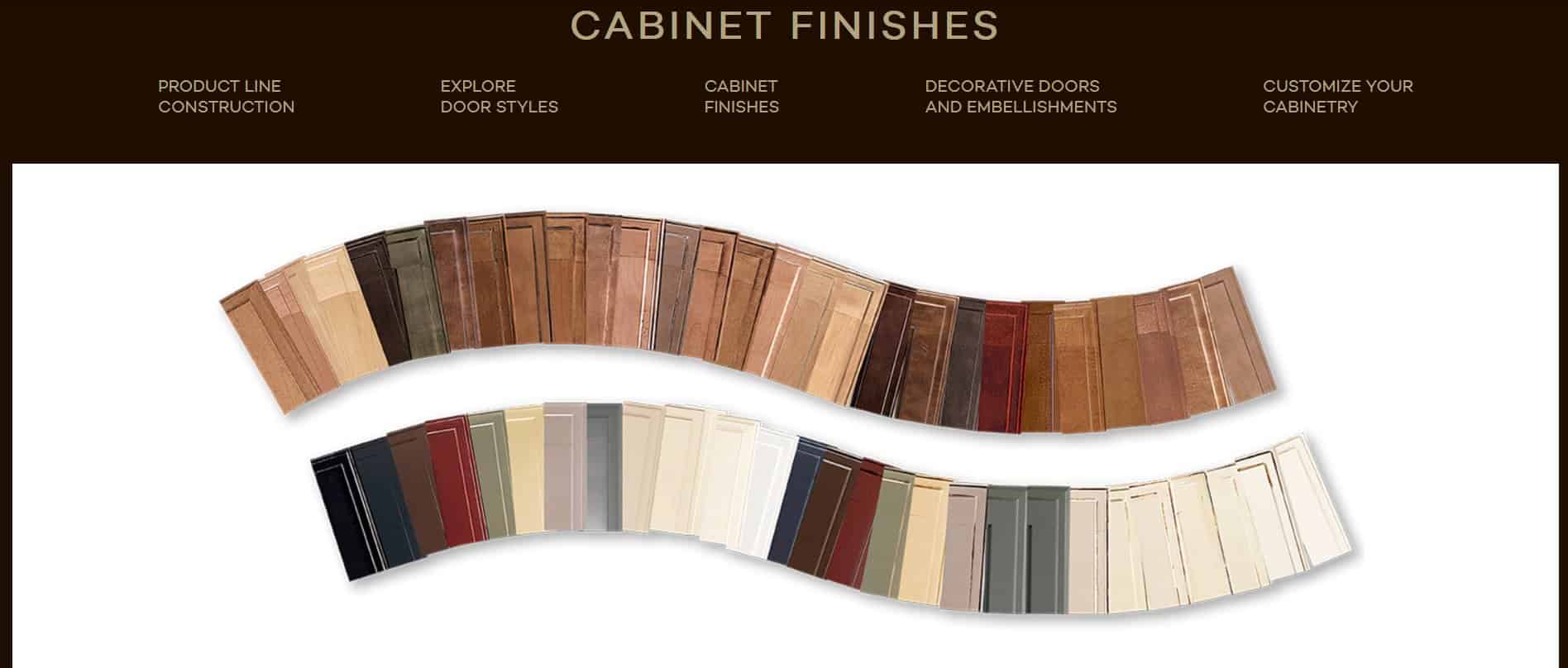 A handsome portion of your investment with Wellborn Cabinets will be spent on delivering a good, durable finish. That's why the brand has gone above and beyond to offer you a comprehensive combination of finishes and colors you can pick from.
Welborn Cabinets has divided its finishes and color selection into further sub-categories. These are:
Stains
Stains with glaze
Paints
Paints with glaze
Laminate colors
Designer laminate colors
Embossed melamine colors
Heavily textured melamine colors
The finishes you'll find under these categories include, but aren't limited to:
Caramel java
Caste charcoal
Dark charcoal
Drift java
Drift pewter
Drift slate
Evergreen java
Gauntlet charcoal
Ginger java
Ginger charcoal
Shale granite
Shale mocha
Unfortunately, despite Wellborn Cabinets' wide selection of finishes, not all of them are available in every door style.
My Personal Pick: I'm crazy about Gauntlet Charcoal! I mean, LOOK at it! I want every surface in my house to have that color/finish.
Molding and Accents
Even the most standard kitchen cabinets can be customized with accents and moldings that make them unique. Wellborn has incorporated a wide assortment of design options into its solutions to help you curate a seamless look.
The decorative doors and embellishments they offer have been grouped into several categories, namely:
Wainscot
Cabinet Lighting
Fillers & Pilasters
Knobs & Pulls
Decorative Doors
Corbels, Onlays, Mouldings, & Valances
Legs, posts, & feet
Under their "corbels, onlays, moldings & valances" category, for instance, you'll find 90+ options to pick from. Wowza! These include, but aren't limited to:
Crown Moulding (Cove Small Simple)
Stack Moulding
Wainscot Moulding
Scribe Moulding (shoe)
Edge Moulding (bottom)
Scribe Moulding (shoe)
Light Rail Moulding (cove
Crown Moulding (decorative)
In case you don't find the molding and accent you desire from their extensive collection, Wellborn has another solution. They recommend speaking to one of their local dealers and seeing if they can tailor a solution to your needs.
That's some insane dedication and service if you ask me. More on how you can find one of these details in the following sections.
Wellborn Cabinet Accessories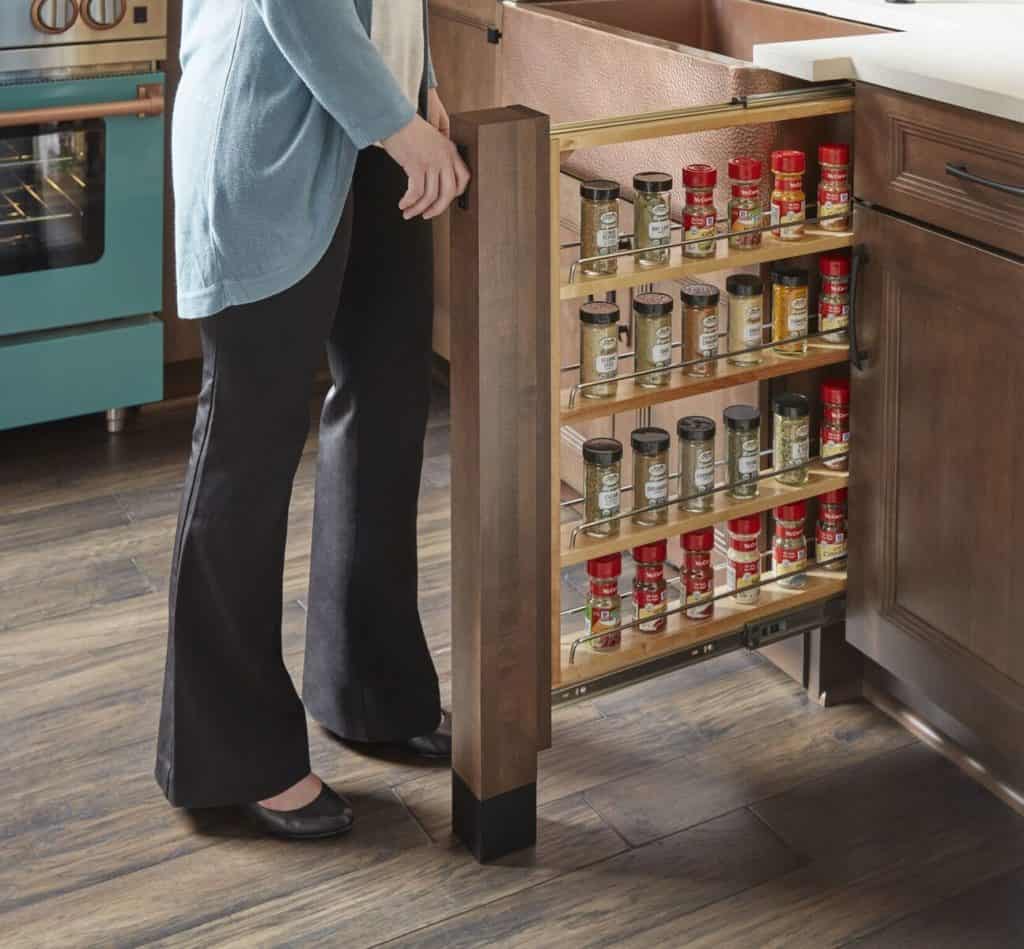 Now comes the most exciting part of Wellborn's cabinetry solutions (at least, according to me): the organization. The company also allows you to pick from an array of cabinet accessories that simplify your life. These storage solutions will also act as the finishing touches that bring out your desired unique style. The list of accessories offered by Wellborn includes, but isn't limited to:
Reduced depth drawers
Deep storage pullouts
Cutting boards with knife drawers
Spice racks
Concealment lifts
Sliding shelves
Pull-down mechanisms
Also note: the wide assortment of Wellborn's accessories has been divided into 12 distinct categories:
Active Living
Art for Everyday
Colorinspire
Designs of Distinction by Brown Wood
Finish Techniques
Hoods
Hoods – Stanisci
Islands
Decorative Doors & Embellishments
Semi-Custom
Smart Design
You Draw It
This breakdown into sub-categories is intended to simplify your selection process.
How Are Wellborn Cabinets Made?
How a cabinet is made will significantly determine how it functions and looks. Shelving, finishing, and hinges will vary depending on the brand's construction process and materials used. Also, note that the measurements below will differ slightly depending on your product line.
Wall and Base Cabinets
Wellborn's upper or wall cabinets are 12 to 24 inches deep, 12 to 60 inches tall, and 9 to 48 inches wide. Their base cabinets, also referred to as lower cabinets, retail in 12 to 24-inch depths and are available in 34 to 40-inches heights. They also range from 9 to 48 inches in 3-inch increments.
Their drawer base cabinets are 12 to 42 inches wide. When talking to the local Wellborn dealer, ask for the specific measurements for the product line you'd like to invest in.
Wellborn's kitchen sink cabinets are also available in widths of 18 to 48 inches in 3-inch increments. They're also up to 24 inches deep and 34 inches high. If the line you pick offers a sink base cabinet, it'll be 60-inches, with four doors, two drawer blanks, and two drawers.
Also, inquire from the local Wellborn cabinets dealer about the list of accessories available for the cabinets you pick. As I highlighted earlier, these will help make it easier to access items stored within.
Bathroom Vanities
Lastly, Wellborn's bathroom vanities retail in depths of 16 to 21-inches, providing a solution for bathrooms of all sizes. 16-inches deep vanities, for instance, are also 31- inches high and 18-inches wide.
Pro Tip: If you have a standard bathroom, go with a 21-inch deep vanity, it'll accommodate a broader range of sinks.
Finishings
Wellborn also uses a unique finishing method on all their products, i.e., the Wellguard Finishing System. This 24-step hand-rubbed and hand-sanded finishing system enhance the natural beauty of the fine hardwoods Wellborn uses on its cabinets.
The method also consists of four coating applications, each designed to provide protection and decorative beauty to the cabinets. They ensure the finishes are highly resistant to abrasion, moisture, and most other household chemicals.
Wellborn Cabinets Inspiration
Ready to start customizing your home in a manner that matches both your home's architectural style and your personal style? I also thought it'd be wise to include a few image inspirations from Wellborn Cabinetry's gallery.
Compared to starting with a blank canvas, this is the easiest way to help you get started figuring out your likes.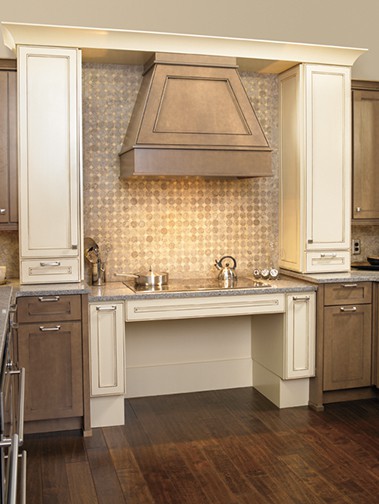 Even though the soft white and brown cabinet hues in this kitchen are subtle, the accessories and details are anything but. From the fluted cabinetry hardware to the range hood, this kitchen is refreshingly simple and visually pleasing.
The cabinets used to deliver the look are the Full-Overlay Sonoma Cabinets by Wellborn.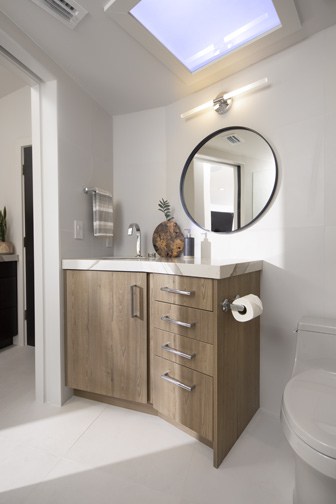 Why go for this fresh and clean storage solution inspired by Wellborn Cabinets? Well, you'll get to start your day in a room that echoes those same sentiments. The design features Wellborn's Slab Arcadia Cabinets in the aesthetic Embossed Melamine, and Decorative Laminate Veneer Color finishes.
Make the most of any bath or laundry room space using a storage solution that is both stylish and smart. Wellborn's Preston Cabinets with Classic Front Drawers' crisp, fresh feeling and easy-to-clean finishes deliver just that.
Both cabinet designs are especially suited for bathrooms, laundry, and mud rooms.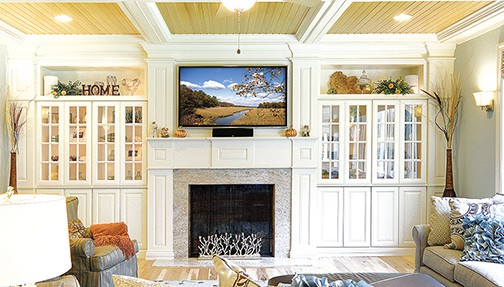 This dreamy, all-white living room delivers a clean, bright, and refreshing look with a healthy touch of side drama. The homeowner in the image incorporated touches of contrasting colors and flower vases for a more sophisticated look
Take advantage of these Madison Square Transitional Cabinets' glass display doors to show off your most prized possessions.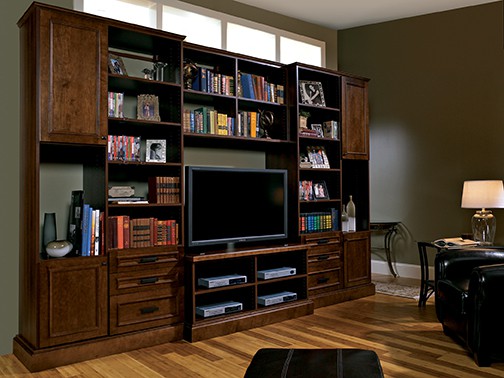 This classic office room uses Wellborn's classic standard stain cabinets to deliver a clean, current look that'll leave anyone in awe. Designed with a rich, dark brown finish, the cabinets create a lavish feel that will complement any interior decor.
They're also relatively affordable, allowing you to budget for those little extras required to complete the look.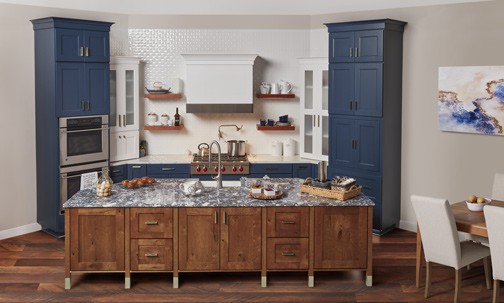 A multi-functional room, this space with Wellborn's Preston cabinets with classic front drawers doubles as a dining room and stylish kitchen. Using the space to whip out delicacies and settle down to eat delivers a hard-to-beat convenience factor.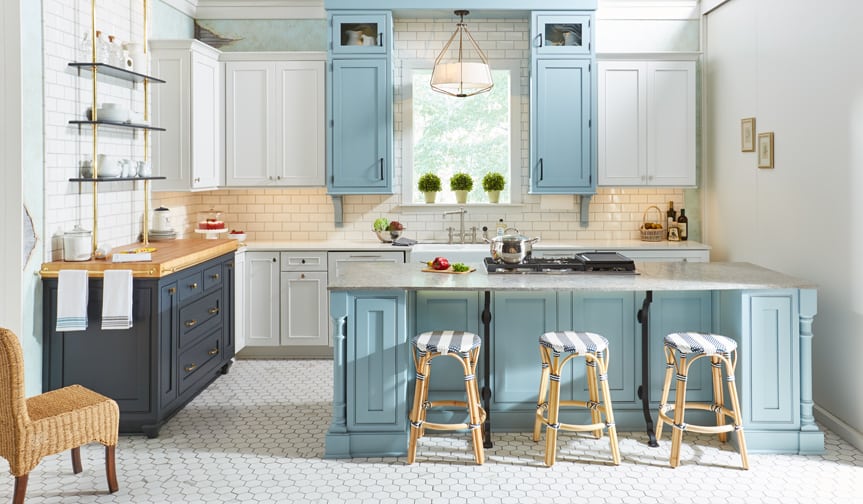 Looking for a cabinetry solution that inspires you to make your home uniquely yours? Look no further than this kitchen space with Wellborn's Hanover Inset and Lexington Cabinets. With room to display and room to conceal, the area is also full of personality and functionality.
The floating shelves, display cabinets, and more are all there to offer you unique storage solutions that meet your organization needs.
Where Can You Buy Wellborn Cabinets?
Ordering your preferred cabinets from Wellborn isn't a hassle. Wellborn has created a locator that'll instantly connect you with all their dealers across North America. These dealers are knowledgeable professionals highly skilled in cabinetry making.
To find a Wellborn Cabinet dealer near you, head to Wellborn's homepage. Find the link on the top right corner labeled "where to buy" and click it. Wellborn will present you with three professionals: dealers, authorized contractors, and custom home builders.
Depending on your needs, pick the professional you desire, and another page will pop up. Enter your zip code in the blank space and hit search when you're done. Wellborn will then display a detailed list of every dealer around you. These dealers' contacts, websites, and driving directions will also be displayed.
Caring For Wellborn Cabinets
Families put their kitchen cabinets through a lot. They're also where life happens in the home – slips, spills, and all. That said, with minimal work and some straightforward safety measures, you should keep your wellborn cabinets looking as good as new.
Clean Regularly
First, you'll need to perform regular cleaning sessions. There is no way around this. Use a soft cloth dampened with warm water to eliminate any dust that accumulates on your cabinets' surfaces. Ensure you wipe the cabinets in the direction of the wood grain and wipe them dry once you're done.
You'll only ever need the big guns after unidentifiable sauces leave crusty messes on your cabinets. Your go-to option should always be a soft cloth dampened with warm water and mild soap. If the spill has just happened, that should be more than enough.
If, for some ill-advised reason, you let the spills sit for too long, you'll need a more potent concoction: Think basking soda and water. Use a soft sponge to scrub until you've eliminated the stain, then rinse the surface off with water. Again, remember to dry after you're done since moisture can damage your cabinets' finishing.
Avoid These
Items to avoid when cleaning your Wellborn Cabinets include:
Petroleum-based products or solvents
Silicone-based products
Harsh or strong soaps and detergents
Paint thinners
Nail polish remover
Scouring pads
Abrasive sponges
Steel wool
Plastic or metal brushes
Ammonia
Bleach
Alternatives To Wellborn Cabinets
It's undeniable that Wellborn Cabinets is a trusted cabinet brand in North America, if not the world. It's achieved this status through a combination of reliability, exceptional attention to detail, and insistent high-quality products.
That said, despite the brand's excellence in the art of cabinet making, it's not the only one out there. If you'd like to compare before making a final, educated decision, here are three leading alternatives to Wellborn Cabinets.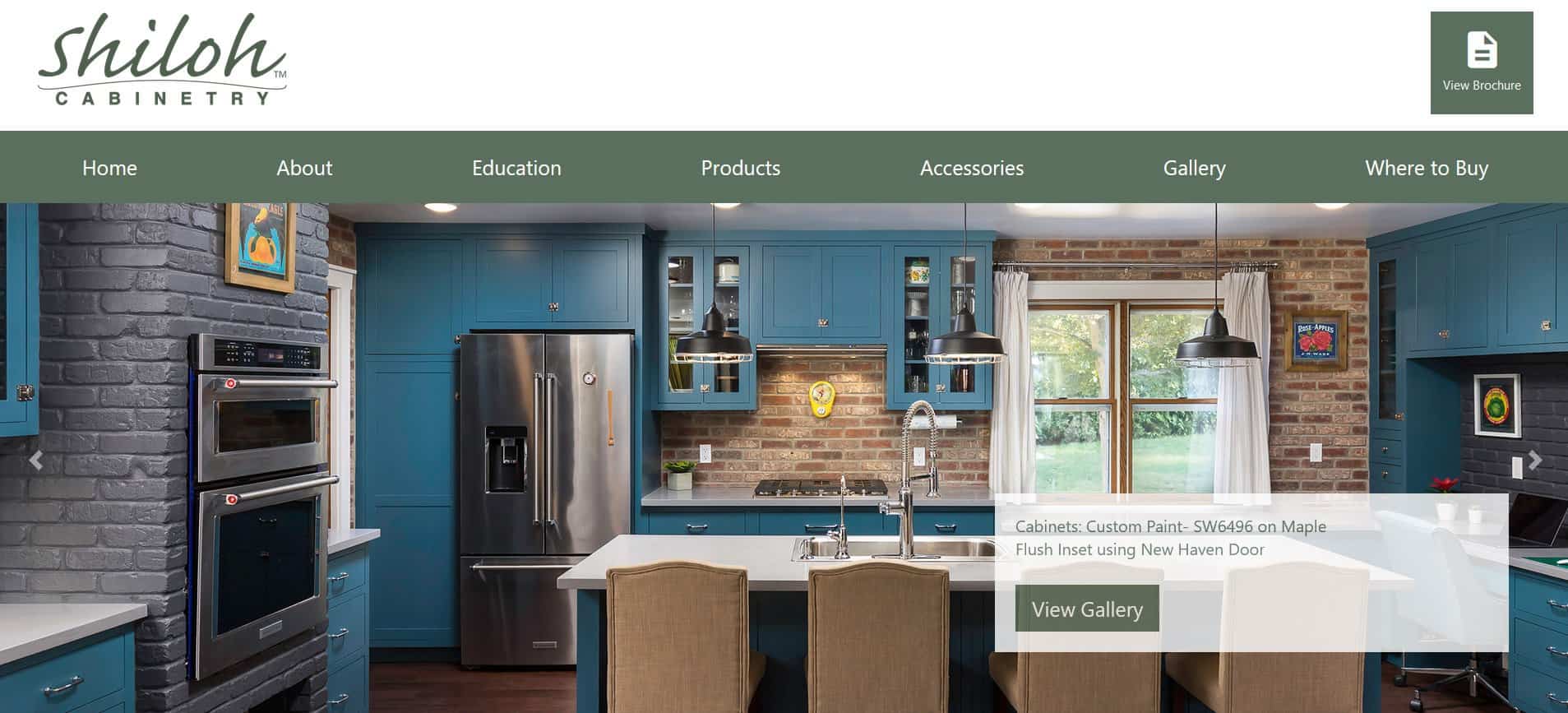 Shiloh Cabinetry offers all homeowners a way to express their personalities and personal preferences. The brand achieves this through its array of styles, finishes, options, and functional features that suit any lifestyle.
Whatever your style (traditional, contemporary, or transitional) and needs, Shiloh's options and accessories will meet them. Visit Shiloh's website for a detailed list of every finish-material-accessory combination the company delivers.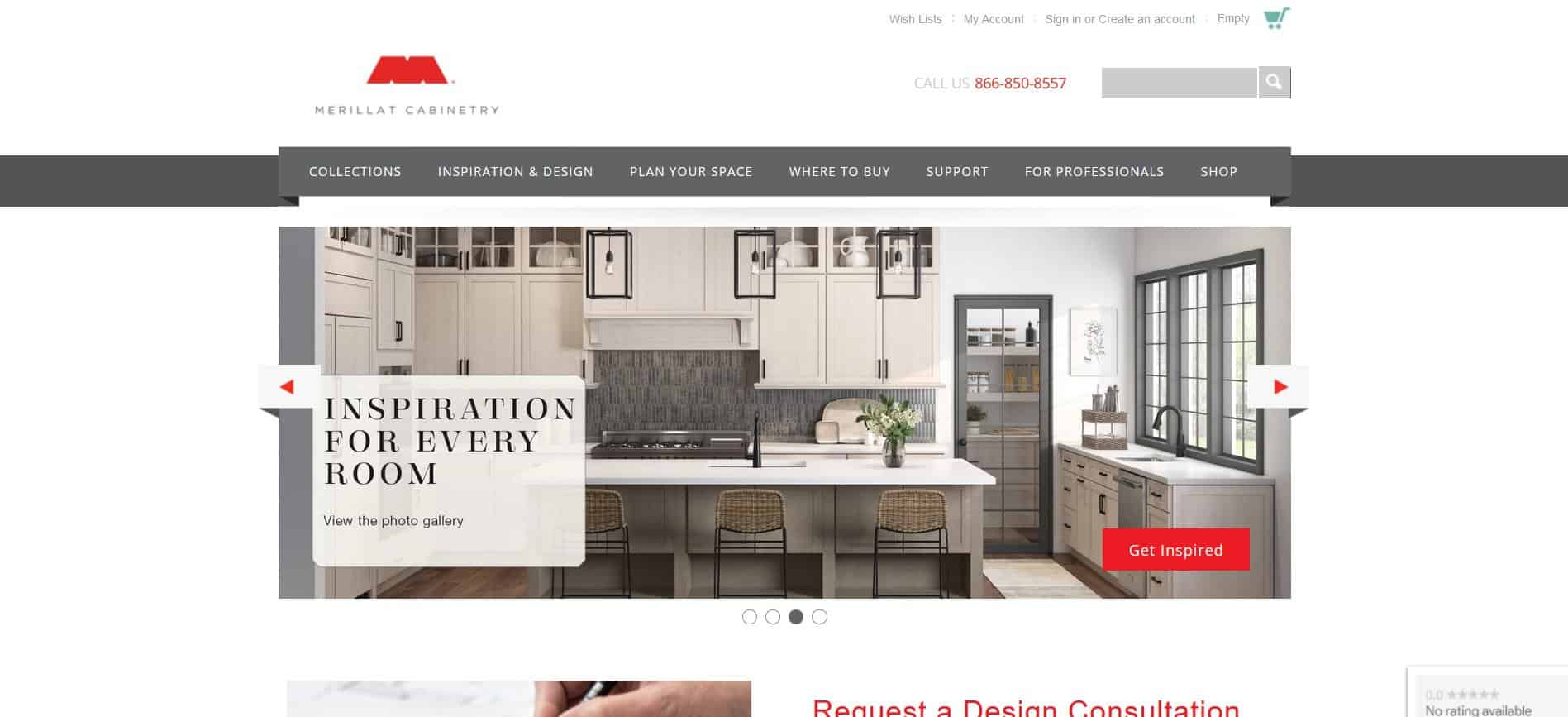 Merillat Cabinetry promises to deliver lasting value beyond comparison, and most of their previous customers seem to believe they've achieved that. The brand's cabinets are built to last and certified by KCMA (the Kitchen Cabinet Manufacturers Association.)
Merillat's cabinetry solutions are also specially designed to make lives simpler. The brand offers everything from under-sink protection accessories to smart accessories that bring items to your fingertips. I promise you'll wonder how long you've survived without the company.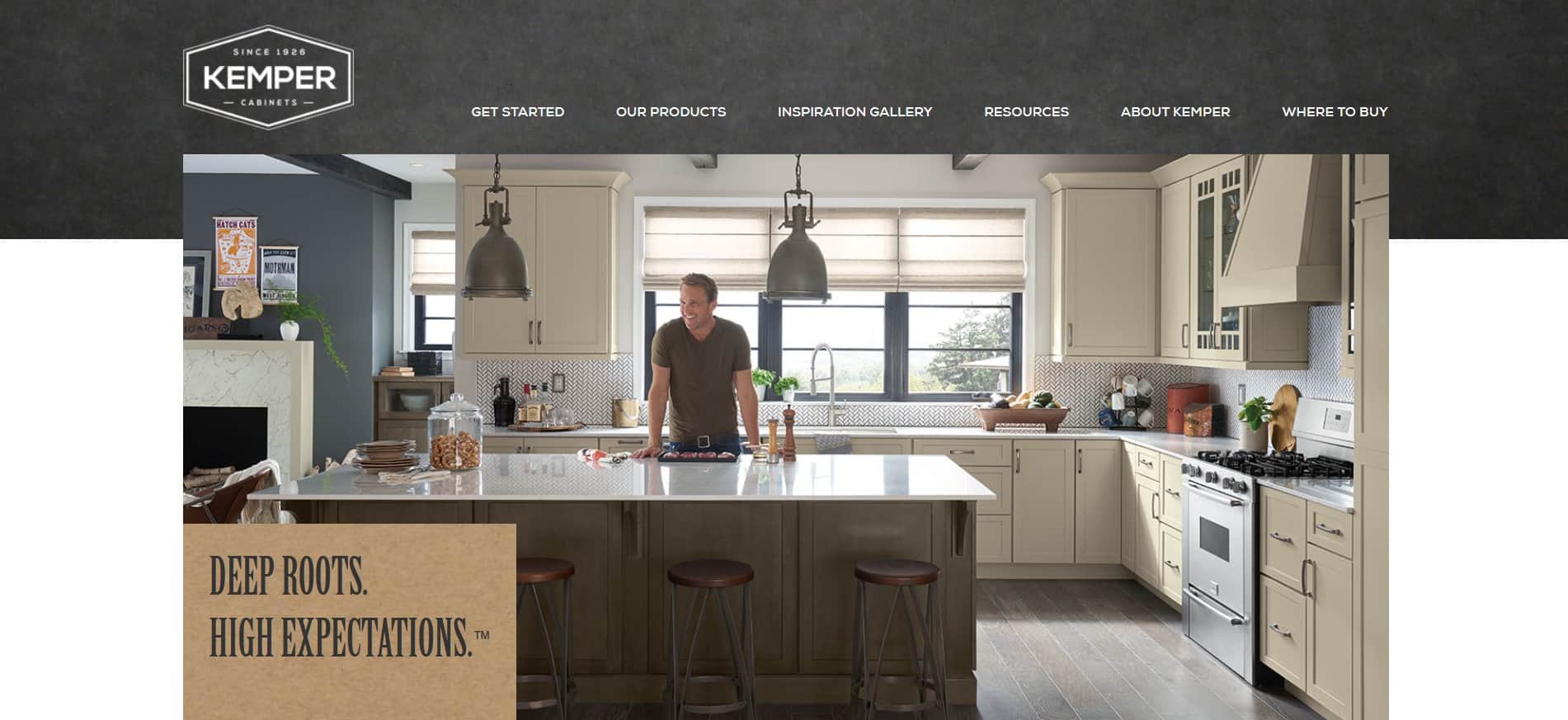 Wherever you need extra storage in your home, Kemper Cabinets offers you a smart cabinetry solution. Available in high-quality wood species, the Kemper cabinets are versatile and will help you outfit any room inside your home.
Kemper Cabinets is also known for its intricate cabinet construction & exceptionally awe-worthy designs, and commitment to the environment. All this is exemplified by the fact Kemper cabinets is a certified brand in the KMCA Environmental Stewardship Program.
The program recognizes cabinetry brands that demonstrate commitment to sustainability and environmental practices.
FAQs
Question: How Old Is Wellborn Cabinets?
Answer: Founded in 1961 in Ashland, Alabama, by Paul and Dough Wellborn, Wellborn Cabinet, Inc. will be 62 years old in 2023. Throughout the brand's existence, it has remained a wholly family-owned cabinet manufacturer.
Question: Are Wellborn Cabinets Made Custom?
Answer: Yes, Wellborn Cabinet does have a semi-custom program that provides its clients with ways to enjoy custom features at affordable prices. This semi-custom program will also allow more flexibility in your room's function and design. With that in mind, items you'll find under the program include full-height doors, extended stiles, reduced-depth drawers, and more.
Question: Where Are Wellborn Cabinets Made?
Answer: All Wellborn Cabinet's cabinetry solutions are made in Ashland, Alabama, inside Wellborn's 2.2 million square foot facility. That's the same place Wellborn Cabinet's headquarters are located.
Bottom Line
Wellborn Cabinets' dedication to the cabinet-making craft has made it one of the most trusted brands in the industry. Better yet, the brand maintains all levels of its cabinet-making process in one family-owned facility. This allows the family to ensure the quality of craftsmanship for which their company is renowned.
So, does quality matter to you? Then I'd suggest giving Wellborn cabinets a try because they're designed to last through it all. But I've covered so many fantastic cabinet companies on our site, so go check them out!
Read More: