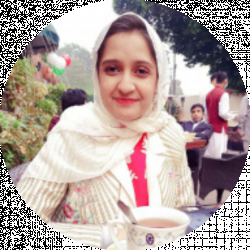 Latest posts by Zunaira Ghazal
(see all)
If you're in the market to renovate, you might have come across quite a few stark, minimalist white kitchens. But what if I tell you that they are not as timeless (or as comfortable) as you've been led to believe?
I've been surveying the market and helping people design their dream interiors for more than six years. So one can say that I know quite a bit about lasting trends, and let me assure you, modern white kitchens are not comfortable enough to stay. However, if you're a fan of white cabinets, then I would undoubtedly lead you in the direction of antique white kitchens.
These cabinets are the complete antithesis of their modern counterparts. That's because they are so much more welcoming and homey! While modern whites are all stark, austere, and sharp, these are soft, cozy, and inviting. Some come with lovely distressed finishes, while others invoke nostalgia with their 90s-era styling and accessorizing.
So, without further ado, here are some of the best antique white kitchen cabinets that I've sourced for you:
Bottom Line Up Front
While the overall "white cabinet" aesthetic is one of the most popular themes for kitchen design, a sub-genre of antique white cabinets is becoming a popular trend these days. I've seen many of these featured in popular magazines, so I wanted to curate a list that can be your inspiration board while crafting this look in your kitchens.
As for me, my favorite is the Black, White, and Retro look, which is the perfect balance of old-school nostalgia and contemporary attraction. Its retro looks and bold black countertop give it all the extra oomph needed to stand out from the rest.
Top Picks
These are my top picks, along with reasons why I love them so much:
Black, White, & Retro:

This one immediately became one of my favorites. It's very stylish, but best of all is the contrast. The antique-retro look takes you back to the 50s while the black countertop keeps the eye entertained. To top it off, it's versatile as well.

Classic All The Way:

This kitchen's literall classical style detailing immediately set it apart for me. Although it's not much, it emulates the "antique" vibe within this white kitchen. I also appreciate what the designers did with the stone floor – its neat, expensive vibe adds a unique look to the overall space.

Antique and Floating:

This is one of my favorite takes on the distressed-white finish. It pairs super well with the compact body of the cabinet, and I love how one can mount it on the kitchen wall – very compact and stylish.
Selection Criteria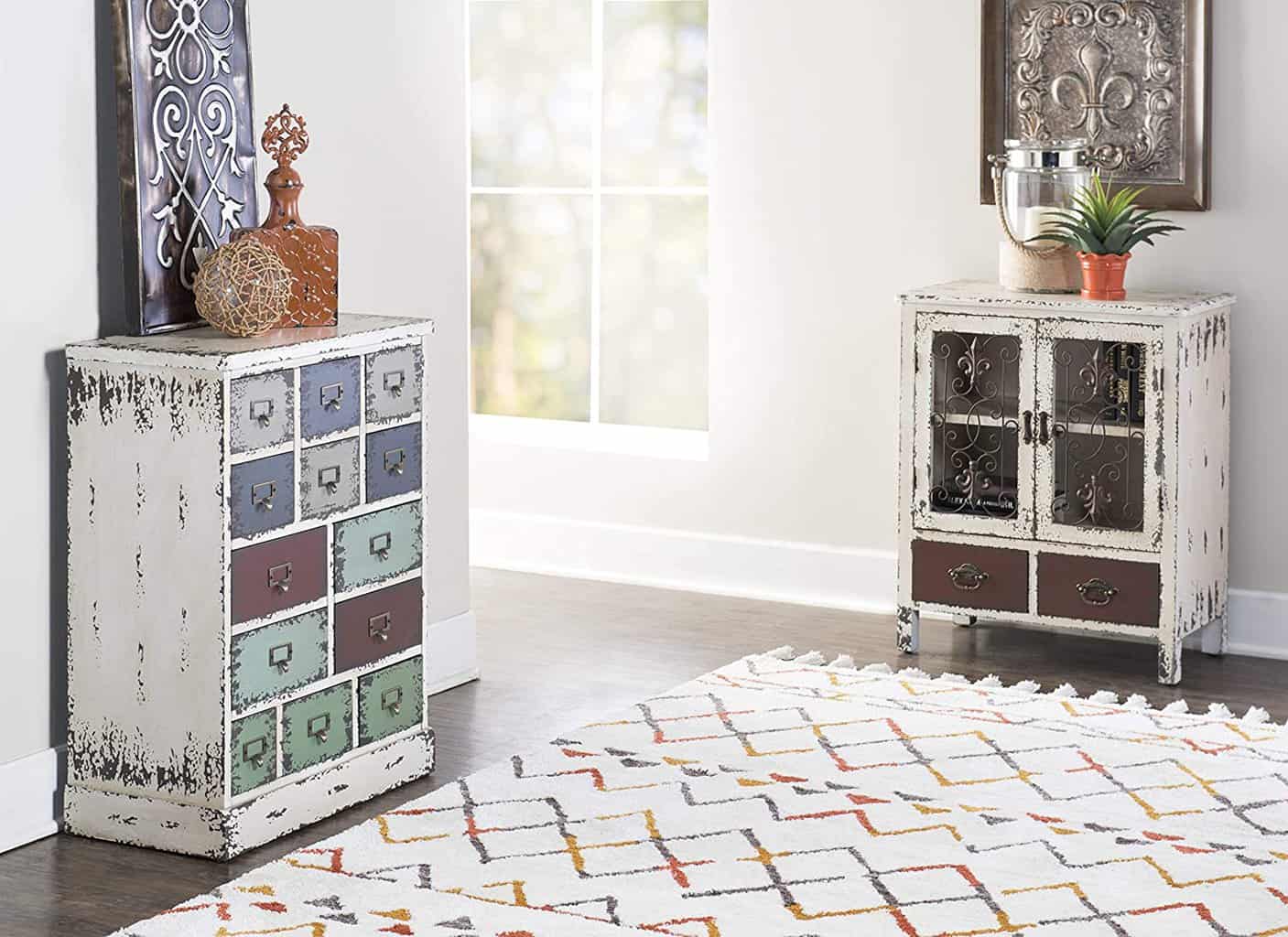 Here are my top two criteria for picking the items on this list:
Diversity
Kitchen cabinets come in so many styles. Some of them are built-in, and all you can do is take inspiration from them. Others are freestanding, and you can buy them online to set them up as you like. I've tried to source both, so you'll find a lot of diversity on this list.
Design & Styling
The overall aesthetic and design quality is also something I looked for while sourcing for this list. The idea was to inspire you while also providing products that you might want to get and style according to your space's needs. 
Antique White Kitchen Cabinet Finds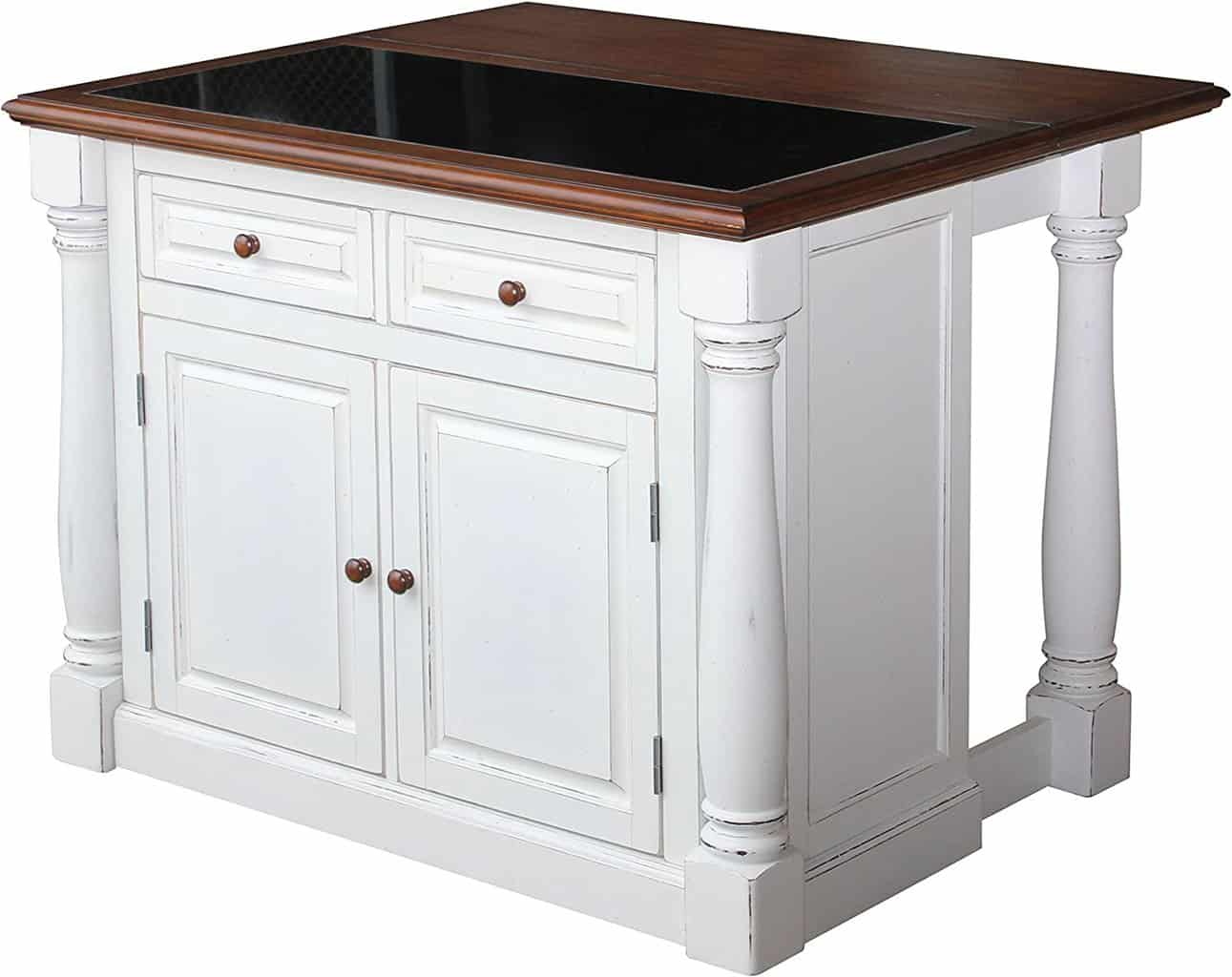 The first thing that comes to mind when you think about "antique" anything is classic features, and honestly, that's precisely what attracted me to this lovely white kitchen cabinet. I would say that it's more like an island, but that's precisely what makes it more versatile.
You can pair it with all types of retro white kitchens, and it would seamlessly fit in. I especially like the contrast of the wood top. It gives the whole design so much more visual charisma!
I confess instant adoration for this unique antique white kitchen cabinet. It immediately evoked that 90s nostalgia with its stylistic grill. I also love how the distressed white finish has been used to create visual layers. I think it would look even better with proper styling.
I suggest you top it off with vintage brass candelabras and old-school tiffany lamps. However, if you want a more casual, farmhouse-chic look, you can also opt for distressed picture frames and fresh white flowers in a jute-finished vase.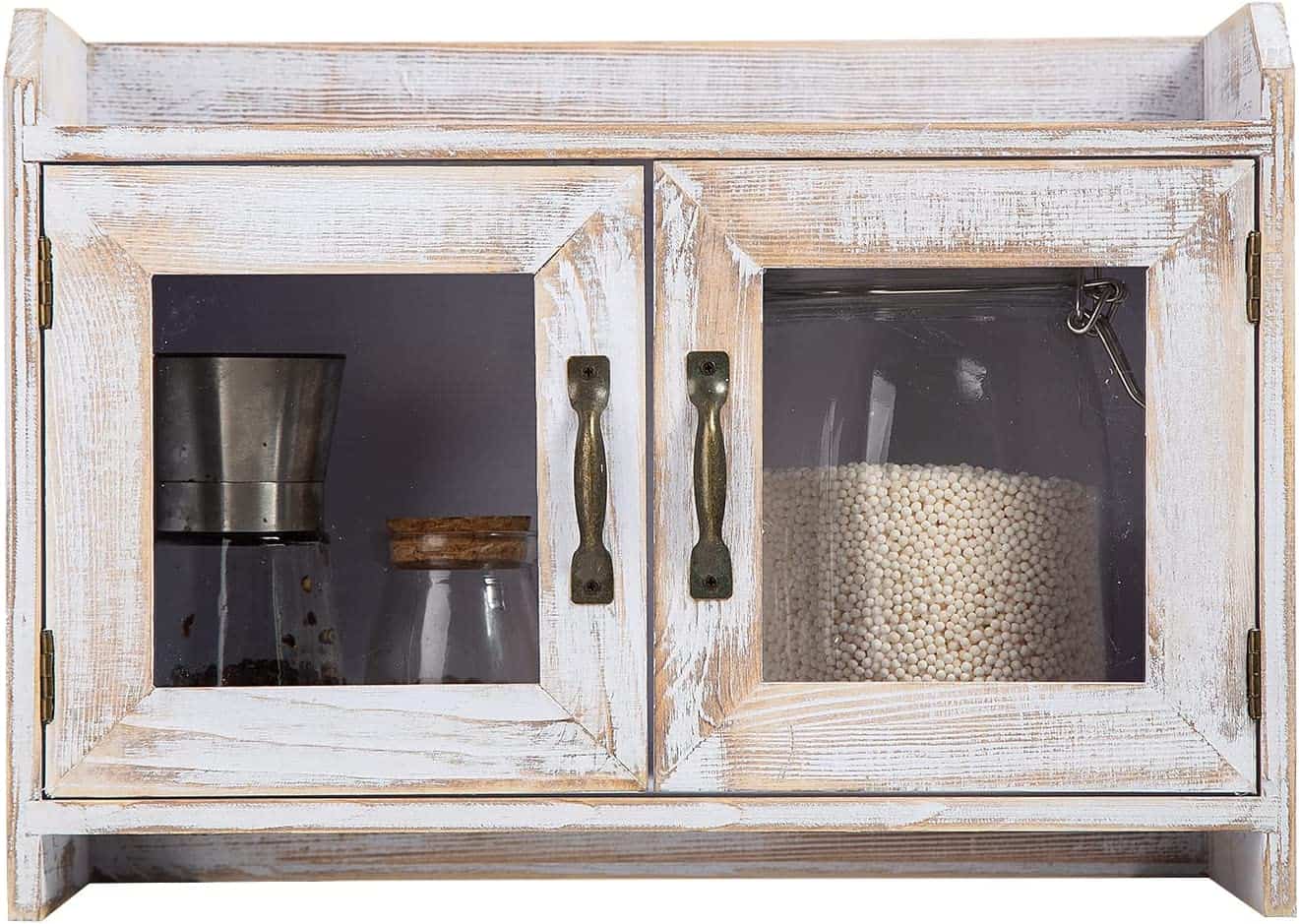 Smart and compact, I instantly picked this antique white cabinet for this list! I love its short-and-sweet design – nothing fussy or frou-frou about it. I also love that you can mount it on the wall; it would look amazing! However, you'll need to be careful with styling. Don't adorn it with anything new or shiny. Instead, opt for something vintage; even if you're storing spice bottles, go for jars that brim with vintage personality!
This gorgeous antique white kitchen embraces the warm shades of white and couples them with lovely stone accents for that perfect look.
I love the combination of glass panels and fully closed doors here. But best of all is the intricate classical detailing along the corners of the cabinets. I think it adds that extra oomph to the entire design and resonates with people who want a timeless look.
You'll love this antique white, moveable kitchen island if you're a fan of the 50s Americana aesthetic. Its cabinets are a typical shaker style, but the overall design exudes retro perfection. I adore all the subtle curves and lines that make this cabinet timeless.
To top it all off, the warm white finish gives the antique aura all the more authenticity. I recommend placing this island in a medium-sized kitchen, but you can also use it in a small one (granted, only if you place it against the wall and not in the middle).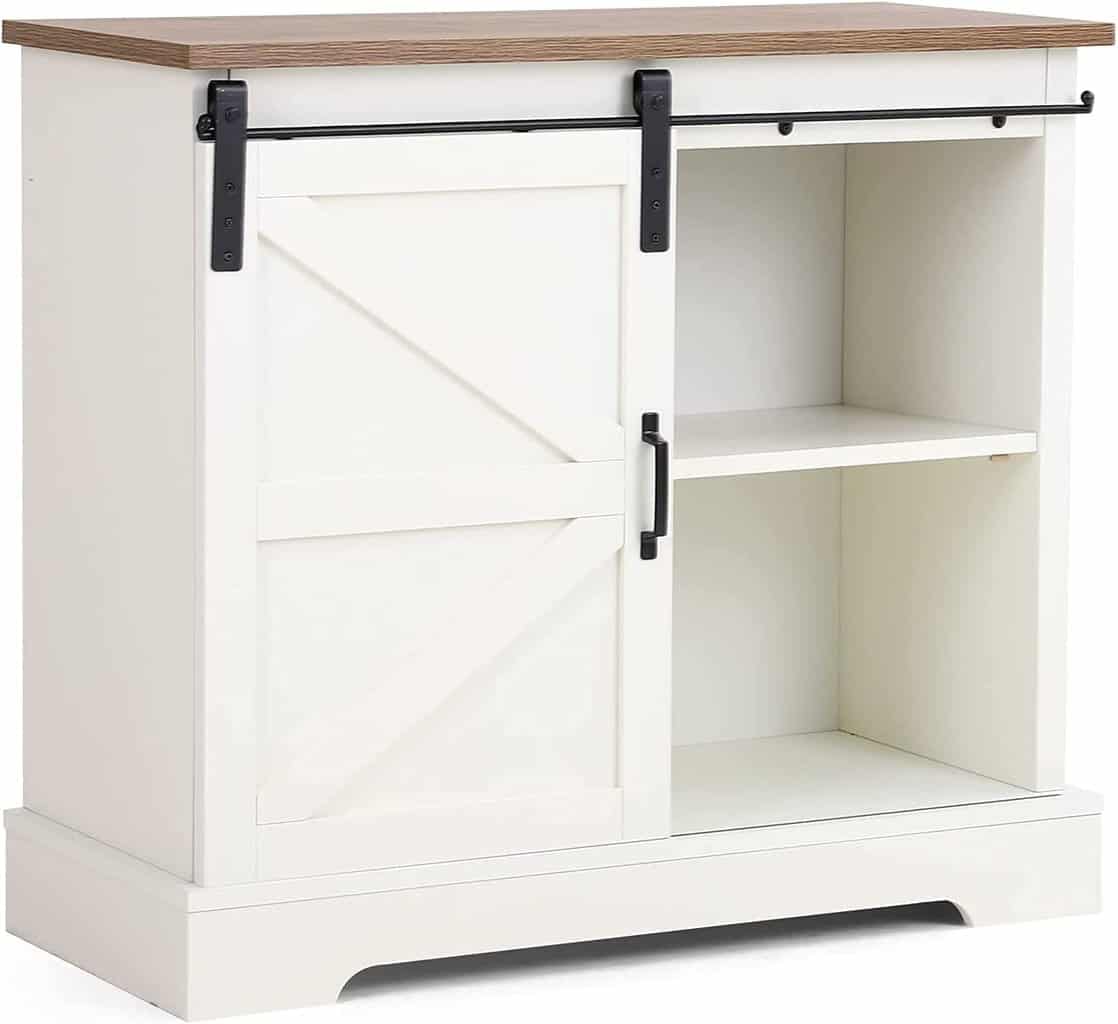 Okay, so if you have an empty wall or nook in your kitchen that requires a bit of furnishing, I urge you to pick something like this. This antique white kitchen cabinet has a sliding barn-door aesthetic and much styling potential. You can go all out and make it a coffee bar. You can also top it off with simple floating shelves and create a scene.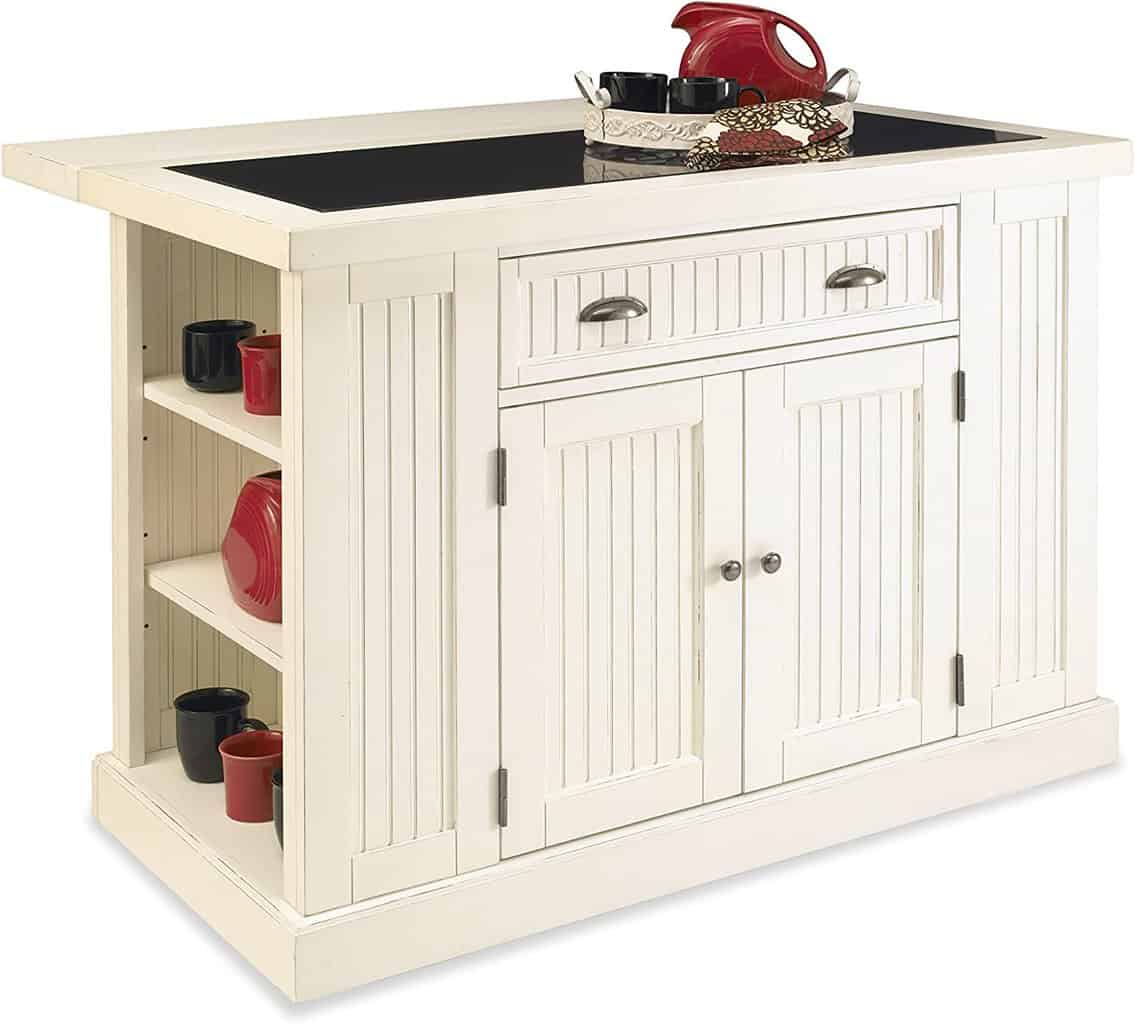 With its distressed white finish and gorgeous black countertop, this portable kitchen island is one of the best ideas (at least, in my opinion). I adore the classic design – just look at the fetters on the cabinet doors and how they emulate the whole thing with so much personality! Plus, I believe that the design accommodates convenience as well! The open shelves are just as super handy. 
Just one thing: I would advise you to embellish this counter with single-toned utensils. The black-and-white theme would feel very cluttered if you place colorful items on it, so stick to one hue. Try picking from primary colors – red, green, or yellow – for the best look.
 Antique isn't just a style – it's an entire state of mind! This is why I wanted to showcase this kitchen on this list. You can't have a whole antique white kitchen if you don't invest in the right accessories.
While the vintage look of everything in this kitchen is spot on, do you think it would have been the same had it not been for the floating shelves, the willfully cluttered utensils, and the retro artifacts that have been placed all over? Not at all!
Here's a gorgeous antique white kitchen with hints of modernism. The classic shaker-style cabinets featured here are total eye candy, but I love the addition of the vintage stove and modern hood!
It's such an uncanny combination that I've never seen before. This amalgam gives this particular kitchen all its personality, and anyone who's a fan of white spaces would love it!
So, warm white is the running theme for antique kitchens, and this one wears it beautifully. I like how the cabinets have been paired with a stone backsplash and wood floors. It creates an excellent layering effect that keeps the eye moving.
But the best part? It's the art Nouveau style accenting! The chairs around the kitchen island and the light fixtures have been deliberately selected to contrast the warm white ambiance with both color and shape contrast! Together with all three elements, the whole room feels visually eye-catching yet pulled together simultaneously.
Antique Rustic
I love the understated farmhouse chic accents of this kitchen and how they have been merged with the elegance of the antique white cabinets. Once again, this design is bursting with personality. Every element in the space brims with an old-school charm that resonates well with the "antique" theme. The best thing is that it's a very cozy interpretation, and you can also emulate it in smaller kitchens.
Rustic beams, industrial candelabra, contrasting bottom cabinets – what's not to love about this antique white kitchen? Honestly, I love the sheer diversity here. Everything brilliantly fuses together – from the colors to textures – to deliver wholesome aesthetics.
However, I suggest you articulate this particular look in an open floor layout. A closed kitchen would feel overwhelming and cluttered if you introduced so many elements.
Contemporary Charm
The antique look can be interpreted in many ways, and this white kitchen infuses it with contemporary charm. Honestly, there's too much to love here. I adore how the background has been articulated in modern whites with stone accents.
The antique part has been curated with the help of lovely brass additions. This includes the style of the cabinet hardware and especially the light fixtures, whose unique presence lends the entire kitchen so much character!
Fresh & Breezy
I love the refreshing look of this lovely white kitchen. It's so different from most of what's on this list. I was attracted to the minty green planks on the window wall, but then I looked at all the other small details that make up this kitchen, and I was sold. It just had to be on the list.
The stylistic shaker-style cabinet door leaves are super attractive, and I love how they pair so well with the subway tiles. The lemon-yellow accessorizing is also spot on – it creates a nice transition from green to white.
I love this antique white kitchen and its achromatic color scheme. It's the perfect blend of bold and understated. The cabinets are sleek, stylish, and vintage, while all the accessorizing is boldly industrial. I love the unique styling and how the accessories have been chosen to deliver an impactful and distinguished look.
FAQs
Question: What is the best color scheme to go with antique white kitchen cabinets?
Answer: Antique white cabinets exude a lot of warmth, so that's the color/material scheme you should pair them with. Try to opt for neutral colors. Natural-toned granite and smooth wood are great options. If you require dark accenting, try using black-colored industrial-style light fixtures. However, antique brass hardware is what I personally prefer and recommend.
Question: Why are antique white kitchen cabinets so timeless?
Answer: I think it's because they have this aura of invitation to them. Moreover, they're pretty simple and classy. A combination of these two aspects makes them timeless.
Question: Can I pair my antique white kitchen cabinets with an island?
Answer: Absolutely! Go for it! In fact, I'll let you in on a little designer secret: You can even alter the color of the island finish to emulate some contrast within the space. However, don't opt for something too dark. Stick to bright, breezy colors for the best impact.
Question: What types of flooring go well with antique white cabinets?
Answer: Hmm. This is tough, but I urge you to use wooden flooring for the best contrast. You can also opt for matt-finished porcelain tiles, which make the ambiance feel rather cool, while wood makes it warm.
Antique White Kitchen Cabinet Finds: Conclusion
So, as you can see, antique white cabinets are a whole sub-genre of white kitchens with so much diversity to offer. I hope this list becomes your inspiration board as you search for your ideal aesthetic.
As for my personal favorite, it's definitely Black, White, and Retro. It's absolutely stylish, offers the best contrast, and has so much styling potential. If not as a kitchen island, I recommend using this one as a sideboard in your dining areas!
Read More: