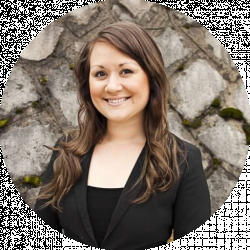 Latest posts by Lacey Jackson
(see all)
My family owns a home remodeling business, and I have personally seen dozens of kitchen remodels using white cabinets with just a splash of bright color or the contrast of dark grey or black.
I love sparkling white kitchens. Even if you don't have a lot of natural light, using white kitchen cabinets can trick you into believing you do. With white kitchen cabinets, you also have so much more flexibility when it comes to modest design changes for cabinet doors, hardware, and countertops.
Bottomline Upfront
Out of all the best white kitchen cabinet ideas I've seen over the years, I love the idea of integrating pet food bowls into your kitchen by modifying the base of your cabinets. Equally impressive is having a butcher block or wooden cutting board as your countertop in a designated space, usually on a kitchen island. Make sure that the island has wheels, and you can move it anywhere you need.
Finally, my third favorite white kitchen cabinet idea is to create a small workspace where you can charge phones, have some sort of countertop where keys and purses can rest, and a cork board against the wall where notes can be left.
Pet Bowls
Growing up, we always had a lot of pets, and even when they had designated racks to hold the food and water bowls, dogs would push those bowls and their racks across the floor as soon as they started eating. 
Since most people feed their animals in the kitchen or give them treats on the floor, I think the best white kitchen cabinet idea is to build a designated space for your pets if you have them.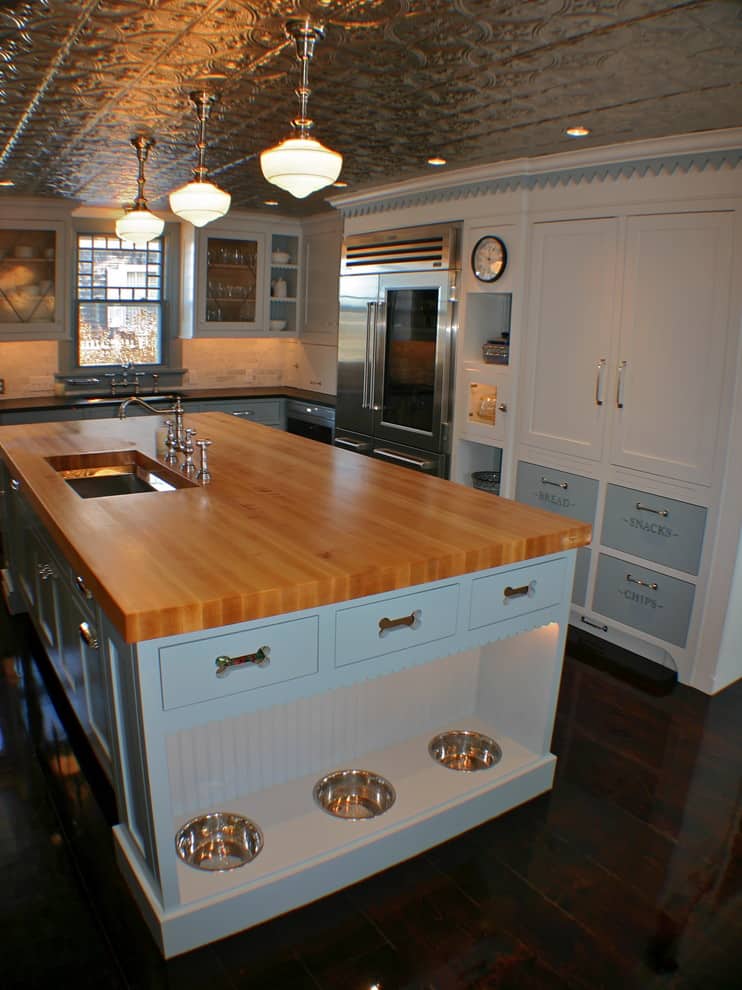 If I don't put the dogs outside or house them in their kennels while I'm cooking, they are constantly underfoot. We had a shelf where we put large containers of dog treats so I could just grab a treat and throw it in the other direction.
But if you have the means, I love the idea of adding a wooden extension to the base of your white kitchen cabinets. You can easily buy a plain piece of plywood, paint it white, and cut circular holes wide enough for your pet food and water bowls to rest. 
Make sure that where you install it, you have baseboards cut from the same section of wood tall enough that the food and water bowl barely skim the kitchen floor's surface.
Tip
Have a large shelf where you can store bulk food bags. Use smaller pull-out cabinets nearby to hold treats, dog supplies, leashes, and medicine. This will make it easier to scoop food from the cabinet, put it directly into the food bowls and, of course, use any kitchen sink to fill up their water bowls.
Oversized Larder
Last year I visited a friend who loves to bake. That's how she shows love. So her kitchen is her happiest workspace and where she spends the most amount of time.
Aside from the traditional L-shaped countertops and kitchen cabinets with the sink, oven, and dishwasher, she installed an oversized larder against the opposite wall, similar to the Inval America Large Kitchen Larder.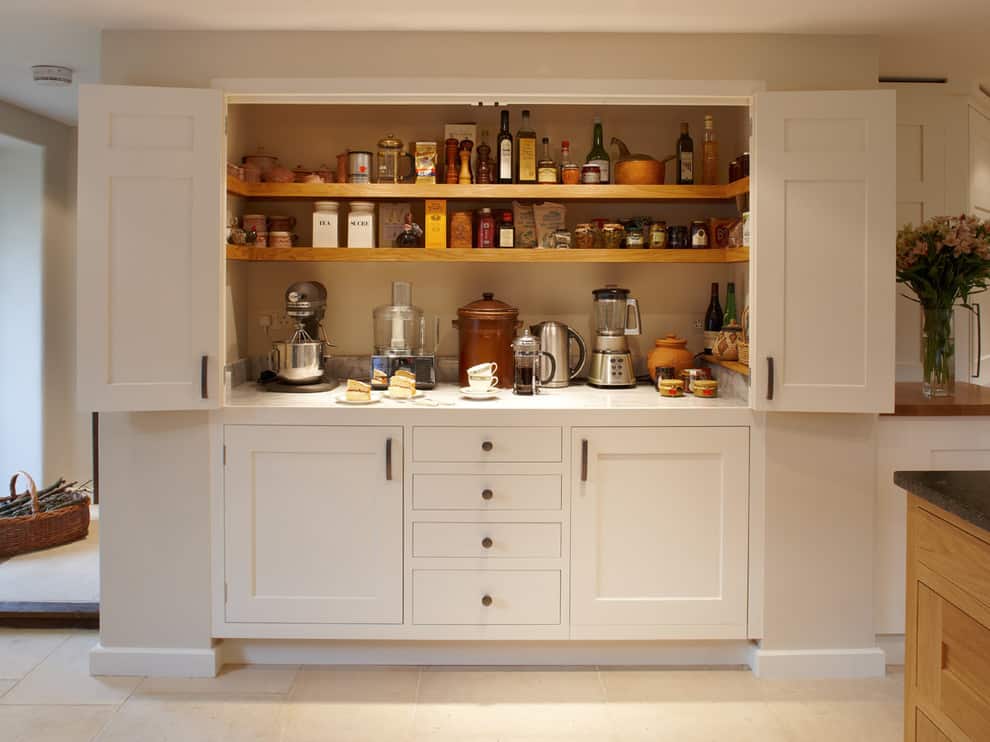 Her cupboard looks almost exactly like the cupboard in the picture above. It didn't have the bi-fold doors, but it had a set of shutter doors that opened to reveal a countertop workspace where she had all her stainless steel appliances. That countertop could have been an advertisement for KitchenAid.
She also had the same layout of drawers and doors on the bottom where she stored all of her bulk baking dry goods and all of her fun baking decorations and accessories.
Tip
Build this as a recessed larder into your home if you can. This is easier said than done if you aren't currently planning a remodel or building your house from scratch but building it into the wall will help you utilize a lot of extra space and give your kitchen a sleek appearance.
Kitchen Cabinet on Wheels
For Christmas one year, we built oversized Butcher Block cutting boards. We got tired of having to find a towel to go underneath the bamboo cutting boards we already had to prevent them from sliding across the counter.
I highly recommend creating a dedicated countertop that serves as your cutting board if you can. What's more, one of the best white cabinet ideas I've ever seen was something my family did; they installed the Butcher Block cutting board on top of a kitchen cabinet they had wheels.
The wheels meant they could push their kitchen cabinet around like an island and move it out of the way, but they could also lock the wheels in place when they needed to cut something. Things like the Belmont White Kitchen Island or the Glenville White Kitchen Cart work really well for this. 
Tip
Make one of your pull-out drawers a trash can. If you can, cut a hole in the cutting board countertop directly above that particular pull-out drawer so that as you are chopping, you can slide things directly into the hole.
Glass Windows
If you are going to install wall-mounted white kitchen cabinets and you happen to have kitchen windows, the best white kitchen cabinet idea involves glass doors on your cabinets like the Sunny Wood Cabinets.
Why?
If you can install the cabinets to be close to the height of your kitchen windows and you have glass doors that mimic the window panes, it can create a seamless trick of light that wraps around the top half of your kitchen. Even though some of the cabinets are not windows, they will certainly feel like it, opening up the space and giving it more light.
You can easily recreate this idea on a budget by investing in the Veikous white storage pantry with adjustable shelves. It has two cabinets on top with glass doors that create a simple, more affordable version of what you see in the image below.
The best part? You can use this cabinet to fill in an empty section in your kitchen, making more storage where previously there wasn't. That same company offers similar White Kitchen Storage Pantry options to fit all sizes.
In the picture above, I love how the cabinet doors, which are on the same plane as the windows, feature glass doors that mimic the window panes. It makes it seem like there are windows that wrap around the entire kitchen.
Workspace in Your Kitchen
No matter how beautiful or elegant my living room is or how much I try to lead people into the dining room when a meal is ready, everyone always ends up huddled around the kitchen. The kitchen is just the center point of every interaction or social engagement, no matter how hard I try.
The kitchen is also where we loiter in the morning when getting ready for work, where we linger, and ketchup as dinner is being prepared after work. So I love the idea of incorporating a small workspace into the white kitchen cabinets. 
This is definitely one of the best white kitchen cabinet ideas because you can build in the cork board backing above a set of white cabinets to pin:
notes you need to leave for other family members,

tickets for upcoming events,

or important takeout menus.
In the image below, you can see that they created a combination of cabinets with drawers and doors, on top of which is a black countertop with a smattering of cabinets that go up either side and across the top.
It doesn't have to be this complicated for you to recreate the same idea in your home. You can easily have a set of Hart white kitchen cabinets and a tall drawer to store an iron and ironing board, with a framed cork board hanging on the wall overhead.
In our house, there's one outlet near the end of the kitchen countertop, where we invariably rest tools that need to charge, phones, massage guns, or anything else. But then, when it comes time to cook, I have to move all that onto the floor. 
To improve the storage you already have, consider incorporating this Farmhouse Kitchen Pantry.
Tip
So don't forget the outlet above the kitchen cabinet; that's easily the most important part. Having the small outlet built into the cabinet makes it easy to recharge phones out of the way of the main kitchen workspace.
Tall Cabinet Organizer
If you are particularly crafty, you can construct a set of white kitchen cabinets that run the length of a wall or act as a cap around where two walls join. There are often configurations that allow you to have tall, thin pull-out drawers. You can build the space and the cabinet door and then get an Adjustable Tiered Cabinet Organizer. 
This is precisely the type of layout my father-in-law built after remodeling their kitchen. It was actually so difficult that he swears to this day he will never build another kitchen, but all the cabinets were custom designed to fit the space so that no ounce of that kitchen went to waste. They used a lot of these tall cabinet organizers to store bottles of sauces and seasonings.
You can easily replicate the somewhat complicated layout featured in the image below with more affordable Hampton Bay Cambridge White Pantry Cabinets.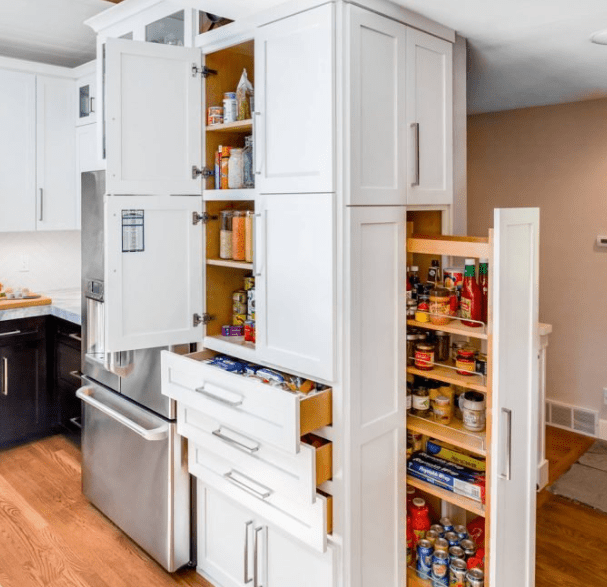 Tip
Buy some generic LED light strips meant for cabinets and install them along the top of your tall cabinet or along the vertical panel of the cabinet organizer. This will make it easy to see the labels very clearly, even for items that are all the way in the back. 
Make Your Own Pantry
You can make a lot of storage even in a small space. Many people take advantage of a walk-in pantry lined with shelves to store dry goods. But not every kitchen has a walk-in pantry.

So, one of the best white kitchen cabinet ideas is to buy a standalone Storage Pantry Cabinet. I love this particular model because it's just tall enough that everyone can reach all of the shelves, and the doors open outward to reveal spice racks built into the sides and deep storage shelves in front.
You can also invest in the Newport Plywood Shaker Pantry.
This model adds oodles of storage in the form of pull-out drawers with white cabinet doors that mask any of the food stored inside. It is equally easy to stack cups, plates, or coffee pots inside.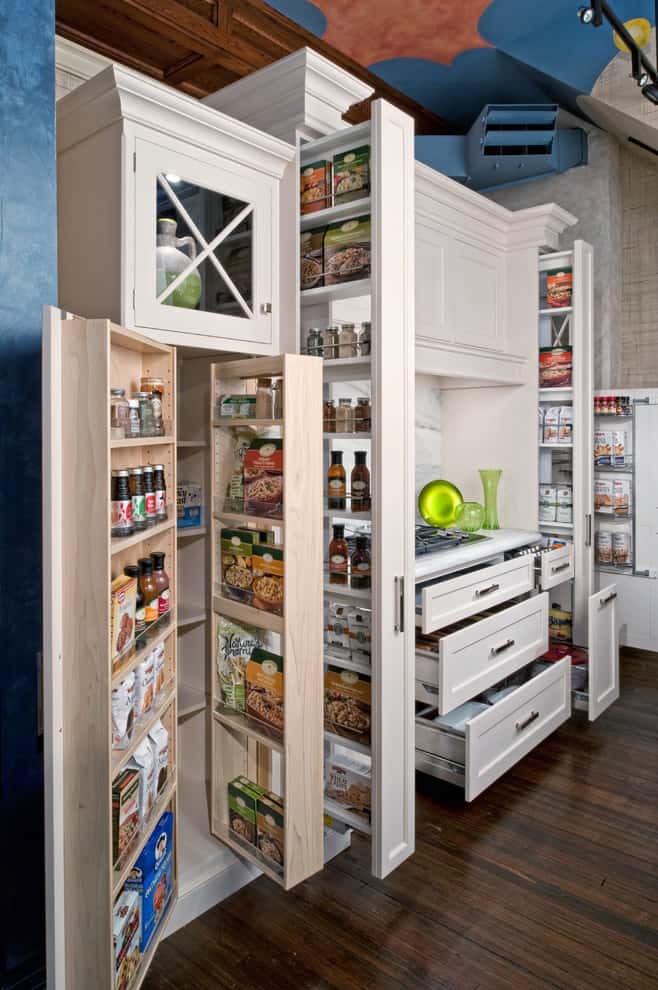 Tip
Combine this type of storage pantry with a tall cabinet organizer to maximize your space. Don't be afraid to frame a basic set of kitchen cabinets or an oven with a pair of stand-up pantries and tall cabinet organizers.
Scent and Color
We always have herbs growing indoors, usually along the window pane of our kitchen. But it gets far too hot in the summer to support this; the sun coming in through that kitchen window burns the leaves almost immediately.
But I didn't want to give up the delicious smell they add to the air or the verdant splash, so we built shelves on one of our kitchen walls on which to grow herbs. The shelves are located directly above our white kitchen cabinets, so they juxtapose the color of the cabinets nicely. You can easily buy a set of open-wall kitchen cabinet shelves too.
I dream of growing ivy so well that it grows up one wall and across the ceiling (vining over a metal wire strung across the walls/ceiling, not sticking directly to the wall, just to be clear). I think it would make my kitchen look like a beautiful English Forest, although I have had very little luck so far.
Still, that doesn't stop me from trying.
Even if you can't add an herb garden along shelves over your cabinets, there are so many options here like:
Potted plants

Hydroponics

Wall-mounted garden bags
In all of these cases, you can make it so much easier to grab a handful of fresh herbs while cooking.
Make a Bar
I feel like any living space can be improved when you make a dedicated bar area. Whether it serves as a standalone kitchen cabinet, something you put on the threshold between the kitchen and the dining room or seamlessly lines up with your other cabinets, white cabinets can easily be converted into a bar.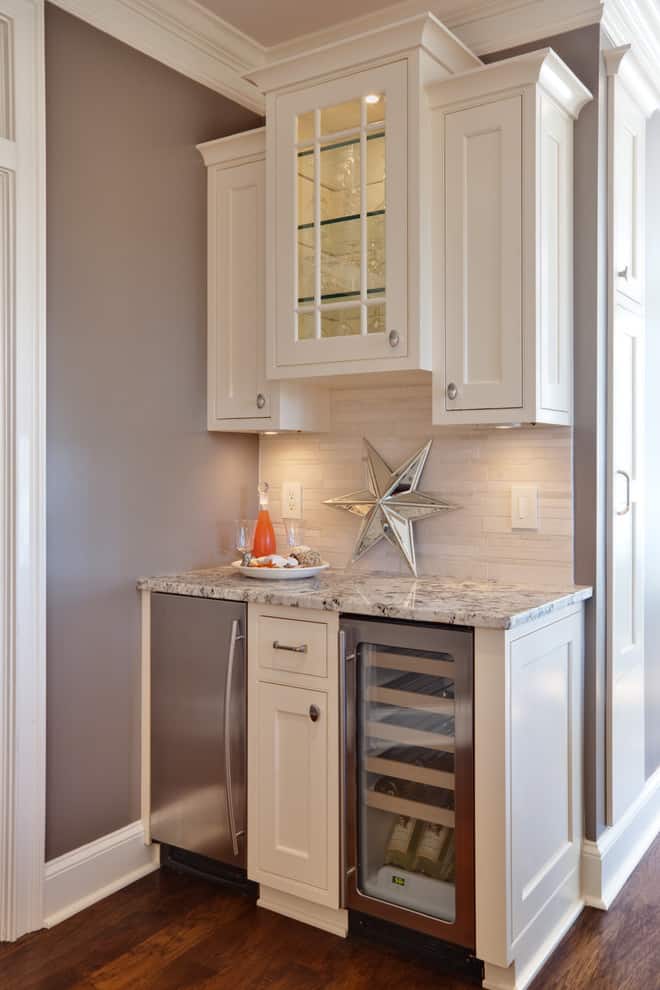 I love the idea of white kitchen cabinets juxtaposed with a stainless steel wine fridge and mini fridge (we have both, and they rock). You can easily find basic white wall-mounted kitchen cabinets to go over your appliances. 
Hampton Bay has base cabinets and wall-mounted cabinets you can buy separately and install where you want to create a similar layout.
Tip 

Add lighting to the bottom of your wall-mounted cabinet so you can easily light up a granite countertop on which to prepare drinks. If you have both a wine fridge and a mini fridge, sandwich them on either side of a set of three drawers.
Frosted Glass on Shaker Cabinets
I love the idea of frosted glass windows on top of your kitchen cabinets, especially for shaker cabinets. The Lancaster shake kitchen cabinet comes with lots of dimensions and shapes, making it easy for you to create the puzzle-piece kitchen cabinet design that best fits your space.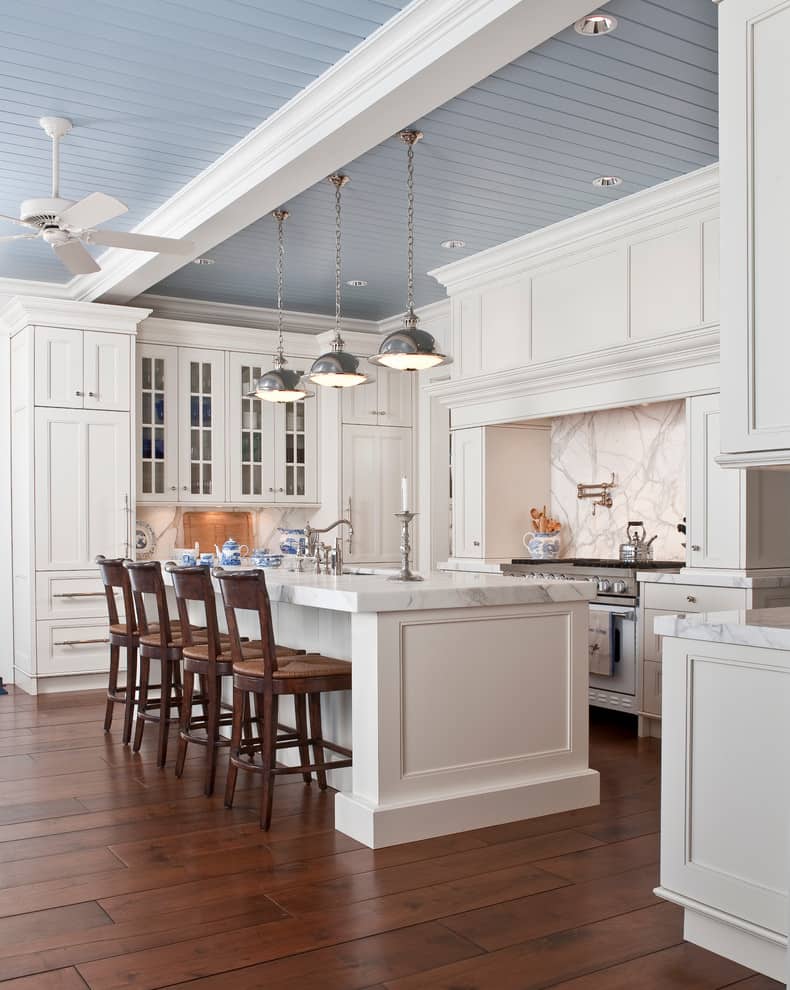 Tip
Combines the white kitchen cabinets with gold hardware. Then add an island or install a white and grey marble countertop on top of the cabinets themselves. 
Add Filing Storage
I have a few drawers in my kitchen cabinet dedicated to baking. They contain all the accessories I need for baking, just as we have separate drawers and cabinets for grilling. However, my baking cabinet quickly overflowed with pages of printed recipes.
So I recommend integrating filing storage as part of your kitchen cabinets solution if you regularly print recipes that you want to have on hand or if you have lots of cookbooks that you collect. You don't necessarily have to custom-build panels for that; you can integrate a vertical filing cabinet into your kitchen design. 
I love the idea of making one side panel in your kitchen cabinet open to a set of filing slots. Again, this is something you can easily replicate with Hampton Bay has base cabinets and wall-mounted cabinets to best fit your space.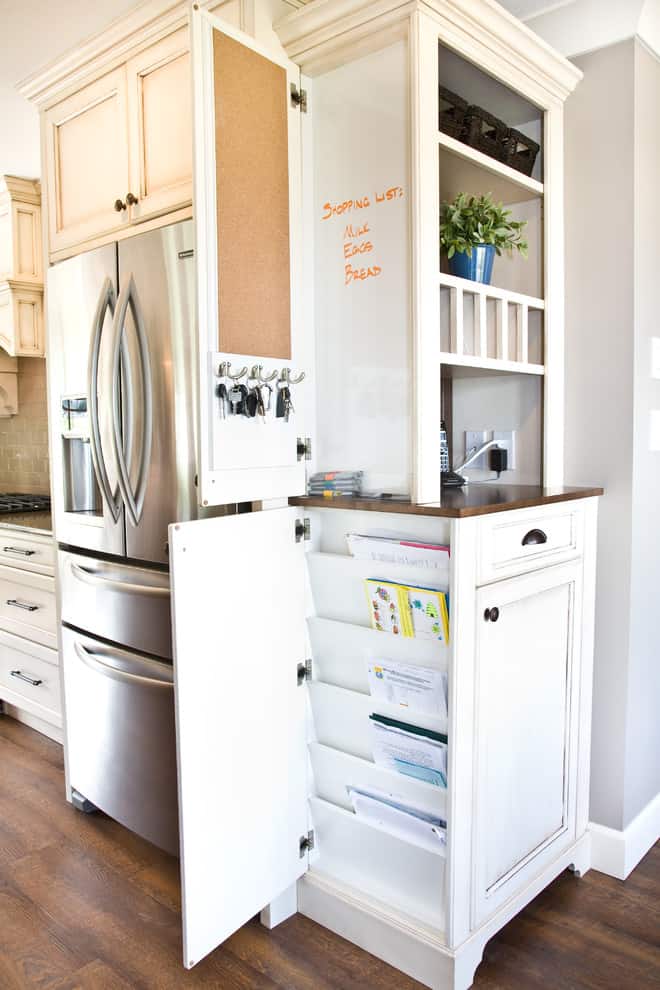 Tip
These white cabinets and the recessed panel cabinets are juxtaposed beautifully by wood countertops and brushed chrome hardware.
White on Wood
Just because the exterior of your cabinets is white doesn't mean the interior has to be. I love the idea of mixing natural dark wood with white cabinets, especially when you have wood countertops, cutting boards, and hardware to match.
You can easily mix interior wooden storage shelves, spice racks, and pull-out drawers with traditional white kitchen cabinets like the Newhaven Kitchen Pantry. 
Install Interior Lid Racks
Nothing upsets my partner more than trying to grab one thing and ending up like an infomercial, cowering in fear as dishware comes tumbling down. But it seems like no matter how hard we try (or, in my case, sort of try), the lids to pots and pans never stay stacked from largest to smallest. 
So, if you are going to use your kitchen cabinets for storage, install pot lid wire racks on the inside of the doors to hold your lids.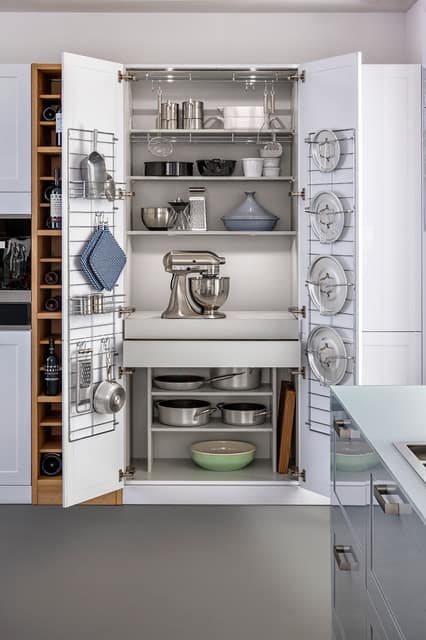 This is a classic, timeless look that prevents the soon-to-be-landslide-of-infomercial-proportions. It also helps you align your lids with the corresponding pots by placing them at the same height as the shelves on which the pots rest.
FAQs
Question: Do white kitchen cabinets turn yellow over time?
Answer: Yes, white kitchen cabinets can turn yellow over time if they aren't properly maintained, especially if they are exposed to a lot of bright sunlight. But it's not a given.

You can protect your white cabinets by preventing direct sunlight, especially in the late afternoon, by drawing the shades or closing the windows. 

Regularly cleaning your cabinets is important because you might not realize it, but every time you cook, tiny bits of grease are sent through the air, and these grease particles land just about everywhere, including your cabinets. Over time the buildup of grease particles can turn your white cabinets yellow.

I recommend keeping some handy cleaning wipes inside your kitchen cabinets so that you can use them or a natural cleaning spray on a daily basis. To be clear, this problem associated with grease flying through your kitchen will happen no matter what type of cabinet you have. Realistically, you should be cleaning your cabinets regularly, so don't let the thought of extra maintenance distract you from the best white cabinet ideas. 
Question: Do white cabinets scratch easily?
Answer: Painted white cabinets will generally show scratches, discoloration, or cracks more visibly than other wood. However, you can easily maintain them by having the same white paint on hand to fill in any scratches.
Question: Are white kitchen cabinets difficult to maintain?
Answer: White doesn't disguise stains or smudges like black cabinets or brown cabinets, so you will have to clean more often, especially after preparing food, if you want to get rid of how dirty it looks. But, this just means you should be wiping down your counters before and after regular use, which you should do anyway. 
Question: Is white a good choice for kitchen cabinets?
Answer: White is an excellent choice. I love that you can mix so many other things with white cabinets to generate stark contrast, especially things like metallic Hardware or brightly colored herbs. However, there are many different shades of white from which to choose, so be sure to pick something that doesn't overwhelm you with its brightness.
Best White Kitchen Cabinet Ideas: Bottom Line 
Out of all the best white kitchen cabinet ideas I've seen over the years, I love the idea of building a section for pet food bowls in your kitchen because pets are part of the family.
There is so much you can do with white cabinets, so it makes sense to have an island on wheels with a cutting board for the countertop and a hole in that cutting board where you can easily toss your cutting into the trash can below.
And of course, don't forget to add a small resting place where people can put their phones to charge, leave notes for one another, or sick those random things down they need to take to work while they grab a cup of coffee in their tumbler. 
Read More: