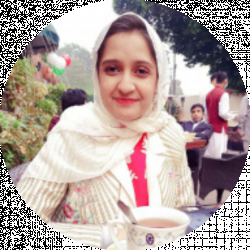 Latest posts by Zunaira Ghazal
(see all)
Imagine this: you've got a cabinet full of heavy glassware and expensive porcelain plates. Suddenly, the backboard shudders. You look around, alarmed. The moment you figure out it is the cabinet, it detaches from the wall and falls.
That happens when you use the wrong type of screws to fasten your cabinets to the wall. As an interior designer, I see very few people discussing the technical side of kitchen cabinets – especially the installation part. 
Even when hiring professionals to do the heavy lifting, educating yourself in all aspects of the design when you want to take charge is essential. I've seen many carpenters put up kitchen cabinets with simple drywall screws, not knowing that the specifications require a different type of screw.
Therefore, I wanted to write a piece where I could tell my audience about all the different types of cabinet screws and which one they should use for what purpose. Let's take a look: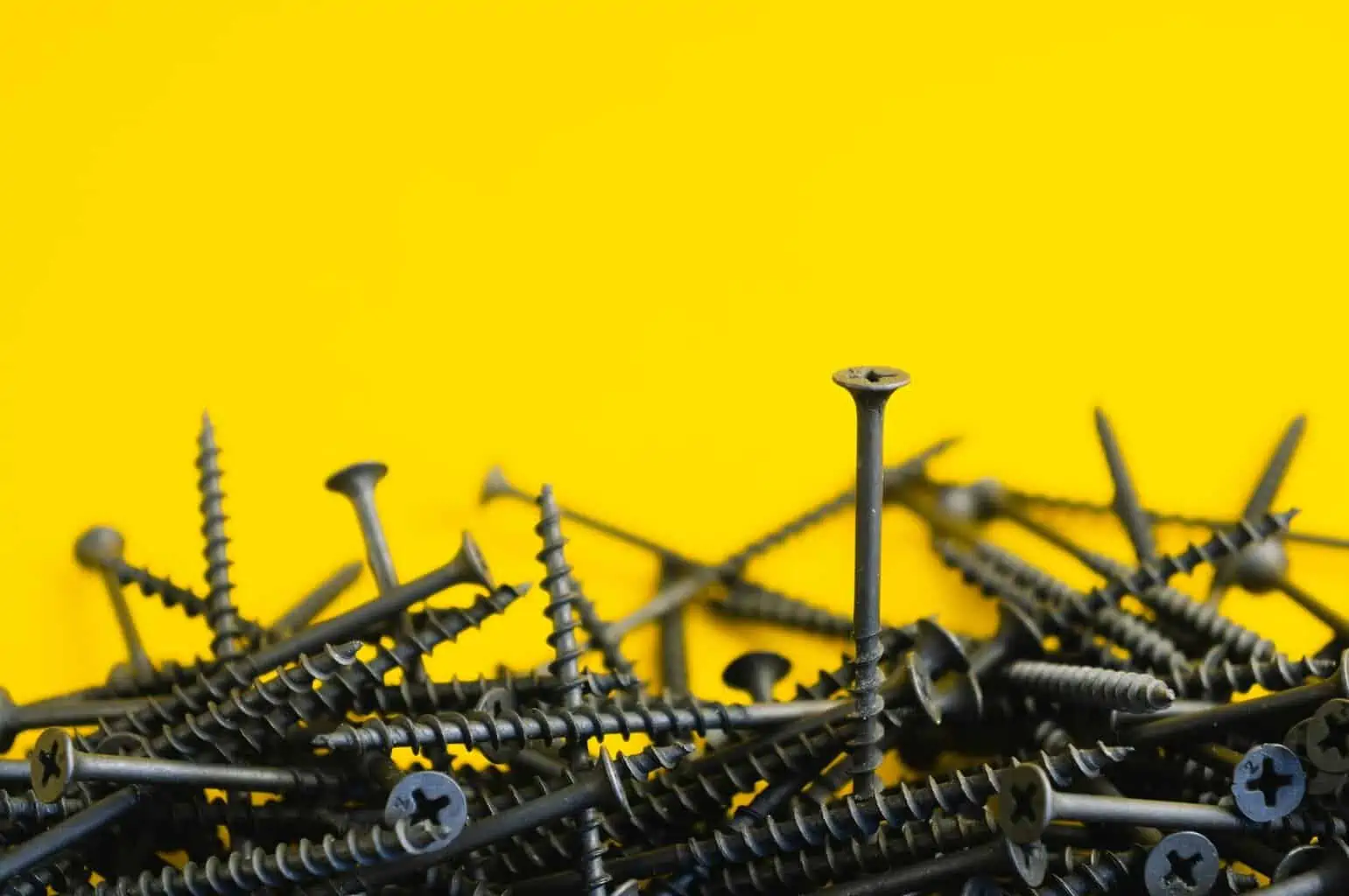 Bottom Line Up Front
Many professionals have unwittingly made the drywall screw a universal fastener, and I'm here to tell you that that's not the case! These screws are okay for putting on lighter shelves (e.g., single-slat floating shelves) to the wall, but using them to fasten heavy-duty kitchen cabinets is a huge NO.
In retrospect, so many different cabinet screws are out there, and most of them are perfect for putting up fully-loaded cabinets to the wall. This list is about educating you guys on which to choose for yourself. My favorite from this list is the GRK CAB8212B Cabinet Bulk 8 by 2-1/2-Inch Screws because of their excellent thin-meets-sturdy design and how they don't split the wood when being installed.
Types of Cabinet Screws
Following are the different types of cabinet screws that you'll find in the market:
Cabinet-to-wall:

 As the name suggests, these screws are used to attach the back of the cabinet to the drywall. They are usually long (3"-3.5" in length) and tend to boast an up mark of sheer and tensile strength.

Cabinet-to-Cabinet:

 These screws are used to attach two cabinets together. The process consists of making a pilot hole in only ONE of the cabinet sides to avoid loose ends when joining them together. Washer head screws are considered the best ones for this job.

Machine screws:

 These are the types of screws that are used for drawers and pulls. They come in different sizes, and you should consult your local carpenter before buying ones particularly suited for your job.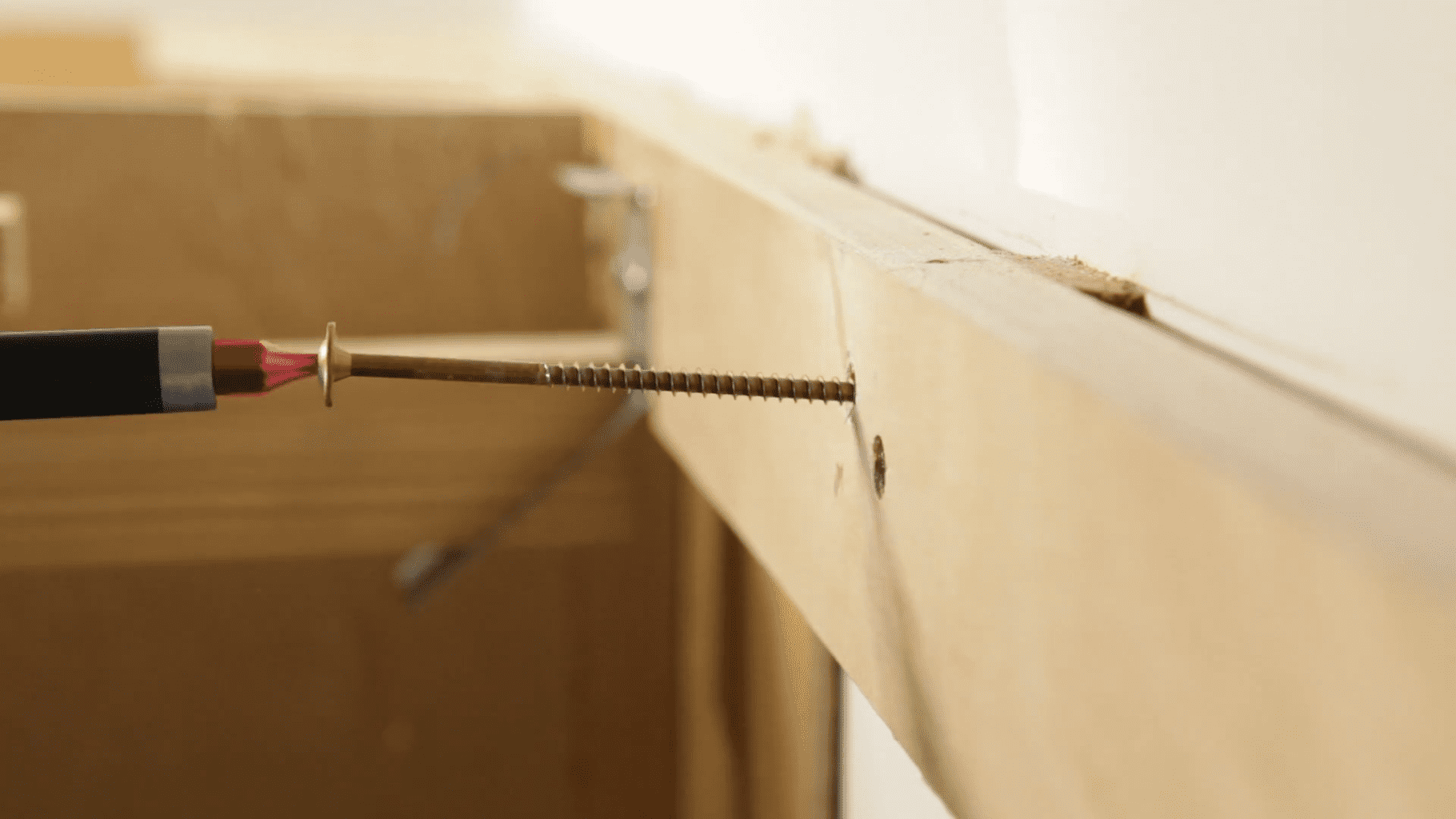 Top Picks
Here are my top picks from this list:
GRK CAB8212B Cabinet Bulk 8 by 2-1/2-Inch Screws
I like this one the best of the two GRK products listed here. It has a perfect length for securing it to the wall and is the ideal combo of thin and sturdy so as not to break while drilling it in.
Round Washer (Modified Truss) Head Screw
I like how this one has been strength-tested from all angles. It's also got some pretty great online reviews, and I particularly like the antique finish – it's rather perfect for 
Selection Criteria
Here are all the things that were running through my mind while curating this list:
Variety in Cabinet Screws

Fine grain vs. Coarse grain

Head Type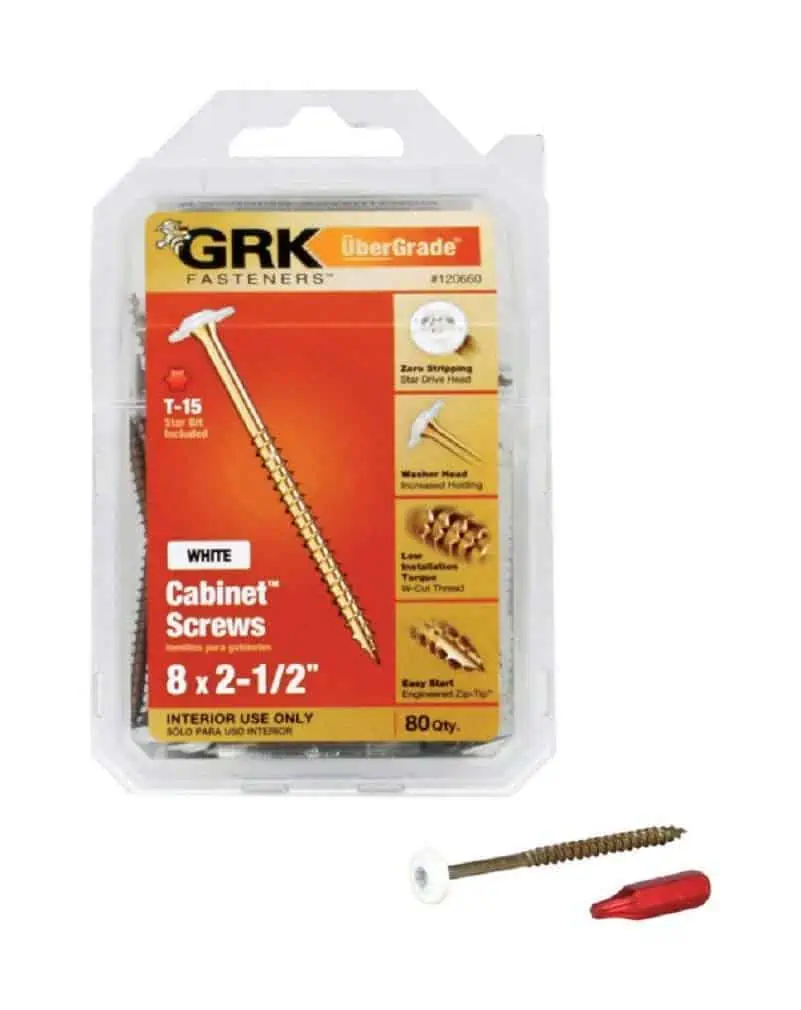 Made of alloy steel, this two-and-a-half-inch screw is specially designed for fastening heavy cabinets to the wall. It's not just hardy but also long enough (because having an adequate length is essential when attaching something so heavy to a vertical surface like a wall).
They have a washer-style head, and what I appreciate the most about the design is that the head is flat – meaning it stands flush against the walls when you've installed it.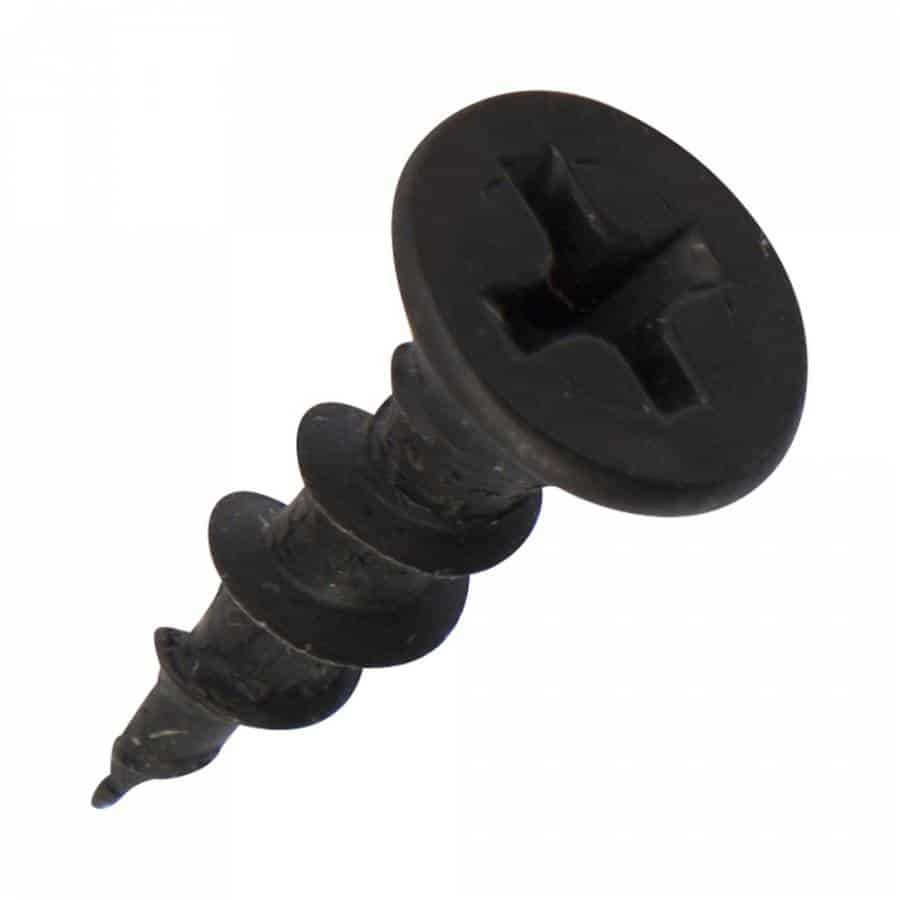 Okay, so this one called out to the designer in me. I've had multiple projects where I've struggled with finding the kind of cabinet screw that would be technically accurate while complementing the cabinet's color.
This is mainly designed for fastening cabinets to the wall and is also available in two sizes (#6 x 1/2″ and #8 x 5/8″). Moreover, its dark color is perfect for blending with bold cabinet colors like navy blue, juniper green, etc. I also recommend you use this if you're refinishing or revamping recycled or old cabinets.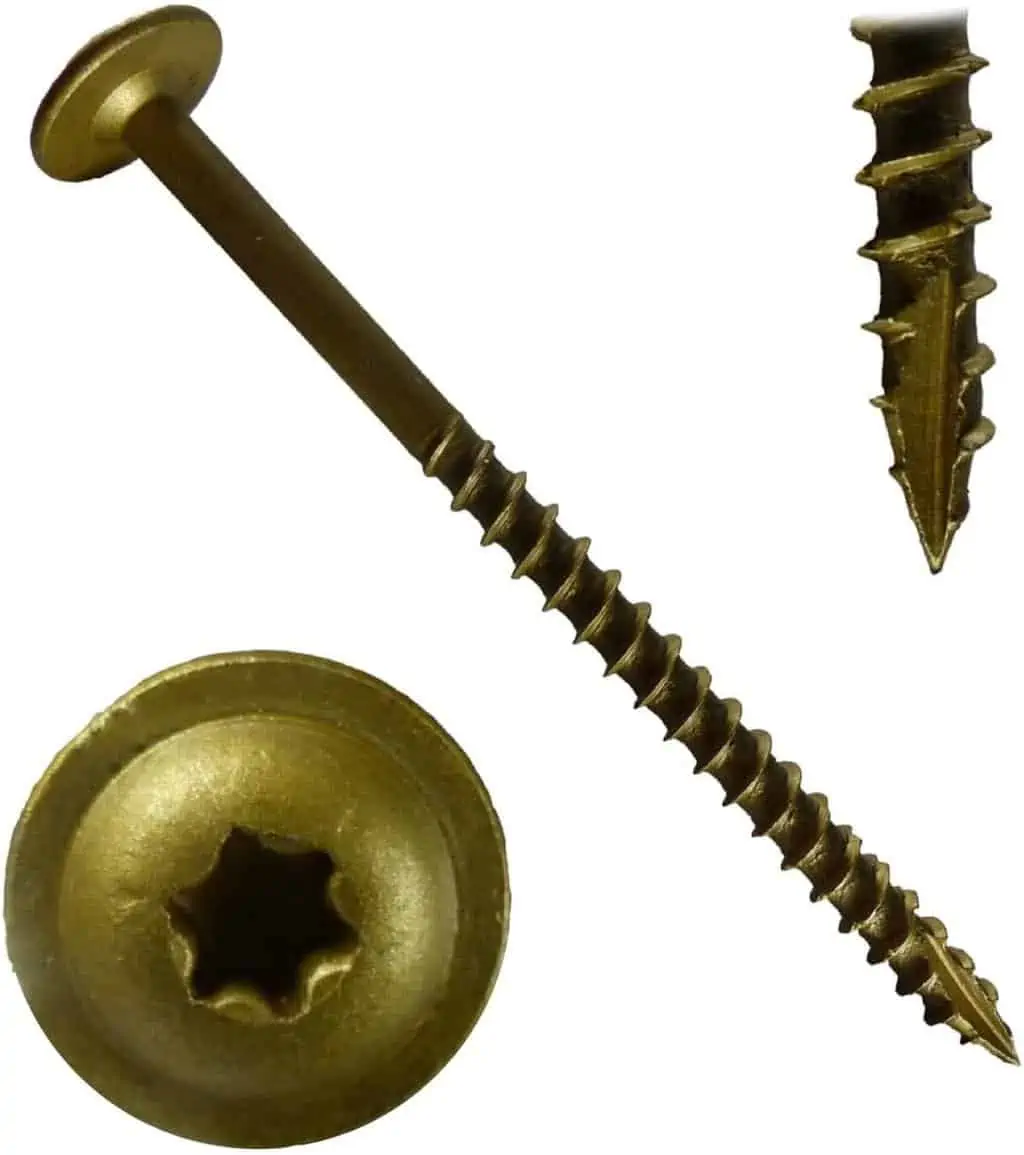 This one is a bit pricier, but it's worth considering. It has a Torx-style drive system and what I like about them is that they've been strength-tested to ensure that they would hold fast to the cabinet even during duress. Now, talking about strength, these screws have been made with heat-treated steel before being coated in ceramic, so they have AMAZING compression, shear, and tensile strength.
Design-wise, I like their antique finish. So if you want to emulate a bit of contrast in your kitchen cabinetry or match them with a specific style of hardware (especially copper or brass), then I suggest you go with these.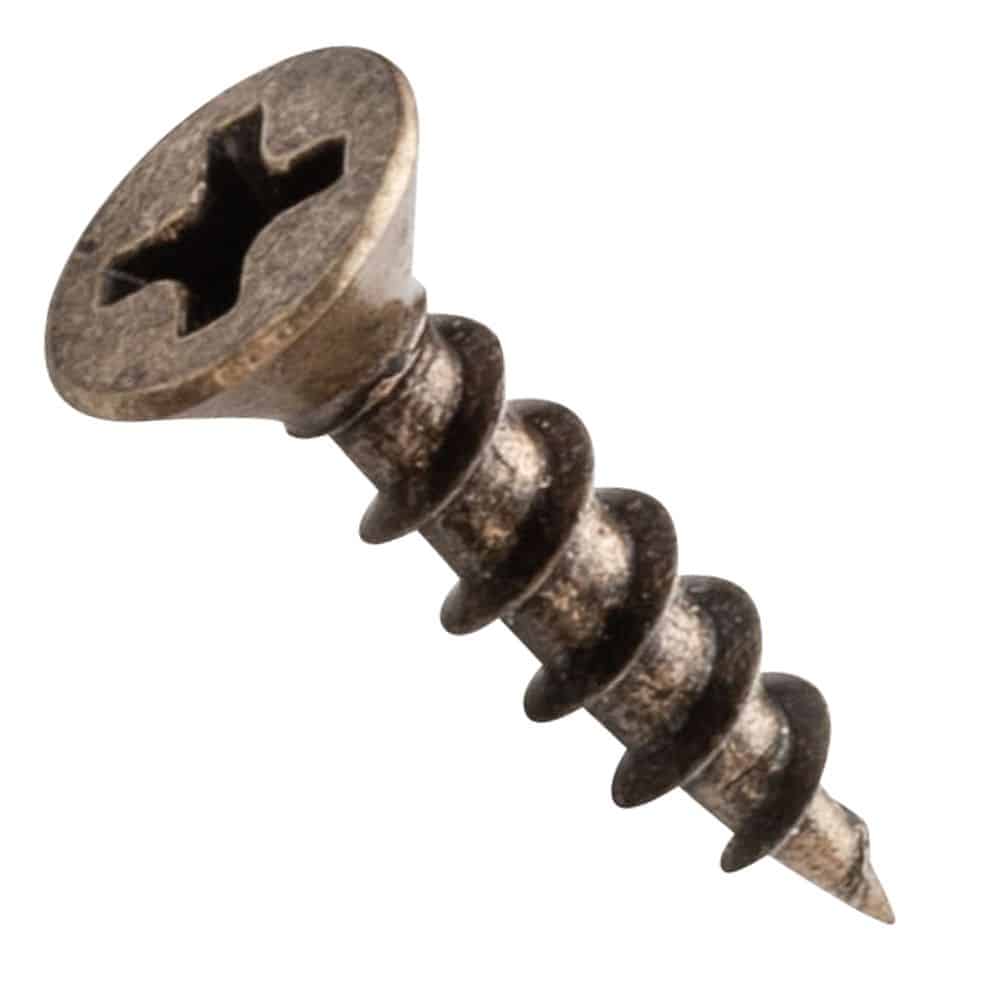 If you're considering installing sliding drawers within your cabinets, this screw is your best and most reliable bet. It's great for woodworking and ensures fast starting thanks to its sharp points and stout shanks. The fine-grained body provides a great hold on both wood as well as composite materials like particleboard or MDF. I also appreciate how the plated steel ensures extra sturdiness.
Besides all the technical specifications, I also appreciate the antique finish. I'm a particular fan of vintage cabinet hardware, and shiny new finishes like stainless steel just don't cut it when you're using those. So these really come in handy when I'm trying to match a particularly antiquated finish.
So, drywall screws fail, particularly when you're fastening super heavy solid wood cabinets to the wall. Hence, if you're struggling with finding the best one for concrete walls and wood-to-wood attachment, this is my recommendation.
I say this because it has a long body, which means it can firmly wedge itself into the wall without fear of disconnecting. I also like the fact that it has a square-shaped driver head, which according to professionals, is better than a typical Phillips head as they seldom tend to fall out.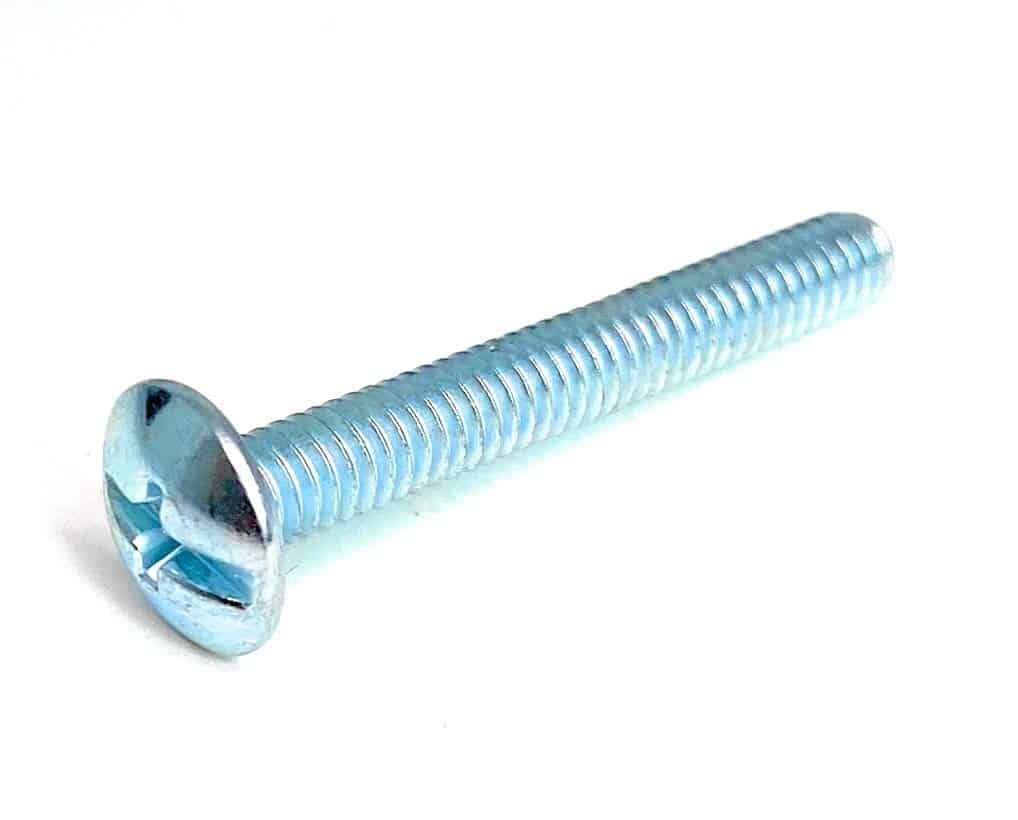 We've looked at wall-to-wall, hardware, and cabinet-to-cabinet screws so far, so it's high time we look at some hardware-to-cabinet ones. I chose this one because its sturdy construction really impressed me. The zinc-plated steel body ensures that your hardware (pulls, knobs, handles, etc.) is screwed in for good.
The drive system and head are also good, and there's a huge variety in sizes here, so you can pick the girth or length that complements your hardware. 

So, anyone who's tool savvy will know that wood can split when you're drilling screws into it. That is to say that the thread or grain of many screws tends to not be compatible with wood. My solution to that is the GRK Bulk screw. This particular one has a non-splitting design that can be seamlessly drilled in, then secured into place.
The reason for this is its thin body that packs a lot of strength. Commonly, low-quality cabinet screws tend to be thin but not sturdy, which is why I really appreciate how both of these aspects have been introduced into GRK's design. I will warn you that it's on the expensive side, but totally worth it.

This one is for cabinet joints and another bestseller that prevents wood splitting. I also really like its square-drive head as it ensures easy securing. Professionals testify that it is really effortless to drill in and doesn't slip when being worked into the surface.
It has coarse threads, which means it's particularly suitable for solid woods. I suggest you use these if you're working with softwoods like pine, but it's equally good with composite woods like MDF as well.
Another thing that I appreciate about this cabinet screw is that it resists oxidizing, which makes it perfectly suitable for warm and moist climatic areas. Lastly, it's a great value-for-money product, so if you're on a budget for your kitchen reno, I advise you to go with this.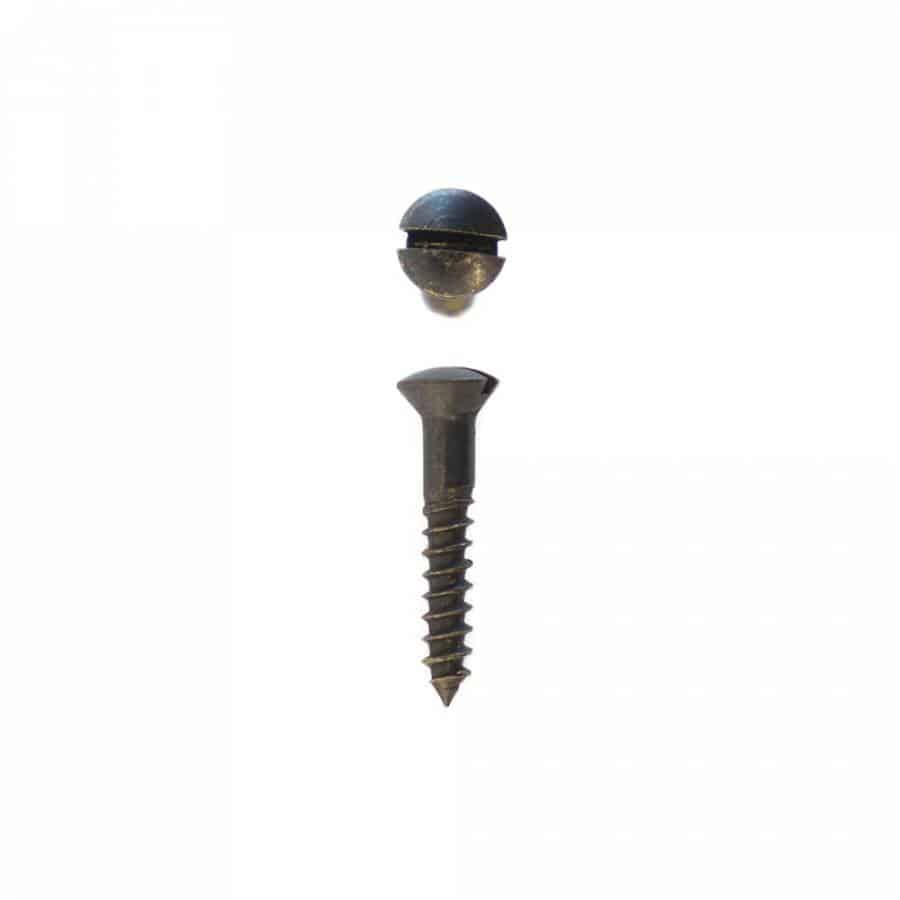 If you're wondering about what screws to use if you're attaching hinges to your kitchen cabinet, then these are a great option. First of all, they're slot-headed and specifically designed for hinges. The oval head is designed for easy use and has a graceful finish. Overall, I believe this one to be a functional and aesthetically viable option.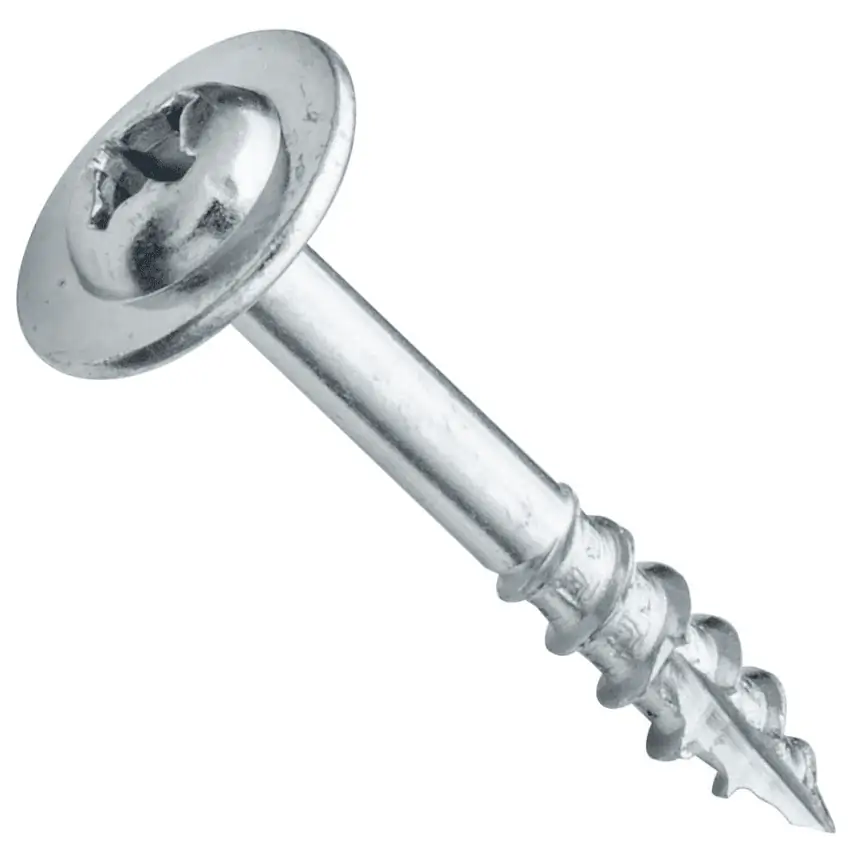 As a designer, I would argue that the drawer face makes up at least 50% of your kitchen aesthetic. Therefore, it's imperative that you don't end up ruining it with the wrong screws.
The Centerline Washer Head is perfect for securing your drawer faces to the cabinet structure without looking like an eyesore. However, it's silver in finish, so I urge you to only pair it with hardware (knobs, pulls, etc.) that matches its color scheme. Otherwise, it's a nice, sturdy option.
FAQs
Question: What's the difference between drywall and cabinet screws?
Answer: Well, drywall screws can only be used to put up or secure pieces of drywall to wood (or maybe even metal studs). On the other hand, cabinet screws are specifically designed to connect kitchen cabinets to the wall (no matter what kind it is; i.e., wood, drywall, brick, concrete, etc.).
There are different types of cabinet screws out there, and you need to pick one that suits your purpose (and material choice) the best.
Question: What's the difference between a drywall and a cabinet screw? How can I tell them apart?
Answer: Without going into a lot of technicalities, you can tell a cabinet screw apart by its domed head. A drywall screw is quite simple, usually grey in color, and has a flat head.
Question: Why can't I use drywall screws to secure kitchen cabinets?
Answer: So, kitchen cabinets are made of hardwood. Suffice it to say that they are heavy. Drywall screws are NOT meant to fasten such concentrated loads. They're good for holding up lightweight wall mount items, but never something as heavy as a whole kitchen cabinet.
Conclusion
Conclusion
As you can see, there are so many different cabinet screws available in the market, and I hope that this list helps you decipher which one you actually need. My goal was to educate you on this particular technicality because I don't want you to end up with beautiful but poorly assembled kitchens. That's not just sad but also really dangerous.
As for my absolute top pick from this list, I would go for GRK CAB8212B Cabinet Bulk 8 by 2-1/2-Inch Screws. It's a well-known company, and the screw itself has the perfect amount of tensile-sheer strength for securely attaching the cabinet back to the wall.