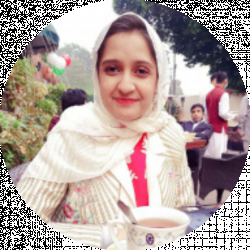 Latest posts by Zunaira Ghazal
(see all)
White color has become one of the most popular choices of cabinets. All my years in interior design have taught me that there are many reasons for this, but the one that stands out the most is that these cabinets feel cleaner, crisper, and newer. Couple them with black hardware, and you've got a winning combination!
I'm personally a pretty huge fan of white cabinets with black accents. The contrast between the two colors is super eye-catching. Any room would feel very elegant when furnished with such cabinets. That said, here's a list of some great white cabinets that feature various types of black hardware for your inspiration: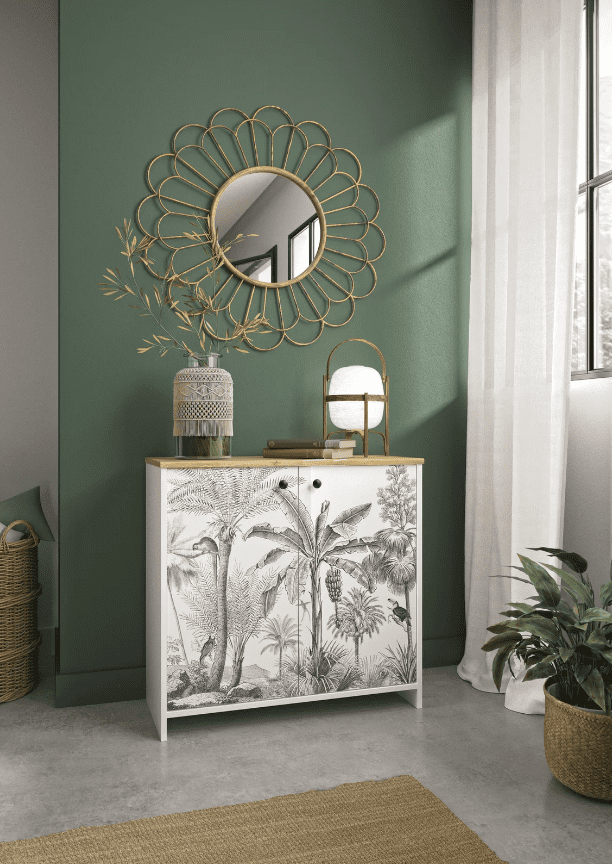 Bottom Line Up Front
White cabinets with black hardware make for a fantastic combination. They're classy, striking, and always provide an excellent hook for the space you're furnishing them.
As a designer, I find them quite sophisticated. If you've got a bright, modern, or contemporary space, such cabinets are the perfect way to spruce things up. Below, I've curated a diverse list of such cabinets for your perusal. 
My favorite from this list is Geometric Black and White. It's an excellent design with various materials and looks dynamic. I especially love its triangular black handles and how they contrast nicely with the rest of the design. 
Top Picks
Here are some of the best options from this list:
With Black Legs–

I fell in love with the sheer simplicity of this cabinet. I like how the entire upper body is a stark, pristine white, but then the black bracket legs break the monotony with contrasting looks. 

Vintage Classic-

This is another favorite of mine because it combines antique black vintage hardware with classical detailing in the white cabinet. 

Geometric Black and White–

This is another favorite of mine, thanks to its dynamic material combination and artistic, geometric look. I love the wood boundary and how it enhances the white cabinet doors. 
Selection Criteria
Here's what I had in mind when I was picking items for this list:
Types of Black Hardware
We all know that there is a wide variety of white cabinets out there, but my goal was to show you that there's a great variety of black hardware out there as well. I also wanted to showcase the different ways that both aspects can be paired together.
Aesthetics
My other goal was to pick out cabinets that feature unique aesthetics. You'll also see a bunch of classics here, but most are pretty distinguished. They'll inspire you and want you to experiment with custom pieces. 
White Cabinets with Black Hardware Inspiration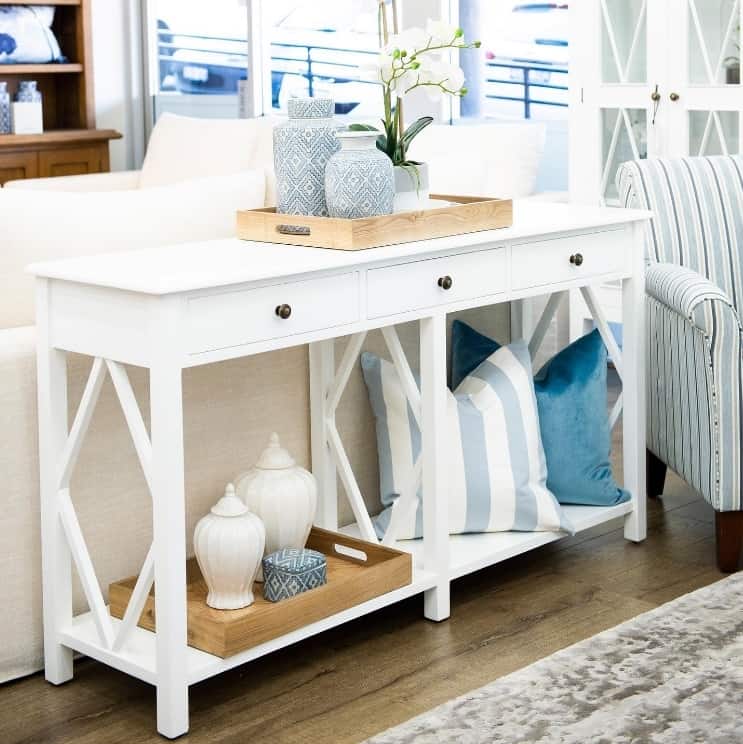 This is one of the best credenza pieces I've ever seen. It's perfectly sized and would be a great addition to any home. Plus, I love how the bright white finish complements the airy design and how the small black cabinet knobs, with their glossy finish, provide an excellent finishing touch to the entire cabinet.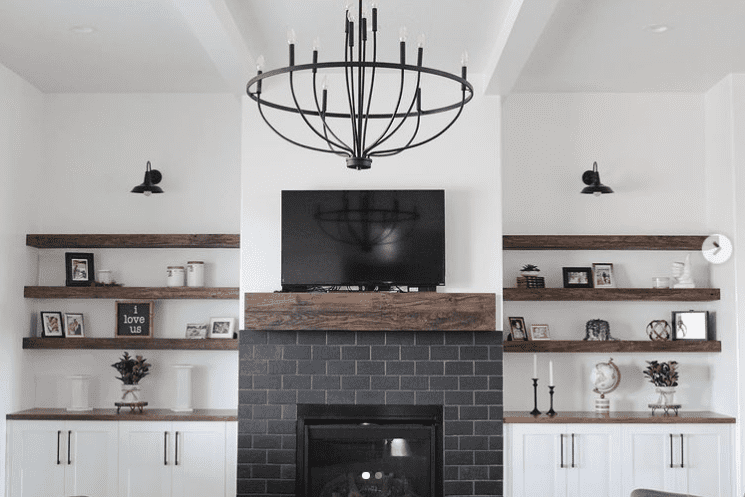 The black-and-white theme is all about being holistic and balanced. I love how this media wall takes disjointed design aspects and presents them in a fantastic interpretation of white cabinets with black hardware. 
I love the open, floating cabinets at the top. Their dark espresso finish complements the white cabinets' black vertical handles. Together, they provide a charming, dynamic setup that's the perfect blank canvas for those who enjoy decorating!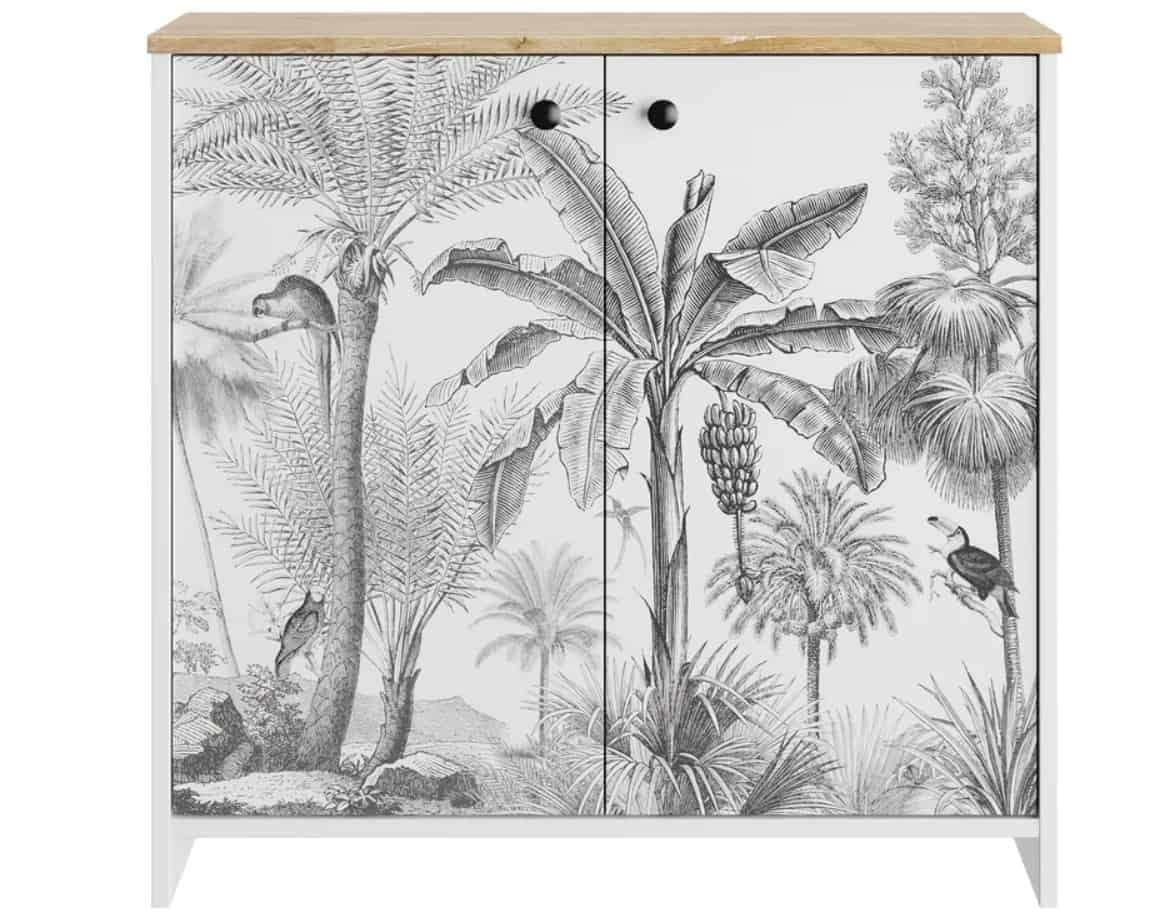 The artist in me was drawn to the beautiful scenery that had been sketched on the face of this white cabinet with black hardware. It's one of the most unique and one-of-a-kind designs I've ever seen. The subtlety of the black handles really complements the drawing on the front. Plus, it's somewhat casual, and I love the informality of the entire setup.
I also think it's quite a versatile design – you can place it in bedrooms, living rooms, and even a kid's room if you have any.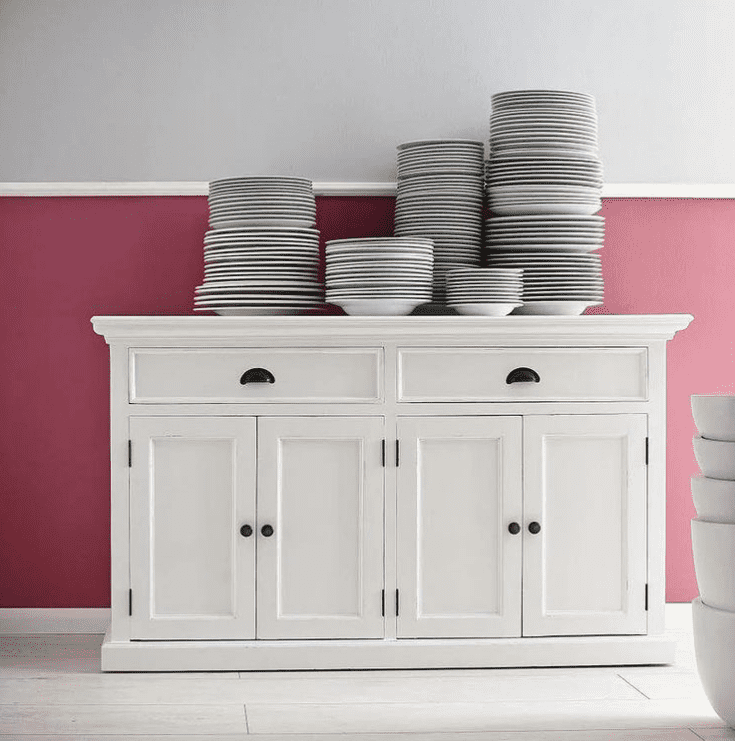 This white cabinet with black hardware is quite simple and concise. I love all the subtle traditional details merged with contemporary aspects here. The shaker-style cabinets, the extended top frame, and the platform base are so neatly articulated. 
But the mix and match of black handles here takes it to the next level. The cup handles on the drawers are larger than the small, round pulls on the cabinets. As a designer, I can see why they made this style-oriented choice to add a dynamic quality to the cabinet design. It's wonderful, and I appreciate the thought that went into it.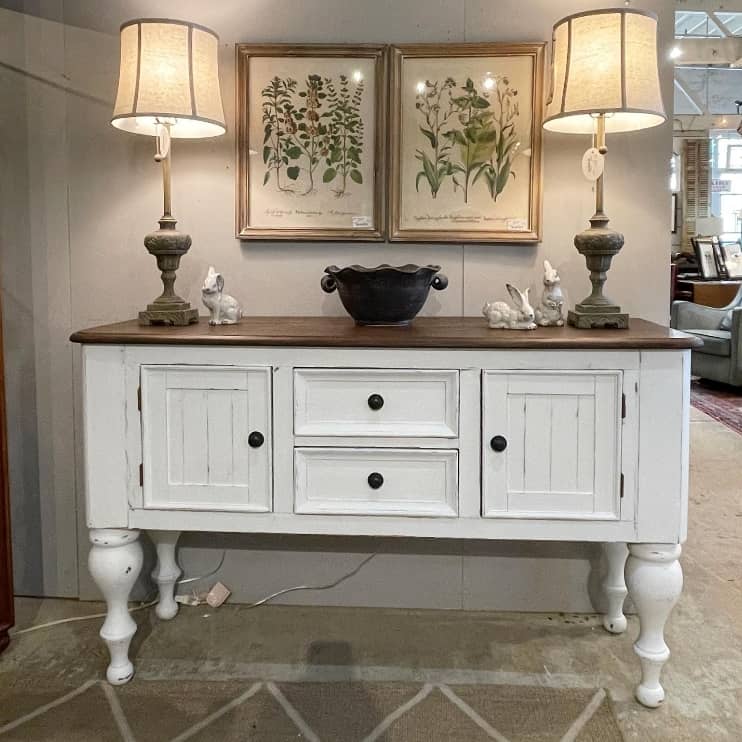 If you're a fan of distressed wood furniture like me, you will be awed by this gorgeous farmhouse chic cabinet with a black knob. I love how there's this rugged texture to the white finish here – it gives the whole piece so much more personality.
Plus, it makes it feel homey and lived in, which is quite an essential part of this particular theme. I also love how the simple black knobs cap off the design perfectly, along with the dark wood countertop.  
This entire cabinet is a study in contrasts. Suppose you really want to take it to the next level. In that case, I suggest you pair it with oversized table lamps and other rustic accessories. It would also look magnificent in a farmhouse kitchen.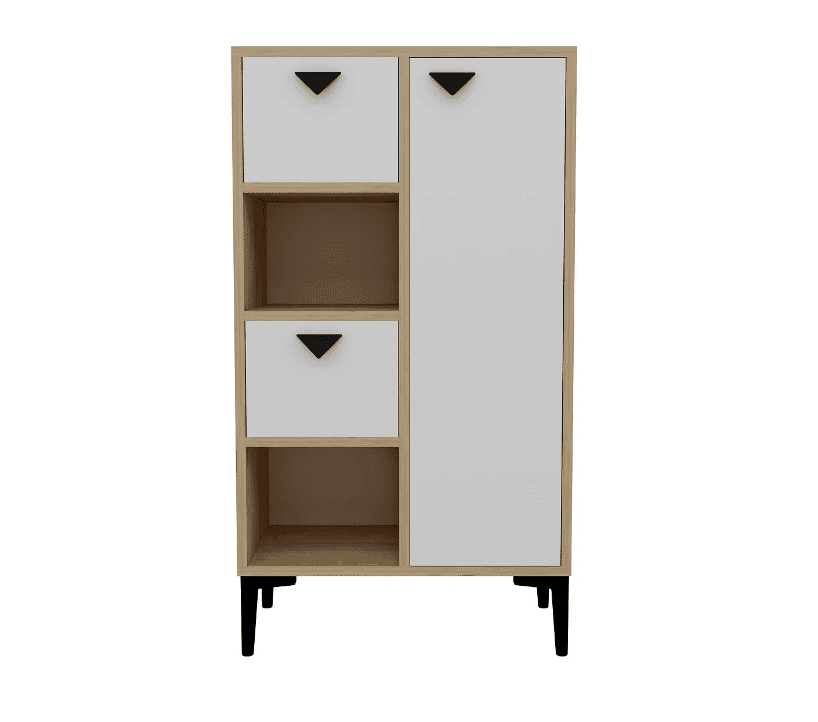 If I were to describe this cabinet in just one word, I would use "dynamic." There's so much movement in the design of this cabinet! So much shapely contrast along with such a unique blend of colors, textures, and materials! 
I was initially drawn to the impeccable geometry of this cabinet's design. It instantly pulled me in, but the more I looked at it, the more impressed I was with the detailing! The outer wood frame highlights the elegance of the white drawers, which, in turn, highlights the triangular black hardware! Each element brings out the best in the previous one, thus creating such a nice overall picture.
You can make it look even better by pairing it with metal-accented accessories. I would suggest copper for that extra oomph!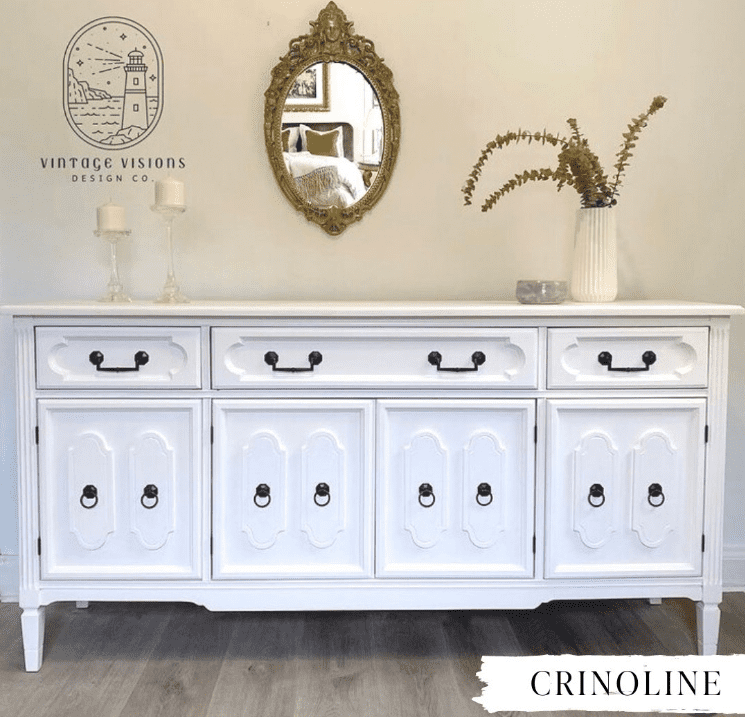 This contemporary white cabinet really impressed me with its classic vintage twist! I was absolutely taken with the traditional designs and carvings on the cabinet doors and feet, but what impressed me the most was how they had been paired with bold, black, lovely antique handles. 
From the bracket pulls on the drawers to the ring pulls on the cabinet doors, everything works in perfect harmony and provides a wholesome picture. I would also advise you to put up a rococo-style hallway mirror above this cabinet to complete the look!
There's a reason why old-school and vintage furniture items are making a comeback, and this white hutch with black hardware is here to prove it. I love its homely, 90s Americana visual quality and how its significant presence simply demands attention!
I also like how the black hardware here isn't just limited to the cabinet handles and drawer pulls. In fact, the hinges are also finished in a bold, black hue. This adds to the design's overall drama and keeps the eye moving.
The third thing about this cabinet that stood out to me was the wood accent in the middle. It provides a fantastic visual break while harmonizing with the black and white color scheme transcribed in the rest of the cabinet. Truly amazing.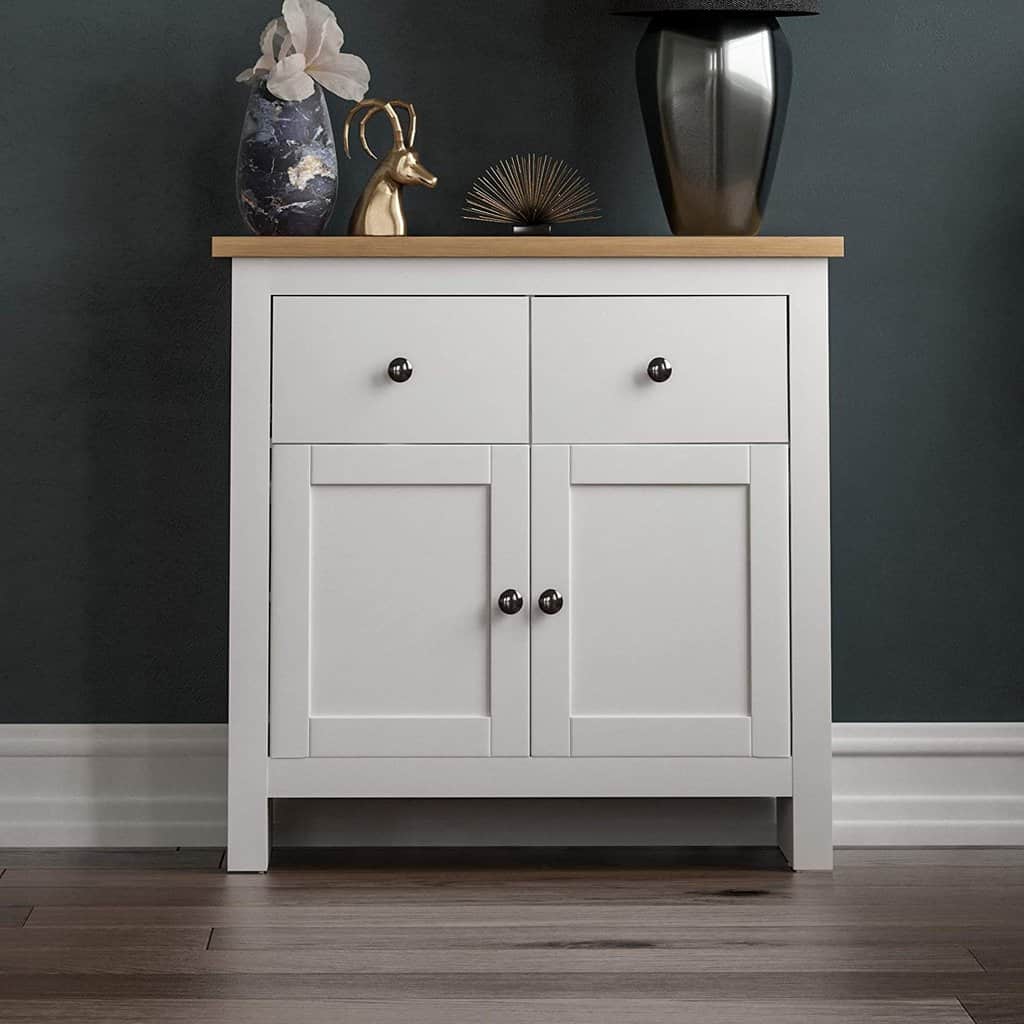 This sweet, simple, and compact white cabinet feature two contrasting finishes – a wooden top and glossy black hardware! It's a fantastic trifecta of a combination, and I think it would complement any casual contemporary home quite beautifully.
I also feel that the cabinet design's simplicity allows you to be eclectic with your decor. You can literally mix and match anything you like while embellishing it. From tall metal vases to glam, rustic accessories, it's a blank canvas you can fill at your preference!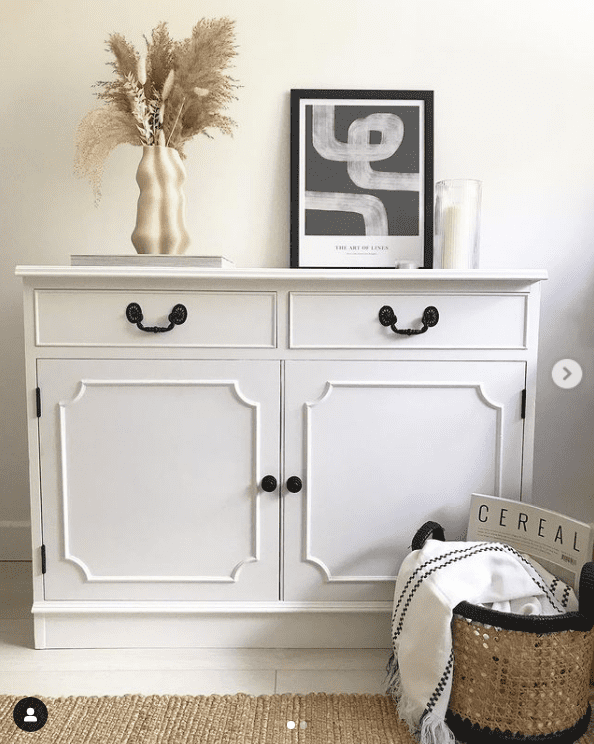 You'll appreciate the neo-classical touch in this white cabinet with back hardware. What set it apart for me was how the handles have an antique design that complements the subtle traditionality of the main body quite nicely. Just like the color schemes, the styles of the handle and cabinet doors are also contrasting here.
I find it quite impactful. You can elevate the setup by decorating it with bold candelabras, antique vases, and more!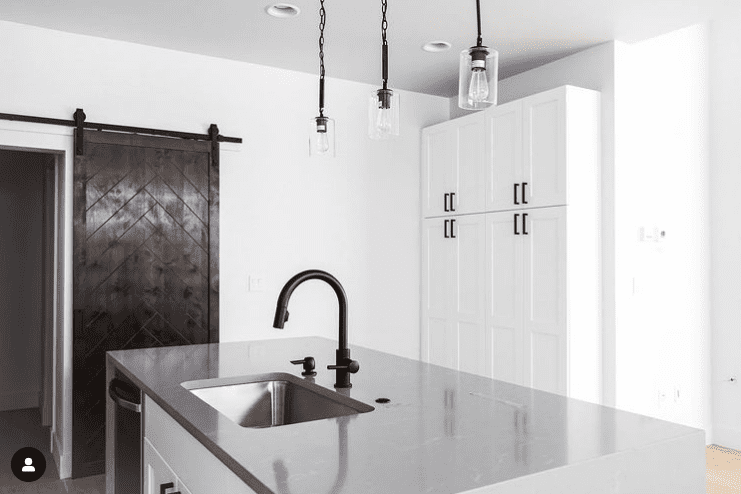 My work in the design industry has exposed me to many, many trends over the years. However, I can confidently state that stark white cabinetry in kitchens will never go out of style. They're timeless, effortless, and always look good – as seen in this image! 
The entirety of this kitchen is a study in different textures of white, so the black hardware on the corner cabinets provides a tremendous visual break! It's been deliberately chosen to complement the island countertop, the light fixtures, and the doors.
For this white kitchen, it's not about simple styling; it's also about creating a holistic Big Picture. I think the white cabinetry with the black hardware does it quite perfectly.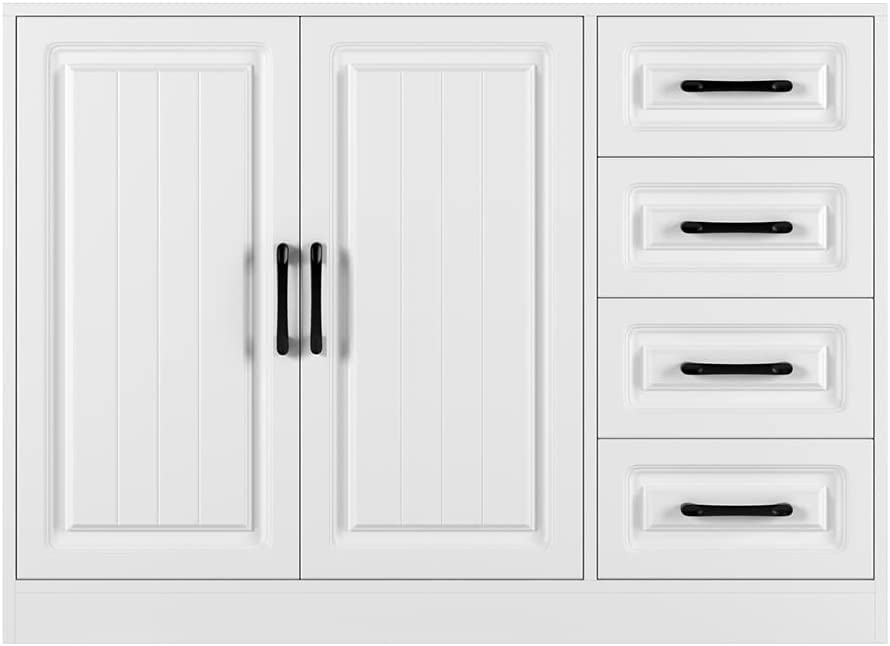 If you're looking for something homely and stylish, I recommend this lovely rustic chic cabinet. I love how its white finish is embellished with small, subtle details. The carved lines on the door panel set the tone, while the black handles provide a beautiful, eye-catching contrast that makes the whole design feel wholesome.
I recommend styling this cabinet with cute, shabby-chic decor items and accessories. A bouquet of baby's breath in an antique vase with stacked books would look charming!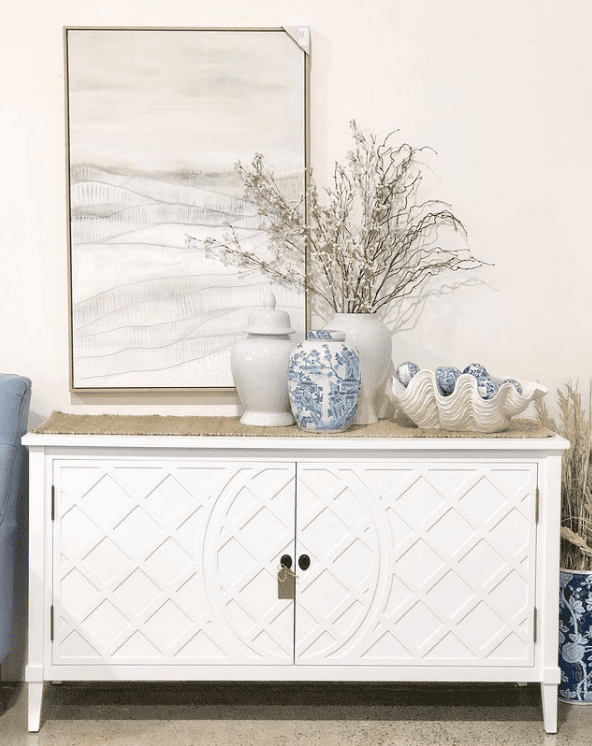 White cabinets with black hardware are about hitting that perfect mark on proportions. The white must not overwhelm the black and vice versa. I think despite the vast amount of white in this cabinet, it's the tiny black knobs that make it feel complete! It's all about the visual balance, and this one really hits the mark on all fronts.
I also adore the carving on the white door leaves of this cabinet. It introduces an element of style and adds additional depth to the design. Try to pair it with a combination of plain and chintz vases for the best effect.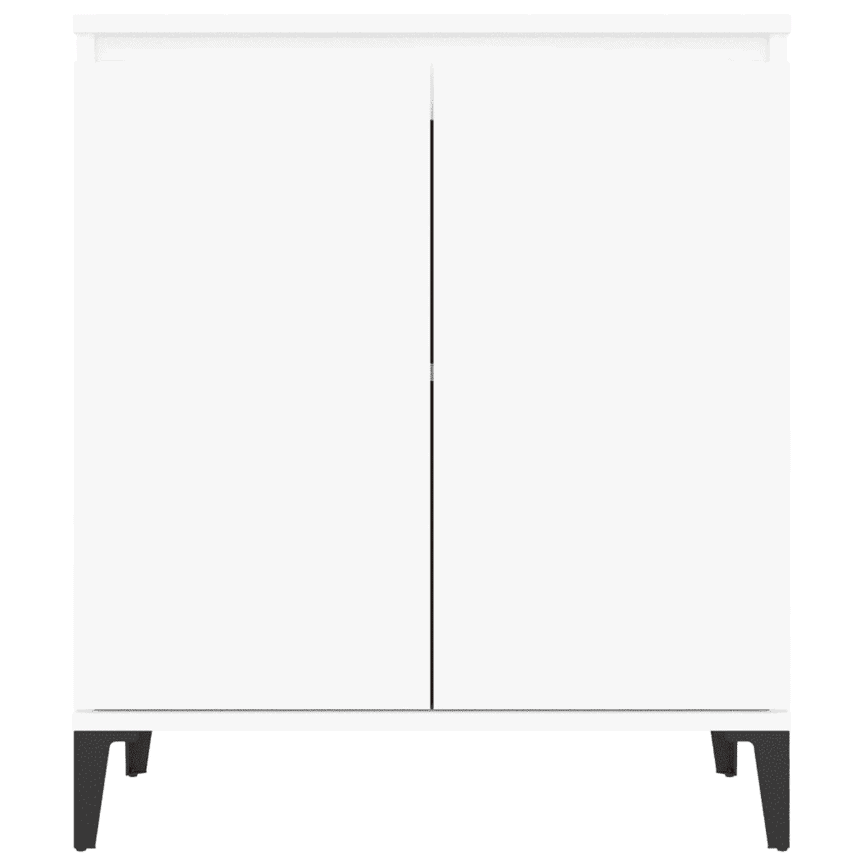 I love the minimalist design of this white cabinet with back hardware. It's very sleek, simple, and modern. The clean lines and clear visuals make it a shoo-in for understated contemporary-style interiors. I also love how the black bracket-style legs are as effortless as the rest of the design. 
The contrast between the white cabinet and black legs is unconventional and something I wanted to showcase on this list. As for styling options, I would advise you to be as minimalist as possible – maybe a cluster of empty vases or a sculptural metal art piece would do the trick!
FAQs
Question: Why does black hardware look good with white cabinets?
Answer: That's because both colors complement each other. When you're coming up with a dual color scheme, you usually pick out hues that lie on opposite ends of the spectrum – and it can't get any more opposite than literal black-and-white! 
Question: What other hardware colors can I use with white cabinets?
Answer: I think brushed brass and shiny copper also go well with white cabinets. The former gives a royal look, while the latter provides a more antique vibe.
Question: Should I choose black knobs or pulls for my white cabinets?
Answer: Depends on your preference, really. However, there's always the option to mix and match. For example, use knobs for cabinet doors and pulls for drawers, making it look quite dynamic.
Conclusion
I feel like white is one of the most sophisticated hues you can choose for any cabinet. And when you pair it with black hardware, it adds more interest, dynamism, and gravitas to the furniture piece.
Once again, I would like to feature my best choice here: Geometric Black and White. I love the understated yet dynamic looks of this cabinet. It's quite a fantastic combination, where the black triangular handles add so much oomph to the white design!
Read More: