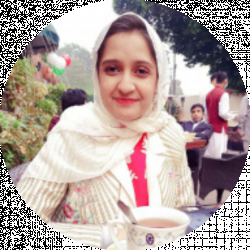 Latest posts by Zunaira Ghazal
(see all)
Arched cabinets are the perfect blend of modern and traditional, which makes them a hot commodity in today's world.
You see, most homeowners opt for contemporary house interiors and an arched cabinet can really make a striking focal point in them. It's a timeless, versatile piece of furniture – one that you can buy new or second-hand, depending on your budget.
Personally, as an interior designer, I find them quite charming. They brim with personality and provide so many unique opportunities for styling. If you like this cabinet style as much as I, then I've listed some ideas to help you find the best one:
Bottom Line Up Front
Arched cabinets are unique, iconic, and full of personality. They are also a great choice if you want a focal point in your room. This listicle is all about discovering the best of these cabinets in the market and how you can interpret them in your own ways!
My favorite, so far, is the "Funky Colors All the Way." It features an emerald green arched cabinet that has been designed with clean lines. On the surface, it looks pretty modern but the color scheme gives it a retro edge. Plus, I honestly feel so excited at the prospect of styling it! Think of all the colorful decor I could curate!
Top Picks
Here are a few of my top picks from this list:
Wall Mount Arched Cabinet:

I really loved this one because of its compact body and versatile style! This is the kind of cabinet you can feature anywhere in your home! Whether you need some extra storage space in the bathroom or some eye candy furnishing in the foyer, this is the cabinet to go for.

Cool Blues for the Win: This collection of arched kitchen cabinets stood out to be because of their highly unique visuals. I mean, you don't usually see something like this in a usual kitchen, so I had to do a double take and immediately saved this for inspiration! I suspect you would do it too, so I put it in my top picks.
Funky Colors All the Way:

This green-colored arched cabinet is my personal favorite from this list. Its retro-modern design is truly fantastic and perfect for brightening up any space! If you're tired of boring achromatic cabinets, then this one would be an excellent alternative.
Selection Criteria
Here's what I looked for while curating this list:
Variety
My main goal was to show you that there's a huge, huge variety of arched cabinets out there – and they don't all look the same! As you browse through this list, you will see how each cabinet differs from the next. You'll also see that they offer a huge array of design, material, and finish options – some you might never even have thought of!
Storage Options
Just like the variety in design, I also wanted to highlight that arched cabinets can also provide different storage options as well. Some are great for showcasing kitchen utensils while others are perfect for putting in washed linens or folded towels. Others are primed for decor.
Best Arched Cabinet Ideas
1. The Low Arch Style
I love the low arch of this cabinet! It's so unique and features a classy mid-century modern vibe. The black trim at the front is super attractive. It really complements the wood finish of the interior. It's fashionable, smart, and provides a great opportunity for styling!
I would suggest that you furnish it with only black-colored decor items. This will match the black outer boundary and beautifully contrast the brown interior shelves.
2. Paneled Black Cabinet
This black arched cabinet is a timeless classic. I love its panelled doors and how they resemble the fan-lighted barrel-arched windows of classical interiors.
No matter how much time passes, something like this is always going to remain in style. Plus, you can always tweak the aesthetic a little by painting the frame some other color. White and emerald are good options, but black is obviously the best choice as it would always look iconic.
3. Wall Mount Arched Cabinet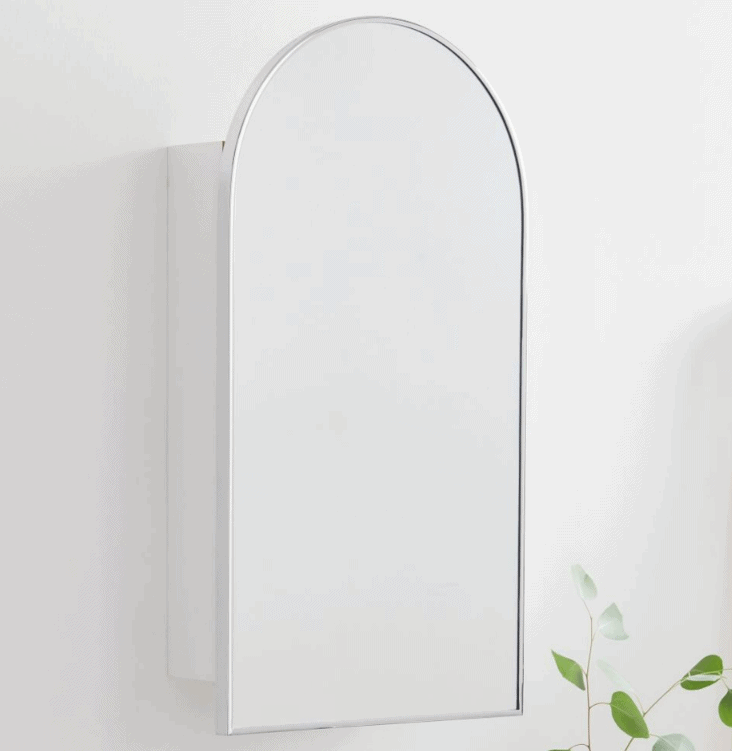 I love this sweet, compact version of the arched cabinet! It's so fresh and contemporary! While the previous two ideas have a slightly vintage vibe, this one is fully modern. I also love the arched mirror aesthetic – it gives the whole design such a fresh look!
Plus, it's highly versatile. I'd say that this cabinet would look amazing in a bedroom but would also work just as well in a bathroom!
4. Arched Bar Cabinet
Bar cabinets are notorious for being uninspired, which is why I loved the unique look of this one! I like how the top half is fully dedicated to the glasses and commonly used liquor bottles. And then the entire lower half is dedicated to extra storage for all the liquor-related paraphernalia! I think anyone who's a fan of wine or bubbly would really appreciate the flexible design!
5. Bold Vintage
The 70s retro look of this arched cabinet is perfect for homes that lean on the boho-chic or eclectic side. The dark wood finish is complemented with a lighter filigree on the border. I like how there are no doors – gives the whole design a bookshelf-like appeal.
If you opt for a cabinet like this, then I would recommend that you style it with retro accessories like photo frames, textile accessories, and classic books. A mini planter on alternative shelves would also look great, along with some metal accessories and a vintage lamp.
6. Arched Kitchen Pantry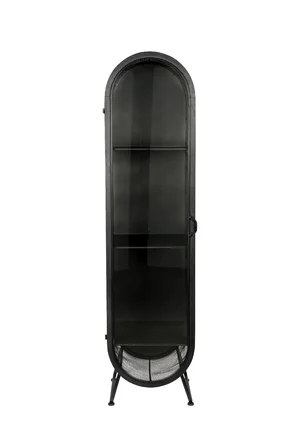 Arched cabinets come in such a huge variety these days! Many people just assume that only the top half would be round, which is why I wanted to feature this one on the list! It's not only slim and slender but is also arched at the bottom! Moreover, its classic black finish matches the iconic design beautifully. 
This idea is also great because the slimness of the cabinet makes it perfect for small homes as well. You can even fit it in single-counter kitchens where there's very little room to store all your essentials!
7. Classic Rattan
Rattan is a naturally sturdy material that's making a huge comeback on the design charts! It's simple and elegant but still makes a statement.
That's why I chose to feature this arched cabinet on this list. I love its understated, light brown finish and how it contrasts with the weave on the doors! It's such a light-hearted combination and would look rather lovely in a modern, contemporary, or minimalist interior design.
8. Cream Cane Cabinet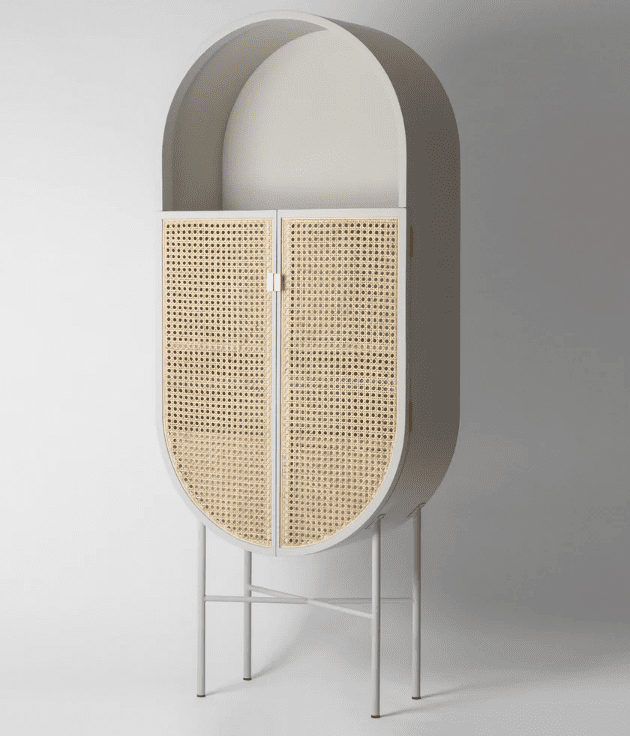 This arched cabinet is perfect for accenting any room! I love its flexible design and white body with rattan doors. Aside from offering practical storage solutions, it's also quite easy on the eyes. Its Scandi-modern looks would look amazing in any space, be it a cozy bedroom or a living room.
You can even feature it in the corner of a homey dining area or even create an accent nook where you pair it up with a jewel-colored armchair and a tall floor lamp.
Cool Blues for the Win
These lovely arched kitchen cabinets are some of the most unique ones that you'll ever see. I think the designer must have had so much fun while coming up with this look! See, when you enter a kitchen, you expect nothing more than typical cabinets, so these would definitely make a bold, unique impact.
I also love how they have been finished in a light, minty-blue color! It gives the whole kitchen a light, refreshing vibe and takes me back to the 60s retro era when unique shapes were all the rage. Do note that this is a customized design, so if you're renovating or remodeling, then go for it!
10. Built-in Wine Cabinet
This is another arched wine cabinet that caught my eye. Notice how it's so different from the one that we looked at before? That's why I'm putting it here; to highlight the contrast between the two! I love the slanted, leaf-vein shelves that are built within the arch here – they're so unique and different!
Plus, the black finish and cloudy marble counter pair so well together. If you're doing a kitchen revamp, I would definitely suggest that you go for something like this.
11. Funky Colors All the Way
We've seen so many neat, clean, and sophisticated designs, so I wanted to introduce something different! Something that will make your eyes pop with its uniqueness! Then I came across this emerald green arched cabinet and I knew this was exactly what I had been looking for! 
The jewel-green finish is so vibrant! Just imagine having something like this in your home – it would instantly uplift the whole ambiance. When it comes to styling, I would recommend that you put something bright, contrasting, and pastel-colored inside. Powder pink clay or ceramic accessories would look great!
12. Hot Take on Kitchen Cabinets
If you're looking for something unique for your kitchen revamp (especially for cabinets), then this is a great idea. I love how the whole room has been done in various shades (and textures) of white. But then there are the two arched cabinets beside the hood that stand out!
I love how the designer has emulated contrast through the interior of these cabinets! Backed with wood, these cabinets are the highlight of the room! Moreover, the styling is also on-point. If you're going for this idea, then I would suggest that you style it with white utensils for the best outlook!
13. With Distressed Finish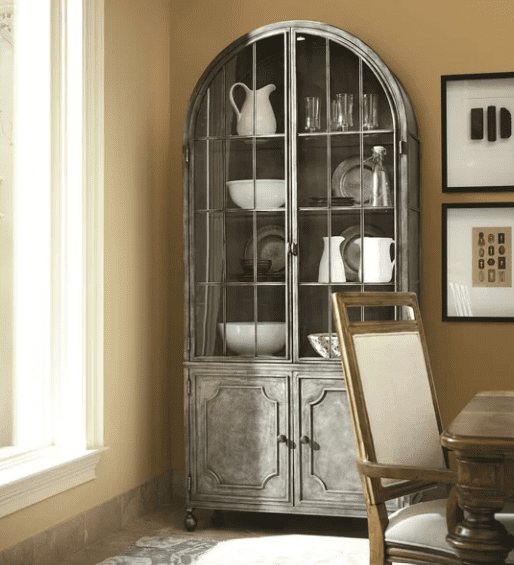 While clean, classic, and sophisticated arched cabinets are all well and good, there's something even more stylish about one with a distressed finish.
I love this idea because not everyone likes the starkness of modern furniture. The cloudy, distressed finish gives it a combination of bohemian and shabby-chic appeal. Something like this can even look amazing in neo-classical spaces, especially if your cabinet has beading like this one!
14. Authentic Shabby Chic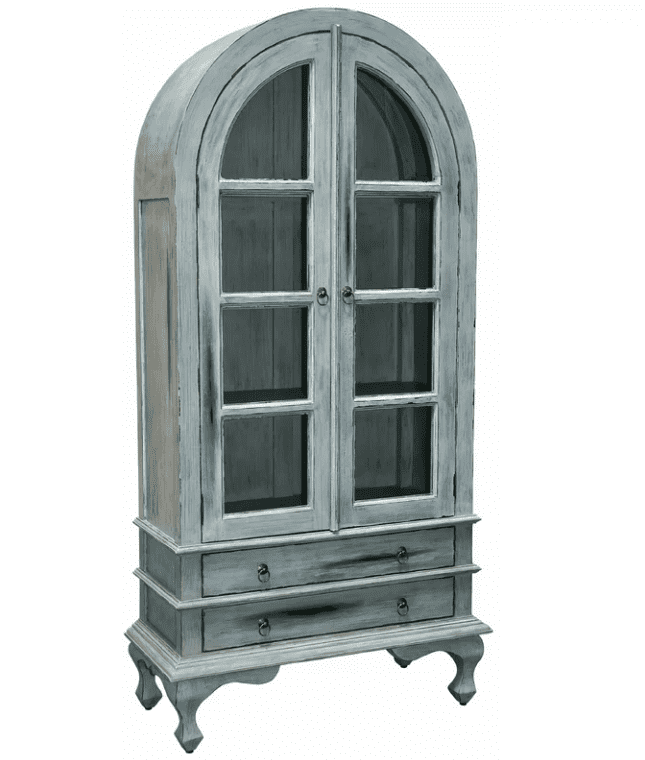 This arched cabinet is all about exuding quaint charm. It reminds me of cute grandparents who live in a cute farmhouse in the Midwest. Just look at the distressed finish! Isn't it super charming? I think this cabinet style has a lot of personality on its own, but if you want to take things to another level; maybe outfit it with vintage-eclectic decor items. Find unique items; a candelabra with personality, a retro vase, and a classic fruit tray. Things like these would.
FAQs
Question: Are arched cabinets popular?
Answer: Arched cabinets are classic for a reason. The arch itself has been an iconic design element since the Greco-Roman times. Even today, it's quite popular and interpreted in various forms in modern interiors. The arched cabinet is one of them and suffices to say, they are quite popular.
Question: What's the best way to style an arched cabinet?
Answer: As an interior designer, I would always advise you to use decor items of contrasting colors when styling any cabinet. The same concept applies to arched cabinets. For example, if they have a white-colored backing, then either opt for bright jewel-toned accessories, pure black items, or metal accents – basically anything that would stand out against the background.
Question: Where can I get myself an arched cabinet?
Answer: It honestly depends on your budget and preference. If you want something for cheap, then try Facebook Marketplace with keywords like "arched cabinet", "arched display cabinet", and the like.

You might also be able to find something in thrift stores or garage sales, though they might need a little dressing up. Lastly, you can always find some great new options online. Websites like amazon and Wayfair have quite a few great options in their catalog.
Conclusion
As you can see, there's such a huge variety of arched cabinets out there! Some of them are old-school while some are super stylish and modern. It all depends on what attracts you and what might go well with your home interior!
As for me, I would always opt for a pop of color in my house. Therefore, Funky Colors All the Way is my top pick! The classic retro vibe of this cabinet is the perfect combination of modern-meets-hipster and I'm totally here for it!