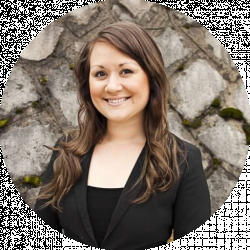 Latest posts by Lacey Jackson
(see all)
When my better half came home saying they had bought a bar, I was an emotional Switzerland, wholly neutral. It included delivery, which was good since there was no elevator in the building and we were on the top floor. 
On the day of delivery, the elderly couple who sold it showed up with their work gloves, hunched backs, and determination; apparently, "delivery included" meant they would bring it to your home upon purchase. I am quite positive there was a "don't ask, don't tell" policy during that exchange regarding the stairs. 
Once set up, I still didn't really care one way or the other. It just reminded me of my dad's house, and that reminder probably unsettled me. Then I realized this bar was much, much classier than the sports bar my dad has in his house. This was a bar fit for a castle, with liveried servants and silver serving trays. 
It has been a hit ever since. 
Bottom Line Up Front
The Caldwell is my absolute favorite where storage and preparation is concerned. It is one of the most expensive bar cabinets on this list, but it will work well as a permanent bar in your home.
Behind that, I love the angled feet and mid-century touches of the Dauberville. Other great options include Bowery Hill. This is it if you want something that doesn't take up a lot of space and can be folded and moved easily. We have one just like this, and it has been a breeze to pack up and move. 
Defining "Modern"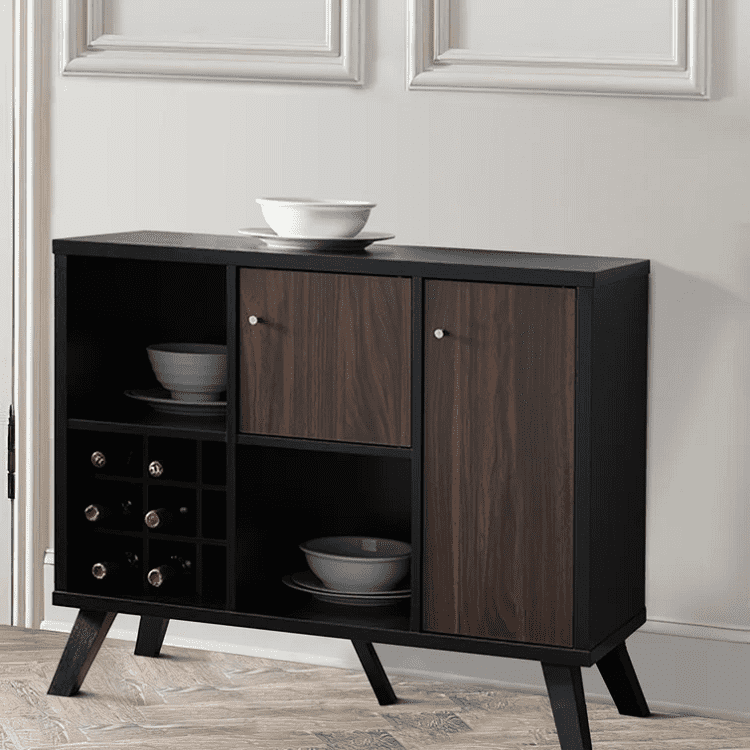 I always had trouble understanding where the lines of 'modern' and 'contemporary' furniture separated. That's probably because when my family uses the term 'modern' in describing an element of a home remodel, they mean its date: "we replaced the cupboards and appliances from the 1930s with something modern." They used contemporary in much the same way. 
But thanks to some college papers, I learned that the term 'modern' in the world of fashion and design is associated with the Modernist movement from the 1900s on. This movement embodied cleaner, simpler looks over the gaudy ornamentalism of old. 
So, when my family said they redid the tile with something 'modern,' they really did mean the minimalist design with warm, neutral colors, clean lines, and a minimalist appearance. They always had a lot of wood and warm tones or clean tan, white, and black tiles. 
To that end, all of the modern bar cabinet ideas featured here have those same elements:
Clean lines, 

Minimalism

Monochromatic Color Schemes

Bold accents
Selection Criteria
Now, I don't choose my modern bar cabinet ideas on a whim. I put a lot of care and evaluation into my selections. 
Storage
I am not too focused on them having closed-door cabinet storage because you want things to be open and easily accessible in most bar or drinking situations.
I've learned that firsthand because while we have two drawers in our bar cabinet, I never take the time to pull them out if I can easily grab something off an open shelf (that's why only spare things go in there).
Design
A good modern bar should invite people to socialize. It shouldn't just be a boring cabinet with a wine rack or two. If I am spending hundreds or thousands of dollars, I need a bar cabinet where all of my items can be on display or on a shelf, where mixing and pouring can happen, and where people can stand or sit near me. 
Modern Bar Cabinet Ideas
Bowery Hill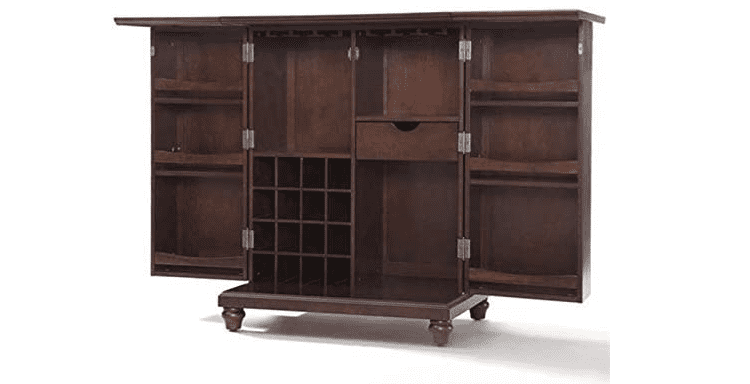 We have a bar cabinet just like this, but it has a few more drawers on the bottom, the wine rack is a diamond pattern, and the outside has a very detailed finish. Ours came from overseas, but what I love most about it is the way it folds open and closed. We also couple it with some floating cabinets for display purposes. 
The Bowery Hill is one of my absolute favorites because you can leave it in the open position, and it looks like a full bar to those who visit your home; they can walk right up to the bar, and you can grab the mixes below and make a cocktail. 
When you need more room, though, lift the bar top on either end, fold the cabinets inward, close it back up, and have a perfect cube of bar cabinetry. Whether you leave it full or empty, there is more storage than you will need for a home bar with spaces to hang wine glasses, shelves for beer or scotch glasses, a place for wine, liquor bottles, mixers, and more. 
Coaster Home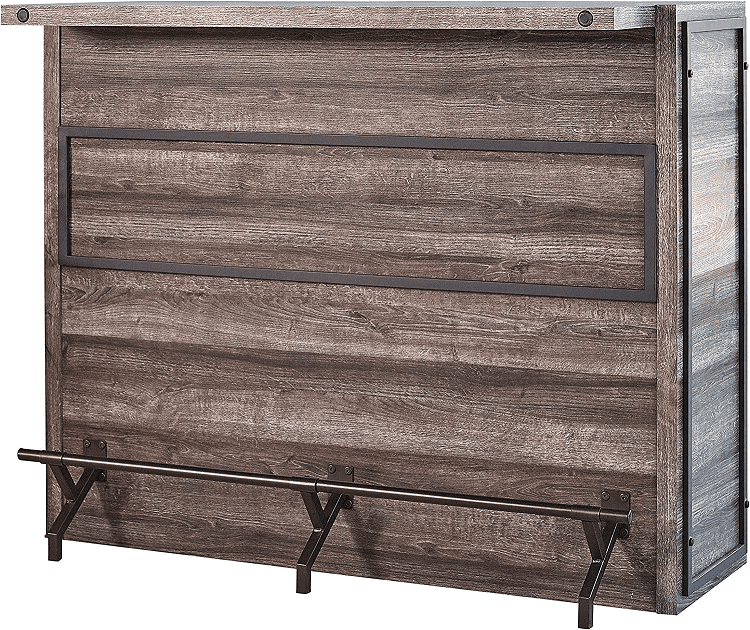 The Coaster Home bar is a smaller version of Bowery Hill. It doesn't fold in on itself, but the footprint is about the same. Inside there is one long shelf that runs the length of the bar and a quad of four open storage spaces below. On one is a metal rack for holding wine, and next to it are places for hanging stemware. 
It's very sturdy once assembled. It is made with particle board and an aged oak veneer. The two metal components are steel. What it lacks in specialized storage, though, it makes up for on the side facing away from the bartender. Here there is a slightly extendable leaf on top where drinks can be rested, and below, a metal rod for a footrest. 
As a short person, I love barstools with a metal rod because my feet never touch the ground in traditional chairs; but with the footrest, I don't feel like a toddler, legs swinging beneath me. So this is a good bar to mix with a couple of barstools. 
Dauberville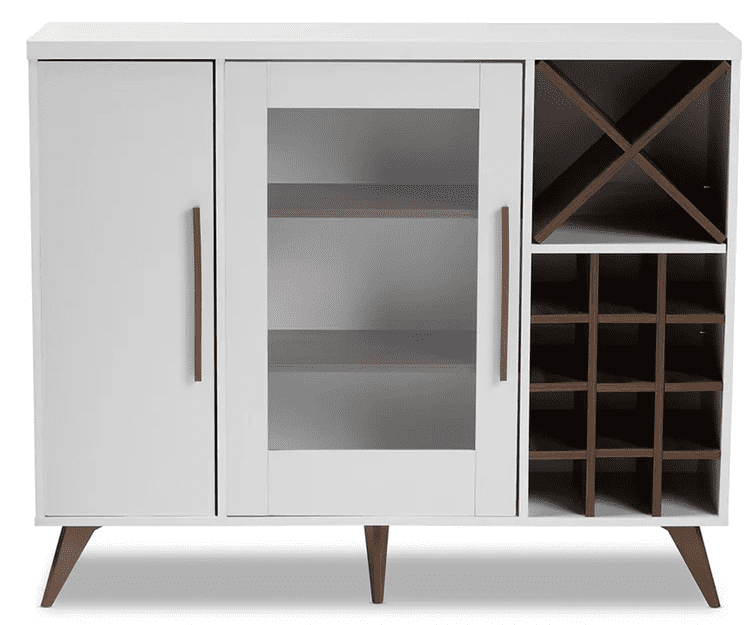 The Dauberville is the perfect mid-century design. It has angled feet at the base, indicative of the 1950s and 1960s. It is a no-frills design with simple storage features. You have the X-shaped storage for bottles and a grid of storage for wine bottles on the far right. 
Next to that are two cabinets with adjustable shelves. One of the doors has a glass window where you can store glassware. The hardware takes the form of long, sleek wood to match the shelves. The simple wood and white make a clean exterior. 
Latitude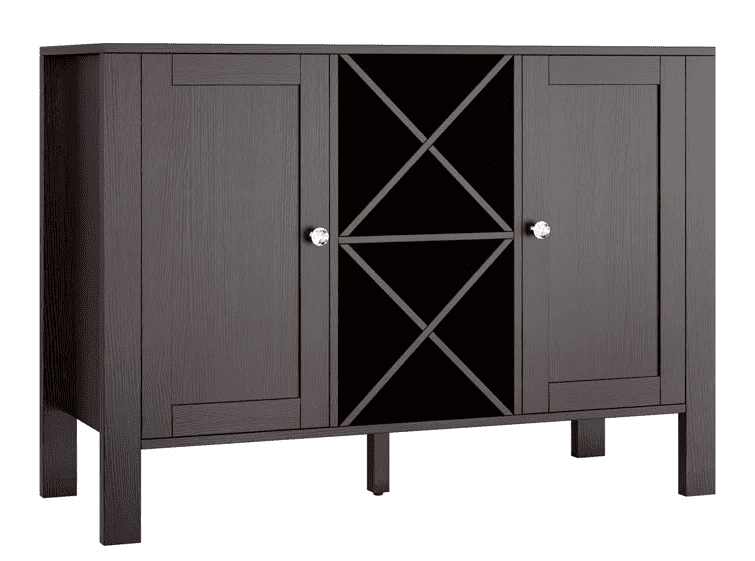 If you want a modern bar cabinet that is only wood, without the retro accents of a mid-century design, think Latitude. The Latitude has two open X-shaped storage sections in the middle large enough to stack two wine bottles on top of each other so that each shelf can fit eight bottles today. 
On either side are simple white knobs that open two doors of extra cabinets. You can store bottles and glassware inside. The base has tall, sturdy feet, not the slanted accent feet of the Dauberville. I love the dark wood color behind this.  
Michaela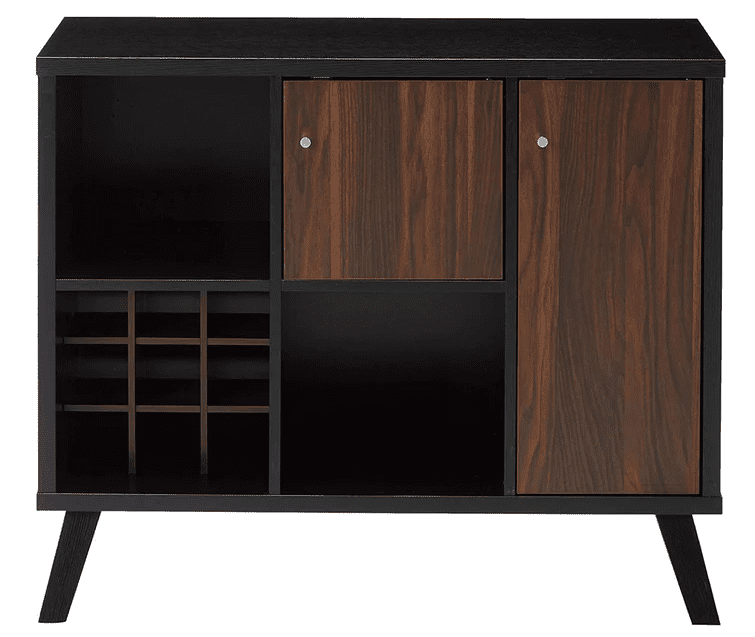 An excellent middle ground between the Dauberville and the Latitude is the Michaela Bar Cabinet. This has the accents of the Mid-century design but mixes black and wood. The doors and the shelving are all wood, and the rest of the modern bar is black. You get two open shelves, two cabinets with adjustable storage, and a grid for nine wine bottles.  
Billyjack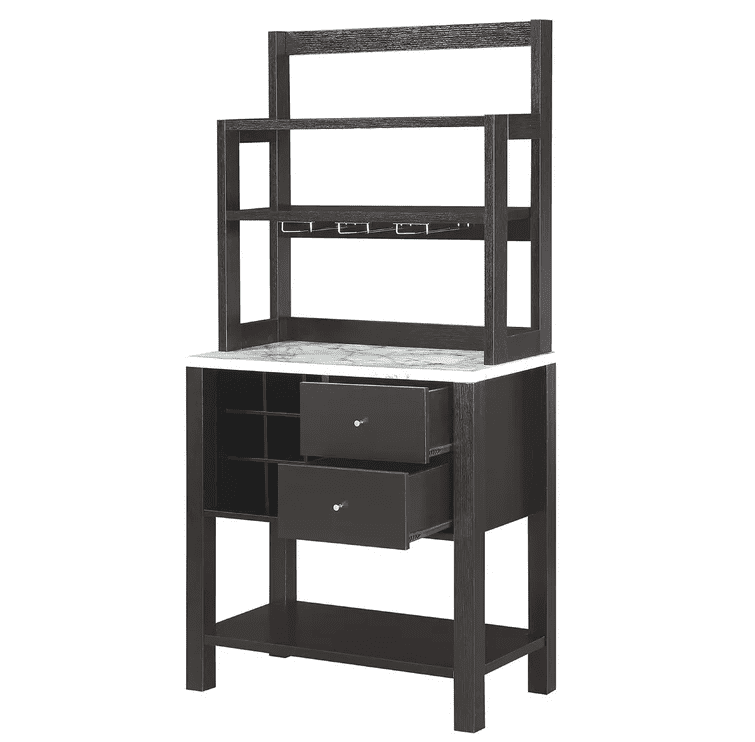 The Billyjack is another modern bar with clean lines and more open storage. Where the Dauberville has most of its storage behind closed doors, the Billyjack has a lot of simple lines, no frills, and open storage. You will find some open shelves and built-in metal racks for hanging stemware. There is a marble bar on top of which to prepare drinks. 
Below that is a small grid storage section for wine bottles and two drawers. The drawers have simple metal knob hardware that doesn't draw the eye. 
Caldwell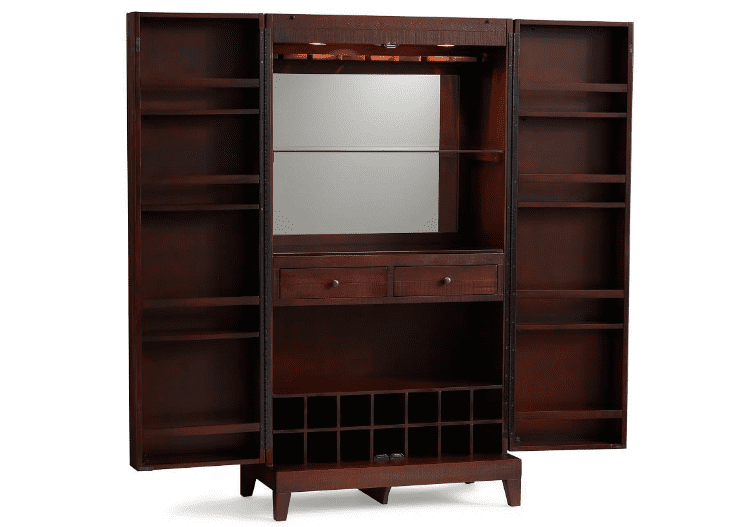 The Caldwell comes up again and again because it is the best in modern bar cabinet storage. It is like the Bowery Hill, but taller and with even more storage space. It has two doors that open outward, revealing built-in storage in the doors and in the body of the mahogany bar. 
You have drawers with knobs, four panels of storage for bottles in each door, a place down below for wine bottles, two open shelves for preparing drinks and storage (one of which has a large mirror behind it), and a place to hang stemware. 
Still, if you want a modern bar cabinet idea that will take the cake where storage is concerned, this is it. Unlike the Coaster Home, this one is real mahogany, hence the really expensive price tag. The downside? Apart from the price, it is quite tall, so you won't be standing behind one side and mixing drinks for your family or friends who are on the other, all while gossiping about work. 
Instead, this is the type of modern bar cabinet you walk to, mix a drink, and walk away from so that you and your guests can sit in overstuffed ottomans. 
Corner Bar Cabinet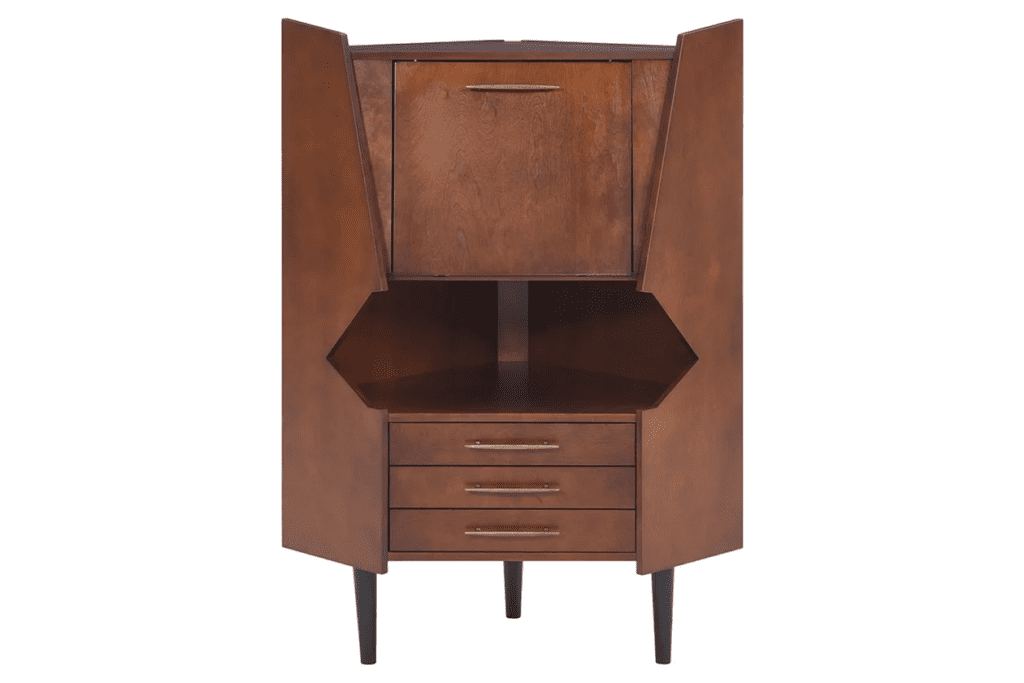 If you want a similar concept for a smaller space, Ashley has a Corner Bar Cabinet. Full disclosure, their website is full of pop-up ads for their current sales, and you have to put in your zip code so they can tell where the nearest store is with this in stock… and most of the time, they will just tell you that you have to order it online. So, great use of my time. 
Anywho, if you need something small that harkens to the bygone era of the 50s, it is actually worth a gander. This design fits snugly into a corner and has just the right amount of cabinet storage for someone who doesn't have a massive wine collection and only makes the same two drinks each night after work. 
It looks like a prop from Madmen or Down With Love, actually. There are three small storage drawers down below, an open shelf for glassware, and a front drop-down door that converts into a small counter space for mixing.
The top has some cool design elements that make it a good display place, and the back wall is mirrored inside, so you never have to ask, "are we out of Collins mix?"
Mid-Century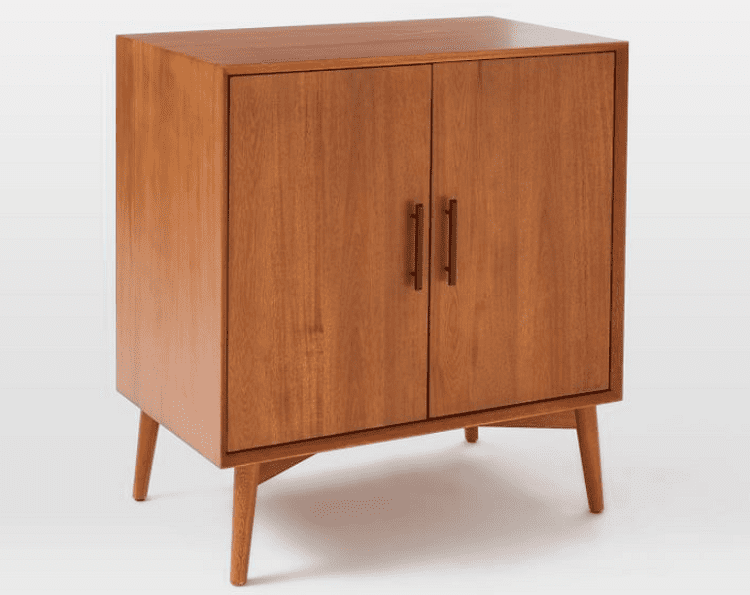 The Mid-Century is another 1950's era cabinet. It stands alone, almost like a TV cabinet, but when you open the two wood doors, you have lots of cabinet space for storage. I included it because it is a larger version of the Corner Bar Cabinet, so if you have more space or you want two, this is worth a gander. 
The interior has racks for hanging stemware at the top, panels built into the two doors where liquor bottles can go, spaces for wine bottles, and standing glasses. It has a retro style made from kiln-dried wood. 
Sideboard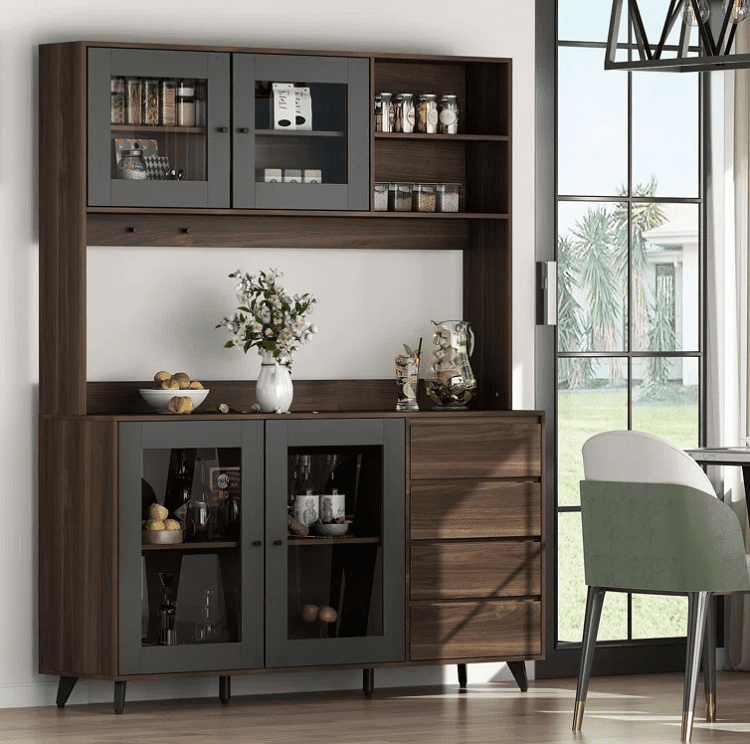 This is a sideboard, yes, but I include it here because I really like that it has all the right design and cabinet storage elements you need for a modern bar.
You can easily buy a wine glass rack that you put at the top of one of the cabinets (something you can do for all the cabinets on this list if you need more stemware storage). You can also add a wine rack insert to one of the cabinets to make some bottle storage.
Those two simple additions give you everything you need for a modern bar cabinet. It is a lot like the Caldwell in that you can walk up to it, grab a glass and some mixes, make your drink, and then head to some nearby overstuffed seating. There are four pull-out drawers for short glasses, napkins, mixing tools, and so forth. 
You get a large workspace and a lot of cabinets with glass doors. This makes it easy to see what is inside, a good compromise between normal cabinet doors and open shelving. 
FAQs
Question: How Deep Should a Bar Cabinet Be?
Answer: Generally, your bar cabinet should be between 18 and 24 inches. Usually, a bar top is about 18 inches deep so that you have a decent workspace. 
Question: What Should be Included in a Bar Cabinet?
Answer: A bar cabinet should have spaces for storing and displaying wine bottles and liquor. It should also have spaces for your stemware or glasses and some mixing items. Modern bar cabinets also have a workspace where you can mix everything and an area where people can sit and be served while they socialize. 
Question: Do Modern Bar Cabinets Have Bottle Storage?
Answer: Yes. Usually, there is space for about 12 bottles of wine and some larger, open shelving for bigger bottles. The Caldwell, for example, has the largest storage space for regular bottles, with eight full panels where 2-4 bottles can fit. 
Bottom Line
The Caldwell is my absolute favorite. It has a clean look, with a monochrome pattern and few accents. It also offers a space for preparation and a lot of storage. I also love the angled feet and mid-century touches of the Dauberville. If you want something smaller that can be closed up and moved with ease, consider Bowery Hill.