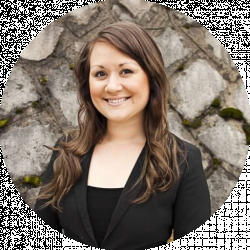 Latest posts by Lacey Jackson
(see all)
My entire house, except for the kitchen, has a thick shag carpet from the 70s. Yes, even the master bathroom has carpet (Eww! Yes, we are working on remediating that right now). So, I don't just have a vacuum cleaner, I have a carpet cleaner, and I use it every two weeks to scrub my carpets clean.
The thing that takes the most time during this process is not cleaning the carpets but getting everything my family has left scattered all over the house off the floor. I don't know why they seem to think the floor is a storage space when the shelves in the bedrooms sit empty.
I invested in floating cabinets to free up a lot of the carpet space and ensure that when people came home, they didn't just drop their stuff on the ground but immediately dropped it onto or into the cabinets in the entryway, garage, living room, or wherever. I love floating cabinets because they keep my floors open, and I don't have to constantly vacuum around a base-mounted cabinet. 
I'm also grateful for floating cabinets because that shag carpet is so thick that base-mounted cabinets that would otherwise sit flush kind of wobble, and I just don't trust them to hold anything in a stable fashion, but I have much more control over a floating, wall mounted cabinet.
Bottom Line Upfront
Prepac makes a great, basic floating cabinet for any space. It is highly rated and inexpensive. However, my favorite for usability is the Oglethorpe Floating Desk. I love the idea of installing one in every room to free up space and give everyone a contemporary place to sit down and get some work done. 
Where to Use the Best Floating Cabinet Ideas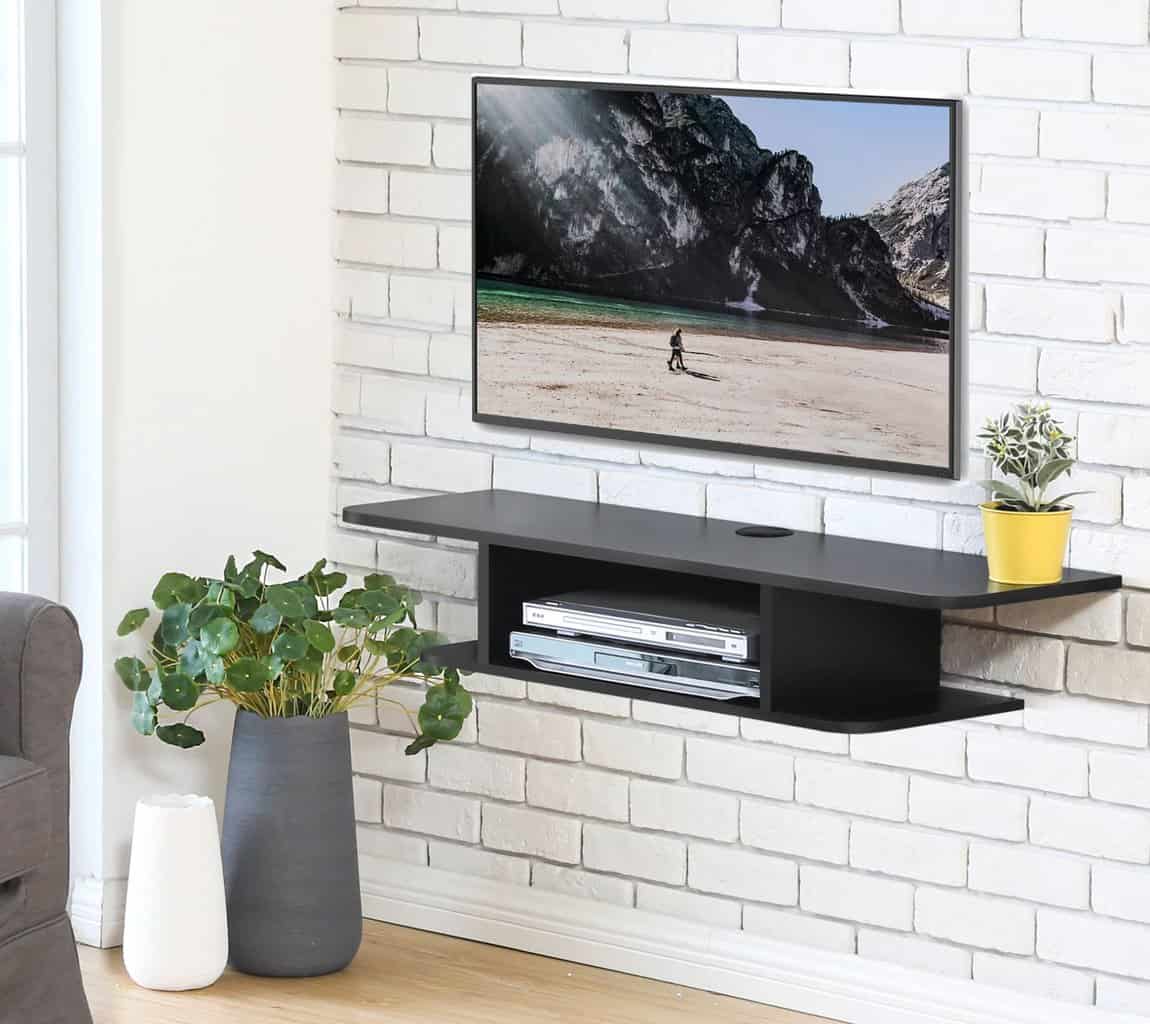 Floating cabinets can go literally anywhere. A lot of people use them in their living room because floating cabinets are popularly designed to support a television.
Many entertainment or TV stand models have the hardware to which you can attach a flatscreen television and designated open shelves in the middle for things like a DVD player with storage on the sides for things like DVDs and remote controls.
If you find a model marketed as a floating TV cabinet, you don't have to install the hardware to which you mount a television if you want to use the design somewhere else. In fact, many people use the same TV cabinets in other places in their living room or bedroom because the open space where a television might go provides the perfect surface on which to display knick-knacks and family photos next to a vase of fresh flowers and a hanging picture on the wall.
Floating cabinets make for great storage in bedrooms, especially next to a reading chair. My parents have floating cabinets at the ends of their hallways which serve as small desks or libraries with books and writing materials stored in the cabinet. At the very end of the hallway is a comfortable, modified barstool that has a seat with a back to it which fits nicely next to the floating cabinets, so if you want to read or work, you can just move the chair as you see fit.
Kitchens and bathrooms are also great places to use floating cabinets. They work well to add a little bit of extra storage for smaller items like rolls of toilet paper or toiletries or your collection of spices.
In the professional world, I see floating cabinets installed in offices all the time where floor space is at a premium. Usually, they serve as a storage place for files and other paper documents. 
Selection Criteria 
I included things that were unique but not off the wall. Many floating shelves are perfect for multiple rooms, so you aren't confined to something clearly intended for a bathroom or a kitchen. I looked at the quality of the materials, how much they could support, and customer reviews. 
Best Floating Cabinet Ideas: My Favorites
Guertin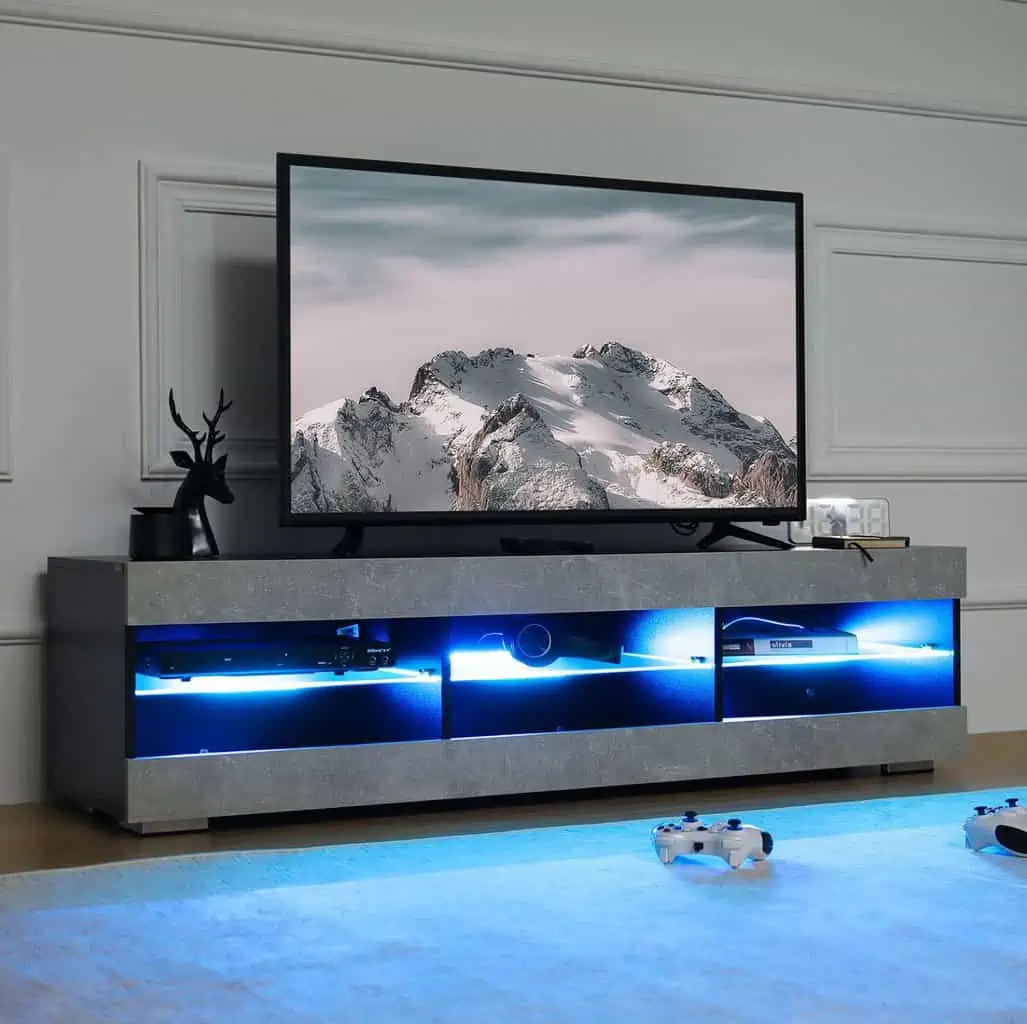 Now, I am not a personal fan of the LED lights near my entertainment center because I am very cautious about blue light exposure near the end of the day. However, I have lots of family and gamer friends who are the opposite and want a complete theatrical or video-game-competition experience when they sit down. 
So, I am including the Guertin because it is a unique floating cabinet intended as a TV stand. It has open shelves with LED lights inside that reflect across the glass and mirrored surfaces. It can hold up to 165 pounds, comes with a sound bar shelf, and has built-in holes for managing your cables. 
It comes highly reviewed, with customers loving the LED lights most of all. 
Renwick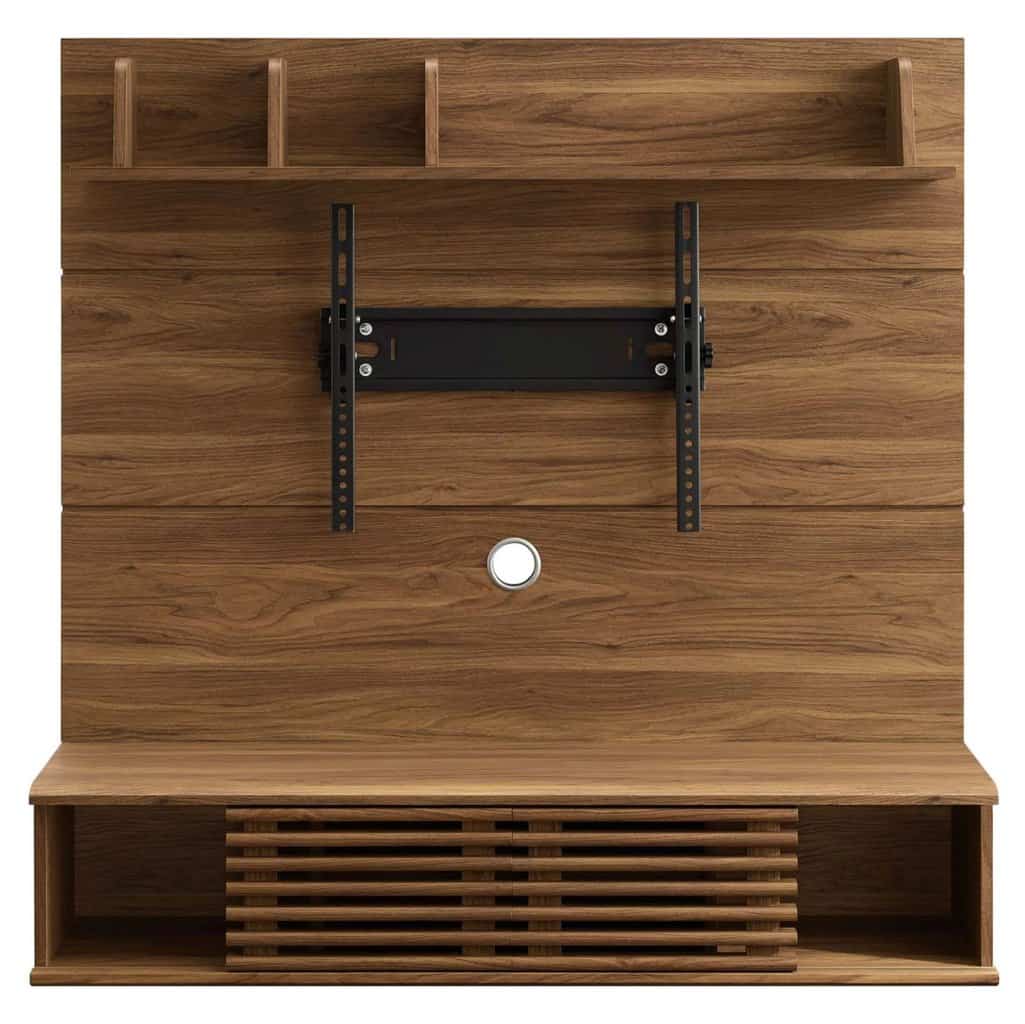 The Renwick Floating cabinet has no negative reviews, as all but two people thought it was a 4 or 5 out of the 5-star cabinet. It can support up to 50 pounds which is a bit less than the TV stands, but for lightweight flatscreen TVs, it can still support it. In fact, some customers have used it to hold a 55-inch TV. 
It comes with all the mounting hardware you need for a TV and has the pre-drilled hole for cables. I'd like to point out that the hole has a finished ring, too, which is a step above and beyond what most cheaper furniture offers: an unsanded, unfinished hole that gives you splinters and scraps the insulation on your wires.
It has a beautiful wood finish, and it offers so many small places to put accessories like DVDs, books, or home decor. I love the modern style of the horizontal slats, the hutch section, and the doors that open to reveal shelving space. 
Tip: If you don't want to use it for a TV stand, you can install an extra shelf or two, or just not install the mounting hardware and have a taller open shelf on your cabinet. 
Gillian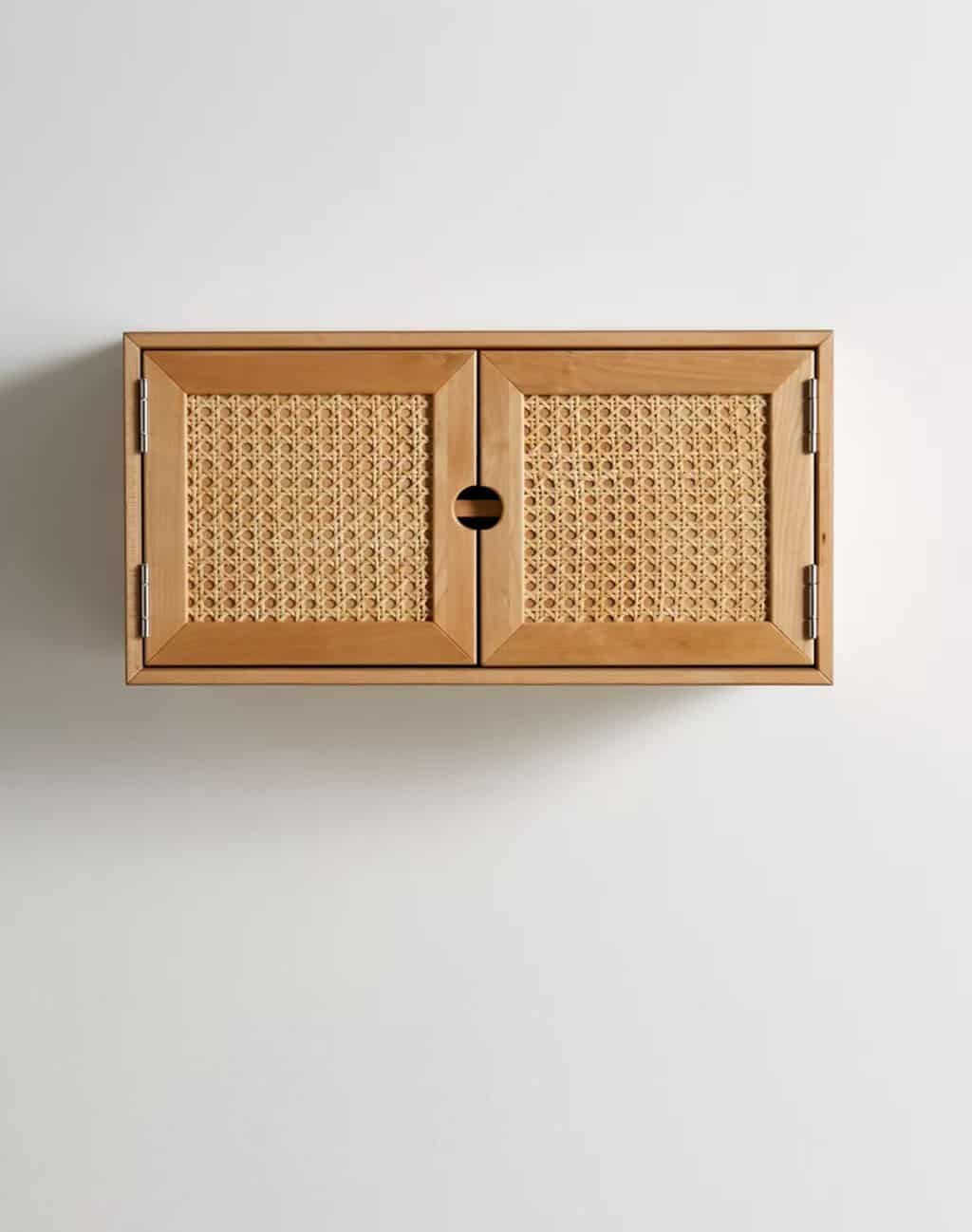 The Gillian Wall Cabinet is a small, no-nonsense cabinet. It doesn't have any hardware for the double doors, but small finger holes through which you can hook two fingers and open. The natural wood and wicker pattern for the doors are simple, classy, and perfect for tropical decor (think: French Polynesia) or a European office. 
This is a smaller cabinet that can support up to 28 pounds. It is a maple wood veneer, so it has a brighter tone to it. It comes with all the hanging hardware you need and, once complete, is the perfect place to store smaller art supplies in your craft room or pens, pencils, stamps, and stickers in your office. 
Floating Sideboard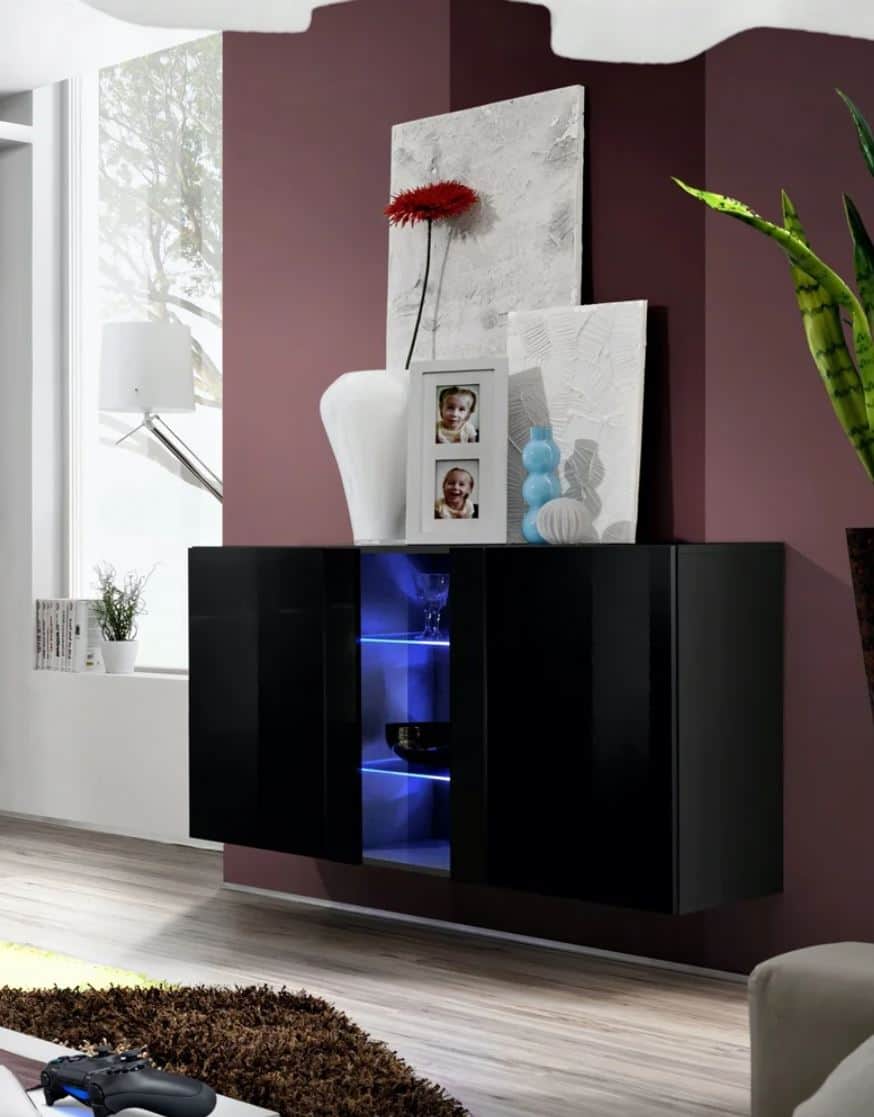 The Floating Sideboard is really fun because it has two doors on either side of a glass door shelf. This means you can display things similar to a china cabinet or hutch but still optimize your storage. It is made from incredibly sturdy oak (but a bit heavy). Some of my oak cabinets belonged to my grandmother, so it is safe to say they have been put through regular wear and tear and are doing just fine. 
This model has LED lighting behind tempered glass shelves like the Guertin. You have a remote control to turn it on or off. It claims to be an entertainment floating cabinet but does not disclose how much weight it can support. 
Oglethorpe Floating Desk
I love, love, love this small floating desk. It has two cabinets on either side and a small open shelf in the middle. The sleek, lean design (63 inches long) only sticks out nine inches (as opposed to the traditional fifteen inches of a cabinet), so it isn't in the way. 
I love it so much I might just install them in random places down the hallways and along each main room, so there are "desks" everywhere I might need them. The shelves drop down, and the cubby in the middle is perfect for storing the things on which you are currently working but want off the top of the working space. 
It takes about thirty minutes to assemble, comes with all the mounting hardware, and can support up to 77 pounds. That's a lot of paper, pens, and laptops. Customer reviews are almost entirely complementary, with an average rating of 4.4 stars. 
Oglethorpe Floating TV Stand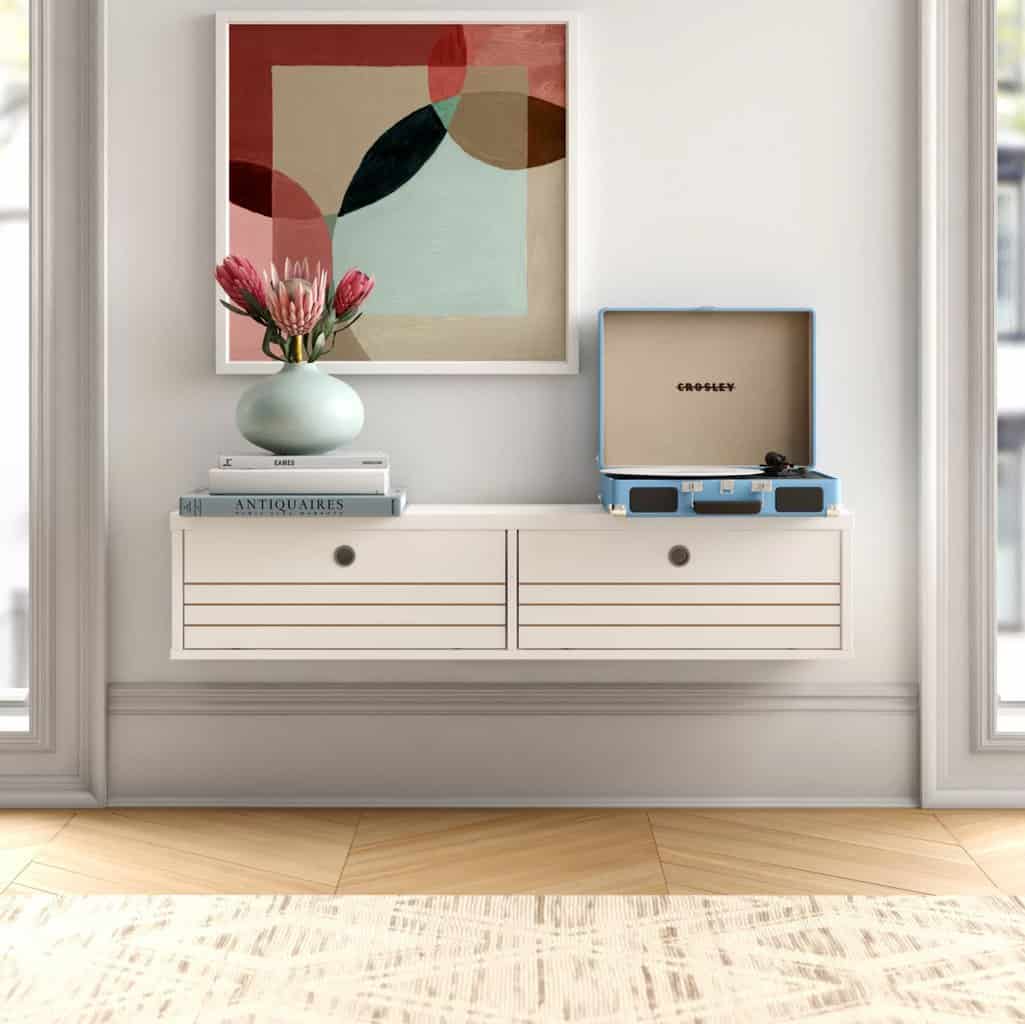 This company makes a similar design, but instead of a desk, it's a floating cabinet that can be used to support TVs up to 48 inches, but it certainly doesn't have to be. When you look at it, it has a sleek, clean design. 
The front door actually opens downward to reveal the two cabinets inside. It opens as a single-door unit, not two separate doors, even though the front looks like it's two separate doors. Whatever you put on there, it can support up to 44 pounds in total.
I'm a big fan of the streamlined silhouette for longer, shorter cabinets like this. Not only do you get the interior cabinet space, but the spacious top serves as a perfect surface for displaying accent pieces from your home, souvenirs, or framed pictures.
On the wall above ours, we have two Venetian masks and a framed picture from that same trip displayed on the surface stop. It comes with all the hardware you need to install it, and it has a 4.5 out of 5-star rating from customers who found that it has great concealed storage and the ring door handle is easy to use. 
Povison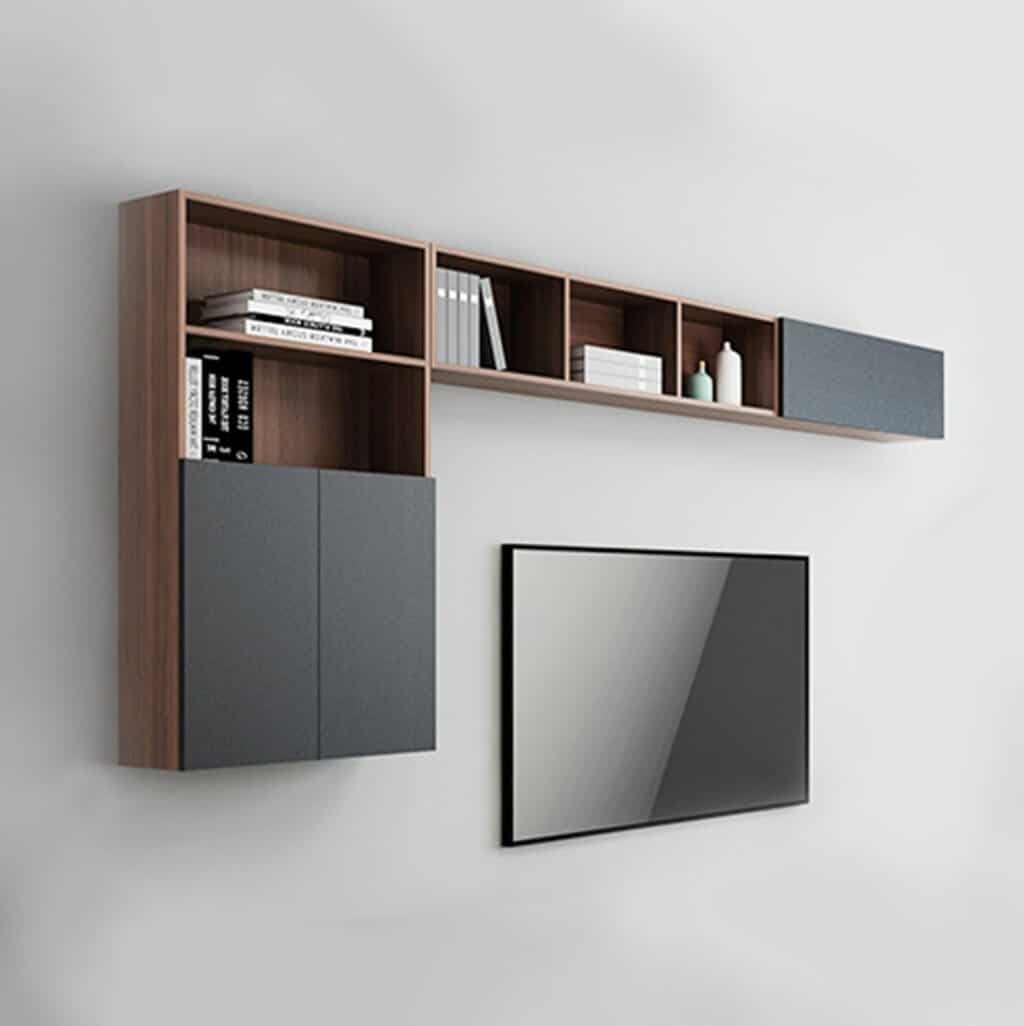 Povison has a modern floating cabinet design that screams a modern living room or office. This is technically three pieces, but you can install them to make a nice 90° angle around your wall-mounted flatscreen television.
You get a set of three storage cabinets with two open shelves, three open shelves, and a rectangular closed cabinet. The clothes cabinet compartments are perfect for keeping electronics and other accessories away from dirt, while the things you want to access, things like remote controls are your favorite movies, can be put on the open shelves.
Prepac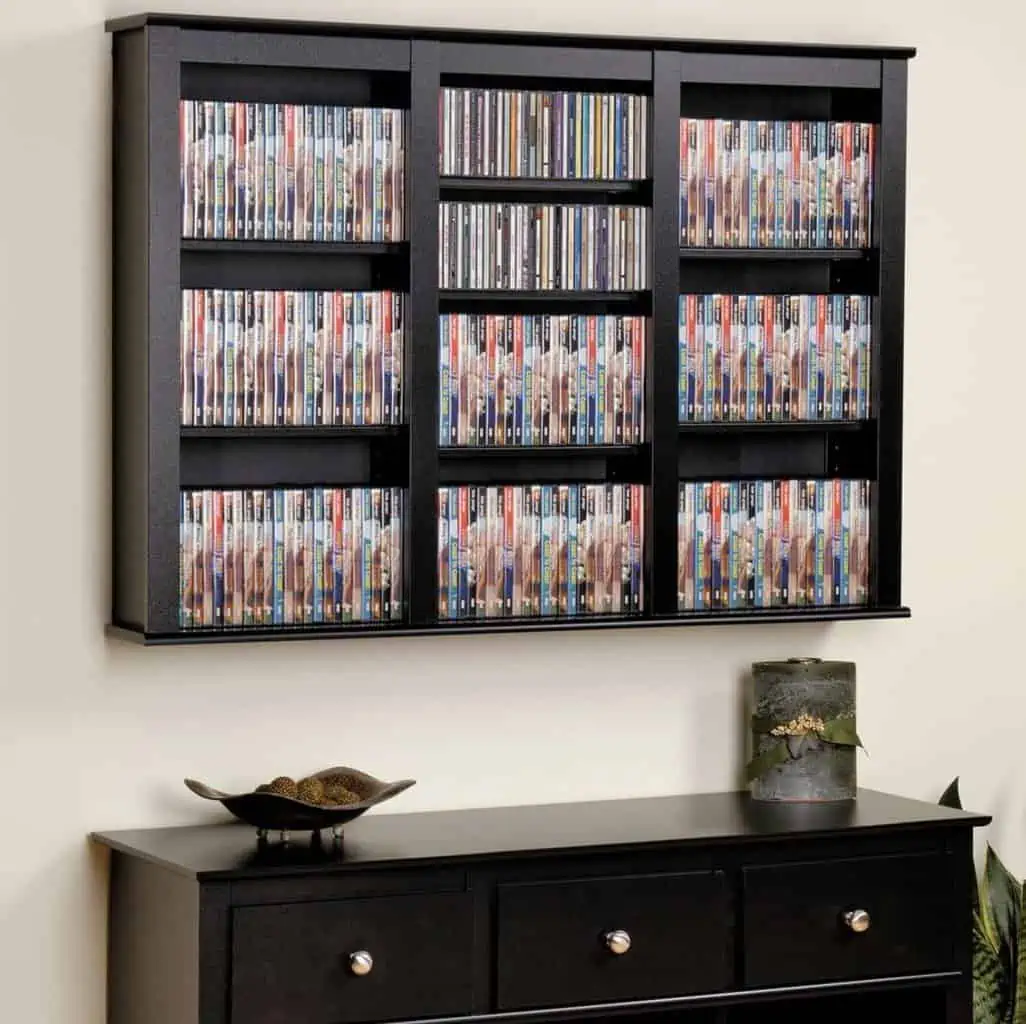 This Prepac triple wall storage is an ideal shelf to go above your traditional desk. We have one similar to this to display work awards, certificates, and trophies. We have one down the hallway for family photos, small plants, and books. Everyone knows they can wander through the floating library that is the hallway when they are want for entertainment. 
It has three columns, five shelves (adjustable shelves) and a sturdy exterior frame. It can support up to eight pounds per shelf, equating to 523 CDs or 408 Blu-Rays. It is only eight inches deep with no doors, so be particular about what you put on the shelves, so they don't come tumbling down. 
The rail hanging system makes it easy to install, and you get all the hardware with it. Customers have given it nothing but 5-star reviews, so I think they like it. 
Modern Floating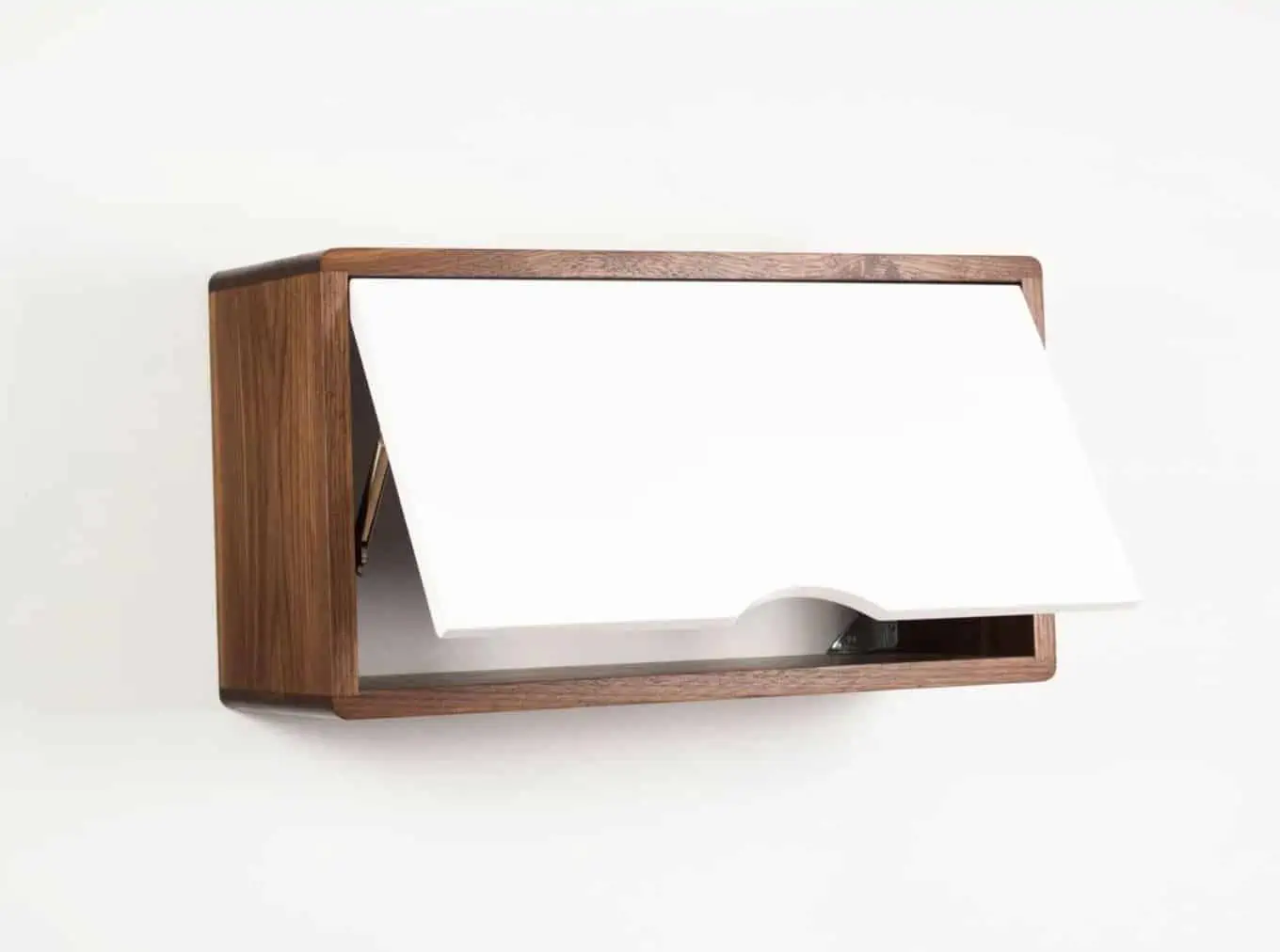 This Modern Floating Cabinet has the look and function of a legal office: it is solid wood, with a hinged door that opens out and up. This is exactly the type of floating cabinets I always saw in the law school library. 
Now you can choose whether you want the hanging wall-mounted cabinet with a middle shelf and whether you want a vertical or horizontal door hinge with the option to hook it open in place, just like you would have a car hood when you are trying to get to something inside the cabinet. 
Note: If you get the optional middle shelf, you can only get the vertical hanging design. If you want the optional lid stay that keeps the lid hooked open in place, it only comes with the horizontal design.
You get all of the hardware you need, including the anchored screws and corner braces. It's very easy to install, and the sleek design means you can mount 2 or 3 side-by-side to get more storage. Hundreds of customer reviews are nothing but positive: 4.9 out of 5 stars. 
The cabinets are eight inches deep, but they don't specify how much weight they can support, only that they aren't meant for heavy things. 
Contemporary Floating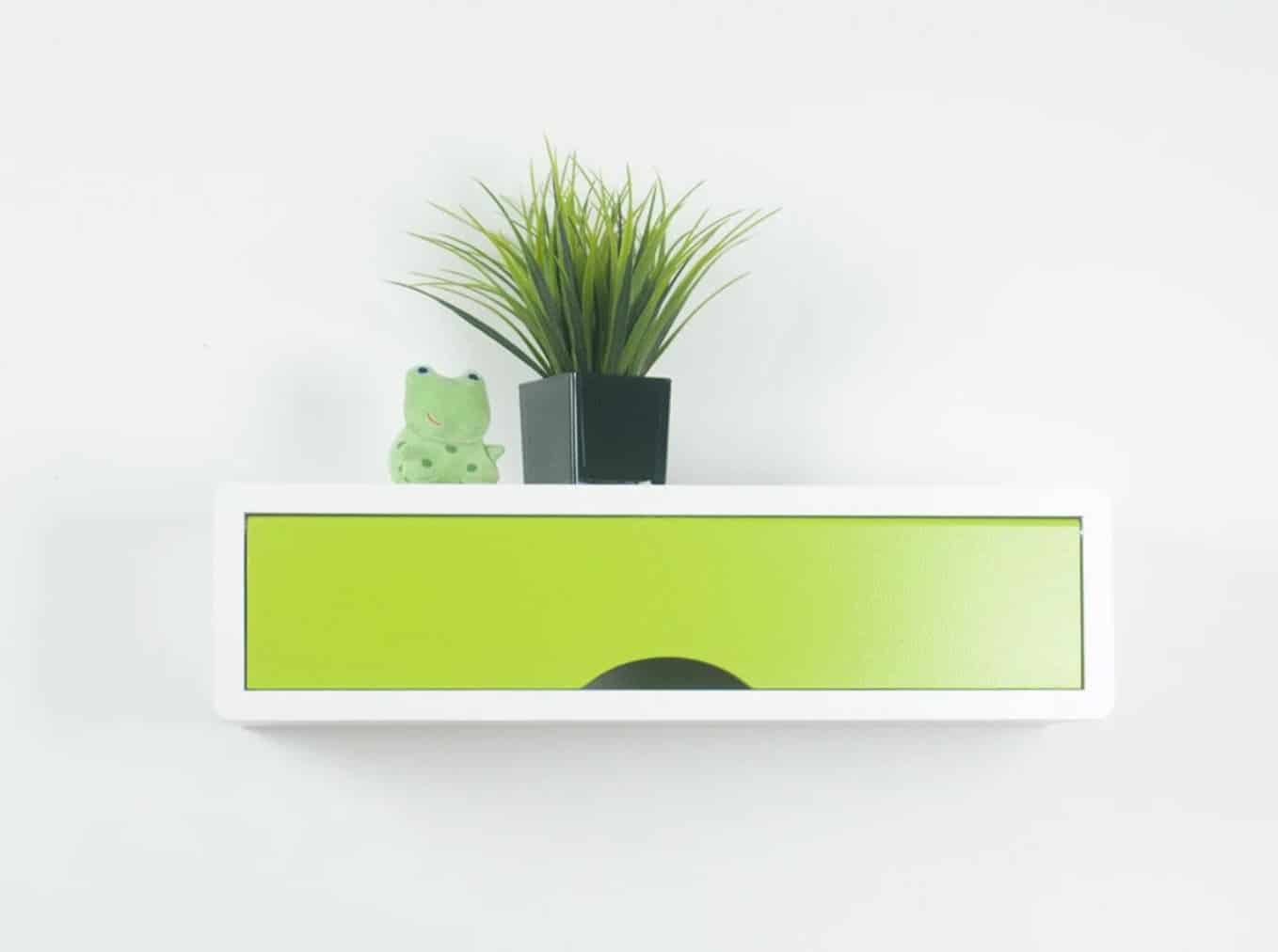 A similar option is the Contemporary Floating cabinet. This is a slim, wall-mounted cabinet that has no fuss or frills. You can choose the color you want for the door and what level of heavy-duty corner brace reinforcement you prefer. The popular colors are bright yellow, turquoise, laser green, rock gray, or white.
These are small but sturdy without any hardware on the doors; a half moon shape is carved into the door through which you can reach your hand and easily open the door upward. It's the perfect contemporary shelf for a contemporary office space or a kid's playroom. The cabinet is eight inches deep, so don't expect to be able to put more than books or some toys in there. 
FAQs
Question: How deep are floating wall cabinets?
Answer: This depends on the size of the cabinet, but in general, most of them average about eight inches deep. This is roughly half the depth you get with traditional cabinets, but the structural design of the floating cabinets inhibits the size; you don't want floating cabinets that jut out into your room over one foot. 
Question: What should I put in my kitchen floating cabinet?
Answer: If your floating cabinet has a small open shelf, consider stacking the dishes your family uses on a regular basis. For example, you might have a set of 8 or 12, but there are only two of you, so you don't need all of them out at any given time. You can keep most of the set in your regular hanging cabinets and then put a set of two on the open shelves and your floating cabinet.
You might also consider pantry staples that you store in glass containers. I have French canning jars, and small mason jars of various sizes where I store staples like pasta, rice, flour, sugar, beans, and the spice mixes I use most often, such as Taco mixes and jerk chicken seasoning.
Question: Where do I hang a floating cabinet?
Answer: How far off the ground you hang a floating cabinet is based on your needs and where you are putting it. A floating vanity in a bathroom is usually about 30 inches off the ground, but a floating TV stand should rest the television screen at eye level when you are sitting down on the couch. 
Question: How much weight can floating cabinets hold?
Answer: Again, this comes down to the type of cabinet you get. Smaller, modern cabinets are often described based on how much weight each shelf can hold, but bigger models are based on the average weight the entire unit holds. 
The reason for this is a difference in construction methods. If you have a square-shaped floating cabinet like the Renwick, it has a structural frame and a backing, which increases the stability and weight it can support. By comparison, if you have something smaller like the Contemporary floating cabinet, there isn't as much to the frame itself, which means it's limited and how much it can support. 
There are ways you can strengthen and reinforce your floating cabinets to support more weight. You can watch the video.
Bottom Line 
Prepac makes a great, basic floating cabinet for any space. However, my favorite for usability is the Oglethorpe Floating Desk.
You don't have to use it as a desk (you would have to install it high enough to fit a chair under if you did), but it makes for great storage just down a hallway, in an office, or in your guest bedroom. I love the idea of installing one in every room to free up space and give kids and working-from-home adults and guests a contemporary place to sit down and get some work done.