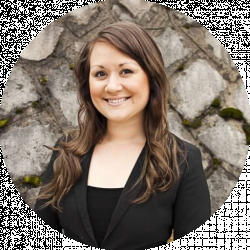 Latest posts by Lacey Jackson
(see all)
In our last home, we had this perfect piece of wall that was long and narrow but didn't really fit any of our pictures. It was the only room in the house that had a wall of windows perfect for admiring the view and warming up the room in the middle of winter.
It was also the only room big enough for the pool table, so that perfect piece of the wall became the new home for our dartboard cabinet, converting the room off the kitchen, which would have otherwise been a dining room, into a bar.
The setup worked out very well. It was, after all, the main place where people socialized when they came to visit and the warmest room in the house during the cold part of the year. But more importantly, because it was set up, opening the dartboard cabinet for a quick game or racking the pool table to relax after a hard day of work became second nature.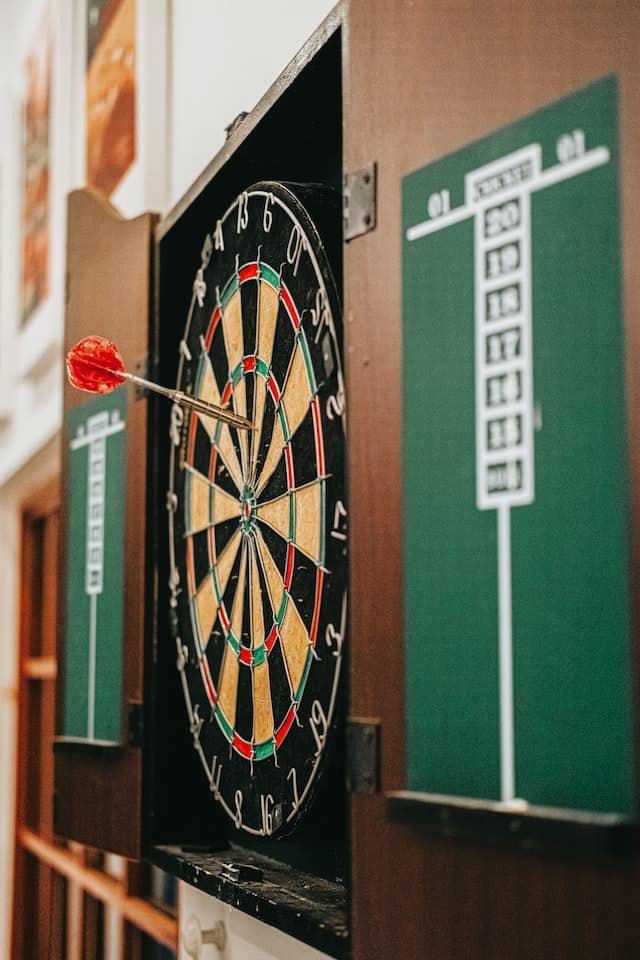 Bottom Line Up Front
A dartboard cabinet is the simplest way to keep all of your dartboard supplies in the same place, have a quick and easy setup for a game here and there, and protect your walls. It doesn't cost much, and you have ample designs from which to choose.
I recommend the Viper line because you can pick the type of cabinet and the accessories that best fit your budget. If you have the budget for it, my favorite is the Hudson.
Why Use a Dartboard Cabinet
Dartboard cabinets are the best way to protect your walls from darts. They give you extra protection and provide extra storage space when you aren't playing. If you've ever hung a dartboard directly on a wall without using a dartboard cabinet, then you probably know the fear of seeing a dart swerve off course and chip away at your wall. You might even know the fear of having landed a dart directly in the wall.
Making or Buying a Cabinet for Dartboards
Depending on your expertise, the tools you have at your disposal, and the design of your home, you might consider making your own cabinet for a dartboard.
Making a dartboard cabinet can be very simple if you go with a basic, rustic design, and it's perfect for an outdoor space. Using rustic wood planks, door hinges, latches, and handles from your hardware store, you can cut a simple box with two doors slightly larger than the box and hang it anywhere.
Depending on the hardware, the quality of wood you use, and any stain or protective coating you apply, you might end up spending a lot of weekends and a few hundred dollars more making a cabinet than you would buying a dartboard cabinet. 
However, if you want to go about making a cabinet yourself, you can watch this video on simple dartboard cabinet construction:
Steel or Electronic Dartboards
You can use steel or electronic dartboards inside a dartboard cabinet. These are the only two legitimate designs you will find that are standardized and fit within a dartboard cabinet. 
Some cabinets come with the dartboard and other accessories built into the cabinet already. This is often the case with electronic dartboards. 

Other designs are simply a cabinet with double doors that open outward and space inside for you to install the dartboard of your choosing. With these, you might find some that have holes pre-drilled in the back for the power cord to support an electronic dartboard. If you find a model you like that doesn't have this feature but want to install an electronic dartboard, you can drill a hole in the back of the cabinet yourself.
Steel
Steel dart boards have a steel perimeter, and the numbers are crafted in steel. You usually see sisal hemp fibers for the dartboard itself. These fibers are taken from the agave sisalana plant. Cheaper models might be made from plastic, cork, or softwood.
Electronic
Electronic dartboards are usually better for more social situations where you are playing with other people and want to play different types of games without keeping track of score yourself. The downside is that you need an outlet near the cabinet, and you might have a cord visible from behind the cabinet (unless you get a standing cabinet). 
How to Hang a Dartboard Cabinet
Hanging is simple. Find a spot that fits it best and look for studs if you can. Drill holes in the wall where the hardware will rest, and then hang the dartboard. Now, it is easier said than done because each cabinet comes with different hardware (except the standing cabinets which don't get mounted to the wall).
Use an electric drill to expedite the process.

Have someone with you. No, they aren't particularly heavy but it will be a lot safer and easier to match the hardware on the back of the cabinet to the wall.

Use a level and mark with pencil where the corners of the dartboard cabinet are supposed to fit so you don't end up with one side noticeably higher than the other.
Any item you purchase should include hardware or a guide on how to hang the cabinet.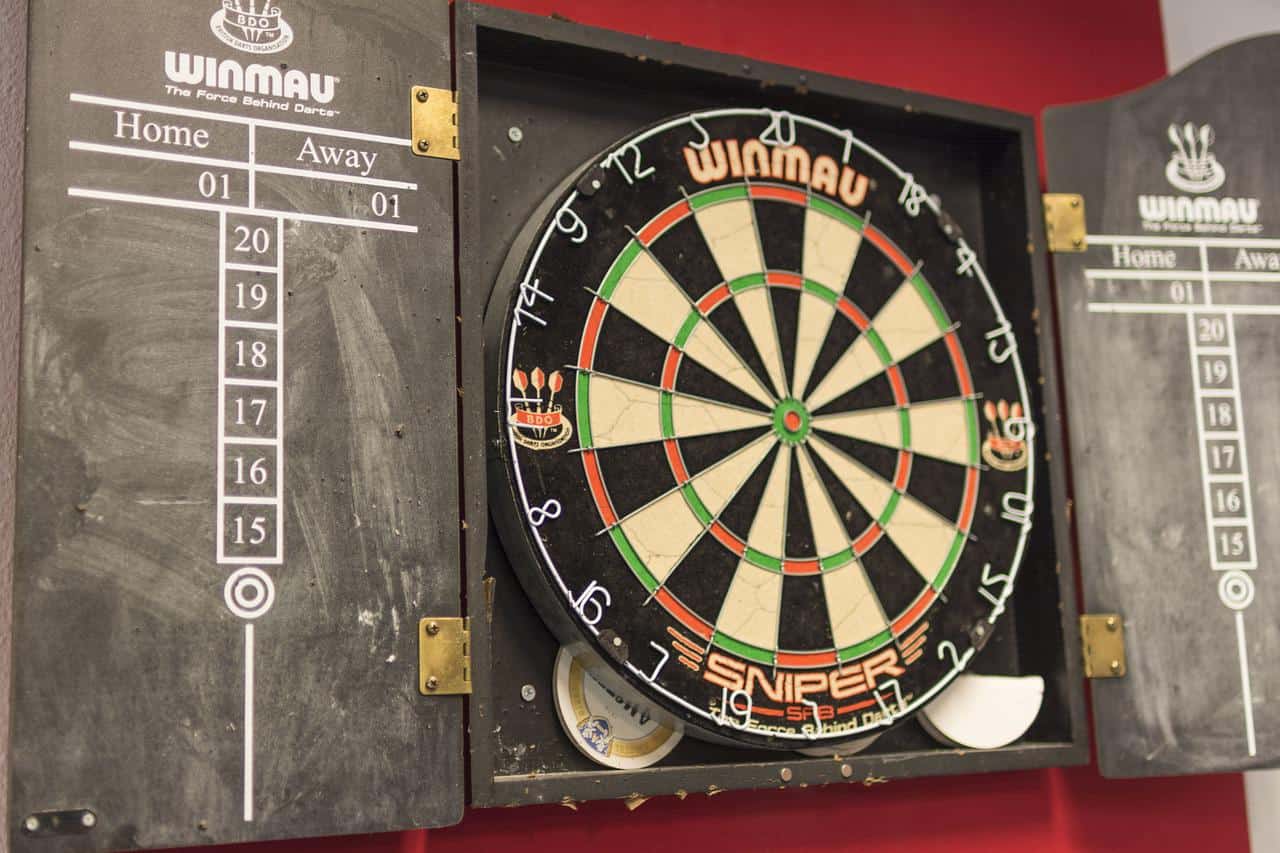 Where to Put the Best Dartboard Cabinets
I recommend putting them on the wall near a bar. They work especially well if you have a stand-alone or corner cabinet bar because it encourages people to make a drink and play a quick game while socializing.
You find darts at every bar because it's one of the few things you can casually play while standing around drinking and talking. It doesn't take away your focus from the people you are with, but it gives you something to do with your hands and a chance to sort of mingle and move through the group as you each step up and take your turn. 
I recommend a dartboard cabinet with ample storage space for all accessories. It makes it much easier to play a quick game if all you have to do is open the doors and find everything you need. It also makes it simpler to clean up.
Viper Hideaway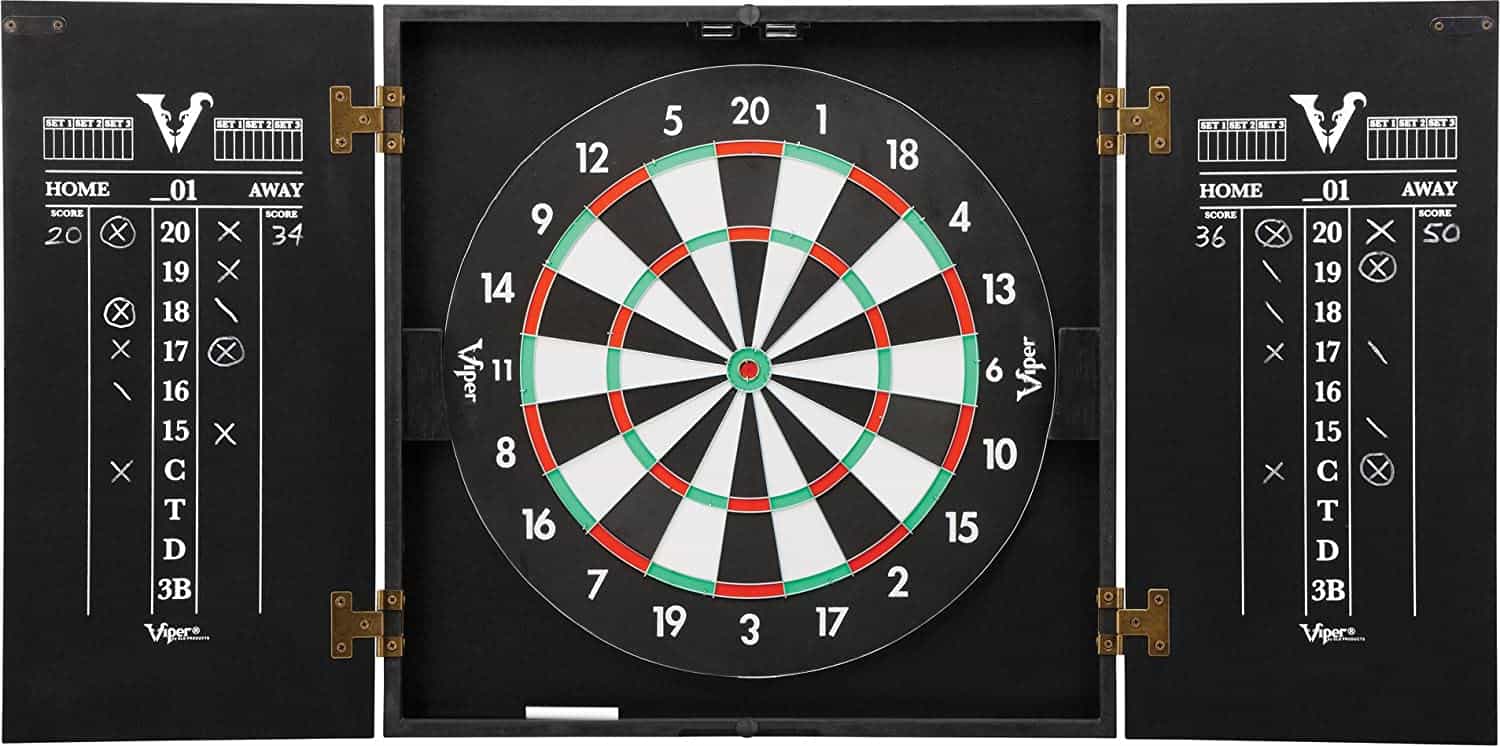 The Viper Hideaway is similar to the Viper model I have with the hinged doors and scoreboards on the sides (though mine is thicker, more durable, and nicer quality). Even though this isn't my favorite, it made the list because it is one of the cheapest dart board cabinets you will find; it comes with the dartboard, so you don't necessarily need to buy a new dart board and a set of darts to put in your cabinet.
This is really the perfect starter kit for a college dorm room, your first apartment, or a casual space in your garage-turned-man-cave. I recommend this model because it's a small cabinet with a quick chalkboard scoreboard on both sides and a dartboard in the middle. 
The chalkboards on either side are printed, so the lines and score markings are permanent, but you can fill in your points as you play. Just make sure you get an eraser. 
Pros
It is inexpensive and not oversized, perfect for a small space. 

It gives you two sets of starter darts, and it comes with all the mounting hardware you need.
Cons
It is limited in its available storage, so you might want to invest in a box or shelf nearby for all your darts and chalk. 

The quality isn't as great as the other options on this list. 
Viper Hudson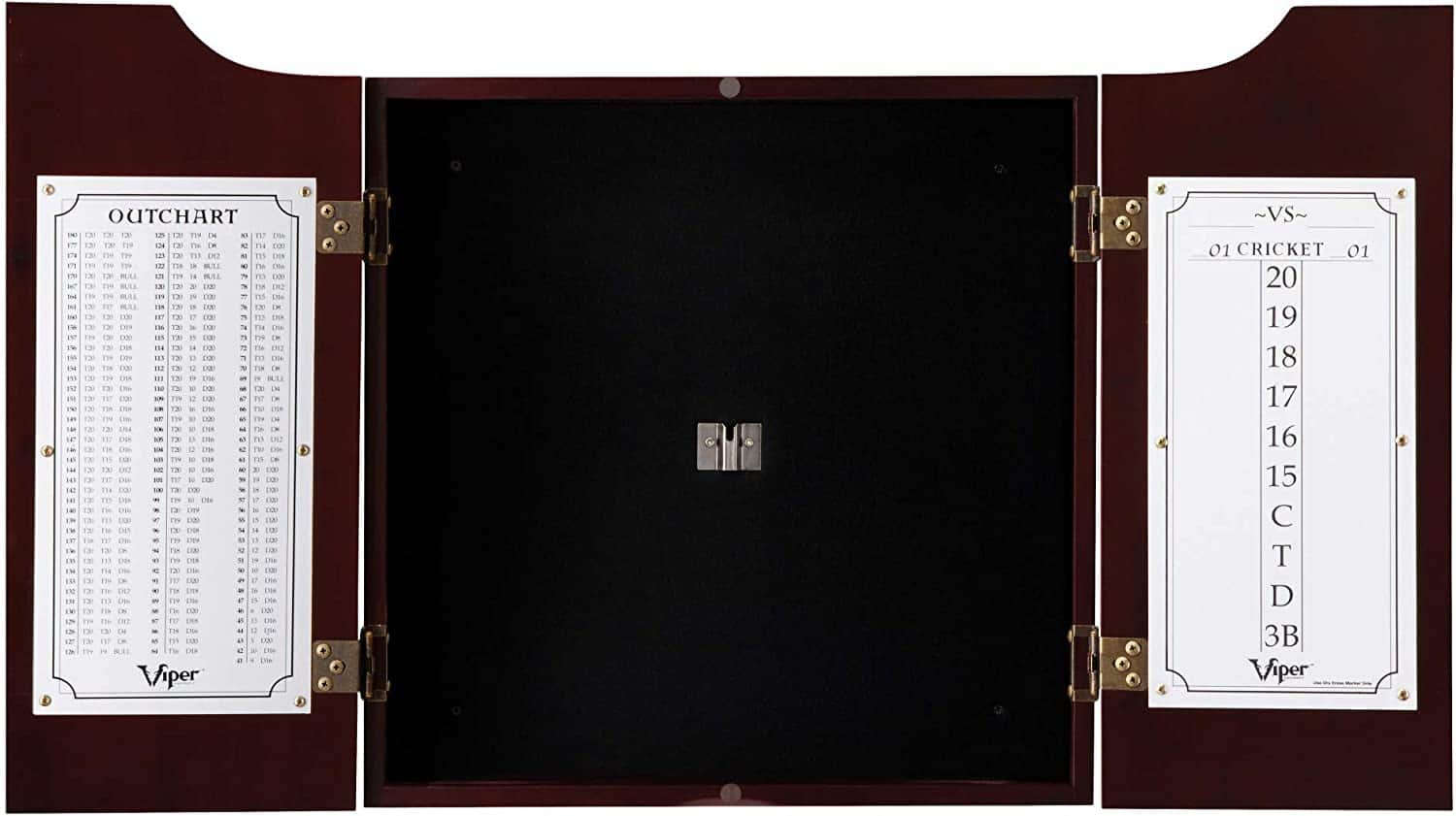 I like the Viper brand because they make a handful of the best dart board cabinets, each of which gets slightly better than the previous model and costs slightly more, so you can set a budget and pick something that fits your space and your finances.
I have the Hudson dartboard cabinet with the Shot King 17.75 inch diameter face Sisal Dartboard. I love the door stoppers, so it never slams shut. It has space to hold all of your accessories. Now, the downside is it doesn't have natural grooves or dart holders, but it is thick enough at 3.5 inches deep that you can set everything on the bottom of the cabinet before you close the doors. 
Pros
It is easy to install and comes with the hardware. 

It has a beautiful mahogany finish. 

The solid box joint construction means it lasts a long time (ours has seen regular use and multiple moves over the last 12 years and is in excellent condition). 
Cons
This model does not have the dartboard or accessories; it is

just

the dartboard cabinet. 
Brunswick Billiards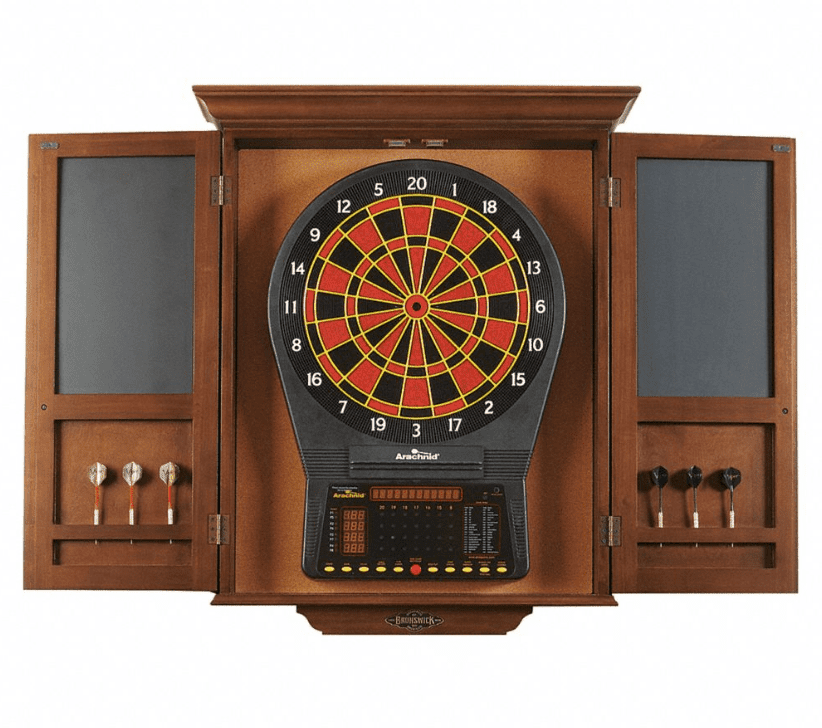 Whenever people see pictures of a recent visit to my dad's house, they ask me what bar we went to because it looks really cool. Internally I roll my eyes and prepare to explain that the bar is actually my dad's.
Most people misunderstand and assume that he owns a bar, so I have to clarify that he converted one-half of the downstairs into a legitimate bar. Every time I visit, he has constructed new furniture.
The last time we were there, his girlfriend demanded he build a "T-shaped" bar in the center of the room, replacing the pool table she was kind enough to throw out without asking while he was at work ("People need places to stand and socialize, and you have to buy all those hooks to install underneath so women can hang their purses and bags").
So on game day, we were rushing to the hardware store to buy extra hooks, and the very next day, she realized he had installed permanent furniture, mounting it to the structural beams of the house when she had apparently wanted something she could remove after the party.
This hilarity aside, his personal bar has always been stocked with the things that make up a real bar: actual pinball machines that you have to put quarters in, this electronic dart board, a pool table, and six flat-screen TVs all showing different games at the same time, a full bar and kegerator, end vending machines full of snacks and drinks.
I like this one because it has a much larger cabinet with double-duty doors, natural grooves to hold things like the chalk and the darts, and a cork backboard. If you ever see me throw darts, you'll appreciate why that cork backboard is so important.
Pros
It boasts durable hardwood construction, which lasts decades (I know; my dad still has his in great working order, and has had it since my childhood). 

There are dart holders for steel-tip or soft-tip darts on either door.

It has clean, blank chalkboards and chalk (with chalk grooves to hold it)

There is a cork backboard to protect against errant darts. 
Cons
It's expensive and takes a long time to ship. 
MD Sports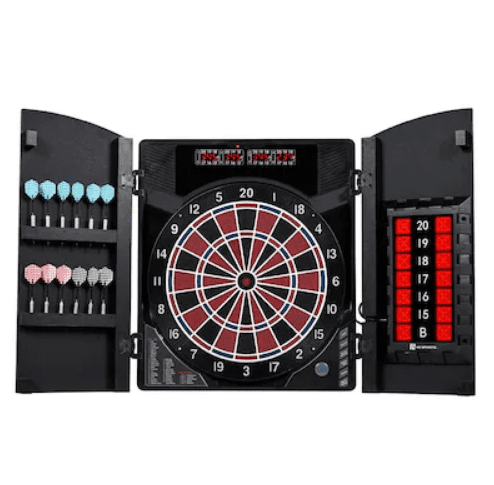 The Brunswick is huge, but if you want something slightly smaller and less expensive, the MD Sports model is a good alternative. I should probably explain that the biggest difference between the electronic dart boards and the traditional dart boards is the fact that it obviously plugs in, so you'll need an outlet nearby, but it also electronically keeps score for you. 
When you land a dart anywhere on the scoreboard, that particular hole automatically adds points to your score as reflected on the digital scoreboard. Many people prefer this because you don't have to try and keep scoring yourself or walk back and forth to the cabinet in order to write your score down. However, I will point out that at some point, you have to walk back and forth to the cabinet anyway to retrieve your darts. 
Pros
It is an electronic dartboard inside the cabinet. 

It comes with a digital scoreboard based on your shooting. 

There is storage for twelve darts on one door. 

It has led displays for up to 8 players.

There are cyber match functions that you can input to play 34 different games and over 294 varieties.
Cons
You need an outlet nearby.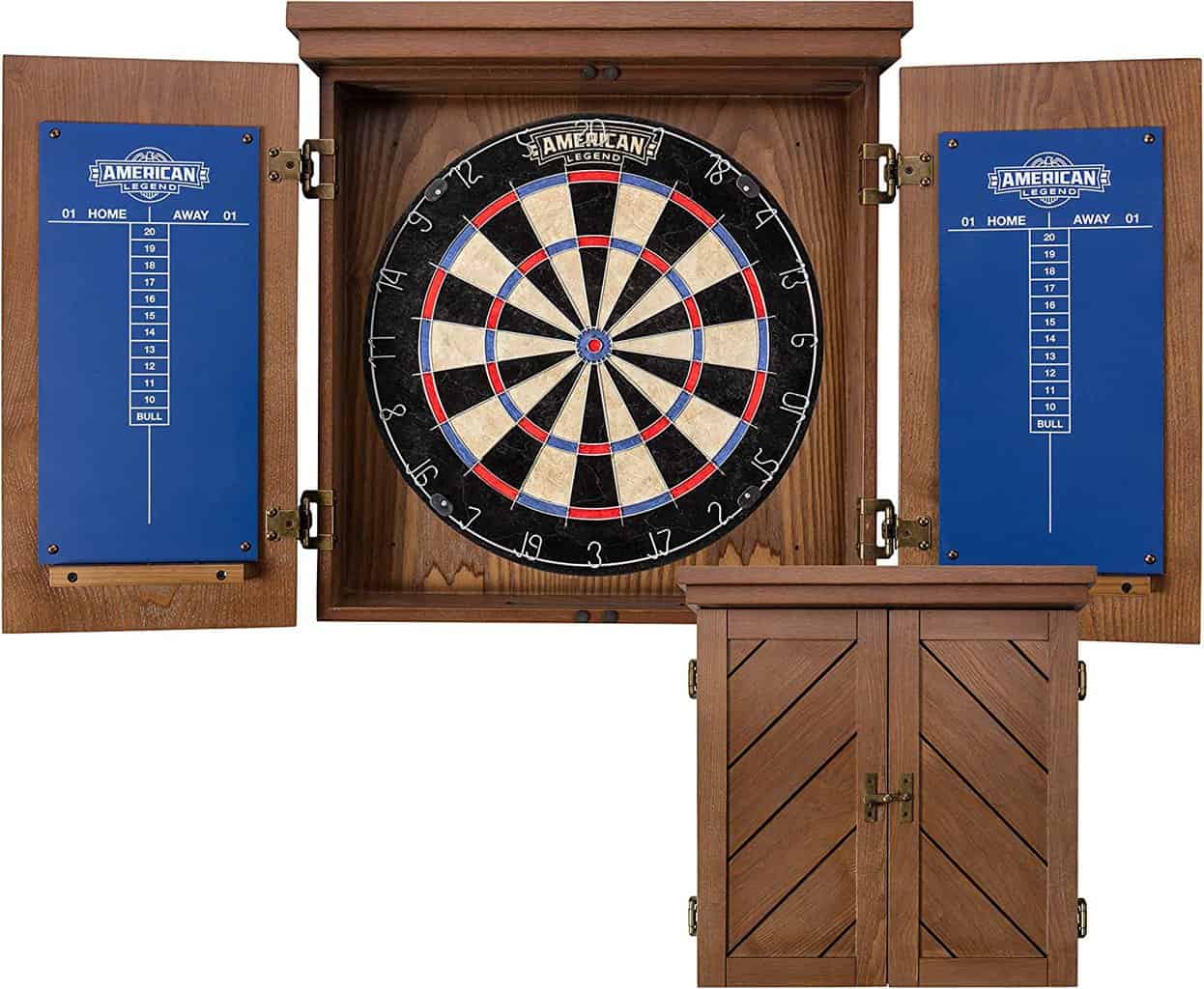 The American Legend is like an adult version of the Viper. It has the same structural solid wood design as the Brunswick but isn't electronic. In fact, it doesn't actually come with the dartboard.
Let me be very clear, if you are looking for the best dartboard cabinet and you already have a dartboard you like, this is a great investment. It's affordable, it holds regulation-size dartboards, it has elegant crown molding with a dark wood finish, and it comes with black chalk scoreboards on either side, white chalk, and an eraser, and there are spots to hold your darts.
Pros
It includes places to hold up to six darts (more than that, and you'll need to get separate storage). 

It has solid wood construction. 

The crown molding is beautiful. 
Cons
It doesn't come with the dartboard, so supply your own. 
Brown Wooden Cabinet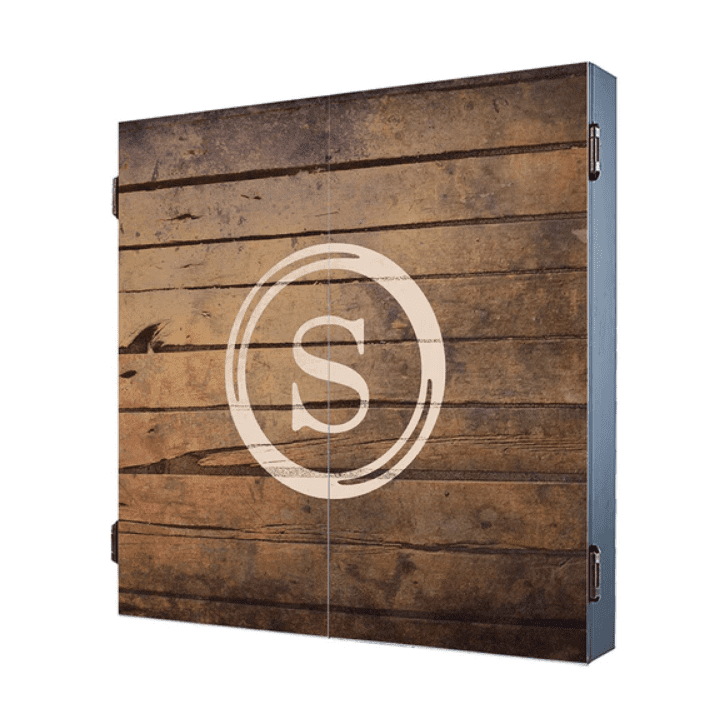 The Brown Wooden Cabinet made the list because it is just like the American Legend (it doesn't have the darts or dartboard but is a basic wooden dartboard cabinet), but it has the added feature of customizable graphics. 
This means when you order it, you can customize the graphics that are printed on the outside of the door. They only let you print a single letter, though, so it's not like you can put "Dad's Dartboard: Don't Touch!". Still, it's nice to have monogrammed gifts every once in a while.
It weighs 17 pounds; the front is printed to look like slats of wood. On the inside, there are holders for six darts, and it has the scoreboard on the left-hand side.
Pros
You can monogram the outside. 

It looks like it fits inside a barn or a rustic country-style home. 

It has the chalk scoreboard and dart holders inside. 
Cons
It doesn't have a dartboard or darts. 
Heritage
So far, everything I've mentioned is wall mounted, but sometimes you don't want something wall mounted; you want to stand up dartboard cabinet, and that's where the Heritage design comes into play.
This is a much more heavy-duty cabinet: it has two cabinets, one of which houses an electronic or steel tip dartboard, the other of which holds accessories. There are slots in it to hold each of the darts, and it has one dart board on the inside of the right-hand door. The bottom is slightly wider than the top cabinet, and it has three shelves that are adjustable and suitable for any accessories you have, not just dartboard accessories.
I saw a model very similar to this at a hotel. On the hotel grounds, there were multiple areas that had outdoor games. One tree, for example, had a legitimate treehouse suitable for adults with a swing hanging from the thickest branch. The tree house was full of chairs and a library. Next to that was a life-size game of chess. 
Slightly farther away, there was a section with a concrete floor and a roof. Underneath, there were two stand-up dart boards, and the shelves on the bottom of the dartboard cabinet had not only the accessories for the darts but the accessories for the nearby bocce ball court, the life-size checkers game, and the pool table. So it works really well if you have an outdoor space or an indoor bar and you need extra storage for all of your game accessories.
Pros
The lower shelves have adjustable storage and doors that close discreetly.

The top dartboard cabinet can hold an electronic dart board with pre-drilled holes for the power cord or a steel tip dart board.
Cons
The whiteboard scoreboard is relatively small compared to the size of the dartboard cabinet and the dartboard itself. I would have liked a much bigger scoreboard, one that was scaled to fit the size of the door.

It does not include darts or a dart board, so you have to bring all the accessories yourself. 
FAQs
Question: What is the official height of a dart board?
Answer: Dartboards, according to the Darts Regulation Authority, should be measured such that the bullseye is 5 feet 8 inches tall. You should also stand approximately 7 feet 9.25 inches away. 

The easiest way to make sure you are installing your dartboard cabinet correctly is to measure from the bottom of the cabinet to the bullseye and subtract that amount from the 5 feet 8 inches mark listed above. Then you can simply measure whatever that remaining amount is and place the bottom of your cabinet at that point on the wall.
Question: What size should a dartboard cabinet be?
Answer: Dartboard cabinets are anywhere between 24 inches and 20 inches wide, 24 and 37 inches tall, and 2 to 7 inches deep, depending on their design. 
Question: Where is the best place for a dartboard cabinet?
Answer: Hang your dartboard cabinet or install the standing cabinet anywhere you will legitimately play it and where you have room on either side. While technically, players don't need more than a couple of feet in width because they are throwing straight down the line, it doesn't mean you won't be distracted if you have furniture, windows, mirrors, or in my house, a piano on one or both sides.

So make sure you have enough room to feel comfortable and safe while you throw. Also, account for anything hanging on the wall nearby or any furniture that could accidentally get damaged if a dart bounces off the dart board cabinet and hits something else.
Bottom Line
A dartboard cabinet is the simplest way to keep all of your dartboard supplies in one place, have access to a game whenever you want, and protect your walls. The cost of a dartboard cabinet doesn't have to break the bank. I recommend the Viper line because they have a range of quality materials and accessories depending on your budget. They are a simple line that looks great in any room.