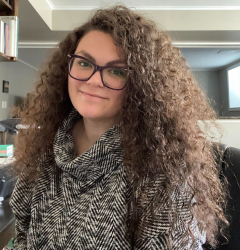 Latest posts by Candace Osmond
(see all)
Cocktail aficionados know that an ever-expanding home liquor collection is a fantastic thing. However, storage for all those drinks is often an afterthought, even though that's where the best liquor cabinets with locks shine.
The purpose of these units is to create tailored spaces for your barware, cocktail ingredients, spirits, and even wine. Personally, I'm a bigger fan because they deliver more organized storage spaces than their mobile counterparts, bar carts. Scroll down for my picks for the best liquor cabinets with locks to get this year.
Bottom Line Upfront
I love the Howard Miller Piedmont Corner Bar Cabinet for so many reasons! It fits in the corner, so it's a space saver, but it also houses so much. Space and capacity are big factors for me.
Top 3 Picks
These were the statement pieces that stood out the most during my research.
Reasons To Lock Your Liquor Cabinet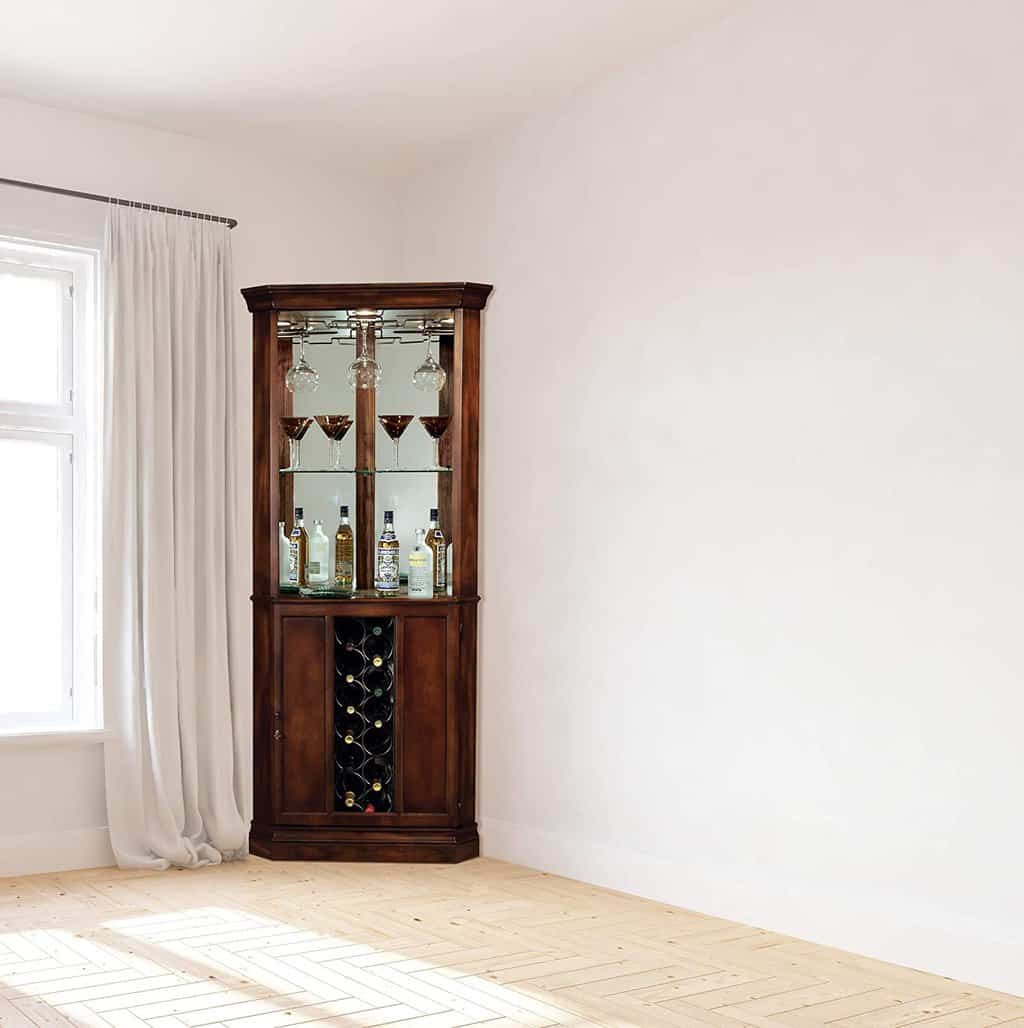 A security system comes standard with most liquor cabinets, and for a good reason. Here are four reasons you should keep yours secured under lock and key.
Keep Babies and Toddlers Out
Babies and toddlers will crawl, grab, and hold onto things. If your baby has the strength to grab onto unlocked cabinets, they could hurt themselves in myriad ways. What's worse is if they accidentally open the cabinet filled with liquor bottles and start playing with them.
With locks in place, you'll have fewer things to worry about and rest assured you've averted many potential accidents.
Keep Teenagers Out
As parents, it can be hard to draw the lines with your kids about certain responsibilities. Thankfully, my littles aren't quite there yet, but I was once an untrustworthy youth LOL, so I get it. That's particularly true once they hit their teenage years. And even when you can trust your own to be responsible, you can't always say the same for their friends.
The forbidden liquor cabinet is one of the first places these impressionable teenagers will go to once adults leave the house. This is even more likely when their friends are around. Fortunately, you can eliminate this whole scenario with a little extra effort. Something as easy as locking up the liquor cabinet.
Protect From Intruders
Liquor drinking is a pleasure, and liquor collecting is a joy. That said, the fun and games are over when someone who shouldn't sneak into your liquor cabinet. Yours don't need to be caches of the world's most expensive bottles to qualify as a collection intruders will find irresistible.
So, if you're worried that someone may enter your cabinet without permission, it's a good enough reason to lock down.
Peace of Mind
Installing double locks on your windows and doors enhances your home security. Adding locks on your liquor cabinet, however, assures you that glass shrapnel-related injuries to your loved ones are prevented.
Types of Liquor Cabinets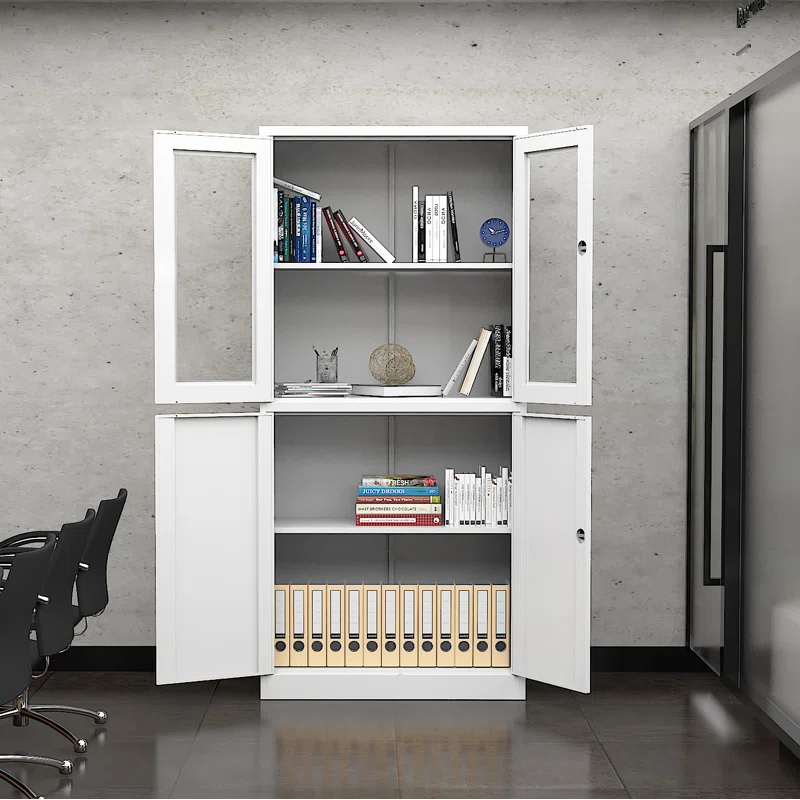 Before making a purchase decision, it's critical to consider the different types of liquor cabinets out there. Read on to find the right style for your home, personal preferences, and needs.
Metal
You won't find many metal liquor cabinets in regular homes as they're mainly created for commercial spaces. That said, it's the best option if a modern look is what you're going for. Feel free to paint your shiny, plain, steel, stainless steel cabinets for a more colorful and exciting appearance.
Wood
Solid wood remains one of the most popular materials for liquor cabinets for its longevity, durability, strength, beauty, and versatility.
Also, no two pieces of wood are the same, and neither are wood cabinets. From texture and pattern to grain and color, wood liquor cabinets retail in various styles and looks.
Glass
Get a glass liquor cabinet if your goal is a liquor cabinet with locks that adds glamor to your space. Like their counterparts, glass liquor cabinets retail in a wide array of shapes and sizes to suit everyone's personal preferences.
You can arrange themed displays with glass liquor cabinets or simply showcase your most sought-after bottles. This makes a focal point out of them.
MDF
Medium Density Fiberboard (MDF) liquor cabinets are arguably one of the most popular cabinets in the market. We can attribute that to the fact they're easy to clean, durable, and affordable. They also come in a variety of styles and finishes.
What's more? Unlike solid wood, MDF is denser and retails with a smoother finish with no grain. The last feature makes it the perfect option for those going for a professional look in their liquor cabinet.
Types of Locks for Liquor Cabinets
Like liquor cabinets, locks come in a wide array of types and models. The one you pick will depend on your particular requirements and the type of liquor cabinet you have. Here are the four types of locks for liquor cabinets you should consider.
Stealth/Electronic Locks
You must have heard of purely electronic locks that help secure doors and cabinets in high-priority areas. I won't get into the nooks and crannies of how these locks work. All you ought to note is that they're unlocked using numerical keypads mounted on the liquor cabinet door.
Their design makes them the perfect keyless option in situations where many people need access to the cabinet.
Cam Locks
Cam locks are, without a doubt, the simplest choice in the realm of locks for liquor cabinets. The cam lock is made of a cylindrical base with a keyhole and a metal piece known as the cam. This cam sits perpendicularly at the end of the cylindrical base.
When you insert the key into the keyhole and turn, it turns the cam up or down to open. In its locked position, the cam is horizontal and fitted into strike plates attached to the door frame.
Combination Locks
As their name suggests, combination locks require specific sequences of numbers, symbols, or letters to open. The most common methods for entering these sequences are rotating dials or keypad entries linked to internal discs.
Combination locks retail in many forms, including electronic, multiple dial, and single dial. Single dials use only one combination dial attached to a spindle or rod. Multiple dial locks, however, use a handful of dials.
Deadbolt Locks
Deadbolts have been repeatedly rated as the most effective, standard, and cost-effective locks for cabinets. This mechanism revolves around a cylinder that runs directly through the cabinet door and has a keyhole outside.
What To Look for In a Locked Liquor Cabinet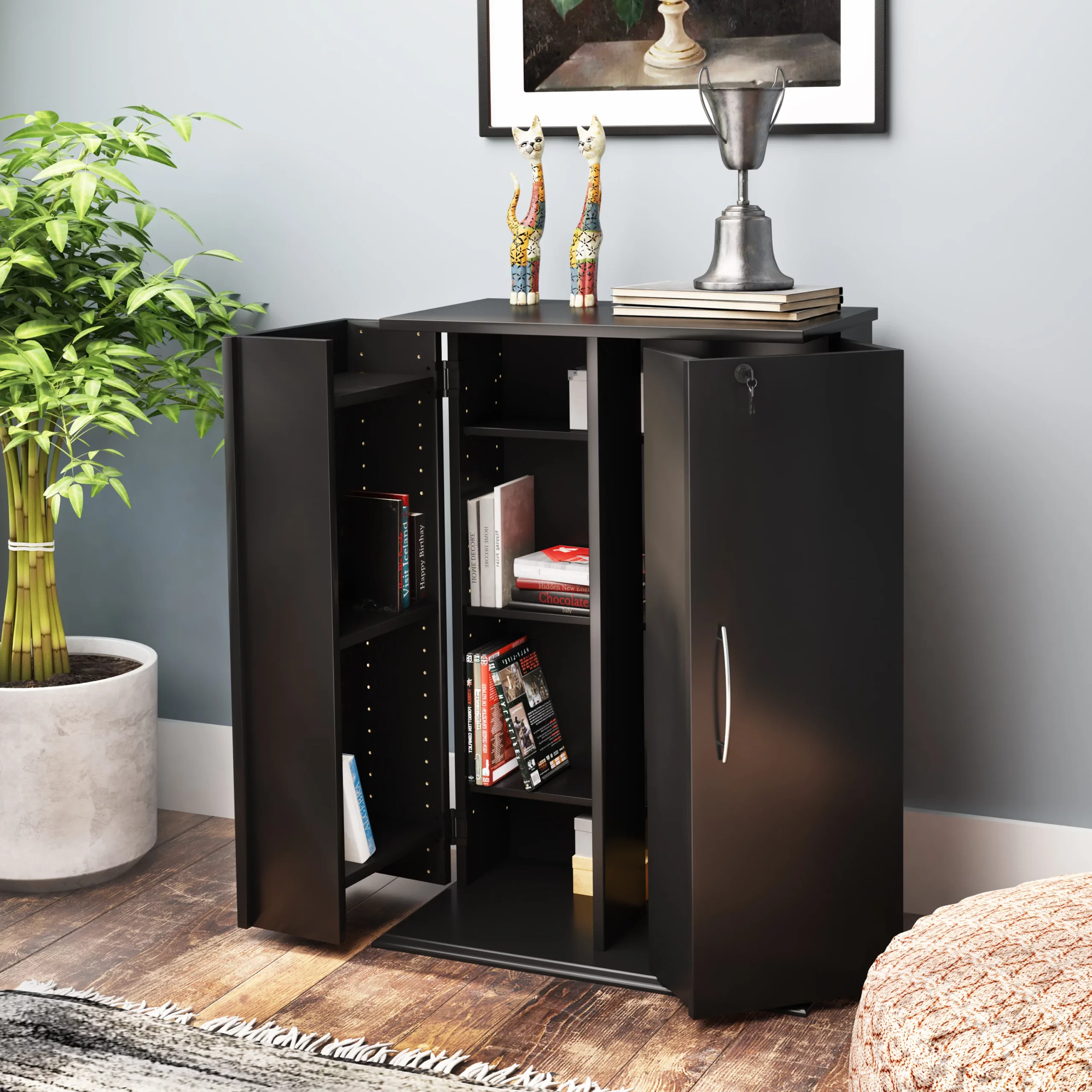 These features will ensure you've sufficiently protected your drinks and kept them away from itchy fingers. These good pointers are the least I can do to point you in the right direction.
Secure Locking Mechanism
The whole purpose of a liquor cabinet with locks is to keep your bottles safe and protect the young ones. As such, the unit you get should have a lock mechanism that isn't easy to break into.
Quality Materials
As we've seen above, liquor cabinets retail in a wide array of materials, mainly solid wood. Whatever your choice of construction material, it should be durable, sturdy, and aesthetic. My go-to aesthetics solution is to pick solid wood and have other materials like glass embedded into the design.
Right Size to Fit Different Bottles
A wall-mounted or hanging liquor cabinet should be at least 30 inches tall, 5 inches deep, and 23 inches wide. This size can hold up to 20 liquor bottles with a versatile middle shelf. That's the average number of bottles you'll find in most liquor cabinets.
For buffet-style or stationary cabinets, you're best with a 36 by 34 by 8 inches liquor cabinet. This size won't just award you generous storage space for bottles. You can also use it for glasses, napkins, and other incidentals. With a rolling cabinet, however, you'll need adequate storage space without bulkiness. You need to move it around quickly, after all. For easy maneuvers, go for a 24 by 28 by 28 inches liquor cabinet.
Style and Design
You'll need to decide on the location to narrow down on style and design. Where do you intend to place the cabinet? You can have it in your study room, basement, or living room. If the cabinet is hidden, you don't need to bother with the style and design.
If you intend to display it as one of the room's furniture, pick styles and designs that blend in or compliment.
Price
How much will you spend on the locked liquor cabinet? Since they retail in different sizes and designs, their price also varies. Whatever your price, ensure the construction quality is worth your hard-earned cash.
The Best Liquor Cabinets with Locks
These are the best liquor cabinets with appropriate safety locks inaccessible to little hands. But I chose a good selection of styles, prices, and locking mechanisms.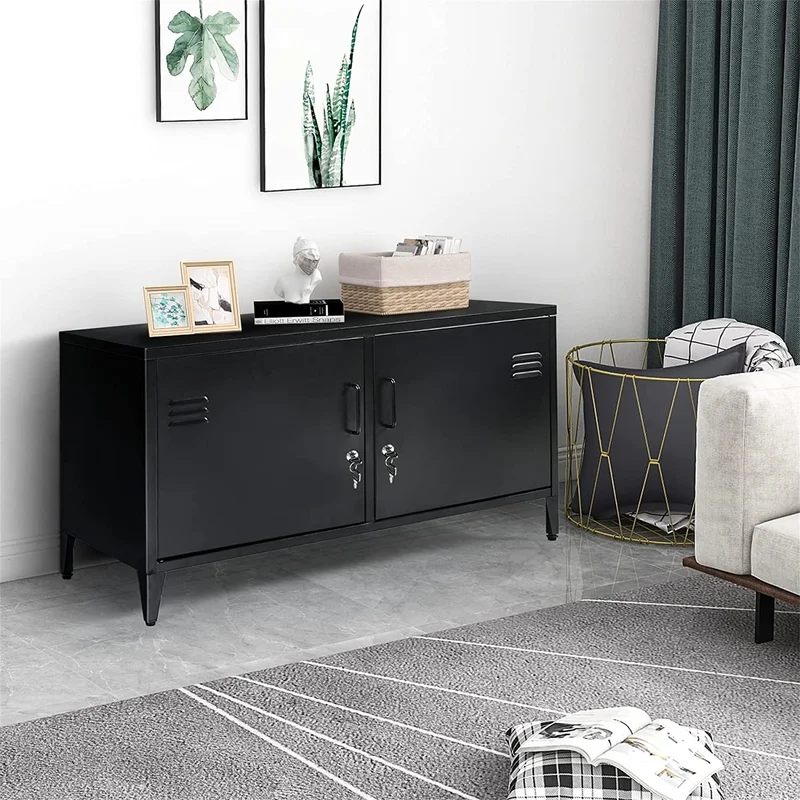 With sturdy, adjustable shelving, this Metal Liquor Cabinet from 17 stories keeps booze out of sight but not out of mind. It's made from stainless steel and has a 'Mad Men' vibe to it that I really dig. While the assembly is required, it should take you no more than ten minutes to put together.
Price Range: $309.36 – $$386.99
Material: Steel
Shelf Weight Capacity: 200 lb.
Pros
Backed by a 60-day limited warranty
Perfect for both residential and non-residential use
Weight capacity of 200 lb.
Water, scratch, corrosion, and fade resistant
Built to last
Cons
No natural variations in design
Full assembly needed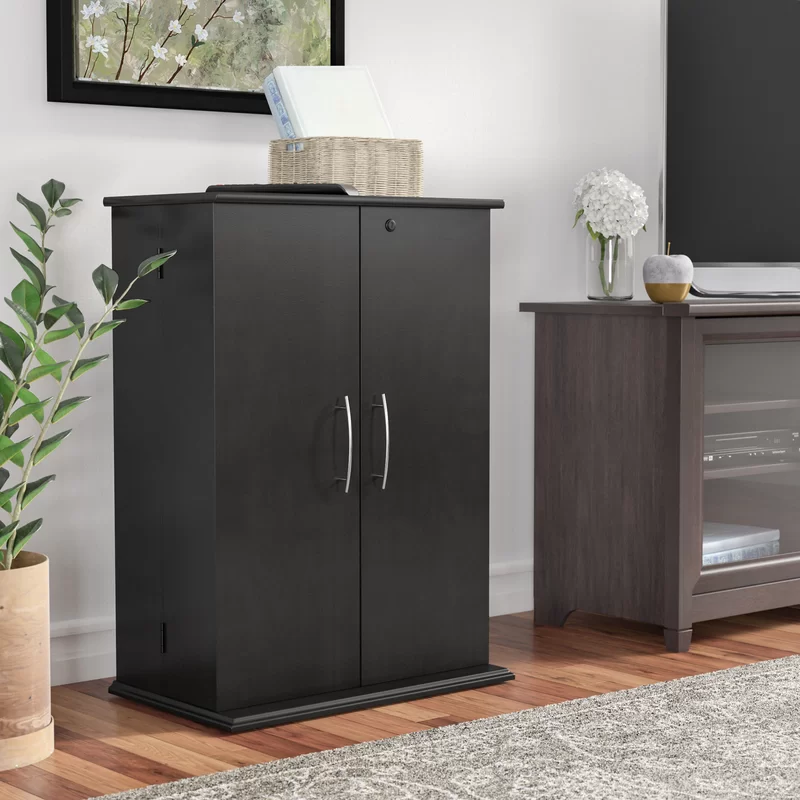 This handsome liquor cabinet is packed with features that'll allow you to customize it to your needs. Both doors open to expose a cool partitioned storage area with adjustable shelves. The five-year limited warranty should keep you at ease, too. I know that's a big selling feature for me. I feel like nothing has a decent warranty these days.
Price Range: $310.89 – $330
Material: Manufactured Wood
Shelf Weight Capacity: 100 lb
Pros
Easy to clean and keep looking sleek
Ample storage space
Durable and sturdy double door design
Will accentuate any room's features
Tip over restraint device included
Cons
 Additional tools required to assemble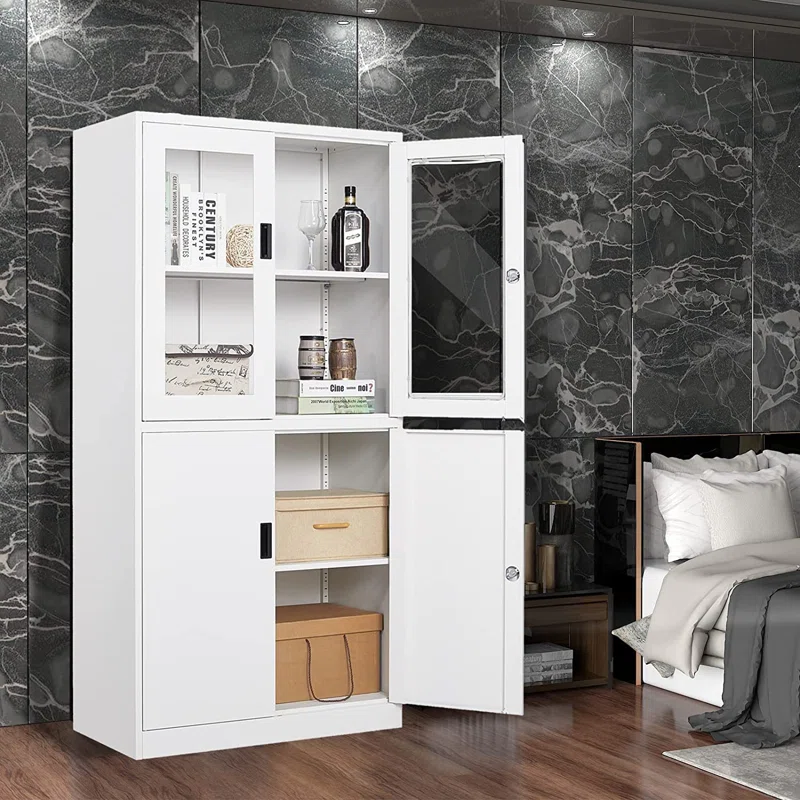 Here comes a stylish and compact liquor cabinet with two metal doors, two glass doors, and two adjustable shelves. If these don't qualify the unit as one of the best unique storage ideas, I don't know what will. The piece is also constructed from steel and finished with a powder coating for durability and aesthetics.
Price Range: $900.89 – $1,010.99
Material: Steel
Shelf Weight Capacity: 120 lb.
Pros
Intended for both residential and non-residential use
Easy to assemble
Extremely versatile
Boasts a large storage space
It will look good in any room
Cons
Tip over Restraint Device isn't included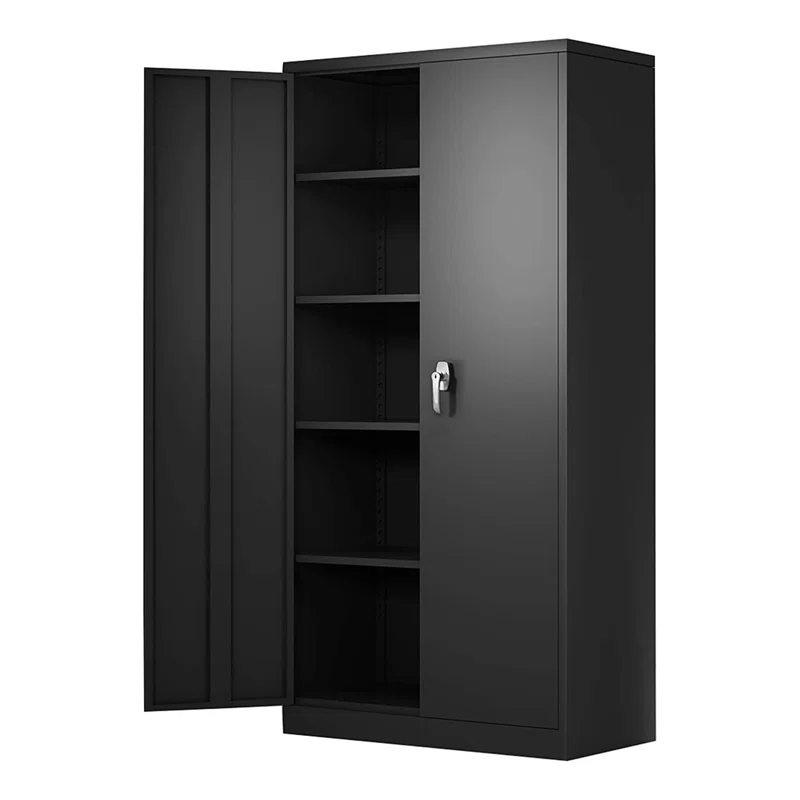 This tall, versatile liquor cabinet by Inbox Zero offers ample storage and overall functionality. In addition to its four adjustable shelves, the unit is also fitted with a 3-point locking mechanism.
Price Range: $805.38 – $899.99
Material: Steel
Lock Type: 3-point locking system
Shelf Weight Capacity: 120 lb.
Besides liquor, you can also use the five shelf spaces (total) to store pantry goods, office stationery, and more. I mean, if I had this beauty, I'd probably put it in my office to store both supplies and liquor, haha!
Pros
Will blend into any interior décor
Durable, sturdy construction
Backed by a 60-day limited warranty
Easy to clean
Safe and secure
Cons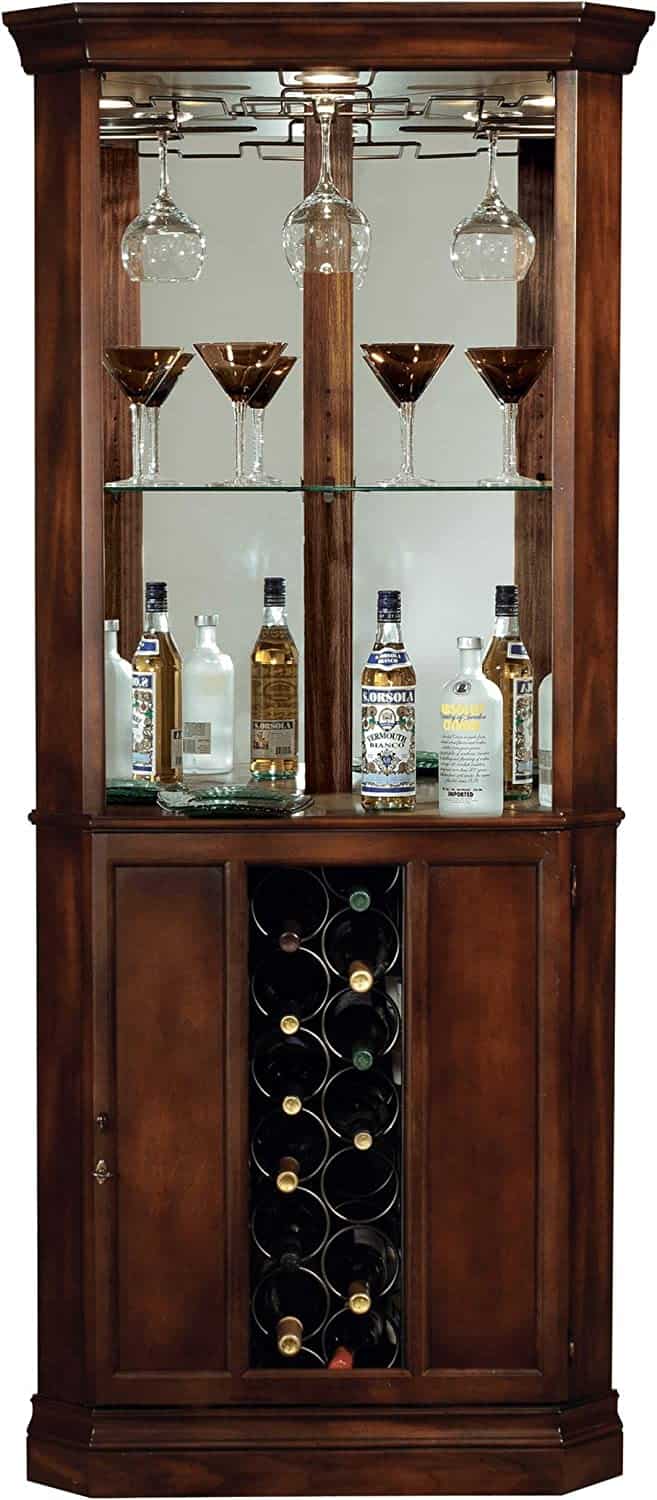 Are you looking for the best budget liquor cabinet that also doubles up as the best traditional-style unit? This Howard Miller Piedmont Corner Liquor cabinet could be what you're looking for. I'm totally in love with the style of this unit and can see it fitting with so many different kinds of home décor. This is a serviceable piece with a wine rack for up to 13 bottles and cabinets to keep appearances tidy.
Price Range: $1,399 – $1,650.89
Material: Wood
Lock Type: Pad-Lock
Capacity: 13 Bottles
Pros
Boasts an aesthetic rustic cherry finish
Delivers ample storage space
Distressed finish for an aged appearance
Will complement any interior décor
Clocks, curios, and custom storage included
Cons
The 13-bottle capacity is too small for some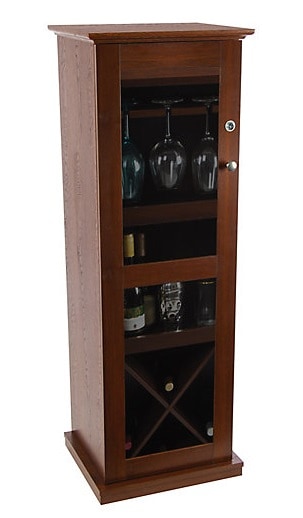 This liquor cabinet won't win any design awards, but it is simple enough to blend into most home decor. Plus, it's on the affordable side, which is always a plus. More importantly, the unit has a built-in lock if you prefer using a key to baby-proof locks or latches. Multiple shelves have been added inside to award you ample storage space for your glasses and bottles.
Price Range: $189.99 – $205.85
Material: MDF and Glass
Shelf Weight Capacity: 120 lb
Pros
Elegant design
Easy to assemble
Backed by a one-year manufacturer's warranty
120 lb. weight capacity
The tempered glass pane gives a beautiful view of the inside
Anti-tip kit included
Cons
 Design too simple for some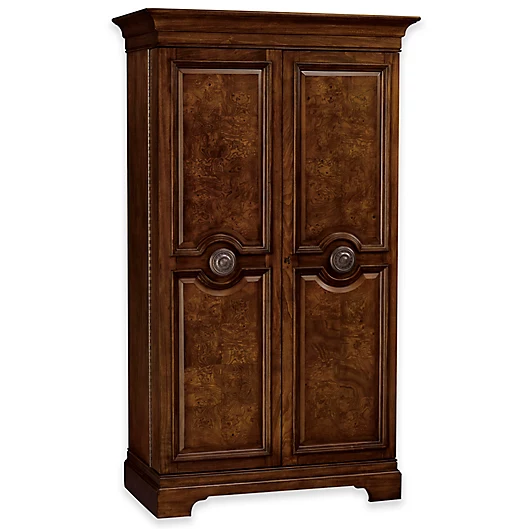 Yowza! This unit is pricy, but some might think it's worth the investment. Are you into the rustic look, but the last rustic units we've looked at didn't meet some of your requirements?
Price Range: $3,649 – $3,999.89
Material: Wood
Capacity: 22 Bottles
This tall, solid cabinet, also from Howard Miller, could be what you're looking for. It can store up to 22 bottles (Woah!) and has room for additional wine glasses.
Pros
It has a mirrored back
The distressed look gives the cabinet an aged appearance
No assembly required
Backed by a one-year manufacturer's warranty
Sturdy and durable
Drawers included
Cons
Shelves aren't adjustable
Alternatives To Consider
None of the locks on the units above quite cut it for you? That's totally okay! You can add a lock to pretty much any cabinet. Here are four types of locks I think are worth considering.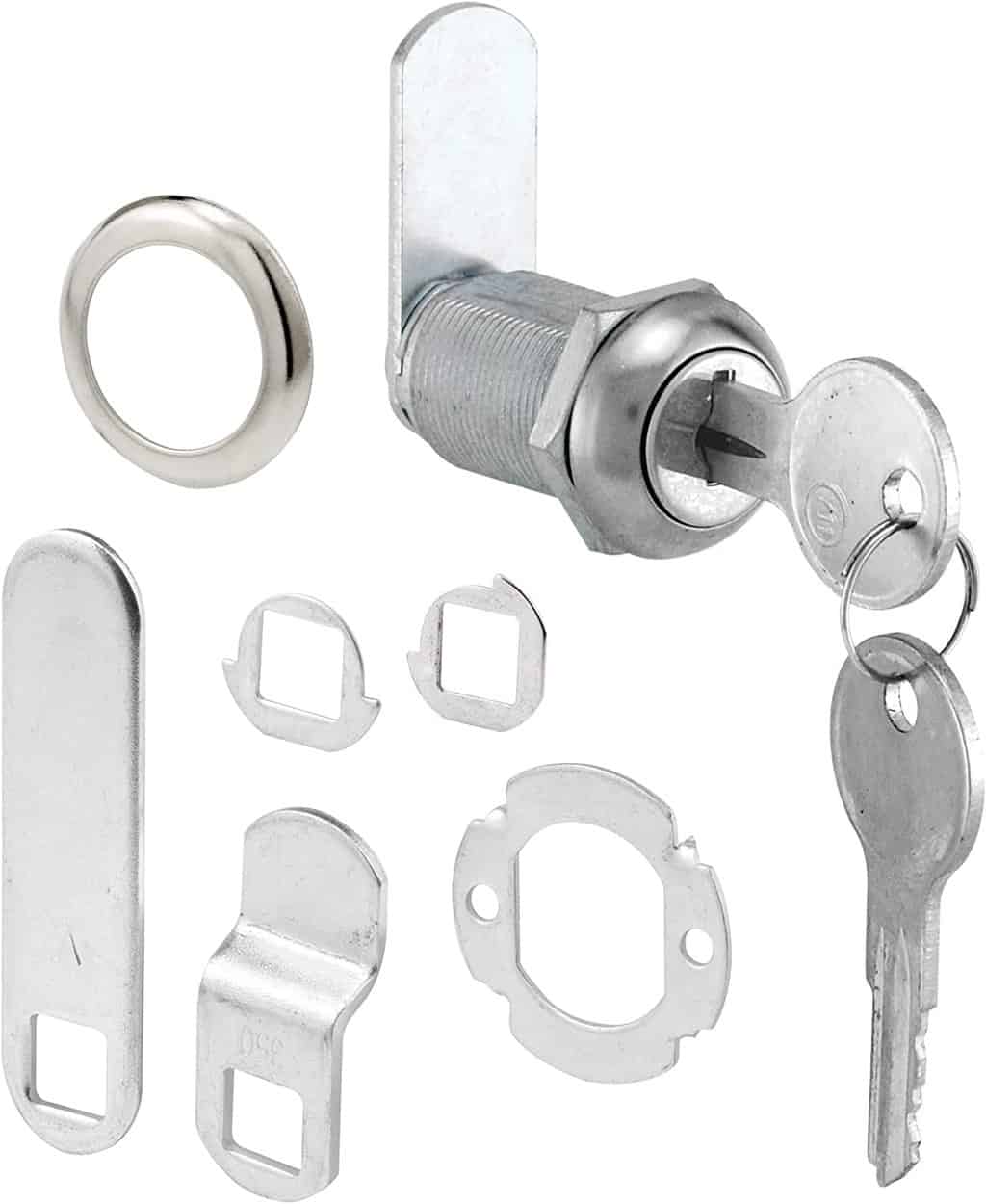 The small, discreet, effective Defender Security locks work like cabinet door blockers. When locked, they rest in a slot and can withstand up to 800 lbs. of force. You'll simply slide it up and swing it out to unlock it.
Price Range: $6.97 – $9.39
Material: Die-cast
Lock Type: Key Lock
Pros
Easy to install
It comes with everything needed to install
Durable, sturdy construction
Backed by a one-year warranty
Impossible for children to get around
Cons
A lot of extra pieces are included, so some experience is needed to install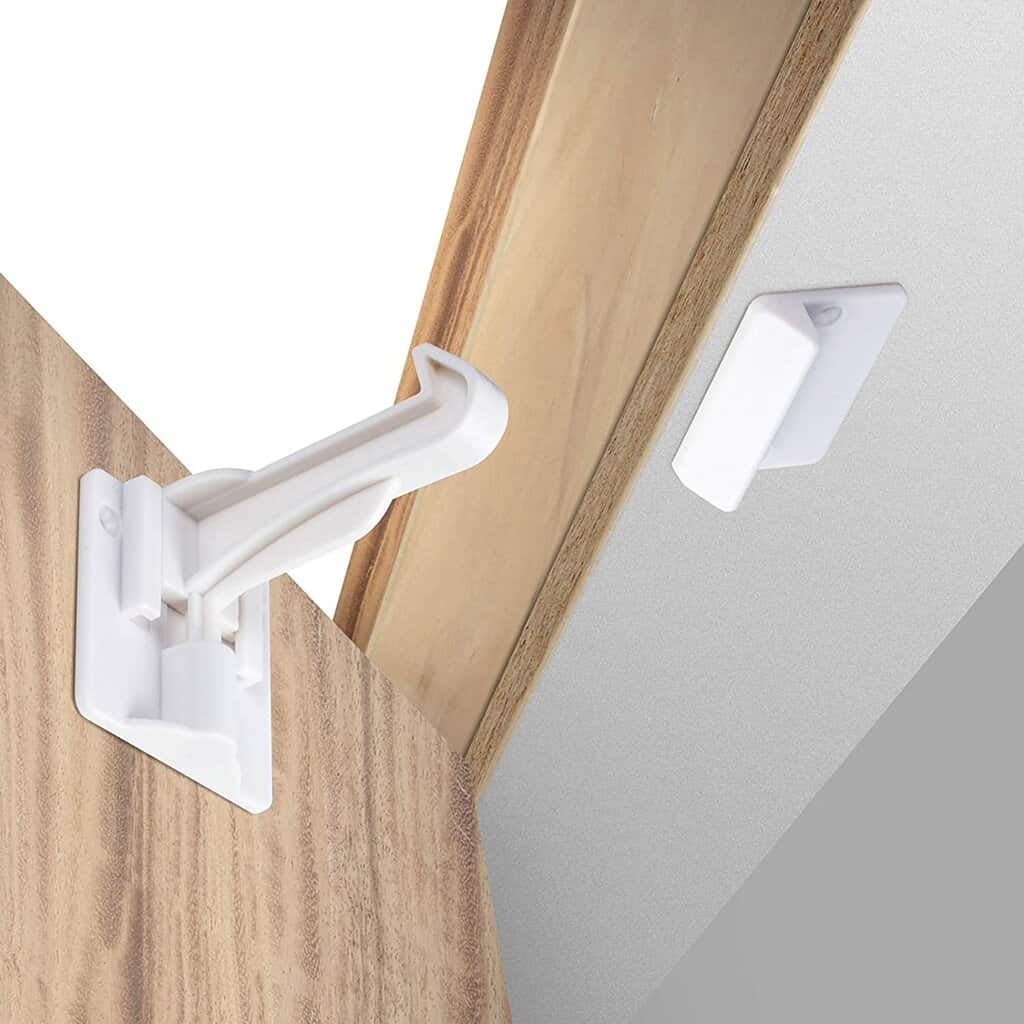 Do you fancy the idea of a hands-free, keyless door lock for your liquor cabinets? Then these cabinet latch locks from Benny Bradley's are the easiest way to get it. The locks will fit every cabinet, including those with or without crossbars.
Price Range: $16.99 – $30.86
Material: Plastic
Lock Type: Latch Locks
Pros
One size fits all
You can either screw or attach them to the cabinets
Super easy to install, even for beginners
Not visible from the outside
Cons
Locking the door isn't just as easy as slamming it shut. You have to slide your fingers to latch the lock
Its potential additional uses are endless when you're not using these Jetec Store Sliding locks on your liquor cabinet. You can also use them on your cupboards around the house, storage doors, refrigerator doors, and regular kitchen cabinets.
Price Range: $17.55 – $20.99
Material: ABS
Lock Type: Sliding Lock
Pros
Aesthetic design
Wide applications
Excellent quality and workmanship
You receive ten pieces after your purchase
Made of a sturdy ABS material
Cons
The material is too flimsy for older kids
Do you want a solution that'll not wield to any amount of pressure? These Urban August Cabinet locks are as durable and sturdy as they come. The lock is cut-roof and virtually indestructible under normal circumstances.
Price Range: $8.79 – $13.99
Material: Stainless Steel, Alloy Steel
Lock Type: Key Lock
Pros
Works with all standard cabinet door preparations
Easy to install
Strong and sturdy
Exceptionally durable
Very versatile
Cons
Hard to destroy if you ever lose the key
FAQs
Question: What is the Most Secure Lock for Cabinets?
Answer: The most secure lock for liquor cabinets is a deadbolt lock. The mechanism revolves around cylinders that run directly through cabinet doors with keyholes outside. For even better protection, consider having two deadbolt locks per cabinet door.
Question: Do You Have to Lock Your Liquor Cabinets?
Answer: Yes, you must lock your liquor cabinets if you wish to secure the items stored from intruders and snooping guests. What's more? Locking your liquor cabinet will be handy if you don't want your teenagers or toddlers accessing the bottles.
Question: How Big Is Your Liquor Cabinet?
Answer: The average height and size of bar cabinets will significantly vary based on the manufacturer and specific product. That said, the average liquor cabinets with locks clock in at around 15-20 inches deep and 30-26 inches wide.
Bottom Line
Curious little ones love to explore everything around them. An essential part of childproofing your home is finding the best liquor cabinets with locks for your collection. I'm sure you don't want intruders helping themselves to a sample either.
Most multi-functional liquor cabinets can quickly transform into statement pieces in any room. I hope my handy guide gave you some ideas! I'd go with the Howard Miller Piedmont Corner Bar Cabinet if you want to save space with style. Hold on, we have tons of great tips and recs on our site so go check them out!
Read More: