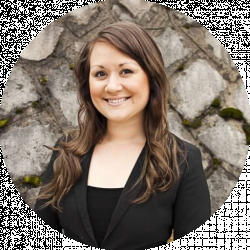 Latest posts by Lacey Jackson
(see all)
During our last move, my family realized there wouldn't be enough space for some of our larger wall storage cabinets. Thankfully, another member of our family had the exact same kind and was happy to take them off our hands.
Now, their living room is a well-organized machine with an entire L-shaped wall of matching storage cabinets, some with cabinet doors and others with open designs to show off pictures of smiling grandkids.
Even though we lost some of our larger wall storage cabinets, we could replicate that idea in our new home using a mixture of open cubby designs and Windsor wall storage cabinets. In our garage, you will find lots of wood cabinets lining the walls on either side of the garage door.
Bottom Line Upfront
I think the best wall storage cabinet ideas are cabinets you can easily integrate into any space. There are certain design elements like water resistance and rust resistance that make wall storage cabinets better suited for garages or outdoor spaces exposed to the elements, but beyond that, the best wall storage cabinet ideas come down to aesthetics and what fits your space and your style.
The Best Wall Storage Cabinet Ideas
Don't be afraid to just stick with the same type of cabinet throughout your house or change it up and have a different cabinet style in every room.
I am the person who likes the same type of wall storage cabinet in every room in the house, but my in-laws have a small bed-and-breakfast where every room has a different style and therefore has a different style of cabinet. One room might have the traditional oak wall cabinets, while another boasts open cubby cabinets made of metal. 
Craft Wall Storage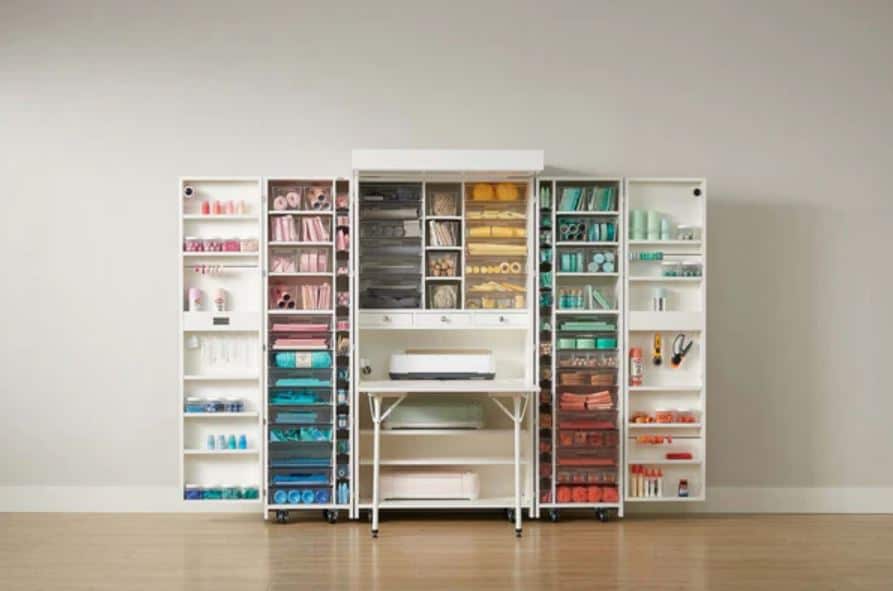 Is your craft room piling up? Then consider this DreamBox. This is the pinnacle of craft storage. It folds into a perfect cube shape, but when you open it, you get two layers of doors opening to reveal an inordinate number of cabinets, storage shelves, a working table, and built-in drawers to store all of your craft supplies.
It will literally take up an entire wall when it's left open, but to save space, you can always close it back up into its original cube form, and no one will know.
Closet Space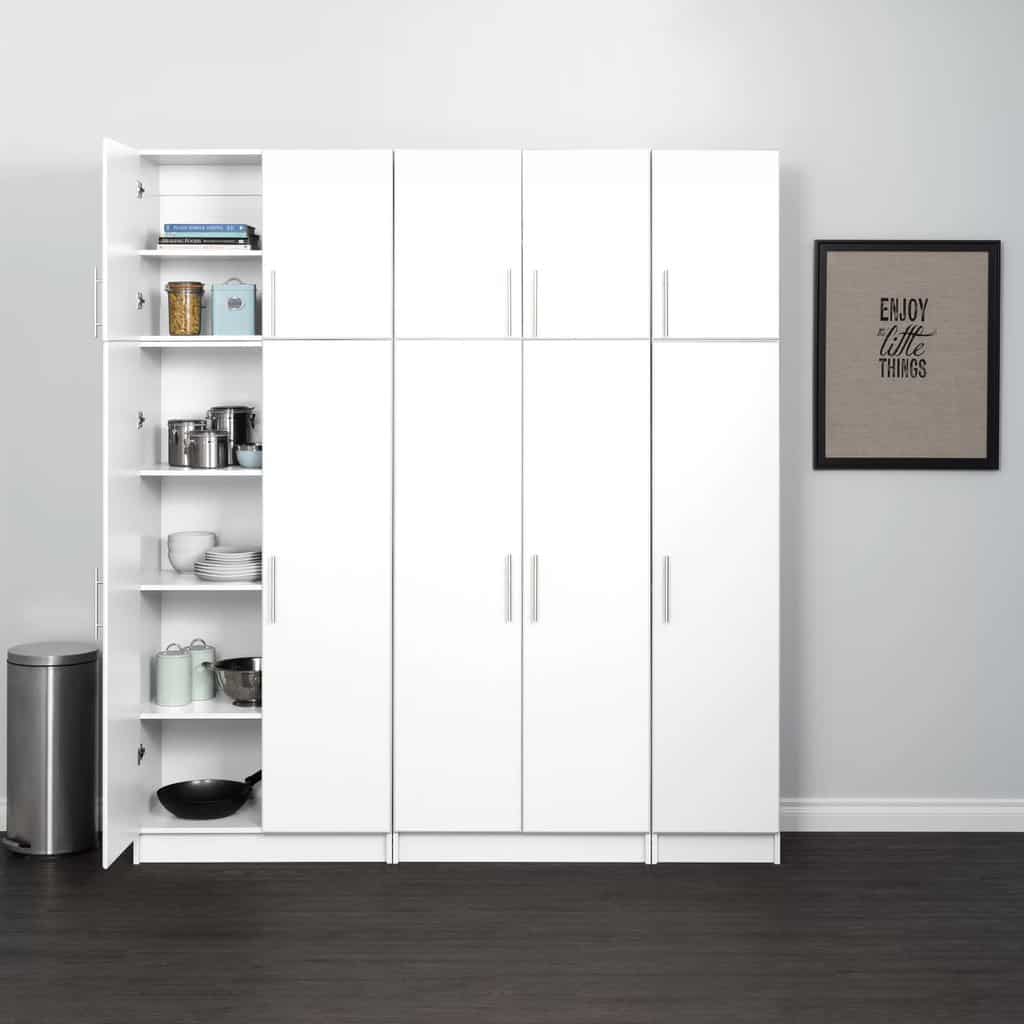 We've had homes where the master bedroom didn't have a closet. So, we invested in something like this six-piece wall cabinet set. Ours was a little longer, but the idea was the same.
This cabinet set has a row of smaller shelves and taller shelves on the bottom. The laminate composite wood and elegant doors hide adjustable shelving so you can choose what layout works best for how you plan to incorporate the cabinet set.
I love the idea of using this in a kitchen or a laundry room, but it also works great as a replacement for a space that doesn't have a closet. 
Classroom Wall Storage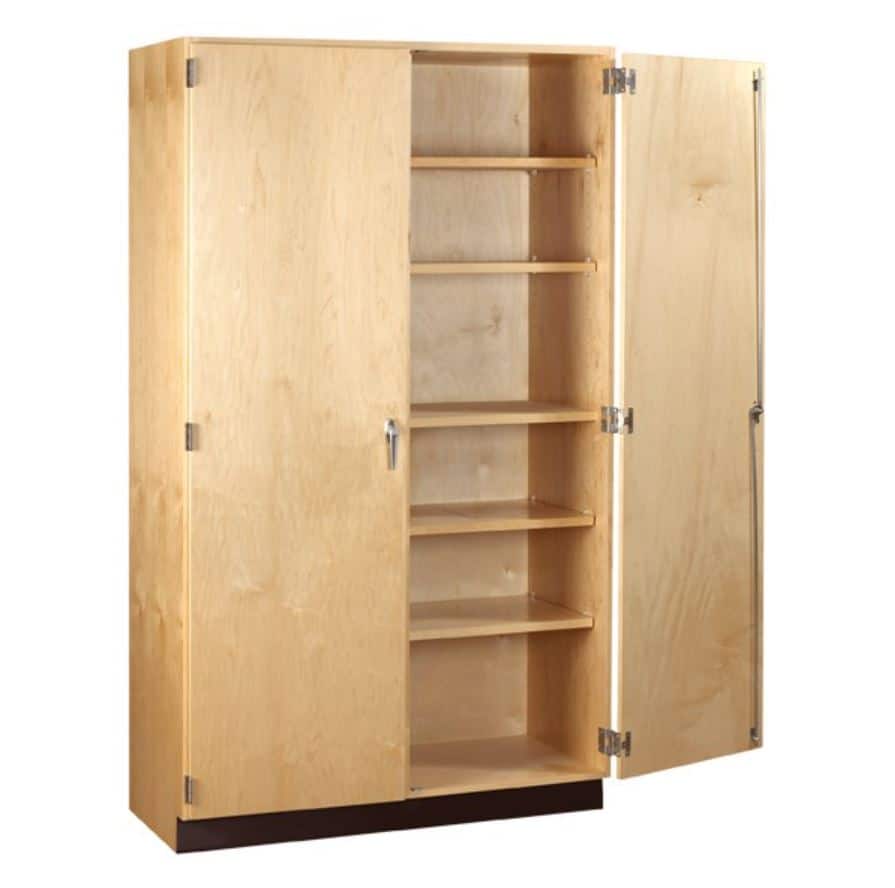 If you want classroom storage cabinets, consider the tall wood cabinet. It has locking doors, a weight capacity of over 240 lb, and a mixture of fixed and adjustable shelves. It looks like it belongs in a classroom, made of solid Birch and maple. But, it works just as well in an office, a playroom, or a French country-style kitchen. 
Wall Bookcase and Cabinet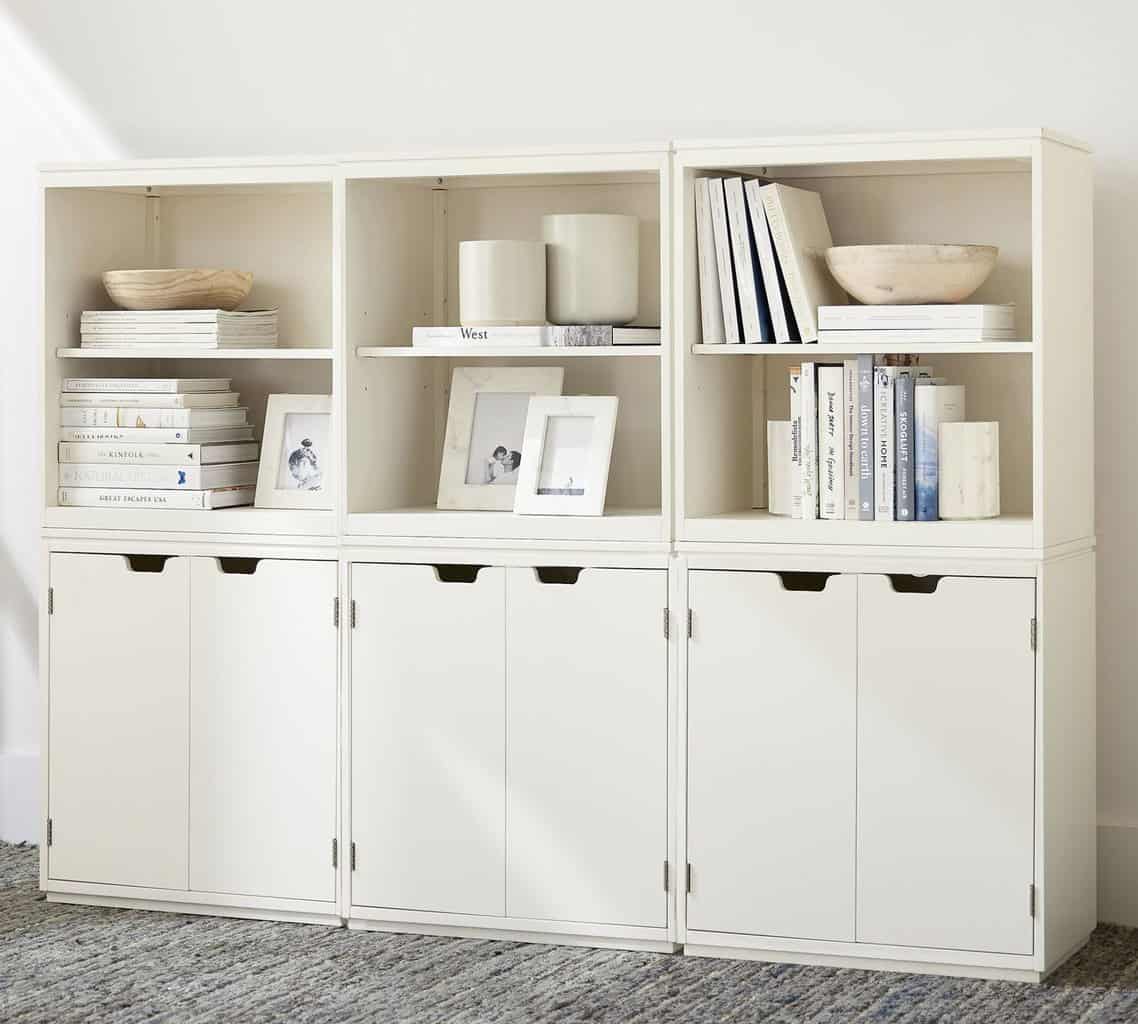 Pottery Barn offers a beautiful Windsor wall storage cabinet and bookcase. You can choose between a dark gray or white finish and select options for three, four, or six bookcases. The white storage model with three bookcases offers three levels of open shelves into which power cable holes are pre-drilled on the back panel. Below that, you get three cabinets with closed doors. 
The doors are uniquely designed to do away with any type of hardware and remain flush with open divots you can grab to access your cabinet interior. Upgrading to the four bookcase design means you maintain the same three bookcases on the top level plus a bookcase in the middle of the bottom level. With so many opportunities for different designs, you can choose how you want your wall storage cabinet to best serve your home. 
Small Walls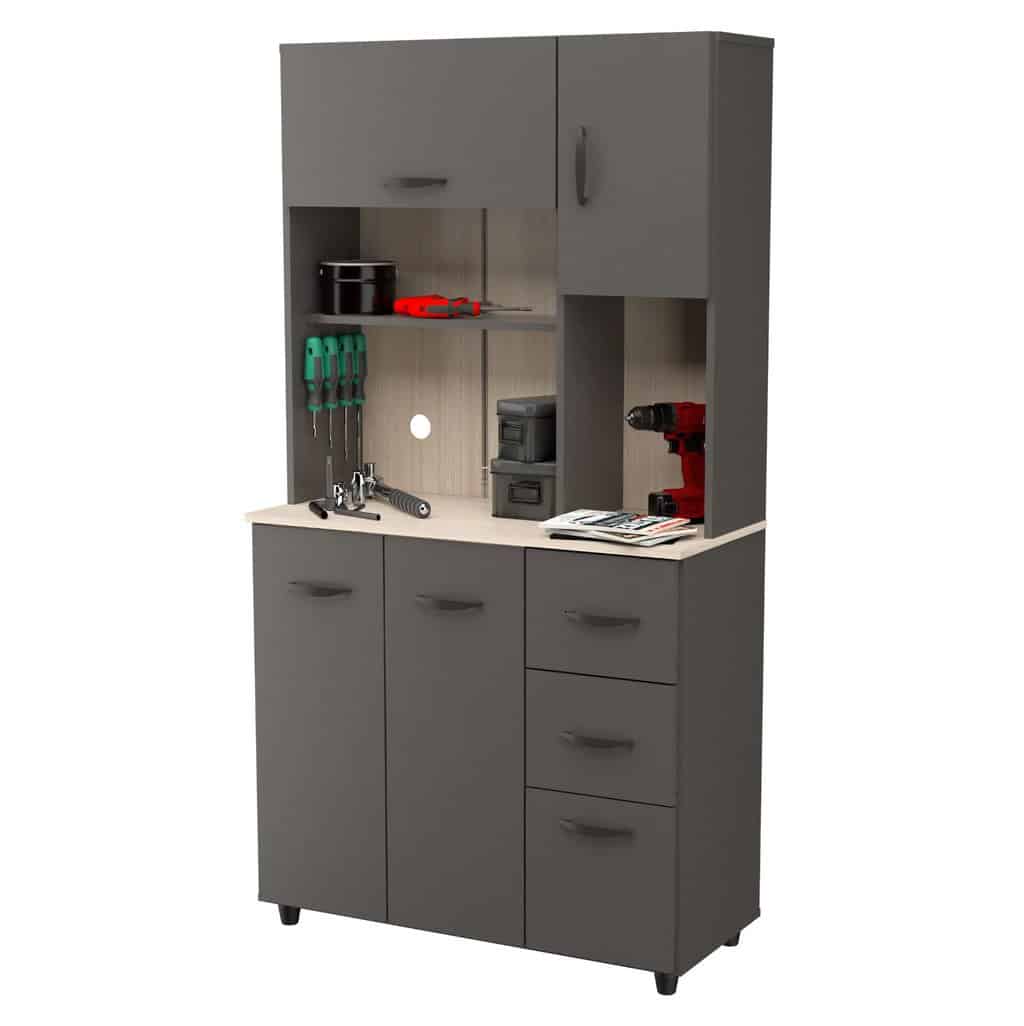 When I'm organizing, I often find small sections of a wall in and around the main furniture in the room (think beds, chairs, lamps) that aren't quite big enough for something like a hutch or a bookshelf but still require some sort of storage.
After putting my desk in my new office, the L-shaped design of my desk left a tall, shorter space between the edge of the desk and the closet door. I couldn't fit something too large in the space, but I needed extra storage.
This garage wall storage cabinet is the perfect miniature work center. It doesn't have to be in a garage to be made useful. It has a great combination of drawers and cabinets with some open shelves and a small workspace. It's perfect for small sections of walls that are tall and need extra space for storage.
White Garage Storage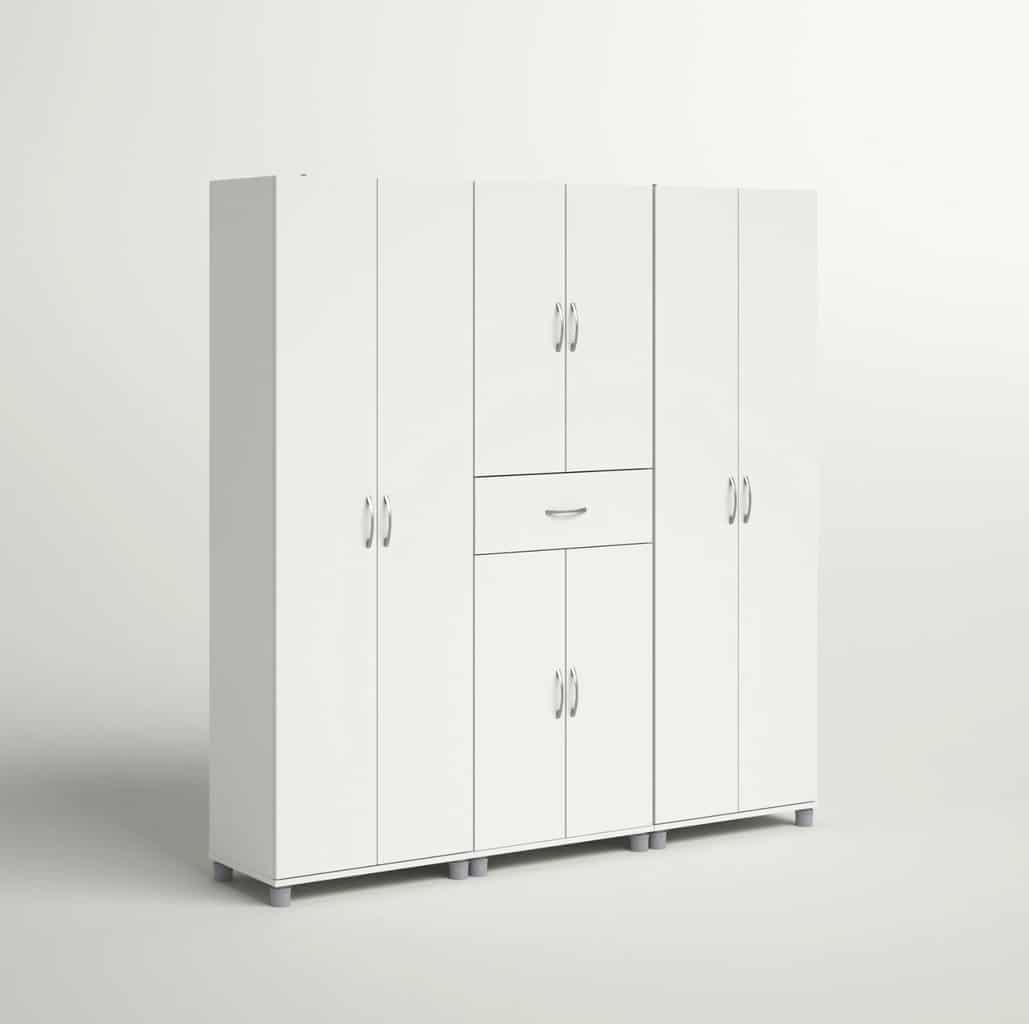 Wayfair Basics offers a great garage storage cabinet system in white. This cabinet is a base-mounted cabinet, so it doesn't get drilled into the wall, and it isn't a floating cabinet, but it's the perfect wall storage cabinet for a large space. 
It has two tall cabinets on either side; sandwiched between, you will find two shorter cabinets and a single drawer in the middle. I love that it has rubberized feet, 12 of them to be precise, so you can easily move it anywhere in a garage, basement, or storage room and still be able to clean underneath. 
Inside are adjustable shelves so you can customize storage to fit small and big items. With 14 shelves total, eight of which are adjustable, you have space for everything you need to store. 
Outdoor Storage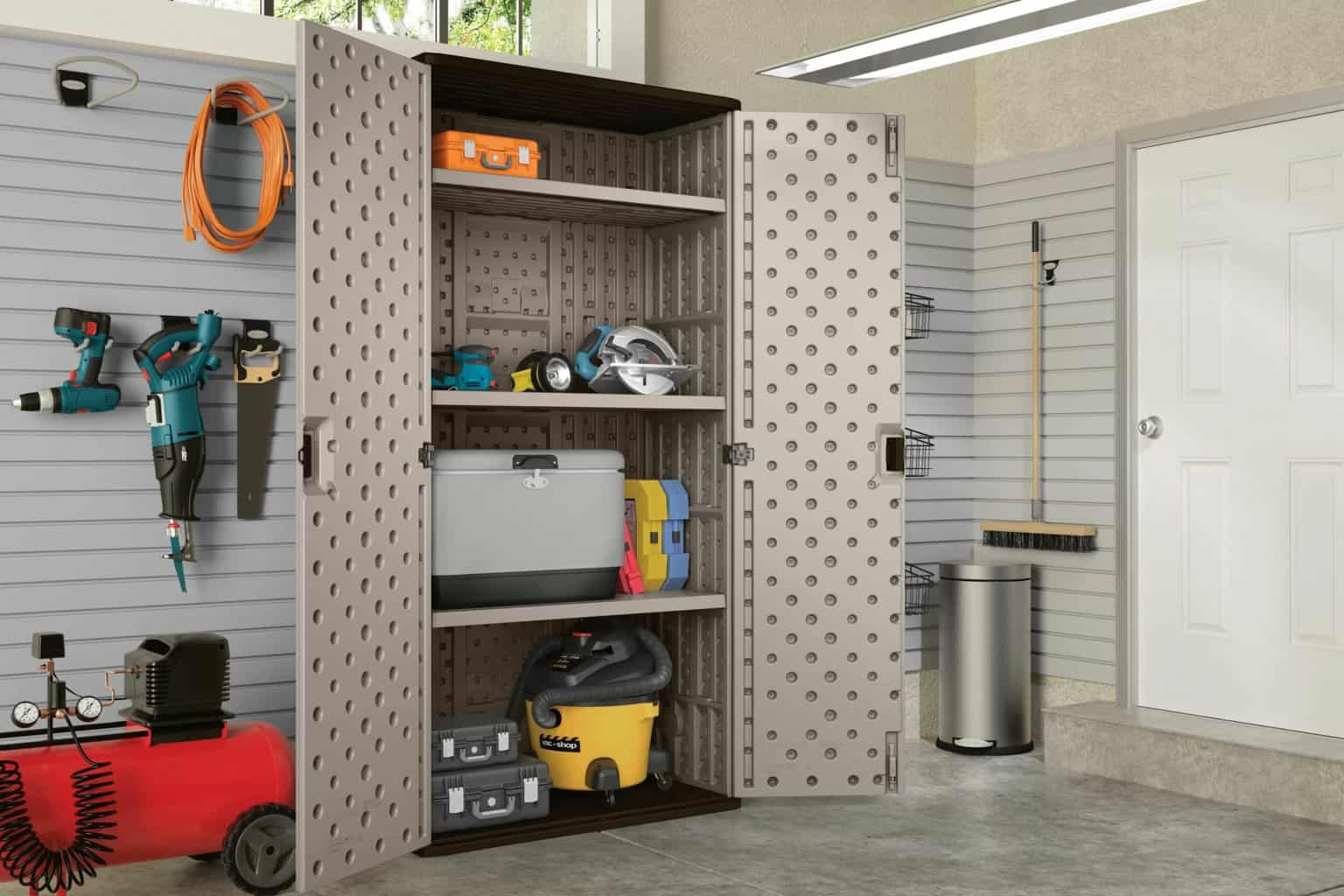 The organization doesn't just take place within the home. Sometimes you need places to store things outside, on a patio, porch, or garage. This outdoor wall cabinet is moisture, rust, and scratch resistant and gives you 31 cubic feet of storage space inside. 
The three adjustable shelves can hold up to 75 lb, so it's perfect for storing power tools and other large equipment in a secure, enclosed, heavy-duty cabinet.
Sports Storage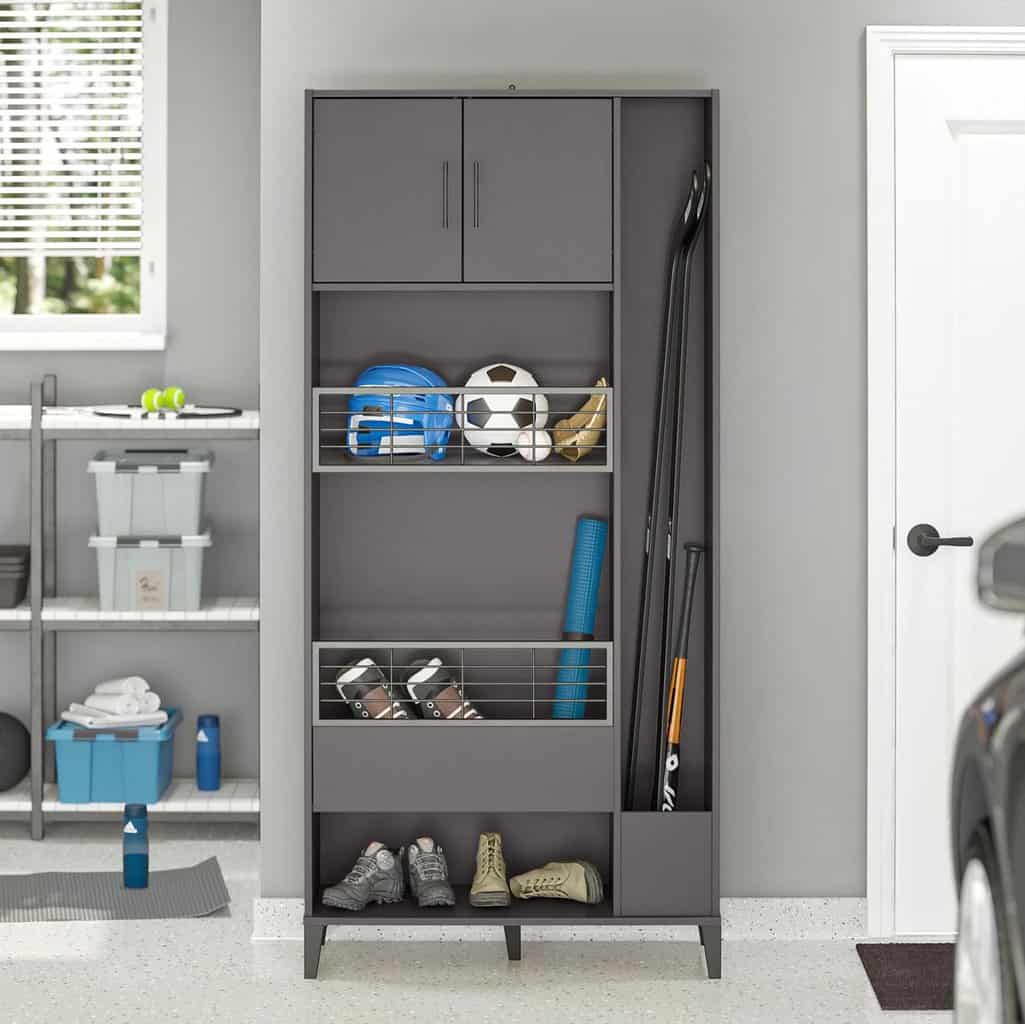 If your home looks anything like mine, there is never enough room for sports accessories. The problem with sports equipment is that some of it are really tall and thin, some of it is small, and the rest of it is usually too wide for small shelves.
The solution?
This sports wall cabinet. You can get it and graphite gray or white. It has a locker-room vibe with some open crate storage to hold things like balls, yoga mats, helmets, and gloves. There's a locker room style cabinet with double doors on top and a shelf that's open and perfect for shoes on the bottom. On one side, you have a tall open space that runs the length of the cabinet and is perfect for skis, poles, bats, and more.
Cubby Storage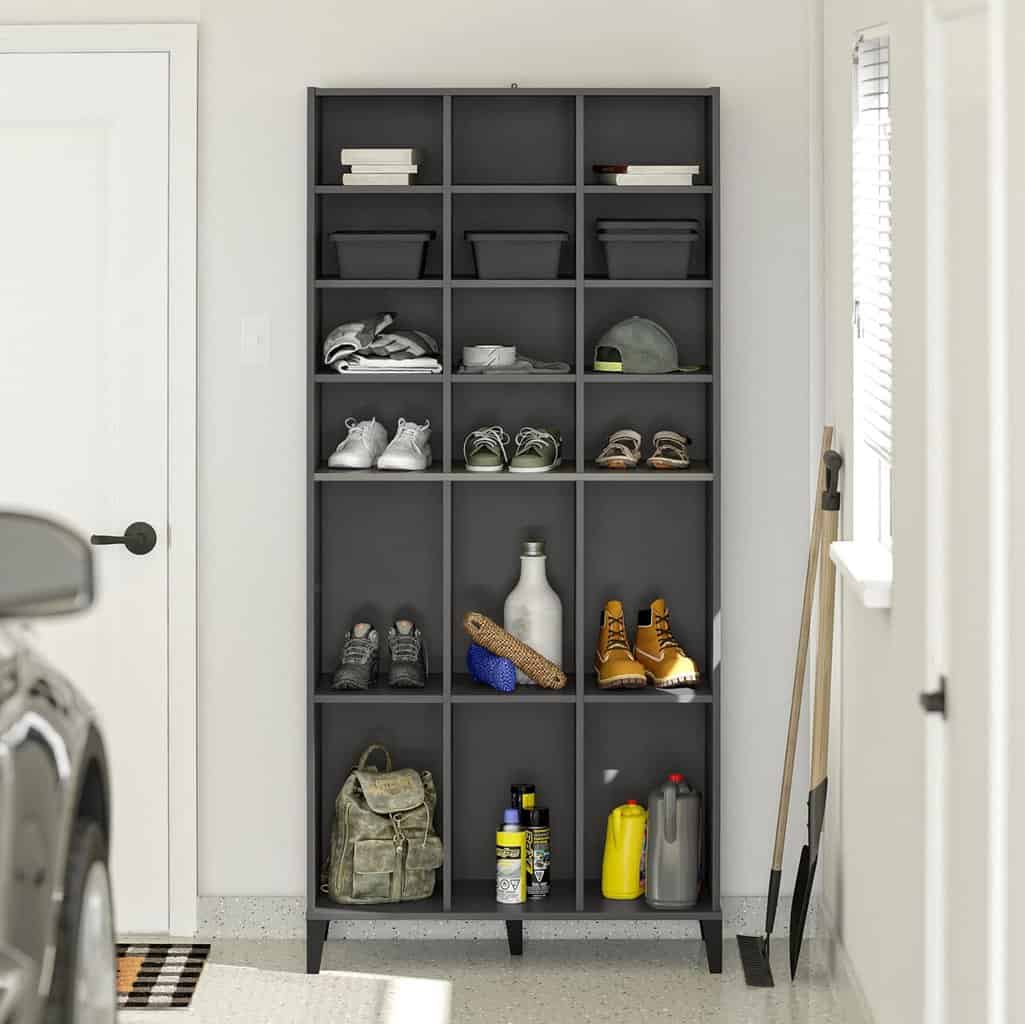 Tired of not having a space where you can individually store a lot of smaller items? Go back to cubbies. There's a reason they have been used in classrooms for so long.
This wall storage cabinet comes in white or dark gray, and it has 12 small cubby spaces on top and six double-sized copy spaces underneath. With no doors, it's the perfect open storage place for things like sports equipment, baskets of craft supplies, kids' toys, and even shoes. 
Flow System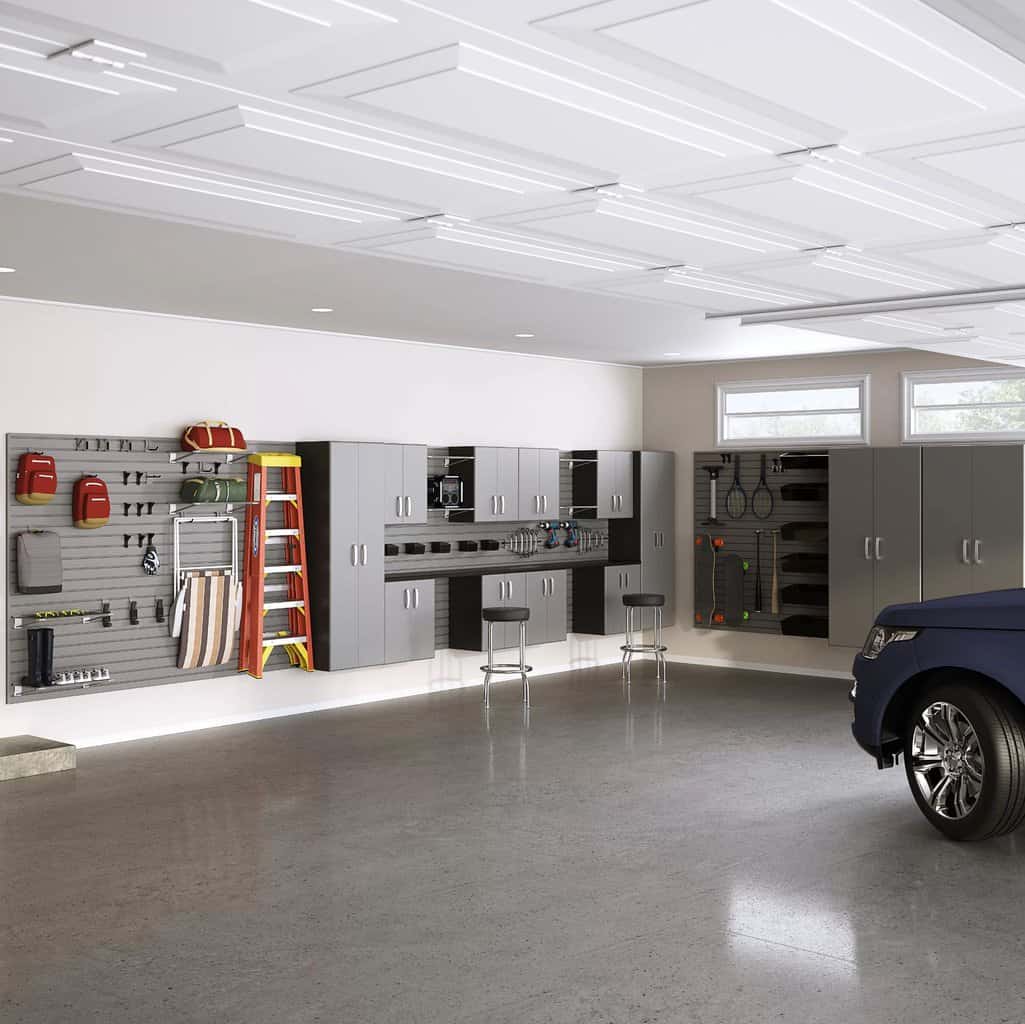 The best of a complete garage wall storage cabinet is this jumbo collection. It is a wall-mounted collection of durable, lightweight storage. I've never had a garage big enough to fit this particular collection, but I would absolutely use it if I did. 
You get a slate wall, a work surface, 22 adjustable shelves, and 22 regular shelves. You can choose the combination of hooks, bins, cabinets, and shelves depending on how you want to organize your gear and your tools.
Wall Set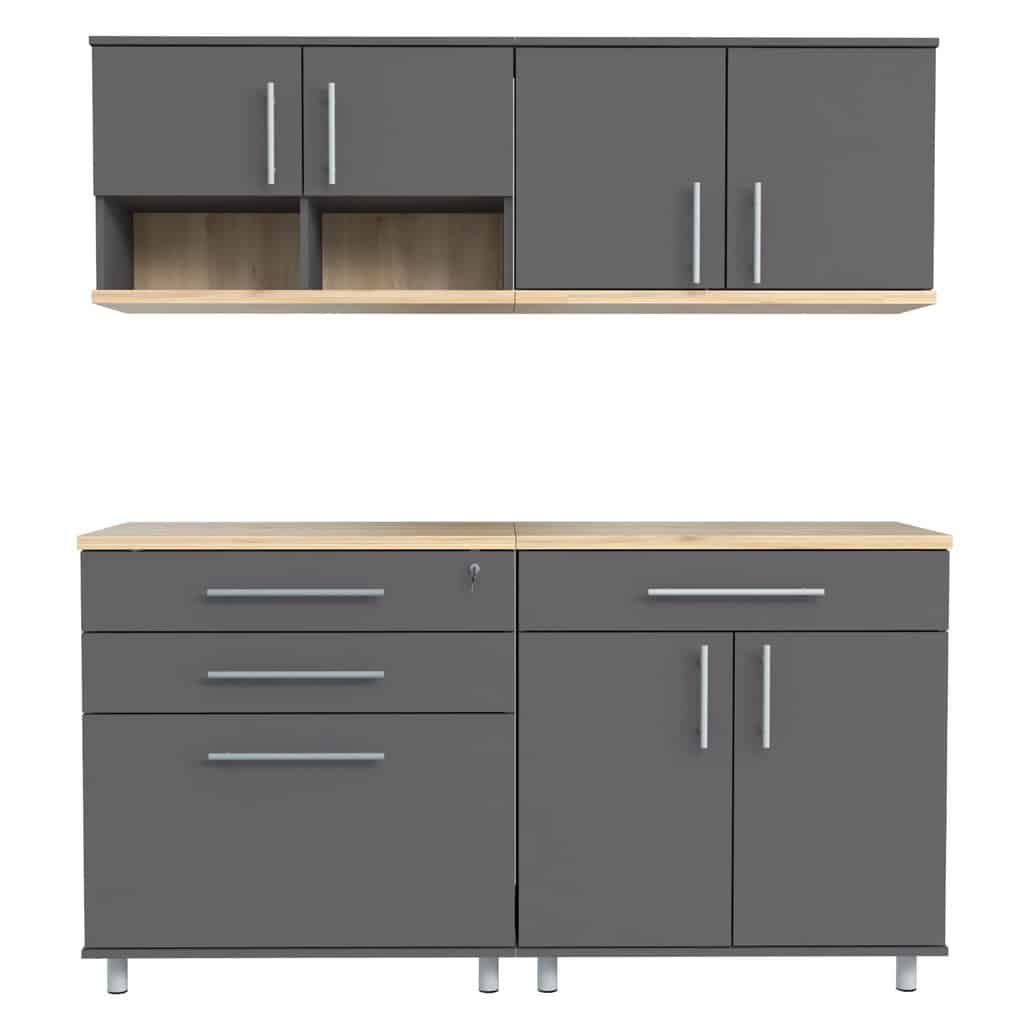 This four-piece wall storage cabinet set is perfect for a bathroom, kitchen, dorm, or just about any other space. The four pieces include two-door wall-mounted cabinets and two base cabinets. Between the four pieces, you get a workspace cabinet, large drawers, thinner drawers, open-door cabinets, and European-style concealed hinges for all of them. It's also a great collection of wall cabinets for an office because of how many drawers and cabinets it has. 
I would highly recommend it for an office supply closet or storage space.
Wall System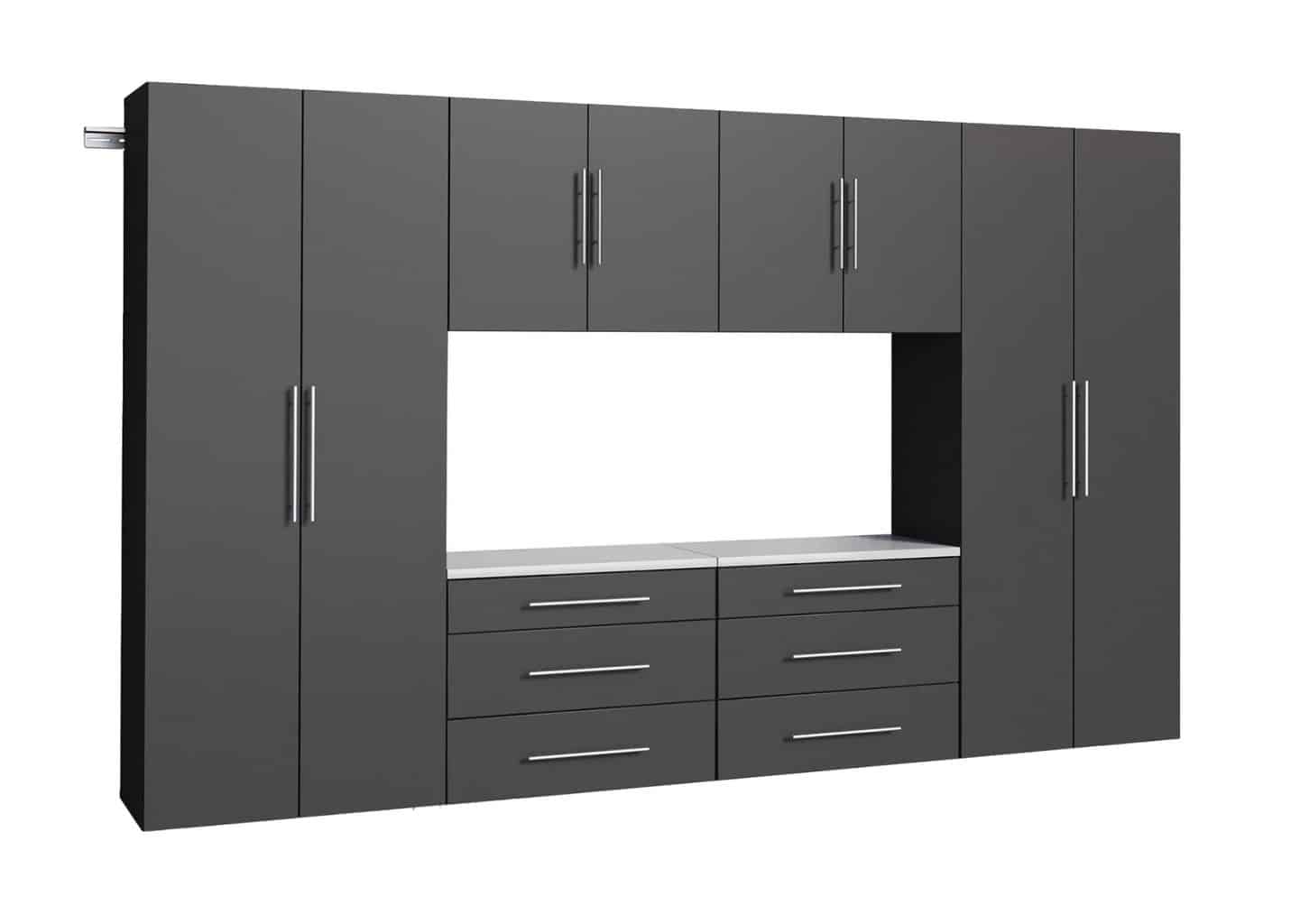 Do you have a bigger space to fill? This six-piece complete storage system is very similar to the white garage wall storage cabinet, but it's bigger. I love that there is an open workspace in the center with a countertop that rests over the six pull-out drawers. This workspace makes it an ideal complete wall cabinet idea for an office because you can store office supplies or files, pull them out as needed, and use the workspace to make sure you have all the pieces you need.
Alternatively, this would be perfect for a garage, a craft room, or even storage in a sunroom.
Gear Storage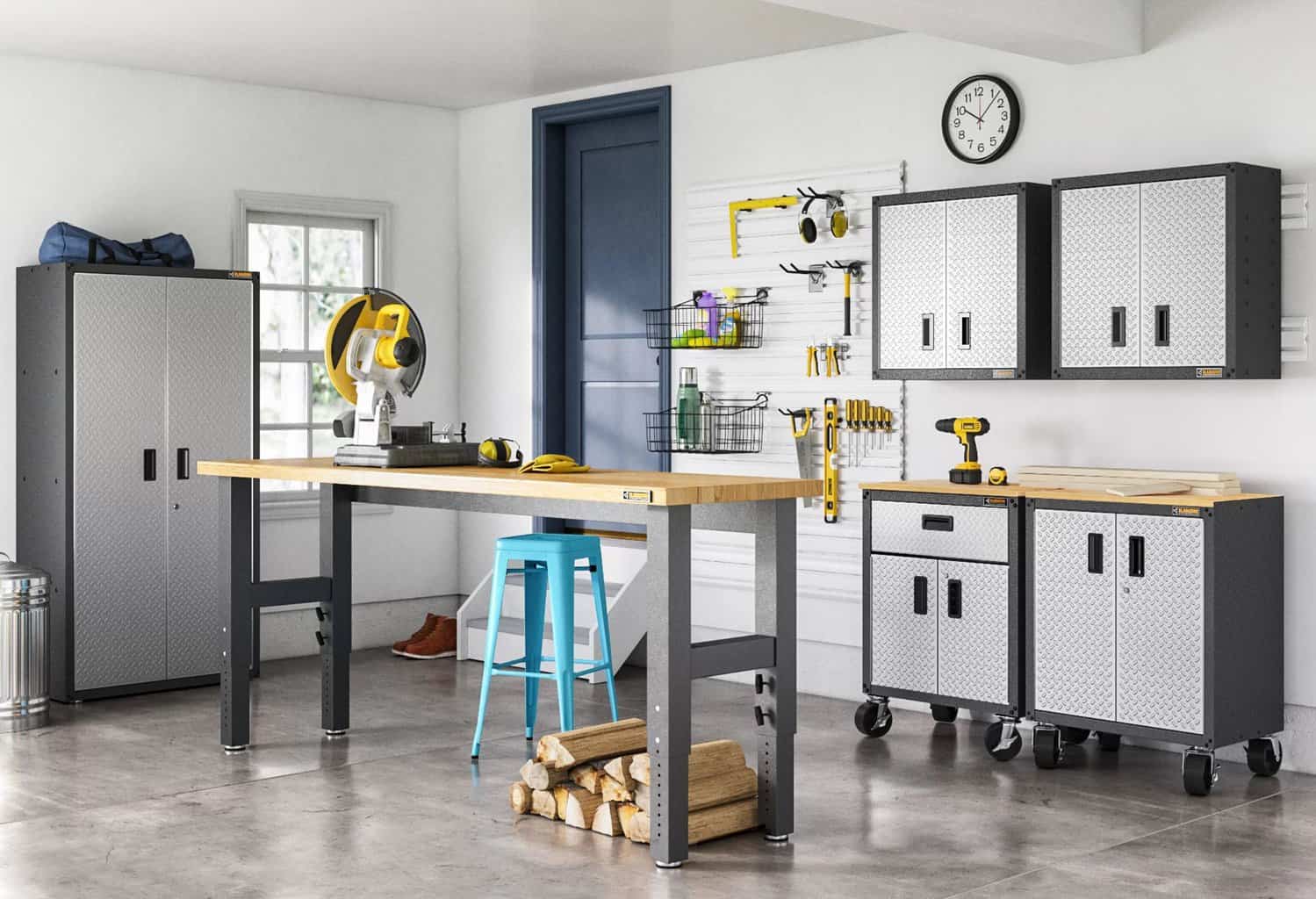 This gear storage wall cabinet idea is a great solution if you have a smaller space and the flow system is far too large. You can buy tall cabinets or a collection of smaller base-mounted and wall-mounted cabinets. Each piece is sold separately, but you get hammered granite on the durable exterior. 
The best part of the bass mountain cabinet is that they rest on very large wheels, so you can store oversized power tools or equipment in them and move them around your workshop.
FAQs
Question: How deep are wall storage cabinets?
Answer: Most wall storage cabinets are the same depth as wall-mounted or bass mountain cabinets, depending on their design. You can expect an average of 15 inches of depth. But check out the specs on whichever wall cabinet idea you like most.
Question: Do I need tools to use a wall storage cabinet?
Answer: Wall storage cabinet ideas usually require installation, so yes, you will likely need tools to install the cabinet. However, some manufacturers offer assembly and installation for an extra charge. You'll have to check with the manufacturer for the idea you like most.
Question: What can I do to use wall space for storage more effectively?
Answer: I recommend using baskets and boxes with a mixture of wall racks and hooks. This gets certain things off the workspace but still helps you maximize storage. If, for example, you are using the small wall organizer or the wall set, you can easily make use of the space against the back of the wall storage cabinet by installing some hanging hooks or racks.
Where you have an open cubby space or open shelf like the Windsor wall storage cabinet, you can easily display houseplants, books, and other knick-knacks, but you might consider making the most out of that space by organizing what you have into small baskets or boxes that all match the decor. I like to use wicker baskets and cloth baskets, usually from the dollar store, because they all match and look cute on an open shelf.
Question: How do I maximize wall storage?
Answer: You can easily maximize wall storage by stacking items in bins, using different-sized containers in your shelf organizer, and finding comprehensive wall storage cabinet systems that have a lot of drawers and cubbies.
Question: Should I mount wall storage cabinets to the wall?
Answer: This truly depends on the size of the cabinet. If you pick a wall storage cabinet idea like the flow system, it is intended to be mounted to the wall, and it comes with all the hardware you need to do that.

The wall set has a base-mounted section that stands alone and a wall-mounted section that you have to install. However, the gear storage base-mounted wall cabinet comes on wheels and doesn't have to be installed against the wall because it's so short there's no risk of it toppling over. The same is true of the Windsor wall bookcase and cabinet and the craft wall storage.
Question: How do I take advantage of vertical space?
Answer: Invest in tall storage options with many spaces you can use, like the wall set, cubby storage, or small walls storage unit.
Best Wall Storage Cabinet Ideas: Bottom Line
The bottom line: the best wall storage cabinet ideas fit your space and your style. I love things like the flow system, the wall set, and the wall system because they can take up an entire wall and free up much of your floor space. But if you have a specific need, things like the sports storage or craft wall storage system are a more specific solution.
Read More: