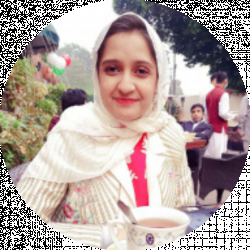 Latest posts by Zunaira Ghazal
(see all)
Rattan furniture hits all the sweet spots of rustic beauty and old-school sophistication. It used to be a classic choice during the 60s hippie movement. However, it got lost in the flamboyance of the latter decades. 
As a designer, I think that's a shame because there's a certain timelessness about it.
Rattan is a material that has so much personality! It's distinct and unique. Moreover, it never fails to make a statement when put in a room. This makes me glad that rattan cabinets are making a big comeback. 
If I needed to emulate a stylish focal point in my room, I would definitely go for a rattan cabinet. That's because I know for a fact that its rugged beauty will catch everyone's eye. If you're like me and searching for some great rattan cabinet ideas, then this list is for you! Let's take a look:
Bottom Line Up Front
Rattan furniture – especially cabinets – is a highly popular choice because of its immense durability. That's because they are handwoven, highly original, and tend to boast an heirloom-level quality. 
If you ask for my professional opinion, then I would definitely suggest that you opt for rattan cabinets as a great solid wood alternative. This list is all about exploring the best designs in the market to pick one that suits your home the best.
The "Black Trim" idea is one of my personal favorites! It features such a nice contrast of colors and opens up so many opportunities to experiment with unique decor items.
Top Picks
Here are some of my top picks:
Going Nouveau
There's just something so whimsical and fantasy-like about the design of this rattan cabinet. Its neat arabesque designs and artistic outlook are perfect for adding a touch of boho-chic beauty to your spaces.
Emerald and Rattan
Emerald green is the kind of color that immediately draws the eye. So this rattan cabinet really pulled me in with its unique color scheme. I also love its woven front and how the overall vibe leans on the antique side.
Black Trim
As one of my personal favorite ideas, Black Trim is definitely part of my top picks from this list. I love its black-and-wood color combination. Plus, my inner designer gets so excited when there's an opportunity to look at contrasting decor. I feel like I can really unleash my artistic side if I play around with this one.
Selection Criteria
I've used the following selection criteria to pick items for this list:
Unique Design
Rattan is a material that can be molded and shaped in ways that wood can never. This is why the goal was to curate cabinet designs that highlight the uniqueness of this material.
Diversity
It's easy to come across highly similar ideas when you're searching for different styles in the same furniture genre. My goal for this list was to be as diverse as possible. You'll see many versatile, flexible, and distinguished options here, and no two of them are the same.
Best Rattan Cabinet Ideas
1. Floating Vanity Style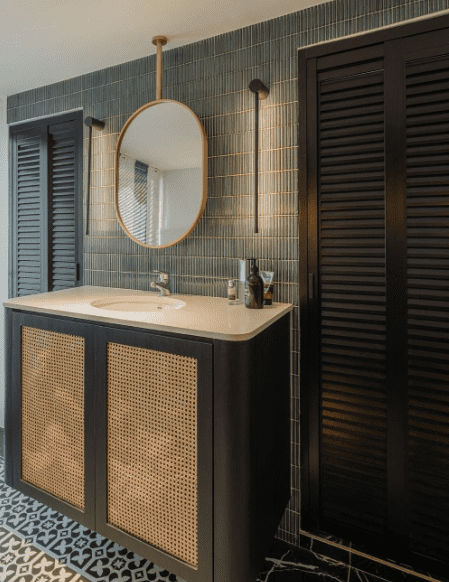 This rattan cabinet idea is for those who prefer custom woodwork. But it personally appealed to me because of its contrasting backdrop. I'm an interior designer by profession, so it's my job to make simple things look pretty by pairing them with the right ambiance.
I think that someone did an amazing job pairing the wood and rattan vanity cabinet with the dull tiles in the backdrop. It's so contrasting yet understated. Couple that with the slim, trim, and modern fixtures/mirror, and it all feels so distinct and cohesive!
2. Industrial Style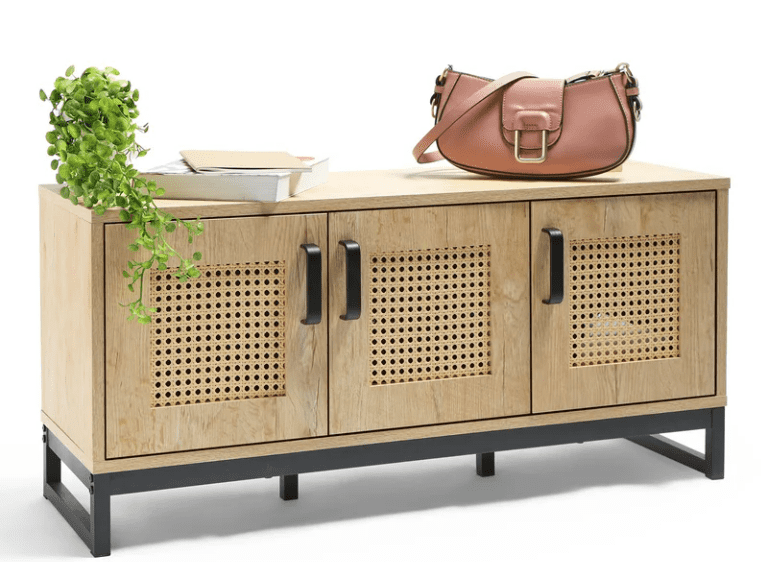 This industrial-style rattan cabinet is a great option if you want something with a lot of personality. I love how the long, console-style rattan body is balanced over the black bracket legs. This combination not only provides great contrast but also makes everything very thematic.
You see, most rattan furniture items are categorized as boho-chic or vintage. So, seeing it in the industrial style was quite refreshing. Even if your home is contemporary or modern, you can still furnish it with this type of cabinet for contrast.
3. Going Nouveau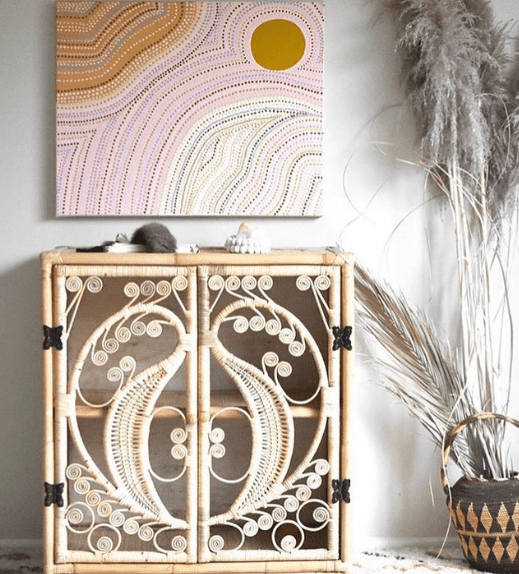 One of the best qualities of rattan as a furniture building material is that it's flexible. You can create curved, arabesque styles out of it (and that is something that's hard to do in other mainstream materials). This is why I'm so in awe of this art-nouveau-style cabinet. It features wonderful rattan craftsmanship and reminds me of the fairy myths from Ireland because of its whimsical design.
4. The Modernist Sideboard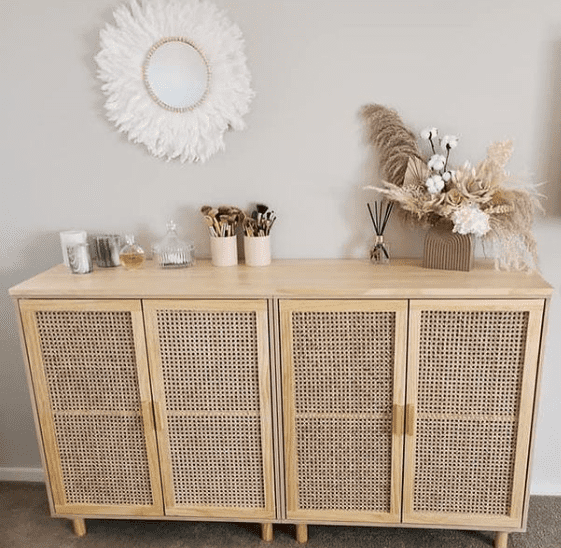 We live in an era where sleek, streamlined furniture is really appreciated. This is why I wanted to introduce this rattan cabinet to the list. I absolutely love its rectangular design. It's very modern, leans on the minimalist side, and looks timeless enough to complement every home interior!
I think this cabinet idea would be a great fit for contemporary spaces. Its compact body is nicely structured. Plus, the top is great for featuring contrasting decor items. I would opt for a beautiful String of Pearls planter if it's summer/spring and a handsome dry arrangement for autumn!
5. Emerald and Rattan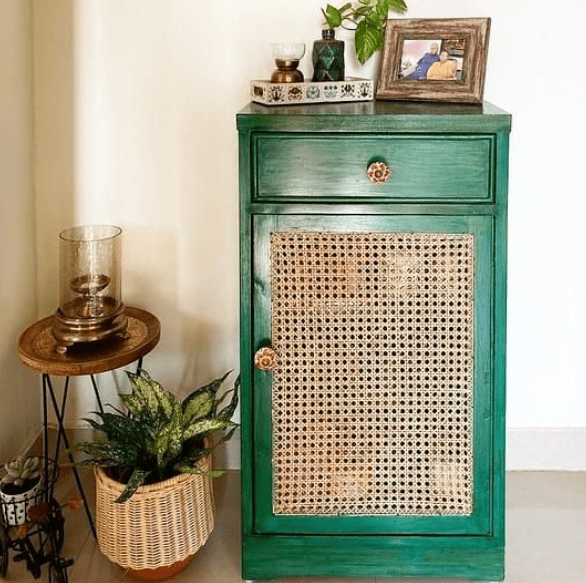 I believe most people think that rattan furniture mimics wood in its texture. This is true to some extent, but if you're looking for an idea to pop some color in your rooms, then this one is great.
I love how this rattan cabinet emulates an emerald green persona while featuring a beautifully woven front! The jewel tone is really gorgeous and makes an instant impact. I would suggest you place a potted plant next to it for shapely contrast and visual diversity. Plus, I believe that this particular shade of green would look lovely with antique baubles, so that's the kind of decor I'd recommend that you pair with it!
6. Midcentury Style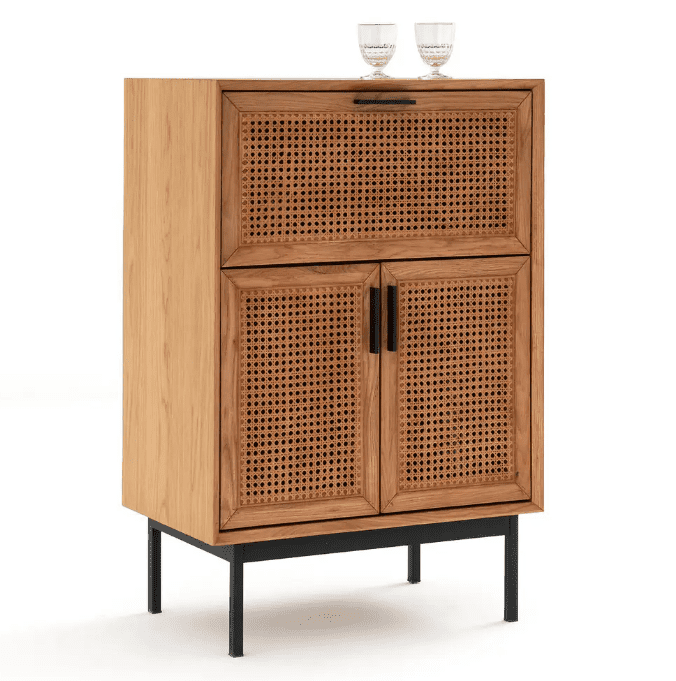 I love how the clean, crisp lines of this rattan cabinet immediately draw you back to the mid-century era. The rectangular shape might look typical, but the overall design is quite thought-out and original. I love how the natural finish of the rattan has been given a nice warm veneer. It adds so much sophistication to the overall design. 
I feel like there is certain masculinity to this cabinet. This means it would look pretty great in a man cave or a den. I would suggest using it to store or showcase your liquor collection!
7. Coastal Retro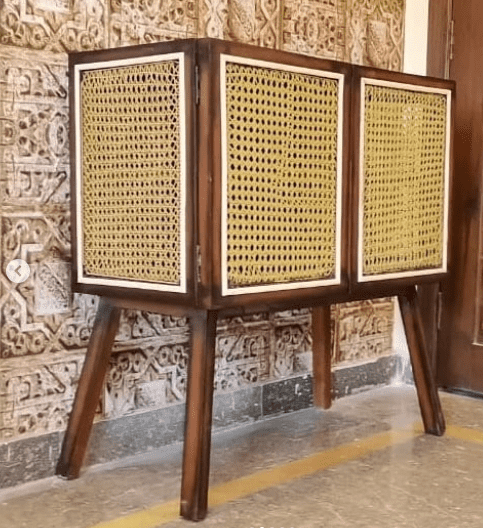 Coastal Retro style pieces feature a touch of last-century nostalgia with a bit of modernity in the mix. This rattan cabinet emulates this style perfectly and would be an excellent addition to any home. It's got that stylish timelessness that appeals to the contemporary audience. 
I also love how one side is enclosed while the other one is open. This provides the perfect opportunity to showcase some decor (I'd go with seashells and coastal items if I were you). The cabinet part can be used to store and organize items that you don't want people to see.
8. Going Vintage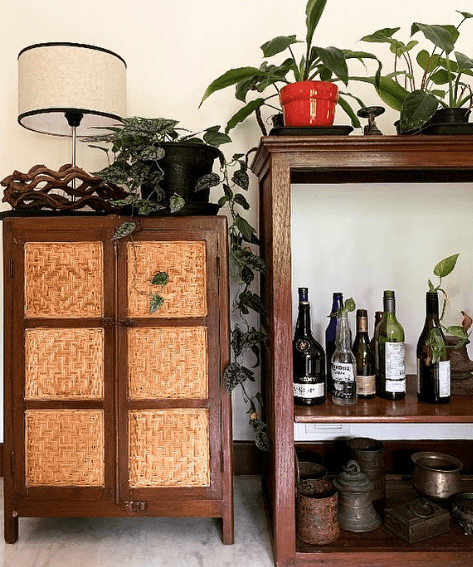 Rattan cabinets have a built-in vintage vibe. Some designs take you back to the 60s while others transport you to the 90s. It's all about what the designer has done with the material. As for this one, it's got that classic 70s vibe – you know, when people were obsessed with all things wood, tartan, and tropical plants?
Something like this would make a great addition to a contemporary home. It will provide a nice visual break. I'm tired of all these sleek furniture items with zero personality. This vintage version is a great way to bring a little spontaneousness to the room!
9. Arched Wardrobe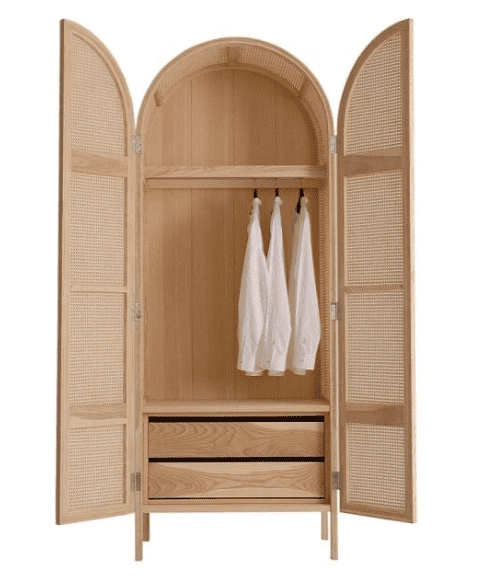 Rattan is a highly flexible and versatile material. Therefore, the cabinets made out of it come in all shapes and sizes! I love how this armoire features a mixture of curves and clean lines. The arched top immediately pulls you in and the straight lines keep the eye moving. Something like this would make a fine addition to contemporary and coastal-style homes. I would really want something with so much storage space and visuals that make you swoon!
10. Round Rattan Cabinet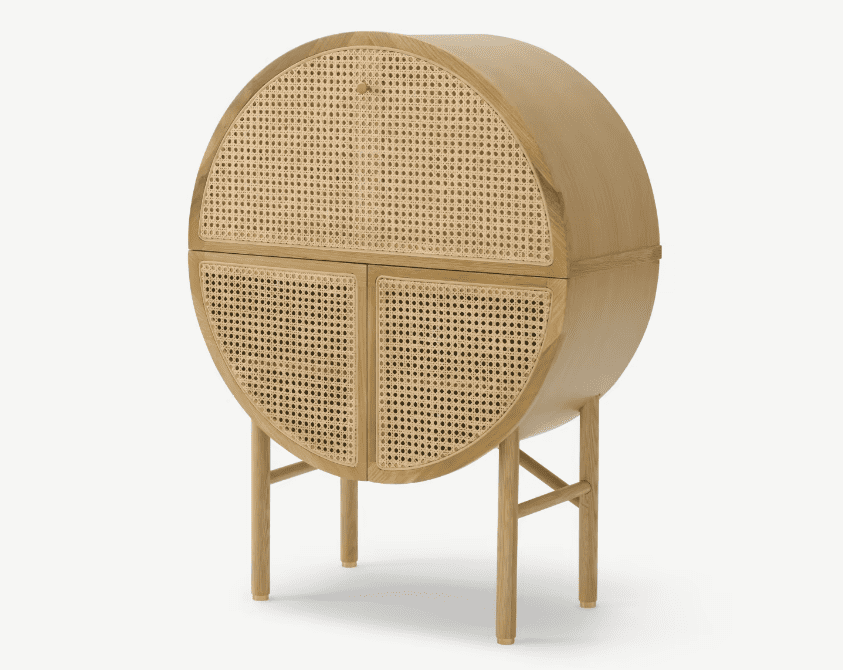 Cute, compact, and classy, this rattan cabinet idea instantly drew me in. I love how it's got this Nordic vibe going on. Moreover, its subtle brass detailing is also something that really made an impression on me.
However, what drew me in the most was the division of its compartments. The top one opens up into an actual desk space! You just open it up and place your laptop on the lid. When you're done, just take it off and close it up – all the clutter would remain inside and out of sight!
The bottom two cabinets, on the other hand, are perfect for keeping books, stationary, and other small items.
11. Black Trim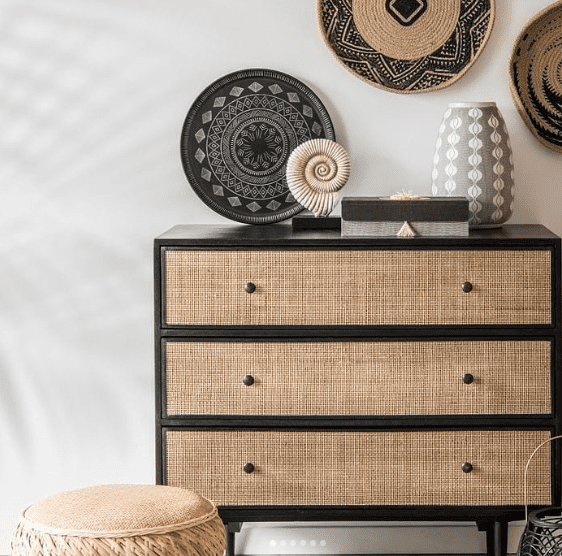 Rattan has a natural, light-brown texture. It's very understated when left unfinished, which is why this cabinet with the black trim really caught my eye. I love how bold it looks! But then there's the oak-hued woven rattan that makes up the drawers and it adds such a nice contrast to the whole design
I love how there are so many decor opportunities you can explore with this particular rattan cabinet. Instead of going for typical natural-style decor items, you can opt for lovely mandala wall art or macrame items. You can even place a lush indoor plant on one side for some colorful contrast. The green and black would look lovely together.
12. Rounded Rattan Cabinet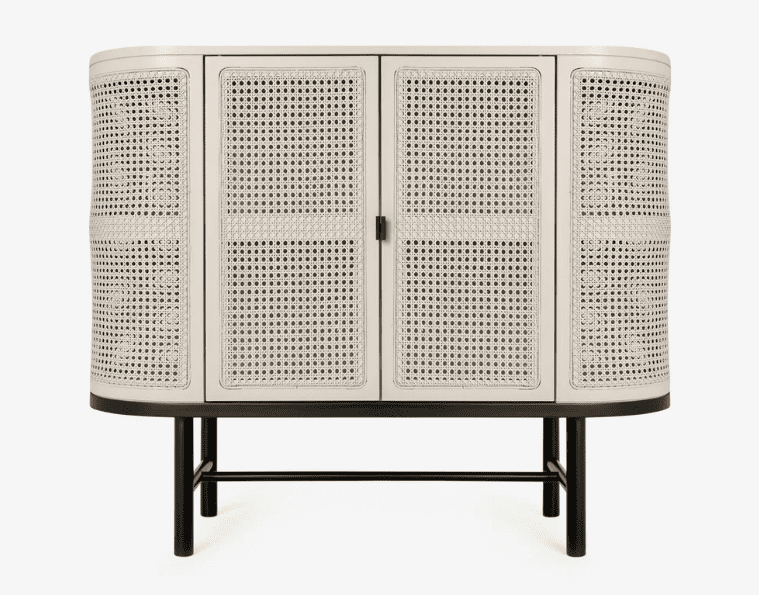 Snazzy and beautiful are the two words I would use to describe this particular rattan cabinet. It has this very unique contemporary build that highlights the natural weave of the rattan. The rounded edges are an ode to the 70s, which gives it a vintage twist. Plus, the off-white finish sets it even further apart from other typical options.
I feel like this rattan cabinet idea is one of the most unique ones on this list! It has the capacity to be a wonderful statement piece. Just pair it with modern accessories (try brass or copper) along with a heart-shaped philodendron with its leaves flowing down one side.
13. Tall Rattan Accent Cabinet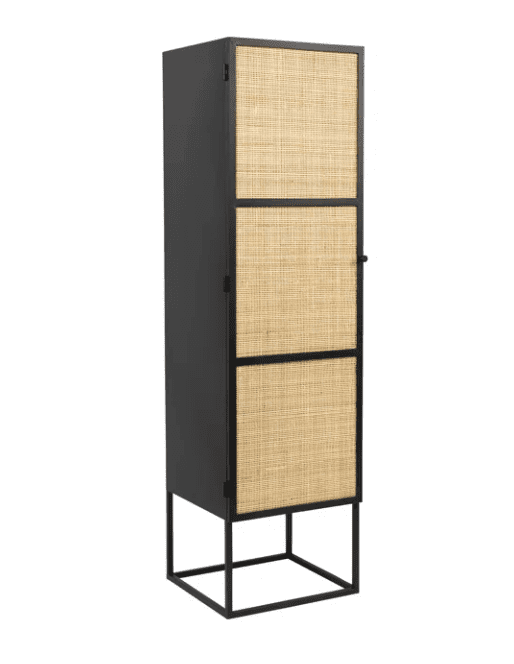 This tall rattan accent cabinet caught my eye because of its proud stature. It's very different from the rest of the ideas on this list. Its tall form immediately piqued my interest and I knew that it would be perfect for small and compact homes. 
In fact, I would whole-hearted suggest that you go for something like this if you live in an apartment that is short on real estate. You can easily get the best of decor and storage in one package. Plus, it's very easy on the eyes. Just make sure to pair it with plain sofas and accent chairs so that the rattan finish can stand out.
FAQs
Question: What are the most popular rattan weave designs?
Answer: Some of the most popular rattan weave designs include the hexagonal pattern, the dense pattern, and the square-shaped pattern.
Question: What exactly is PE Rattan?
Answer: PE Rattan is short for Polyethylene Rattan. You might have heard of it as resin wicker or even poly rattan. The main difference is that this material is man-made and is mostly used for outdoor furniture. That's because it's incredibly sturdy and doesn't really degrade as swiftly as its natural alternative.
Question: Why does rattan furniture resemble wood?
Answer: You see, there are two parts to every rattan furniture. First is the outer sheath which is used to make the body of a cabinet. It's primed by the process of caning. The second is the reed, which is used to create the weave that you see in drawers or cabinet leaves.
Conclusion
So, as you can see, rattan cabinets are truly special. They're unique, versatile, and have a very distinct quality about them. I especially admire how they're able to emulate a natural aura in every space.  My personal favorite on this list was the "black trim" idea. I like how it's very bold and impactful while respecting the organic texture of the rattan itself. I would love to have something like this in my own home!
Read More: