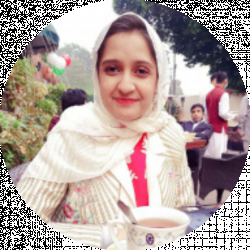 Latest posts by Zunaira Ghazal
(see all)
For all my peeps who don't know, caning is a method of weaving parts of furniture, and it's a brilliant way to set your tables, chairs, and sideboards apart from the sleek, modern accouterments available in the market today. Whenever someone comes to me for a custom furniture consult, I always recommend cane cabinets – especially if the client is leaning towards homely aesthetics (think: farmhouse-chic, rustic, coastal, etc.).
As a designer, I believe that cane cabinets have this distinct ability to add a lot of personality to a space. They're understated, chic, offer a natural texture, and are versatile. So, if you have a modern space that feels very stark, a cane cabinet can add warmth to it. Similarly, a wholesome rustic interior can feel even more pulled together with the addition of such a cabinet.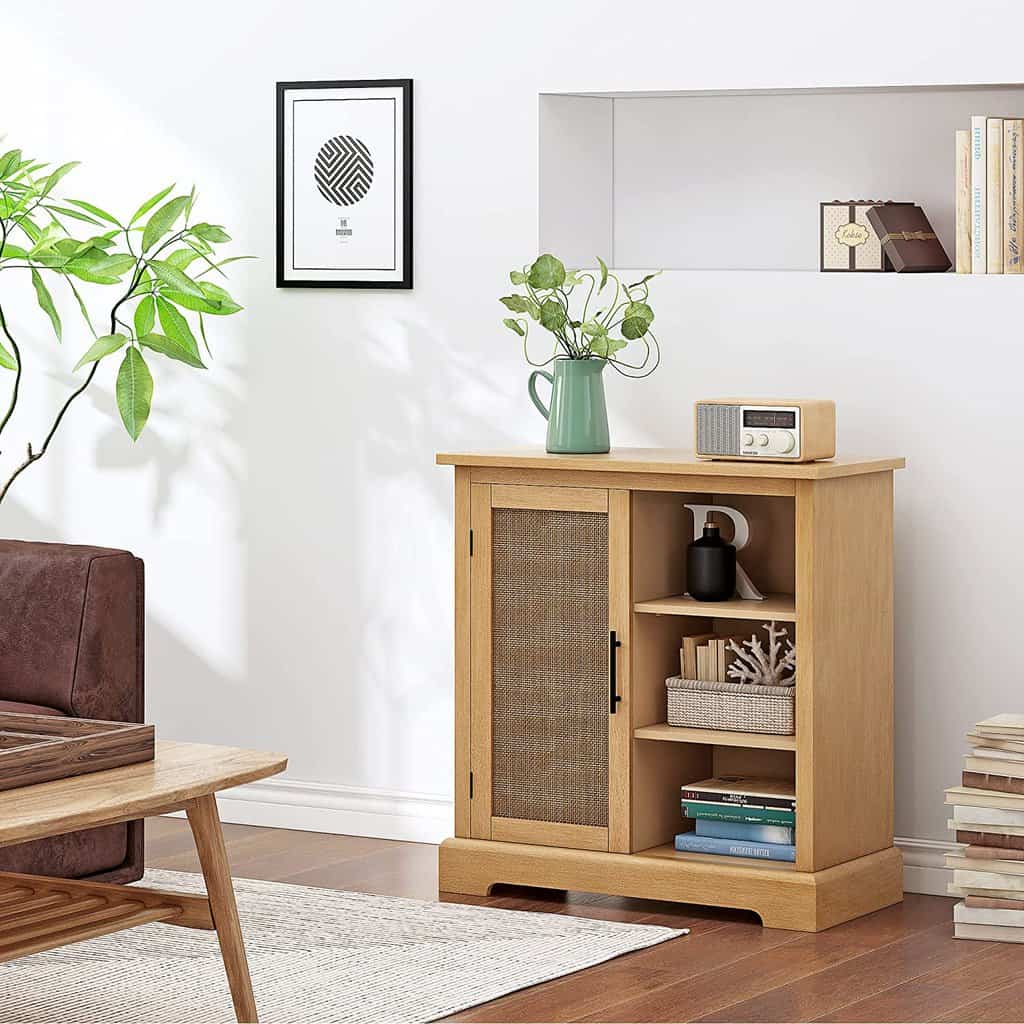 Below, I've curated a list of the best cane cabinet ideas you can take inspiration from. Let's take a look:
Bottom Line Up Front
As a designer, I believe that cane furniture is an excellent statement-worthy investment – especially if you're looking for something that would make an instant statement. Moreover, it has multiple benefits, including stylistic flexibility, versatility, and natural appeal.
This list explores all the different designs in this genre and how they can irrevocably change the face of your spaces when they are styled just right!
As for my personal favorite, it's Cane going Rustic Chic. The understated design of this cabinet is so simple yet so impactful. I love the simple wooden frame that merges beautifully with the cane door leaves. It's an elegant combination capped off by the vintage ring pulls in the center.
Top Picks
Cane Going Rustic Chic
Simple and elegant, the farmhouse chic aesthetic of this cane cabinet is absolutely eye-catching. I love the understated rustic charm, the distressed finish, and the contrast of the antique hardware that totally elevates the overall look.
Cute & Retro
This is another favorite cane cabinet of mine from this list. It's compact, stylish, and reminiscent of the 60s, where rounded edges and boho-chic accents were all the rage!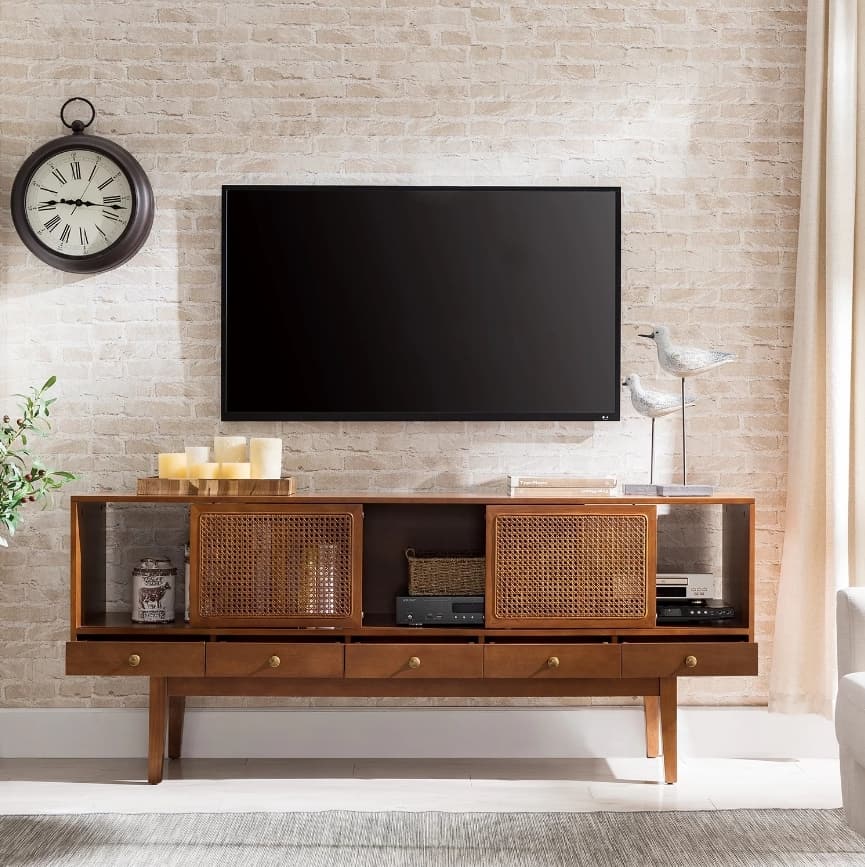 Fresh in Minty Blues
I adore the cool blue flavor of this cane cabinet and how it goes well with the natural finish of the cane doors. It's a study in contrasts and looks absolutely dynamic. I also love how it has been styled with autumnal accessories in different textures!
Selection Criteria 
Here is everything that was on my mind while I was curating this list:
Versatility
When people think of cane cabinets, they have this limited, one-dimensional perspective. I wanted to change that. Therefore, I curated all types of cane cabinets here. From vintage to farmhouse chic and modern, you'll find many styles that feature this material here.
Dynamic
Aside from versatility, I also wanted to ensure that the cane cabinets on this list are visually dynamic! I didn't want stale and old-school items with zero personality, so you'll see a lot of cabinets with contrasting finishes here.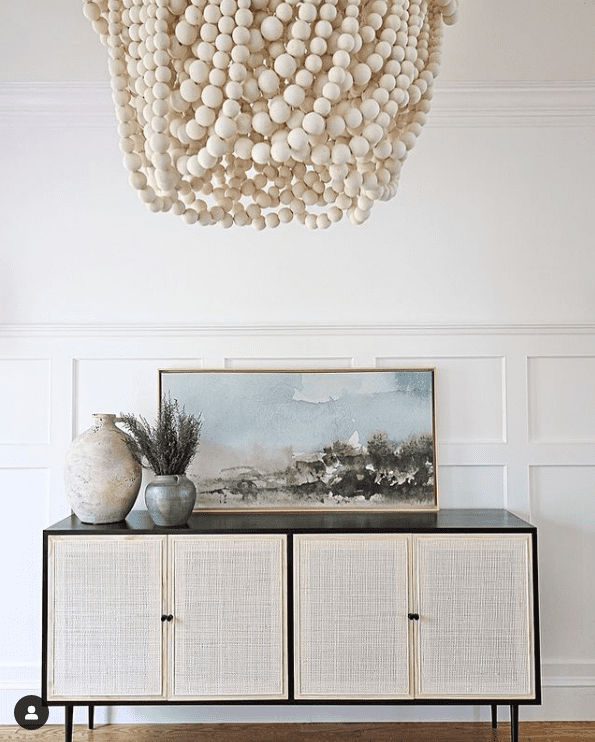 I admit that the boho-chic chandelier drew me to this picture, but the cabinet kept my attention. It's gorgeous, elegant, and I love how a black frame has bordered it. It really makes the cane door leaves stand out. I also really love the classic styling.
It's all very neat and pulled together – especially the paneled wall backing and how it makes the earthy vases and artwork stand out more beautifully than ever.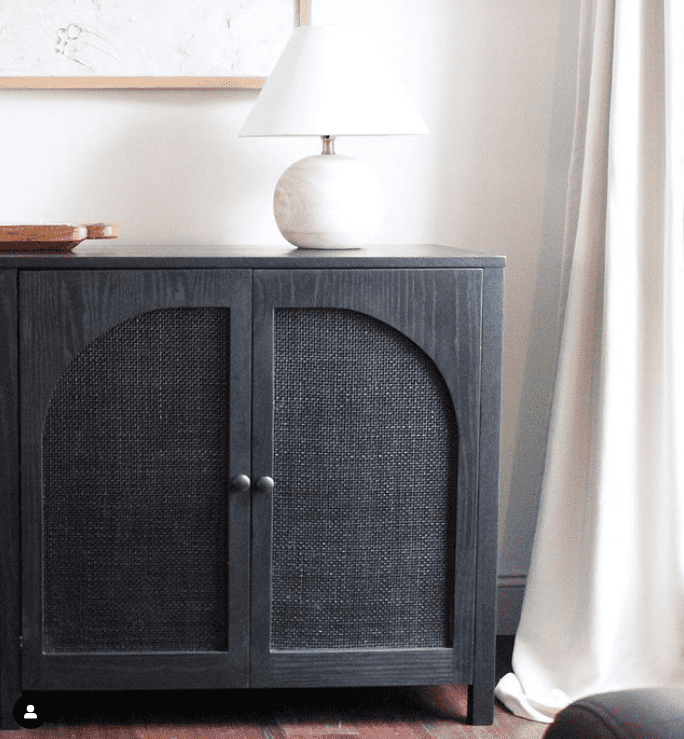 Most people have the typical misconception that cane cabinets only come in a natural, straw color. However, that's not true.
They can be finished over, and this black cabinet is proof of striking they can look. I recommend going for this look if you're working with achromatic colors (i.e., black and white). The caning on the cabinet doors would add texture to the white surroundings while presenting a great point to focus on.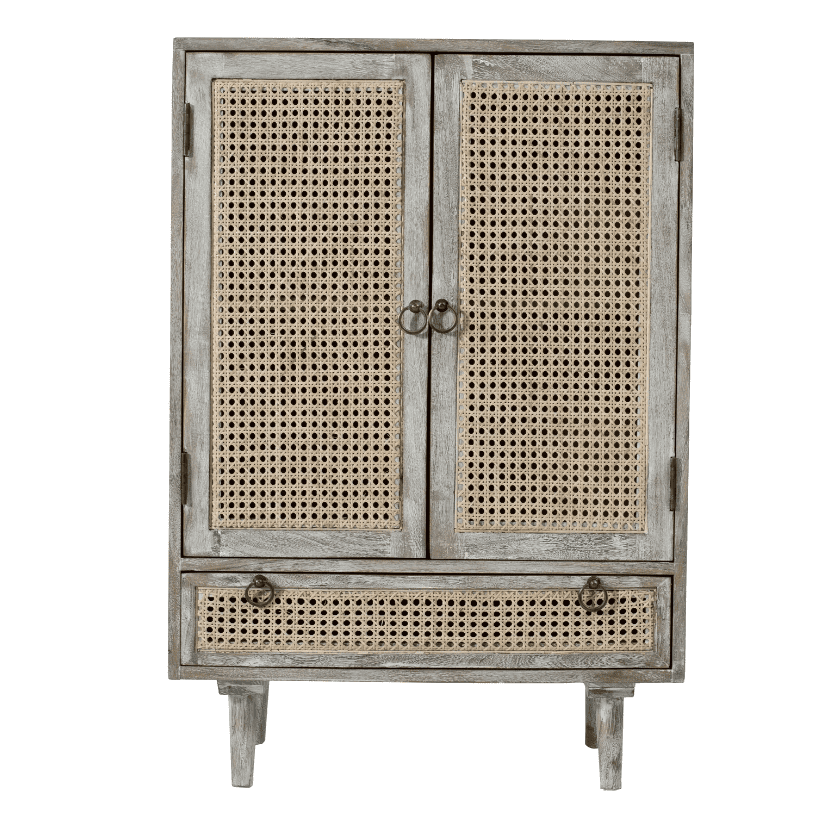 I looked at the shabby-chic design of this cane cabinet and immediately fell in love with it. It's neat, has a classic appeal, and the distressed finish gives it that understated industrial edge. Then there's the cane weaving on the doors! It provides just the right kind of accent to the overall design.
Just imagine this cabinet with any other style of doors – solid wood, hand painted, etc. It doesn't feel right, right? The caning provides just the right amount of texture to the cabinet and how it comes off to the rest of us.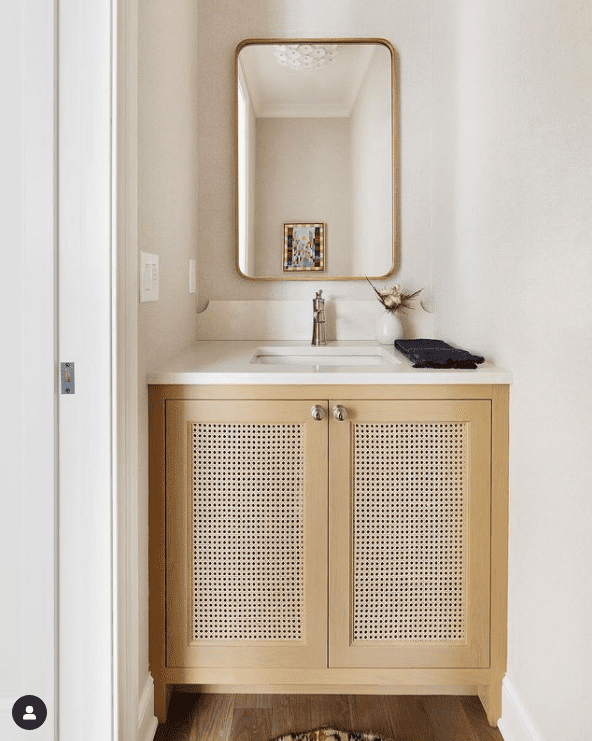 Caned cabinets come in all shapes, sizes, and formats. As you can see, this custom vanity features cane doors and does an excellent job of adhering to its elegant, understated surroundings. I love how the texture lightens up the entire design and keeps it from feeling heavy.
I also like how the white countertop and minimalist mirror add to the overall personality of the cabinet while contrasting it wonderfully.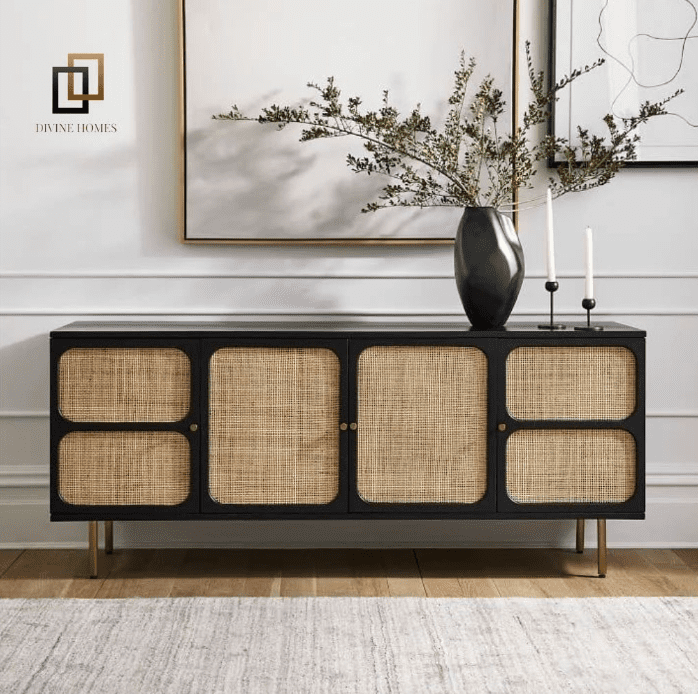 This cane cabinet is the perfect fusion of modern and retro styles. On the one hand, it features crisp, clean lines. On the other, it has that classic 60s Americana boho-chic appeal along with those space-age curves on the insides of the cabinet frames.
Overall, I found this design quite dynamic and had to share it. I suggest you feature something like this in an understated contemporary home needing a bold focal point. Ensure that the backdrop is white so that the combination of black and natural cane stands out.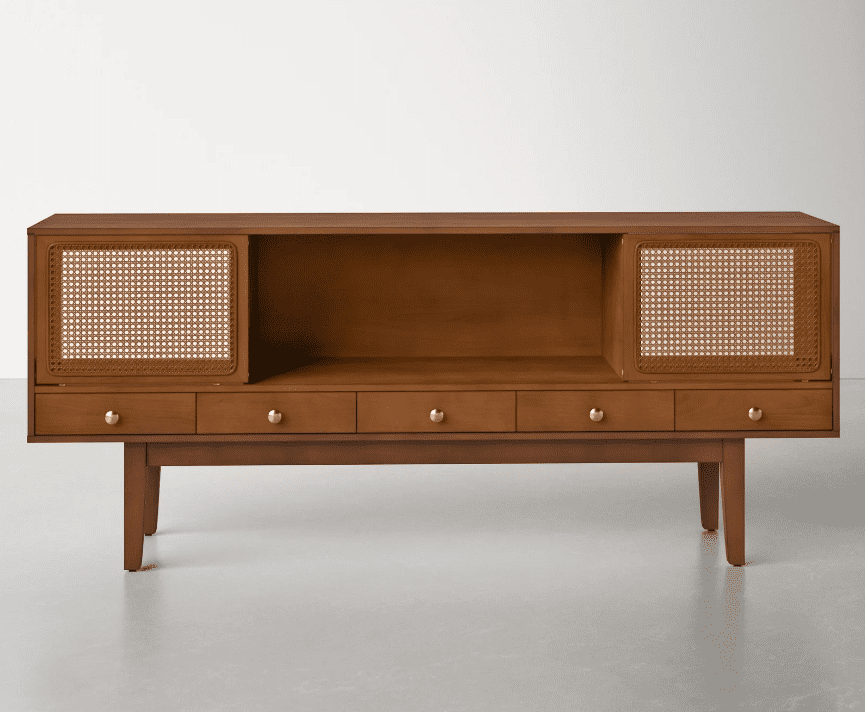 Just look at the sleek wood craftsmanship of this TV console – isn't it handsome and charismatic? I love how the rich brown texture pairs seamlessly with the cane on the cabinet doors. It's a wonderful fusion of contrasts, and I'm totally here for it.
I suggest you pair this cabinet with a modern or minimalist interior design and put it against a white wall so that the brown color pops!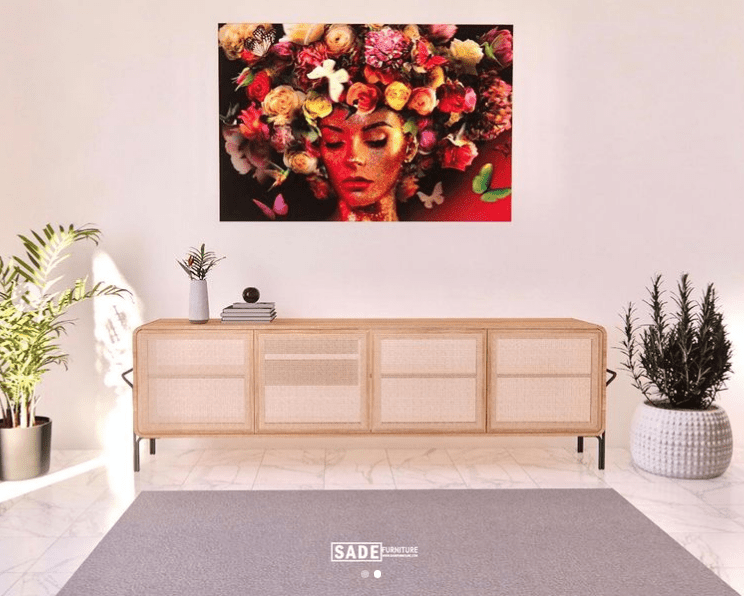 If you're searching for a cane cabinet idea that leans on the minimalist side, I would steer you here. One look, and you'll be able to tell why.
From the clean design to the understated wood grain and the natural texture of cane on the doors, everything is as Zen, simple, and straightforward as can be. I genuinely feel this cabinet is the physical personification of tranquility and would go well with a minimalist interior.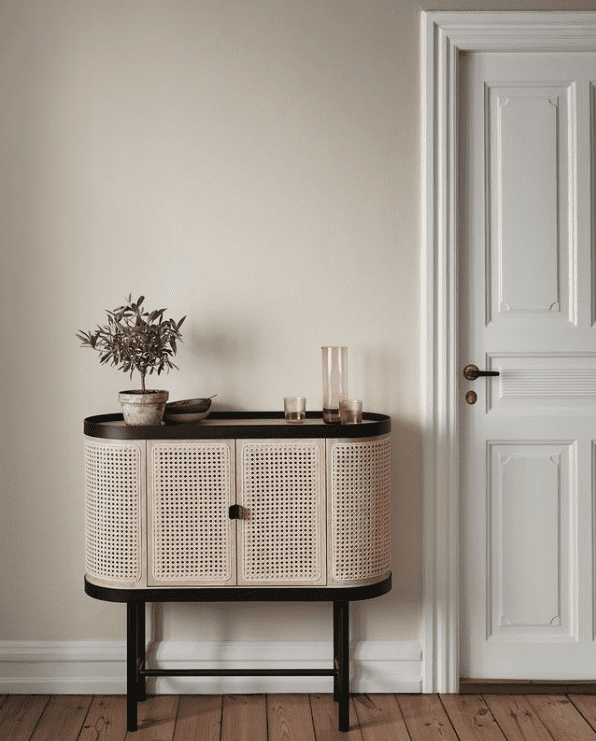 This is a rather upscale version of the classic cane cabinet, and I'm here for it. I love the rounded sides and how they make the most of cane as a material, which is quite bendy and flexible. I also admire how the designers have emulated a sense of classiness and sophistication to the whole design. All the black accents ramp up the natural texture of the cane parts, and everything pulls together elegantly!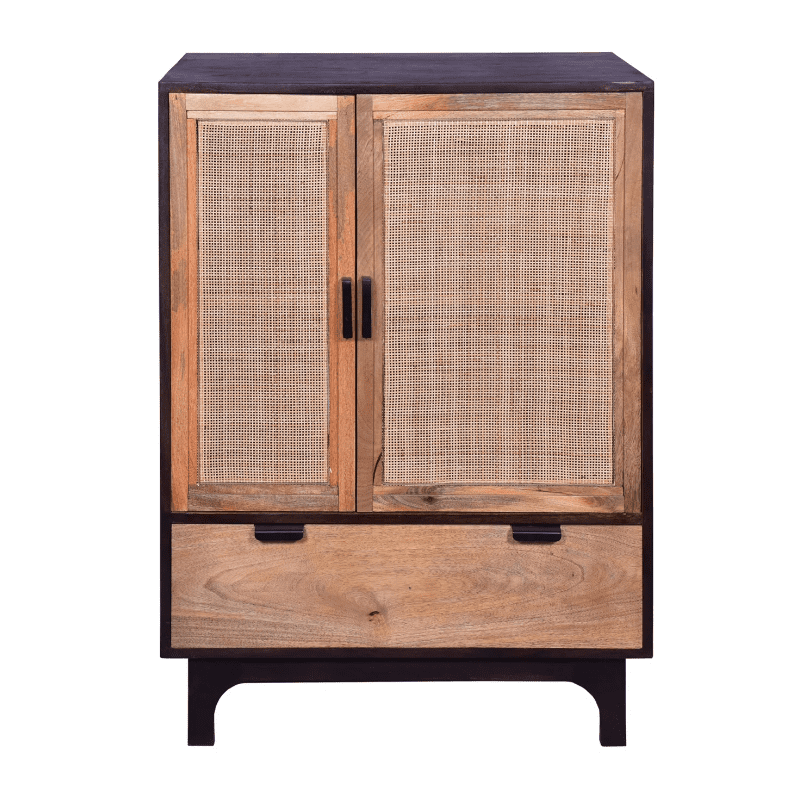 Caning may be a traditional craft, but that doesn't mean these cabinets can't be modern. I mean, look at this gorgeous design! It's dynamic and full of character. I love the dark outline that makes up the sides and how it works beautifully with the lovely wood texture of the facade.
The cane weaving on the cabinet doors provides another layer of contrast to the design. The entire cabinet is the perfect fusion of modern-meets-rustic, and it would look lovely in any interior design. Just pair it with a plain wall for the best impact.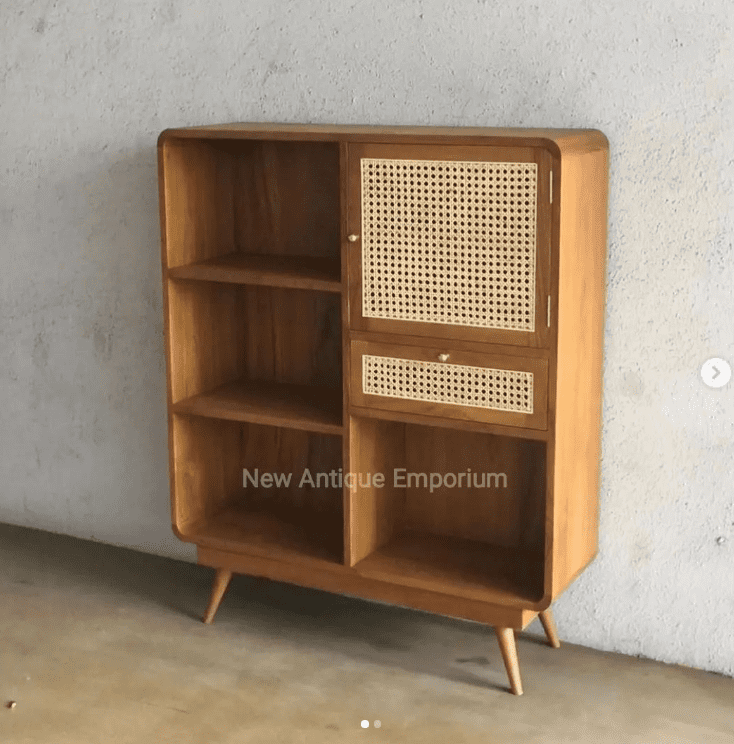 Here's a cane cabinet that celebrates the midcentury modern style! For starters, midcentury furniture has this very distinct look about it, and this is one of the few times I've seen cane emulated in it. Therefore, I admire the seamless fusion because there aren't many stylists who would be able to differentiate between the rustic beauty of cane and the clean modernism of the midcentury style.
I would advise you to pair this cabinet with intellectual decor items (books, binders, etc.), masculine bottles of liquor (whisky, scotch, etc.), and an indoor planter that is overflowing with lush green foliage for the best look.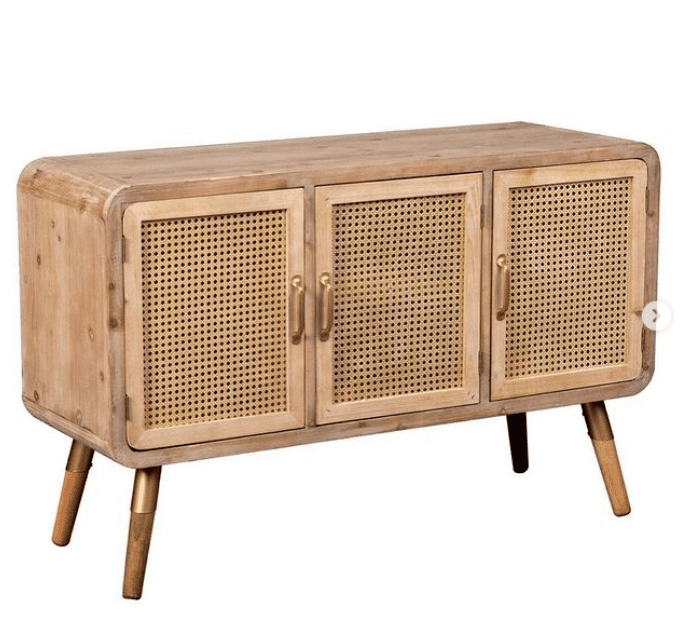 I wanted to introduce a cane cabinet that would also complement small-sized homes, and this seemed like the perfect choice. First off, I love the compact body of this cabinet – so neat and cute! Secondly, I love how cane stars front and center in the whole design.
Its distinct textures match pretty well with the light finish of the wood, and I love how the designer added lovely bronze/copper hardware to give the whole aesthetic that dynamic appeal without breaking character!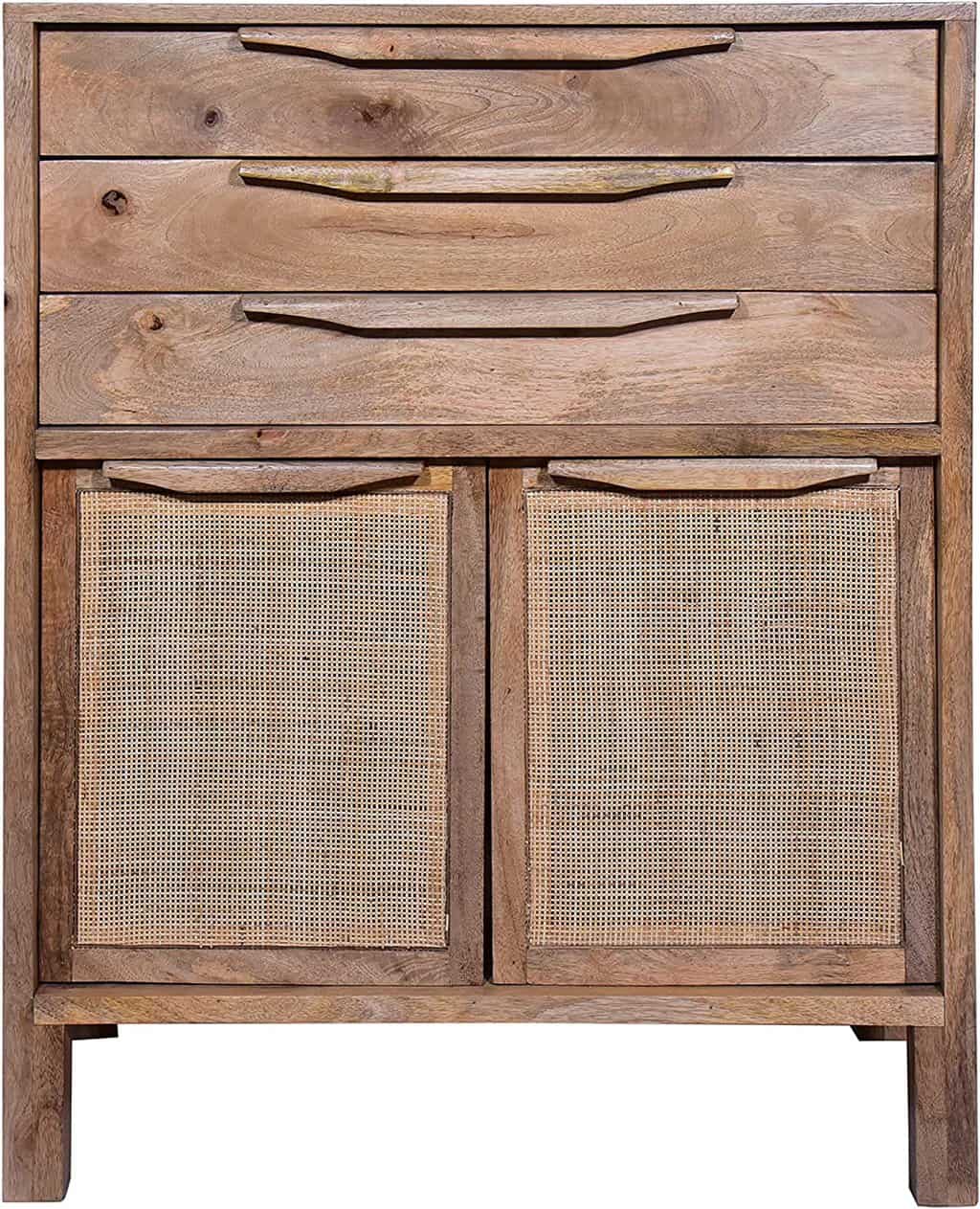 I love the distinct cottage-style outlook of this beautiful cabinet. It's got a classic, down-to-earth appeal, and I adore the amount of personality that has been instilled within the whole thing, thanks to the unique built-in cutout handles.
The cane cabinets contrast wonderfully with the wooden finish and add an intense charisma and unusual dynamic to the overall design. It will make a lovely addition to any home – especially one that leans on the shabby-chic, coastal, or rustic style.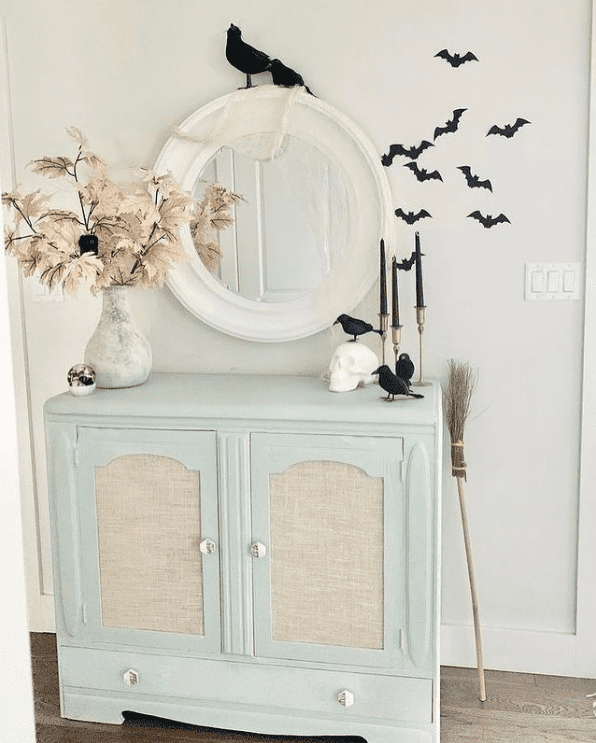 Nothing says "fresh" like a minty blue coat of paint, and I love how this one has been paired with rugged cane doors for that extra contrast. I also love how it has been glammed up with a mixture of light and dark-colored accessories.
Just look at that gorgeous porcelain vase with its pastel flowers and how it beautifully contrasts with the black candles! It's the perfect fusion of farmhouse-chic meets contemporary, and I'm here for it!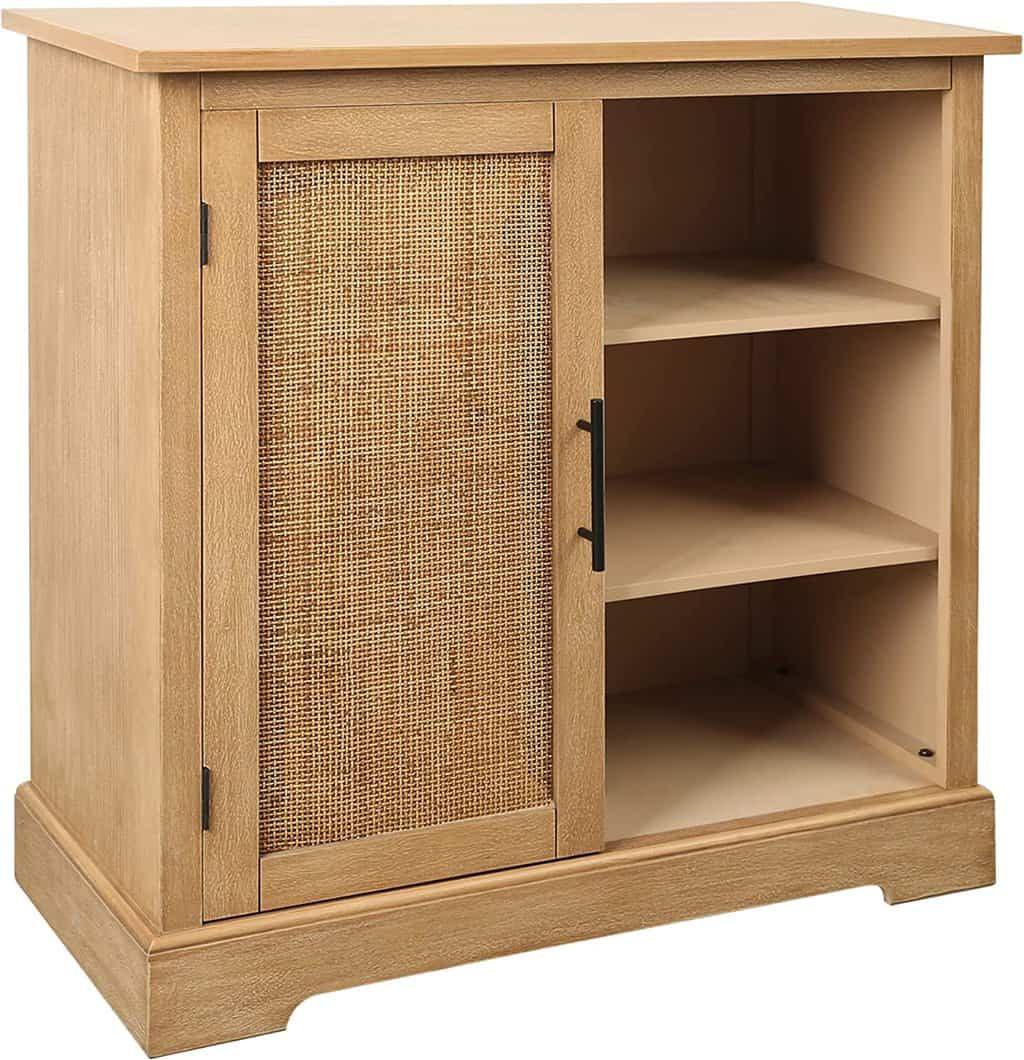 This mini-sideboard or buffet cabinet with cane doors would make the perfect furniture accessory for anyone who wants an extra stylish oomph in their home. The design of this cabinet is absolutely classic, and I love how the universally beloved platform base pairs with the texture of the cane cabinets.
I also like how the design is slightly asymmetric – the door is only situated on one side while the other side features an open cabinet. It plays nicely in contrast to the cane texture and the smoothness of the wood.
FAQs
Question: Is cane furniture better than plastic?
Answer: Since cane is a natural material, so it's preferable to plastic. Moreover, it's almost always paired with wood in cabinets, so it has a natural appeal that is hard to replicate in composite furniture materials.
Other than that, cane furniture is also more long-lasting than plastic. However, it would be best if you were mindful of its fragility, as cane can easily break.
Question: Is cane furniture UV resistant?
Answer: Yes, cane furniture is UV resistant. You don't have to keep it away from sunlit patches in your home for fear that the finish will fade. Aside from that, cane is also water resistant, so that's an added benefit that you can add to your list.
Question: What's the best way to safe keep my cane furniture?
Answer: Well, you can always go for a polyurethane coating. That's the best and most surefire way to protect your cane furniture against long-term wear and tear. As for whether, you should go for oil-based or water-based polyurethane, I'll say that both are equally good.
Best Cane Cabinet Ideas: Conclusion
Cane is one of the most beloved natural materials out there, and furniture made from it is not only brimming with personality, but also quite sturdy.
It's one of my personal favorites because I am a huge fan of modern interiors that are furnished with beautiful, charismatic, and unique cabinets that contrast the rest of the ambiance. It was fun curating different designs for this list and I hope you loved all of them as much as I did! 
Read More: