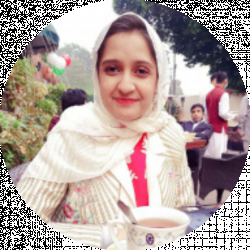 Latest posts by Zunaira Ghazal
(see all)
Stylish and practical, accent cabinets are a fantastic way to emulate a trendy vibe in your home interiors. Also known as sideboards, these lovely cabinets are used as both an accessory as well as a workable unit where you can store and organize the things that you want.
They come in a number of unique designs, but the universal fit for every home is white. It's a timeless color that can make every home look absolutely refined. Don't believe us? Here's are 15 great examples that will convince you:
Bottom Line Up-Front
Accent cabinets are supposed to stand out against the rest of your furniture, but they also need to be timeless. White accent cabinets bridge the distance between these two juxtaposed ideologies, which is why I've compiled a list of some amazing options for you. I hope you love them as much as I did!
As for me, I'm really into distressed finishes, so Going Shabby Chic is really a personal favorite of mine! I love how the weathered look makes the entire cabinet feel cozy and well-loved. It's an excellent way to add personality to your spaces!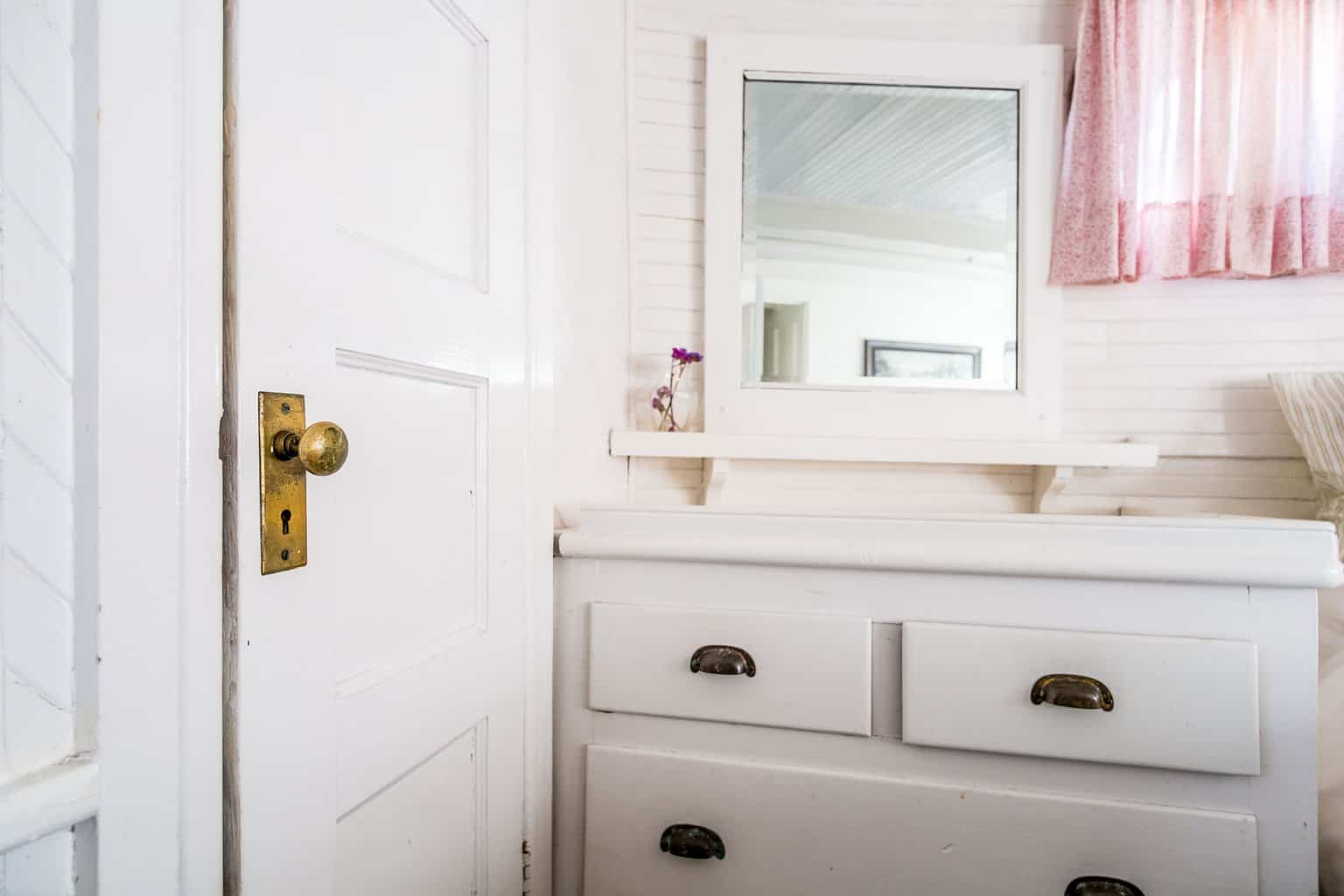 Top Picks
There are a total of 18 options on this list, and it's really difficult to pick just three, but I've done my best:
1. The One with the Beautiful Fetters
This one is an immediate hit with me because I simply love the fetters on the cabinet surface. They give the white paint so much more personality and dimension. I can see this one in my own living room!
2. The One with Floral Cabinet Doors
The one with the floral cabinet doors is also noteworthy because of its lovely hand-carved details. While there are other such options on this list as well, I especially like this one because of its lovely relief and how the light plays along its details with stark shadows.
3. The One with 3D Designs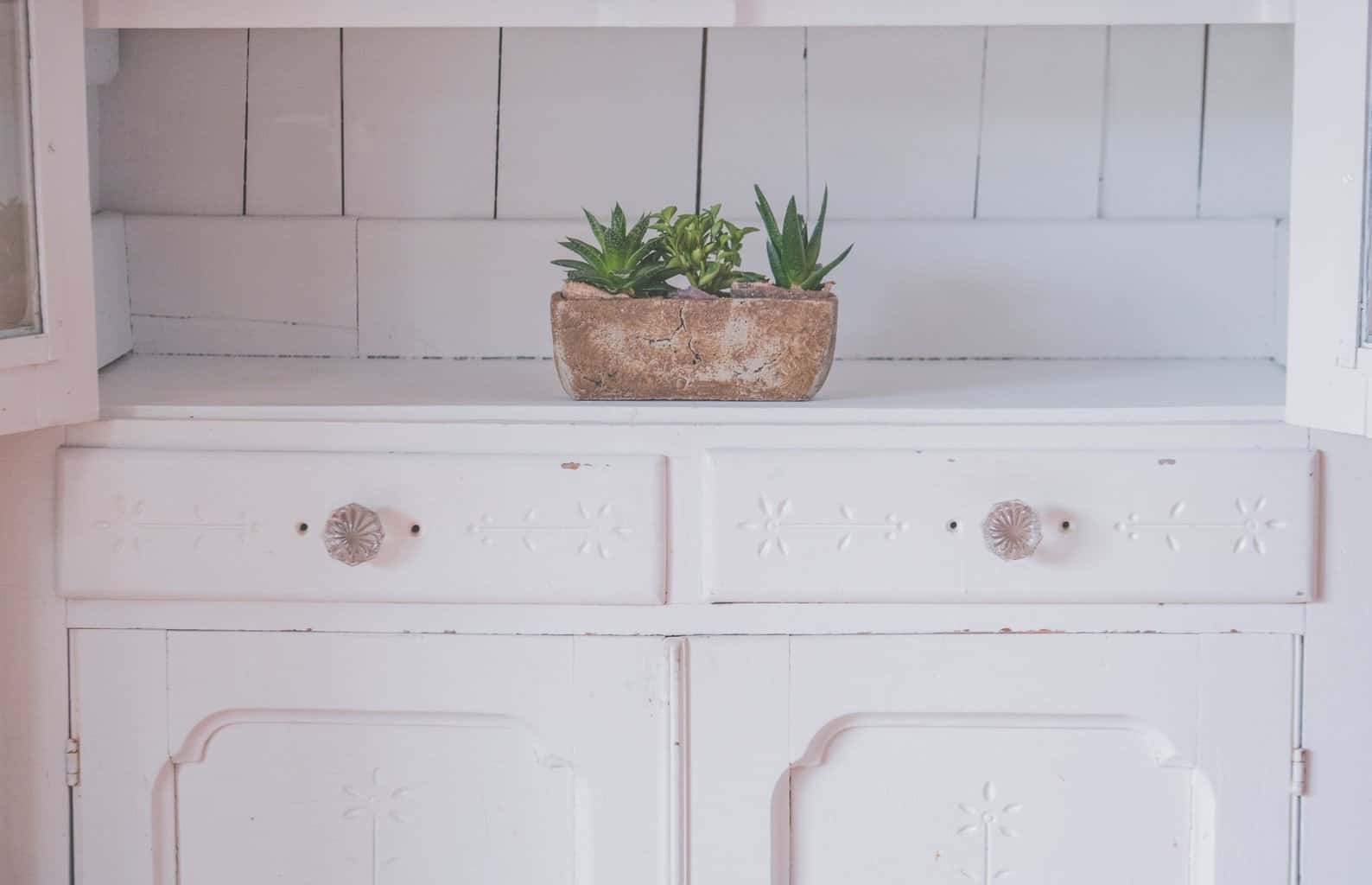 The one with the 3D effect is also a personal favorite. I find the square a wholesome shape and the way that multiple ones protrude out of the doors of this one in equidistant succession is quite stunning!
Selection Criteria
Here's what led me to pick out these 15 white accent cabinets from the wide variety over the internet:
Design
This matters so much because accent cabinets are there to break the monotony of the space. Therefore, you'd need for the design to stand out and be as distinguished as possible.
Versatility
Accent cabinetry needs to be versatile enough to complement most interior design themes, so my goal was to pick out the kind of designs that would fit really well within a number of interior styles.
The One with Beautiful Fetters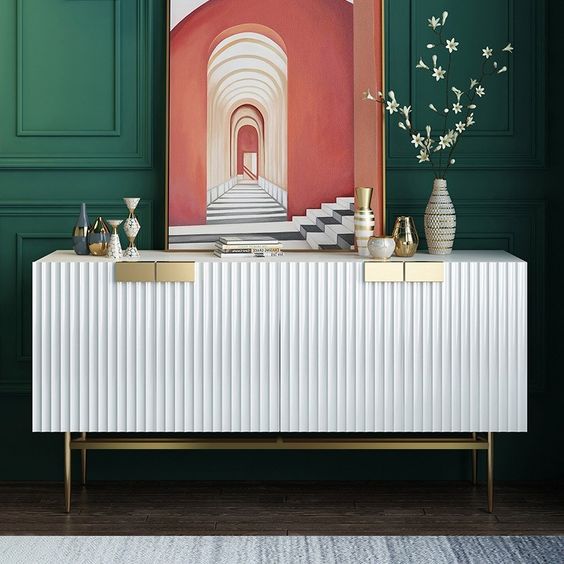 This white accent cabinet is a contemporary star. Although it features quite a simple design, it's got the kind of visual charisma that would make every space feel visually striking. I especially love the white fetters that run along its front facade. They make for a beautiful design element that is complemented with brass accents on the door handles.
The design of this cabinet is a standalone masterpiece in its own right, but I'd suggest you pair it with walls that run on the bolder side of the color spectrum. Think: green, navy blue, emerald green, etc. The white of the cabinet would stand out beautifully against such colors.
Going Shabby Chic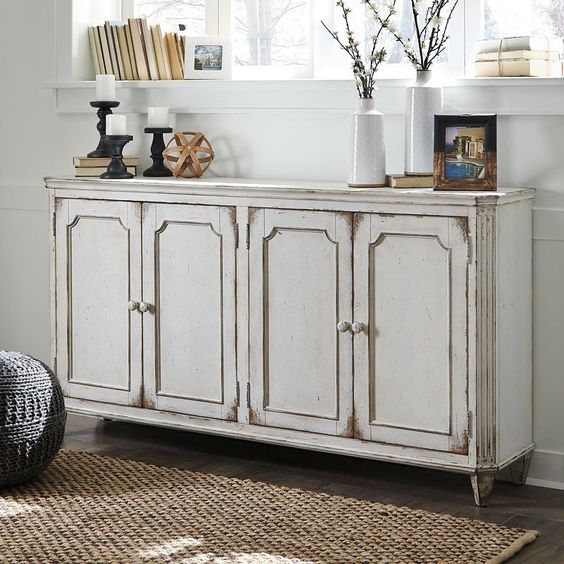 The great thing about white accent cabinets is that you can explore a number of fantastic design options in this genre. This one, with its bold shabby chic aesthetic, is especially noteworthy. The panel-style doors and fluted edges have been embellished with a strategic black-grey patina that moves it directly into the shabby chic category. I absolutely adore the distressed finish! 
This aesthetic may not work on paper, but in reality, it looks rather gorgeous – especially when paired with the rustic accessories that have been put on top of its surface.
The One with the Hand Carvings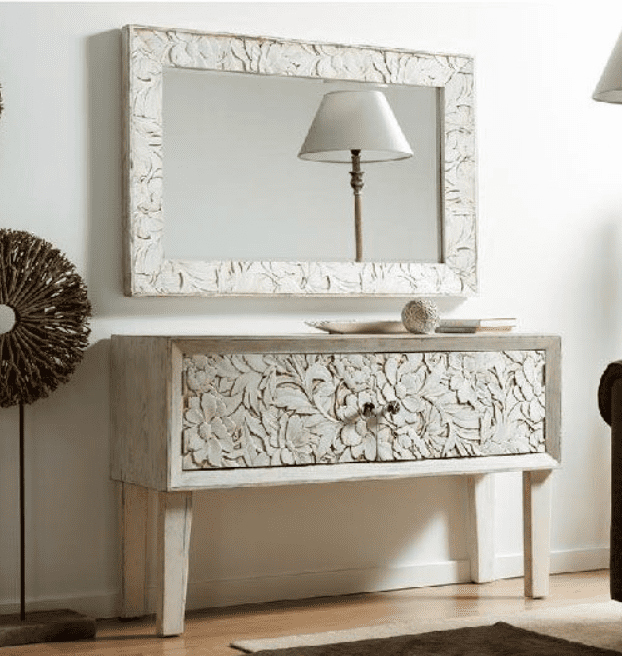 This hand-carved white accent cabinet is as lovely as they come. I find its bold rectangular frame quite eye-catching – it certainly makes an instant impact, and the beautiful floral details that run along its front immediately hook the eye. The cluster of arabesques and florals have been finished in a gorgeous ivory patina while the long legs provide a nice levity to the whole design. 
I'd suggest that you pair this one with a nice, big mirror and place the entire set in a hallway that requires some visual sprucing up.
The One with Floral Cabinet Doors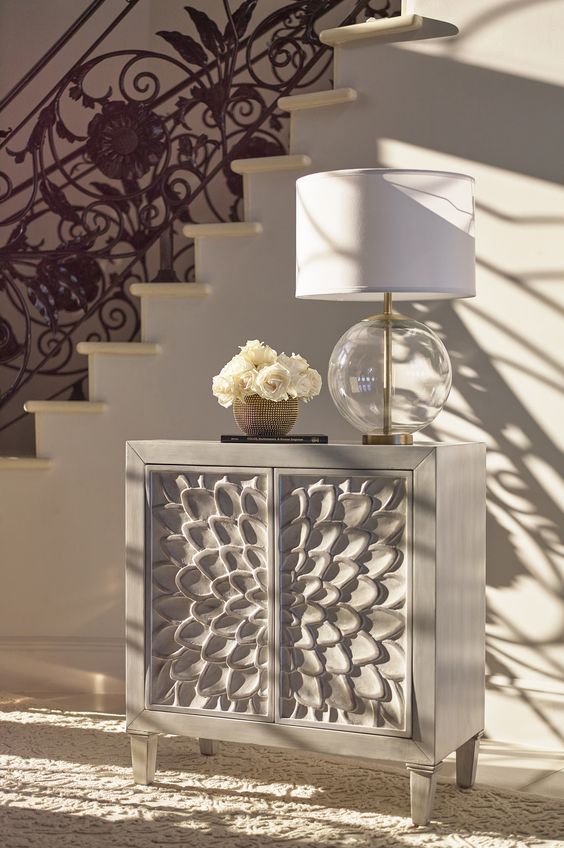 This lovely white accent cabinet is one-of-a-kind. Its cabinets have been detailed with hand-carved floral accents that look like angel's wings mid-flight. The overall design leans on the sophisticated side and the plain white sides and top make for a nice contrast to the heavily embellished front.
I'd suggest putting this cabinet in a part of your home that requires a bit of a glow up. Anywhere you place it will look rather spectacular – especially when you pair it with lovely accessories. 
The One with Latticed Doors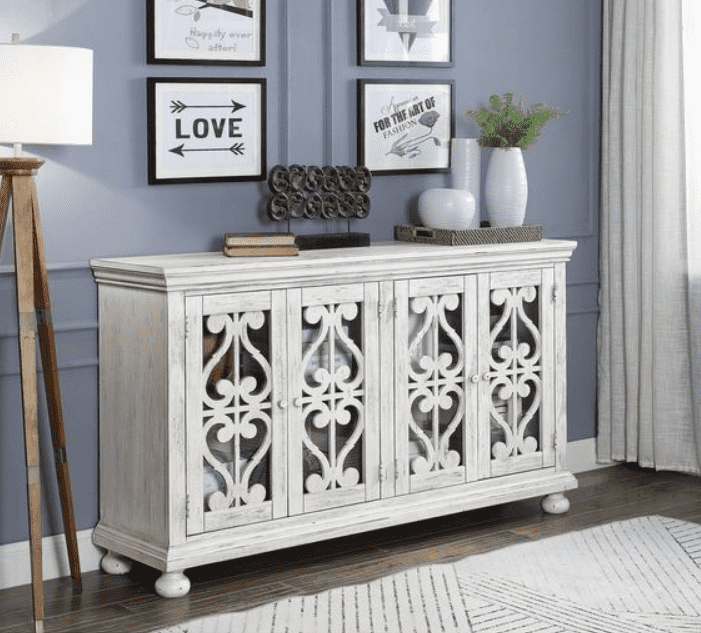 If you're searching for something that is a bit more stylistic, then you can opt for an accent cabinet with lattice doors. This lovely white accent cabinet is one of the most stunning options on this list and I am absolutely in love with its traditional-rustic design. It's a little on the large side, but that gives the overall design even more impact. It also makes the intricacy of the cabinet doors stand out even more. 
I believe that type of accent cabinet would look lovely in oversized rooms – especially dining areas or drawing rooms that have a bit of an empty space that needs to be filled out. You can showcase your favorite accessories in there as well for all to see.
Going Mid-Century Modern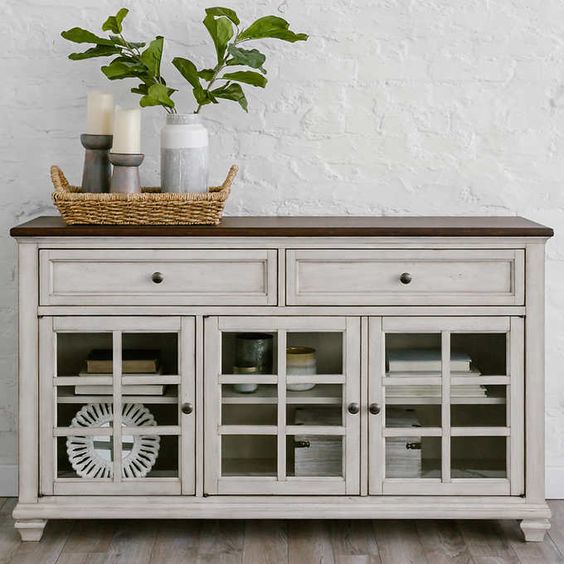 Straightforward, yet just as charismatic, this white accent cabinet is one of the most stylish ideas that you'll come across on the internet. I find it trendy, bold, and understated at the same time – that's certainly a unique combo.
With its distressed, multi-step finish and sophisticated panel doors, this cabinet is great for showcasing your best items as well as making a statement in your interior designs. Its glossy wooden surface is even more impactful when it stands out against the dull white finish. You can pair it with lovely rustic accessories and wicker decor for the best impact.
The One with Mirror Doors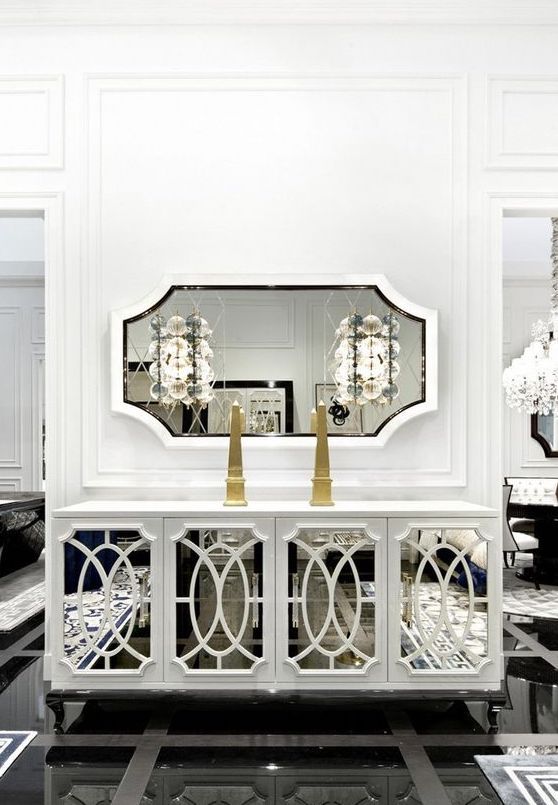 Expressive and glamorous, I love how this white accent cabinet leans on the swanky side. It's got a modern-contemporary appeal that would pair well with other glossy materials. It's a showstopper of a furniture piece that has got the chops to become the statement item in any room that you put it in.
I especially love the intricacy of the door carvings and how they highlight the reflection of the mirrors. Moreover, the white finish of the top and middle really goes well with the glossy back of the base. You can put a mirror on top of it to make the best visual impact.
The One with 3D Designs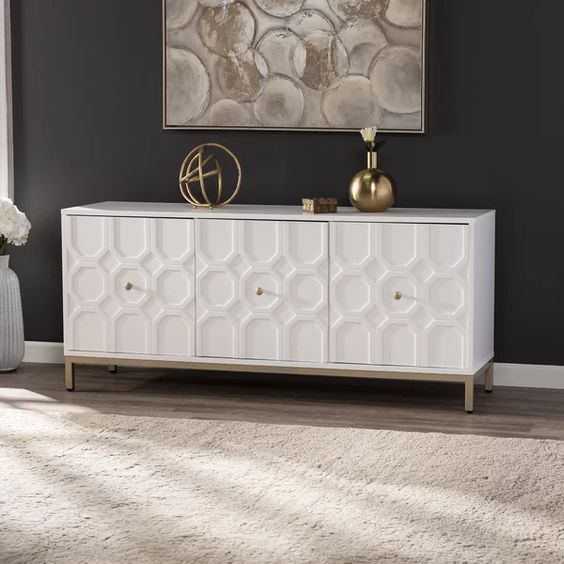 This beautiful white accent cabinet is lovely in its soft white stature. Its got beautiful, embossed 3D patterns on its surface that highlight its rectangular form. It's also got a bit of a retro-eclectic vibe, thanks to the shape of its pattern – it's something that I find especially unique.
The 3-door design is rather functional, yet also quite unique, thanks to the round brass knobs that are situated directly in the center of each cabinet door leaf. Moreover, the dull wooden base caps off the whole design wonderfully.
The One with All the Glam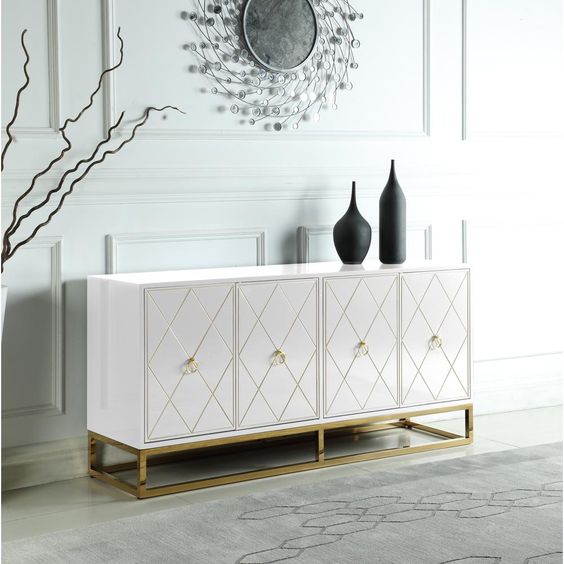 Donned in glamorous modern armor, this white accent cabinet is as sleek and sophisticated as they come. It's got the style visual charisma, and contrast to make the best impact. I absolutely adore the soft embossing on its facade. The gentle lattice-work is complemented with a swanky gold base and ring pull knobs. I also love how the glossy top frame has been complemented with black vases. It's an element of surprise and contrast that really strikes the eye.
The One with the 3D Effect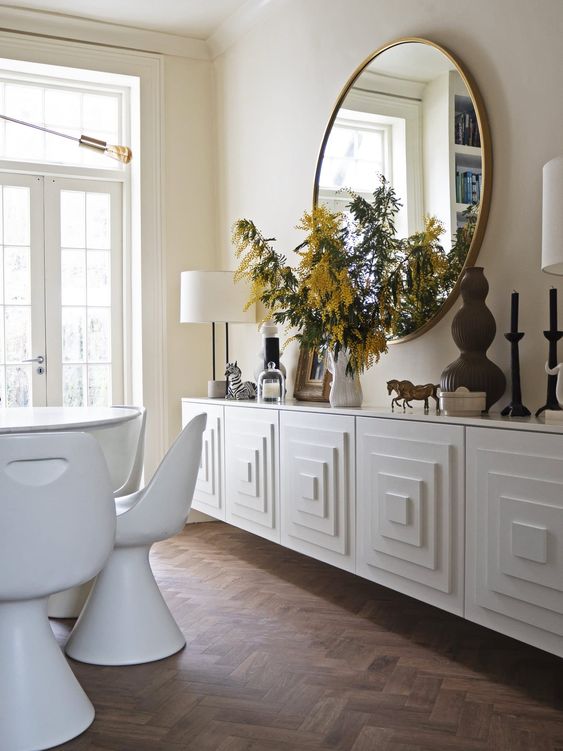 Brimming with sheer class and sophistication, this white cabinet makes an instant statement with its bold 3D design. Every door leaf is embossed with an outcropping of multiple squares that protrude out in an equal succession. The same design is repeated on each door leaf, thereby creating a sense of rhythm within the entire space.
I'd suggest that you opt for some shapely contrast by opting for an oversized round mirror above the sideboard surface. The square design will really go well with the circular outlook of the mirror.
Simple & Elegant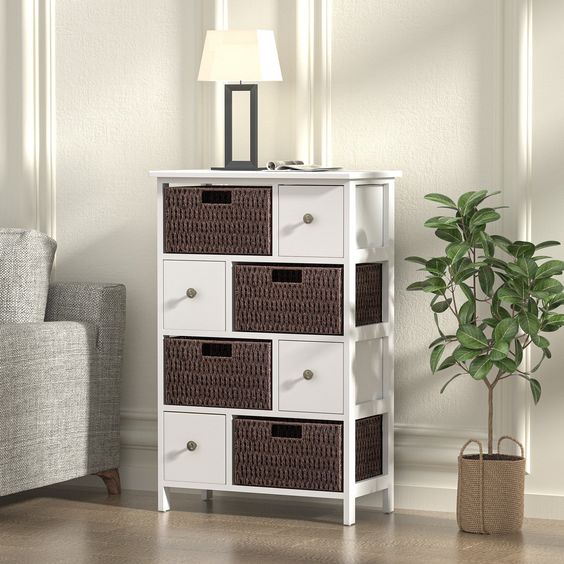 If you want to have the best of both function and storage in your white accent cabinet, then this one would be right up your alley. The stackable design is rather unique and the alternative steps are installed with wicker baskets that can be pulled out and filled up with whatever you want. Then there are the stylish drawers which can be filled up with smaller stuff. I think that's quite handy.
Other than that, the overall look of this shelf leans on the contemporary side, and its simplicity is one of its best features. You'll love its universality and how you can feature it in literally any room of your house without losing its charm.
Mediterranean Appeal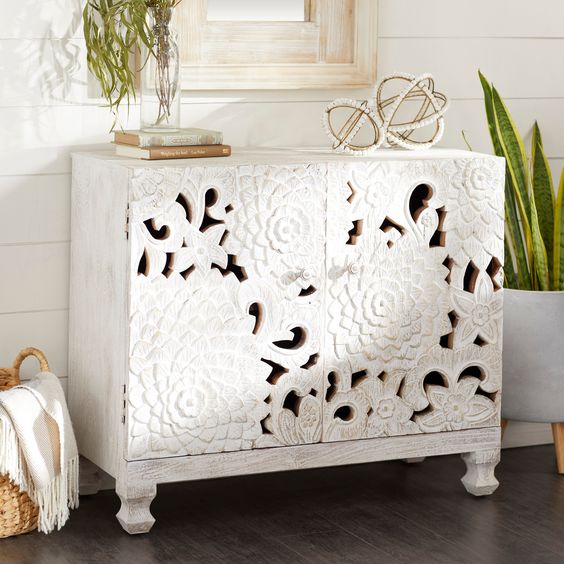 Small and compact, I find this double-door white accent cabinet really appealing. The design is rather succinct, but the Mediterranean aesthetic of the door-leaves give it so much personality. The combination of mandala flower carvings and arabesques makes for quite a pretty picture and stands out in quite some relief thanks to the white finish.
There's a distinct farmhouse-chic appeal to this cabinet that would fit well within a number of unique themes. From introducing a classic aura to rustic interiors to a homely touch to sleek modern ones, you can feature this cabinet in a number of spaces to get the kind of results that you want.
Styling with Wood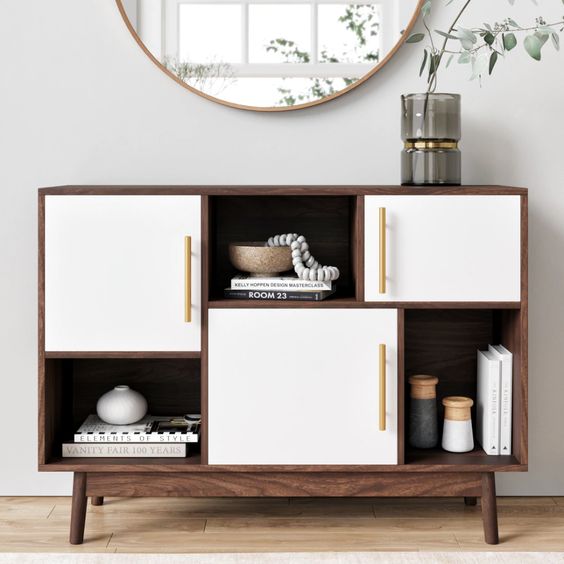 This lovely white accent cabinet is the epitome of sophistication. It leans on the sleek side, but the gorgeous wood accents that make up its top surface, side panels, and base makes it feel very warm and welcoming. I adore how the wooden part also plays in contrast with the door leaves and their gold handles – it's a lovely three-way visual street!
The overall impact of this cabinet is quite beautiful. It's the best combination of sleek and homely, which makes it a versatile choice for most homes with contemporary themes. 
Introduction to Minimalism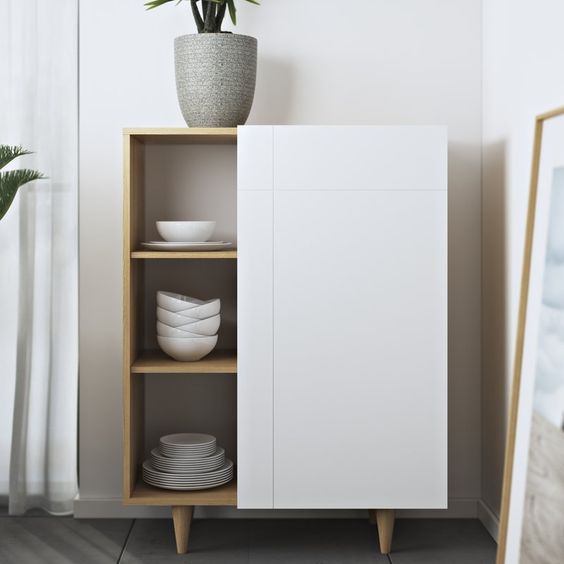 This white accent cabinet embraces its simplicity and features a classic wood-and-white color scheme. Plus, it sneaks in a little extra storage with its unique and efficient design. I love how the left side highlights the wooden part and provides a really great opportunity to feature some decor of your choice while the side with the actual cabinets is great for storing stuff that you really don't want the rest of the world to see! 
Steeping with Silver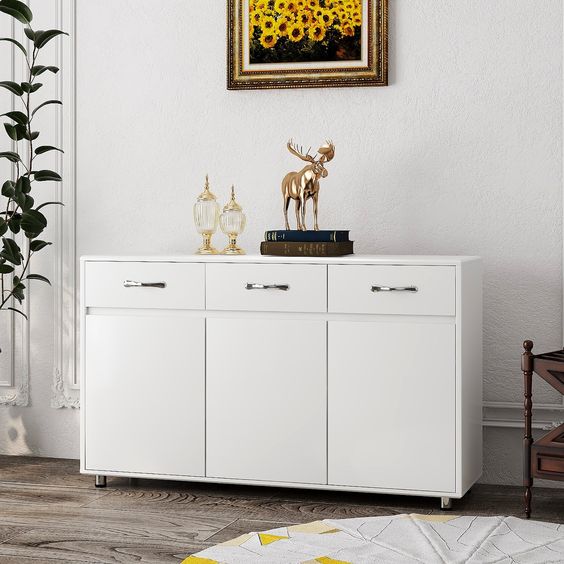 Here's another minimalist option that I found rather attractive. While the accent cabinet itself is big and rectangular, it doesn't feel visually heavy at all thanks to its sleek white finish. Moreover, only the drawers at the top have handles, whose silver finish I really love. It's cool and sophisticated. Plus it really highlights the fact that the cabinets don't have handles – another interesting visual and functional choice.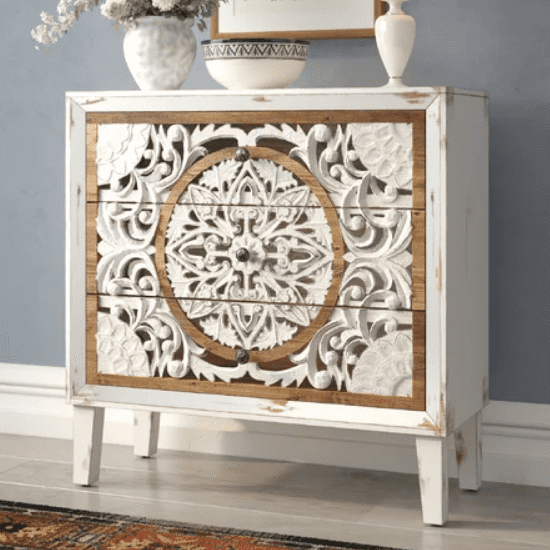 With its vintage, stylishly worn design, this cabinet instantly made one of my top picks! I love the intricate detailing of its facade and how the wooden parts make for a nice accent area that highlights the design even more. The distressed finish adds a decidedly homely appeal to the entire design, thus making sure that it feels like an heirloom piece one might have inherited from their rich grandma!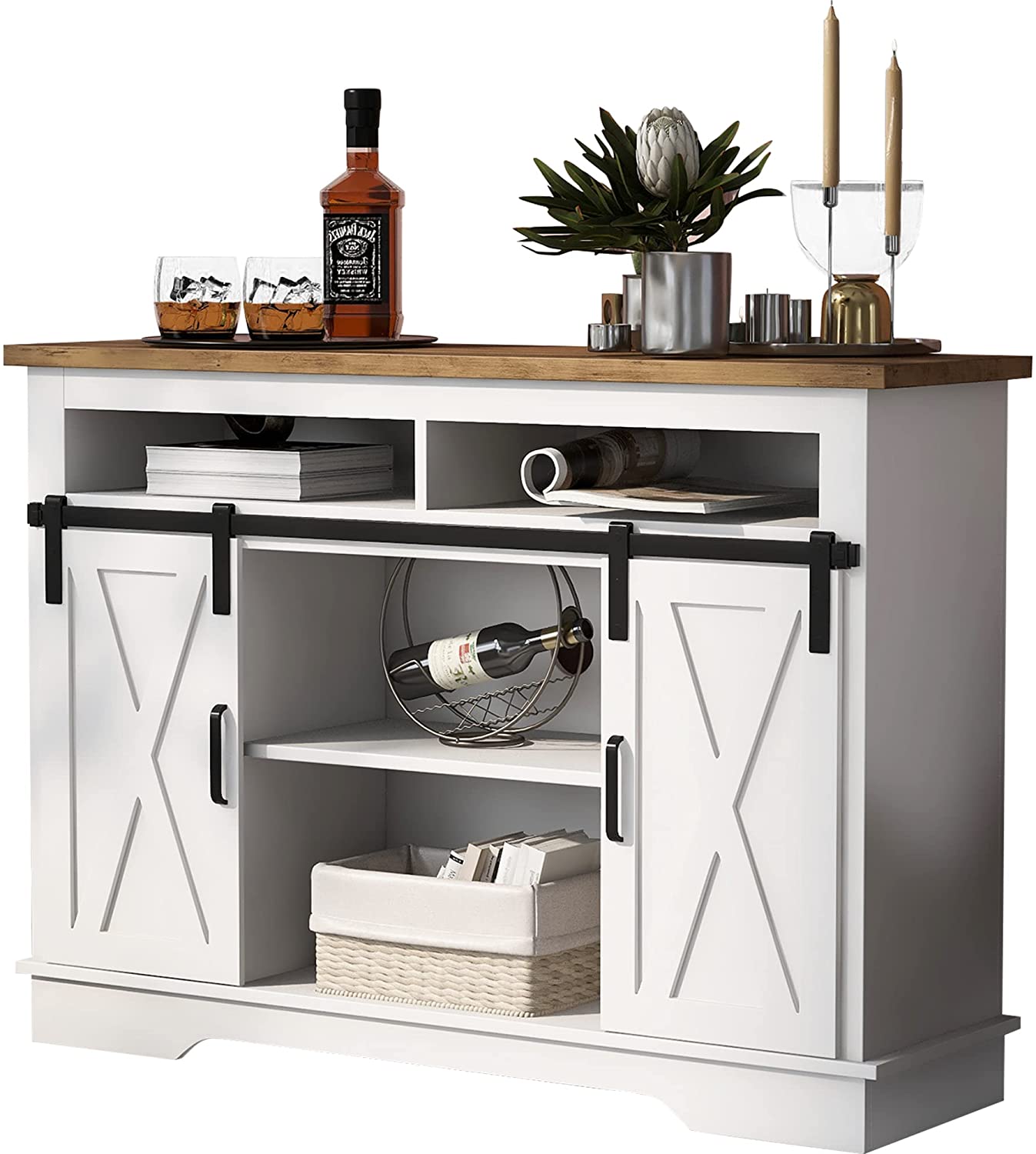 This one is another favorite of mine. I love the barn-door aesthetic that's going on here. The wooden top shelf makes for excellent contrast against the warm-white finish of the rest of the cabinet. The black rod in the middle is another interesting accent choice that makes the design all the more visually dynamic. I'd suggest you feature a number of unique decor items on this one to emphasize its personality even more!
Artistic White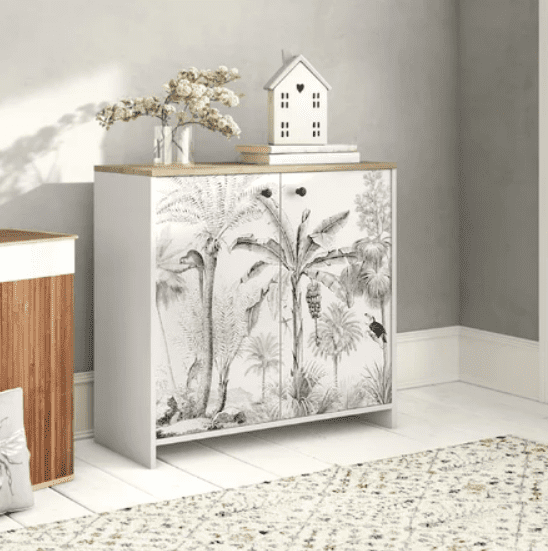 Contemporary and stylish, this artistic white accent cabinet features a gorgeous tropical landscape on its cabinet doors. I love how it feels like a professional artist just came about and doodled their heart out on its surface – very artistic and spontaneous. I'd suggest that you pair it up with white or gold decor for maximum visual impact.
FAQs
Question: What can a white accent cabinet be used for?
Answer: There's quite a lot that you can do with your accent cabinets. From storing things inside the (e.g. plates, vases, bowls, cutlery, etc.) to featuring a number of lovely decor items on top of the cabinet surface, there are so many things you can do with them.
Question: What can I put inside my accent cabinets?
Answer: Accent cabinets come with a lot of storage options. From big to small, there are a lot of sections you can utilize. The smaller ones can be used for books, stationery, etc. The bigger ones can be used to keep kitchen essentials.
Question: Where should I place my white accent cabinet?
Answer: You can place your white accent cabinets in a number of places. If it's on the narrow side, then you can place it in your bedroom. The larger ones are more suitable for living areas and drawing rooms. The medium ones can be featured in hallways and cabinets.
As for placement, you need to put them in an area where they are highly visible. A plain wall in the main area is the most suitable position, but depending on the size, you can also place it in an alcove as well.
Conclusion
So, these are some of the best white accent cabinets that I've found all over the internet. They're a great option for when you need a sophisticated piece of furniture for your home. I truly hope you find your ideal design from this list as well! As I mentioned, mine was the one with the distressed finish – it's a personal favorite because of its nicely-weathered, naturally time-worn appeal!
Read More: