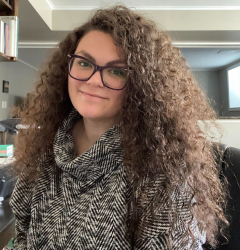 Latest posts by Candace Osmond
(see all)
You'll find hundreds of thousands of supposedly "unique" accent cabinets with Google alone. Overkill? Of course, especially considering that most of these are subpar at best and aren't worth your hard-earned cash. That's why I created a detailed list of the best accent cabinets with doors.
What's more? The units I've reviewed below are expertly crafted to do more than just add character and personality to your room. They also retail with multiple storage layers, either in drawers or internal shelving behind equally aesthetic doors.
Bottom Line Upfront
Honestly, I want all the cabinets on this list! But, if I had to choose my fav, it would be the Wheresford Accent Cabinet, hands down. It's dark and gorgeous, and I love the elegant touch of rattan on the doors.
Top 3 Picks
Are you ready to revitalize your home décor with an accent cabinet or two? Here are my top three picks you can use to create a complete, flowing appearance in your space.
Best Overall: Almantas Solid Wood Cabinet – Sturdy, beautiful, and durable, this accent cabinet from Canora Grey is an excellent choice for any room inside the home.
Best For Large Spaces: Violetta Accent Cabinet – Looking for a modern accent cabinet with doors sure to wow your guests? This Violetta Accent Cabinet could be what you're looking for.
Best For Small Spaces: Crea Steel Accent Cabinet – You'll love this painted, monochromatic orange accent cabinet that doubles up as the best unit for small spaces.
What Is an Accent Cabinet?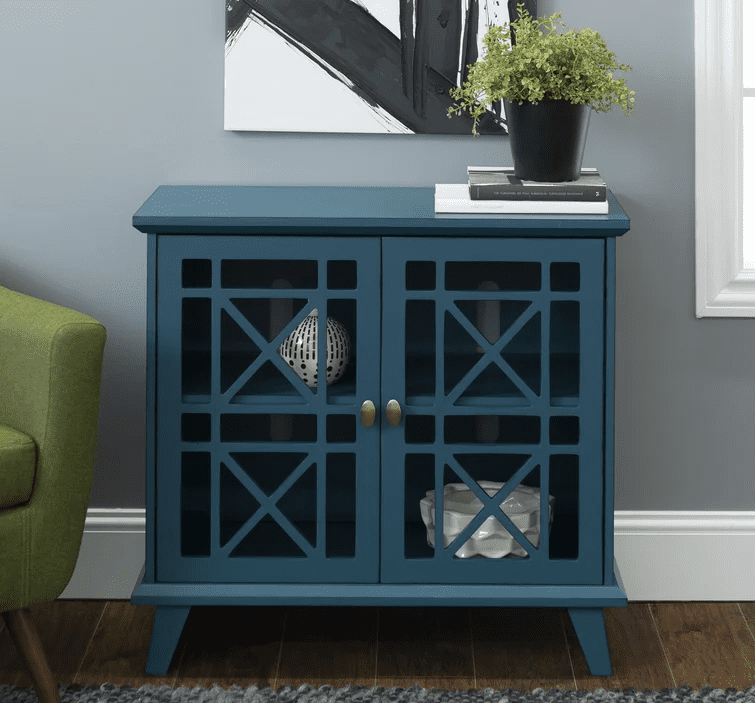 Part tabletop, part storage solution, and all stylish. That's the easiest and most accurate way I can describe accent cabinets. They're basically units that stand out against the rest of the space's décor or style.
Regarding their role, accent cabinets add character and personality to a room while simultaneously complementing the décor. They serve to draw the eyes in and create a bit of excitement, much like accent colors. They also aim to add color, definition, and drama to an interior space.
That said, accent cabinets aren't all show and no go. Inside, these cabinets are all about function. Most retail with drawers and doors with large, open storage areas inside. You'll even find units designed to hold your barware or other specific components to avoid unsightly clutter.
Where Do You Put an Accent Cabinet?
Any cabinet worthy of being called an accent piece goes beyond mere functionality. Here are six practical places where I would personally stick an accent cabinet.
In Your Bathroom
You can add style to your bathroom by incorporating an accent cabinet. The number of ways you can use these units in your bathroom is equally impressive. For instance, you can use it for linen storage or repurpose it to hold a drop-in or vessel sink.
Select a display cabinet that can withstand bathroom humidity and moisture for either purpose.
In A Home Workroom or Office
Did covid-19 change how you work (like it did to most of us?) If it did, and you're now working from home, chances are you need extra space for your crafts and projects. Why not pick your preferred accent cabinet from the list below and put it to work for you?
What's more? Since you don't need to abide by any cubicle rules, you can personalize the workroom as you see fit.
Porch, Mudroom, or Foyer
Why rely on mitten boxes or trees to corral the mishmash of seasonal gear when spacious accent cabinets exist? These cabinets with doors will declutter your porch, mudroom, or foyer in a few minutes. Throw in your laundry room for good measure.
In The Kitchen or Dining Room
A common misconception in the realm of interior designs is that accent cabinets only work in farmhouse-style or cottage-style kitchens. That couldn't be further from the truth. These units work for just about any style, including contemporary designs.
For instance, a vintage, mid-century modern accent cabinet will bring a cozy, warm touch to an otherwise ultra-modern kitchen.
In The Living Room
Who needs a new TV stand when you have a perfect accent cabinet in need of a home? Even I use my display cabinet as an entertainment center to hold my television and other electronic accessories.
In a Bedroom
Accent cabinets typically store folded clothing in bedrooms. You could also use one in a child's room as a toy box.
Features of an Accent Cabinet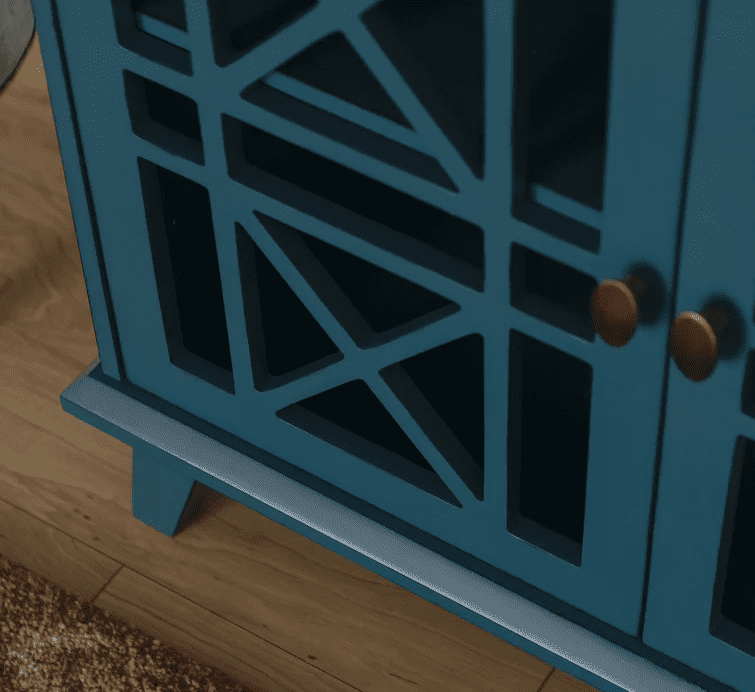 Don't let a pretty façade fool you. Use my checklist to ensure that the construction and structural integrity of the accent cabinet matches your high standards.
Either wide and short or narrow and tall construction
Drawers or storage shelves behind doors
Tabletop space for storage or display
Some have rods for hanging clothes, but others have built-in shelves instead
Corner blocks and drawer stops
Media accent cabinets feature an open top shelf for a cable box
Painted accents and whimsical patterns or eye-catching backgrounds
Creative cabinet hardware
Wheels on some for portability
Creative designs and finishes (some even feature mixed finishes to add subtle texture)
How To Pick The Best Accent Cabinet for You
Accent cabinets are as diverse as they are stylish. Here's my guide that'll help you pick the unit uniquely created to meet your needs and personal preferences.
Material
Most rarely give much thought to the material of their accent cabinet. They just assume they'll be sufficiently sturdy to last however long they (the people) desire. While that is usually the case, knowing what you're buying is still essential. It will minimize the chances of nasty surprises in the future.
With that in mind, the three primary accent cabinet materials you can pick from are particleboard, plywood, and solid wood. Only go for solid wood if durability is a priority for you.
Size
The size of the accent cabinet you pick will vary depending on what you need the cabinet for. If you're choosing an accent cabinet that'll be used by children as well, height will be a key consideration. A low cabinet will be easier to reach, allowing independence.
If you plan on placing the accent cabinet in your bedroom, consider smaller accessories like ties, jewelry, intimates, and socks. All these should help you settle on the perfectly sized accent cabinet.
Available Space
Accent cabinets are available in a wide range of depths, widths, and heights. Another way to pick the perfectly-sized unit is to choose where you'd like the dresser to go and measure. I recommend placing the cabinet along empty stretches of wall.
Styles
I know you want your accent cabinet to be a statement piece. But trust me, you don't want a completely random choice that utterly clashes with other pieces of furniture. You want it to complement the rest of the units in the room.
Keeping that in mind, if you'd like to keep it simple, consider the Scandinavian style. To enjoy a cozy, cottage-like atmosphere, go rustic style. And for an air of sophistication and elegance, pick the French provincial style.
Type
This is arguably the first thing you should consider before buying an accent cabinet. To determine the type you should pick, narrow down the function you'd like the accent cabinet to serve. For instance, get a cabinet with glass panes if you'd love to display valued items.
Best Accent Cabinets with Doors
Let's go over some of the best accent cabinets with doors in the market today. These also happen to be the most popular styles around, and I personally picked them just for you! You'll find a selection of sizes, styles, and door types, so I hope one of these will fit with your current décor.
Best Overall: Almantas Solid Wood Cabinet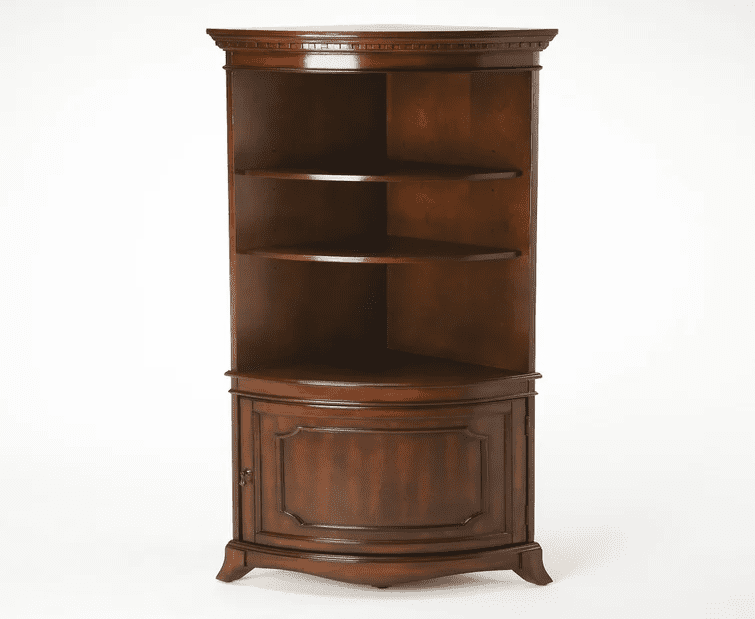 An excellent choice for vintage-style homes, this accent cabinet features a striking curved design that'll stand out in any room. Other styling choices you'll appreciate on this masterpiece include the rich Plantation Cherry finish and two adjustable shelves.
Price Range: $2,305.89 – $2,430.76
Material: Solid Wood
Dimensions: 73″ H x 24″ W x 17″ D
I love that this is a corner accent cabinet. You don't see that very often, especially one with such style. That makes this baby stylish AND a space saver!
Pros
Built to last
Eye-catching curved design
Only partial assembly is required on your part
Perfect for all rooms in the home
It doesn't scratch easily
Cons
Best Glass Door Unit: Warner Iron Glass Door Cabinet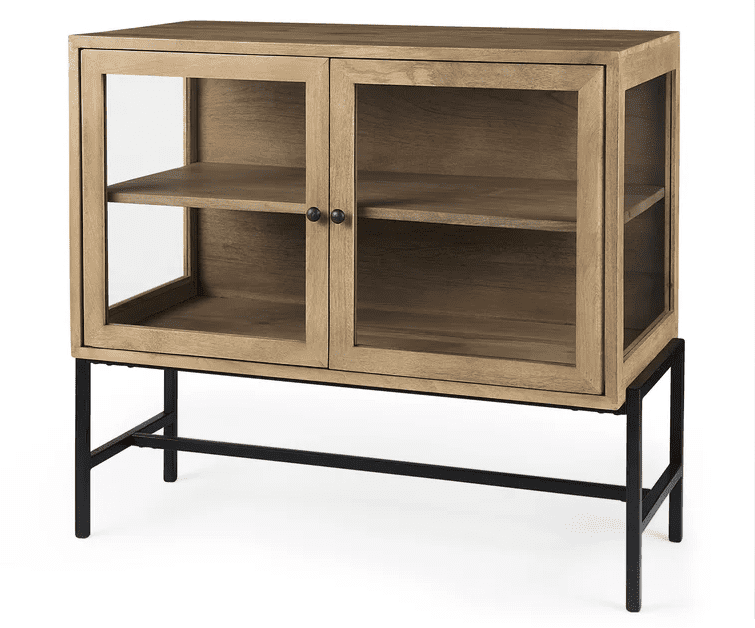 Available in five colors ranging, this accent cabinet will coordinate well with any interior décor. The color finishes range from medium brown and dark brown to white and gray. The glass doors lend a touch of class that's hard to beat.
Price Range: $$1,200.99 – $1,295.67
Material: Iron
Dimensions: 32″ H x 36″ W x 18″ D
I instantly fall in love when I see any wood and metal combo. Marrying two elements like that can make a versatile piece; this would go in a modern or traditional home.
Pros
Quality construction
Easy to clean and maintain
Putting together shouldn't be a hassle
Durable and sturdy
Easy to move around
Cons
Most Colorful Accent Cabinet: Gye 2 Accent Cabinet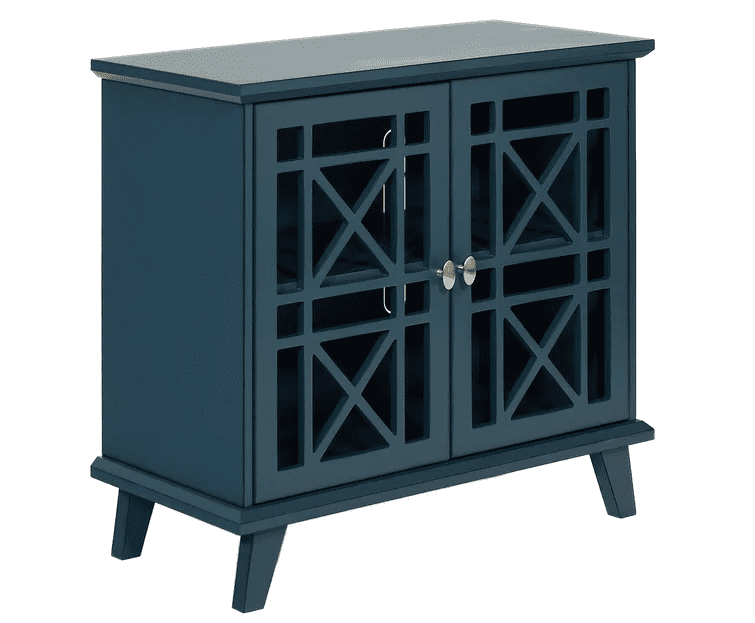 An adjustable shelf behind two doors provides ample space to keep your items well-organized and out-of-sight inside this accent cabinet. The sleek, painted finish complements any interior décor and gives a hint of personality.
Price Range: $213.54 – $645.00
Material: Manufactured Wood
Dimensions: 30″ H x 32″ W x 16″ D
Who wouldn't love a pop of color like this? If teal's not your thing, just look at the other shades you can get. This is a winner, in my opinion.
Pros
Boasts a distressed look
Tip over restraint device included
Boasts a water-resistant finish
Easy to clean and assemble
Backed by a 90-day limited warranty
Cons
A bit challenging and time-consuming to assemble
Best Farmhouse-Style Accent Cabinet: Coridon 2 Accent Cabinet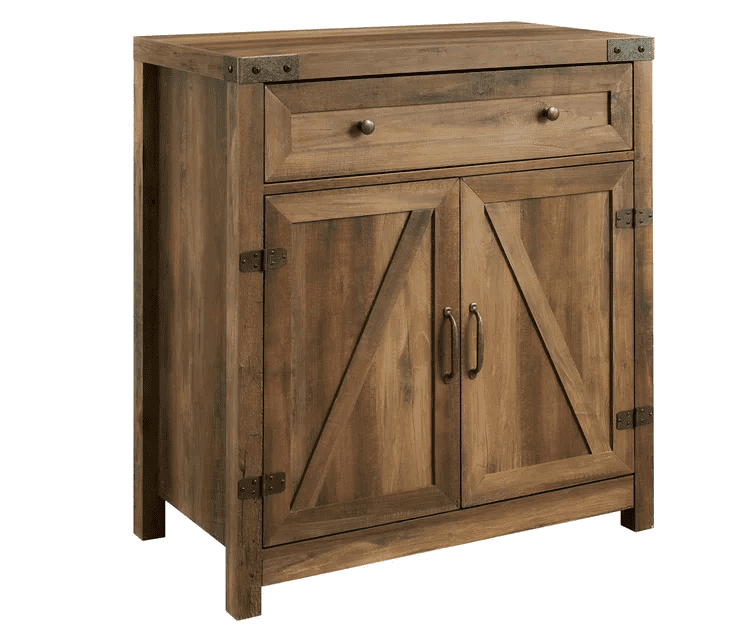 Hello, farmhouse style! This is my wheelhouse; I go gaga over anything rustic and warm. This beauty would go in any room, any space, and pairs well with several styles.
Price Range: $302.45 – $523.99
Material: Manufactured Wood
Dimensions: 33″ H x 30″ W x 16″ D
Beautifully designed with rustic wood and bronze-finished hardware, the Coridon Cabinet will create a refreshing sense of order in your home. The cabinet also features an adjustable shelf behind its closed doors. Use it to store everything from dining linens to magazine collections.
Pros
Retails in five different shades
Fitted with two adjustable shelves
Gorgeous rustic appearance
It works in modern spaces just as it does in traditional ones
Durable construction
Cons
One of the heaviest units around
Best For Large Spaces: Violetta Accent Cabinet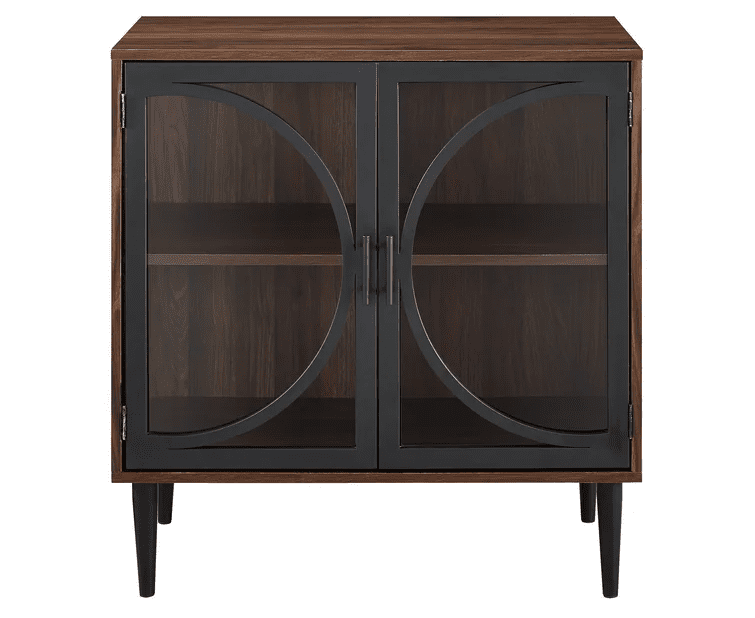 With its gleaming mirrored doors and clean finish, the Violetta Accent Cabinet delivers an eye-catching look and artistic feel. The unit will easily blend in anywhere, including the living room, entryway, bathroom, or even bedrooms.
Price Range: $313.59 – $465.00
Material: Manufactured Wood
Dimensions: 32″ H x 30″ W x 16″ D
I'm a sucker for mirrored doors. Yes, they can be a pain to keep clean, but an accent cabinet won't get as much hand traffic as kitchen cabinets or a dresser.
Pros
Versatile construction
Easy to move around into different rooms
Retails in two distinct finishes
Delivers a hard-to-beat mid-century appeal
Attractive display
Cons
Too delicate for use around children due to exposed glass doors
Best Minimalist Accent Cabinet: McQuillan Accent Cabinet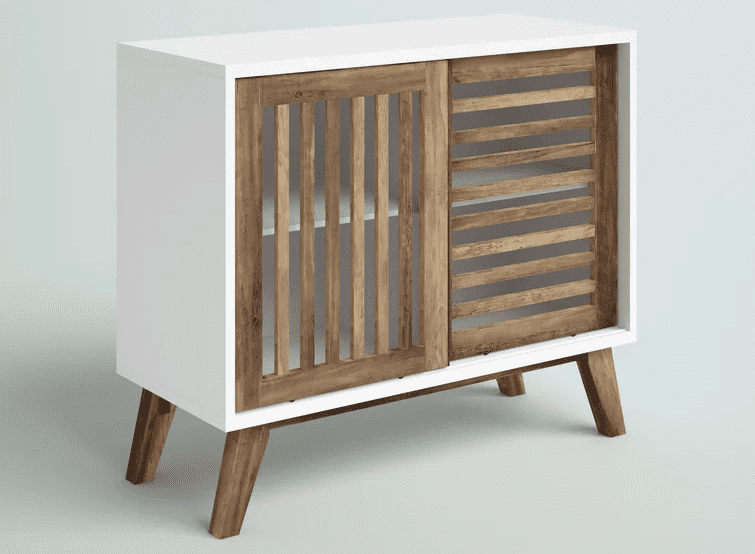 This eye-catching accent cabinet will get guests talking, from the stunning mid-century silhouette to the sliding slat doors. It's assured to breathe some life into your space, regardless of whether you use it as extra storage in your living room or as a sidebar.
Price Range: $178.99 – $495.00
Material: Manufactured Wood
Dimensions: 31" H x 36" W x 15.5" D
I think the coolest aspect of this piece is that it's clearly mid-century modern, but with the rustic finish on the doors, this could easily go in a country and farmhouse setting.
Pros
The shelves are adjustable
Impressive weight capacity
Backed by a 90-day warranty
Easy to clean and assemble
Durable and sturdy
Cons
Difficult in cleaning liquids and other stuff
Best Traditional Accent Cabinet: Wheresford Accent Cabinet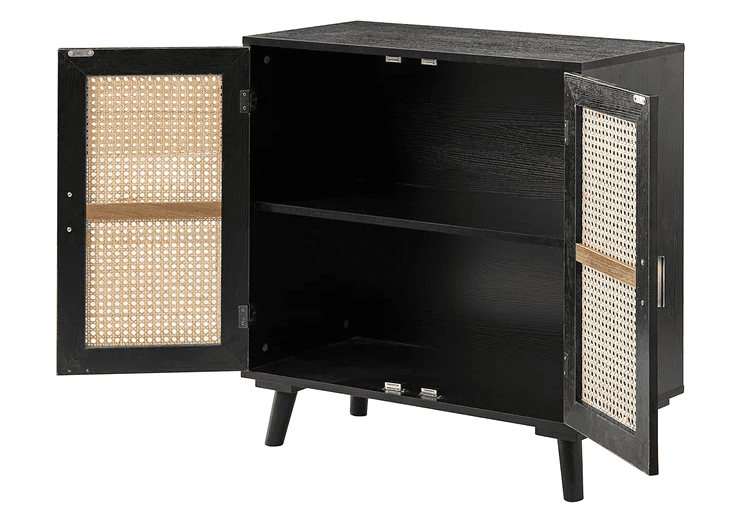 Adding an accent cabinet to a space is a great way to get more organized storage without interfering with your traditional décor. What's more? Featuring a sense of 'natural' from rattan doors, this unit's minimalistic appeal is assured to never run out of style.
Price Range: $330.89 – $650.99
Material: Solid + Manufactured Wood
Dimensions: 31" H x 28" W x 13.5" D
There are three different color combos you can check out, but, you guessed it, the black and gold look is my choice.
Pros
Very durable
Backed by a 30-day limited warranty
All installation tools and hardware included in the package
Sturdy and portable
Ample storage space
Cons
Not compatible with modern and contemporary décor
Best For Small Spaces: Crea Steel Accent Cabinet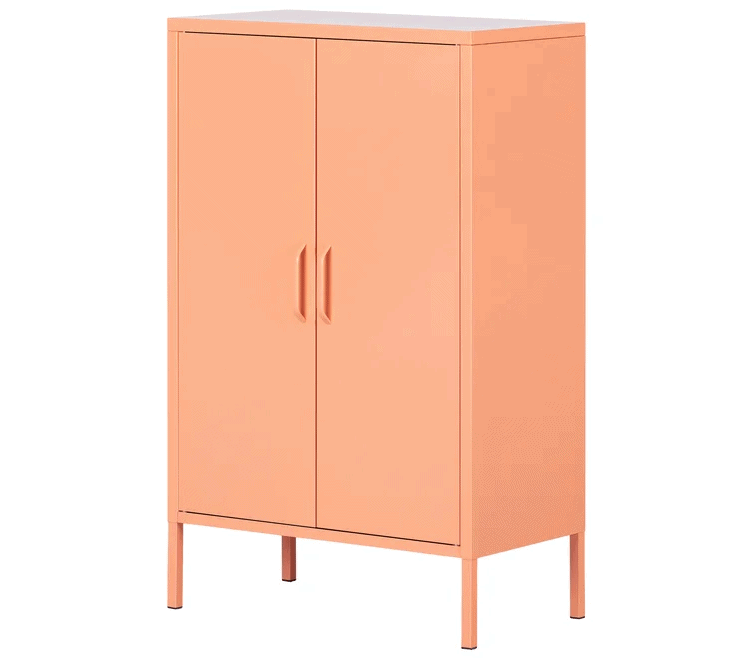 No matter how well-designed, bathrooms often don't have sufficient storage room. This predicament only seems to worsen as the family grows or you welcome more guests into your home. Solve the issue and accommodate the overflow from your linen cabinets without a hassle using this Crea Steel Accent Cabinet.
Price Range: $230.89 – $267.76
Material: Metal
Dimensions: 41.5" H x 25.5" W x 14.5" D
But the beauty of this piece is that it's not limited to spaces like the bathroom. Yes, it's metal, but the color pops mean this would go well in a kid's room, office, etc.
Pros
The tall design delivers ample storage space
Boasts a symmetrical look
Water, scratch, and stain resistant
Tip over restraint device included
Backed by a one-year limited warranty
Cons
Best Modern Accent Cabinet: Glenni Square Accent Cabinet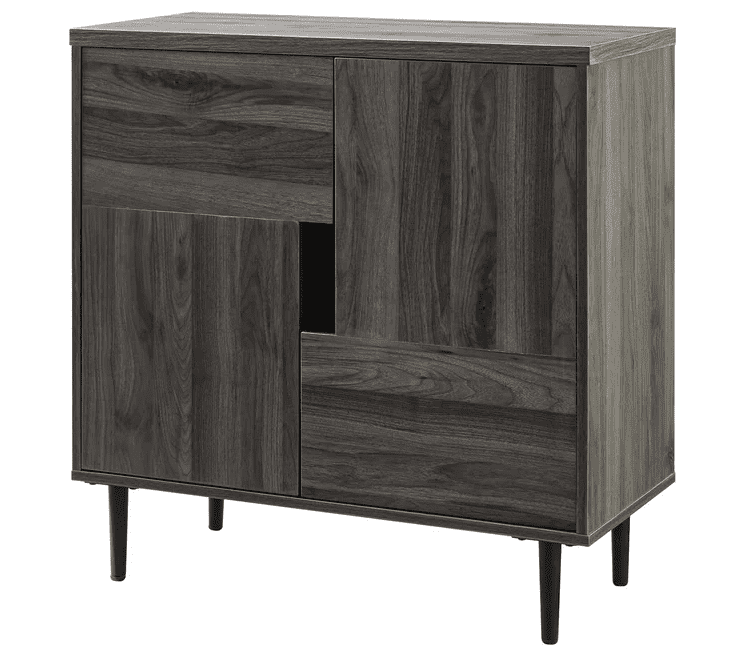 Are you looking to add charm and character to your modern living room, home office, bedroom, or dining room? If yes, then you'll adore this cabinet's central cutout.
Price Range: $280.24 – $469.00
Material: Manufactured Wood
Dimensions: 31″ H x 30″ W x 16″ D
The cutout allows you to ditch cabinet hardware that may distract from the cabinet's sleek design. Simply slide your hand in and open either of the two doors.
Pros
Retails in three different shades
Easy to assemble
Won't take up too much space
Sturdy and works great
Delivers a luxurious feel
Cons
One of the tougher accent cabinets to assemble
Best Rustic Accent Cabinet: Hatley Accent Cabinet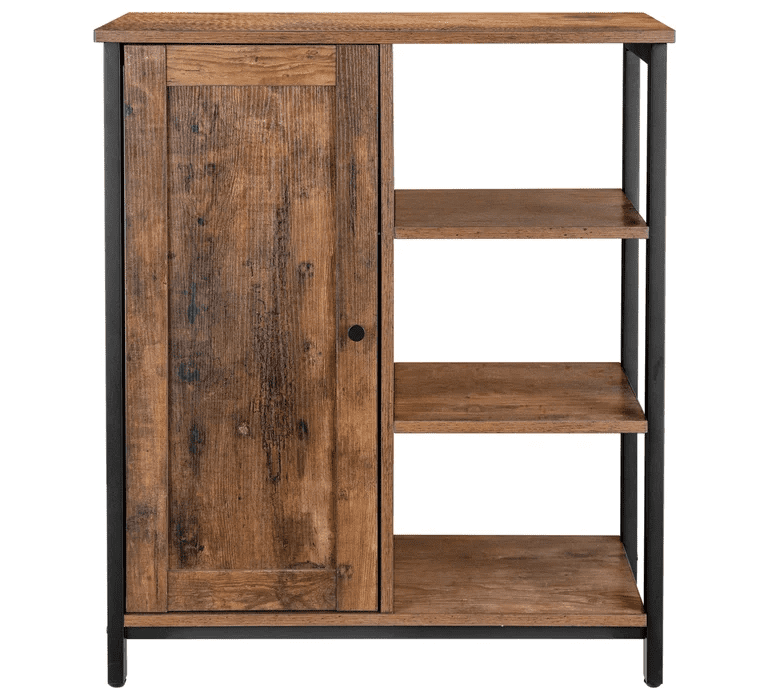 The next accent cabinet is designed with a rustic surface and framed in a black finish metal. This unit will add a touch of vintage appeal to complete nearly all layout styles. The open shelves without backboards will perfectly hold and showcase your most decorative items.
Price Range: $160.99 – $220.56
Material: Manufactured Wood
Dimensions: 31.5" H x 27.6" W x 11.6" D
I love how you get the best of both doors and shelves so you can hide things away while showing off your pretties at the same time.
Pros
Practical and elegant design
Compact enough to suit most small spaces
Backed by a one-year limited warranty
Strong, sturdy construction
Durable
Cons
Some may not like the 'open concept.'
Best Mid-Century Accent Cabinet: Julinda Square Accent Cabinet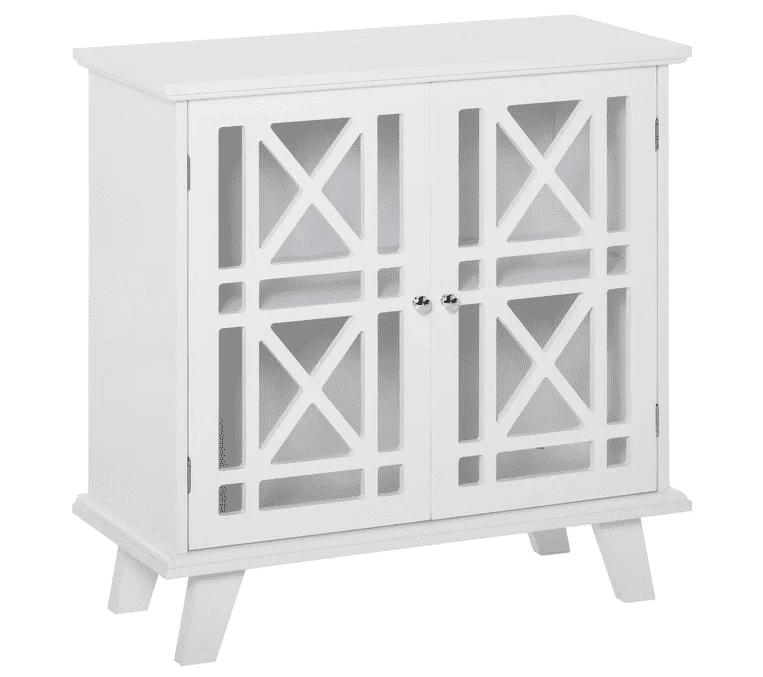 I think you can elevate your decor with this handcrafted accessory assured to give your house an edgy upgrade. Created for both impeccable style and functionality, this accent cabinet effortlessly brings a chic, mid-century atmosphere to any space.
Price Range: $180.98 – $247.99
Material: Manufactured Wood
Dimensions: 31" H x 31" W x 14.25" D
I love the white look; it'd go with basically any style or home décor. But there's just something about a nice, soft grey. Don't you think?
Pros
Sturdy wood frame
Ample storage space inside
SCS certified & GSA approved
Elevated base design to prevent moisture damage
Will complement any interior decor
Cons
Best Timeless Accent Cabinet: Harpenden Accent Cabinet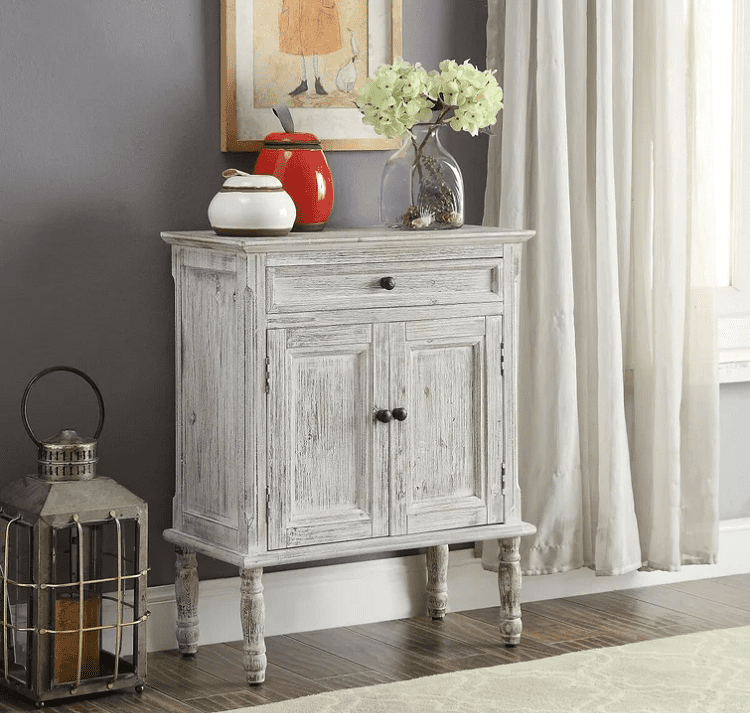 This accent cabinet will look great in any space, thanks to its crisp two-tone white and walnut finish and design. The extra storage space it delivers inside its cabinets and drawer should help keep you organized all year.
Price Range: $232.89 – $339.99
Material: Solid + Manufactured Wood
Dimensions: 30″ H x 24″ W x 12″ D
Some say the white-washing shabby chic look is out of style, but I believe it'll never disappear. So, if you like it, go for it!
Pros
Beautiful construction
Perfect for farmhouse-style homes
Level assemble easy
Backed by a 30-day limited warranty
Will complement any interior décor
Cons
A tip-over restraint device isn't included
FAQs
Question: Can You Make an Accent Cabinet?
Answer: Yes, you may try your hand at DIY if you want a one-of-a-kind look. The idea is to go all-out and create something that delights you and gives your home "that-something-extra" that everyone will notice.
Question: What Goes in An Accent Cabinet?
Answer: An accent cabinet can hold pretty much anything that can fit. You can even use yours to keep many household objects to help maintain a cleaner, more organized space. Feel free to explore your creativity by rearranging the storage components as you see fit.
Question: What Is the Best Size for An Accent Cabinet?
Answer: The best-sized accent cabinet should have a height of 28-44 inches and a depth of 10-20 inches. The width shouldn't surpass 35 inches.
The Verdict
That's it for my top accent cabinets with doors. I hope the detailed overview has been able to match you with your ideal accent cabinet with doors. Remember, narrow or wide, tall or short; accent cabinets should be able to do much more than just 'stand out.' They're also versatile and functional pieces providing reliable storage solutions.
My two cents? Go with the Wheresford Accent Cabinet for a wow factor. If you loved my ideas, I've got a ton of other guides and tips on our site!
Read More: