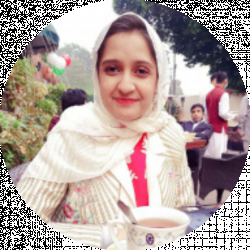 Latest posts by Zunaira Ghazal
(see all)
No matter how much of a cocktail aficionado we all are, it's quite difficult to have a full-scale bar in our homes (sad, I know).
But here's the next best thing; you can go for a corner bar cabinet instead! It's a sweet, compact, and highly efficient alternative. I mean, I wouldn't mind slinking over to my fully equipped home bar cabinet full of my favorite liquor to make myself a nice, fruity cocktail or pouring myself a lovely red after a long, harrowing day at work.
As an architect and interior designer, I've come across many homes that suffer from useless corners and alcoves. They're best utilized with a function-oriented cabinet, and one that has a built-in mini-bar in it is definitely adding value to your space.
So, this list is all about finding the best corner bar cabinet ideas that can get you the most out of your space while also adding a certain amount of visual appeal. So, if you're like me and hankering for a nicely compartmentalized bar cabinet of your own, this list is for you.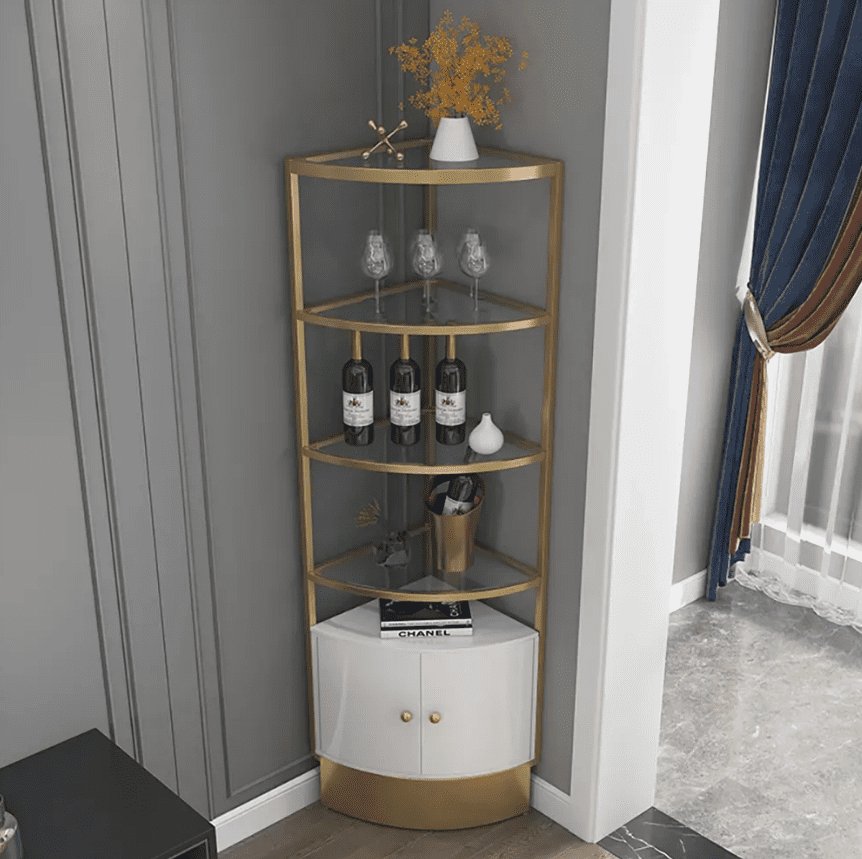 Bottom Line Up Front
Whether you're a hardcore liquor aficionado or simply like to have an occasional drink, a corner bar cabinet would be a great furniture piece to complement your home. It's versatile, could be used to store other stuff, and will keep your reds, whites, bubbles, and hardcore stuff organized.
I love how they come in so many sizes, so everyone can pick the one that suits their homes (and needs!). This list is all about presenting you with the best options out there and what they can offer you as a whole.
My personal favorite is the Mecca Corner Bar Cabinet With Ten Wine Cubbies – primarily because it's got tons of storage, but also because it's got a nice bright, sophisticated appeal thanks to its beautiful material contrast. I mean, I've always been a fan of wood-and-whites, but who knew wood-and-grey would work even better?
Top Picks
Here are some of my top picks from this list:
Midcentury for the Win
So, this corner bar cabinet dons the midcentury style like Doctor Strange dons his cloak – with style, charisma, and a nice vintage appeal!
I love its sharp lines and how they contrast with the warmth of the wood. Also, there are tons of different cabinets and shelves here that you could use to organize your wine bottles, glasses, chiller buckets, cocktail paraphernalia, and more.
Howard Miller Bar and Game Room Boilermaker Bar Cabinet
Okay, so I'm a huge fan of the steampunk aesthetic (designed a whole art gallery around it once!), so this corner bar cabinet is definitely one of my personal favorites! I mean, look at that nice, studded golden filigree! The sheer glamour of the backdrop!
The arched top! Ah, everything just pulls together brilliantly! The ample amount of storage space doesn't hurt either!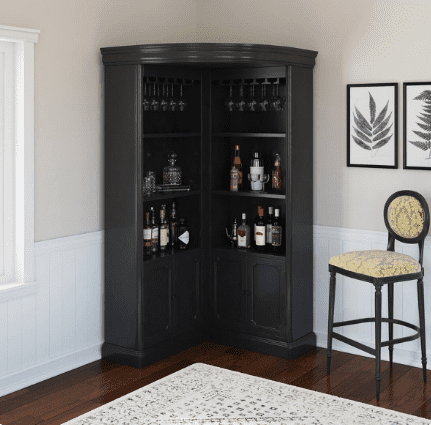 Selection Criteria
Here are the two aspects that I looked for the most while curating items for this list:
Number of Compartments
I think any bar cabinet that doesn't have the right compartments is totally redundant! Imagine being a wine-lover and not having individual wine rack sections for all your favorite bottles in the cabinet that you purchased – how infuriating would that be!
Design
As with every other list that I curate, design and aesthetics are really, really pertinent to me. I mean, there's no point having a piece of furniture that's not adding value to your home interior. So, I hope you like the selections I've made!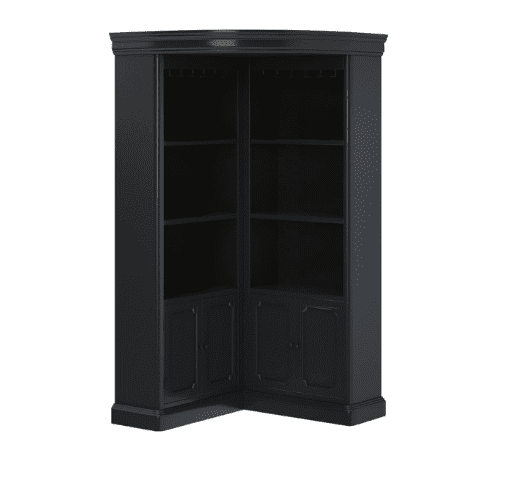 Smart, stylish, and charismatic, I imagine this corner bar cabinet in the den of a sophisticated gentleman who likes lounging on his chesterfield after a long day's work with a glass of whiskey on the rocks while browsing through the day's news.
It's tall, elegant, and has some really interesting classical touches that speak to my inner architect. I mean, just look at all that sleek detailing and the espresso finish – have you seen anything so handsome before?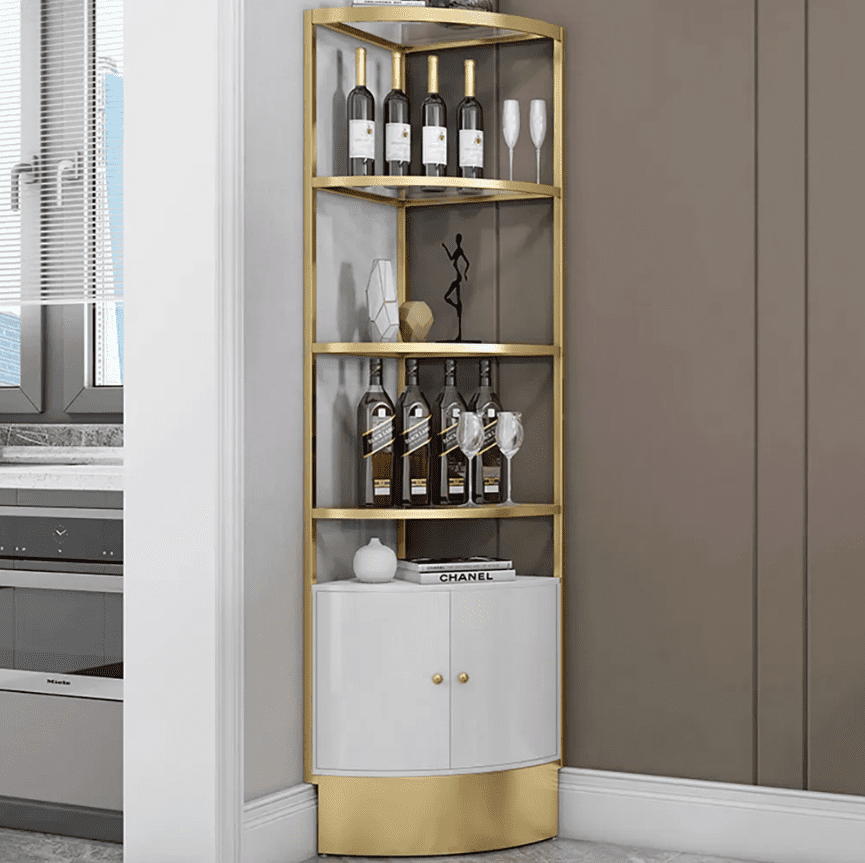 Ah, brass, my best buddy! I firmly believe that if you want any furniture piece to look upscale, simply add brass accents to it! Anyway, this corner bar cabinet is glamour-personified thanks to its slender brass-gold frame that is contrasted with a sophisticated white cabinet.
It features a certain high-end appeal and would look stunning even in smaller homes. I love all its open shelves and how they work in tandem with just one large cabinet where one can store the rest of their liquor paraphernalia.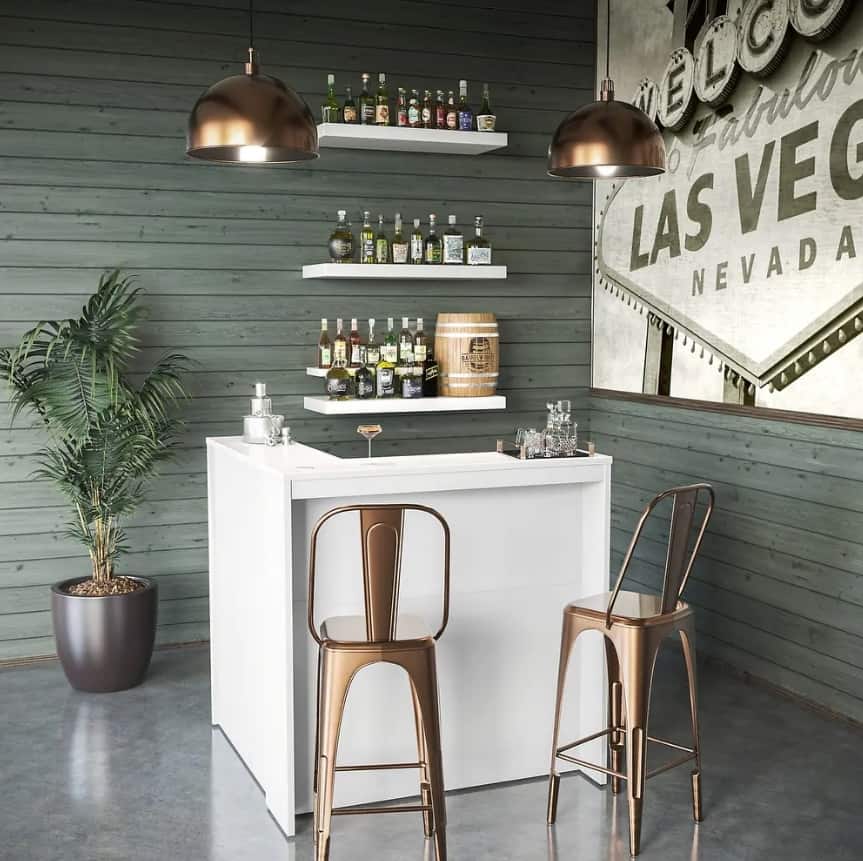 Who says that your corner bar has to be inside your house – it could work just as well in an outdoor environment! I mean, if you have a house with a backyard and like entertaining, then you'll really love this particular pick of mine. It reminds me of contemporary Tiki bars that are set up at evening barbeques or pool parties.
However, the design of this one is rather sophisticated. As far as corner bar cabinets go, it's rather modern and can be outfitted within any outdoor space available at your house or apartment – be it a backyard patio or a balcony (considering that you have the right permits, though!).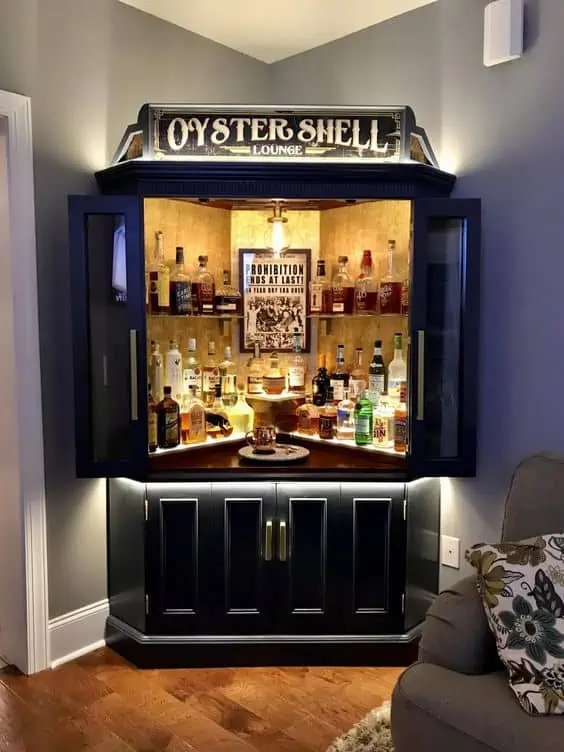 If you're searching for a bar cabinet with tons of personality, then I'd suggest going for this one! It's super fun and works with a retro theme. I really like the backlighting because it highlights all the liquor bottles beautifully. Moreover, the 80s artwork in the center adds so much character to the overall design.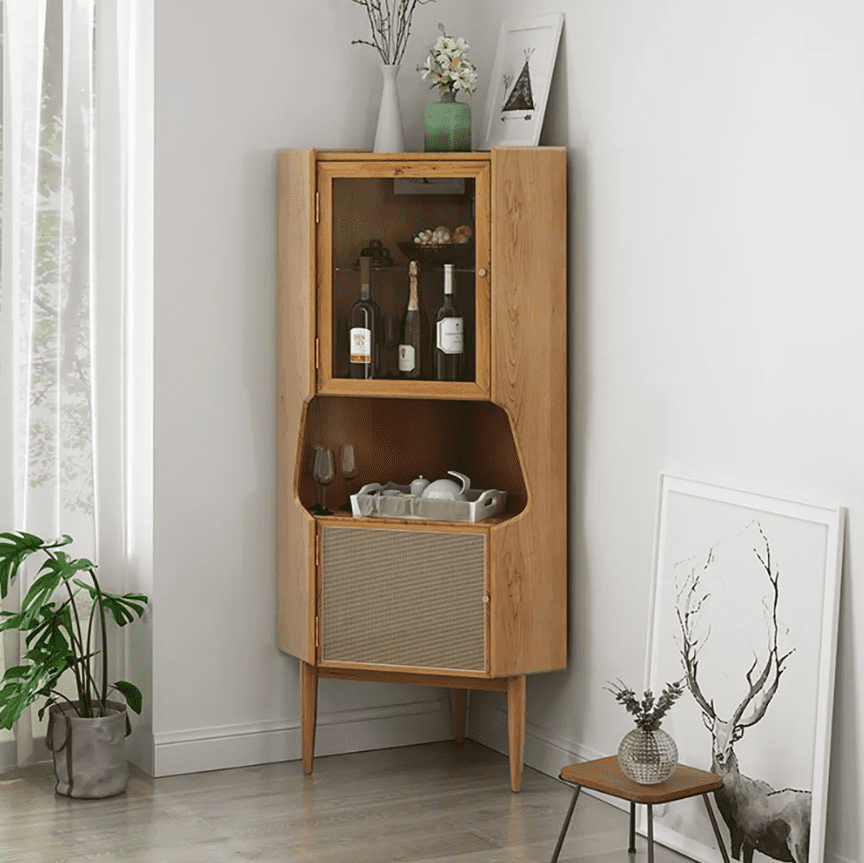 I chose this particular cabinet because of its compact size and great functionality. It has such neat proportions, and its body has been designed to fit neatly into tight corners and alcoves.
Plus, I'm super impressed with the overall sophistication of the design – especially how the materials go together. The woodwork is also impeccable. The straight lines add an element of verticality to the whole cabinet aesthetic.
Plus, there's the contrast of rattan work along the door leaves that emulates a really elegant texture within the whole design. Even though this is a corner cabinet, I really believe that it would end up being the belle of the ball no matter where you place it.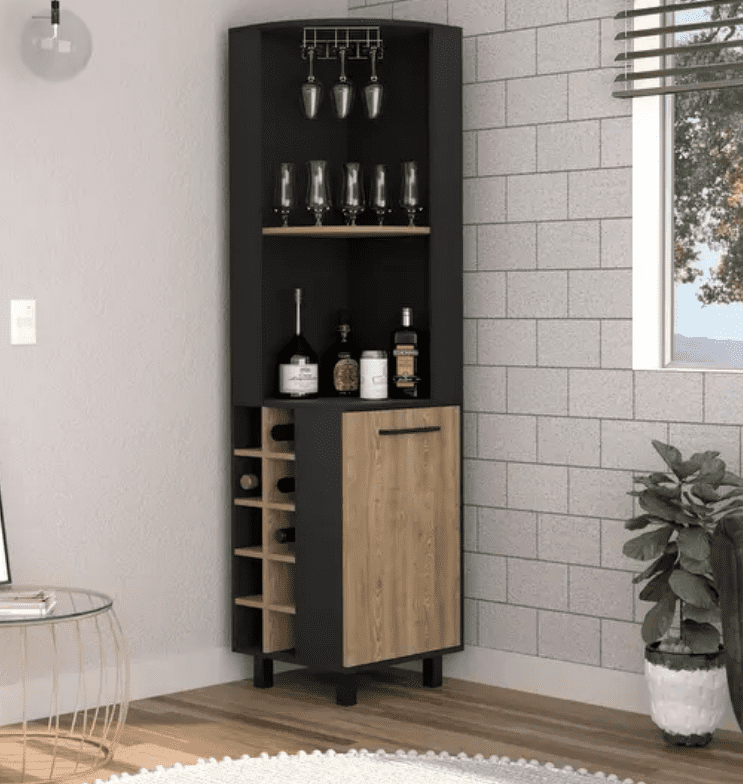 This one is for all you wine lovers out there! So what if you can't have a basement cellar in a formidable chateau? This corner bar cabinet is an excellent, if humble, alternative!
I'll admit that the wine cubbies did it for me! There are so many bar cabinets out there that don't appreciate the slim, slender, and tall anthropometry of wine bottles! Yes, open shelves are awesome, but I need all my Reds and Whites to be neatly compartmentalized, and the cubbies are an excellent way to do that! Plus, there's the wine glass rack at the top! No more broken stems while trying to fit them in a shelf that's too narrow or short!
Moreover, the tallness of this cabinet is another factor that drew me in. It has more volume, which means it contains more storage space. So, if you are a true liquor connoisseur who has all the equipment (chiller buckets, cork openers, glasses, cocktail mixers) at home, then you'll have enough space to keep them all organized.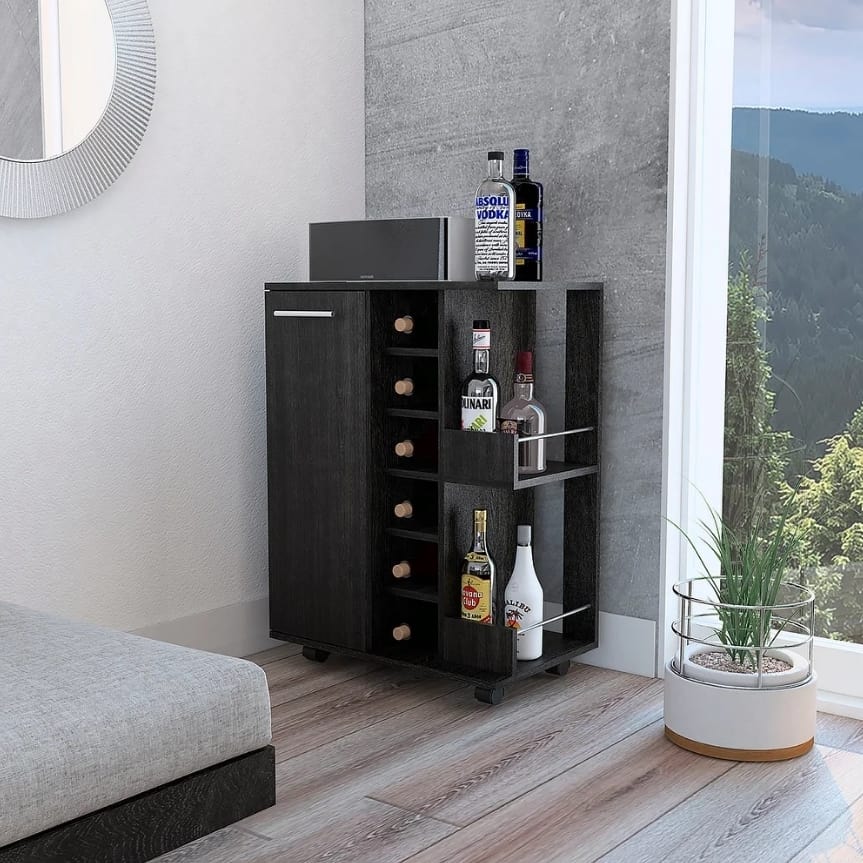 Now, this one drew my eye thanks to its really stylish countenance. Its lean, rectangular body emulates a true cabinet-style aesthetic, but once again, it was the viable storage capacity that really caught my eye. Although this corner bar cabinet has fewer cubbies, it's an excellent option for people who have a curated collection of Reds and Whites that they want to put on display.
Then there are the extended floating shelves on the side, and if this were my own personal bar, I'd put my bubblies over here. I also appreciate how there's a closed cabinet on the side to keep all the buckets and other tools out of sight.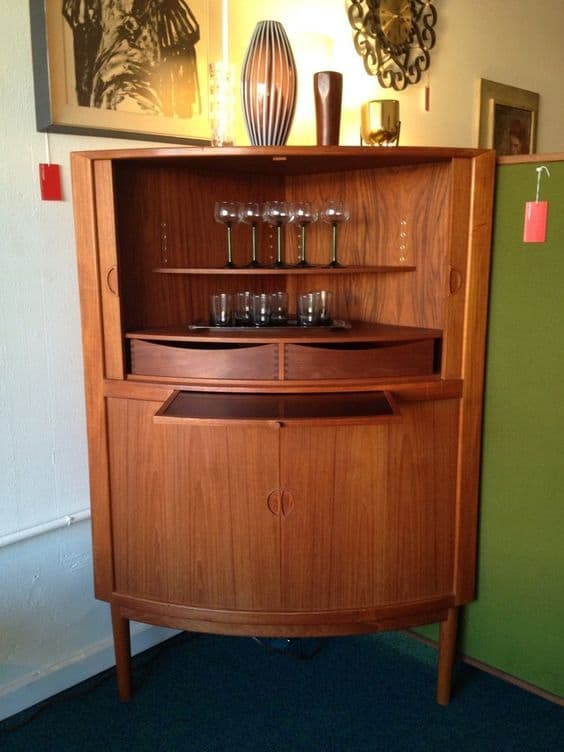 I'm personally a huge fan of the clean, minimalist vibe and lovely warm wood aesthetics of the midcentury modern style, so this corner bar cabinet was an immediate shoe-in for this list!
I simply love how it combines this classic retro vibe from the 90s with this fresh contemporary look. It's definitely got this bold, statement-worthy design that would become an instant focal point in any room. Other than that, I also love how it's got some great storage capacity.
The open shelves are another highlight – the top one is big enough to accommodate tall wine glasses, while the lower one is perfect for those stubby whiskey ones. I'd suggest you to top it off with some beautiful vintage decor items and lovely retro artwork for the best look!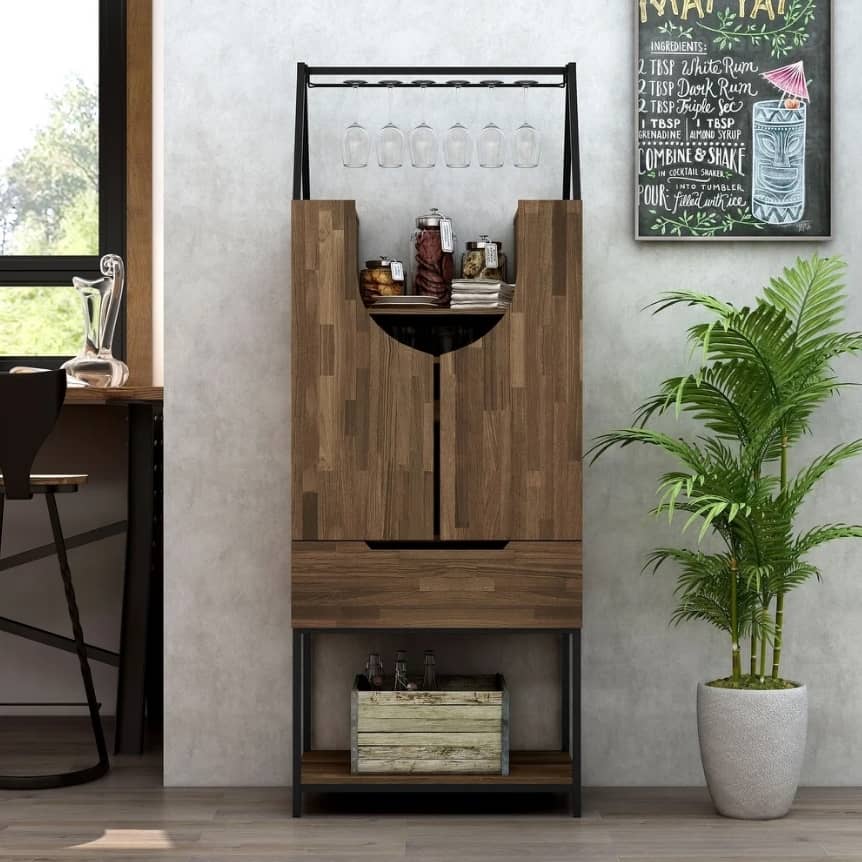 I found this corner bar cabinet to be instantly iconic! I mean, just look at its tall, rectangular body and how its top half is super unique! The wine glass rack sets the tone from the start, and the open shelf underneath is perfect for featuring beautiful decanters, snack jars, or any other decor/food item you want!
The U-shaped cabinet doors are another favorite feature of mine. They really give an eclectic touch to the whole design while providing an abundance of storage. Once again, proportions are really important to me, and I love how the open shelf at the base goes super nicely with the one at the top – how perfectly symmetrical! I love it!
Now, I realize that this particular bar cabinet is not just corner oriented – in fact, it's rather straight-laced, but the fact of the matter is that you can simply angle it a bit to feature it in a corner and will look just as good!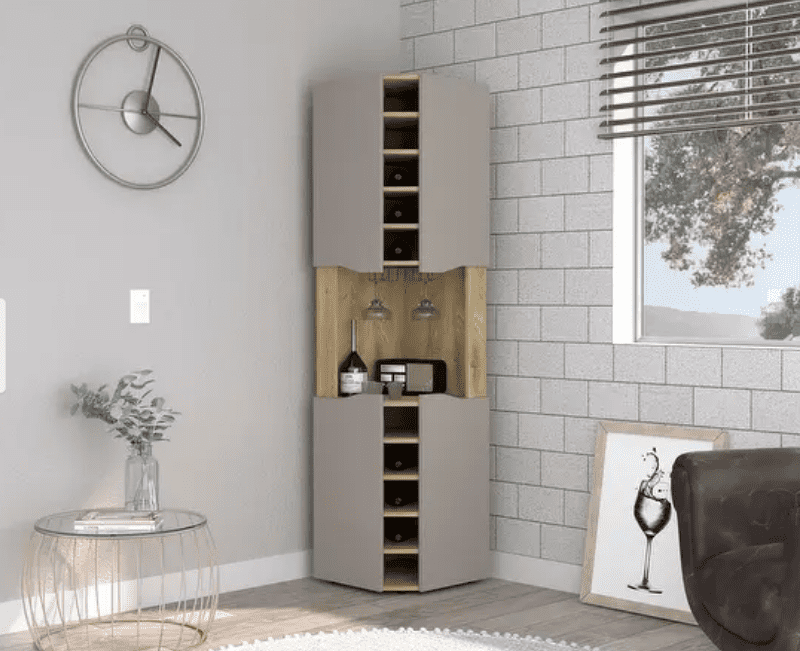 Here's another tall beauty! I love how it totally owns its grey aesthetic! Then there's the minimalist line of wine bottle cubbies that run in the middle, with an open shelf providing just the right kind of visual break.
I personally love the combination of grey and wood – especially how the natural texture of the wood complements the inherent understated nature of the grey hue. Other than that, this cabinet also satisfies on the storage front. The upside-down wine glass rack is a great addition, and the round cabinets cover the dual purpose of being aesthetically appealing as well as providing adequate enough space for your liquor-related paraphernalia.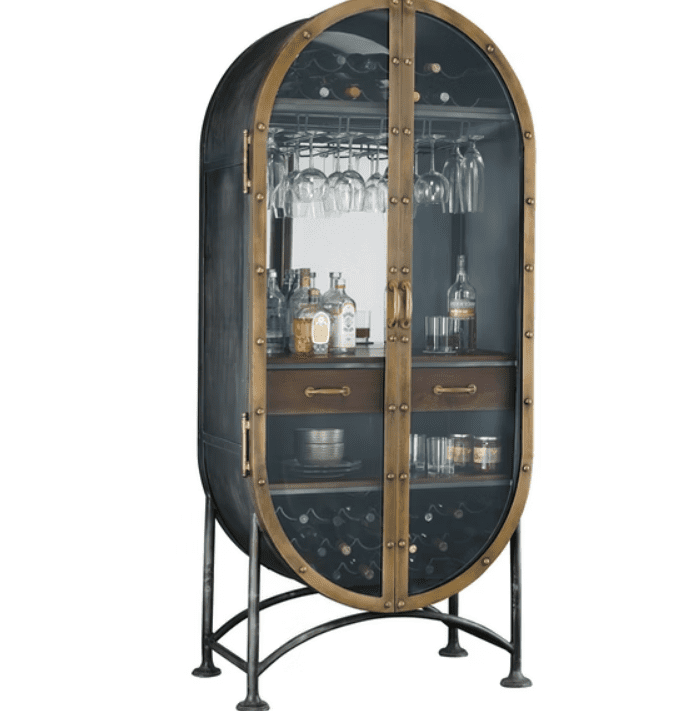 Okay, so this corner bar cabinet is all glamour and owns it like a total boss! Plus, it's really different from the rest of the options on this list. I love its elliptical shape and how it features a combination of industrial-meets-steampunk aesthetics! It's definitely an excellent way of adding lots of personality to your space!
Moreover, there's lots of room inside to showcase your liquor collection. Each shelf is large enough, and the shape of the cabinet makes it a good choice to put in a corner. I think you should break up your bottles with a number of decor items to keep this visually interested.
Once again, this is not a traditional corner cabinet, but you can adjust its position to fit it in any alcove that you want. If I were you, I'd place it in my Man Cave or She Den – just angle it in a corner and place a nice, big Easy Chair on its side so that I could lean back and enjoy my drink while putting my feet up on a perfectly sized ottoman.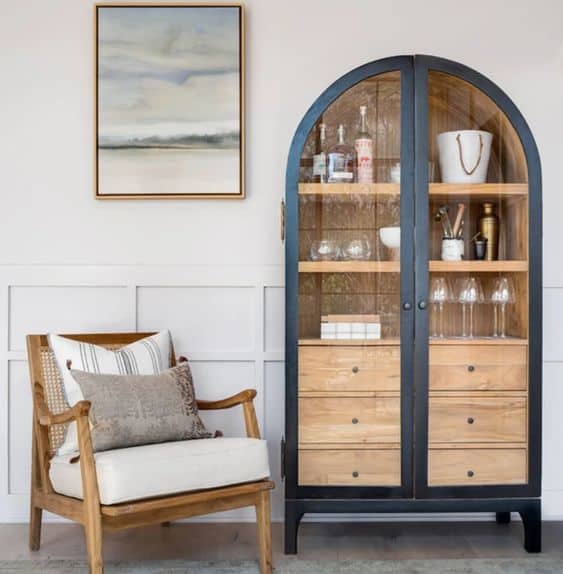 Understated and adequately rustic, this not-so-typical corner bar cabinet is an earthy masterpiece. I'm especially attracted to how its kitschy charm and classy combination of wood and black make for a homespun yet sophisticated look.
It also has an ample amount of storage space, with drawers and display shelves of varying sizes. I also appreciate how it has been styled! The tall wine and champagne bottles at the top complement the roundness of the arch, while the decanters, glasses, and other equipment on the bottom two shelves contrast the straight-edged design of the upper half.
I also love how totally versatile this cabinet is – it could work just as well as a bookcase if you ever want to camouflage your liquor collection!
While this one is also not a traditional corner unit, it's got the kind of shape that would be highlighted wonderfully if you just angle it at a right tilt. Once again, put it at an angle in a prominent corner and pair it with the right accompanying furniture (maybe a Wagner chair with a braided cotton basket full of pillows or something).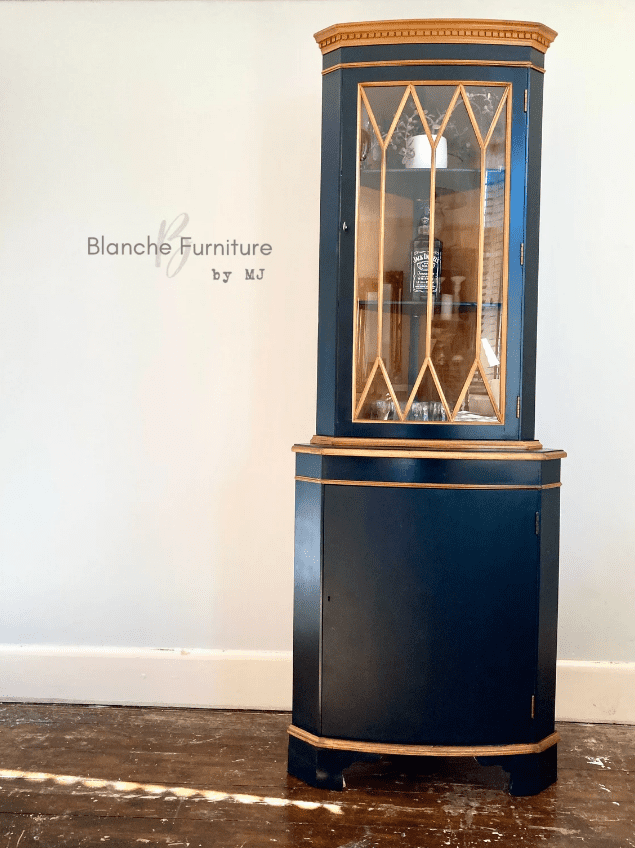 Personality, personality, and more personality – that's exactly what this corner bar cabinet emulates! I love its 80s vintage vibe and how it brims with an immense amount of charisma. The design on the glass panel is quite fascinating in itself, but its pairing with the black finishing makes it even more striking!
Moreover, there's tons of storage capacity here, and the internal lighting option means that your styling would literally shine! I think this one has a slightly masculine appeal, so bottles of scotch and whisky would look fantastic featured on the upper half!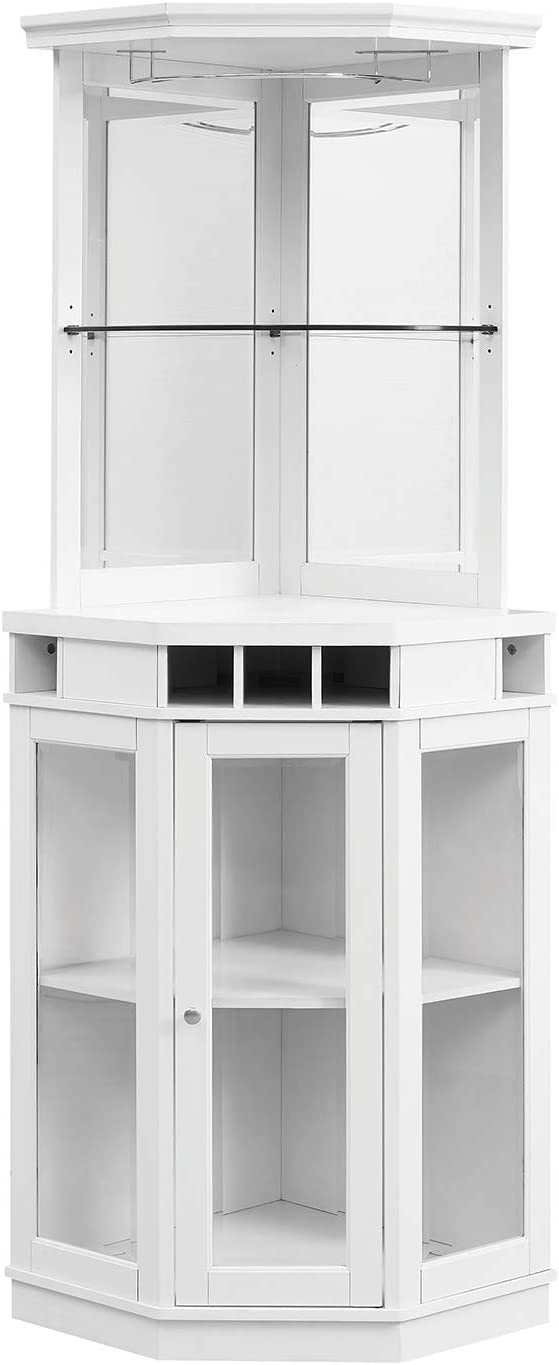 Here's one last corner bar cabinet that caught my eye. I like its polygonal shape – it's sleek and stylish without losing that timeless aspect. I also love how it's white in color because most of the options on this list lean on the dark and edgy side.
Another good thing about this bar cabinet is the immense amount of storage it offers. The top half is all about featuring your wine glasses and bottles (there are even built-in cubbies underneath the shelf surface!) while the lower half is an actual cabinet where you can keep your buckets, tools, and other related items. I definitely believe this is quite a versatile piece of furniture to have in a contemporary home.
How to Style Corner Bar Cabinets
We've seen quite a lot of options, so now it's time to look at all the different ways you could style a corner bar cabinet:
Rule of Three for the Win
Okay, so the thing about styling cabinets is that you need to provide adequate visual breaks between the things that you're placing on it. This is why professionals came up with the "Rule of Three." It's basically where you put 3 items of varying heights (one tall, one medium, one flat) on a cabinet for maximum visual appeal.
So, I would suggest that you apply it to your bar cabinet by going for a tall bottle of wine, a medium-sized bottle of scotch, and a cute accessory that would pull everything together.
Of course you'll have to come with different variations for each shelf, but you get the gist, right?
One Focal Piece
Always remember: your corner shelf needs at least one focal accessory. It has to be bigger in size than the rest of the decor. So, in case of bar cabinets, I'd suggest you opt for an urn of sorts where you might be able to feature all your tools as well. Pro tip: this focal point should always be the key element and placing one of these in the middle of your cabinet would be the best thing to do.
Emulate Personality
One of the things you can do in order to make your corner bar cabinets stand out is to emulate personality in them by featuring customized items. For example, I love cocktails and mocktails, so I like putting jars of cute garnishes on the top shelf to create interest – you can do something similar!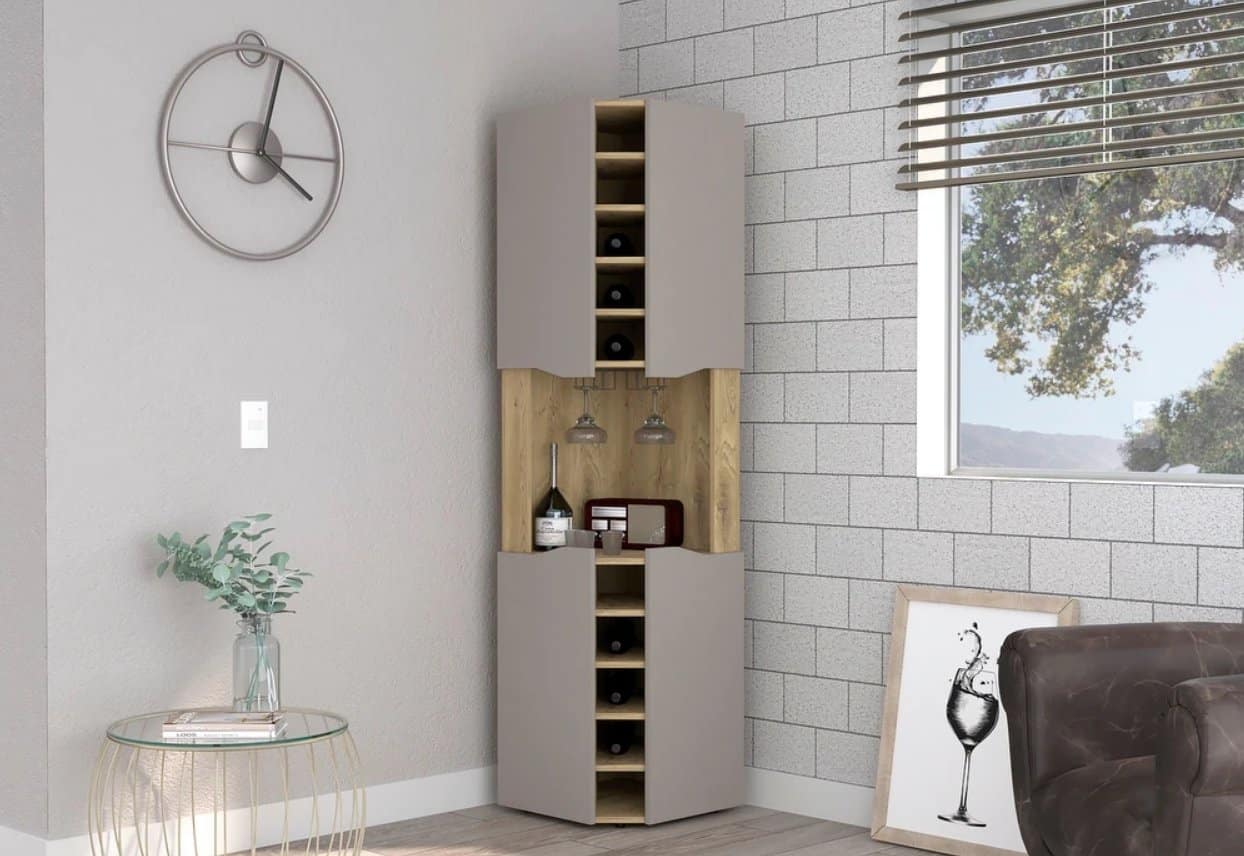 FAQs
Question: What is the best place to put your bar cabinet?
Answer: This is a tricky question – you want it to be somewhere where it's highly visible, yet still out of the way in your living room or den. You can also feature it in your man cave or she-shed. I'd suggest you put it in a corner – one that feels rather empty and would brighten up if you place the right piece of furniture there.
Question: What's the best way of choosing a bar cabinet?
Answer: Well, it's all subjective. It all depends on exactly do you want to put there. A person who loves wine should opt for a bar cabinet with lots of cubbies. A person who's a cocktail aficionado can opt for something with lots of storage. Whiskey lovers would love the bold, charismatic aura of a midcentury-style cabinet. See? It's all subjective to preference!
Question: What's the best way to make your bar cabinet look good?
Answer: You can make your bar cabinet look good by pairing it with relative decor items. Some people love installing customized lighting inside their cabinets while some like embellishing their cabinets with items like decorative decanters and more.
Best Corner Cabinet Ideas: Conclusion
So, this is everything about bar cabinets that you need to know. I hope you like these ideas and have a good notion about how you're going to feature them in your homes. I would love to host Happy Hour with a bunch of my friends if I ever get one of these for my own house!
As for my favorite one, it's the Mecca Corner Bar Cabinet With Ten Wine Cubbies. As a person who loves fine Reds, this one provides a nice opportunity for me to store all the bottles in its 10 cubbies. Plus, the round cabinets are nicely camouflaged and I know for sure that some of my friends would be struggling to get in there (heh!).
Read More: