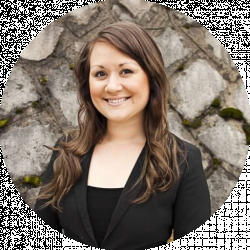 Latest posts by Lacey Jackson
(see all)
The first time I had a mini fridge was in college. It came standard in every dorm. I didn't even know they made refrigerators that small. I thought it was a mark of an adult to not only graduate from college but the basic mini fridge. Alas, in adulthood, I happen to have three. 
Why? For starters, work. I bought a mini fridge to keep in my office so that I could bring my lunch to work and be a little bit healthier. Then covid happened; my mini fridge never even held a single lunch. And because of covid, there were no returns.
Well, starting sourdough bread was a bust, so I went a different way with my free time, and it turns out that when you make your cheese, you need a heavily regulated refrigerator. The same is true when you are dry aging your meat. Rather than take up half the regular refrigerator and apply strict temperature controls to all my other produce, I invested in some mini-fridges.
Bottom line Up Front
I love the idea of a portable base/cart on which to rest your mini fridge if it is going to be standalone. The Portable Mini Fridge Storage cart does the job quite well. However, big picture, I love the idea of converting a mini fridge into a small kitchen in any room in your home with a Mini Fridge Dorm Station, especially in guest rooms. It gives everyone a bit more control when:
Kids are studying and just need water or juice but don't want to go downstairs to the kitchen; 

Friends (yours or theirs) are over, socializing and don't want to disrupt conversation to leave the room;

Guests are over and need water at the end of the day or a quick coffee in the morning before greeting everyone;

You have a small space and want to make the most of it;

You want a small "refreshment" area in the office, workshop, or music room. 
Mini fridges are incredibly versatile. Family members who are away at college, renting out a single room, or living in any type of assisted living usually need a mini fridge. Anytime we go on vacation, I always book a hotel with a mini fridge in a microwave (or I bring my own) to store some of our basic foods and reheat our leftovers.
I have one family member who rents out multiple suites in their home on vacation sites like Airbnb, so they have more mini-fridges than I think the local appliance stores keep in stock; one mini fridge per room, just like a hotel. Between myself and all of my family members, every carpenter in the family (there are three) has found a way to build a mini fridge cabinet idea to best suit their needs. 
Idea #1: Hotel at Home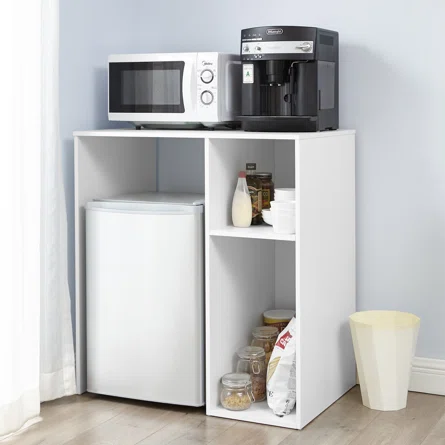 Among the best mini fridge cabinet ideas included turning your guest room into a miniature hotel. You don't have to rent your spare rooms to strangers on Airbnb to use this idea effectively.
When I directed my first Christmas program, a surprising number of family members decided to come out for the week and stay with us. Owing to the fact that I gave everyone strict bedtimes so that I would be well rested (no, 50+-year-old adults did not appreciate being told they had to be in their respective rooms by 9 pm and not come out again), I decided to lug our somewhat awkward and heavy mini-fridges into the guest rooms.
This gave everyone a place for some snacks, water, adult beverages, and whatever individualized drinks I went out of my way to purchase for each visitor. But I also wanted to make sure they had a stack of books, some magazines, and a basket of spare toiletries and towels.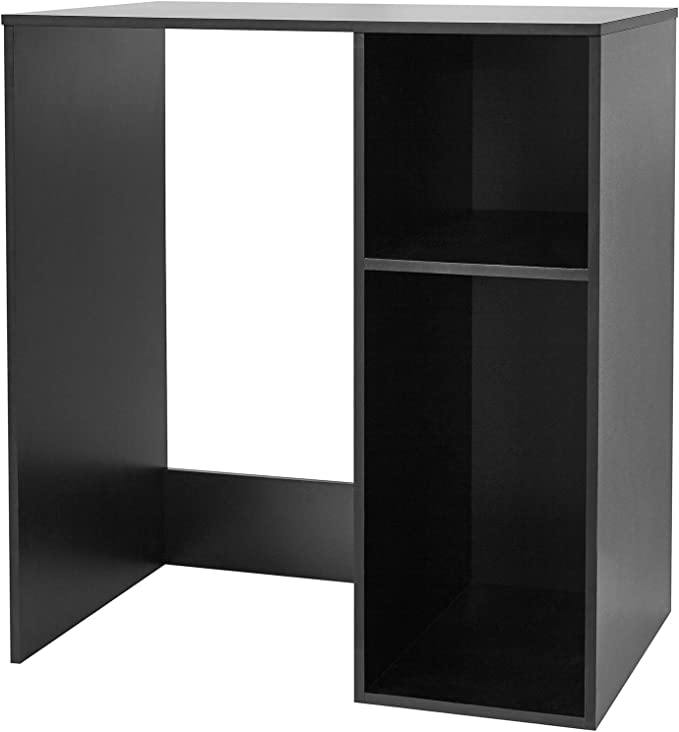 I love the Mini Fridge Dorm Station for that reason: it is basic, with some open shelves, an open space for the mini-fridge, and a top shelf on which to place a microwave and coffee pot. Everything is open, visible, and accessible.
Plus, it won't break the bank. You can get it in black too. I was able to create some shelving space and a cabinet in which to put the mini-fridges, which helped cut down on the noise of the compressor.
Idea #2: Small Space Saver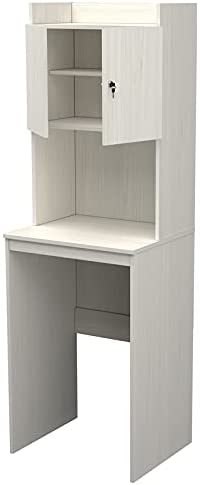 Similarly, if you run an office or just have a small studio apartment, the Inval Mini Fridge Cabinet makes it easy to set up a miniature kitchen. I love the height it has, offering a safe cabinet on top of a microwave platform and the floor space for a mini fridge. I like to combine this with a refrigerator in a small studio apartment because it gives you everything you need when you don't already have a dedicated kitchen space.
Idea #3: Kitchen Accessory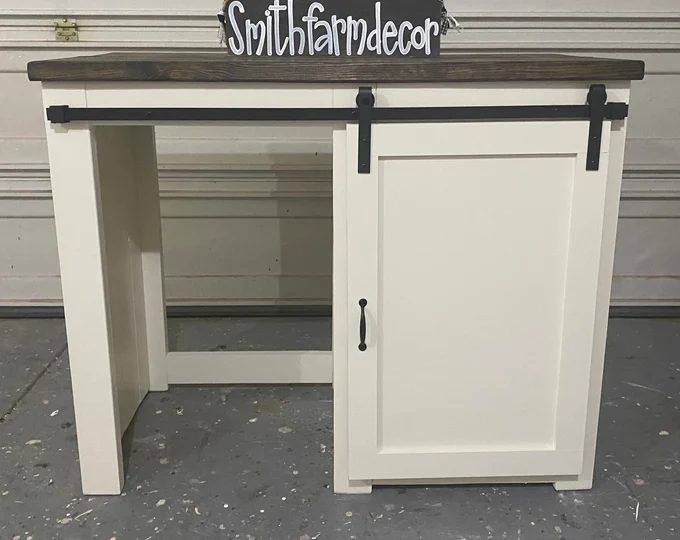 The farmhouse style is very popular now because of its flexibility and a little bit of that Chip and Joanna show. Nevertheless, ample farmhouse-style mini fridge cabinets go well in a pantry, dining room, or kitchen. 
These give you a cabinet, a place for a mini fridge, and a shelf on which to rest other kitchenware. The Slider Door Mini Fridge Cabinet is probably the most common example of this; there is only one door, and it slides back and forth in front of 1) the shelves or 2) the mini-fridge. 
Tip: Add wall-mounted shelves above your kitchen accessory and create an entire wall of storage and display.
Idea #4: Dedicated Bar Nook

I love the idea of creating a special space in your home for a dedicated bar complete with a mini-fridge, a wine fridge, and some shelves. You don't even need to put up a lot of shelves. With a single shelf sitting above a double shelf slider door design you can make an entire bar area just like in the image below:
A bar like this does well with a hard countertop too where you can make drinks. We keep a few bottles, a shaker, and a bottle opener on a square wooden serving tray on top of our marble countertop in the bar nook. The drinks all go in the wine fridge and the glasses have hanging racks just like in the image above. We don't have shelves, but we use bookshelves behind the bar which are standalone instead of wall-mounted; these hold spare glasses and themed decorations like collectors steins from our travels.
Idea #5: Mini-Fridge Breakfast Nook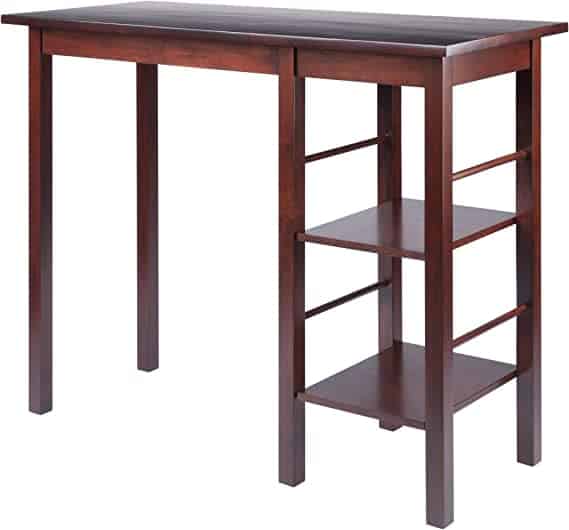 You can easily create a small breakfast nook in your home, similar to a hotel. In this sense, you have a dedicated section where you can throw out some fast, to-go breakfast items or leave a bread box, a toaster, and a mini fridge on hand next to your coffee pot. 
I found that setting aside a dedicated breakfast area helps me set out necessary items like milk, creamer, coffee, bagels, cream cheese, cereal, toast, orange juice, oatmeal, and bread.
Everyone can make their choices, but no one was huddled in front of the refrigerator or knocking things off shelves trying to push aside leftovers or dried pasta to get to what they needed. To do this, I didn't buy a dedicated mini fridge stand. Instead, I used a stand-up Breakfast Dining Table.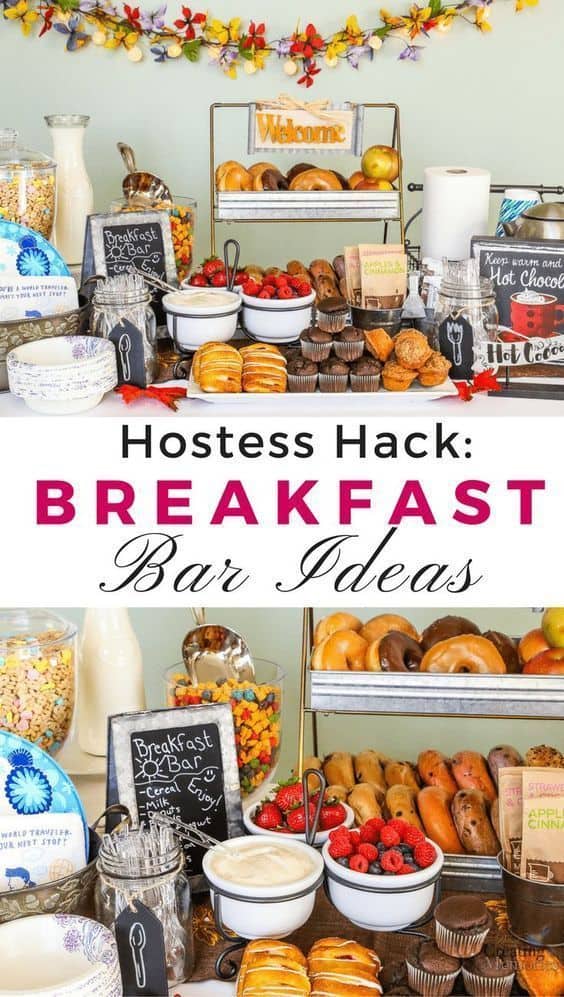 Note: Most dedicated mini fridge cabinets are incredibly expensive, easily costing thousands of dollars because they have to be durable enough for you to support the weight of the mini fridge fully loaded with food. They also come with enclosures that require more material, outlet holes cut through the backing, which takes more manpower, and often dedicated spaces with drawers and doors.
If you are perfectly fine setting your mini fridge on the floor (which is perfectly fine because they usually have feet), you can use something like this breakfast dining table. It's a waist-height, long dining table that can easily fit up against the wall.
You can put your mini fridge underneath one side, place the necessary appliances on the top, and throw some dry breakfast food on the open shelves underneath.  It's a very easy way to make mornings seamless. And on weekends, you can set up a quick waffle bar for those sleepy mornings.
Idea #6: Mini-Fridge Break Room at Work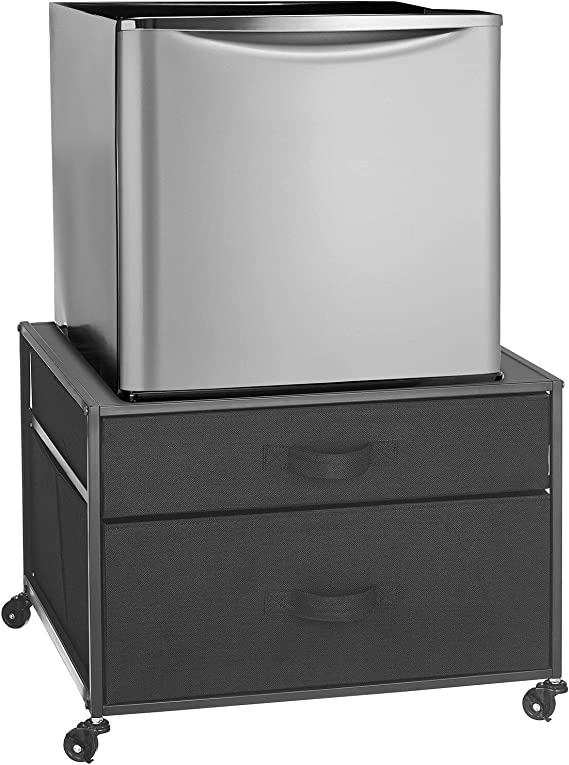 We have a workshop where we do most of our legitimate projects, including building homemade cabinets. Funnily enough, we had an old office chair on wheels. We had already purchased a replacement for it, and we put the old chair into the workshop so that it would be out of our way until such time as we took it to the dump.
We ended up sitting in that chair whenever we needed a break or a moment to think and realized we didn't have a place to just stop and take a break. So we kept the chair, and it became the first part of a miniature break room. The second part was moving one of the mini fridges into the space. This gave us a chance to grab an adult beverage in the middle of a difficult project or some water when it was particularly hot.
To create a break room in our workshop, we cordoned off a section against the wall where the mini fridge could get easy access to an outlet and then found simple shelves to make a frame over the refrigerator in order to keep it clean given how dusty the area is.
Tip: Invest in a small platform on which to place the mini-fridge. This will keep it out of the way of dust or other debris while working and make it easier to clean the space.
I like the Portable Mini Fridge Storage cart for a base because it makes it 1) easy to move your mini fridge around and b) gives you storage while keeping it off the floor. It is perfect for any break room, workshop, or teenage bedroom. In fact, for a teenage bedroom, I love the College Dorm supply Fridge Stand and Drawer Organizer because it has two drawers at the base but the metallic look and feel of a gym locker. 
Idea #7: Get Your Pickup Here!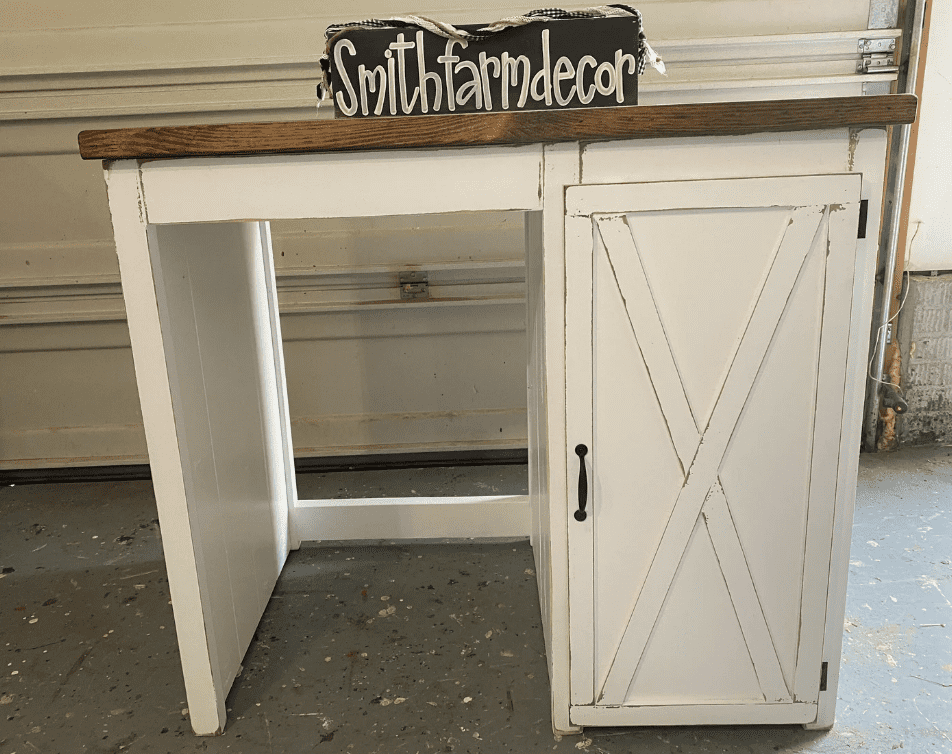 Turn a small mini fridge into a coffee bar. I can't start my day without coffee. The whole family knows not to speak to me or even look in my direction until I've had it. 
So, of course, people give me coffee-themed gifts all the time. I have about 20 spare mugs (I always use the exact same mug in the morning for my coffee, a separate mug for my tea, and the third mug for afternoon coffee) as well as cute coffee-themed signs and even a box I can put on my desk that has a light which eliminates words like "back in ten minutes," "quick coffee break."  I needed a dedicated space for my little coffee shop to hold the eight or so bags of coffee we have at any given time, the three coffee pots we use regularly, and all these fun signs and spare mugs.
Anyone in the same situation should consider something like this Coffee Bar Cabinet. It gives you a place for your mini fridge where you can store cold coffee, milk, creamer, and other additives, and then some shelves or cabinet drawers to place accessories like mugs. On top can go all the cute themed signs and display items. 
Tip: Use the top to place your coffee pots alongside a coffee-scented candle so that it always smells nice. Have a spare mug filled with straws or spoons, too, just like a cafe.
Idea #8: Cocktails anyone?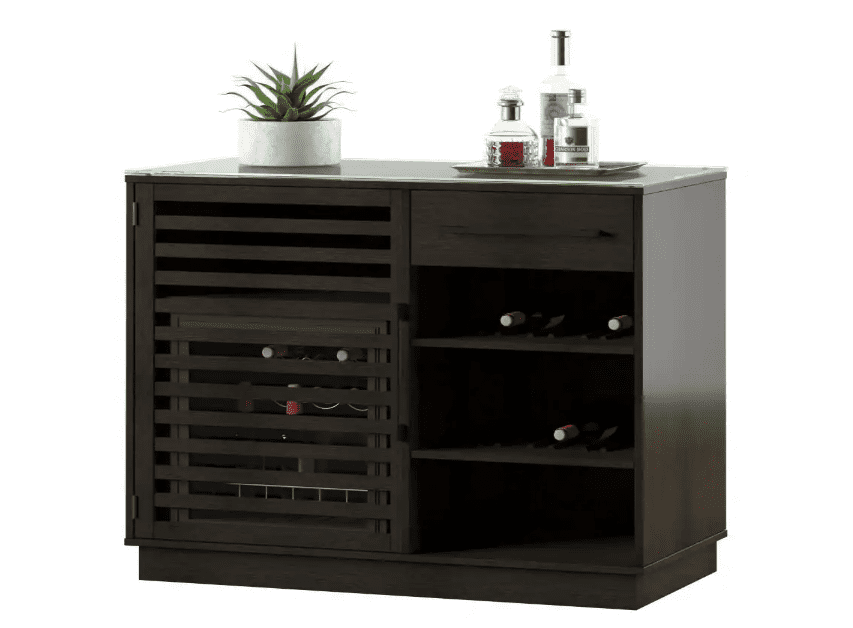 We have a section of our living room we converted into a bar, but it is still a pain to have to leave the room and walk all the way around the house to get to the kitchen and the refrigerator. So, when not being used for meats or cheese, one of our mini fridges holds ice, cold glasses, mixers, and juices. 
I love the Mitchell Oak wine mini refrigerator cabinet for this because it keeps the mini fridge behind closed doors but is easy enough to access when you are entertaining, but it also has a slatted door design that gives a teaser of what's inside. The ample wine rack space makes for a lot of storage, and on top, you can easily have a serving tray complete with some glasses at the ready and a miniature whiskey casket on display. 
Tip: Install a piece of stained plywood over the top of the cabinet or make a foldable extension with a metal chain. Combine this with a barstool or two for additional seating.
Idea #9: Outside Entertainment

With a mini-fridge cabinet, you can build a space for a small countertop (I would apply some waterproof coating to it) and a place for stools. You can see an example of this below:
Keeping a dedicated mini-fridge cabinet outside means you have a dedicated spot where friends and family can socialize with a cold drink, perfect when the summer temperatures are otherwise unbearable. You can swap out cabinet latches for something more secure if you want to be able to close the cabinets and keep them away from small children or dogs. 
FAQs
Question: Can a small mini fridge be kept in an enclosed cabinet?
Answer: The fridge needs to have lots of clearance around it. The cabinet has to be vented. Dedicated mini fridge cabinets usually have a small extractor fan to help with this ventilation.

That's why it's perfectly fine to get something like the Breakfast Dining Table because the mini fridge has clearance and open ventilation. 
However, you don't just want to shove your mini fridge into a cabinet you already have without modifying it for ventilation.
Question: Can a mini fridge go up against the wall?
Answer: A mini fridge should be at least two inches from any wall. If you look at your mini fridge, it will either have coils on the bottom or on the back to dissipate heat. Bottom coils need at least one inch of space between the floor and the fridge, while back coils need at least two inches from the top and the wall. 

Most dedicated mini fridge cabinets will have this level of clearance which is what makes them so large, but if you are using something like the Fridge Stand and Drawer Organizer or Portable Mini Fridge Storage cart, make sure you give it enough space. 
Question: Should you put something under a mini fridge?
Answer: When you look at your mini fridge, it will either have coils on the back or on the bottom. The same is true if you check out the refrigerator in your kitchen. Full-size refrigerators don't rest flush against the wall because they usually have coils on the back, and those coils need ventilation. 

If the coils are on the bottom of your mini fridge and you simply put them on the floor directly, especially the carpet, it cannot only damage the carpet but damage the refrigerator. You should consider putting something under the mini fridge, even if it's just a wooden platform, if you plan to put the fridge on the carpet, or if your mini fridge has bottom coils and you want to add a little bit more of a buffer between your floor and the coils. 
Question: What surface should a mini fridge be on?
Answer: You can easily set a mini fridge on a tiled floor, a plastic floor like linoleum, or hardwood. If you have carpet, the carpet will actually inhibit airflow and retain heat which can lead your mini fridge to overheat. If you plan to put it in a carpeted room, ensure you get a base or a cabinet to sit it.
Bottomline
I love the idea of a portable base/cart on which to rest your mini fridge if you just have the mini fridge on its own, and the Portable Mini Fridge Storage cart is perfect for this.
But, my favorite idea of all is to convert a mini fridge into a small kitchen in any room in your home with a cupboard/storage like the Mini Fridge Dorm Station, especially in guest rooms. It gives everyone a bit more control when they are in their rooms socializing or studying. It lets guests feel a special touch of love on their next trip to visit you and more.