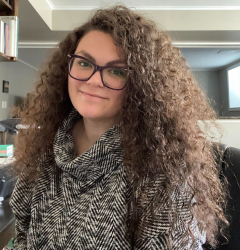 Latest posts by Candace Osmond
(see all)
A well-organized workspace is something we all desire. Unfortunately, pulling one off isn't always as easy as most people assume. So, if you've been having difficulties creating an organized, mess-free workspace, you've come to the right place for the solution.
I know! A good printer cabinet won't be the ultimate solution to your organizational woes, but it's a great place to start. These units are versatile, and their trendy designs will add to the aesthetic appeal of your workspace. What's more? To help you pick, I've compiled a list of the best printer cabinet ideas across the internet. I've even included a guide on how to pick the best printer cabinet idea that'll meet your individual needs.
Bottom Line Upfront
Listen, you can't go wrong with the options on this list, but I recommend the Vasagle Lateral File Cabinet. We have so many Vasagle products in our home, from my son's entire bedroom ensemble (bed, desk, and bookshelf) to the shelving in my office. I can vouch for the product's quality.
I love that their stuff is super affordable, stylish, and surprisingly high quality.
Top Picks
Out of hundreds of printer cabinet ideas I checked out, these were my top 3 picks.
Best Overall: Solid Wood Printer Cabinet – This Printer Cabinet comes with six storage shelves to hold your printer and other office supplies within a comfortable reach.
Best For Small Rooms: Pirecart 4-Tire Mobile Printer Stand – This unit is the perfect solution for anyone who'd like to utilize as much of their workspace as possible.
Best For Home Business: Vasagle Lateral File Cabinet – The Vasagle lateral File Cabinet features a beautiful warm honey finish that'll effortlessly blend with your office furniture.
The Best Printer Cabinet Ideas
This list of the 22 best printer cabinet ideas is one I've compiled over the last few days. I chose them based on design, quality, and whether or not it's practical.
Solid Wood Printer Cabinet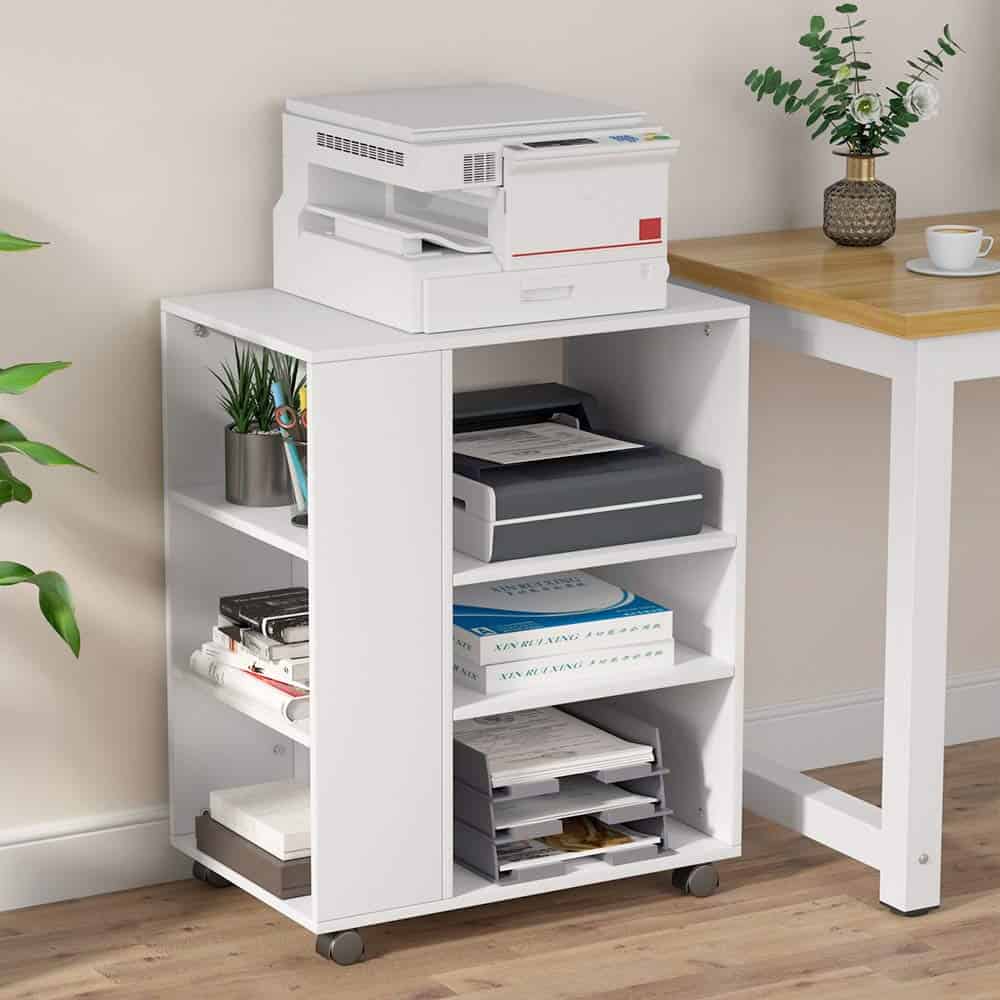 If you ask me, this solid wood printer cabinet redefines convenience. The stand gives your printer a convenient home and offers ample storage space for printing accessories and office supplies. It's also fitted with four-wheel casters so you can effortlessly move it around.
What's more? To recreate the cabinet, make it out of all wood and coat it with melamine veneer. That'll make cleaning easy and ensure the surface is water resistant and anti-scratch.
Pirecart 4 Tier Mobile Printer Stand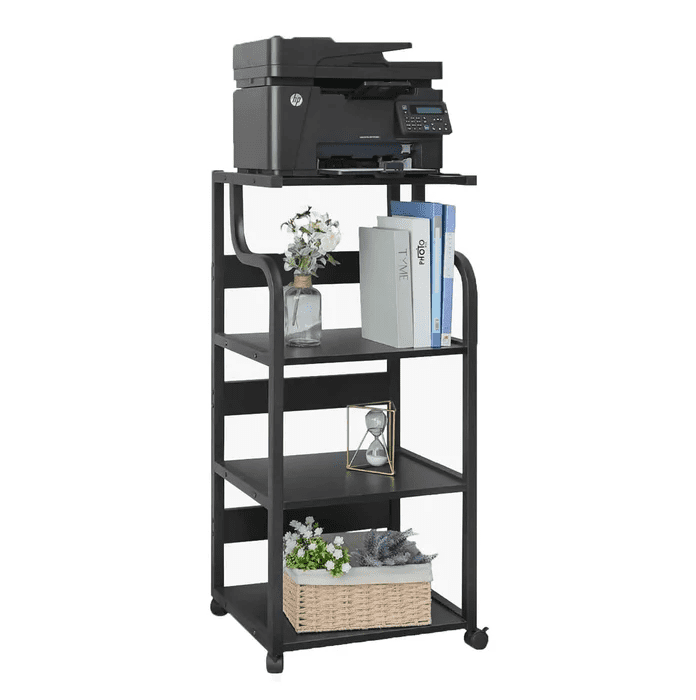 Pirecart's black printer stand is functional and stylish, making it an excellent addition to any home office. The sleek design will take up minimal space, while the four shelves offer ample storage room for office supplies. The weight capacity of each tier is 44lbs. Like, holy moly, what more could you need, right?
Birch Plywood Printer Cabinet
Are you like me, an organization freak? Or perhaps you just prefer a cabinet that allows you to stash all your stationery and accessories in one space. If either applies to you, you'll love this birch plywood printer cabinet.
This cabinet has adequate storage shelves, complete with doors. Once you've set your printer on one of the shelves, neatly put away all other accessories in the drawers.
Hidden Printer Cabinet
Are you searching the internet for a printer cabinet that can do it all? Then let me introduce you to one of the most premium options available. This printer cabinet will keep your printer stashed away and out of sight inside a drawer at the bottom.
Use the remaining five drawers to store printing supplies and office stationery. Or snacks…mine's full of snacks.
Mind Reader Printer Cabinet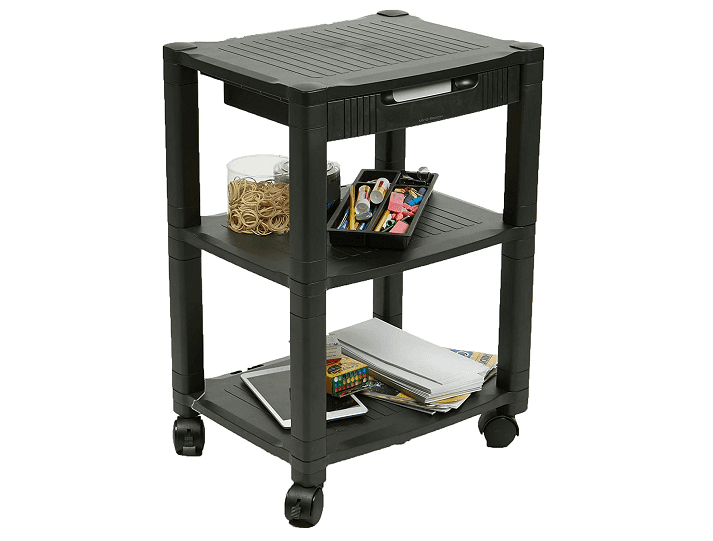 Good stuff really does come in little packages, and this Mind Reader printer Cabinet exemplifies just that. But don't let the miniature structure fool you. This small, sturdy cart will comfortably support a large printer. It boasts a weight limit of up to 75 pounds.
If you have a small workspace with limited floor space, fit this mini piece under your work desk.
Modern Farmhouse Printer Cabinet
Perfect for a farmhouse-style office, this sleek DIY printer cabinet will perfectly complement the interior décor. Constructed from durable rubber wood and easy-to-clean laminate, this printer stand features a top drawer and spacious storage cabinet.
Place your printer on the stand and store the paper and printing supplies inside the cabinet and drawer. Voila! I think this is such a great design!
Office Corner Printer Cabinet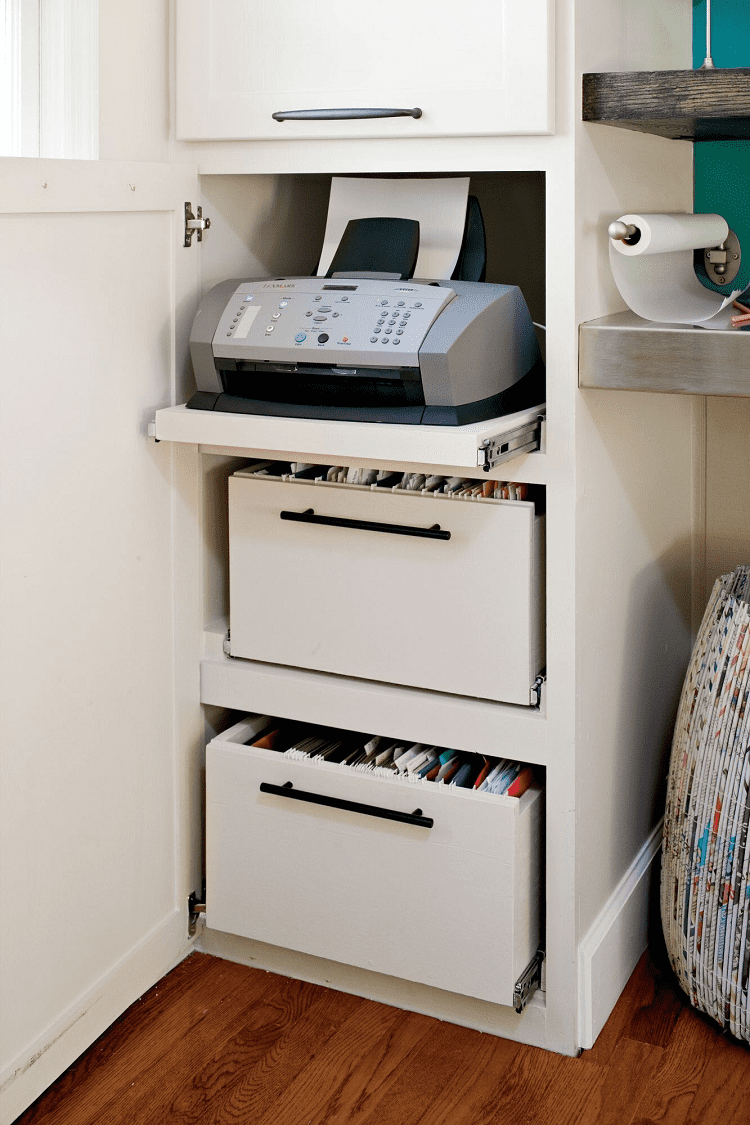 Enjoy a simple office utility storage with this office corner printer cabinet. Featuring four distinct storage slots, you'll have extensive options to use to store your items. Place your printer on the second shelf, as shown in the image, and essential office documents on the bottom. Printing supplies can go into the top drawer.
Vintage Printer Cabinet
This glass door printer cabinet is the perfect way to add a touch of vintage to your workspace. The two-tire wooden shelves behind the glass doors are ideal for holding fax machines, office stationery, and even all-in-one scanners.
The only issue with this unit is that the builder didn't include wheels for improved mobility. If you're like me and constantly rearranging your office space, that's a deal breaker.
Huanuo Printer Stand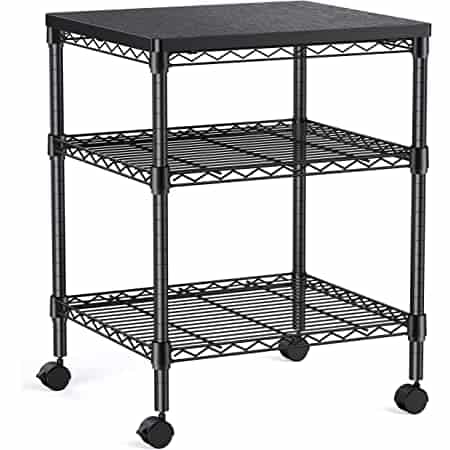 This Huanuo Printer Stand is the perfect blend of quality and convenience. Made with a metallic frame and two shelves, this stand will easily hold up to 44 lbs. Huanuo's team has also fitted it with anti-skid pads that keep your devices safe by improving stability.
The top and bottom shelves are sufficiently spacious to keep files, ink cartridges, and paper reams well-organized and within reach.
Printer Drawer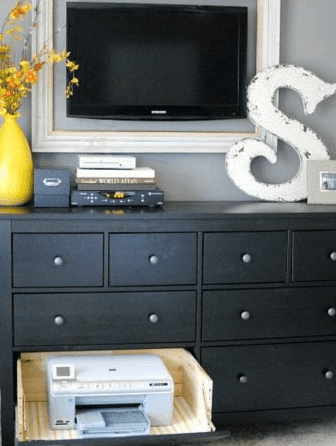 This work desk is made of durable particle board. Just don't get it wet *narrows eyes at water damaged particle board bookshelf in the corner*
It features multiple drawers you can use for various purposes and has a strong frame. Rest assured it'll easily hold your printer, scanner, and other office equipment. You may also appreciate that your printer will be stashed away and out of sight in a drawer.
Traditional Printer Cabinet
This Traditional Printer cabinet is the ideal solution to keep your printer stashed away in a colorful solution. The three extra wooden cabinets provide plenty of space for storing ink, paper, and other supplies.
Industrial Lateral Filing Cabinet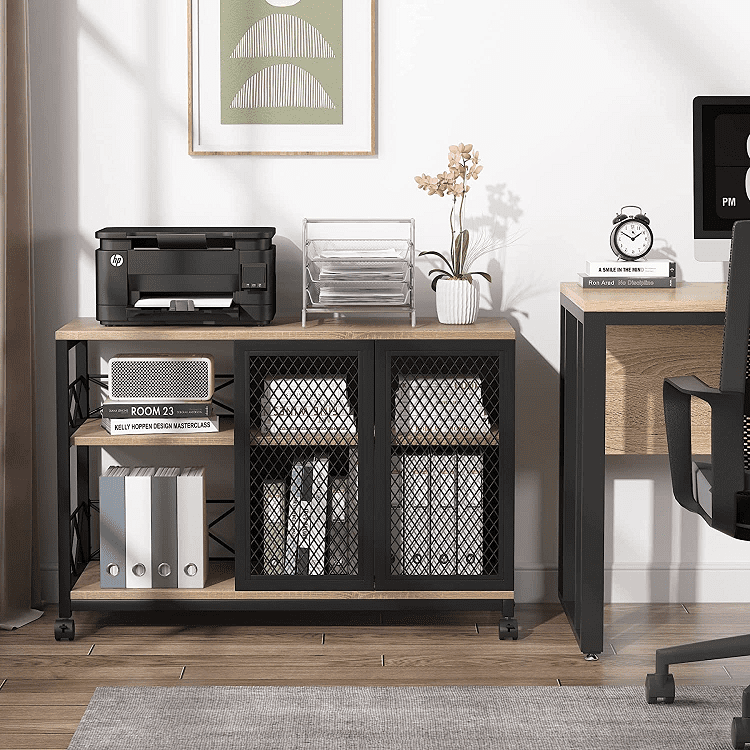 Are you looking for the best printer cabinet idea that will stick out to anyone who walks into your workspace? Then check out this Industrial Lateral Filing Cabinet. This unit features MDF shelves that are spacious enough to accommodate anything you throw at them.
The exterior metal frame ensures durability and sturdiness. To me, a metal frame is a key to affordable furniture these days. I don't care what the shelves and stuff are made of, gimmie metal framing!
Tall Printer Cabinet
Made of high-end wood with varnished surfaces, this printer cabinet is durable, stable, and resistant to chips and scratches. All these features make it the perfect printer cabinet idea for high-traffic workspaces. Also included are multiple drawer fronts that'll complement the interior decor.
Vasagle Lateral File Cabinet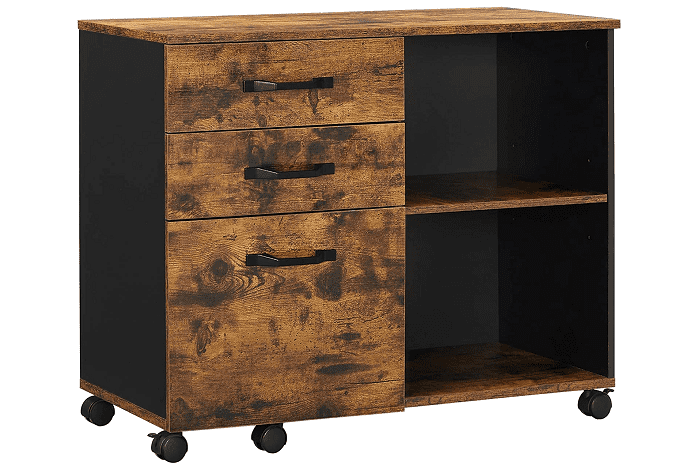 The Vasagle Lateral File Cabinet will be a great addition to any home or office workspace. I absolutely love their line of home furniture, actually. Duign the pandemic, we upgraded our home offices and our kids' bedrooms with desks and shelves. Worth every penny.
It's durable and has been designed to support whatever you place on it. The three drawers and two compartments mean you can keep your printer and other office supplies organized and neatly stored away. The Vasagle lateral File Cabinet can handle a maximum weight of 88 lb.
Tribesigns 3 Tier File Cabinet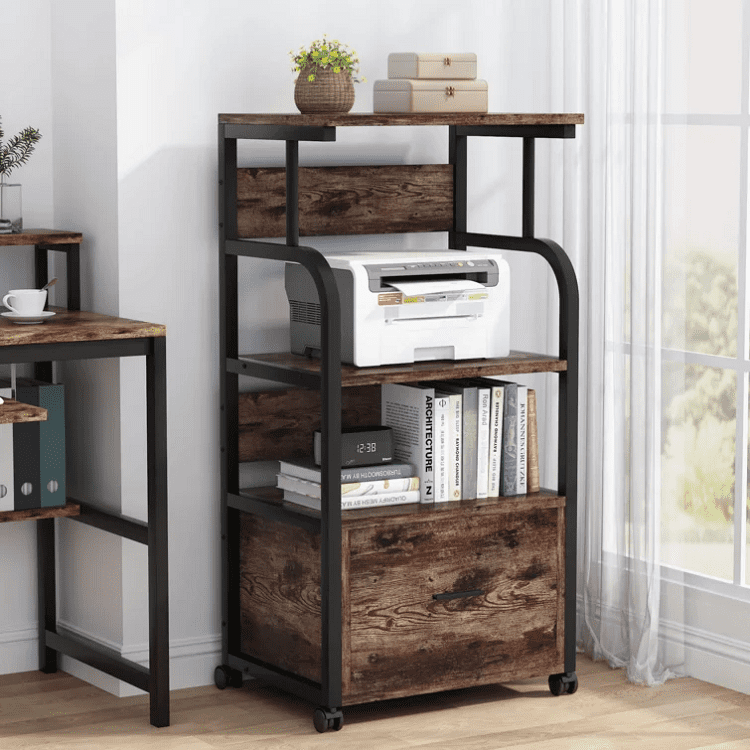 Finally, a printer stand you can quickly move from one room to the next. Perfect for my ADHD hyper fixations following an HGTV binge. With a 3-tier shelf held together by an iron frame, this is one of the best-designed units. Its heavy metal construction is also waterproof and rust-resistant to help ensure longevity.
Hanging Printer Cabinet
Only invest in a hanging printer cabinet if your printer requires minimal movement. But still, this hanging printer cabinet is a pretty sturdy option. The lower level also has a sufficient floor clearance, making it easy to clean underneath.
Repurposed Old Dresser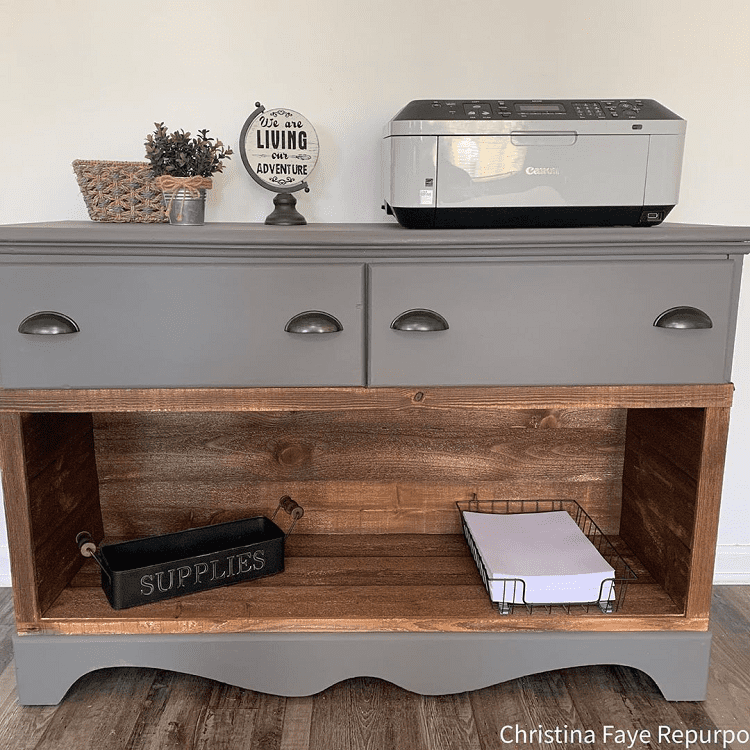 Unlike printer cabinets specifically designed for the role, this is an old dresser that has been repurposed into a cabinet. This should leave everyone who walks into your workspace in awe. Regarding storage space, the unit can accommodate everything, from your printer and office supplies to planters and personal effects.
Westport Mobile Printer Stand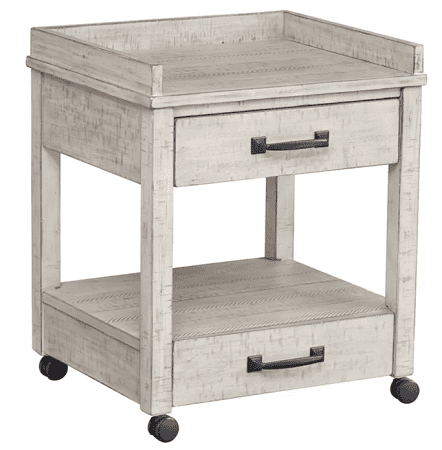 This Westport Printer Cabinet is a compact, space-saving unit perfect for small home or office workspaces. It's also effortless to move and has been constructed using durable material. A built-in outlet is included in the back to let you easily power your printer.
Work Desk Drawer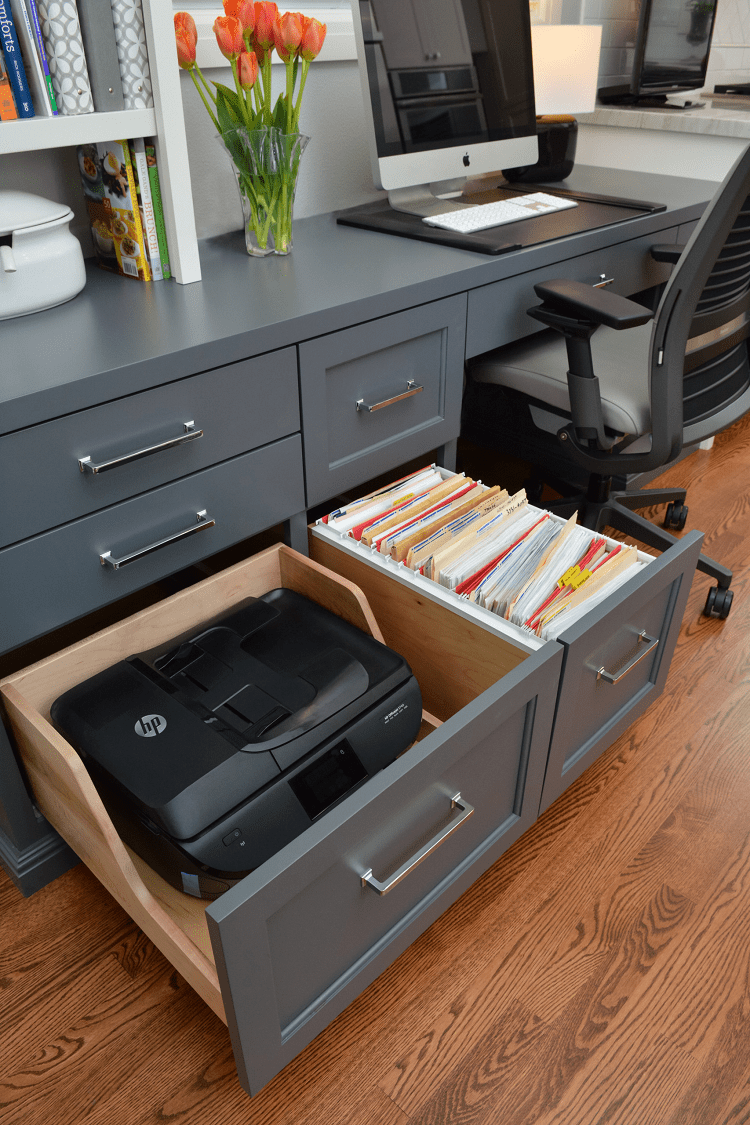 This printer cabinet idea is among the best space-saving ideas on this list. You simply need to set aside a drawer for your printer on your current work desk (if it's big enough.) To complete the look, place your printer in the bottommost drawer and printing accessories in the drawer above it.
Ikea Ender 3 Enclosure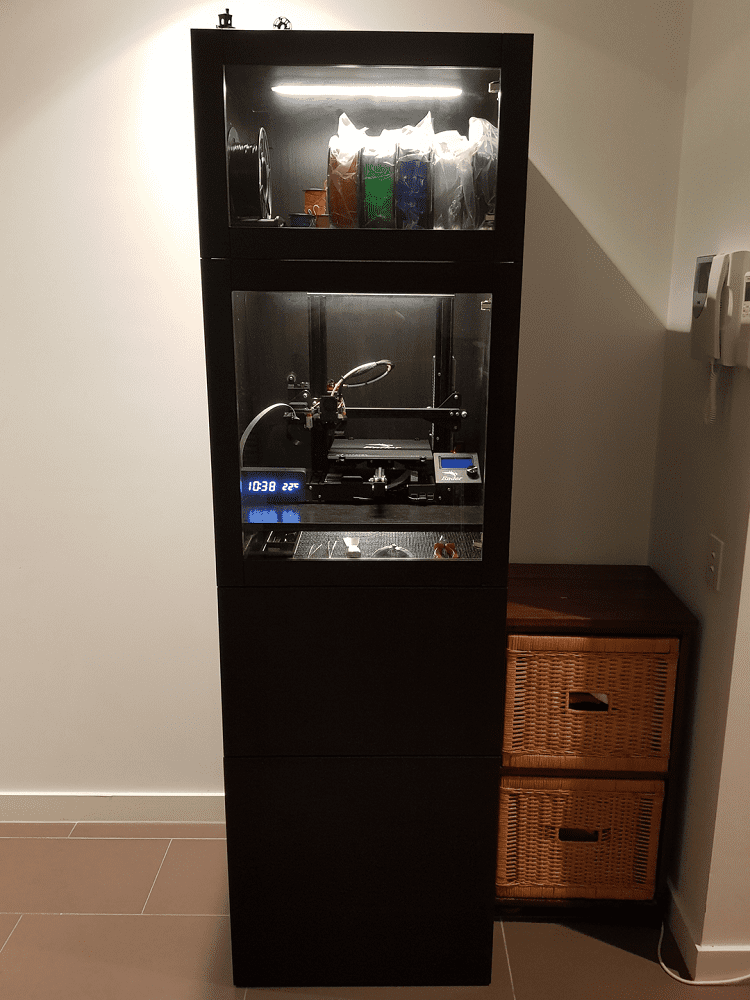 Are you a minimalist who wants to keep your workspace straightforward and functional? This 3D printer cabinet idea could be what you're looking for. The unit boasts a long, dark build, which awards it an extremely casual but classic look.
3D Printer Cabinet
The image above showcases a Prusa i3 MK3S 3d printer on an IKEA Bror Trolley. The trolley is fitted with four castors so you can move it around quickly. Castor locks have also been added. Engage them when you want the cabinet to stand firmly.
Devaise 5-Drawer Wood Dresser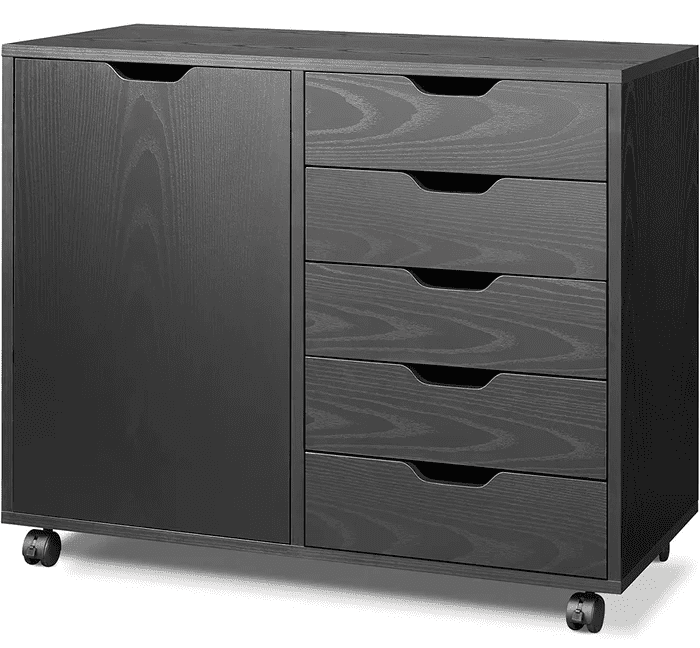 This printer cart retails with plenty of storage, swivel casters with brakes for mobile convenience, and an aesthetic appeal. Add to that its 20 lb. shelf weight capacity, and you have the best printer cabinet for spacious offices.
What is a Printer Cabinet?
A printer cabinet is a piece of furniture specially designed to house printers. This cabinet may also have extra storage spaces to store paper reams, ink cartridges, and additional printer supplies. Some of the best printer cabinet ideas even feature built-in paper trays that further simplify the printing process.
Do You Need a Printer Cabinet?
If you've been wondering if you need a new printer cabinet, chances are you do. Here are five telltale signs you should go for it and invest in any of the best printer cabinet ideas above.
Is your workspace a disgusting mess due to stacked papers? A spacious printer cabinet will give your office a discrete footprint and organize your stuff for maximum efficiency.
You must rummage through a pile of papers every time to find something you need around your workspace.
Your current printer cabinet (if you already own one) shows signs of breaking when loaded with items. This usually happens if the printer cabinet has a low weight capacity, but your office stationery is growing.
You care about aesthetics and think a new printer cabinet could complement the interior décor.
Do you update your workspace furniture every few years to keep up with new designs? If yes, then why should your printer cabinet be any different?
Pros and Cons of Using a Printer Cabinet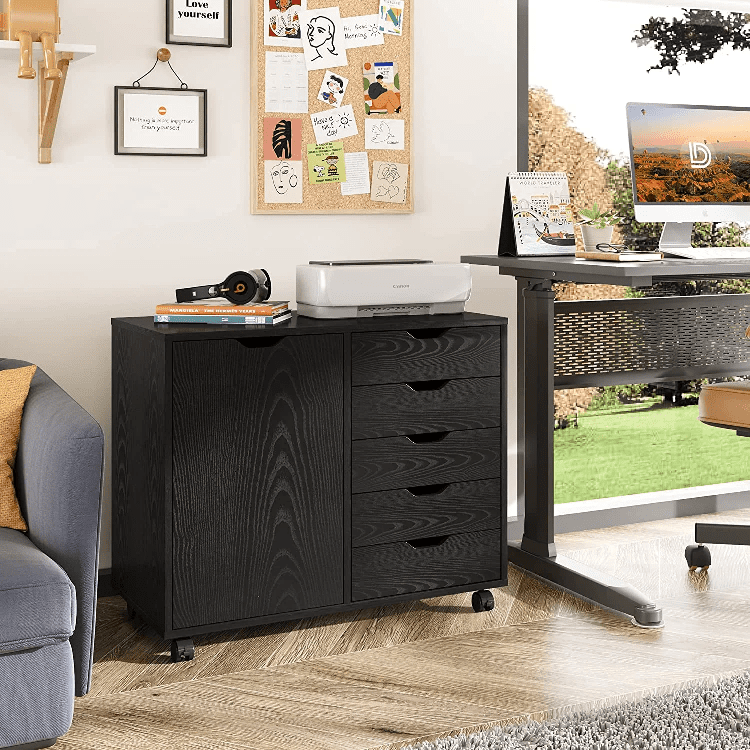 Here, I'll list all the pros and cons of using a printer cabinet. Consider them before selecting your ideal printer stand.
Pros
Printer cabinets make it easy to organize your print space. Simply place your papers, printer, and all other print accessories around the cabinet.
Printer stands enhance the airflow surrounding your printer, allowing it to function more efficiently and prevent overheating.
The best printer cabinet helps safeguard your printer from shocks and falls caused by roaming kids or pets.
Printer cabinets provide extra storage space. Easily store extra supplies items in your printer holder.
A good printer cabinet will also complement your work space's interior design.
Once your workspace is decluttered, finding the thing you're looking for should be easy moving forward.
Cons
If your office or home workspace is small, a printer cabinet will consume much-needed real estate.
They can be costly (depending on the cabinet idea you settle on).
How Much Space Do You Need for a Printer?
Before purchasing a printer, you'll need to ensure that it'll fit in your designated spot. Start by determining the printer's actual dimensions, then add the surrounding space the printer needs to function efficiently.
As a general rule, ensure the back of the printer is at least 4 inches away from the wall. Also, leave room around the printer for sufficient ventilation and additional space in front for papers to get fully ejected.
What to Consider When Buying a Printer Cabinet
You'll need to consider some factors when looking for a printer cabinet that can declutter your work desk. Here are the eight most important.
Materials Used For Construction
First and foremost, consider the cabinet's overall construction and the elements used. Stainless steel is an excellent choice if you prefer an attractive and functional printer table. Why? Because it looks good and is also easier to maintain. For strength, metal does well as it can withstand extreme pressure.
Weight Capacity
Ensure your printer cabinet can hold the printer's weight and the weight of other supplies you own. For small amounts like paper reams and printers, a design with a 75-pounds limit works best. For loads heavier than that, go for a higher capacity, like a 200 pounds cabinet.
Printer cabinets with the highest weight limits can even accommodate printers, toners, cartridges, and more items at the same time.
Size and Dimensions
The best printer cabinet idea should fit nicely into your current workspace without consuming too much real estate. The cabinet's surface should also be large enough to hold the printer and any other materials you may have.
While positioning the printer, allow for at least a half-inch clearance on all sides as the margin of error.
Power and Connectivity
The printer will require an electrical outlet and may also need a cable that'll hook it to your computer. Ensure the printer cabinet you get can accommodate all these wires.
Storage Space
Your desired storage space will directly affect the size and type of printer cabinet you'll get. If you intend to store more items with your printer, I suggest getting a three-tier printer cabinet. If extra storage isn't essential for your needs, an underdeck printer cabinet should suffice.
Mobility
Some printer cabinets retail with wheels that allow you to move them around easily. Others, however, are just stationary. Before settling on either one, estimate how frequently you think you'll use the printer.
If you use it often, picking a printer cabinet with wheels may be the right choice. These will allow you to keep the printer close and pull it in whenever necessary. Opt for a stationary printer stand if you won't need it frequently. These cabinets also tend to retail with extra storage space you can use to store other office stationeries.
Auxiliary Equipment
Shared computers and printers may benefit from having a paper shredder nearby. This way, the chances of anyone leaving confidential information lying around are minimized.
Interior Design
With practical considerations out of the way, let's move on to the aesthetics. As a general rule, your printer cabinet should match or complement the furniture already in the room. For instance, if you already own a beautiful Louis XIV escritoire, you'll not want a country-style, shabby chic cabinet.
By the same token, is your work desk made of ultra-modern dark wood with a chrome trim? A two-tier printer cabinet with a lower shelf for paper boxes and a raised mid-shelf for opened paper would be perfect.
FAQs
Question: Can I Put My Printer in A Cabinet?
Answer: Yes, you can put your printer in a cabinet. This list above shows you some of the best printer cabinet ideas you can try today.
Question: How Can I Cleverly Hide My Printer at Home?
Answer: The easiest way to hide a printer at home is to place it on a mobile printer cabinet. Just wheel the cabinet into a closet when it's not in use.
Question: How Do I Store My Printer?
Answer: Like with all electronics, it's always best to use the original packaging when storing away your printer. You didn't keep the boxes the printer came in? Then, cover it with a new trash bag and place it on a printer cabinet.
The Verdict
So, do you agree that printers can be a hassle to organize and need their accessories like toners next to them? Then I hope that at least one of these best printer cabinet ideas is the organization hack your workspace craves. If you want something affordable, stylish, and surprisingly durable, go with one of the Vasagle models.
Use the buying guides I've also included to ensure you settle on a unit that best meets your unique requirements. And if you want more of our great recs, check out our site!
Read More: