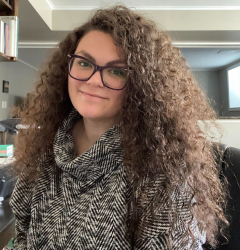 Latest posts by Candace Osmond
(see all)
Wait, don't leave! Computer cabinets are cool again, I promise! Back in the day, they were a great way to house and hide your computer and all the chunky equipment that came with it because it looks similar to a hutch or armoire.
But as computers became more portable, and things became wireless, computer armoires kind of disappeared for a bit. But now they're back and with style! Check out some of the best and most beautiful computer cabinet ideas you can get.
Bottom Line Upfront
I'm a sucker for the whole built-in look. I think it just elevates a space and makes everything look more expensive haha that's why I love the Farmhouse Middle Tone Computer Cabinet idea. You can easily achieve a built-in look with any cabinet; just add some matching trim!
Top Picks
After scouring the market for the best computer cabinet ideas, these three units stood out the most.
Clever and Stylish Computer Cabinet Ideas
These 20 best computer cabinet ideas will allow you to save space and work more efficiently. I kept a good selection of styles, colors, and sizes.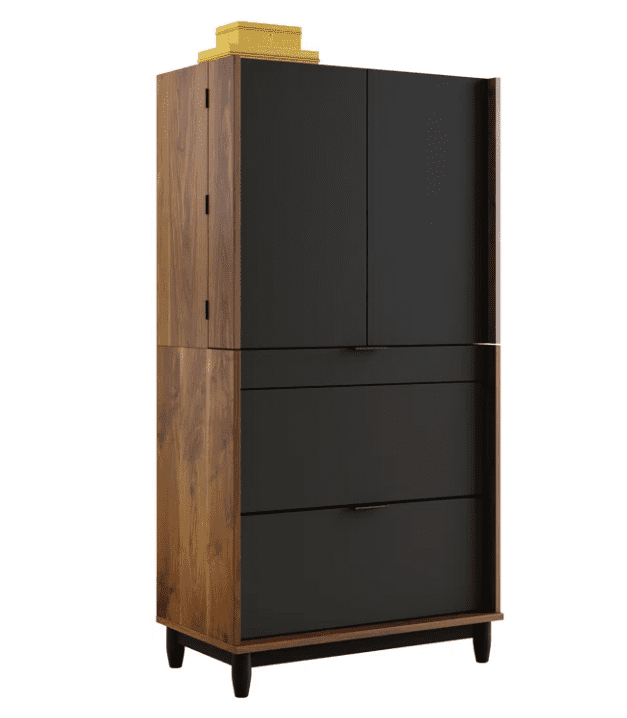 This Harvey Park unit is arguably the most unique and stylish way to discreetly store your computer out-of-sight if you ask me. You could also fit all your additional office supplies and equipment out of the way but still within reach.
When open, the cabinet creates a wow-worthy space you can use as a home office. That, coupled with the cabinet's compact nature, will come in handy if you're short on real estate. When closed, the armoire should resemble any other large cupboard or cabinet in your home. That allows it to blend in (or even complement) your home's interior décor.
What's more? Harvey Parks Computer Armoire Desk's features are finely crafted from only the highest quality materials for durability.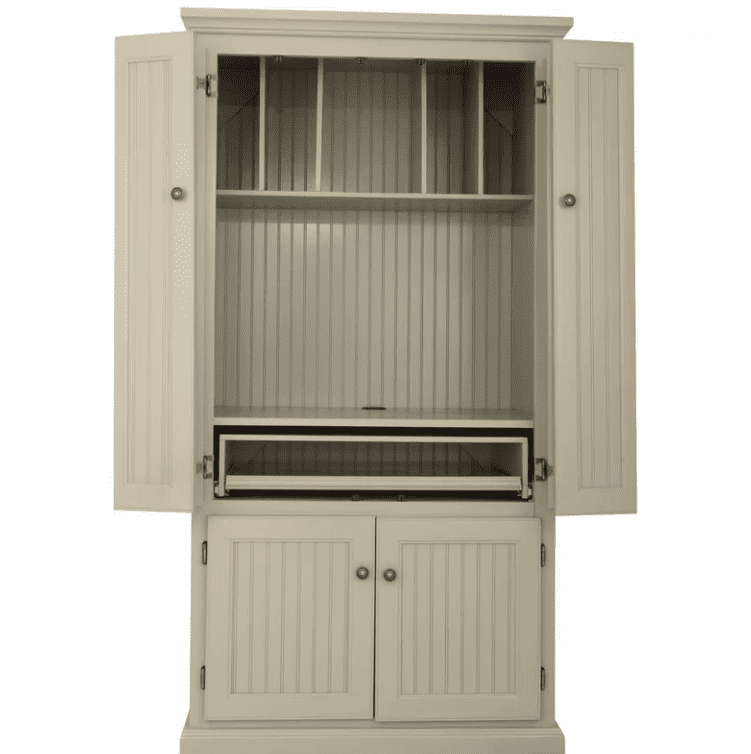 Add needed craft workspace to any room in your home using this multi-purpose cabinet from Eagle Furniture Manufacturing. When you're done using the unit as a home-office work surface, it can also double up as a sewing/craft cabinet.
Better yet, are you, like me, big on interior decor and don't like this Summer Sage shade? Eagle Furniture Manufacturing has you covered with 25 more colors and finishes. Wazaam! These include Sassy Gold, Temping Turquoise, Sassy Olive, Midnight Blue, Khaki Green, Aqua, and more.
The company has also included a pull-out keyboard tray that effortlessly transforms the unit into a workplace. Unfortunately, while the unit comes ready assembled, some people have reported poor assembly in some parts.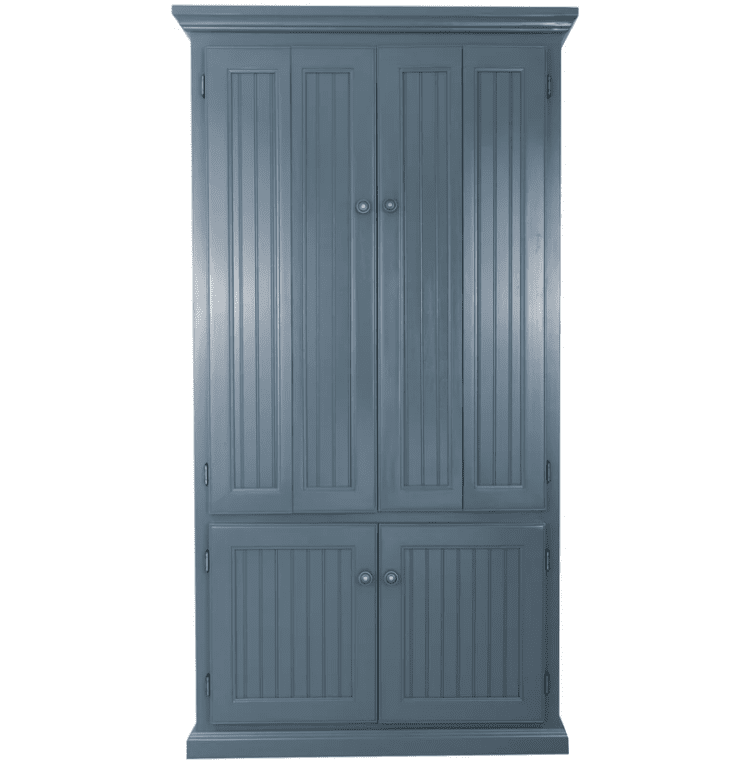 You can easily upgrade your home office space with this multi-purpose computer cabinet idea from Breakwater Bay. This armoire can also accentuate a crafting setup and function as the perfect place for your crafting materials. Fit the sewing supplies into one of the two cabinets below.
When open, the Neasa Solid Wood Armoire Desk exposes a clean-lined birch plywood design and textured beadboard detailing. A pull-out platform has also been included. Use this to hold your keyboard and mouse.
Another unique part of the Neasa computer cabinet is that it comes in 21 more distressed shades and finishes. That's insane! I've never seen so many color options on a single unit. These include Havanna Gold, Autumn Sage, Chocolate Mousse, Burnt Cinnamon, Iron Ore, Smoky Blue, Soft White, Concord Cherry, European Ivory…I won't list them all, you get the point; there's a color for everyone!
The only downside is this computer cabinet will take four to five weeks to reach you after purchasing.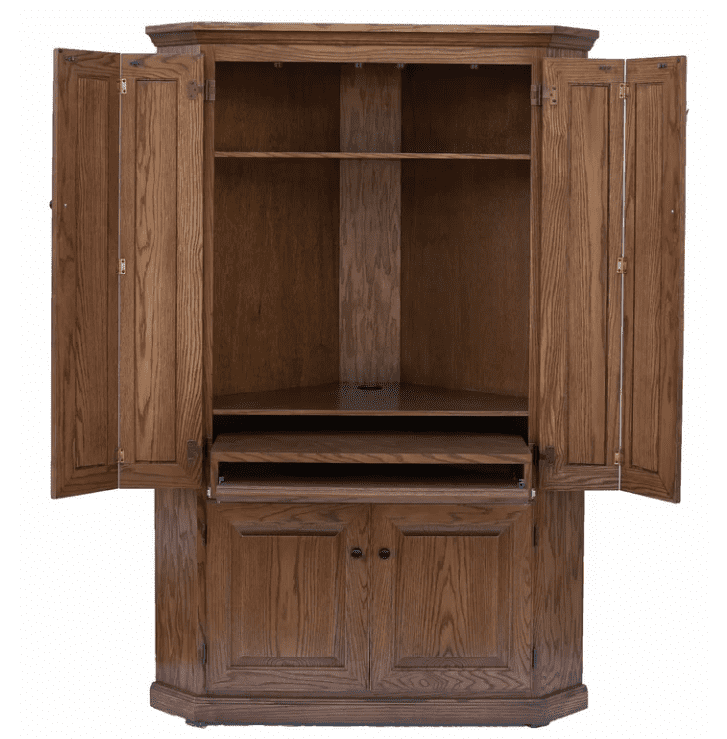 Crafted from solid wood and awarded a natural wood grain color variation, this unit will modernize any home office or study. What's more? A one-year manufacturer's warranty backs the unit which is pretty decent if you ask me.
That's not all. If you don't like the medium oak shade pictured above, the unit retails in five more finishes: dark oak, concord cherry, unfinished, Chocolate Mousse, and Caribbean Rum. Just make sure your home has enough space to fit the unit's broad structure.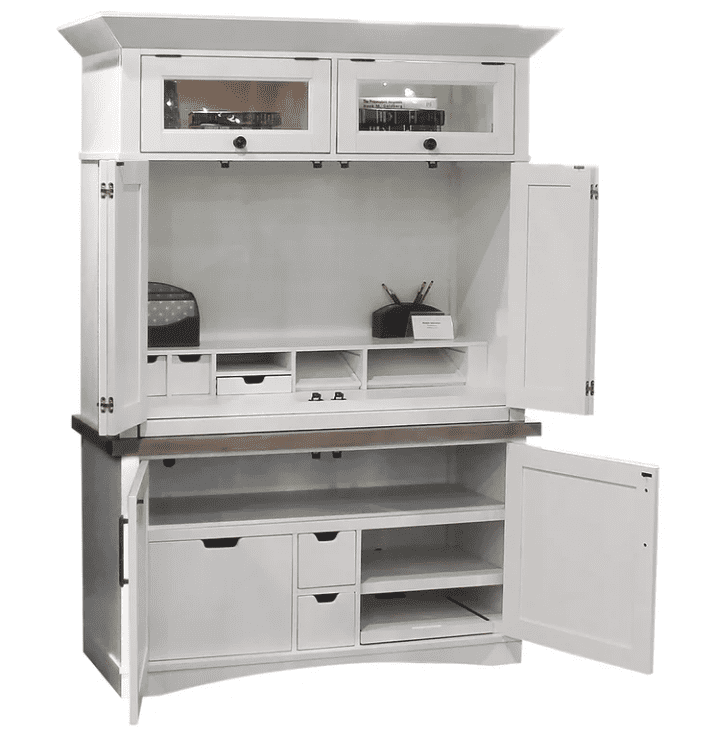 Get more organized with this Harjot Solid Wood Armoire Computer Desk from Red Barrel Studio. Or get more chaotic and hide the mess. Whatever suits you best. The multiple closed storage spaces will let you keep your personal belongings nicely sorted and maintain a neat appearance.
The shelves and cabinets inside this solid wood construction are also adjustable. That allows for a customized storage setup. Note, however, that partial assembly is required on your end for this construction.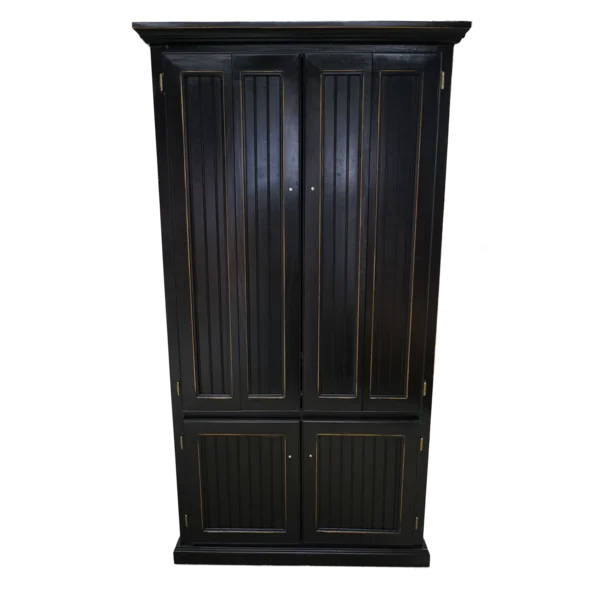 If you prefer an adjustable-height computer cabinet with an old-school appeal, check out this Antique Coastal Computer Armoire Desk. It's a simple, sturdy, rectangular, tall cabinet with enough room for multiple monitors, other computers, and even gaming accessories.
Since this unit comes ready assembled, you may need to realign certain parts that may be poorly put together. This is an issue that most previous customers complained about.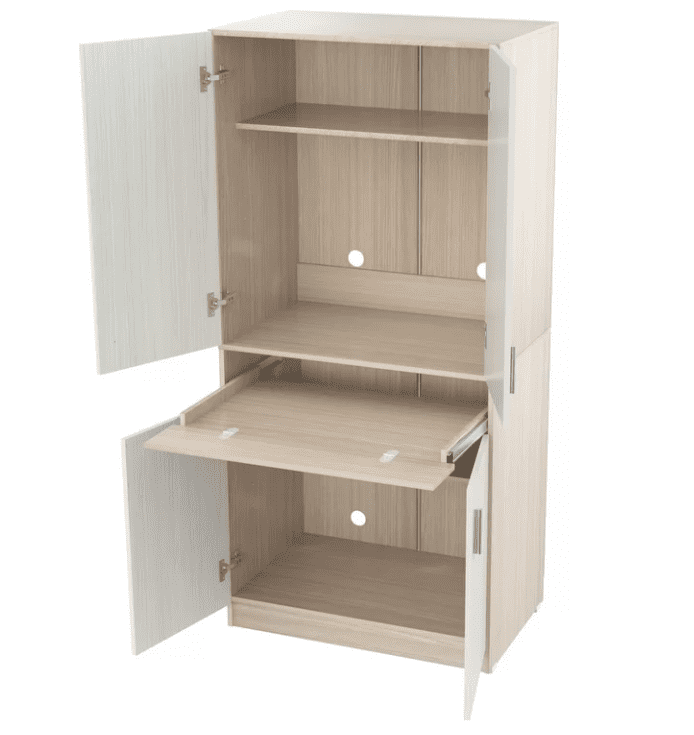 *trumpets blaring* Are you searching for a multi-purpose computer cabinet that provides a workspace without filling an entire room? Look no further than this Bluxome Computer Cabinet from Latitude Run.
Measuring 67.3″ H x 31.5″ W x 20.3″ D, the unit will effortlessly fit in any unused corner of the house. No cord clutter and chaos happening here either, thanks to the six outlets already drilled into the cabinet. I love that feature because I recently bought a printer cabinet for my office, and my husband had to drill grommet holes for me. I'm still finding bits of sawdust everywhere.
Note, however, that this computer cabinet doesn't come ready assembled. The process may take a while if you've never put one together.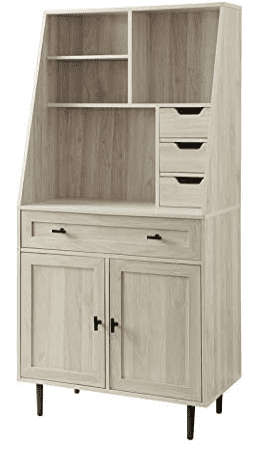 Are you in the market for a leaning desk but don't want to give up the ample storage in cabinets? This Walker Edison Hutch Wood Desk could be for you. Made from engineered wood, this unit is a multifunctional storage hutch with a drop-down front and grommets in the back.
Three cubbies have been included in the upper open portion of the cabinet, along with three small wood drawers. If these don't allow you to stay at the top of your organizational game, I don't know what will.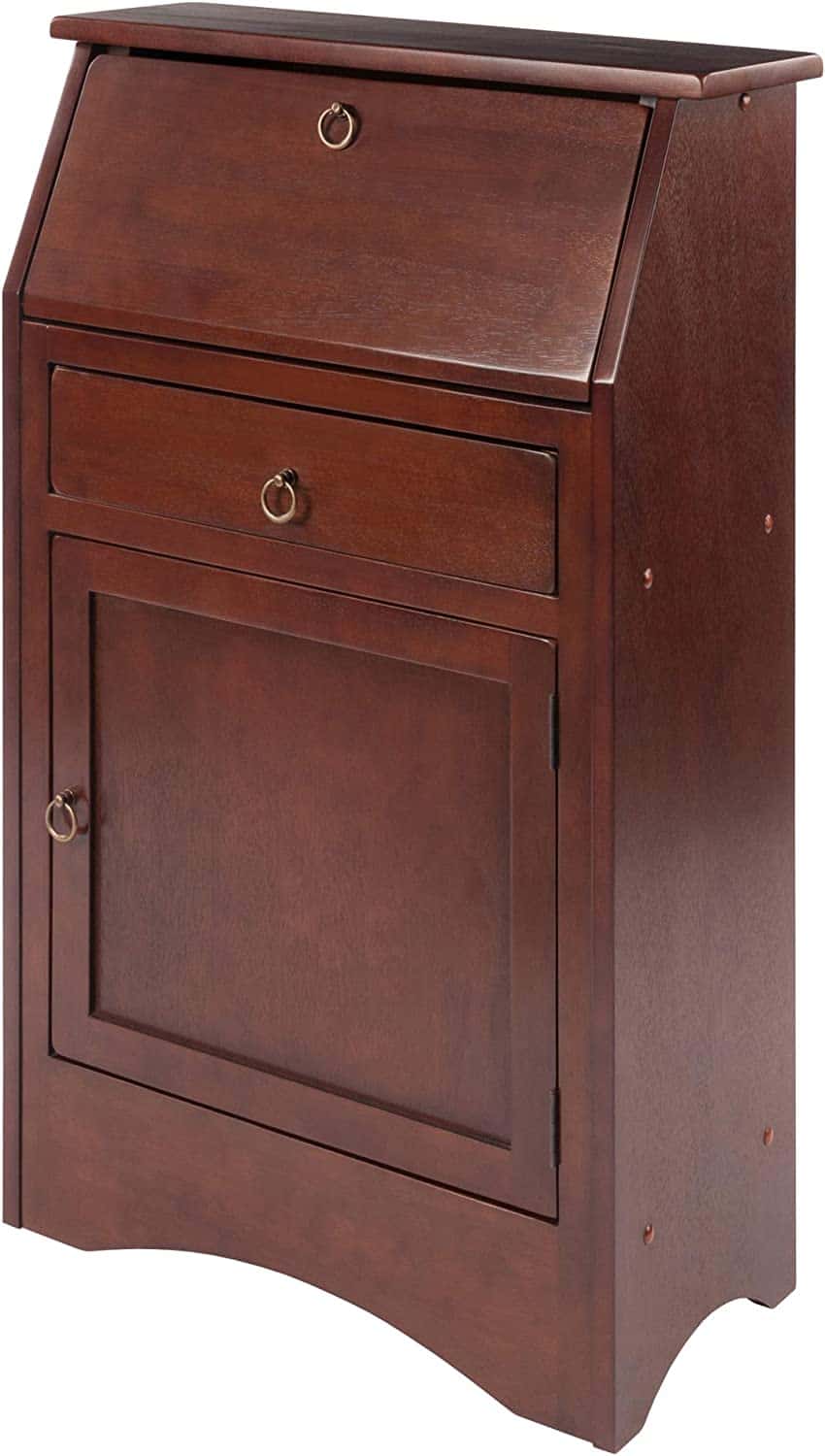 Whether it's in the living room or home office, this rectangular secretary desk has all the space you need to stay organized. I mean, if that's your goal. You can be like me and just stuff everything in stylish baskets haha! The high desk's interior is fitted with one drawer, a pull-out tray, and a divided cabinet section. I'd suggest using the upper shelf in the cabinet for books (if that's your kind of thing.)
The entire thing is constructed of solid wood and composite, then awarded a walnut finish. To ensure durability. This design also grants it an urban industrial statement with a modern feel that'll make for an overall stylish addition.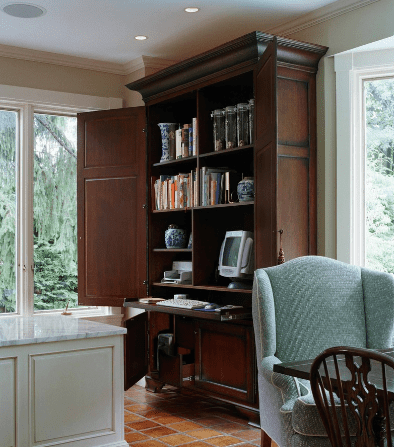 Are you tired of giving up your dining room table to a humming and glowing network of wires and boxes? Then it's time to give them all a place of their own they can call home. This cabinet boasts plenty of space for all computing essentials, plus shelves for books and office accessories.
The case features enclosed cabinets at the bottom to handle your confidential paperwork. The only thing I'd change with the unit is to make these cabinets lockable. My kids get into EVERYTHING.
Work better and live better with this savvy work-at-home stroke of genius packed with computer-friendly features. Some features that earned it a spot in this guide include file drawers, storage, and wire access. As shown above, the cabinet is also fitted with two sliding doors that disappear into the cabinet when open. When you're done typing away on your computer, slide the doors shut, and work will be out of sight, out of mind.
What's more? This unit has been fitted with three additional drawers you can use to stash away any accessories causing clutter. The bottom drawer could even accommodate the printer so this really is an all-in-one hidden office.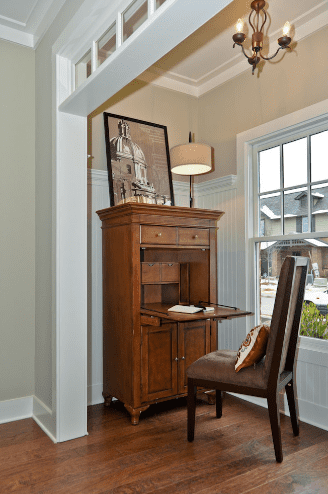 Man, I just love Houzz for inspiration, don't you? This compact cabinet retails with a fold-out table and a shelf with full extension slides. These two features make up for the unit's compact design to provide ample workspace. Whenever you have friends over, you can also use the surface to play board games.
The center shelf has been fitted with a power strip with sufficient outlets for convenient electrical access. You can confidently rest assured that worrying about having adequate wire outlets is a thing of the past. The two cabinets on the low and drawers above should allow you to customize storage patterns to your liking.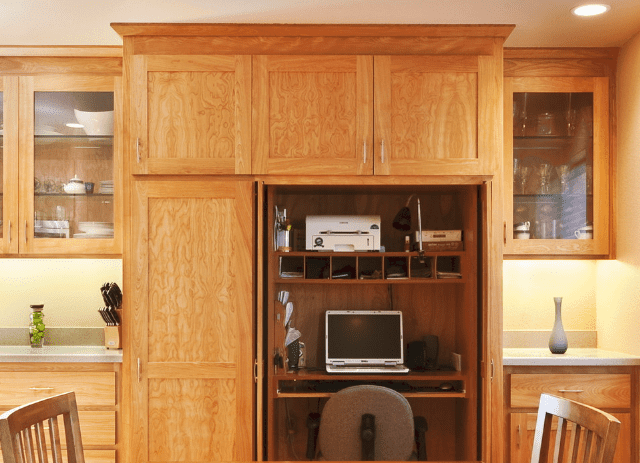 To solve the storage problem in your home once and for all, go for this massive, heavy-duty computer cabinet. This construction can house everything from office accessories and books to computing accessories and printers without hassle.
A locking pull-out work surface has also been included to create space for your mouse pad and keyboard. I mean, you can just stop the computer cabinet hunt here. This unit rocks.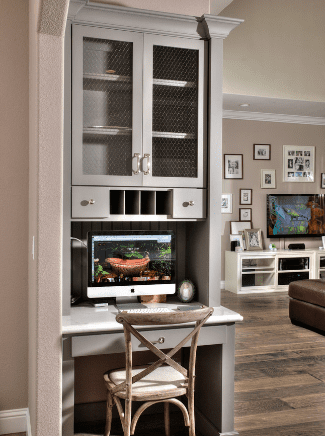 I'll be honest. This Farmhouse Middle Tone Computer Cabinet stood out the most out of all the computer cabinet ideas I checked out, mostly for its built-in look that I have a thing for. The unit as a whole boasts a stellar compact design and is also sufficiently spacious to accommodate plenty of computing accessories.
And, yeah, I realize that this unit is a permanent option, unlike most options in this roundup. Still, you can rest assured it'll leave anyone who sees it in awe.
This distressed computer cabinet idea comes with one of the neatest designs in the realm of computer armoires: the fold-out desk. The fold-out feature will quickly transform any space into a real-looking office while simultaneously maximizing square footage.
In addition to saving space, folding desks also cleverly fold up after each use, keeping the area looking neat.
I know the white finish isn't for everyone, so feel free to give it a shade of your liking. The sky's the limit!
If you'd instead pick a practical computer cabinet that doubles up as an accent feature, check out this beauty. Resembling something straight out of the 60s, this rustic unit will stand out in any space or room. I know, I know…it's not for everyone, but I just dig this look so much!
If you're an operations manager or industrial buyer, the problems of placing IT equipment on regular surfaces need no introduction. An array of issues, from physical impact and grease to water and dust, could easily render your computers inoperable.
Lucky for you, a single solution does exist for all these potential issues, i.e., an industrial computer cabinet. These units (including this one from Atagur) house your computers in robust, sealed environments.
With this Atagur unit, you can also achieve an optimized, reliable setup that'll boost productivity. It'll also reduce downtime in washdown, industrial, refrigerated, and sterile environments. The only thing I could change about this unit is I'd also make it a waterproof enclosure (when closed.)
I first came across this minimalist computer cabinet a year ago and have had a screenshot saved on my phone ever since. I was scouring the internet for farmhouse-style armoires at the time, and this unit fits that category perfectly.
Use these additional shelving units for cute decorations, houseplants, and office supplies. If you opt to go with plants, place them in the open section at the top-most section of the cabinet.
Regardless of its ultra-wide construction, this unit will blend in and melt into the background when not in use. This feature, coupled with the spacious interior, makes this unit every minimalist designer's wildest dream.
Consider having it in a different shade to make the design pop more. Heck, you could even play around with a two-tone look!
As its name suggests, this All-inclusive Computer Cabinet has been designed to house all your computing requirements in one place. It's the perfect solution for those who would like something a bit bigger than conventional computer cabinets.
Unfortunately, this also means you'll need sufficient space in your home to accommodate the massive beast.
Things to Remember When Buying or Making a Computer Cabinet
Before investing in innovative and stylish computer cabinets, here are six features you'll need to remember.
Grommet Holes
This is a standard feature in computer cabinet ideas. Desk grommets allow your computer and its peripheral's cords to pass through in one spot in the cabinet. They also protect the cables and wires from wear and snags.
Style
The primary purpose of computer cabinets is to house your computer assemblies and keep them out of sight. But that doesn't mean the unit you get shouldn't complement at least blend in with your current home décor. That's why most of the units we've looked at above retail in multiple shades.
Quality and Sturdiness
Some of the sturdiest and best-quality computer cabinets are built from solid hardwood. These units also tend to be more durable than their fiberboard or particleboard counterparts. Unfortunately, solid wood computer cabinets also require extra care and maintenance.
Ventilation
Ventilation spaces should be included in the back of the computer cabinet you go for. These will allow air to keep circulating in the armoire, which will, in turn, prevent your CPU tower from overheating.
File Drawers
The best computer cabinet should have file drawers or additional cabinets to store school folders, letters, and papers.
A Solid Wooden Back Panel and Fabric
Fabric in the drawers will ensure that your valuables are always well-protected and your devices don't mark the wood. A solid wooden back panel, on the other hand, significantly boosts the cabinet's stability.
FAQs
Question: What is a Computer Cabinet Called?
Answer: A computer cabinet is also called a computer armoire. Both terms refer to large cabinets with doors equipped to house computers and their peripherals.
Question: Can I Put My Computer in A Cabinet?
Answer: Yes, you can, and the list above shows you the best computer cabinet ideas across the internet. Just make sure the cabinet you pick awards your computer enough airflow and open space to avoid overheating.
Question: What is the Cost of Computer Cabinets?
Answer: There is no need to pay more than $1,000 for the average best computer cabinet. Some can retail for as low as $200, whereas others can stack up over $2,500. As a general rule, ensure the features of the computer cabinet you get warrant the price you're charged.
Bottom Line
Want to keep your computer and other peripheral devices hidden behind cabinet doors? I've done the legwork and science by narrowing down the best computer cabinet ideas across the internet.
All you do now is pick the one you think best meets your home's layout and style. And if you want hat built-in, high-end look, go for something like the Farmhouse Middle Tone Computer Cabinet idea! Don't worry; we've got tons of other great cabinet tips on our site so go check them out!
Read More: