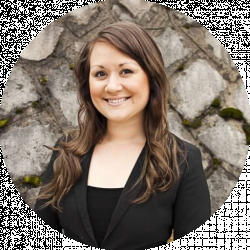 Latest posts by Lacey Jackson
(see all)
Getting weatherproof televisions for outside can be a pain (and a huge expense, as it turns out). A much better solution is to use an outdoor TV cabinet idea and combine it with a regular TV. 
My dad has a massive bar in his home. Seriously. It takes up half of the downstairs footprint of the house. Outside, he has a large, enclosed patio that he built himself. It has multiple levels, a lot of great stonework, and a sloping path that leads up through his garden to an outdoor fire pit that looks out over the entire scene. At the bottom level, however, is where the BBQ, big patio table, and outdoor TV are found. 
It serves as a natural extension of his indoor bar for when the weather is nice (or he just wants to get away from his girlfriend). It's coupled with an outdoor dart board and a mini fridge. While he doesn't have to contend with a lot of heavy snow, he has to ensure it doesn't get hurt when something hits it or it rains. 
With his trials and (many) errors, I've learned what makes the best outdoor TV cabinet ideas.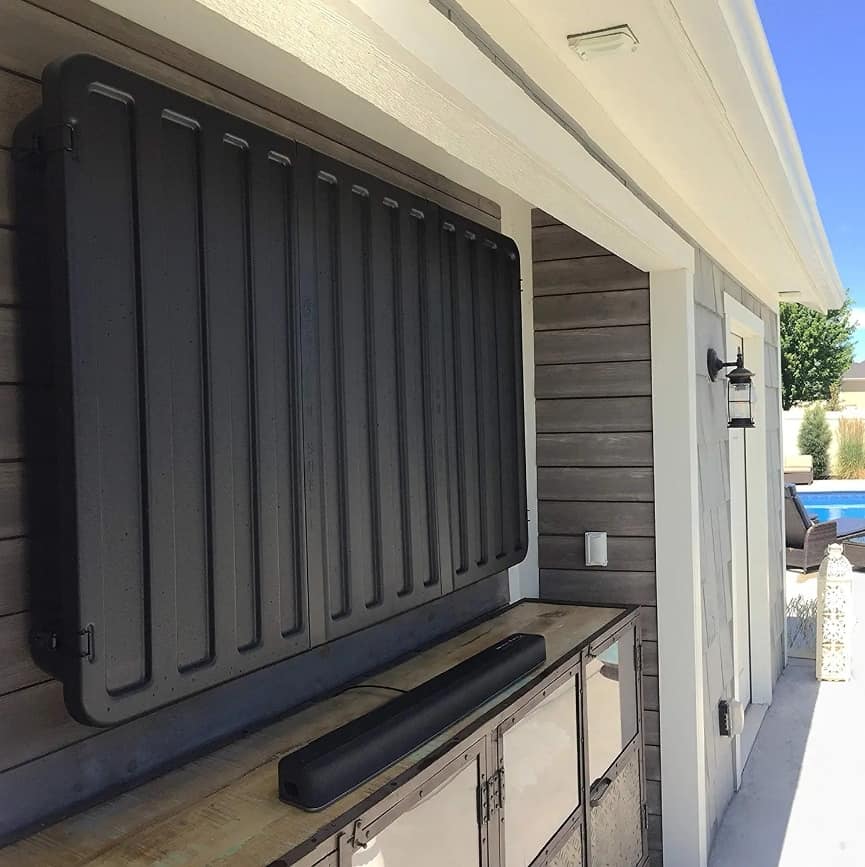 Bottomline Upfront
My top pick is the Apollo Enclosures. It is made from sturdy material, with solid enclosures over the screen that protects against glare. It has the widest variety in terms of sizes too, so any type of flat screen will fit. In second place is Storm Shell because it has a similar enclosure design to the Apollo, but it has UV protection which is great for hot places. 
What to Look For with Outdoor TV Cabinet Ideas
My dad tried to build his own when I was a young child; they didn't make outdoor TV cabinets back then. He used a regular cabinet but put some plexiglass on the front. It seemed to work well, but if the TV wasn't installed under an awning, there was a glare from the sun. But the idea of wood and plastic is important. 
Material
The best outdoor TV cabinets will have durable material that can withstand things like wind or similar outdoor elements. You also want a material that won't corrode, rust, or break down after exposure to water or sunlight. Some of the best materials include powder-coated aluminum or ABS plastic. 
Of course, you might not be setting up an outdoor TV in a place that has a lot of exposure to the elements; you might have an enclosed patio or a deck with a substantial roof overtop. Solid wood elevating cabinets or Ballard-style cabinets can work just fine in these cases. 
Protections
Look for things like waterproofing or weatherproofing. Check on UV resistance or impact resistance. Some of these prove more valuable than others, depending on where you live. I never thought about UV resistance much when I lived on the East Coast.
When I moved to the West Coast, things like my brand new Middle Eastern rugs, hand-picked on vacation, were completely bleached where the hot afternoon sun had hit. Outdoor patio furniture that had a high rating for snow and rain simply broke apart after two summers. 
In my dad's bar, his friends always seem to get a little too rowdy and forget their age. I think it's because adults stop having fun at a certain point in life and only talk about mortgage rates and child-rearing.
So, when they finally have a babysitter lined up and a chance to let loose, they let too loose… like that one person at a party who gets hammered by 7 pm before everyone else has even shown up. Now imagine that every person in attendance is that one person. 
For that reason, all of his indoor and outdoor TV cabinets have impact resistance measures. Someone invariably falls or trips into something. 
So, know what types of protection are most important for you. 
Speakers
You want something that won't impede the speakers. A good outdoor TV cabinet idea will transfer to the speaker audio instead of muffling it.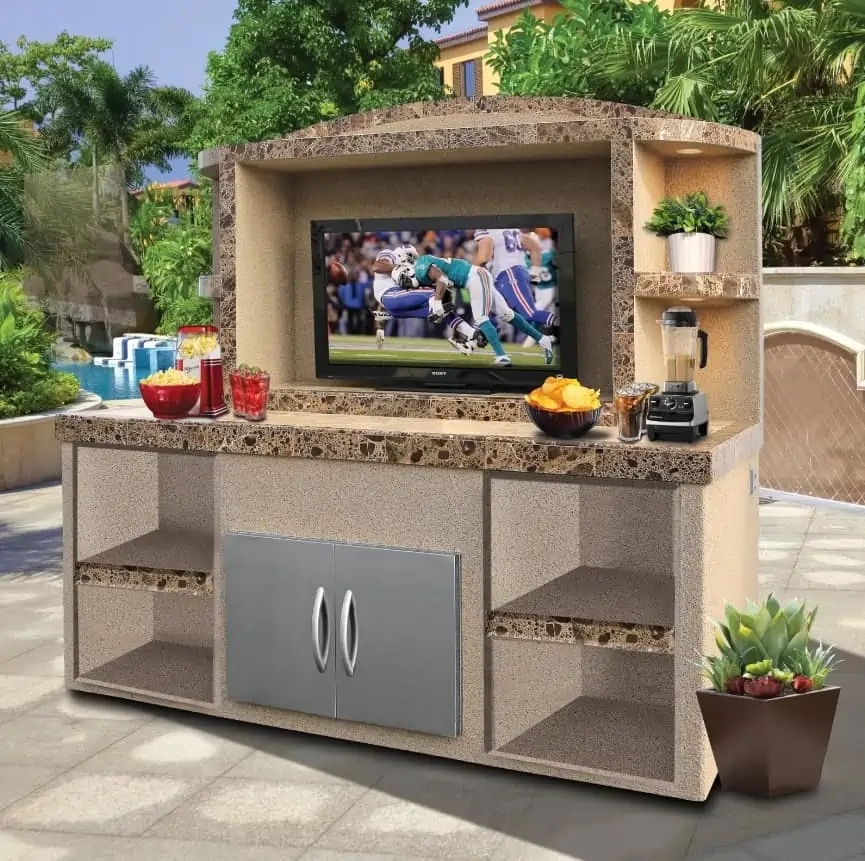 Installation
I hate installing any type of complicated hardware. I avoid buying unassembled furniture if I can. I would rather hitch up the car trailer and go deal with hauling it myself. 
Our home gym took an entire day to set up. So, I consider the installation when I look at outdoor TV cabinets. Some of the best outdoor TV cabinets are mounted, so they require standard TV wall mount brackets. Others are base-mounted, standalone cabinets. Again, it comes down to personal preferences. 
Best Outdoor TV Cabinet Ideas
Touchstone Mini Cabinet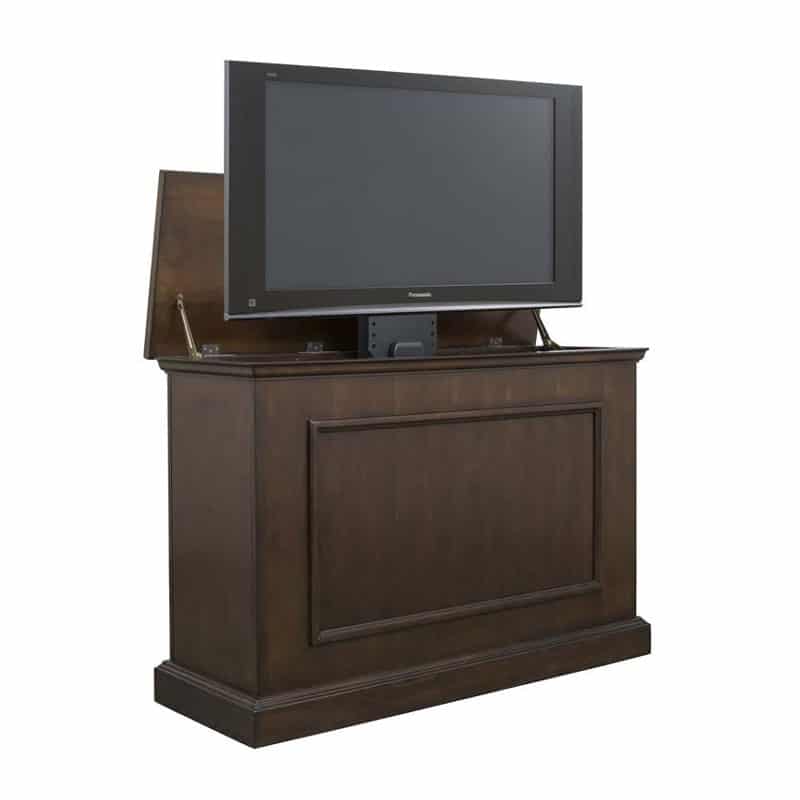 I remember watching Gilmore Girls as a teen (I always sided 100% with Rory. When I rewatched it ten years later, I was 100% sided with Lorelai. Unfortunately, I am old enough that I think Emily had it right all along). When Lorelai started dating Digger, he had this weird thing about not being able to share the same bed with anyone else. 
So, he put her up in his outstanding guest room, assuring her that it was such a nice room he wished he could have it for himself, but alas, it would disrupt his weird sleep needs. I recall out of everything he had to make it heavenly, the best was the Touchstone Mini Cabinet. 
From this otherwise normal-looking cabinet, a giant screen TV rose like a Phoenix from the ashes and was there, at the foot of the bed, perfect for anyone who wanted to fall asleep to late-night comedy. 
Well, now you can have that same elevating cabinet outside. It has a four-sided finish. With a simple press of a button, woosh, that bad boy elevates your flat screen. Everything is already installed (score) and is exceptionally quiet (unlike most hotel elevators). 
It has solid wood construction with a heavy-duty steel TV lift and mount. It fits most 46-inch TVs and comes with a remote for operating from a distance. What's more, you can set the height you prefer based on your outdoor patio table or seating, and it will remember!
Apollo Enclosures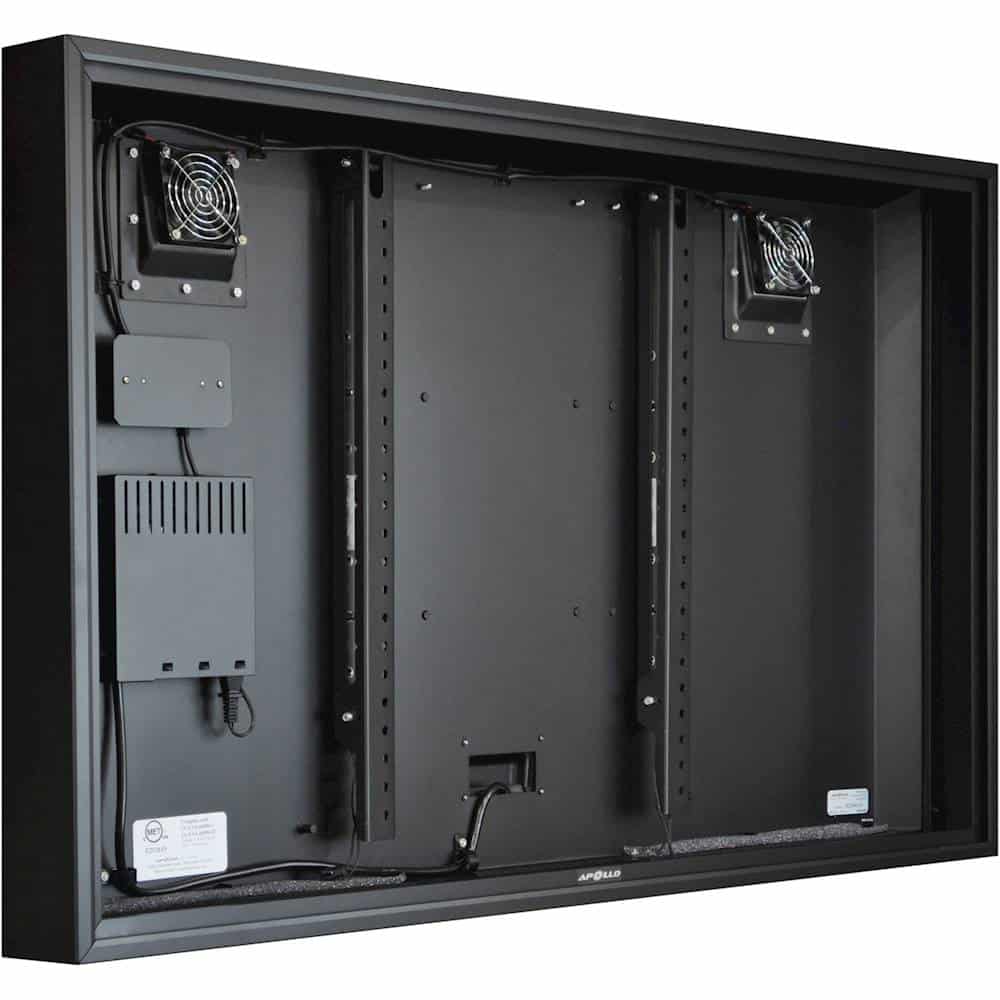 This Apollo Enclosures LCD enclosure comes in different sizes, from a 43-inch TV to an 86-inch TV, so it has more flexibility than the Touchstone Mini cabinet. It has nothing but good reviews. You won't get any glare on your TV screen because of the protection screen in the front. It is easy to install, with all the mount points and hardware included. 
This unit comes with speaker grilles, a tight seal, thermostatically controlled internal temperatures, anti-reflective glass, and durability powder-coated aluminum.
It is durable and seals beautifully around your television, so no dust, dirt, rain, or pesky little pests can get in. As someone on the West Coast, the fact that it filters the air inside and prevents the internal temperatures from exceeding 122 degrees is very useful. 
This is a wall-mounted TV cabinet, though, and there isn't really any room for storage or a place to put a remote control. 
Storm Shell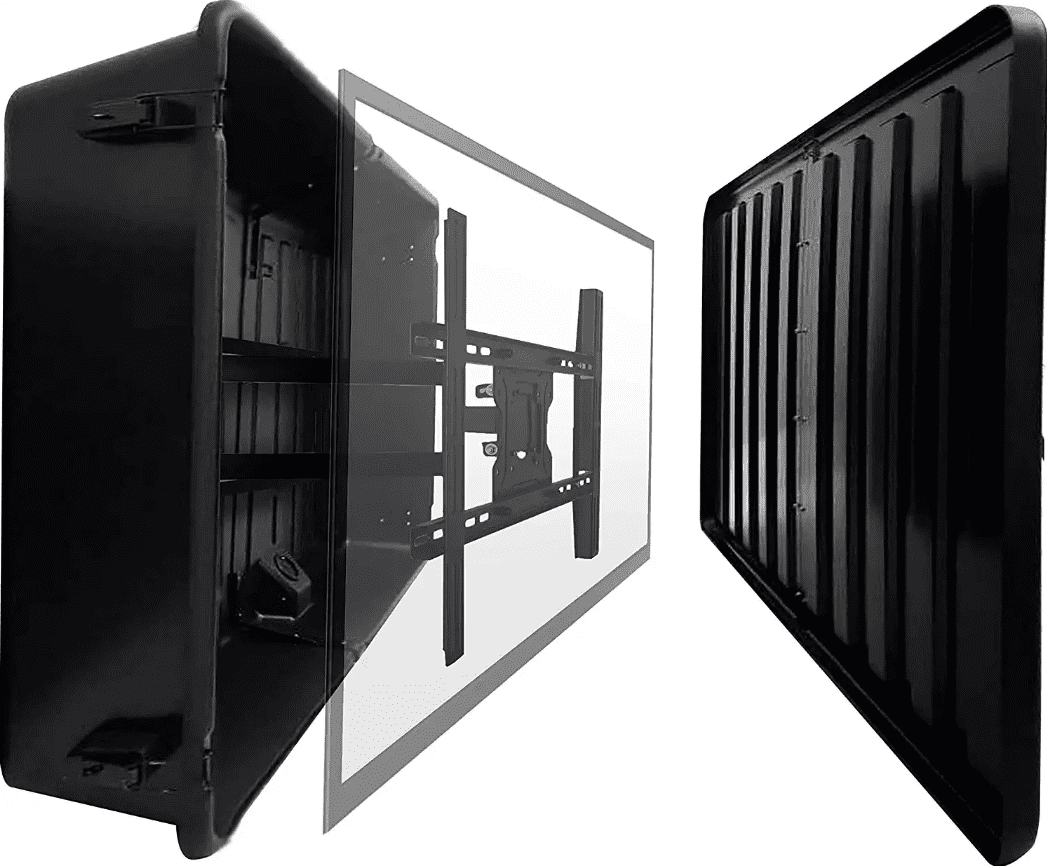 The Storm Shell is another wall-mounting outdoor TV cabinet. This, like the Apollo, encloses your television, so it stays protected while outside. It is impact resistant so if you have drunk friends who let a little too loose, have no fear. 
It can fit between a 32 and a 65-inch television, so it isn't as limited as the Touchstone but isn't as flexible as the Apollo. It doesn't have the speaker routing the Apollo has, but instead, it has a removable front cover, so the idea is that when you head out for a late-night BBQ and family movie, you take it off and watch without the cover, then put it back when you are done. 
It is made from ABS plastic. The mounting hardware is heavy gauge steel. It is waterproof and UV resistant (good for places like California), but it has to be assembled and mounted. 
Ballard Designs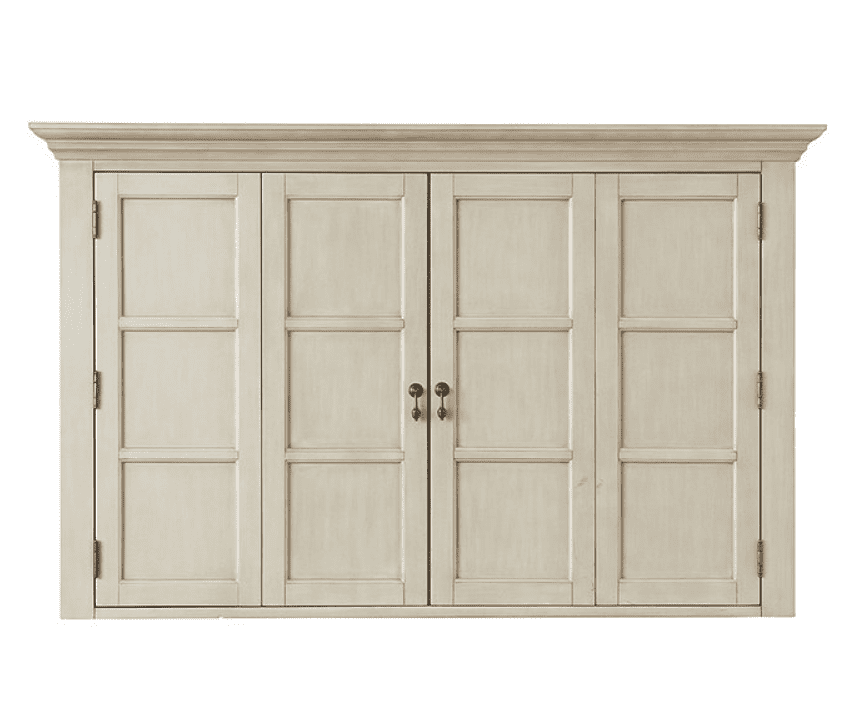 If you want an outdoor TV cabinet that blends in with your permanent outdoor patio furniture, consider the Ballard Designs cabinet. As a larger cabinet, you have to pay for large shipping, and it takes up to one week to ship (as opposed to the two days for Amazon), but it is well worth it. 
This cabinet looks just like a normal, wall-mounted cabinet. The double hinge doors fold nicely back into the wall when you are watching TV, so they aren't in the way. Two doors fan open to reveal the TV inside. 
The cabinet is constructed from hardwood and veneer with teardrop pulls. It fits up to a 55-inch TV and has space in the back for a wall mount. You have to mount it yourself, and it doesn't have the impact resistance or weatherproofing of some of the other ideas on this list, but you can always give it a nice weatherproofing coat before you hang it. 
This is truly meant for a classy outdoor patio space (not a raucous home bar). 
Whittier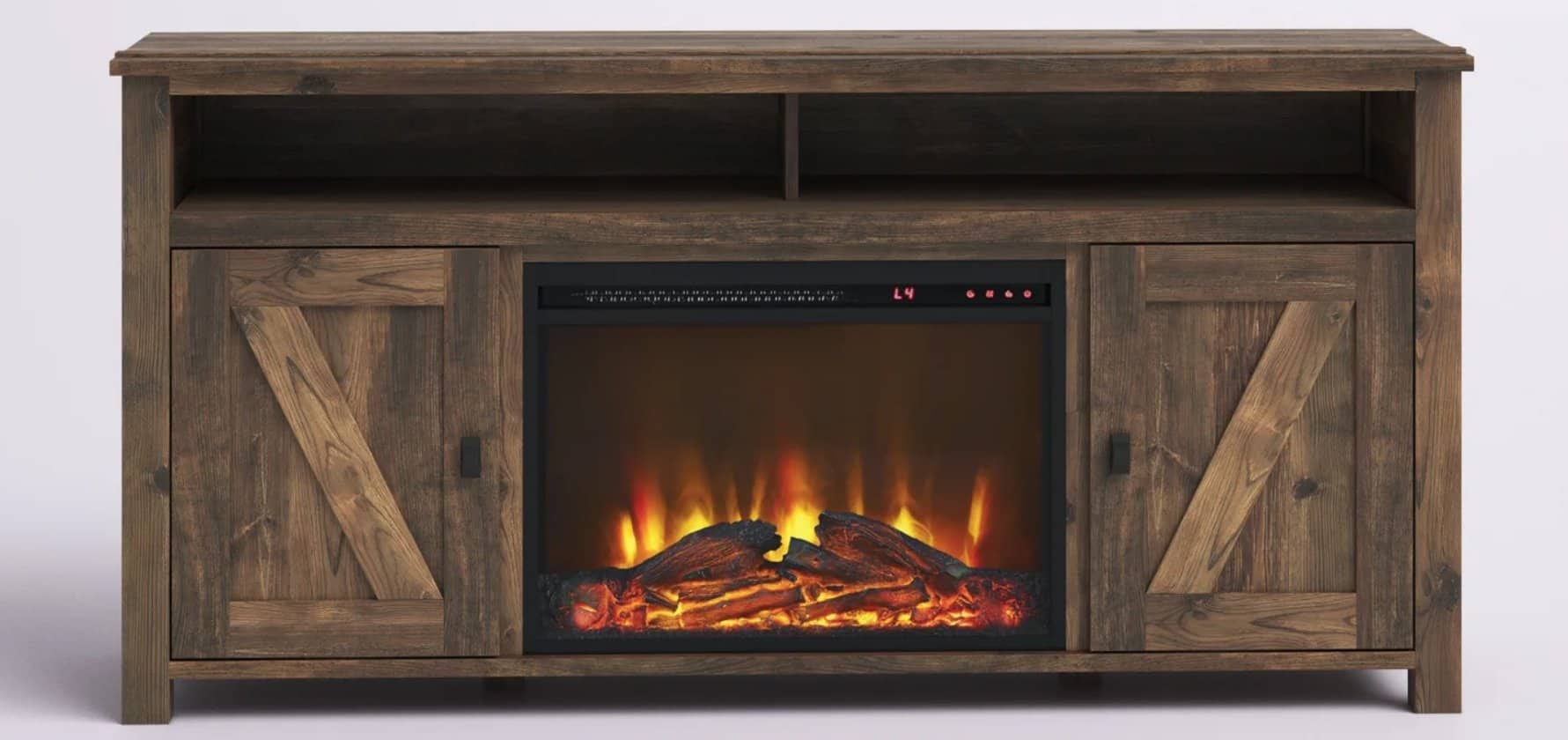 Similarly, the Whittier TV cabinet can be used outside. We actually did just that; we had a solid wood TV cabinet that wouldn't balance well on our uneven shag carpets, so we put it outside. Now we have a nice little viewing area for the parties COVID never let us have. 
What's great about this is that it fits up to 60-inch televisions on top. There is no wall mounting (hooray); it has space for a DVD player or speakers on the two open shelves and movie storage in the two cabinets. The best part, though only for aesthetics, is the fake fireplace that is included in the center. It really helps create a nice outdoor ambiance. 
Angelique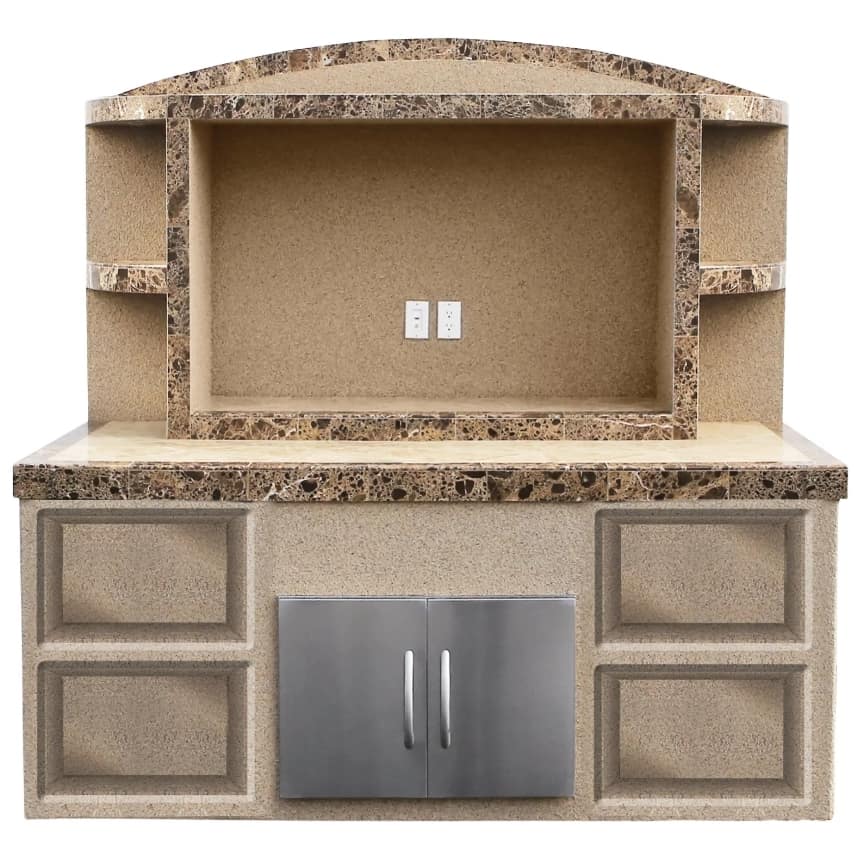 The Angelique is so much more than an outdoor TV cabinet; it is an outdoor entertainment unit. I love this one because of the storage it has. Firstly, there is a space to mount your TV in the back. Think of it like a kitchen window over a counter. 
There is a large marble countertop where you can set out drinks and snacks. Below that are open storage shelves and a built-in fridge. It has power to it so you can control the fridge space and the TV. It is massively expensive, at over six thousand dollars, but it is all made from marble and is intended to be a permanent addition to your backyard. All you need next to it is a BBQ and some chairs. 
The downside (other than cost) is that the TV is only protected by the recessing. It doesn't have any type of enclosure, waterproofing, or TV protection. The upside? You can make do with something like the Apollo and then install it with the protective frame into the recessed niche. 
FAQs
Question: Can a regular TV be used outside?
Answer: Yes, a regular TV can be used outside, but only if you add some protection. You don't need a torrential storm or unprecedented heat wave to cause problems; things as simple as bugs or your landscaper blowing dust around could damage your TV. Thankfully, some of the best outdoor TV cabinet ideas have built-in protections that enable you to use a regular TV outside, like the Apollo. 
Question: How long does an outdoor TV last?
Answer: The cabinet will outlive your TV. If it is protected from direct rain, like being placed under an awning or something, with a cover or case like the Touchstone or Apollo, then your TV should last a few years. If you don't have protection, then you shouldn't expect your TV to last more than 6-12 months. 
Question: What storage is on an outdoor TV cabinet?
Answer: This depends on the design. Some offer mere protection for the TV, so you can mount it. For these designs, you have to consider another cabinet underneath for storage if you need a place for drinks, snacks, pillows, remote controls, DVDs, and so forth. Other designs have built-in storage on top of or around the TV, some more limited than others. Again, this comes down to personal preference. 
Best Outdoor TV Cabinet Ideas: Bottomline 
My top pick is the Apollo Enclosures because of their variety in sizing, material, and anti-glare components. Storm Shell is my next favorite because it has a similar enclosure design to the Apollo but UV protection, which is great for places with a lot of direct sun. What's more, it's the only one that routes speakers so that you can hear what is going on without any muffling.