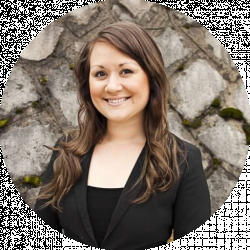 Latest posts by Lacey Jackson
(see all)
My family owns a home remodeling company and over the years, I've learned that one of the fastest and easiest ways to class up a home remodel (especially in the bathroom or kitchen) is to add new hardware. Part of the hardware adds style because it's what you see when you look at cabinets or drawers.
The other part adds class because it is what's behind closed doors, the things like push-to-open features, magnetic latches, and catches all of which prevent doors from slamming shut or help keep them closed.
These simple touches are what separate my family's business from the guys who pop onto the scene offering cheaper rates but lower quality and invariably close their doors within a few months. Lowe's has thousands of options if you want to replace or install new cabinet hardware, and they are a go-to for us.
There are over sixteen thousand varieties and styles, so you can customize your look with whatever finish, style, or shape you want.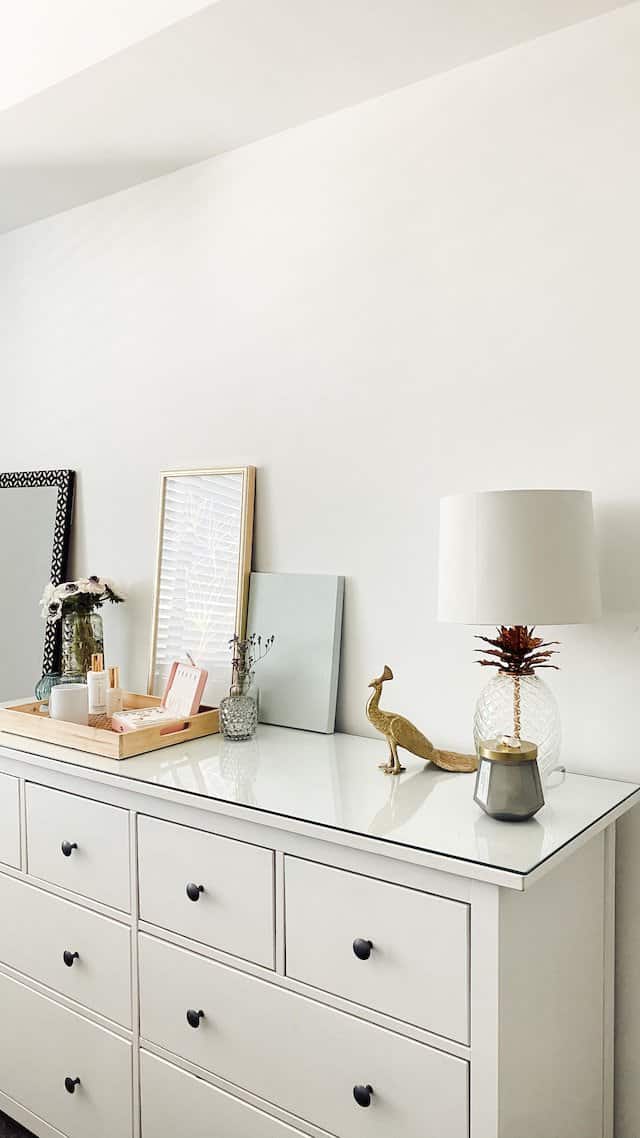 Bottomline Upfront
Lowe's has thousands of options for cabinet hardware, but not all are created equal. I love the Brainerd line, and so does everyone else at Lowe's. They have nothing but five-star reviews on all of their products. If you want something a bit more unique, you can invest in the Ethan Line, Amerock, or Hickory Hardware. 
Finding Cabinet Hardware at Lowe's
I have this problem where I think I am really good at math (Asian), and then I order something online, and it's either much bigger or smaller than I expected. One time I ordered a pack of twelve cork-topped glass vials in which to store popcorn salt to go with some Christmas gifts. The vials ended up being so small I had to use tweezers to get the corks out and could fit about six grains of salt inside. 
So, if you are anything like me, I recommend visiting Lowe's in person and taking some of your current hardware with you. This will help you gauge the sizing. 
If you aren't like me, online shopping is a breeze because you can choose the categories you prefer: traditional, knobs, brass finish or contemporary, pulls, and chrome plated finish. 
Either way, I've pulled some of their most popular bestsellers for each category to get you started. 
Cabinet Pulls
Pulls work the same as knobs but are longer, thinner, and sleeker. They usually require two or more screws and bigger screws at that. They come in many shapes and finishes too, but the most common are:
Arched

Bar

Rectangular

Cup
Brainerd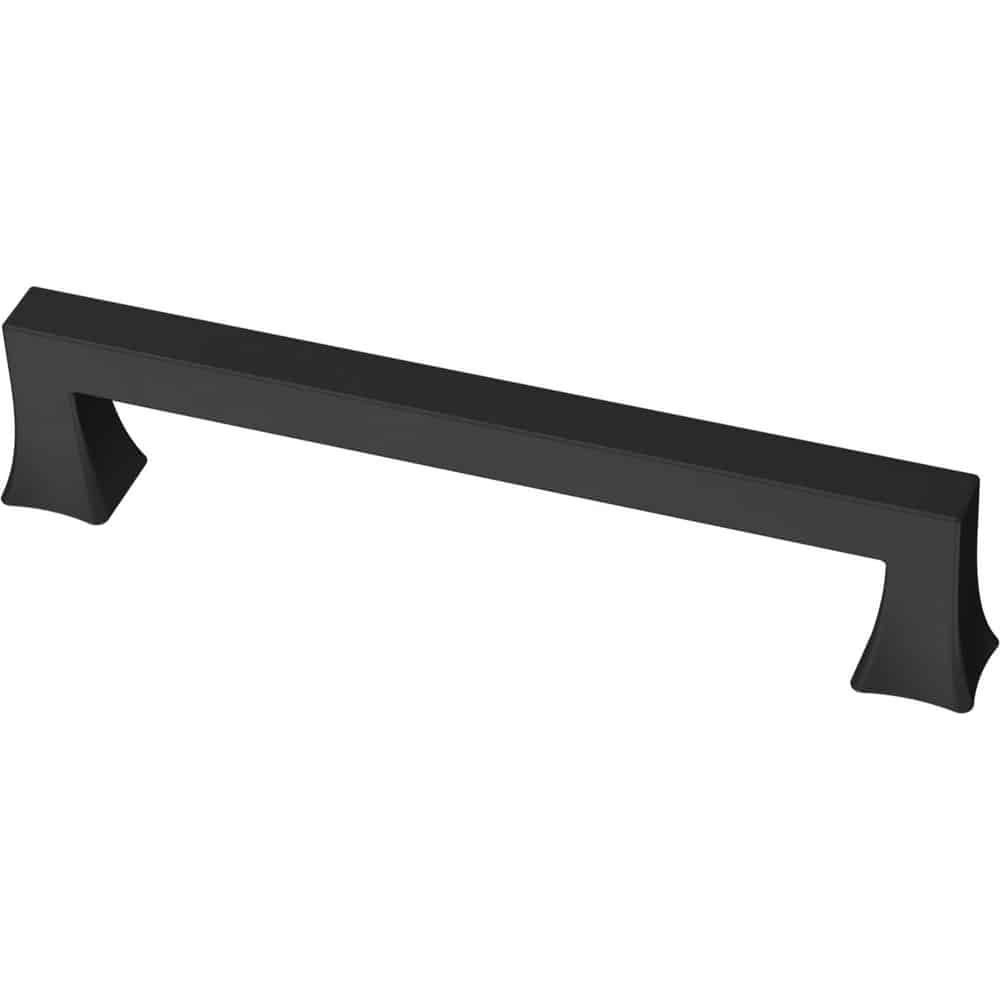 For drawer pulls, the bestseller at Lowe's is the Brainerd casual square. They are just over five inches long and very elegant, with a sharp curvature that makes a nice ninety-degree angle compared to the flowing arch of the Ethan line below. You can pick matte black or chrome. 
Ethan Line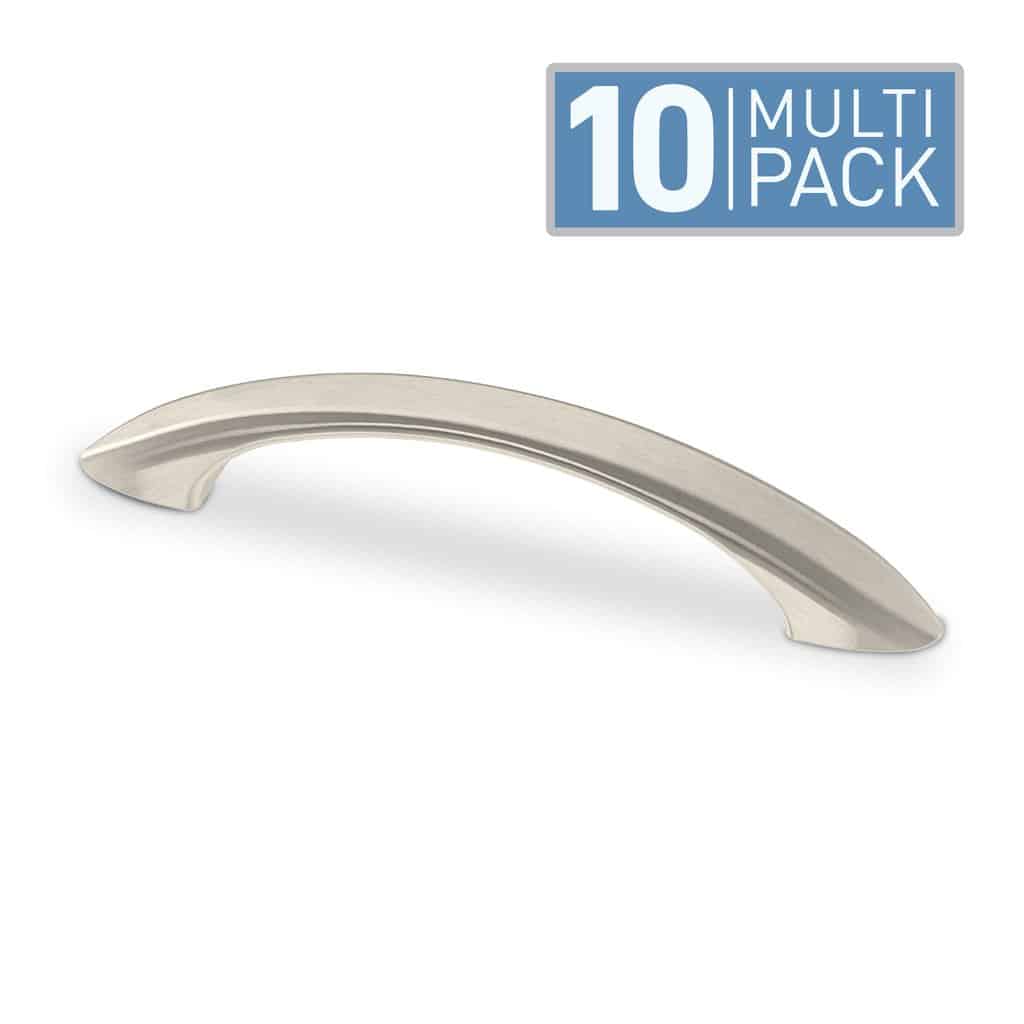 Brainerd has the Ethan line of arched cabinet drawer pulls. My family regularly uses these classic, modern, and contemporary options.
You can use these in a satin nickel, black, or chrome finish. We use them in kitchens and bathrooms. I like that they install without any power tools and complement any color pattern in the space. You get a lifetime warranty should something go wrong. 
Laurey Melrose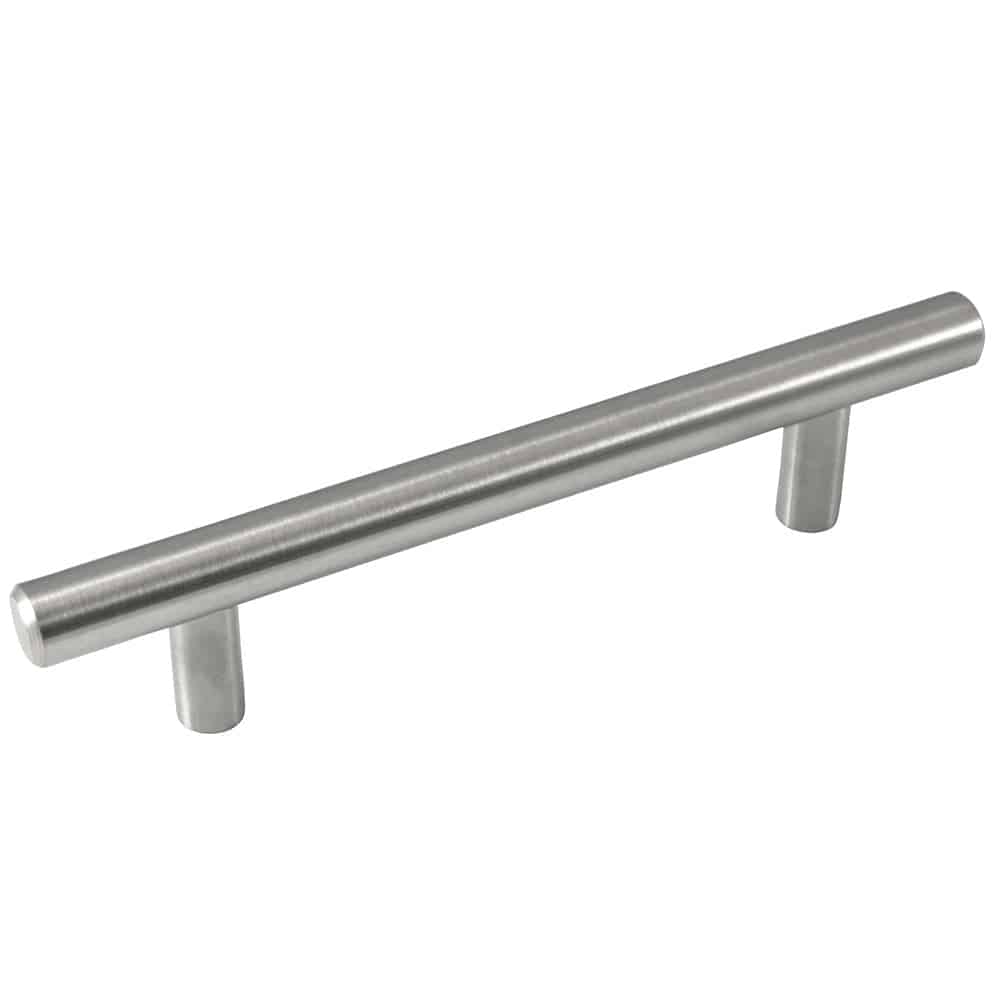 For cabinets that have a legal feel, the Laurey Melrose has the same metal handle as the Brainerd but extends beyond the two points of installation, so it looks longer and sleeker. It's a hollow steel bar that you pull to open. It's just shy of six inches in length and comes in silver or black. What's more, you get a lifetime warranty. 
Cabinet Knobs
Knobs are the small handles that go on the outside of doors and drawers. They require a single bolt or screw. Some, like the Brainerd line, have screws built into the knobs, so they are easier to install. These come in all shapes and sizes, with dozens of finishes. The most popular include:
Rounded knobs

Rectangular knobs

Mushroom shape

Novelty shape (like turtle shells)
Brainerd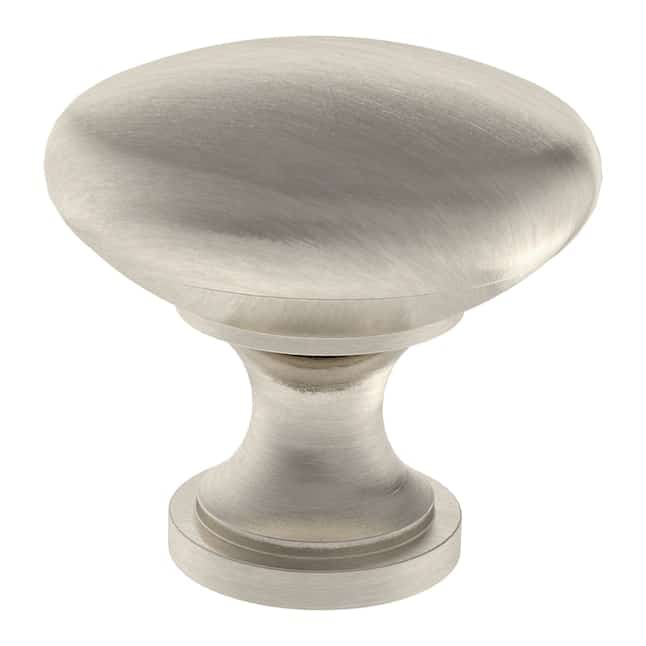 Brainerd is their most popular model with its casual rounded knob design in many colors. You can find casual rectangular knobs too. They have rounded knobs with black and white ceramic inserts too.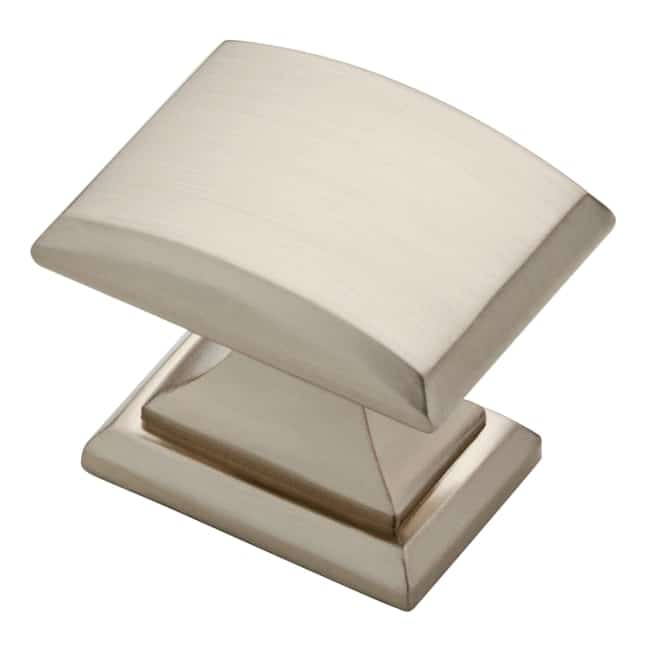 Brainerd is one of the most popular brands at Lowe's because of their durability, finish, and style. There are hundreds of positive reviews. Literally, nothing but five stars for each of their styles. They all come with a lifetime warranty too.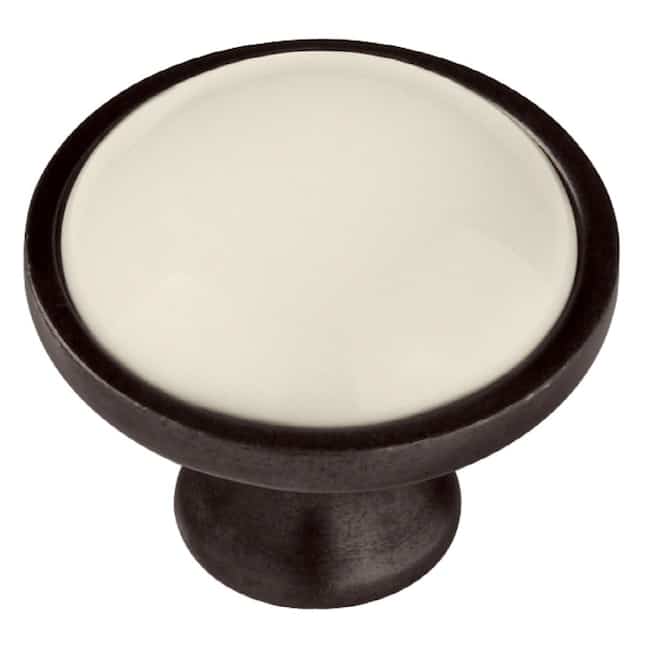 Allen + Roth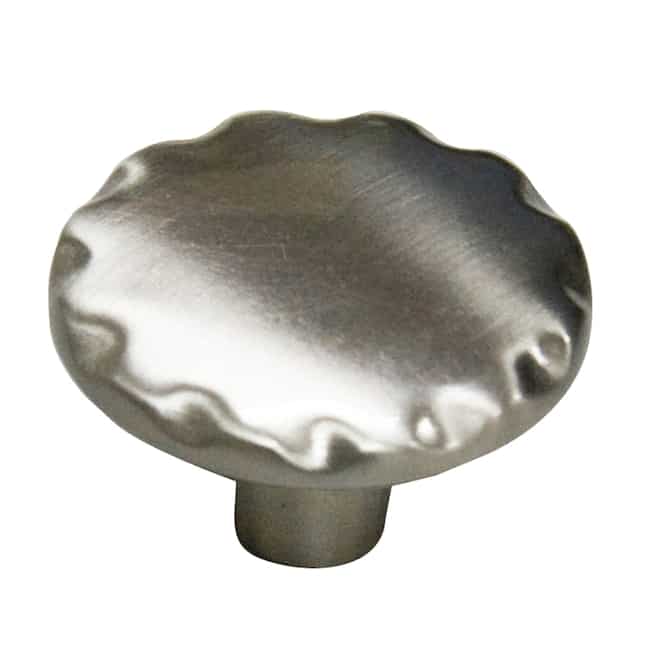 Allen + Roth is next in line behind Brainerd. They have the same rounded knob shape for your cabinets, but slight indentations are along the perimeter. It looks just like how you fiddle with the end of a pie and make small indentations before baking. Customers have given nothing but good reviews. These are simple, easy to use, install, and beautiful. 
Hickory Hardware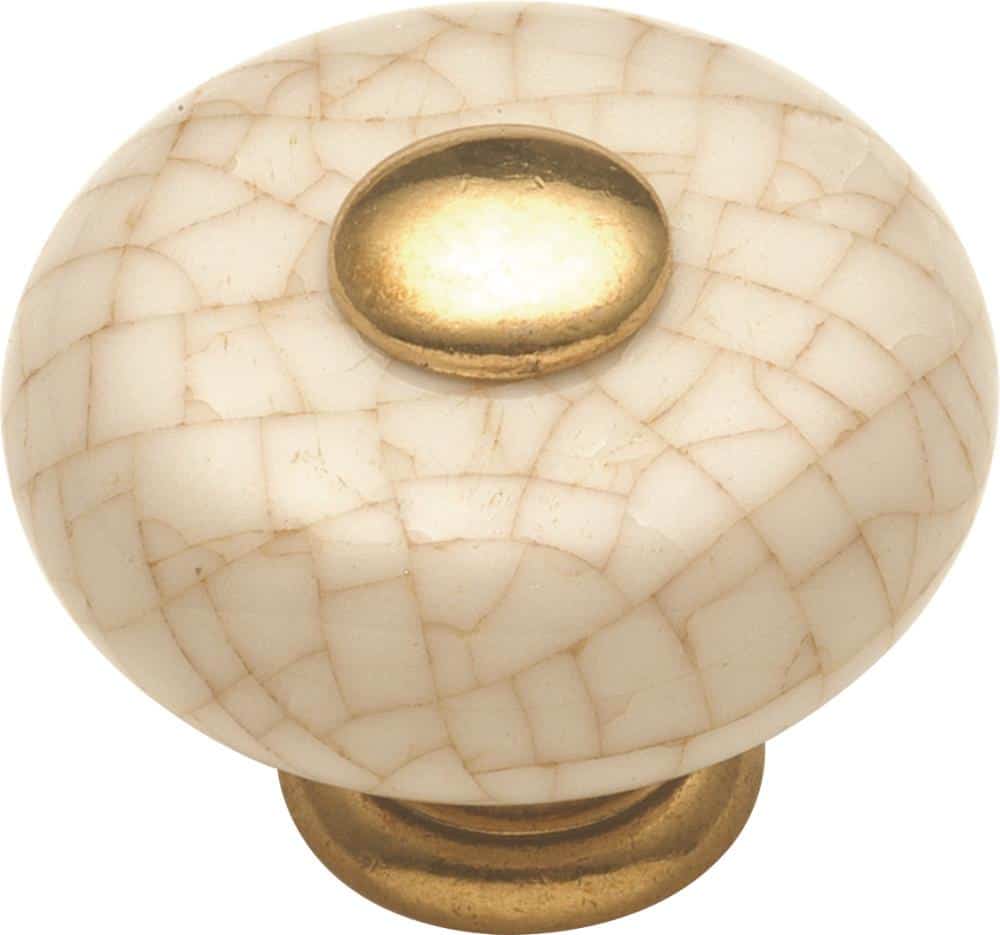 Hickory Hardware offers beautiful vintage brown crackle finishes on its cabinet knob hardware. You can also find many unique designso, like their black iron knob. These have a mushroom shape on top; aside from the finish, they are otherwise traditional in style. You get all the mounting hardware, and it is very easy to install.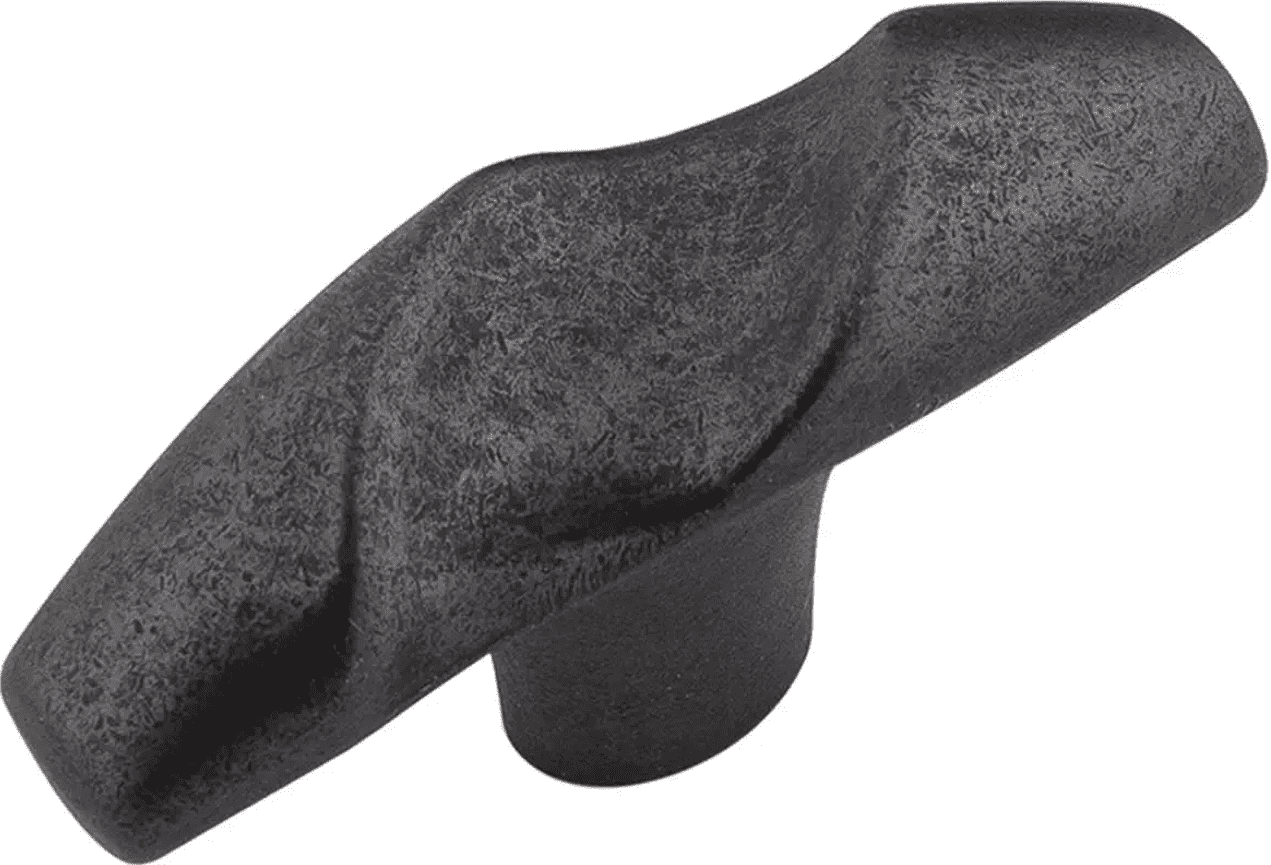 Amerock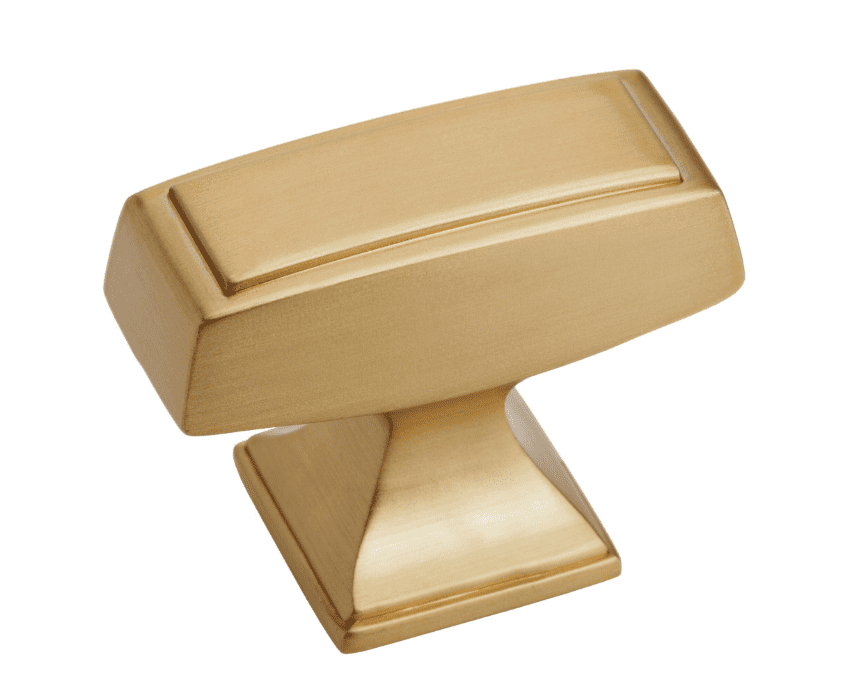 Amerock has beautiful rectangular knobs available in nine finishes, like champagne, gilded bronze, and gunmetal. These have very sophisticated lines and details. There is a lot of shine to any finish you pick. This company has been on the receiving end of many awards for its decorative cabinet hardware, and it's easy to see why. 
HomeRoots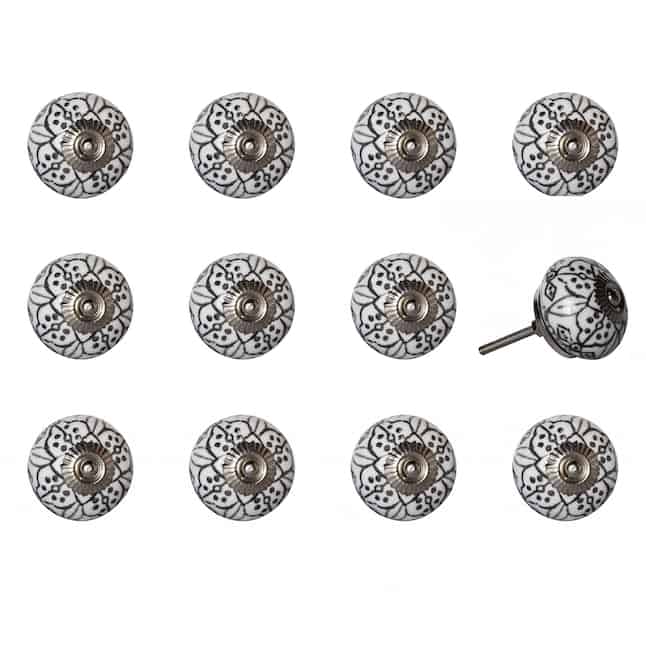 HomeRoots offers something much more unique, with ornate pieces painted with black and white flowers. They are each hand-painted, so you get something outside of the normal purview of black or silver cabinet hardware. They work well for smaller, more charming places like wardrobes, drawers, and doors. 
Buck Snort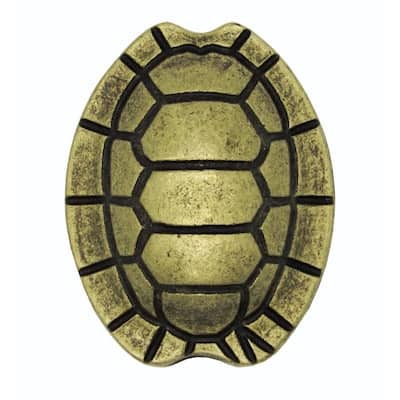 Buck Snort has a solid cast zinc knob that looks like a turtle shell. It is a novelty shape, so it doesn't have the normal rounded or rectangular shape. The lacquer colors are baked on, so you don't have to worry about them breaking down. 
Stone Mill
Stone Mill has a fun take on the traditional knob. Instead of a round cabinet hardware knob, this unit has individual strands of metal that round together to form a metal cage in the shape of a knob. It has a gentle arch, so it conforms nicely to your hand when you grab it. I love this look, like something you would expect in the Casper castle, with the open wrought iron metal stairs. 
Cabinet Backplates
Backplates are finished metal hardware that rests between the door and between the cabinet hinges, catches, or latches. They can cover holes in your cabinetry and protect the exterior. 
ReliaBilt
ReliaBilt has many great offerings here, with brown and antique copper finishes. Their backplates work well with double magnetic catches. 
Richelieu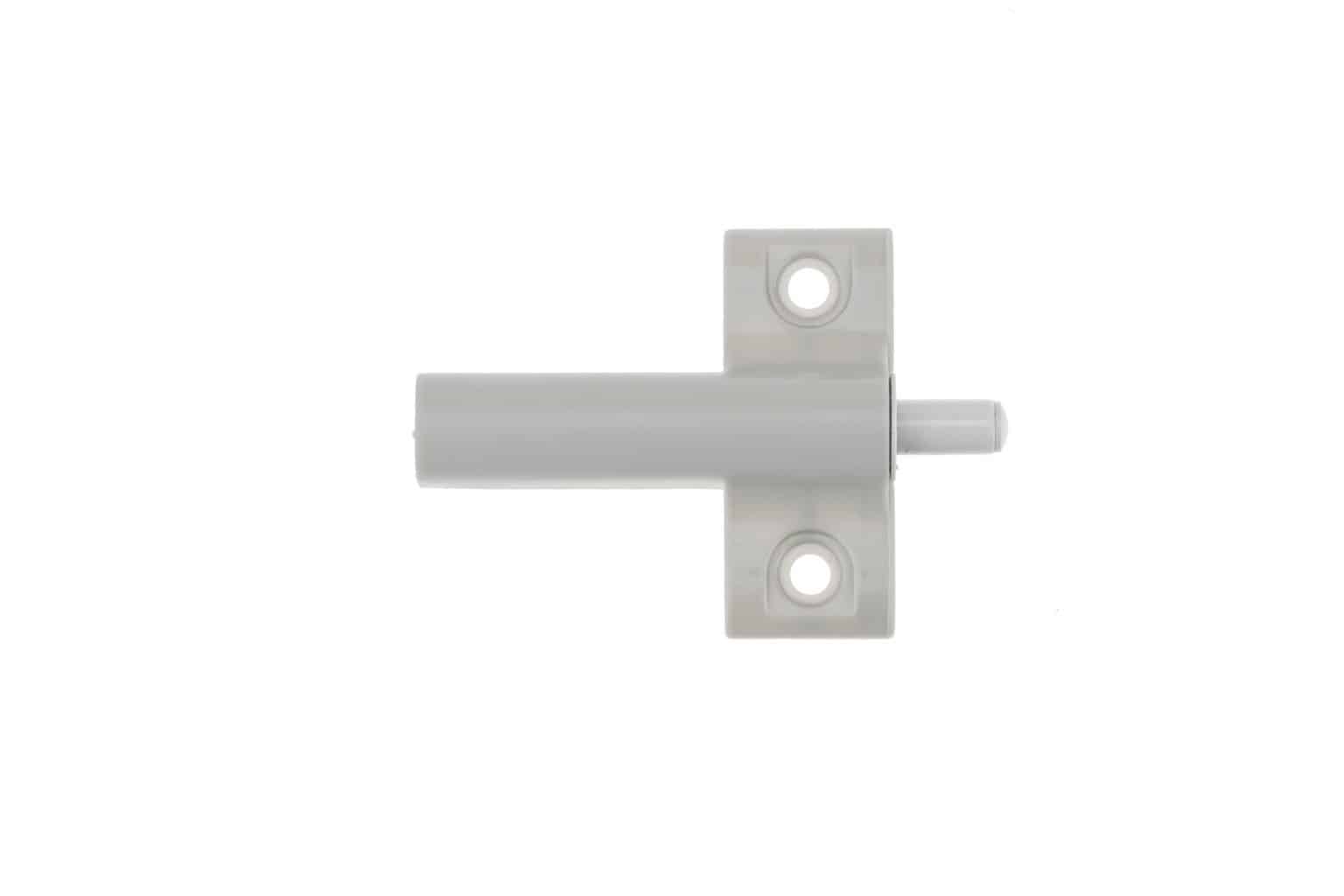 Richelieu has a lot of backplates for soft-close designs. Their cabinet backplates reduce the noise from cabinets slamming shut (which kind of takes the fun of a kitchen-centered storm out). 
Cabinet Catches and Latches
Catches are hardware meant to catch a door without self-closing hinges. Latches hold a door closed until you use a knob or pull to release it from the latch. Spring roller and magnetic catches help keep the door secure against the frame. 
Sumner Street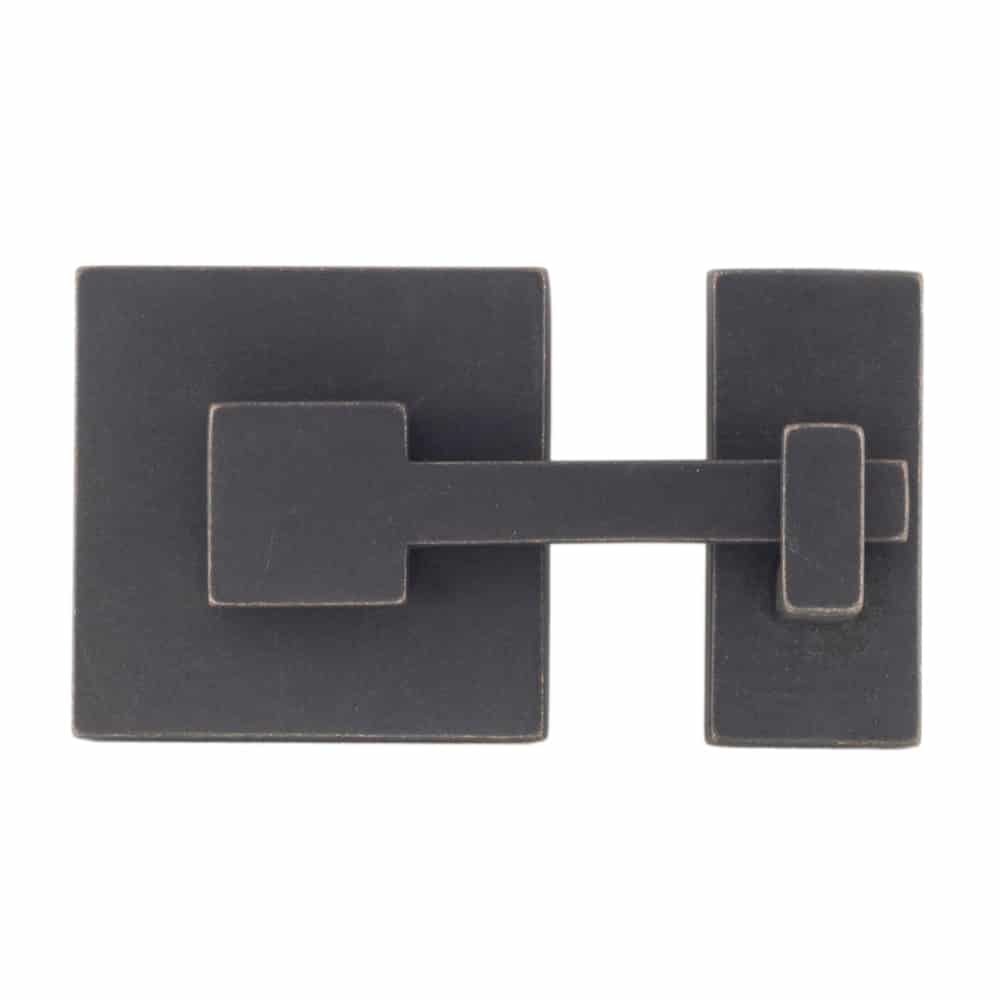 Sumner Street is the best for visible latches. These are meant to combine with things like pulls and knobs. They have all the mounting hardware and are easy to install. 
Amerock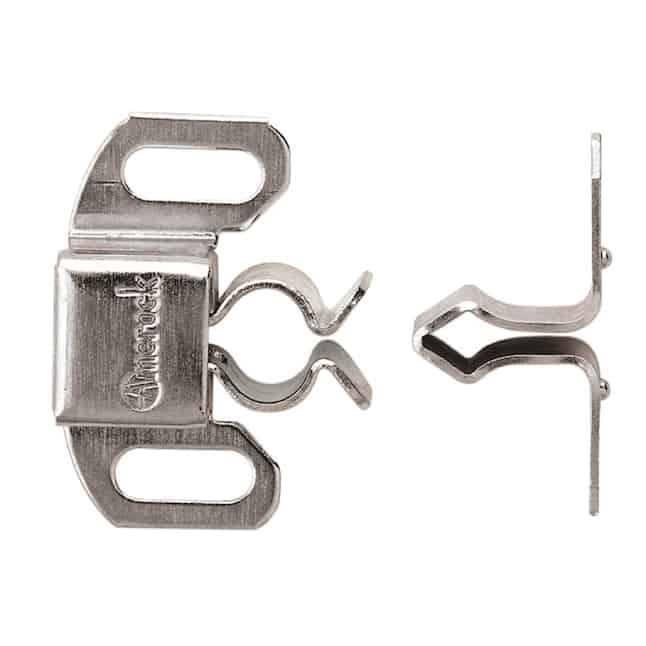 Amerock has cabinet latches that use the flex grip catch system. If you are unsure what type of hardware works best for your needs, read more on latches and catches. 
Richelieu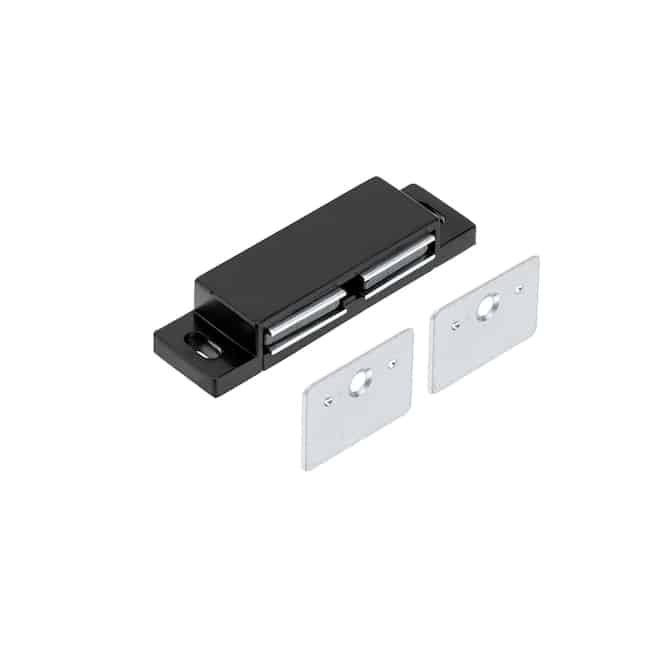 Richelieu has a line of polished cabinet latches for magnetic catches. They come highly recommended at Lowe's and have nothing but five-star ratings from customers. 
Cabinet Hinges
Hinges go on the inside of the cabinets and aren't used to open the cabinet door or drawer but to hold it in place. The hinge is what lets it open or close completely. Most of these are not visible unless the drawer is open, so the style isn't nearly as important as the function.
The one thing you need to be aware of is how many hinges you need based on the weight and height of your cabinet door. 
If your cabinet door weighs less than eleven pounds and isn't taller than forty inches, you can get away with only two hinges. This is most common, which is why a lot of cabinet hardware at Lowe's comes in packs of two. 

Use three if it weighs up to twenty pounds and is up to sixty inches tall. 

If it is up to thirty-three pounds and eighty inches tall, use four and for all else, use five per door. 
Lowe's has a lot of cabinet hinges with features like soft-close or self-close functions. These do exactly as their respective names imply: close your cabinet doors softly or close them without you having to push them shut. 
Amerock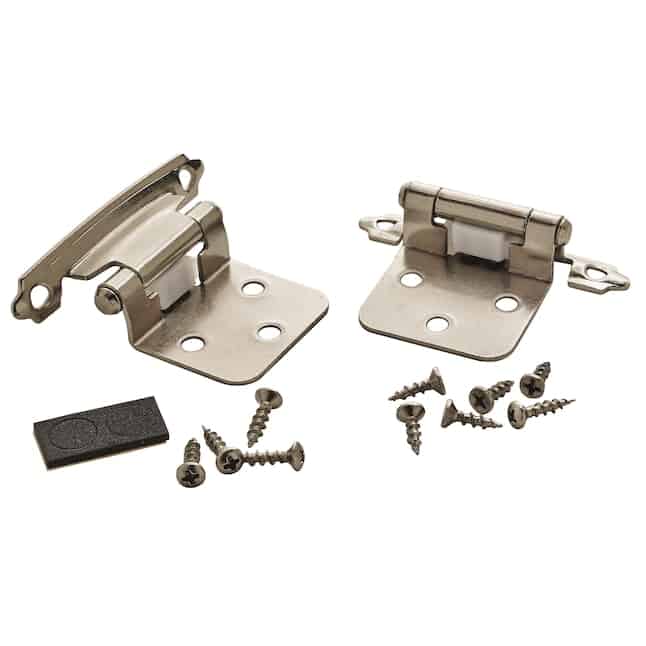 Amerock is available in many finishes, like antique brass, gold, or polished chrome. These are reverse bevel hinges that customers adore. They have a five-star rating. 
ReliaBilt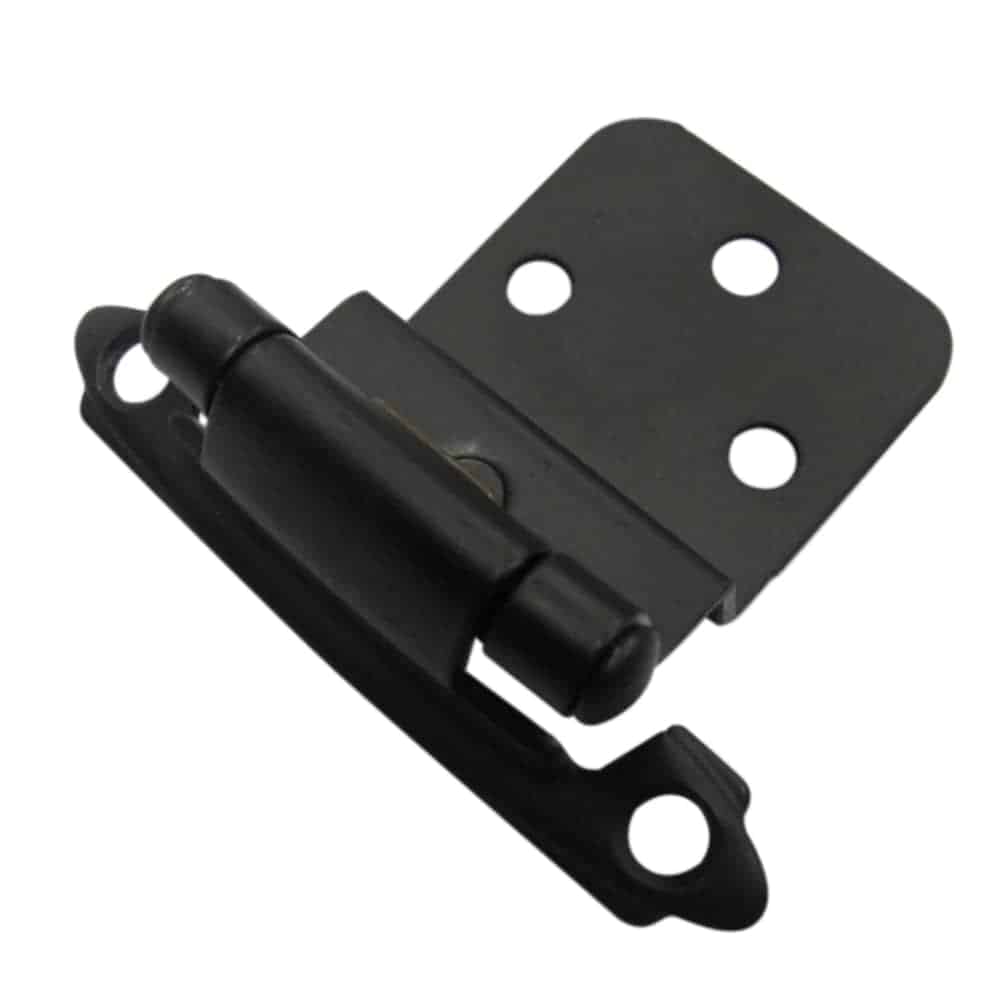 ReliaBilt is a cabinet door-mounted design that is partially concealed behind your cabinets. They are self-closing hinges, so your doors shut as soon as you are done with them. The matte black and nickel plated finishes fit any room. Made with steel, they come in packs of two. Customers have nothing but good things to say about their ease of use and reliability. 
Hickory Hardware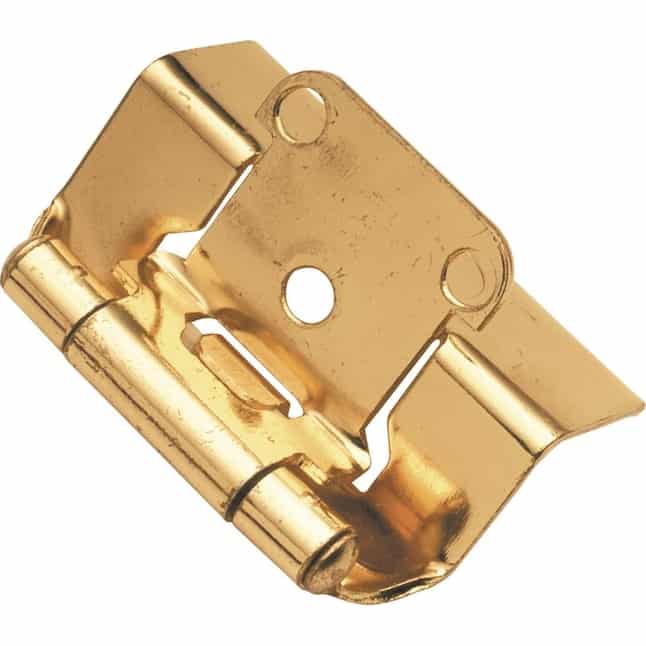 Hickory Hardware has a range of antique brass and self-closing hardware for cabinets. This hardware is concealed behind your cabinet doors and prevents them from slamming shut when you close them. Customers highly rate them for their functional style and easy installation; all you need is a screwdriver. 
Gatehouse
The Gatehouse antique brass hinges are spring-loaded hinges for cabinet doors. The antique brass finish over the gold is a beautiful color. 
Style and Finish
Style is the most important thing to consider when evaluating Lowe's hardware. The reason is you can find any latch, catch, hinge, knob, or pull in dozens of styles and finishes. This means you can decide you want a magnetic catch on the inside with a mushroom-shaped knob on the outside, and you can find both of these parameters in dozens of other styles and finishes. 
For style, you can go with traditional. Traditional hardware from Lowe's covers more ornate pieces, from things like rustic cabinet hardware to embellished farmhouse styles to antique, detailed pieces.  Lowe's has many contemporary styles, with modern looks, clean lines, and monochrome finishes. For contemporary items, you are more likely to find stainless steel as the main finish, followed by black. 
Then there are eclectic pieces that have more personalization, decoration, and accents. The finish is the second most important thing. You can choose a finish that matches other pieces of furniture or the appliances in a functional space like a bathroom or kitchen. Some of the most common include:
Brass finish

Nickel plated finish

Gold or silver

Distressed

Black

Silver chrome

Colored
The finish should be complementary. If you have a contemporary room, high gloss or enameled shine can work well but if you have a traditional space, consider nickel or antique brass. 
FAQs
Question: What is the return policy at Lowe's?
Answer: If you keep a receipt and your unused products, you can get a refund within 90 days of purchase. This applies to purchases made in person, online, or picked up in your car. This is beneficial if you are unsure what sizes you need for cabinet hardware because it means you can buy what you think is the right size, try it out, and if it doesn't work or fit, you can return it and get a refund or a replacement for another size, make, or model. 
Question: Does Lowe's have a lifetime warranty?
Answer: There is a lifetime warranty on many of the Lowe's cabinet hardware. The most popular brands, like Brainerd, have a lifetime warranty against any defect or problem. Some of the novelty shapes, finishes, or more obscure lines of cabinet hardware have more limited warranties, like ten years. They will say in the description what warranty is provided if any. 
Question: Will Lowe's ship to home?
Answer: Yes, Lowe's will ship to your home. If there are items in stock online but not necessarily at your nearest Lowe's store (or maybe there isn't one near you), Lowe's will ship cabinet hardware to your home. You have to pay for shipping lets you take advantage of any current sales or minimum purchasing requirements to avoid the shipping fee. 
Question: Can I pick up outside Lowe's?
Answer: If you order any cabinet hardware from Lowe's, you can place an order online and, if available at a local store, pull up and wait in designated areas for delivery to your car. These services are only available in certain areas and for cabinet hardware that is currently in stock. 
Bottomline 
Lowe's has thousands of options for cabinet hardware, and the Brainerd line is their best out of every line they have, whether you want knobs or pulls or something else. It has nothing but five-star reviews on all of its products. Other great options include the Ethan Line, Amerock, or Hickory Hardware.