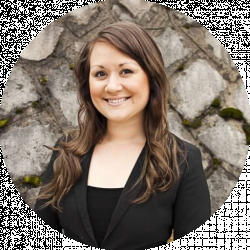 Latest posts by Lacey Jackson
(see all)
I can never have enough storage in my home. But I like my storage to blend in with the other furniture. In the office, the gym, the kitchen, and the garage, this means black storage cabinets and black hardware. As my mother always says, "I want it black like my soul." 
My family owns a remodeling business, and when they redo kitchens or bathrooms, they tend to use the same patterned tile with white, tan, and black hues. So they also pick black storage cabinets as accent pieces. Suffice it to say, I've learned a lot about the best black storage cabinet ideas. 
Bottomline Upfront
Wydenhall is one of my absolute favorites. I love the British Colonial style. If you need a lot of storage, invest in the Prepac Elite. You can pick and choose the number of cabinets you get up to nine. If you are on a tight budget, Costway is a popular option. It looks good and offers decent storage without compromising your bank account. 
Black Storage Cabinet Ideas: What I Look For
When I look at black storage cabinet ideas, I have very different selection criteria depending on how that cabinet is going to be used.
Size
In spite of what I told an ex-boyfriend once upon a time, size is important. You have to consider the available space in which your black storage cabinet will rest. Sometimes you want a wide, short storage cabinet, and other times you want something tall and narrow. I've included both. 
Versatility
When I evaluate black storage cabinet ideas, I consider versatility. What works well for a bathroom or kitchen regularly exposed to high moisture levels won't necessarily be what you need for a bedroom or an entryway. Similarly, the material you might pick for your living room is drastically different from the material you need for an outdoor cabinet that can withstand fluctuating temperatures.
Weight Allowance
An equally important consideration is the weight allowance. The black storage cabinets I have in my office don't have to support anything aside from regular office supplies like paper, a printer, or a laminator. As such, a weight allowance between fifteen and twenty pounds per shelf is fine. You must evaluate how you intend to use the cabinet before picking a black storage cabinet idea. 
Something I put in an entryway or a mud room where I can leave all of my hats and scarves in the winter doesn't need a lot of weight capacity. However, if I need something for a garage, it has to support a lot more weight because it's going to hold heavy cans of liquid like paint or varnish, hefty vintage tools, and other items.
Black Storage Cabinet Ideas: My Top Picks
Hopper Studio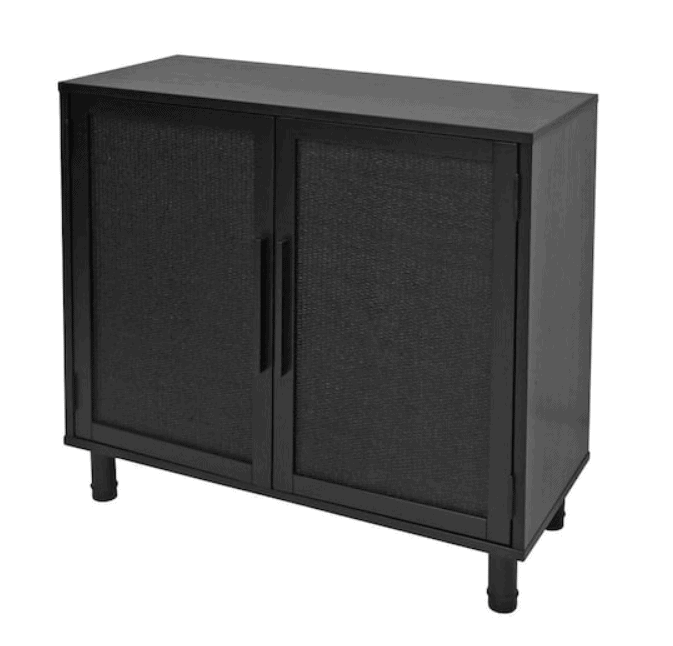 Hopper Studio is your solution if you are looking for something that is easy to assemble. Personally, I go for the easy-to-assemble options over the durability (and then my better half starts in on the lecture about long-term investment costs).
But I don't like waiting on someone else to help me assemble things; I work from home, so when I have a break and the mood strikes, so, too, do I. So I stick to what I know.  This video shows you, generally, how to assemble a storage cabinet:
On the Hopper, the door handles are built-in, so there is no extra hardware to install. You have some hinges, but the parts for the latches are already supplied. Put on the feet and the shelf, and you are set. 
Prepac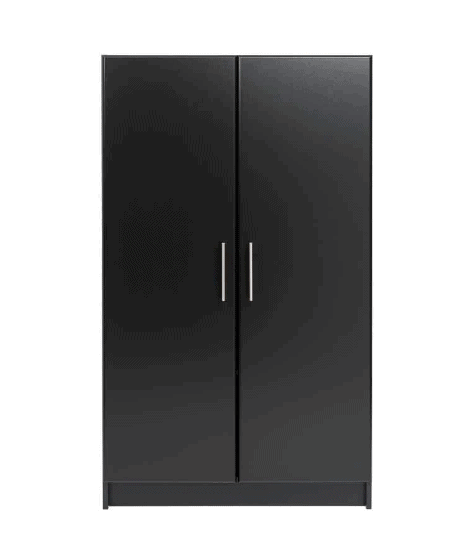 Now, it doesn't matter how easy to install something is if the instructions are complicated. That's why Prepac takes the cake when it comes to well-written English instructions. You won't find instruction manuals clearly translated (poorly) from Chinese (using Google translate and copy + paste). 
Prepac is very popular for its line of storage options, including freestanding bathroom storage, garage cabinets, and overhead storage.
This is a wood, freestanding cabinet that is functional and stylish. It is marketed as garage storage because it has that industrial look and feels to it with metal hardware, no frills, and sleek lines. But it works equally well in an office. 
Prepac Elite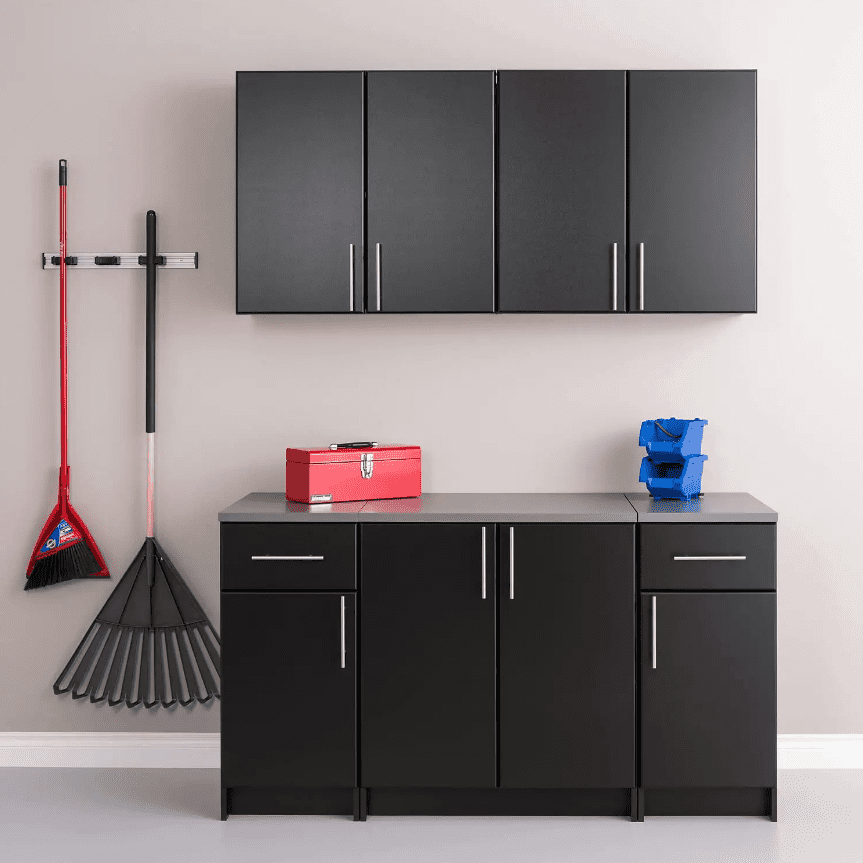 This Prepac Elite model is like a black storage cabinet on steroids. They have a five-piece set, a six-piece set (with deep shelves or standard shelves), and a nine-piece set. These are meant to be your final storage solution. 
They are all black with rounded edges, metal bar handles, and sleek cabinet tops. They are highly recommended for maximizing your storage. Each shelf can hold up to twenty pounds; for example, the five-piece set can hold up to one hundred and eighty pounds. The nine-piece set can support up to four hundred pounds. 
While you have to install it yourself, they have the popular six-way adjustable hinges, which means you have total control over which way the doors open. This can be a great solution for offices, where you want the top doors to open out and up, for file storage, or for kitchen floor cabinets, where you want the opposite. 
Wayfair Basics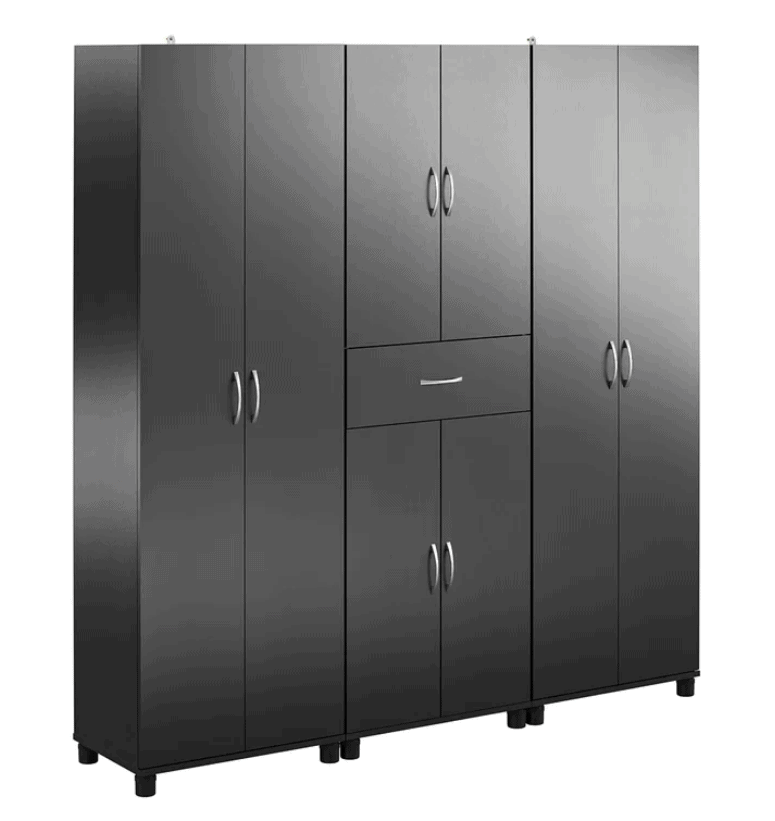 Wayfair has its own line that looks very similar to the Prepac model. However, instead of metal bar pulls, it has metal arch pulls that curve to your hand. It also has more storage. These cabinets are two tall, short black cabinets and a drawer sandwiched between two tall black cabinets. 
This entire system offers a lot of storage, but be careful about the weight limits. Customers like this because of the storage provided, but you won't find an easy install here, especially where the doors and hinges are concerned; lining them up properly is a two-person job (and even then, it's still frustrating). 
South Shore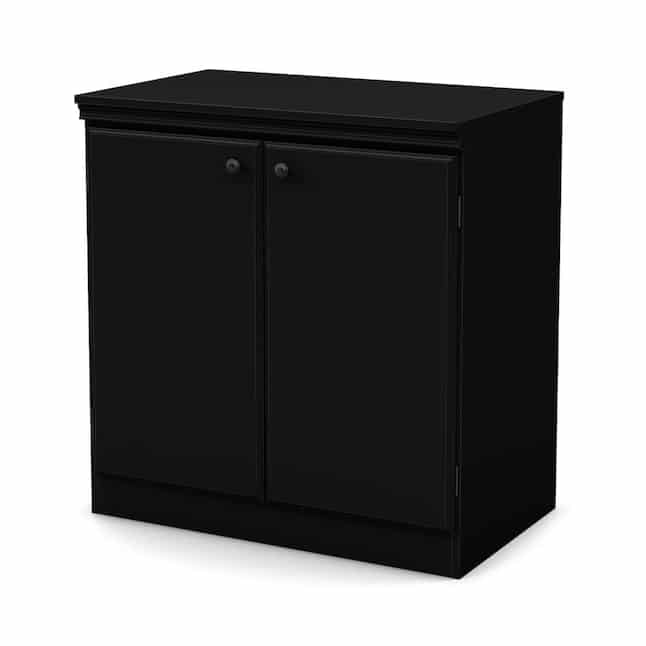 South Shore brand has a simple black office cabinet. I have one of these that I use as a printer stand. Instead, I keep things like spare paper, special sticker paper for printing address labels, and cardstock. This model comes with black knobs on the doors that blend in seamlessly and a single adjustable shelf. A lip along the top extends a half inch over the perimeter in front. 
Simplihome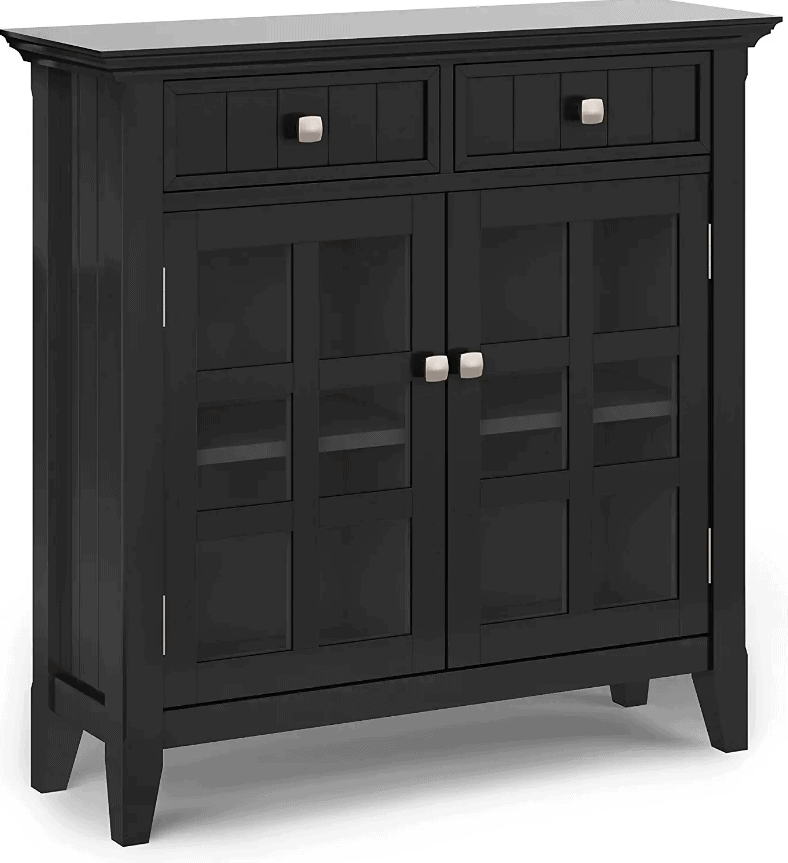 Simplihome has a solid wood black storage cabinet that offers an oriental feel. Before the term "cultural appropriation" became a thing, I remember my mother-in-law asking me if I was offended by her house (white lady with a house decorated exclusively in Japanese stuff; nothing but black, white, and red).
I bit back the sarcastic remark about how grateful I was that she had recognized my appointment as the spokesperson for the whole of Japan and shrugged my shoulders with a "nope." 
I really wasn't. It seemed weird to me since she wasn't Asian, had never been to Japan, and so on, but to each their own. This cabinet would be a perfect fit for her home (maybe if she gets nicer between now and Christmas, she will get it).
The top panel has the same sloping, overhang roof as a pagoda. Each door has six translucent panels that remind me of the sliding shoji doors with the latticework wooden frame and translucent white paper. With squared metal knobs, it really takes the stage in any room. 
Costway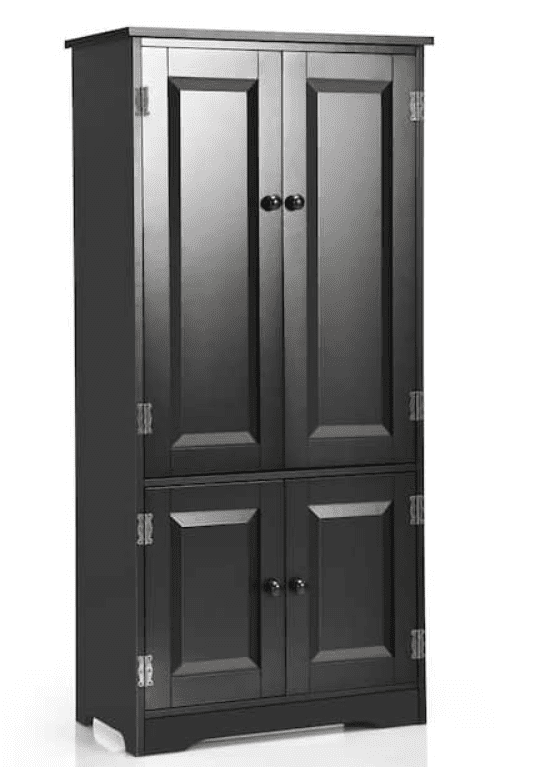 Costway is a popular option for people on a budget. They make decent quality black storage cabinets suitable for any room. Each shelf can hold up to twenty-two pounds, they are adjustable, and you have two separate cabinet sections. It has nice black round knobs and accent pieces along the top and feet. The hinges are on the outside of the door, though, which is a bit off from an aesthetic standpoint. Still, they come highly reviewed, especially for the price. 
Sandusky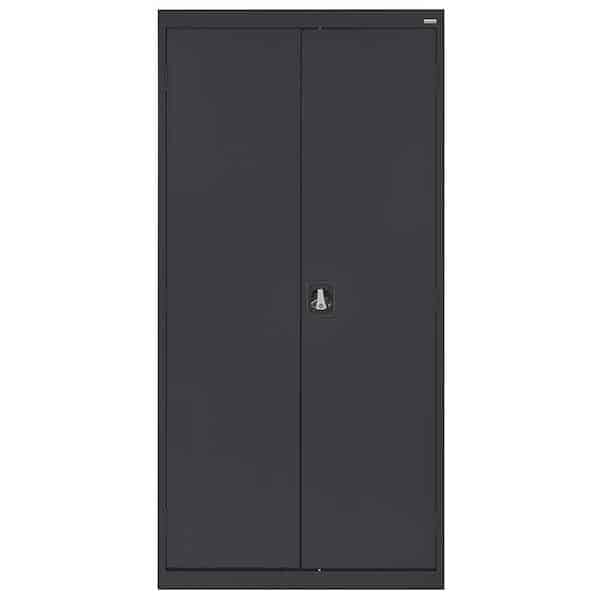 If you want a black storage cabinet that is very well-made and one of the top contenders for durability and weight alliance, then you want Sandusky. The cabinet is made from steel instead of wood. It has a three-point locking system, and the adjustable shelves can hold up to 180 pounds. This is better suited for a garage or outdoor space where heavier paint cans, tools, and other accessories go (and need to be kept far from the prying hands of curious children). 
SystemBuild Farmington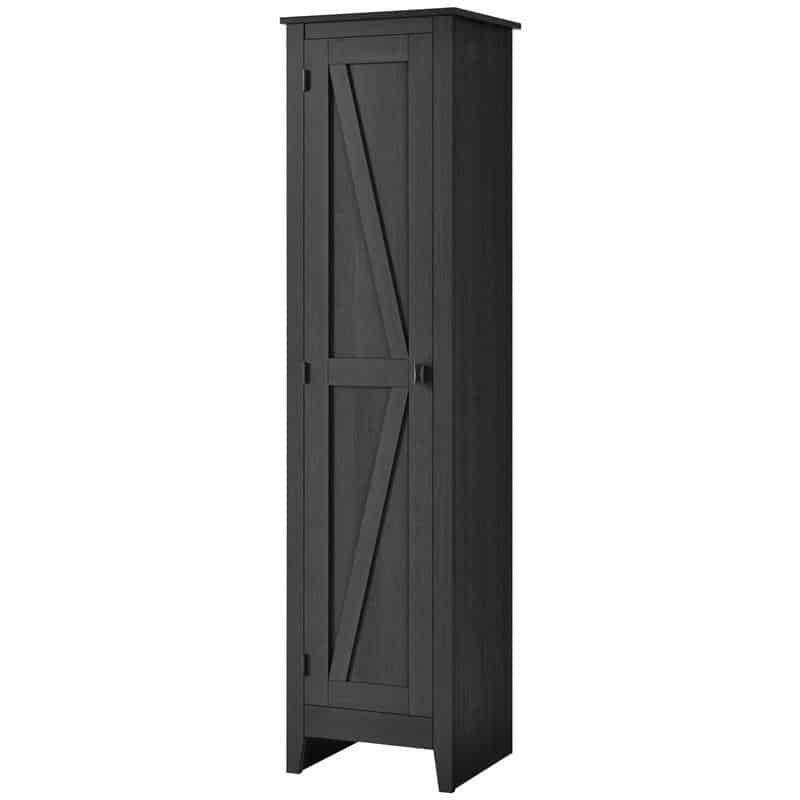 The SystemBuild Farmington is a solid oak black storage cabinet, but this one is tall and lean. It has a nice ornamental diagonal brace on the outside of the doors, just like barn doors. It looks like a weathered cabinet with tapered feet but is perfect for food storage, seasonal clothes, or spare linens.
I love the idea of the tall, thin cabinet fitting perfectly into a bathroom or small corner space because you can never have too much storage, but there are always smaller areas that just won't support an oversized Costway cabinet. 
Crosley Parsons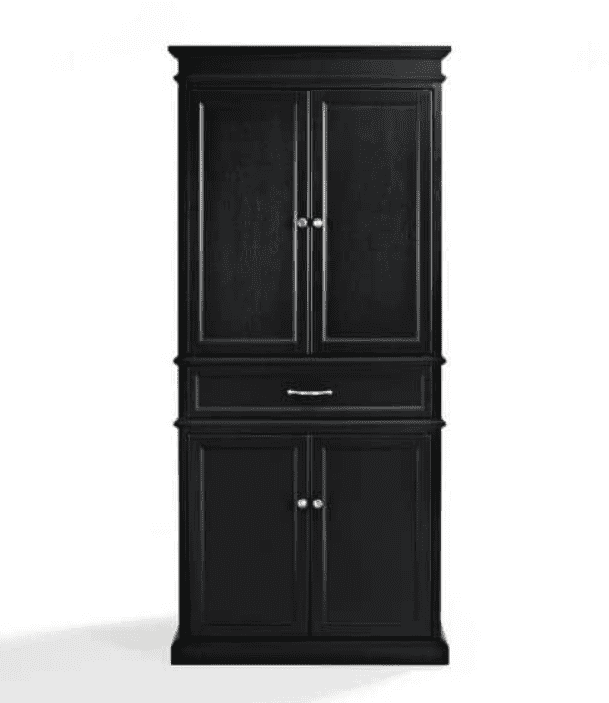 The Crosley Parsons is a top-rated option for style. It has the quintessential look of black office furniture, with slightly protruding lines where shelves and cabinets meet, metal hardware that is rounded and soft, and of course, a slightly wide base with curves. 
This model comes highly recommended for its beauty and sophistication. It has a classic style with nineteen-inch shelves (which is slightly more than you normally get). What's more, the inside has multiple adjustable shelves spread across two cabinets. Each shelf supports twenty-five pounds (also more than you get with models like Prepac). 
Wydenhall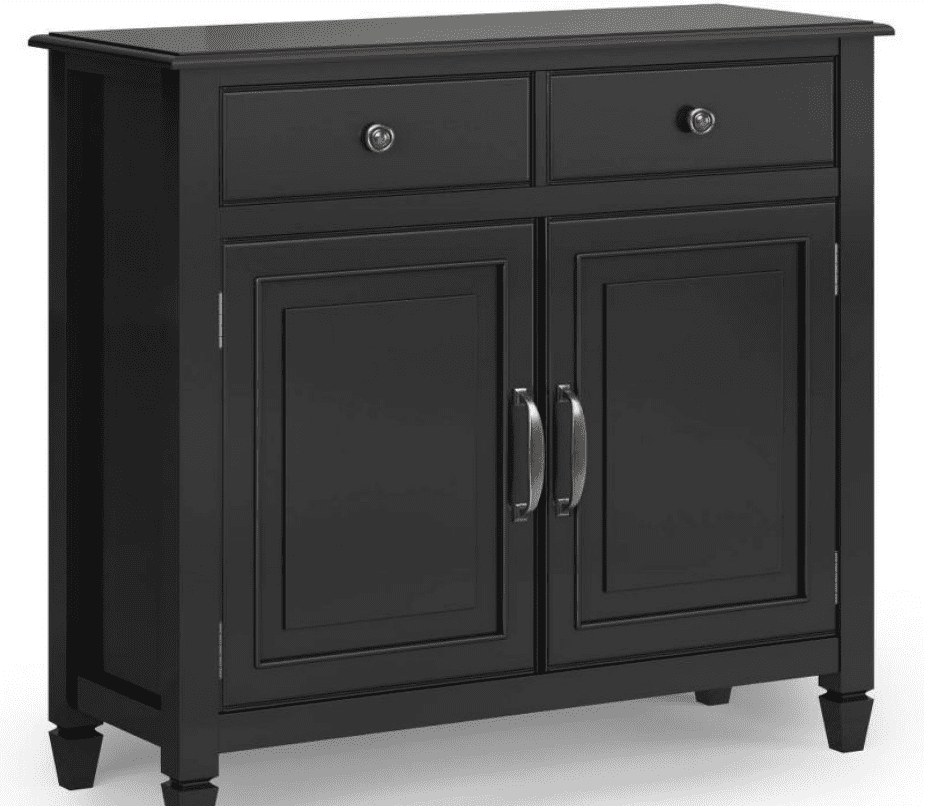 Wydenhall has the Hampshire line of storage cabinets. This model is an entryway black storage cabinet. It is perfect for entryways, with a nice bowl on top for keys and phones and a mirror hanging overhead for a final look before heading out the door. 
It has two burnished, rounded knobs on the drawers and arched pulls for the cabinet doors. The panels are raised, the legs are notched, and you get a beautiful British Colonial feel. This cabinet is not meant for high durability and weight allowances. As an entryway cabinet, it is designed to be the perfect storage place for all of your spare shoes, scarves, hats, and gloves.
Homcom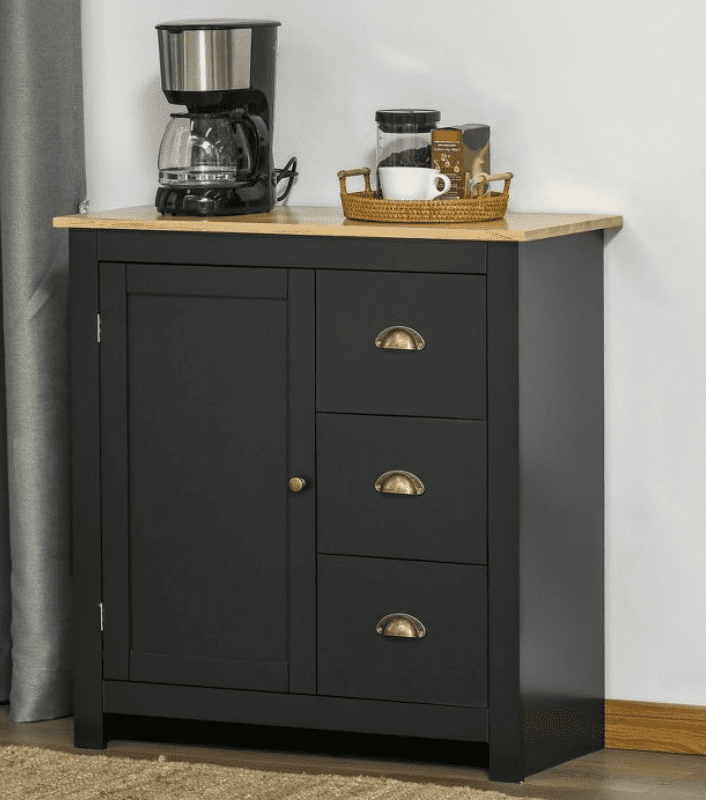 Now, if you want a black storage cabinet with some style, go with the non-traditional Homcom. While almost all other black storage cabinets have black or silver chrome hardware, this one has gold hardware. The gold cup pulls to match the beautiful wood top.
Originally intended for a kitchen, the cup pulls open three smaller drawers in which things like utensils can be stored. There is one large cabinet with an adjustable shelf and a wood top on which you can slice and dice food. However, I think it also works well in a craft room, where you can use the wood top as a workstation.
Latitude Run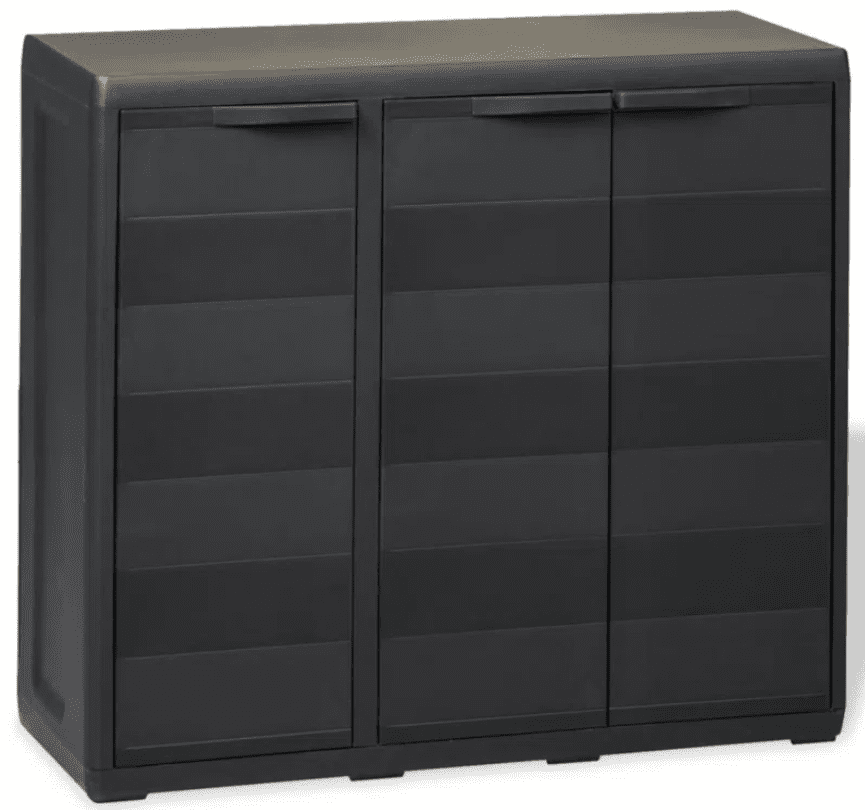 Latitude Run is meant for an outdoor area. It has two cabinets with cup pulls. The design with ventilated shelves makes it look like it's a set of drawers stacked on top of one another, but that's all a visual trick. Instead, it's a polypropylene cabinet with vented shelves, a compact design, and an option for padlock security. So, if you need something to store your gardening supplies outside, this is the perfect black storage cabinet. 
It won't break down because of exposure to the elements like wood would, and it's much more secure than your standard black storage cabinet. The only downside is it lacks wheels, so once it is in place, consider it there for good. 
Starplast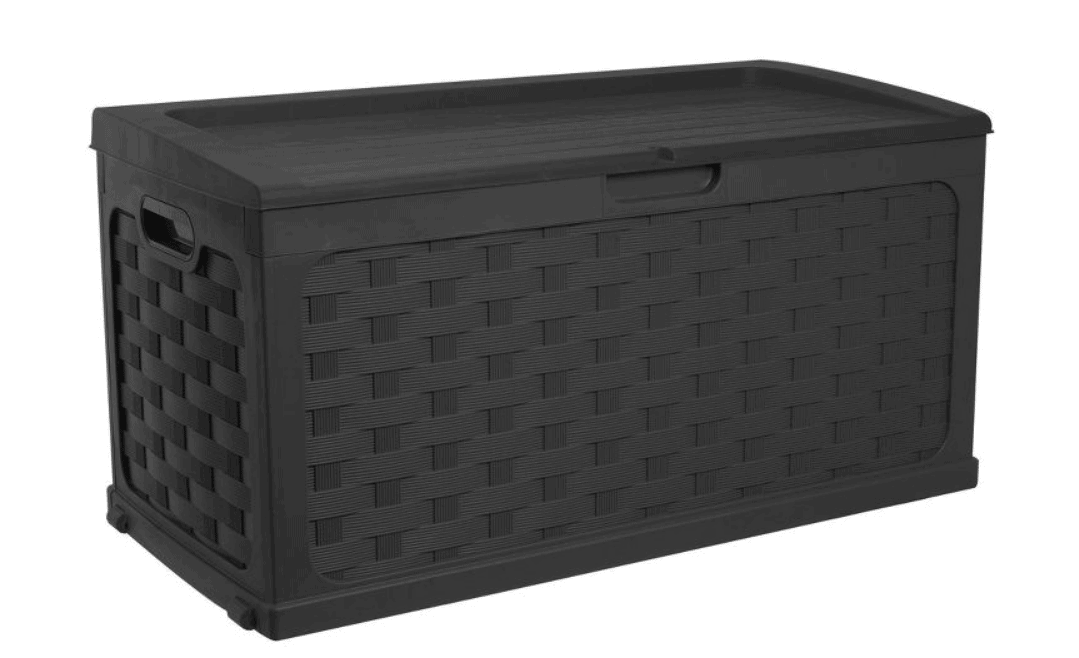 Starplast is a similar outdoor black storage cabinet, but this one is meant for a deck. It's a rotten deck box that is very easy to assemble. The all-weather woven plastic makes it look like a wicker container.
It has a lockable lid and good ventilation, it is waterproof, and, unlike Latitude Run, it has wheels so you can easily move it around your deck. It's the perfect place to store things like small garden tools, patio cushions or pillows, and pool toys. It only weighs about twenty pounds. It is twenty-three inches tall, forty-six inches wide, and twenty-two inches deep. 
FAQs
Question: Where can I use black storage cabinet ideas?
Answer: Black storage cabinets come in a variety of makes and models suitable for any space. Some have large amounts of storage space, and they are intended for long-term storage in garage spaces, storage sheds, or office buildings. Others are smaller and more portable, designed to keep some of your household goods safe but easily accessible.
You can find black storage cabinet ideas and adjustable shelves so you can customize your storage, options that have extra locks to keep your cabinet closed, and more. 
Question: How much are black storage cabinets?
Answer: Black storage cabinets range from $50 to $2,000, depending on the model.
Question: What material options are available for black storage cabinets?
Answer: Black storage cabinets can be made from metal, plastic, wood, or particle board. Particle board is used for cheaper construction, so it doesn't have large weight allowances, but it makes for very affordable and durable cabinets. Plastic is reserved for outdoor cabinets. Metal is often used for garage storage, and wood is used for heavy-duty cabinets that have much better weight allowances.
Bottomline 
Wydenhall is one of my absolute favorites because of the British Colonial style. However, it is more limited in terms of weight allowance and size. So, if you prefer a lot of storage in a garage or office, where you have a whole wall to dedicate to your black cabinets, invest in the Prepac Elite. If you are on a tight budget, don't forgo quality and style; get the Costway.