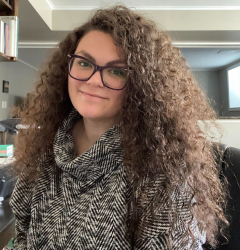 Latest posts by Candace Osmond
(see all)
White Oak cabinets are a classic feature in any home, in my honest opinion. I've designed a ton of kitchens, bathrooms, and even custom built-ins using white oak in some capacity. Whether stained or natural, they pair well with nearly every decorating style and are impressively durable. This wood is also an option for stock, semi-custom, or custom-made cabinets and is sturdier than its red counterpart.
With that in mind, I went out ahead of you and created a shortlist of the best white oak cabinet ideas. Any of these should help you strike a balance between structural support and style: but first, let's get the basics down.
Bottom Line Upfront
Big fan of the simple, clean look of this Farmhouse-Style kitchen. I love the mix of modern touches like in the cabinet faces. This would be a simple kitchen to recreate!
What is White Oak?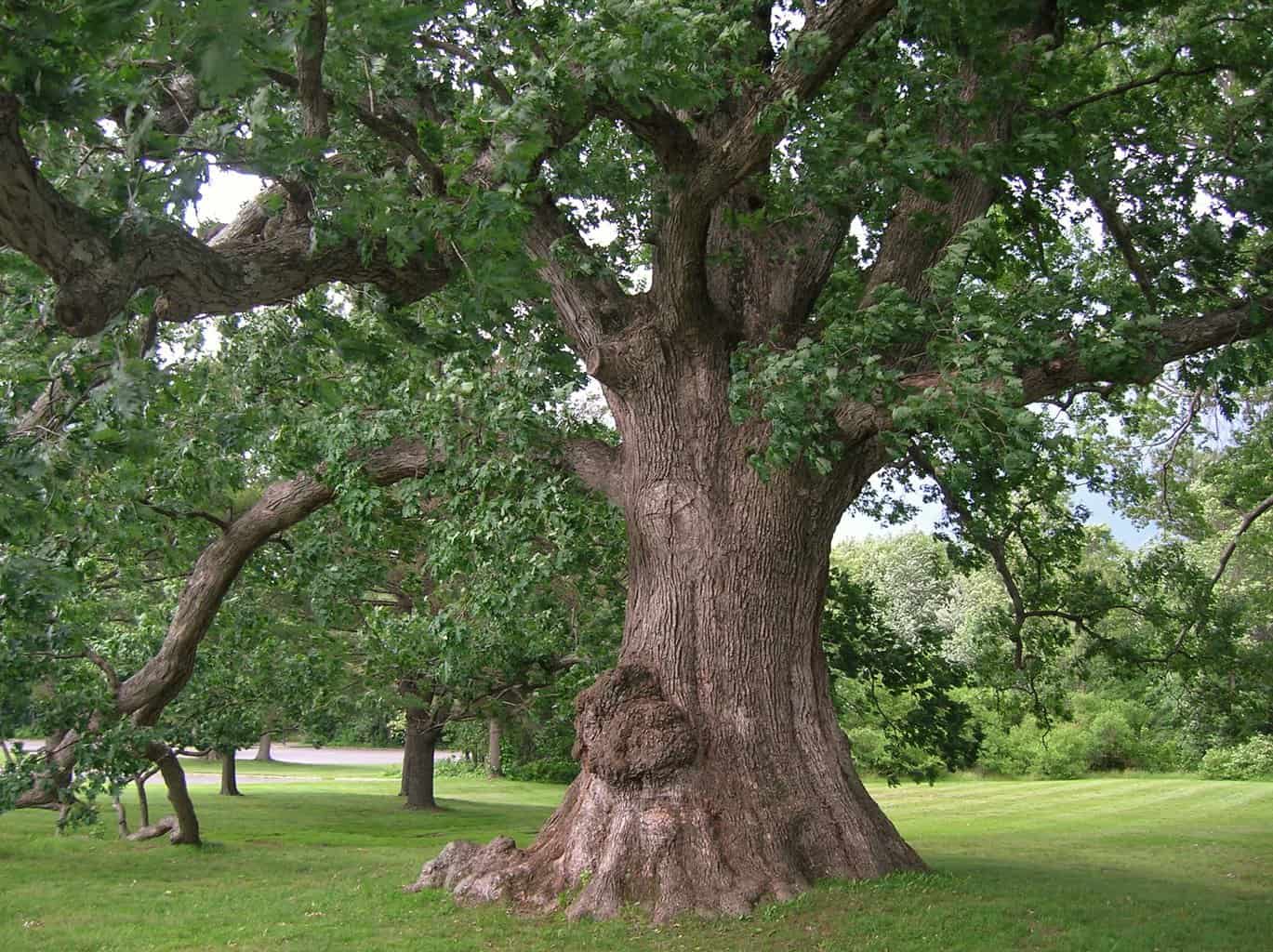 Now, listen here. It's not just oak with a white finish. I hear this all the time, and I'm setting the record straight. White is a specific type of oak. It's a domestic hardwood grown in North America, and the trees are mostly found on the eastern side of the continent. We're talking anywhere from the southern regions of Canada to the northern parts of Florida.
As such, White Oak is readily available as furniture and flooring material. So as far as hardwood furniture pricing goes, it's reasonably affordable, particularly compared to popular imported options.
What's more? One of the main reasons for white oak's massive popularity is its ability to wear finishes well. It's relatively neutral in color and is known to accept a wide range of stains to suit anyone's vision.
Different Door Styles to Consider
Like all other cabinet components, cabinet doors retail in several distinct styles. The style you eventually pick will set the character of your kitchen. The choice will also express your personal style and help establish the base for a contemporary, transitional, or traditional kitchen look.
Here are the seven cabinet door styles to consider while picking and sifting through the different white oak cabinet ideas.
Mullion Cabinet Doors
Mullions are vertical bars between panes of lasses in a window. With that definition in mind, mullion cabinet doors are those built with two main components, glass, and wood (or wood-like substances.) A hard-to-beat advantage of mullion cabinet doors is that their transparent panels act as display sections. They allow you to exhibit your exquisite dinnerware and glassware behind a protective, attractive barrier.
What's more? The different degrees of transparency that mullion cabinet doors deliver can generate impressions of greater thickness. This, in turn, amplifies the feeling of spaciousness in a room. Ensure you match the pattern of your mullion cabinet doors with the surrounding decor.
Slab Cabinet Doors (AKA Flat Panel)
Slab cabinet doors were a "staple" in European cultures and are the perfect pattern for minimalistic and basic kitchen designs. Most homeowners consider these kinds of cabinet doors to be the most self-descriptive design available.
Slab cabinet doors are also typically created from engineered wood and coated in a furnace with banded side boarders and hardwoods. Fit them directly at the ends of your kitchen cabinets.
Arched Doors
Arched cabinet doors are a unique and beautiful option that'll add personality to any bathroom or kitchen. As their name suggests, they're made from single pieces of wood and boast an arched or curved design. They also retail in various styles, from contemporary and transitional to sturdy.
Shaker
Thanks to their elegant designs, shakers are the perfect choice for those looking to add sophistication and style to their home. These doors are crafted from high-end materials, like durable plastic or solid wood, which offers them a clean, streamlined appearance.
They're also built to last, extremely sturdy, and can easily be customized in a wide range of finishes and styles.
Raised Panel
Raised panel doors are a timeless option that can add a touch of sophistication and elegance to any kitchen interior. These doors are made from single pieces of wood with raised edges and raised center panels. The overall design gives these door styles a warm, traditional look you can easily paint or stain to match your decor.
Note, however, that raised panels are much more expensive than other cabinet door styles. Even worse, they're not always the easiest to clean either.
Open Frame Doors
Open-frame cabinet doors have mullions or center panels. Homeowners will often request this modification if they intend to replace the panel with a glass insert. The insert can be any material less than 0.25 inches.
Better yet, open-frame cabinets, like their mullioned counterparts, can act as decorative accents.
Recessed Panel Doors
Recessed panel doors boast a look similar to that of raised panel doors. The only difference is that their center panels are recessed rather than raised. This awards them a more modern, sleeker look that you can easily clean.
The downside of recessed panel door styles is they tend to be more difficult to close and open. Also, they may not provide as much insulation as other cabinet door styles.
The Best White Oak Cabinet Ideas
From multifunctional and easy-to-assemble units to compact options for small kitchens, I picked the best white oak cabinet ideas based on style, space, and function.
Inset Contemporary Cabinets

Luxurious, simple, and a little elegant, these Inset Contemporary cabinets make a sophisticated statement with their champagne bronze hardware. The cabinet doors boast a rich finish for a cheerful look that'll brighten your kitchen space.
Behind each of these doors, you'll find ample storage space to keep your kitchen neat and clean.
Farmhouse-Style Cabinets

These farmhouse-style cabinets stick to the basics for a sleek, modern take on classic designs. The clear satin lacquer finish immediately catches the eye, while the knobs-pulls combination offers you easy access to the storage space.
Open-Frame Kitchen Cabinets

These open-frame kitchen cabinets are the perfect middle-ground between traditional cabinets and open shelving. Traditionally, almost all kitchens had one of these designs to display barware or fine china. I'm glad the design has been making a comeback recently.
That said, the only thing I'd change about this idea is I'd cover the open shelves portion with glass panels.
Edwardian Cabinets Design

Here is another sculptural option, this time with a sharp classic aesthetic. The combination of glass door designs and open shelves reflects contemporary geometric trends in an eye-catching style. The open shelves also offer spacious spaces for holding essentials and displaying decorations.
Full Overlay White Oak Cabinets

The Goldilocks of white oak kitchen cabinet idea is a full overlay design like the one pictured above. The cabinet door fronts cover the cabinet framing fully. The whole look is super tailored but will need less precision than inset designs to pull off. It's also way less expensive.
Tall White Oak Kitchen Cabinets

These cabinets maintain a long thin profile ideal for both spacious and narrow kitchens alike. The pieces, coupled with the island kitchen and quartzite countertop, offer tremendous decorative appeal with a lightweight look. All of them tied together are sure to keep your kitchen space feeling open and bright.
Reclaimed Kitchen Cabinets

On your favorite home-improvement TV show, you must've seen renovators redo existing cabinets instead of springing in new ones (saving money). That's the whole idea with reclaimed cabinets, and I believe this could be the trend for you.
While revamping, remember to include a plaster hood, ceramic backsplash tiles, and marble countertops, as shown in this kitchen design.
Smart Storage

In a time when we all strive to declutter for our overall well-being, all smart storage ideas are welcome. That's especially true in small apartments with busy kitchens. This smart storage idea from the lighthouse cabinetry also shows you how concealed white oak storage ideas can be aesthetic saviors.
The unique knobs are head-turners as well.
Reeded Glass Cabinet

If you were concerned that reeded glass cabinets are off-trend, think again. These cabinets will help your kitchen span the divide between contemporary and traditional in the right shade and finish.
Open Up

Open white oak shelving in place of upper, wall-mounted cabinetry is all the rage nowadays. We have the ample display space and streamlined look it delivers to thank for the revolution. Mixing it up also cuts cabinet costs in half and gives you room to showcase all your vintage glassware and dinnerware.
Transitional Kitchen Cabinets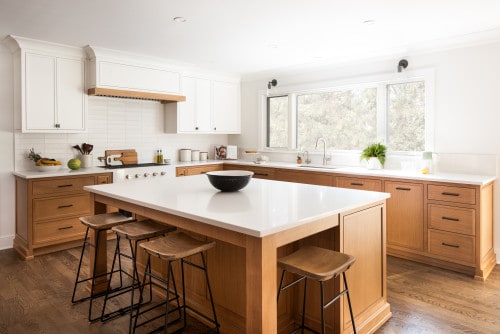 Transitional style can be a highly confusing and subjective term. Simply put, transitional style refers to the act of mixing new and old designs. In this idea, it refers to the act of updating and modernizing more traditional white oak cabinets.
This 'update' has been achieved by pairing the cabinets with more modern hardware, kitchen faucets, and decorative planters or bowls.
Recessed-Panel Cabinets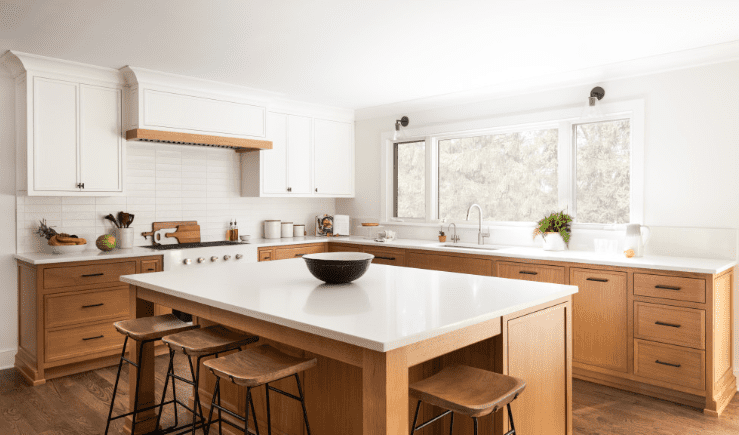 At once classic and surprising, this white oak cabinet idea by Venegas and Company is really something. Everything, from the color coordination and open shelves to the hardware selection, really ties the look together.
Flat-Panel Cabinets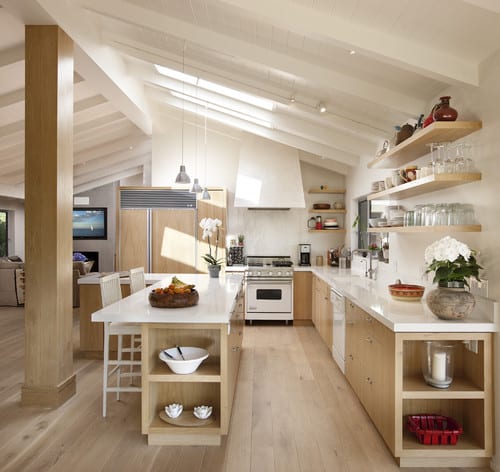 There is nothing quite like colorful additions like planters and fruit baskets to make your interiors pop. That's especially true in dual-tone spaces with fewer wall decor opportunities like those pictured in this flat-panel cabinet idea.
Also, opt for colorful finishes on the cabinet hardware for a bolder statement.
Slab Door Cabinets
As this idea proves, slab cabinet doors are incredibly sleek and modern. These cabinets have flat, frameless fronts and retail in more glossy finishes sometimes (like in this image). Better yet, some are so sleek they don't even have door knobs or handles. I wish that were the case with this idea from Houzz.
Coastal-Style White Oak Cabinets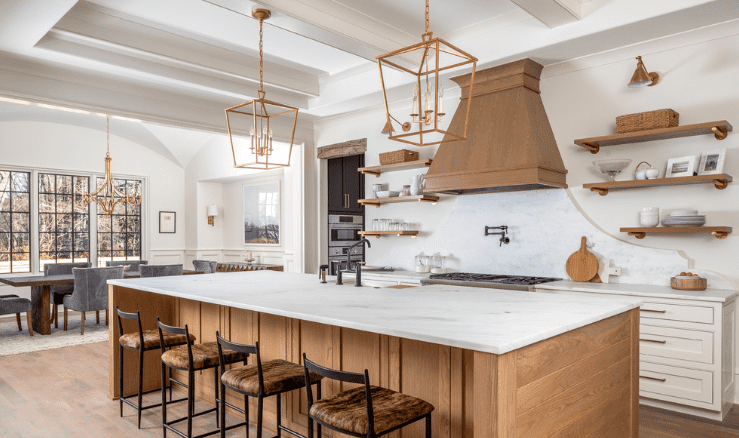 Most designers often swear by flea markets and vintage stores for unearthing the best furniture and lighting finds. But what about beach-style cabinetry? Well, I stumbled upon one of the most minimalistic yet eye-catching coastal-style cabinet ideas I've ever seen at Houzz.
Details that tie the look together include exposed beams, a stone slab backsplash, and a white backsplash color.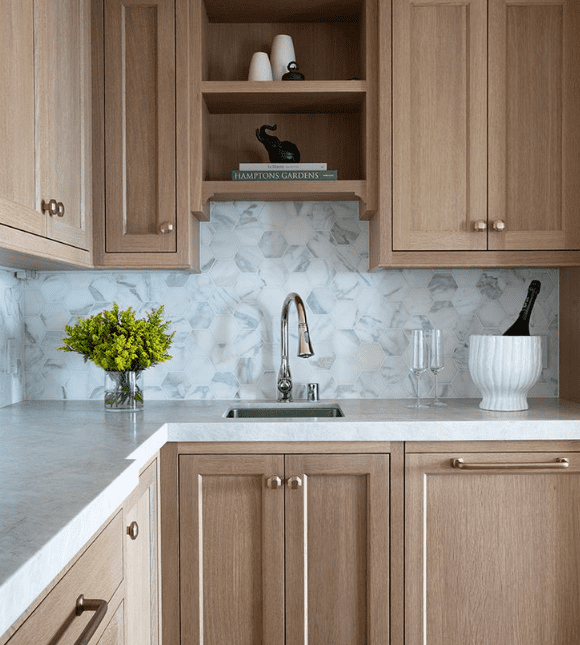 Keep your kitchen space tidier with some help from these multiple spacious cabinets. Each white oak cabinet door opens to reveal an ample storage space you can use to your liking. The open shelves next to the corner cabinet can hold decorations and essentials.
Modern, Full-Overlay Cabinets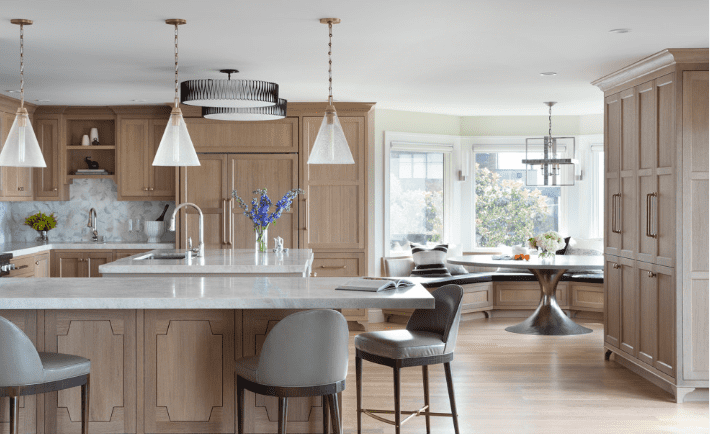 These Full-Overlay cabinets include open display shelves on top – another clever way to lighten up any kitchen. They'll allow you to display decorative objects or pretty tableware, making the room feel more spacious and open.
White Oak Cabinet Finds
I also scoured the internet for some of the best top-rated white oak cabinets from reputable brands. I narrowed down the list to these seven units.
Tornviken Kitchen Cabinet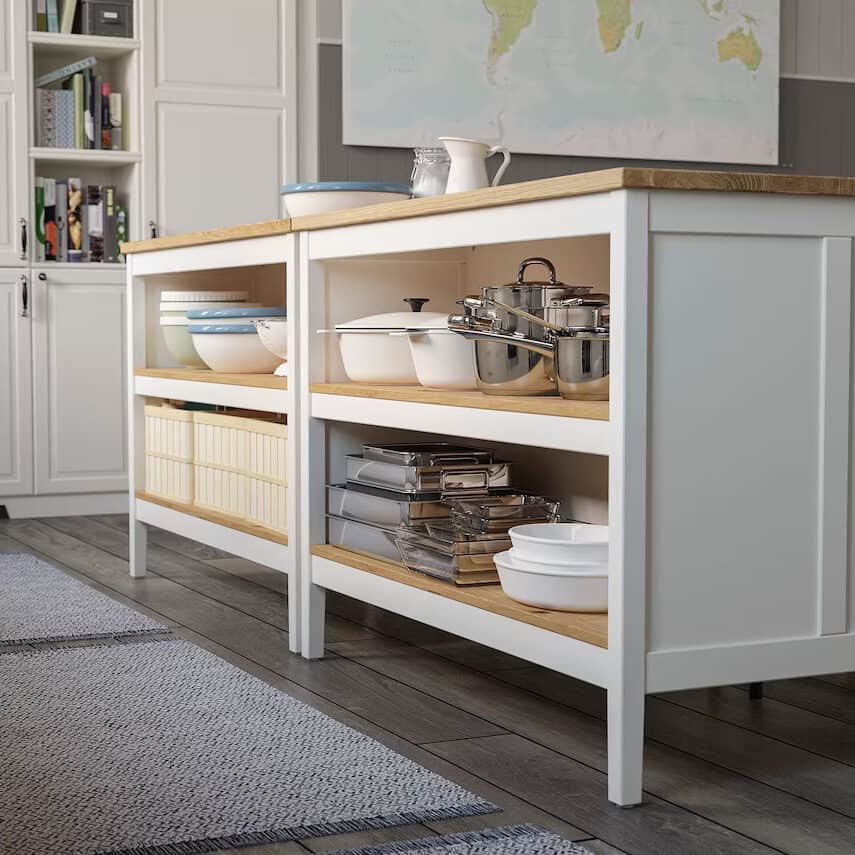 Here is a crucial piece of advice you should follow anytime you're cash-strapped and crunching numbers on your cabinets budget. Mix it up with the wood types. My favorite go-to's are wood oak cabinets mixed with wood made from natural-grade birch, like this Tornviken piece.
It's one of the most affordable wood species and domestic. So no guilt that the wood has been pulled out of a rainforest in South America. This cabinet is also highly durable and sturdy, so you can rest assured it'll stand the test of time. The only thing I'd change is adding doors to the open shelves.
Sektion Glass Door Cabinet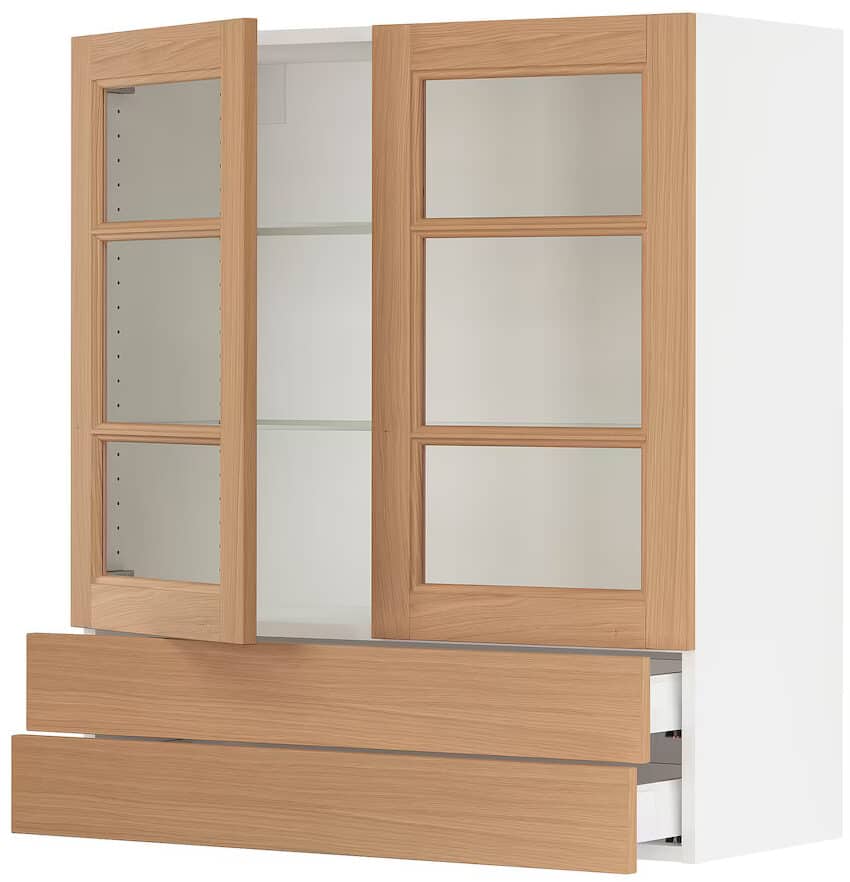 The second white oak cabinet find in my list is also from Ikea, which isn't surprising. Even high-end designers who work with custom cabinetry cannot deny the appeal of IKEA cabinets. This Sektion Glass Door Cabinet perfectly exemplifies why.
Like most other cabinets from IKEA, it retails in a wide range of finishes, shades, and front options. Finding something you can configure to work well for your space shouldn't be a hassle.
Posie Drawer Sideboard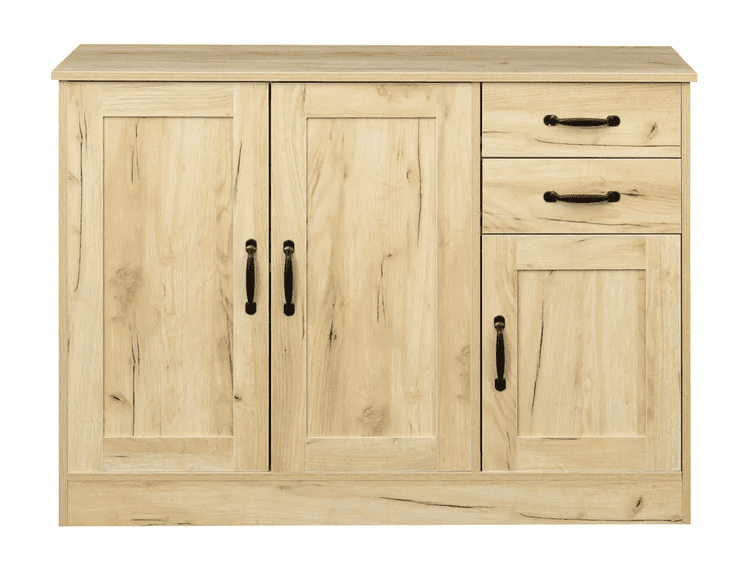 In addition to its cuteness overload, this oak cabinet is also arguably one of the most versatile units available. You can effectively use it anywhere around your home, from your bathroom and living room to your office or study room.
The strong frame and countertop surface will allow you to display framed prints, and decorative objects, like lamps. Let it hold your favorite books with ease as well.
Bridgeport White Oak Vanity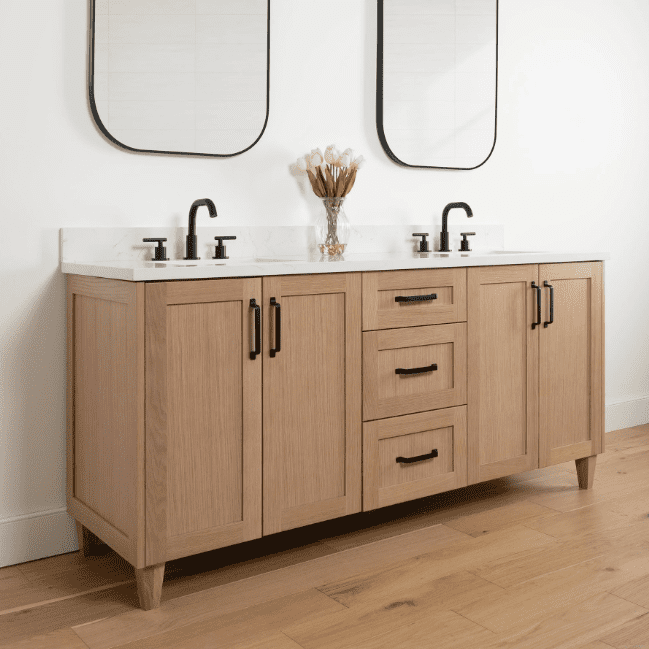 I'm always telling my friends to jazz up their simple cabinets with interesting pulls and fronts. You'll usually be hard-pressed to find innovative companies making semi-custom door fronts that are stylish upgrades to what we're accustomed to. That's why this Bridgeport White Oak Vanity is a unique selection.
I fell so in love with the hardware choices, dovetailed drawer boxes, and solid wood construction.
Bridgeport Teodor White Oak Vanity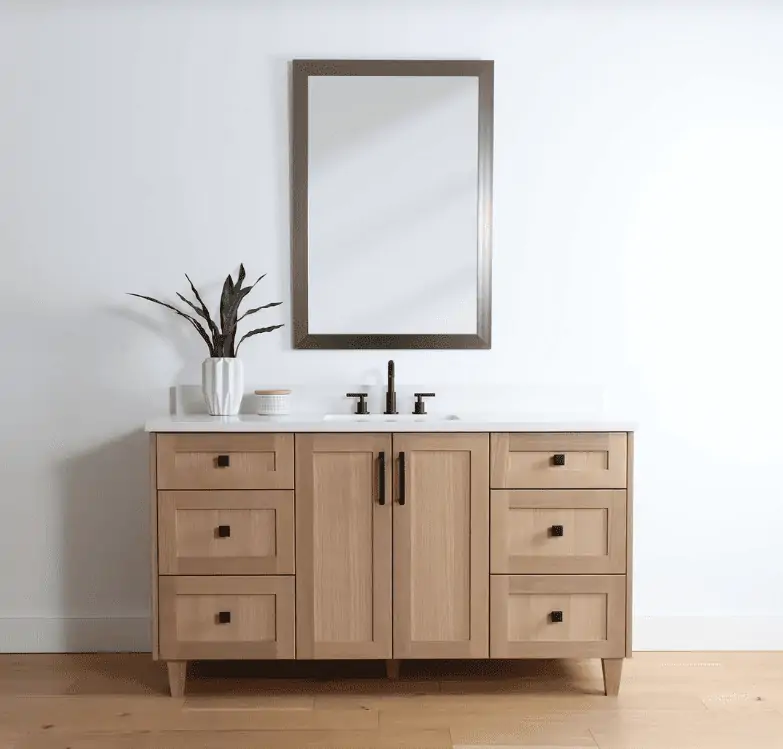 You'll rarely find a white oak cabinet design that works with various home decor. At least not as well as this vanity from Teodor Vanities can. Its sturdy and sleek construction will complement any decor, including boho, glam, minimalist, modern, and more.
Sauder Display Cabinet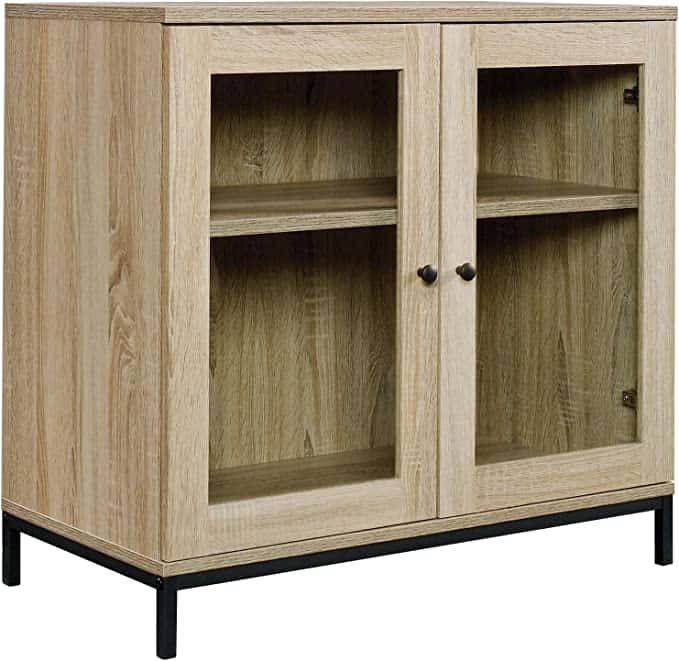 Hardwood cabinets can get costly, especially when spaciousness is a priority. But contrary to that popular norm, the Sauder Store has managed to design a unit that's both spacious and affordable. This display cabinet gives you nearly 40 inches of space in a sleek design.
Walker Edison Slat Door Cabinet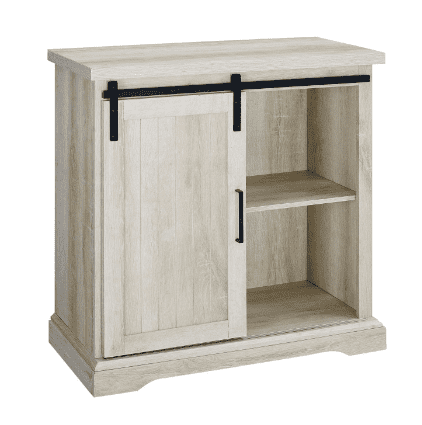 This Cabinet is an excellent option for those after a neutral white oak cabinet that still delivers an element of design. It retails in five more finishes and is fitted with a sliding slat door. My sister-in-law decided to use her similar cabinet as a coffee bar, and it turned out great.
FAQs
Question: Is White Oak Good for Kitchens?
Answer: Yes, it's one of the best choices for kitchen furniture. Unlike most wood options, it doesn't require much care and won't get damaged by spills easily. Better yet, it can stand up to the kind of abuse that standard kitchen furniture sees. That said, you'll still need to give your white oak kitchen furniture the tender loving care it deserves. That's the easiest way to ensure it'll retain its clean look long into its life.
Question: What Color Hardware Looks Best with White Oak Cabinets?
Answer: White oak cabinets look best when paired with ornate solid black hardware. These modern picks look sleek and contemporary and will make a bold statement as they stand-out against the oak background. Additional chic and clean hardware colors you can try include silver and other similar shades, like nickel. They'll all be a subtle highlight to the white oak background.
Question: Do You Stain White Oak Cabinets?
Answer: Staining white oak cabinets shouldn't be a hassle, thanks to their strong wood grain structure. White oak is also an extremely porous wood that will easily accept a wide range of stains. You can modernize these cabinets by striping old paint, sanding, then staining the wood in a color of your liking.
Question: Is White Oak Expensive for Cabinets?
Answer: White Oak cabinets are one of the most expensive options available, ranging from $1,500 for new cabinets to $20,000. The actual price you'll pay for your white oak cabinets will vary based on several factors. These factors include local material costs, the hardware you select, the product's design, and whether you had them professionally installed.
Question: Is White Oak Back in Style?
Answer: In the past, stained natural wood cabinets dominated kitchens around the world. That wasn't quite the case for a while, but they've been making a comeback. Going into 2023, white oak cabinets will still be one of the most popular options, particularly in more traditional kitchens.
Best White Oak Cabinet Ideas: Bottom Line
Like most other popular hardwoods, the best white oak cabinet ideas don't come with a lengthy list of cons. Hardwood has been the gold standard in the realm of kitchen cabinets for a reason.
That said, ensure the white oak cabinet idea you pick is the right one for your needs and personal preferences. Consider your budget, the cabinet's design, and your home's style. With so many ideas available, you're sure to find one tailored to you. I suggest the Farmhouse-Style kitchen if you want something cozy and modern. Thinking of a different kind of oak? Check out my list of the best oak cabinet inspiration!
Read More: