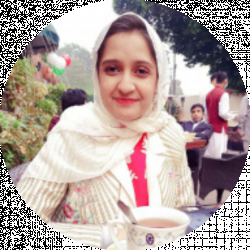 Latest posts by Zunaira Ghazal
(see all)
Ah, shoes!
We all love to collect them, but alas…we never quite know where to put all of them.
I have this problem where I tend to buy (and hoard!) all the pretty shoes I come across – and then they just sit in their boxes, seldom worn and taken out because I'm too lazy to do all that carefully, fluffed-up packing again.
This is why the idea of entryway shoe cabinets is so near and dear to my heart. They allow you to keep all your precious footwear handy, neatly organized, and easily accessible. So, I thought, why not compile a list of the best ones out there to allow all my peers access to some great ideas! Let's take a look:
Bottom Line Up Front
Shoes can make or break your entire wardrobe, so keeping the ones that you love and constantly use handy is quite essential. Having an entryway shoe cabinet is the best way to do that, so this list features some of the best ideas on the internet to help you out.
I love the Ultra-thin Shoe Cabinet with Stool because it consists of various non-standardized compartments for different-sized shoes, in addition to a pullout stool where I could sit while putting on my favorite heels!
Top Picks
My top picks from this list include:
Nordic Grey Shoe Cabinet:

This is one of my top faves because it's sleek, simple, and smart. It plays its upscale aesthetic to provide a posh touch to the whole entrance area and consists of enough shoe storage to satisfy even a shoe hoarder like me.

The Best of Grey:

I love this one because it's got both open and closed compartments. Plus, it offers a variation in heights, which is really, truly visually pleasant. It's also pretty versatile as you can store stuff other than shoes in the closed compartments as well.
Selection Criteria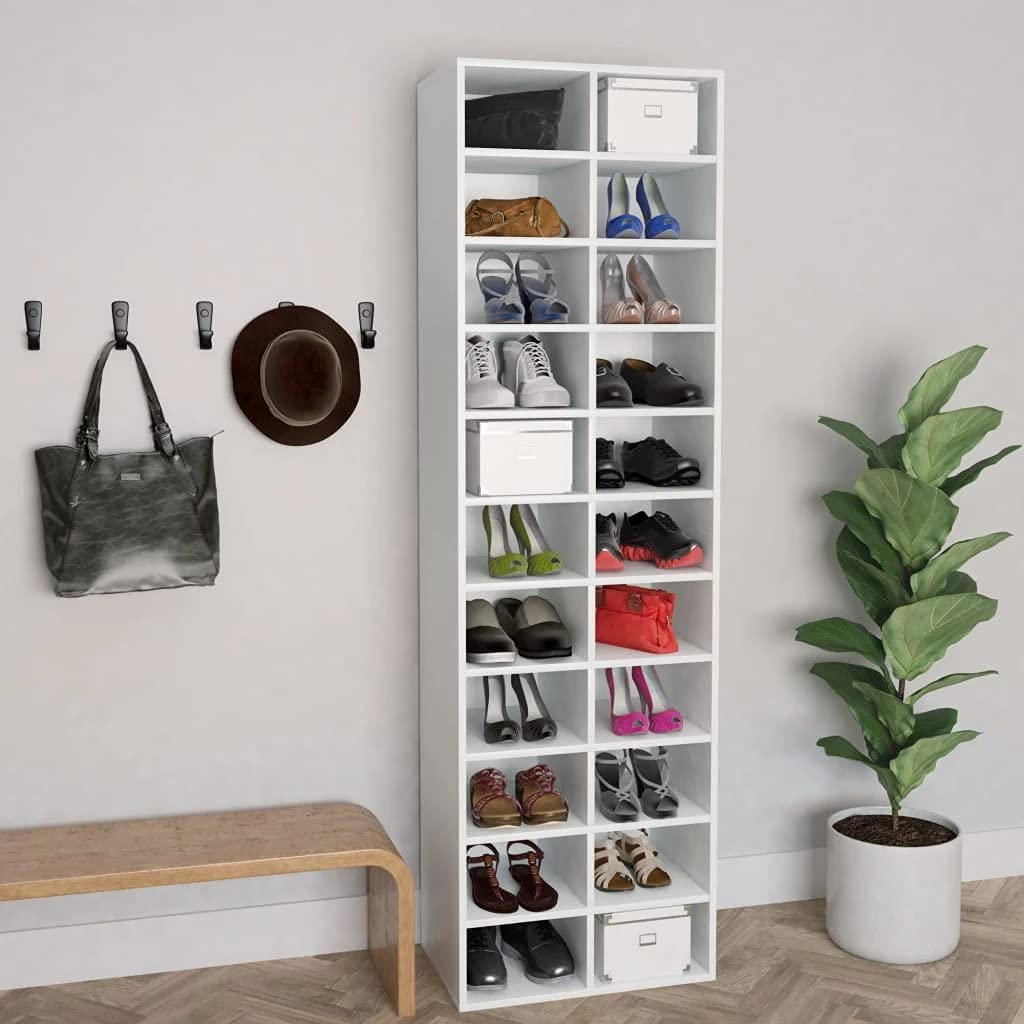 I used the following selection criteria to pick out ideas for this list:
Ergonomic
Once you put the term "storage" in furniture, this means it has to be functionally viable as well as easy to use! What's the point of having a really pretty shoe holder if it doesn't live up to your pragmatic expectations, right? So that was my first selection criteria; to find designs that are ergonomic and accessible aside from being pretty to look at!
Compact
You see, we live in an era where homes are getting smaller. So ultimately, we have to come up with smart furniture solutions, and this was one of my main goals while picking out these shoe cabinets. Entranceways are small, to begin with! We can't have them become cluttered as well! The shoe storage ideas on this list are perfect for small-space living.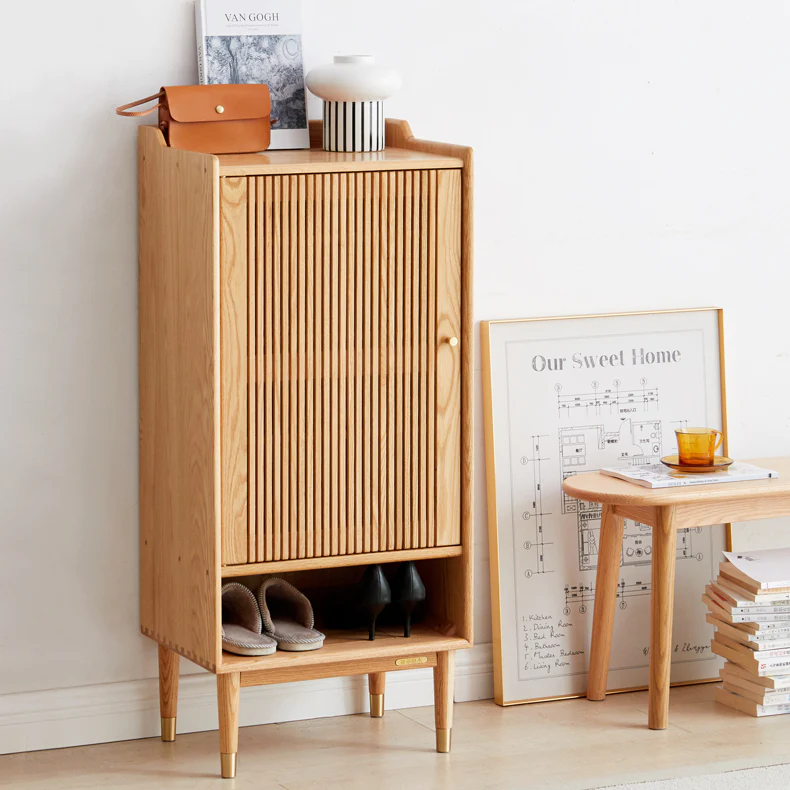 I love how simple and pragmatic this entryway shoe cabinet is. It's got that light-hearted Scandinavian aura thanks to the brightness of its wood finish. Then there're the stiletto legs with their brass caps that complement the weighty vibe of the upper half. I love that this one doesn't take up a lot of floor space. 
I appreciate how the overall design is super ergonomic. I, for one, instantly want to remove my shoes and go inside when I get home without having to open or close any cabinets – which is why I appreciate the open shelf at the base.
I can simply exchange my outdoor shoes for slippers here instantly while keeping the rest of my shoe collection handy in the closed cabinet!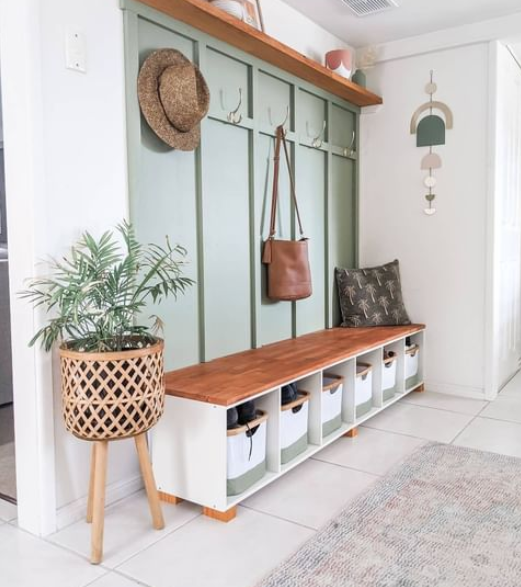 This particular entryway shoe cabinet design is making a huge splash in the interior design genre these days. I think it's because the paneled backdrop provides a refreshing visual dissonance, and you can paint it any color that you want. It also has hooks for coats and umbrellas, so that's a bonus. Plus, the open shelf at the top provides an excellent opportunity to experiment with various decor items.
Additionally, I appreciate the low-height bench-come-storage units at the bottom. They're excellent for storing shoes and other essentials that you'd need to carry outdoors whenever you're in a hurry.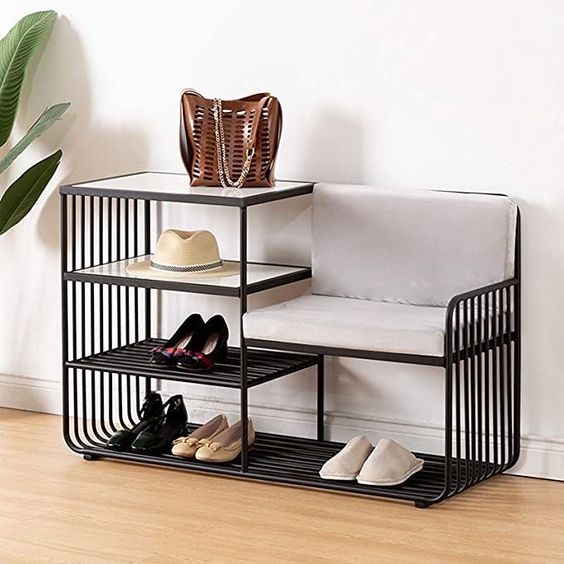 How many of you have stumbled ungracefully while trying to put your shoes on in a standing position? I do that every time, so this entryway shoe cabinet idea caught my eye because it's got a built-in sofa seat on the side!
I also love its neat and compact little design. While one half is dedicated to open shelves where you can keep your everyday shoes, the other one's got a handy little sitting area where you can put them on as you go. Plus, it's versatile – you can even put it in your bedroom (right next to your dresser) so that you can easily wear your matching shoes while getting ready for the day! It's more of a shoe rack than a cabinet, but I felt it deserved a place on this list.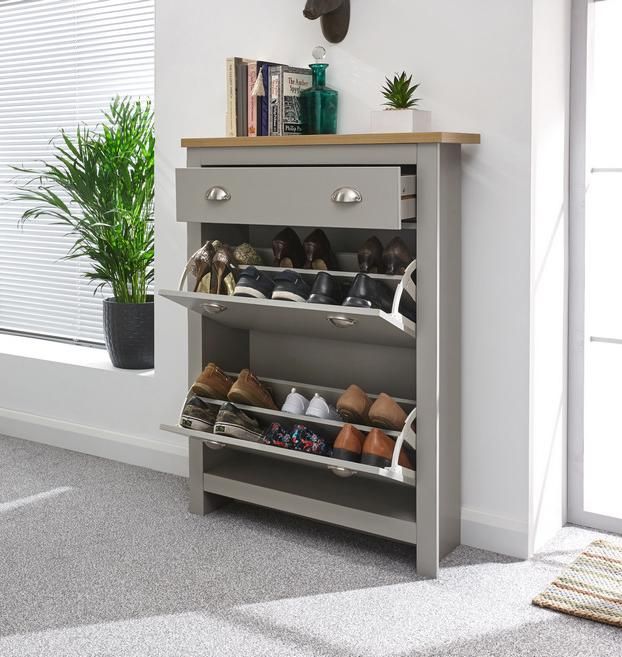 This smart little shoe organizer cabinet is perfect for organizing all your slippers, boots, and heels without cluttering up your entranceway. I find its slim countenance the best part about it because most homes and apartments lean on the smaller size these days. So oversized cabinets are simply not a viable option.
With this one, you not only get to manage your space but it's also got a design worthy of making any foyer feel artistic – especially with its blend of wood and Paris grey finishing.

This tall shoe cabinet is a total classic. It uses vertical space to save on floor space. Its open-shelved design makes it easily accessible and each compartment is perfectly sized to feature a single pair of shoes. I'd personally suggest you mix and match when you're filling it up. This means that use some of the compartments to feature some cute decor items and the rest to safe-keep your shoes. This will keep the design from feeling too functional or monotonous.
Pro tip: if it feels too tall for your entranceway, then you can always put this cabinet in your closet or bedroom as well. It can even be used to feature accessories in your living room!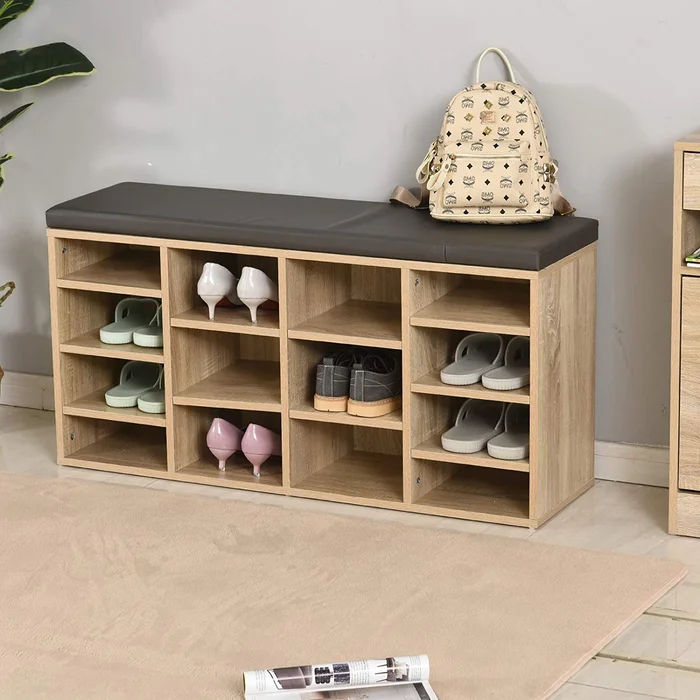 I like this shoe cabinet because, once again, it falls under my criteria of being super ergonomic. While the design is simple, it's also pretty smart. To have the whole thing designed like an entryway bench and have the shoe compartment be designed as shelves right underneath is pure genius. One can simply sit on top of it while putting on their joggers or heels when leaving for work!
If you're worried about it being too visually simple, then you can spruce things up by pairing it with wall art, an artistic coat hanger, or even by putting a lush indoor plant at its side.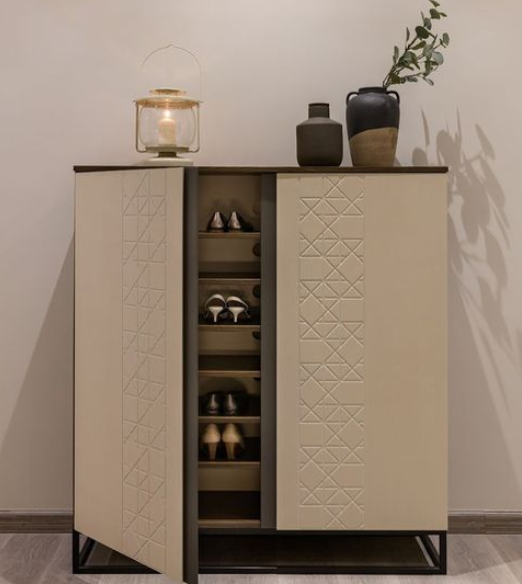 Beige is one of those universal colors that can make any interior design feel homely. I should also mention that it's a favorite color of mine, which is what attracted me to this shoe cabinet idea in the first place. I love the geometric carvings on its door leaves – they're so modern and attractive! Moreover, the combination of the light-hued front to the wood accents on the sides adds another layer of visual complexity to the entire design!
However, I would only suggest going for this one if you have a medium-sized entryway. Don't just (pardon the pun!) shoehorn it in because it looks pretty – be cognizant of its size as well!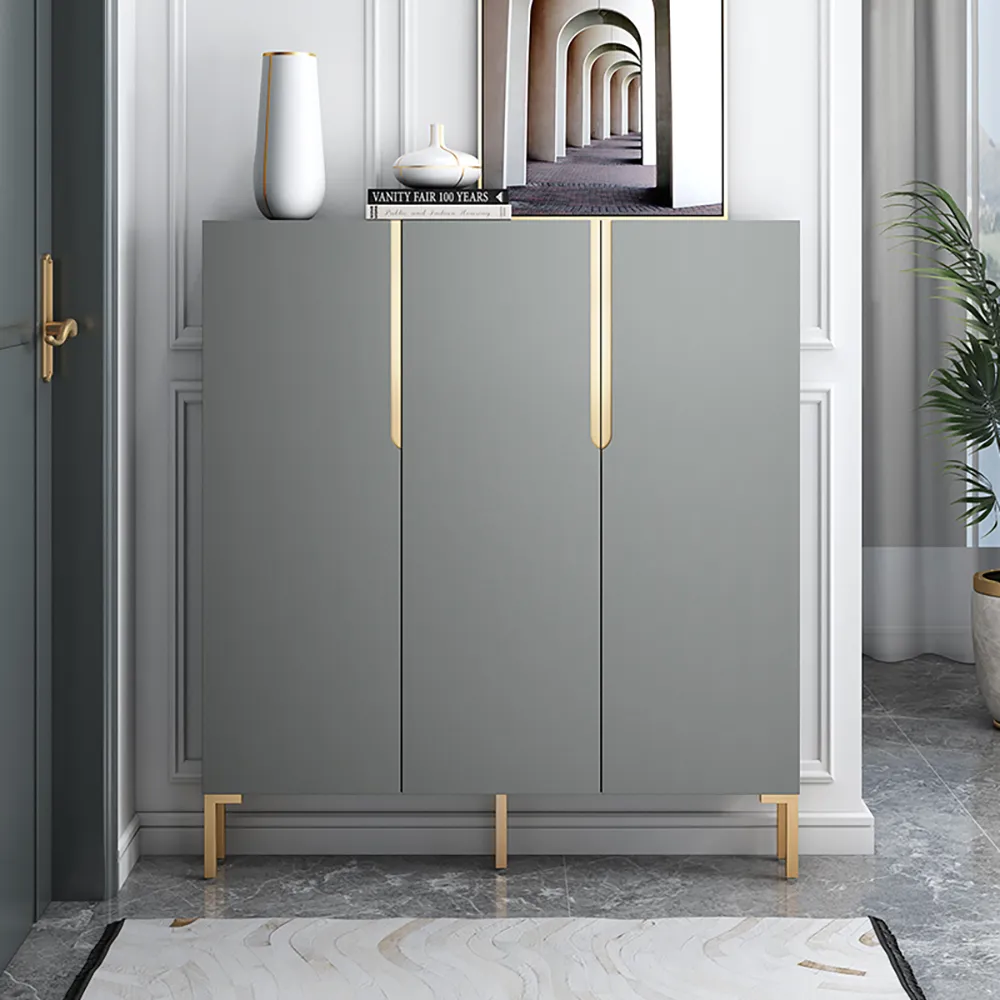 Smart and sophisticated, this shoe cabinet design was an instant winner for me! It's rather slim, has lots of internal storage, and looks so beautiful on the outside.
I'm especially in love with the combination of grey and brass finishing. This particular shade of Paris grey can imbue a sense of elegance in any piece of furniture, so when paired with the sleekness of this cabinet's design, it's no surprise that the whole thing is uplifted two-fold. Secondly, the brass accents and base also layer up on the high-end appeal, making the whole design feel super sumptuous.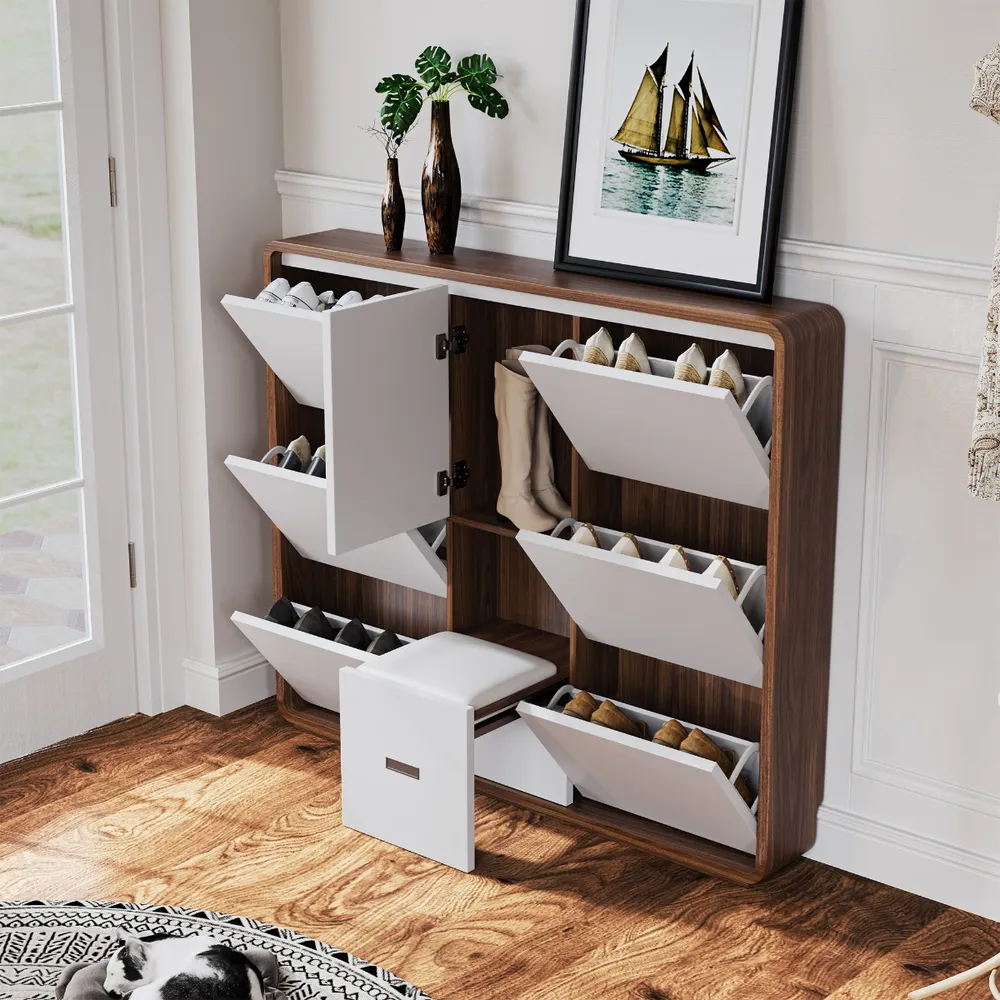 Most entryway shoe cabinets come in standard dimensions, so this one surprised me with its ingenious ergonomics. Finally! Some designer a thousand miles away understood that all shoes are of different sizes and dimensions! You can't fit them all in those standard compartments!
I love how it's ultra-thin, which adds to the sleekness of the design. Then there are the tall compartments in the center where you can put your lovely long boots. And finally! There's the pullout stool which is camouflaged as one of the cabinet's sections and can be folded back in when not in use! How ergonomic!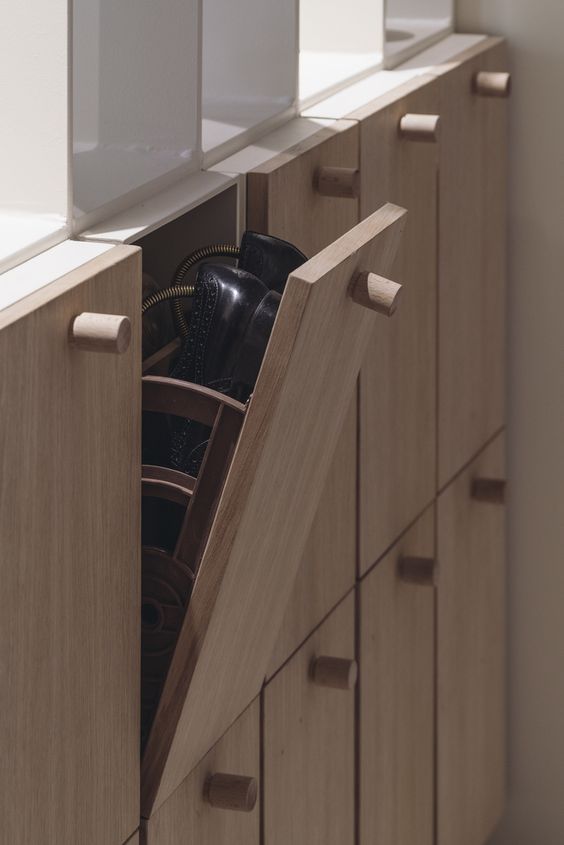 If you're in the market for some customized ideas, I would never let you overlook this one! It consists of individual shoe compartments – and not just the normal, open-shelf ones! These have that hardware where you can open and close the lid as you like! You can designate each compartment for a certain pair of shoes. Take them out when you need them, and close the compartment to keep it clean!
Honestly, this idea excites my inner architect because I know that the next time I'm designing a house, this one is going to go in!
This dual-aesthetic entryway shoe cabinet enticed me with its sleekness! I mean, have you seen such clean lines and minimalism? Yeah, me too.
Anyway, the design is also pretty brilliant. The open shelves are designated at one end, along with an empty space where you can sit down while putting on your shoes. Then the cabinet begins, whose tallness works in nice disparity with the low height of the open shelves – a total win from my side! Plus, the smooth grey finish of the doors pulls you in, and the open compartment in the middle can be used to host a key bowl if you'd like.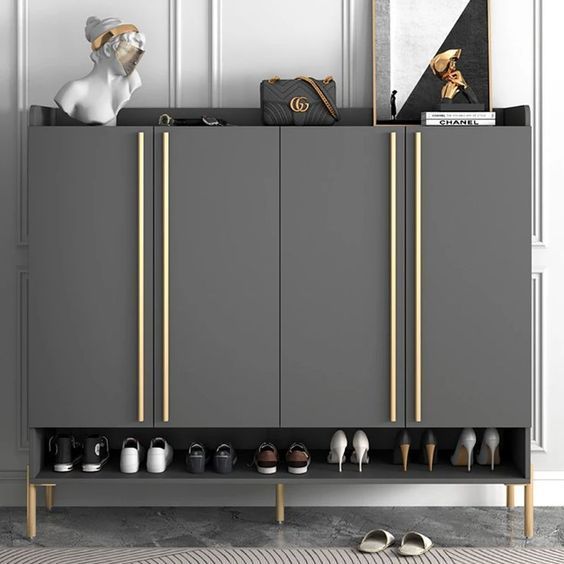 Here's another grey one, but its design is worlds apart from the other one! It's more compact, squared-in, and upscale. Frankly, I'm super attracted to the combination of charcoal and brass – the gold accents polish up the whole aesthetic while making the whole cabinet feel super posh.
Then there's the smart little open shelf at the bottom where all the shoes have been so neatly organized in a straight line…honestly, the entire aesthetic is feeding my inner organizer quite a healthy dose of aesthetic and pragmatic perfection!
FAQs
Question: What is the standard height of a shoe compartment?
Answer: There aren't any set standards, but generally, shoe compartments tend to be 8" to 12" in height.
Question: How do I choose the best shoe cabinet?
Answer: It's all very subjective, but try to look for a design that appeals to you. However, don't forget to analyze its functionality. Pick something that has enough storage capacity for the number of shoes you own. If you like to sit down when you put on your shoes, then you should also look for a design that comes with a built-in stool or bench.
Question: Where should I place the shoe cabinet in my house?
Answer: Ideally, I would suggest that you place it in your entranceway for better access to shoes. But you can also place it in your bedroom or dressing room/closet if that feels more convenient for you.
Conclusion
Buying a new pair of shoes always fixes up the hole in my heart, but I can never keep all of them handy enough for constant wear. I think many of you might resonate with my dilemma, so here's hoping this list helps you find some great entryway shoe cabinet ideas to fix this problem.
My personal favorite from this list was the Ultra-thin Shoe Cabinet with Stool because, honestly, I never want the fabric of my long boots to bunch up, and this one provides some pretty great shelves for them!