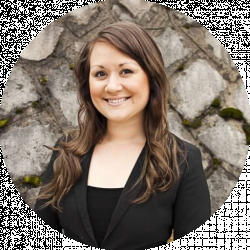 Latest posts by Lacey Jackson
(see all)
I never thought much about the design of bathroom floor cabinets until I realized one of ours only has drawers on one side, and the other is just a big open cabinet. I always take the right side (of the bed, hotel bed, cabinets, car), so when we moved into our last house, I automatically filled all my drawers on the right side with my toiletries.
It took me months to realize that my partner didn't have the same design on their side, so they were stuck stacking all their toiletries in this oversized cabinet with no additional shelves or drawers.
The worst part?
They never complained once or said a word about it. I know me, and if the roles had been reversed, I certainly would have complained at least 14 times. As soon as I realized what was happening, I cleared some of my drawers to try and make space, but they didn't care by then.
Now I pay attention to the design and try to ensure that everyone has an even number of drawers or shelves. I do this by carefully selecting the best bathroom floor cabinet ideas. 
Bottom Line Up Front
SmileMart has the perfect cabinet for a well-used bathroom. For something cute, go with the Luca. It is adorable (it doesn't offer a lot of storage, though) and perfect for a guest bathroom. The J&E Home design cabinet is a sturdier version of the SmileMart, but with open shelves instead of drawers on top and is better suited for a master bathroom.  
Selection Criteria
When I looked over bathroom floor cabinet ideas, I narrowed down my favorites to include the following:
Size
Size matters in a bathroom. Bathrooms are often the smallest room in the house, yet we use them almost as often as in any other room. In my house, we always need more bathroom storage.
Compartments
The compartments are almost as important as the size. I have the things I use daily, like toilet paper, soap, towels, toothbrushes and toothpaste, facewash, and deodorant.
For all of these things, I have to have some sort of storage in the bathroom because that's where those things are meant to live and be used. The more compartments I have, the better because then I can allocate one compartment for the spare things, one compartment for the things I use when going out, and more compartments for the things I use every day, in that order.
Bathroom Floor Cabinet Ideas: My Top Picks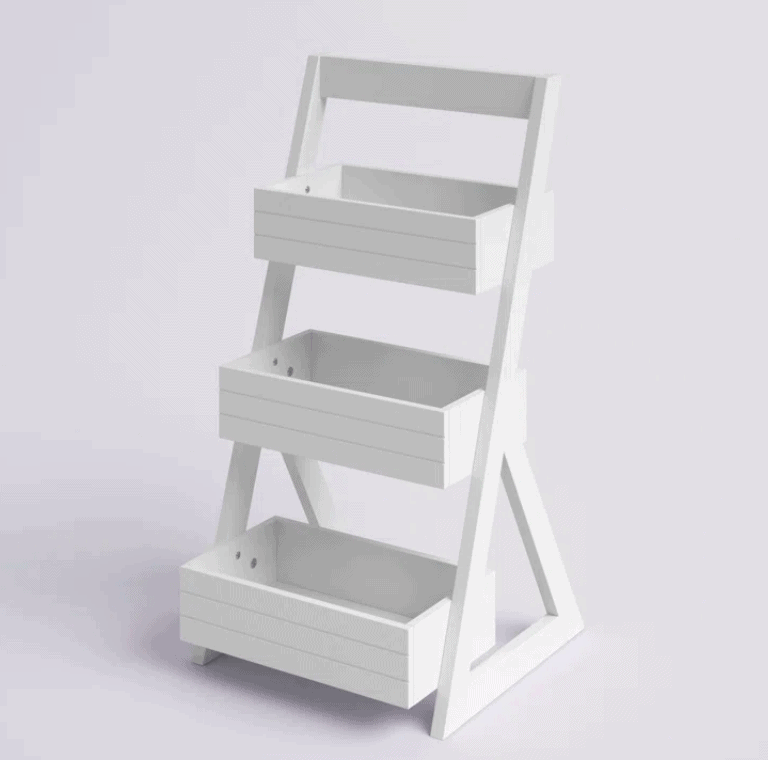 The Luca is a freestanding bathroom floor cabinet, and I think it's the perfect, compact, portable storage unit for a guest bathroom. Not every bathroom needs extra storage. If you have a guest or partial bathroom like ours, you don't need to store much more than some soap, toilet paper, and hand towels.
Anyone who knows me knows how much I love putting small baskets on shelves. It maximizes storage and makes it easier to grab what I need. With this model, I don't have to do that. It has three open, rectangular shelves that function as their own bathroom caddies. This lightweight design has a top bar handle, so you can easily pick it up and move it around. 
I don't have to go out of my way with the Luca; it's the perfect place for washcloths, toilet paper, and soap (each in a separate caddy!).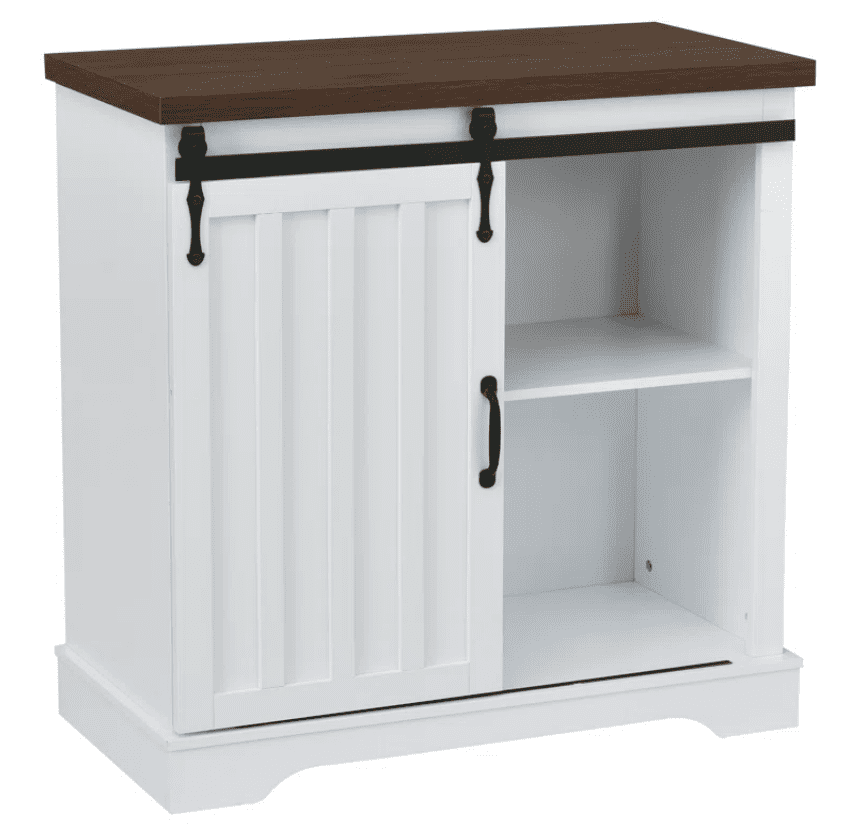 The Kimiko is an adorable, smaller freestanding bathroom floor cabinet with a barn door design. It has no drawers or adjustable shelves, save but one affixed shelf that runs through the middle. This divides it into two separate storage spaces, and of course, that sliding cabinet door partitions it again into a left and right section.
I would suggest storing all the things you don't want people to see on one side and all the things you don't mind being displayed on the other. No matter what, the barn door design means that one side will always be open and exposed, the perfect place for towels or extra toilet paper.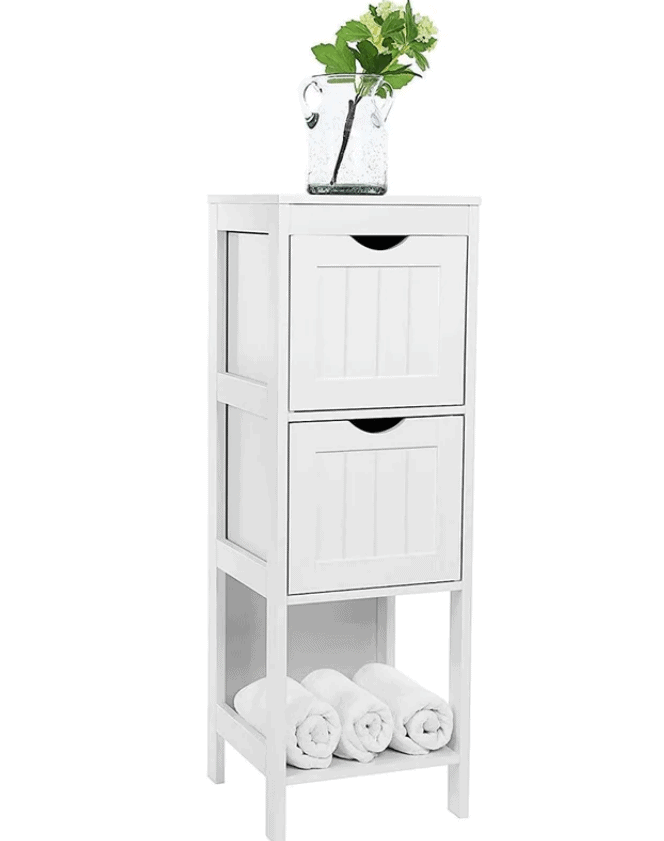 Dove Cove is a slightly different take on the bathroom floor cabinet. It has an open shelf on the bottom instead of on the top. On top, you get two short pull-out drawers to store smaller items, and on the bottom is the perfect space for some rolled-up towels. 
However, because of the layout, you have control over the final design. It is flexible enough that you can have the open shelf space on the bottom with the two drawers on top, or you can switch it up and have the two drawers on the bottom with an open shelf on top of the open shelf in the middle. 
I love that control because I could easily see myself putting the open shelf in the middle so that we have equal access to the open shelf. Still, being a shorter person, I would have the drawer on the bottom, and my partner, the taller person, would have the drawer on top.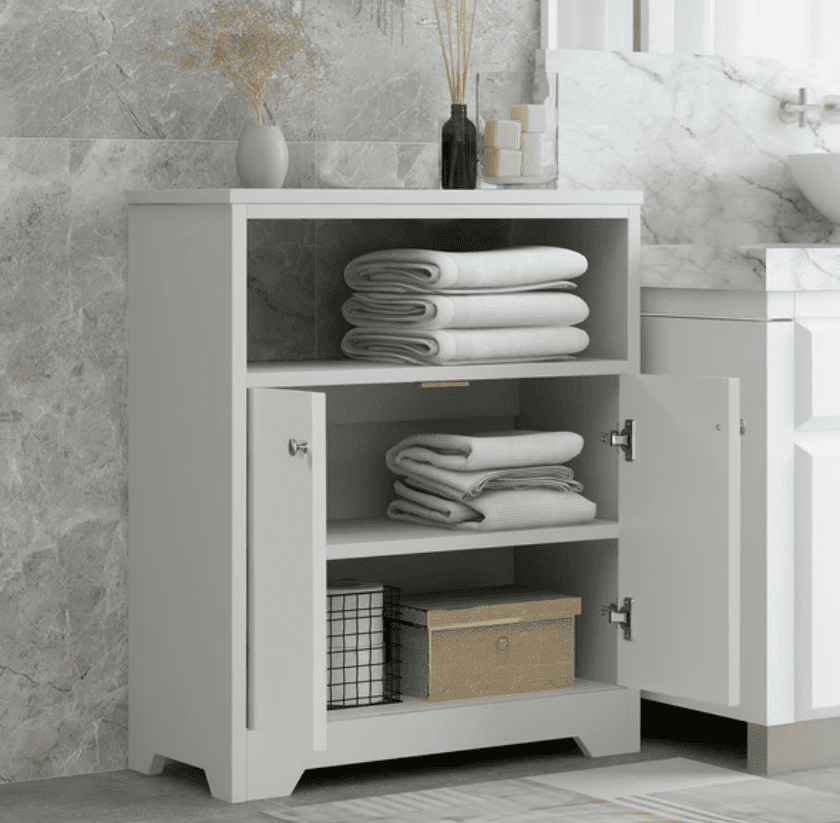 The Giving Tree has a modern, basic bathroom floor cabinet. This is a much more expensive model than the SmileMart or Costway options below, but it's made from actual wood and not part of the board. Two simple shelves are adjustable behind the double doors. Each shelf can hold up to 50 pounds, which makes it one of the most durable bathroom floor cabinets.
I like to store large, 20-pound bags of Epsom salt in my bathroom, and realistically my bathroom floor cabinets have to be at least this strong to hold a couple of bags at a time.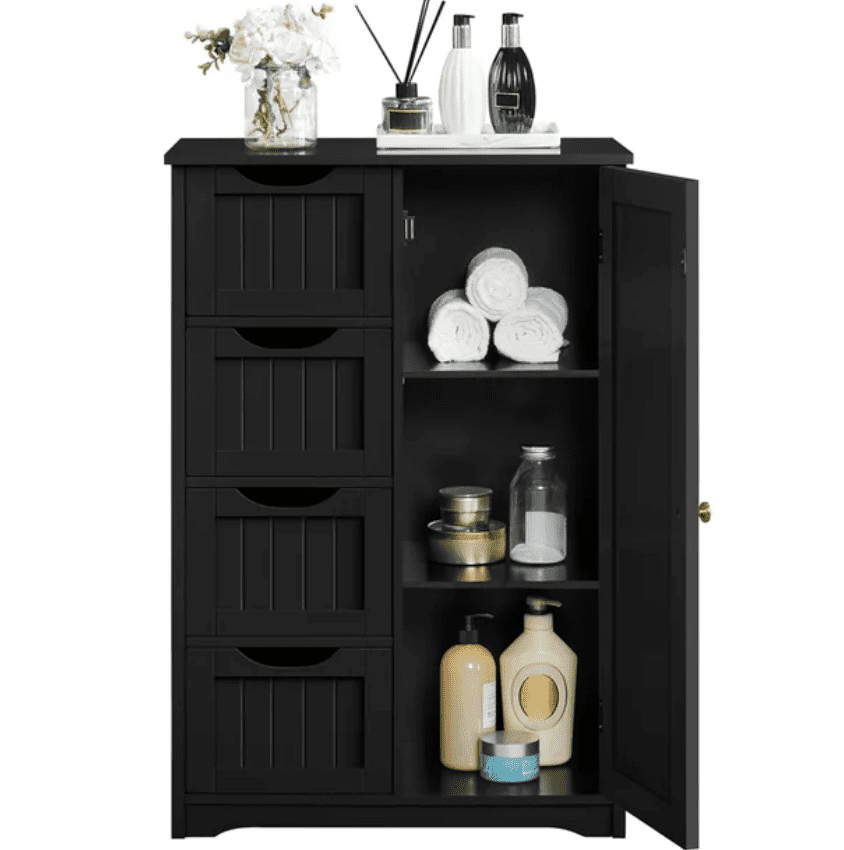 This bathroom floor cabinet is the perfect place to store rolled-up towels, toiletries, and a few houseplants. It has four small drawers, each of which has half-moon-shaped cutouts where you can grab the draw and open or close it. Along the right side is a tall cupboard with three shelves inside. 
I love the combo of drawers and shelves for small and medium-sized toiletries. The entire thing is twelve inches deep, just shy of thirty inches tall (for the storage part), and twenty-one inches wide. It is small enough to fit just about anywhere without jutting too far into your bathroom. Moreover, you can easily store some folded large towels, big soap dispensers, or plants on top. 
It comes in Navy blue, black, or brown. It only weighs 30 pounds. You have to assemble it yourself, and it works really well paired with a basic medicine cabinet.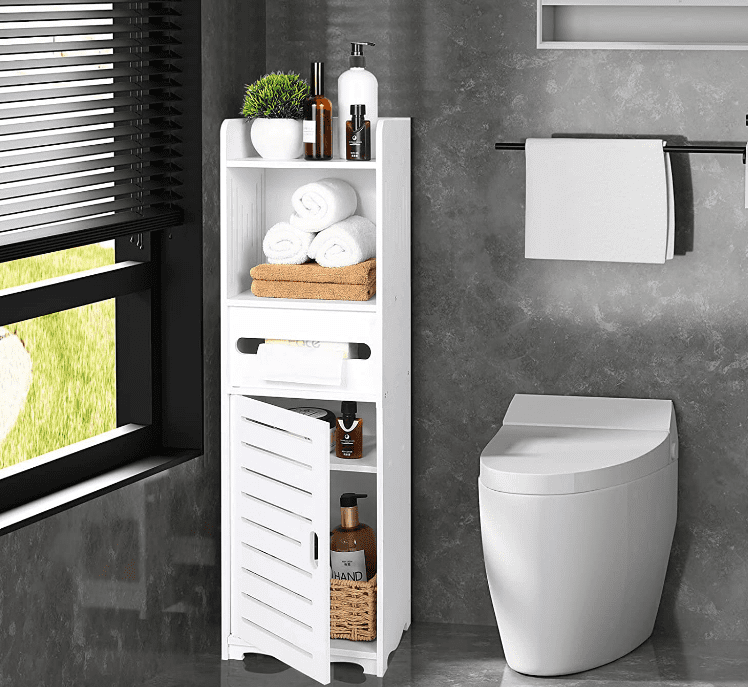 This organizer is a tall bathroom cabinet with one drawer and one cupboard. It only comes in white but what I love about the design is a small feature you'll notice on top. Where most bathroom floor cabinets just have a flat top from which any item could roll away and fall to the floor, this bathroom floor cabinet has a perimeter around three of the four sides, so you can easily store things on top, and they won't get knocked over as easily.
It also has a nice slotted door for the bottom cupboard allowing for better airflow, which is particularly good if you store bottles of lotion, bubble bath, or other liquid products.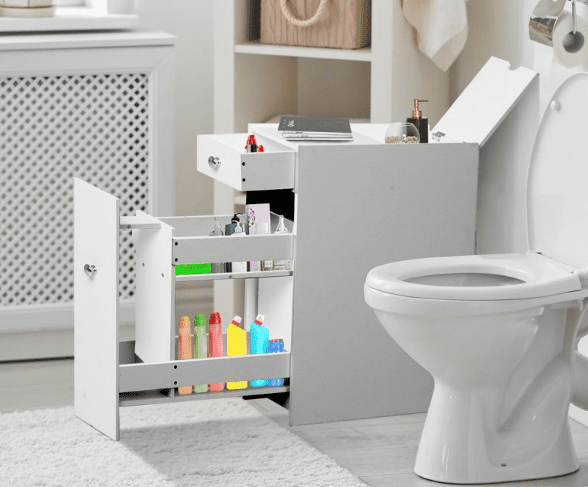 Homcom is another slightly different bathroom cabinet. This bathroom cabinet almost looks like it was meant for an office. It is a compact design perfect for a small bathroom, especially partial ones with only a toilet and a sink.
It has a top compartment with a lid so you can store small items on top and then lift that lid to access them. Below is a single pull-out drawer, and at the bottom is a slide-out set of shelves containing multiple storage sections for tall, thin items like cleaning products and shampoo.
This is the first freestanding narrow storage cabinet I've ever seen designed specifically for a bathroom, and it's the perfect item to store in between the toilet and the sink or the shower.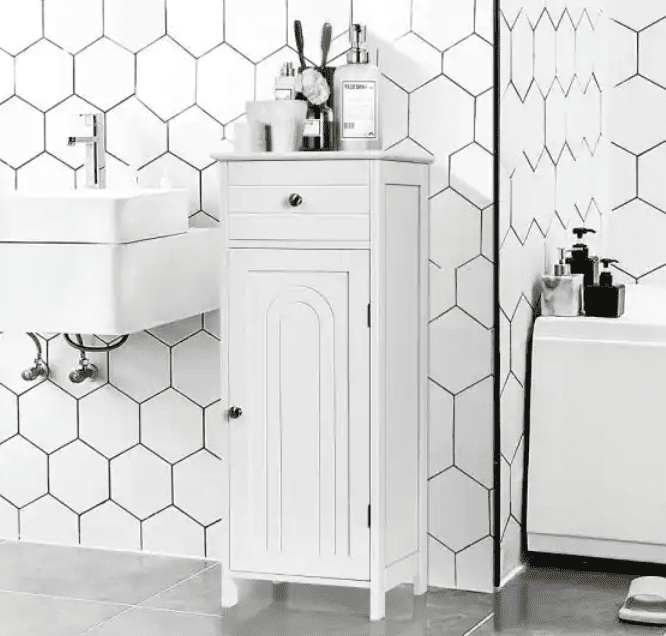 Costway has another bathroom cabinet, but this one is lean and tall instead of short and wide. I love that you can find it with a 14 or 12-inch width and depth.
It has adjustable shelves on the inside with an anti-tipping design. You get a total of three shelves for storage and one pull-out door. You can get it in white or black, making it the perfect companion piece for a Charming modern, elegant, or country-style bathroom.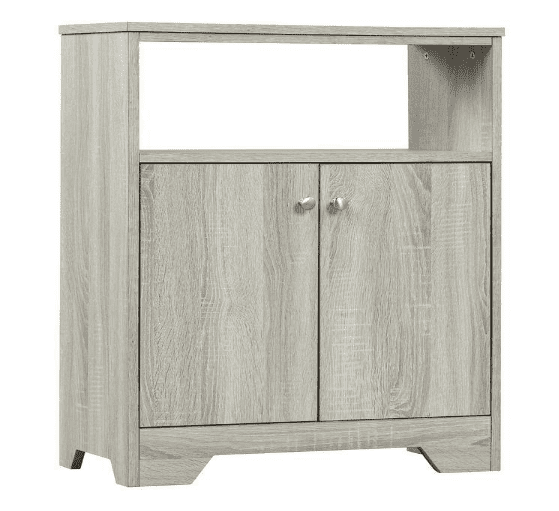 The J&E Home design is a sturdier version of the Costway and SmileMart, but with open shelves atop the cabinets instead of drawers. 
It's roughly the same size, 23.6 inches wide, 31.7 inches tall, and 11.8 inches deep. You get the top of the cabinet on which items can be stored, an open shelf underneath, and two double doors that open to a set of adjustable shelves.
Everything on it is waterproof, so you don't have to worry about it getting wet in the bathroom. The cabinet doors are the perfect place to hide toiletries, while the open shelves are great for things people need to access regularly, like lotion and hand soap. You do have to assemble it yourself, but it's made from solid oak, so it will last a long time.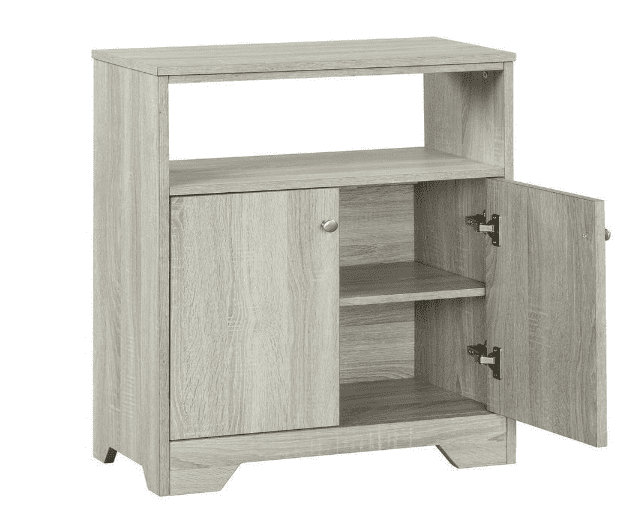 You can find so many great vintage bathroom floor cabinet ideas at Home Depot. One of them is Provence, only eighteen inches wide, sixteen inches deep, and thirty-four inches tall. I love that this one is constructed from Poplar with a maple veneer. It has decorative slots on top with beautiful turquoise paint and a distressed exterior.
On the outside, you get exposed hinge knuckles. It's a freestanding unit with adjustable levelers on the feet. If you have a weird carpeted master bathroom, you can use adjustable feet to compensate for the uneven floor surface. Inside, you get two shelves for a total of 3 storage spaces.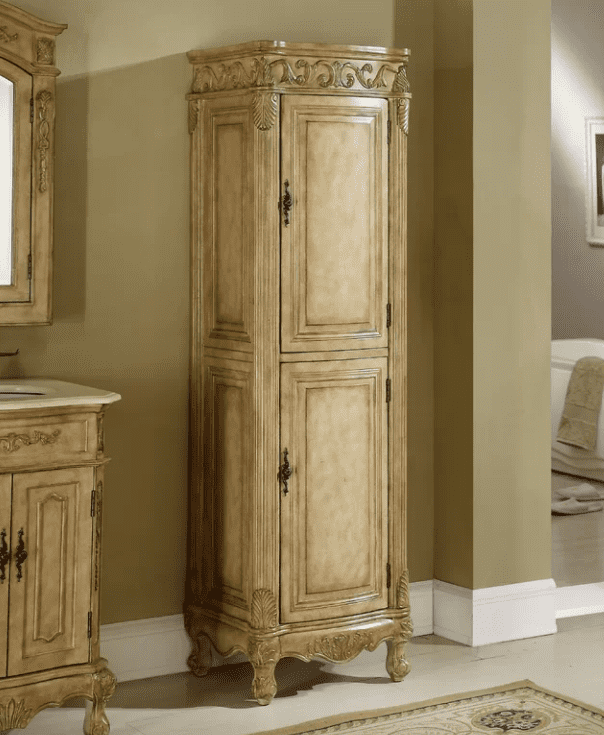 Crestview has a linen cabinet that looks like it came from a Parisian chateau. The tan finish is only one of four options, but it's a towering column, so it has ample storage but is tall and thin. It's handmade from Birch with two doors and two shelves inside. 
It is a freestanding unit with beautiful carved feet and decorations along the top and on the corners, with brass hardware. This is reserved for an elegant bathroom, not your kid's or your shared apartment's bathroom.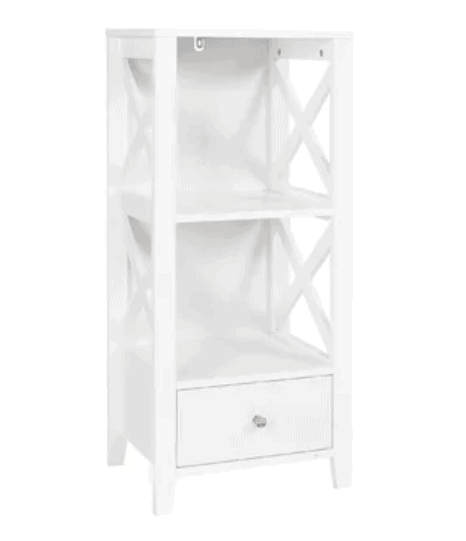 Not everyone needs a bathroom floor cabinet to maximize storage space. Some people like to have it just as a small decoration. My mother-in-law has a renovated bed and breakfast, which basically means they have more bedrooms than they need. However, it's pretty cool when the family comes to stay because every bedroom has an attached bathroom.
The bathrooms are pretty big, but she doesn't need a lot of storage in them because they hardly ever get used. So, she has many of these freestanding bathroom shelves on which a handful of towels, soap, a hair dryer, and some flowers rest. In another, she has these freestanding metal shelves.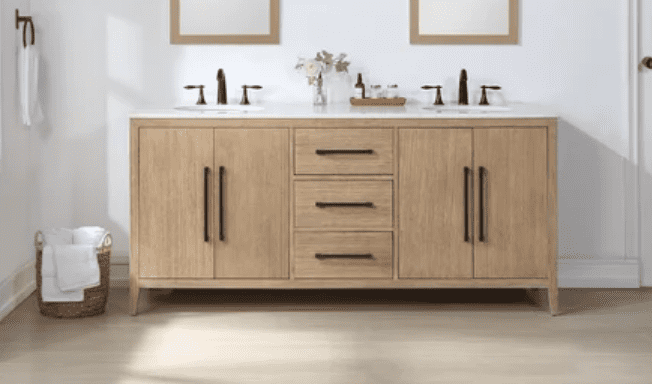 The Alsup Double Vanity is a solid wood bathroom vanity. This model is much more expensive than some of the other bathroom floor cabinets, but it comes fully assembled. This is music to my ears because assembling furniture is something I thought happened magically while I was sleeping. 
More importantly, it has space for side-by-side sinks. This means you have two sets of cabinet doors with long metal handles directly underneath each sink and three drawers in the center. All of the drawers and doors have a soft-close latch system, so you'll never slam your bathroom doors.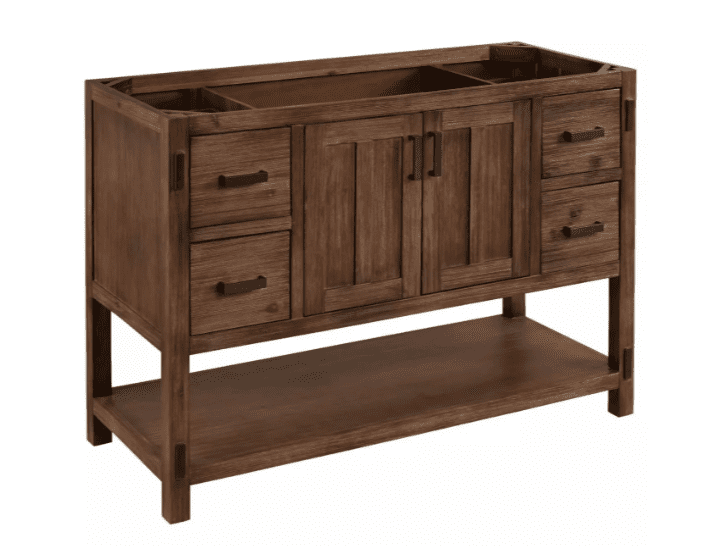 This gorgeous, solid wood bathroom floor cabinet serves as a vanity. A vanity is a bathroom floor cabinet that goes under your sink (there are holes in the top for one or two sinks). This one has a marble vanity top and metal hardware for all the handles. 
The sturdy design is wide enough to accommodate an open shelf on the bottom, two drawers on either side and a set of double doors that open right where the sink is. There isn't a lot of storage behind those double doors (the sink is in the way), but the drawers are spacious, and I love the open-air shelf on the bottom. 
I've seen this design in many higher-end hotels, and that bottom shelf is a great storage space for lightly used towels, the kind you aren't ready to hand over to housekeeping but used to dry your hands or face.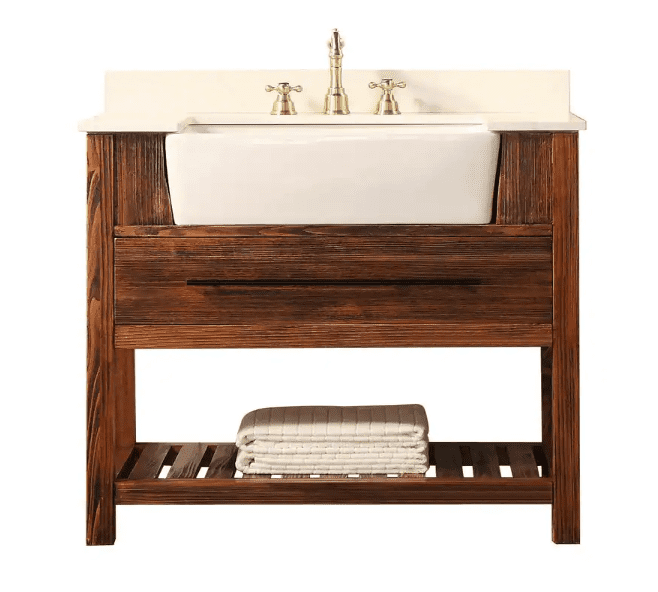 The Supreme Wood collection is meant for a large basin or farm sink. Like the signature Hardware collection, this bathroom floor cabinet has an open shelf that spans the length of the vanity. 
However, because it's designed for the basin or farm sink, it doesn't have that rounded sink shape but rather a rectangular sink shape. This is important because it frees up space directly underneath that rectangle for a long, rectangular drawer. On either side of this long drawer, you'll find two shorter drawers stacked side by side with a quartz vanity top.
It's perfect for a modern home with a wicker basket next to it for dirty laundry or used towels. 
FAQs
Question: What can I put in a bathroom floor cabinet?
Answer: Bathroom floor cabinets are a great place for extra storage and display. Most designs have cabinet shelves behind closed doors where you can store private toiletries or things like extra toilet paper.

You might also have a few drawers where you can put smaller bathroom items like hair bands, bobby pins, toothpaste and toothbrushes, and so forth. There is often workable space on the top or on an open Shelf that you don't have to use as storage but can use as a display for family pictures, candles, flowers, or a set of fluffy towels.
Question: Are there weight limits for a bathroom floor cabinet?
Answer: You want to be cognizant of any weight restrictions. If you have bathroom floor cabinet drawers or shelves, they each come with individual weight limits that dictate how much they can support. 

If, for example, your bathroom floor cabinet says it can support 50 lb total, that doesn't mean each shelf or drawer can support 50 lb. Usually, manufacturers will stipulate exactly how much weight each shelf or drawer can support individually.
Question: How tall is a bathroom vanity cabinet?
Answer: If you choose a bathroom vanity with two sinks, the standard size is 60 inches wide and 24 inches deep. With one, it's about half that. For most designs, it's common to get 36 inches in height and between 22 and 24 inches in depth based on the number of sinks and drawers you have.
Question: How deep should bathroom floor cabinets be?
Answer: On average, bathroom floor cabinets are 12 inches deep, and the storage space inside the cabinet drawers or shelves is slightly less than that. 
Question: Do I have to assemble bathroom floor cabinets myself?
Answer: Usually yes. Looking at different bathroom floor cabinets will tell you whether assembly is required. If it does, you don't need more than some basic tools to assemble it. Floor cabinets don't have to be mounted to the wall or braced up against the wall, so all you have to do is put the hinges on the doors, maybe add some feet to the bottom, and put the shelves where you want them.
Bathroom Floor Cabinet Ideas: Bottomline 
I think the J&E Home design is perfect for a master bathroom because it fits so many different styles. The SmileMart is perfect for people on a budget and is ideally suited to just about any home design, particularly in a well-used bathroom that needs extra storage. For something cute, go with the Luca.