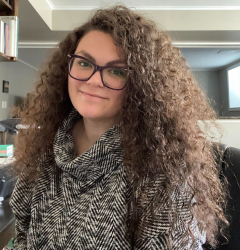 Latest posts by Candace Osmond
(see all)
Are you tackling a cabinet makeover but are stuck trying to pick the best hardware from the internet's millions of suggestions? Well, I'm calling it: gold cabinet pulls may be the perfect and hottest solution in the market for you. I love gold accents and firmly believe they can add style and flare to any space.
And don't get me wrong. These golden finishes aren't just having a moment or resurgence. As you'll see, they're a choice you'll love today and ten years from now. Read on for my top picks of the best gold cabinet pulls spanning style and function.
Bottom Line Upfront
Usually, I'm a sucker for a rustic or farmhouse vibe. But I fell in love with the Franklin Brass Bar Pull Multipack. I'm not sure why, but they called me! Now I'm going to upgrade all the drawers in my house, whether my husband likes it or not.
Top Picks
Before getting to the complete list, here are my top 3 picks you should consider for your next project.
Most Modern Gold Cabinet Pulls: Nordic Modern Simplicity – The versatile design of these Nordic Modern Simplicity cabinet pulls can complement nearly all modern spaces.
Best Gold Cabinet Pulls for Farmhouse Style: Blackrock Ring Pull – Drawing its inspiration from traditional shapes, this Blackrock Ring Pull delivers clean lines and a strong masculine form.
Best Gold Cabinet Pulls For Bathrooms: Deco Centre to Centre Arch Pull – You can never go wrong with these Deco Centre to Centre Arch pulls. Their timeless design is destined to always be in style.
Types of Cabinet Pulls to Consider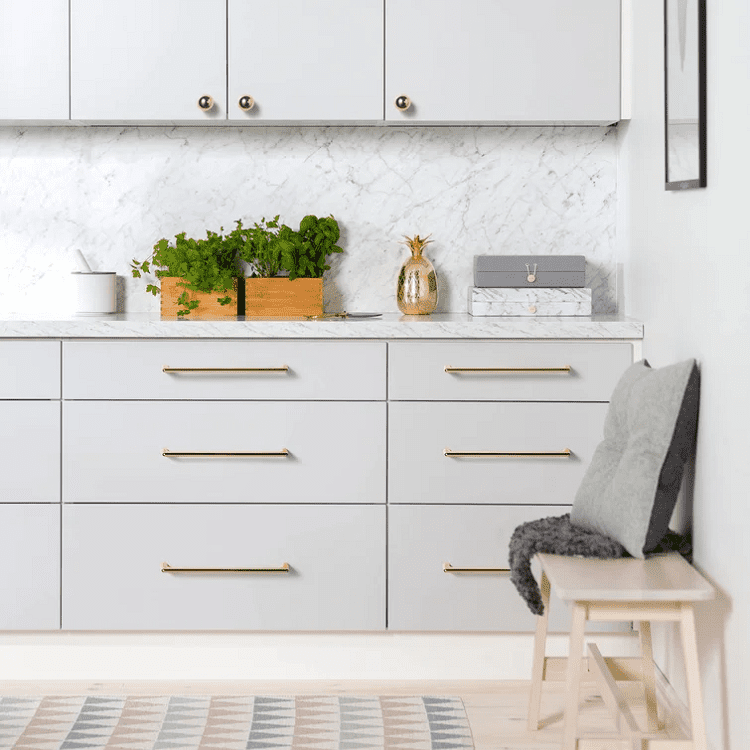 Below, I explain the different types of cabinet pulls you should consider while on your hunt. Use the details as inspiration to narrow down your options to the hardware that best suits your needs.
Bow Handles
Bow handles are cabinet pulls whose grip retails in various designs that include a wave-like shape. These cabinet pulls are ideal for traditional-style kitchens as they deliver a vintage-inspired feel.
Bar Handles
Simple yet functional, bar handles retail in long rectangular bars that are easy to grip and pull. They're also one of the few classic pull-out handles available in the market currently. They'll work flawlessly with both modern and traditional-style kitchens.
T-Bar Handles
Besides the fact they come in a tube shape, T-bar handles are identical to bar handles. Their shape makes them an ideal choice for flat, single-colored cabinet doors, where they'll deliver a smooth look.
Cup Pulls
For a more vintage look, I suggest going for cup handles. These units are uniquely stable and perfectly suited for heavy cabinets and drawers. What's more? Cup handles will expel a refined archaic feeling, whether in polished or brushed gold.
Edge Pulls
If your goal is to award your kitchen a pristine, sleek look, edge pulls are an excellent choice. These are hollow-channeled bars fixed to the cabinet's edges, and you place your fingers in the hollow space to pull the doors open.
What to Look for in Gold Cabinet Pulls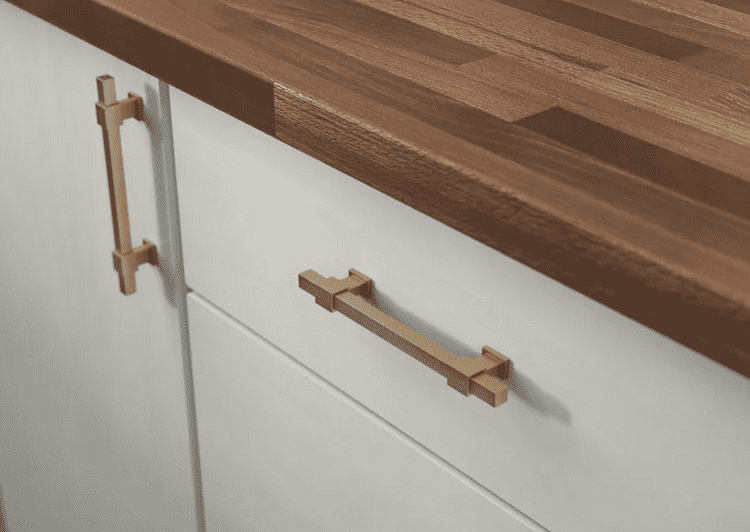 To ensure that the gold cabinet pulls will meet your needs, here are a few factors to consider.
Material
Material can not only make or break the style and feel of a space but will also directly impact user experience. Most cabinet pulls you'll come across are made of metal, which is very popular in modern, transitional-style kitchens.
You'll also find cabinet pulls made of glass, stone, plastic, crystal, and wood available in various shades. The material you go for will depend on the interior style you want. Is it French country, traditional mid-century modern, transitional, coastal-style, or industrial-style?
The Finish
Along with the material, the best cabinet pulls finish will be a matter of preference. As a general guideline, I recommend ensuring that the finish complements the rest of your home's style. Take note of the room's appliances, lighting, and furniture color.
Price
As with all renovation projects, your budget will significantly influence the gold cabinet pulls you pick. Typically, mass-produced cabinet pulls will be way more affordable than custom-made pieces, and custom pulls are usually hand-made, which adds to their price tag.
Are the pulls you picked also finished in precious metal and adorned with crystals or other semi-precious stones? Then expect to cough up a couple more hundred dollars.
Width
The width refers to how wide the pull is. And yessir, size does matter in this case. Wide cabinet pulls are often easier to use, but smaller pulls may fit smaller cabinet fronts better. You could also go for broader cabinet pulls if you want to make a statement with your pulls.
Size
Are you refurbishing existing cabinet doors or only replacing the cabinet pulls? Then the holes left by the removed hardware will determine the size of cabinet pulls you get. Define your search further by the width of the drill holes for better accuracy.
Shape
Take note of your cabinet style, lighting fixtures, countertop edge, and other essential design elements. Do they have curved or square lines? Choose the best gold cabinet pull consistent with the types of lines in your design.
Different Gold Finishes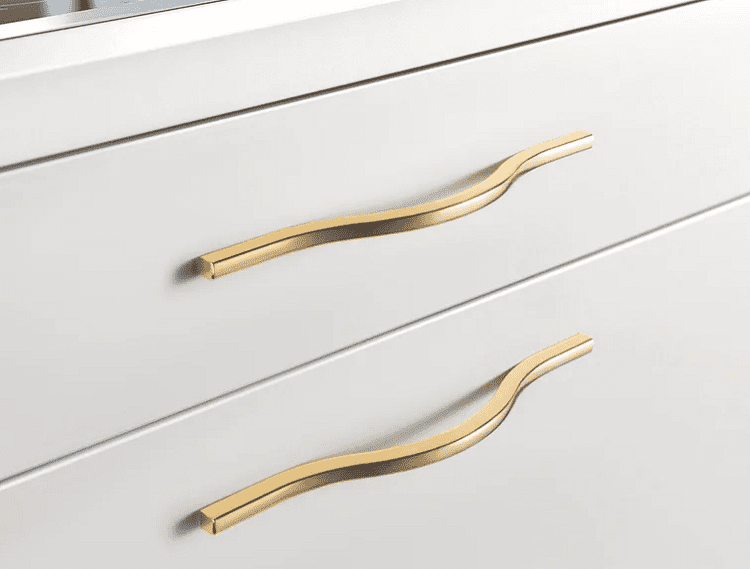 If you've been shopping for gold cabinet pulls for a while, you know a wide range of gold finishes exists. This can make it hard to match your current hardware or find replacement parts. Hopefully, this guide will help you out!
Champagne Gold
Champagne Gold features one of the most complex color tones in the realm of gold finishes. It boasts elements of bronze, gold, and caramel. This variation awards champagne gold a great deal of flexibility when coordinating it with finishes on other items. Think light fixtures, faucets, and other kitchen or bathroom elements.
Works well in traditional, transitional, and modern decorations
Brushed Gold – Works well in contemporary rooms
Brushed gold, a supremely noble finish, creates a prestigious finish synonymous with scratch and corrosion resistance. It's now a staple in tap fittings and interior design, explaining why it appears increasingly in industrial and contemporary designs.
Satin Gold – Works well in both contemporary and traditional rooms
Another popular gold finish with many fans in the interior design world is Satin Gold. The main difference between satin gold and brushed gold is the brush marks that characterize brushed finishes.
As you'll also see, satin gold isn't on the shinier end of the spectrum. It's matte with the perfect balance of sparkle, allowing it to blend in perfectly with all background colors.
Rustic Gold – Works well in Victorian, colonial, and other vintage-styled rooms
Rustic gold is treated to appear aged, and it's typically a rich, deep brown shade with golden undertones. This warm, low-luster gold finish resembles natural brass but won't patina or tarnish over time. It's also visually exciting and uniquely created to resist scratches and damage.
Polished Gold – Works well in virtually any room
A polished gold finish is created using polishing compounds and a fast spinning brush to create a smoothed-out golden surface. This finish option has been a classic forever, thanks to its bright, shiny, and highly reflective nature.
Best Gold Cabinet Pulls
I hope this list will bring your quest for the best gold kitchen cabinet pulls to its ceremonious end. As you can see, I chose these based on killer style, decent price ranges, and overall quality. There's also a good mix of different gold finishes.
Best Fashionable Pick: Goldenwarm Centre to Centre Finger Pulls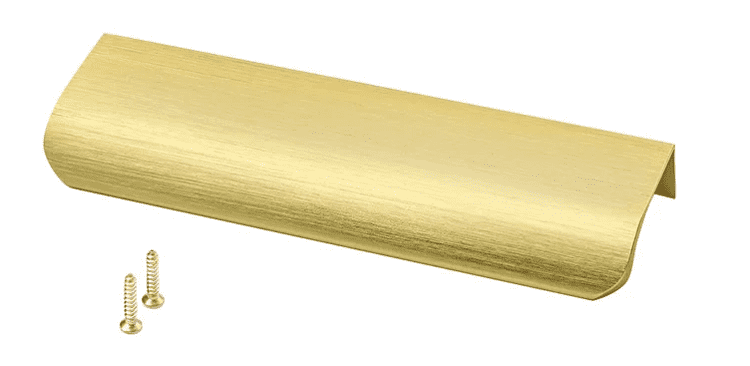 Gleaming with a pure golden hue, these Goldenwarm Centre to Centre Pulls are destined to accommodate your unique aesthetic preferences. Their bright, glistening, and glossy finish will catch everyone's eye.
Price Range: $85.99 – $115.08
Material: Metal
Count: 25
What I love most about these is the simple design which makes them extremely easy to clean. As a mother of two very messy, sicky-fingered kids, that's a bonus.
Pros
Built to last
Easy to install
Installation screws included
Easy to clean
Practical
Cons
Not backed by any manufacturer's warranty
Best Modern Gold Cabinet Pulls: Nordic Modern Simplicity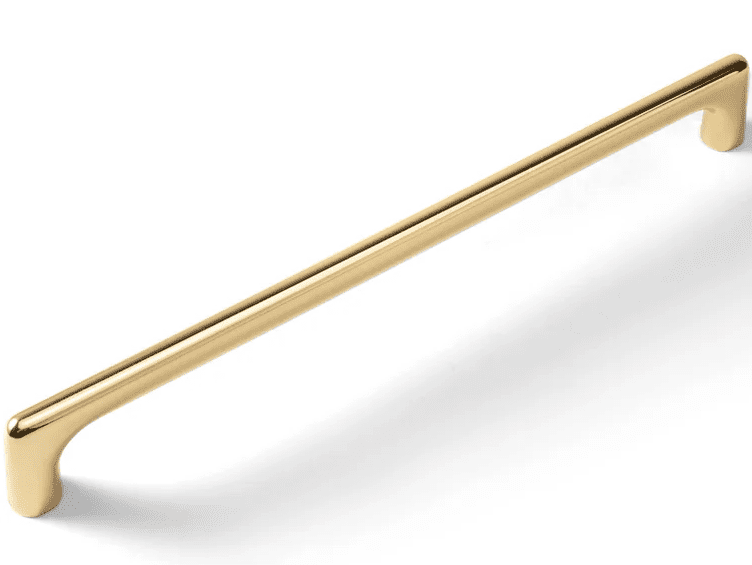 Do you typically hate having your cabinet hardware look one-dimensional? Why not take this opportunity and get cabinet pulls that retail in distinct finishes that complement each other? That's precisely what these Nordic Modern Simplicity cabinet pulls deliver.
Price Range: $98.99 – $110
Material: Zinc Alloy
Count: 6
I'm so in love with the elegant beauty of these, even though they're just a simple bar. There are no ornate details, but the edges are soft, so it would go with modern and traditional settings.
Pros
Rust resistant
Features a distressed look
Backed by a one-year limited warranty
Screws needed for installations included
It will complement any interior
Cons
Large in size, which can take up more visual space
Best Gold Cabinet Pulls For Bathrooms: Deco Centre to Centre Arch Pull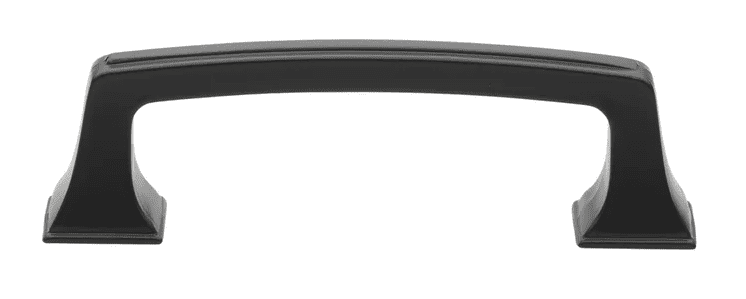 Arch cabinet pulls are one of the most classic pull styles you'll ever find and for a good reason. As these Deco Centre to Centre units prove, these pull styles are perfect for a sleek, modern kitchen. That's especially true when paired with grey, brown, or black cabinets.
Price Range: $35.76 – $45.43
Material: Metal; Zinc
Count: 10
This is the pull for you if you want a gold cabinet pull with a super traditional style that will last through several trends and fads. Just trust me on this one.
Pros
Backed by a lifetime warranty
Won't age or tarnish
Easy to match with any interior décor
Won't show fingerprints
It has a warm color you can always polish back to a shine
Cons
Best Popular Choice: Franklin Brass Bar Pull Multipack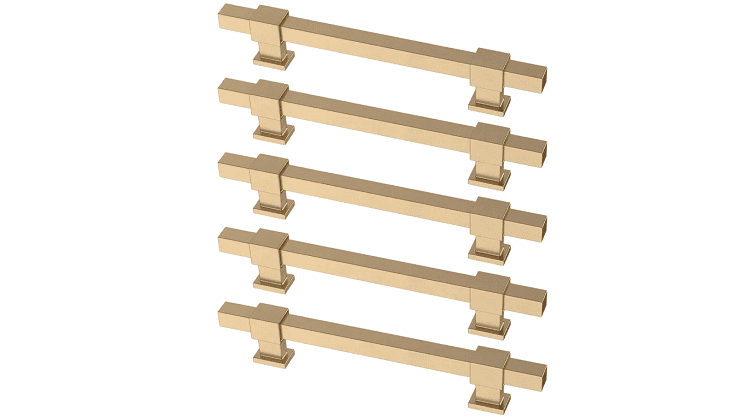 Not all people desire a bold, striking golden finish. Some prefer finishes that add a subtle yet refined element to their space. These are the best gold cabinet pulls if you also wish to integrate subtle golden hues into your space.
Price Range: $36.99 – $72.49
Material: Metal
Count: 5
When I saw these, I added them to my cart in half a second. I will upgrade some of the vintage furniture around my house and maybe even a few cabinets in my office. These are stunning!
Pros
The champagne gold awards it a contemporary feel
Easy to match with other finishes
Highly polished
Backed by a lifetime warranty
Easy to install and clean
Cons
The finish may dull over time
Best Minimalist Pick: Wayfair Basics Multipack Pulls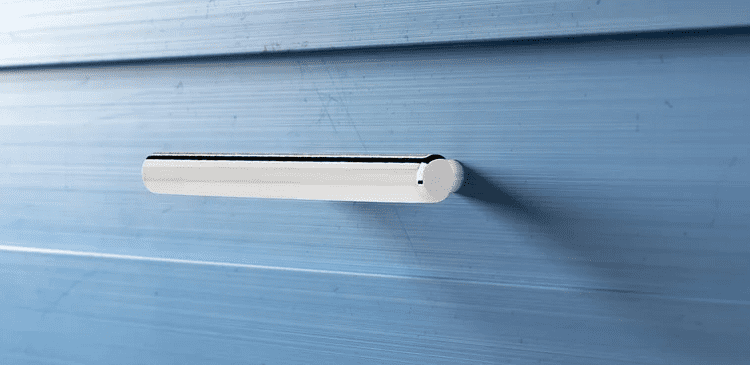 These handy pieces from Wayfair Basics are best suited to smaller kitchen cabinets and are available in various finishes. In addition to the golden champagne, you'll get them in polished nickel, oil-rubbed bronze, sterling nickel, and matte black. But just LOOK at the gold finishes *ogles*.
Price Range: $30.56 – $55.99
Material: Metal
Count: 10
They're probably one of the most common styles and shapes of bar pulls you'll see today. They're simple and modern, but the rounded edges would also work well in other settings.
Pros
Straightforward styling
Easy to install
Backed by a both limited lifetime warranty
Comfortable grip
Sleek and sophisticated design
Cons
Best Cabinet Cup Pulls: Wayfair Basics Cup Pull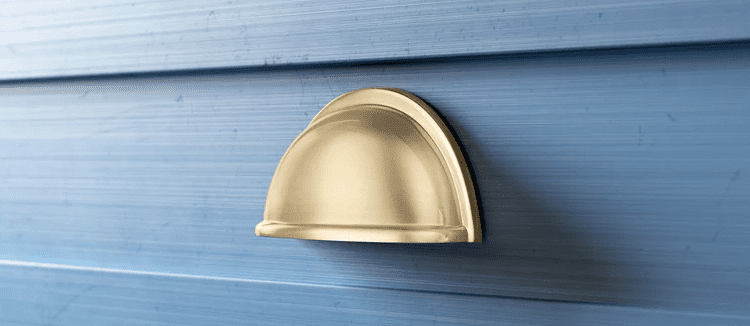 These Wayfair Basics Cup Pulls will bring lasting traditional beauty to your kitchen or bathroom for generations. That's evident from the pull's cultivated grandeur, durable & sturdy construction, and intricate detailing.
Price Range: $65.23 – $80.99
Material: Metal
Count: 10
I adore a good cup pull to elevate the look of larger pieces of furniture. But, in the kitchen, I always recommend people put them on the lower cabinets, especially heavy pots and pans drawers.
Pros
Retails in five distinct finishes
Backed by a limited lifetime warranty
Quality construction
Easy to install and clean
Ergonomic design
Cons
Too small for large cabinets and drawers
Best Polish Gold Cabinet Pull: Luxury Arch Pull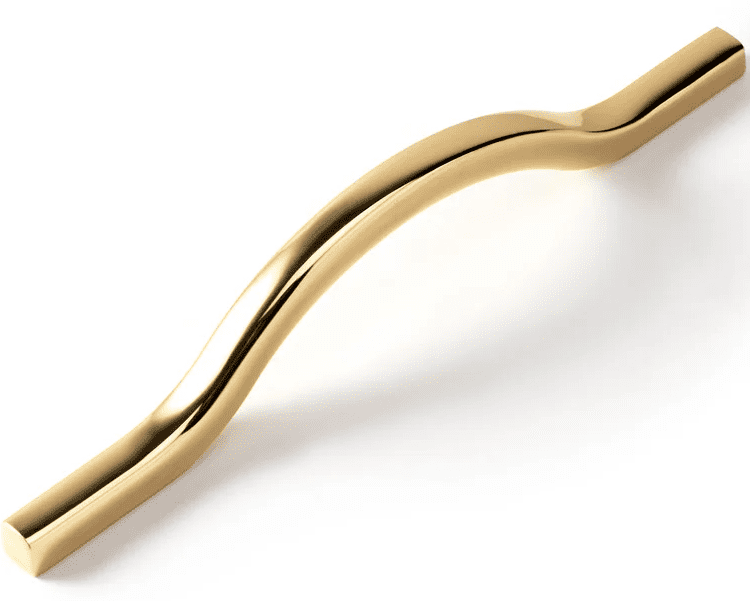 Are you still looking for the ultimate statement piece that is sure to pop amidst your other home décor? Perhaps this luxury arch pull from GOO-KI could be what you're looking for. Retailing in a pack of 6, the bar pull features an excellent ergonomic design concept and is built to last.
Price Range: $29.78 – $54.99
Material: Metal
Count: 6
I think they are just so sleek and cool. Just imagine them adorning a set of matte black cabinetry. Great, now I want to renovate.
Pros
Long-lasting and sturdy
Corrosion resistant
Great construction
Two distinct hole distances for easy installation
Intended for both residential and non-residential use
Cons
It can look dramatic against certain shades
Best for Contemporary Interiors: Esquire Centre Bar Pull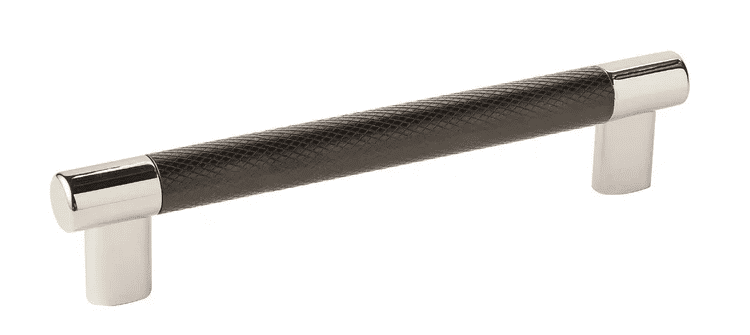 This Esquire Centre Bar Pull from Amerock is uniquely constructed to last a lifetime and complement any interior décor. The coating is resistant to damage caused by salt and most other corrosive materials.
The lifetime limited warranty is there to assure you that the unit will perform as advertised.
Price Range: $15.89 – $26.99
Material: Metal
Count: 1
From my years as an Interior Designer, I can tell you one thing for sure: Amerock is one of the best brands in hardware, and their quality is almost unmatched. Also, for these particular beauties, I love the snakeskin look of that centerpiece.
Pros
Chic design
Required mounting hardware included
Retails in multiple finishes
Durable and sturdy
Won't show any fingerprints
Cons
Most people don't like the industrial-like design
Best Budget Cabinet Pulls: Loop Arch Pulls
Looking for satin gold cabinet pulls that genuinely emanate the splendor and brilliance of exquisite luxury finishes? This loop arch pull from GlideRite Hardware could be what you're looking for. The pulls are lusted for because of the bright golden sheen they give off.
Price Range: $42.79 – $60.78
Material: Zinc Die Cast
Count: 10
These are the gold pulls for you if you want something slick, elegant, easy to clean, and affordable. I absolutely love them!
Pros
Rust resistant
Ergonomic design
Backed by a lifetime warranty
Great for both small and large cabinets
Will complement any interior décor
Available in four other finishes
Cons
The finish will need a lot of maintenance in order not to tarnish
Best Gold Cabinet Pulls for Farmhouse Style: Blackrock Ring Pull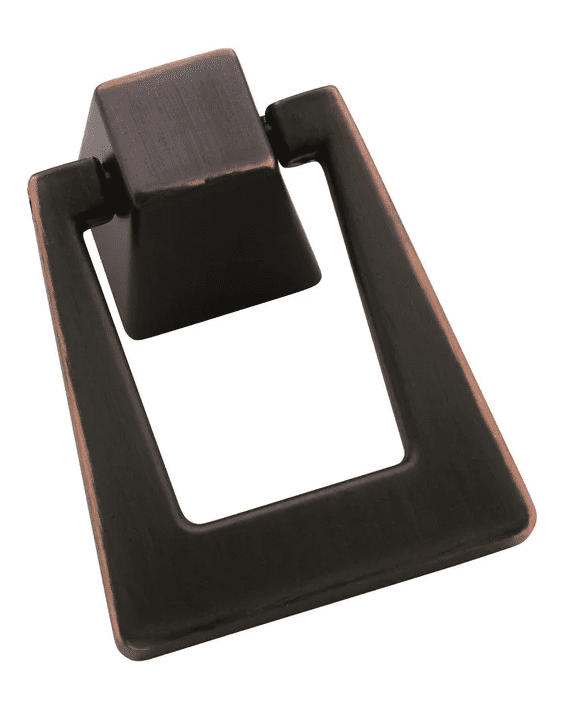 Perfect for any room, this antiqued ring pull from Amerock will add rustic charm anywhere it's installed. The pendant portion of the cabinet hardware is designed to stop at a 90-degree angle from the base when released. This ensures that it won't hit the cabinet door or draw.
Price Range: $9.99 – $15
Material: Metal
Count: 1
The lightly distressed finish is just the cherry on top. If you've got an open-concept home, these would be a great way to marry the different spaces; just add them to your furniture!
Pros
Will pair seamlessly with matching appliances to create a cohesive look
Backed by a lifetime warranty
High-end look and feel
It pairs excellently with vintage decors
Won't show fingerprints
Cons
Not suitable for large cabinets
Best Unique Construction: European Knurled Solid Cabinet T-bar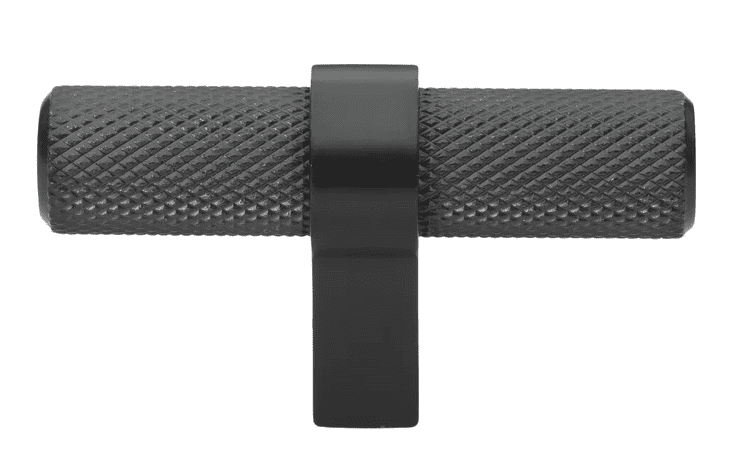 The finish of this European Knurled Solid Cabinet T-Bar isn't reflective. Still, its dullness does exhibit a chic, brushed appeal that's hard to beat. The only downside with this set of pulls is that it's only ideal for small cabinets and drawers.
Price Range: $43.45 – $55.99
Material: Steel
Count: 10
Pair them with the matching pulls above, or use them for the entire kitchen, whatever floats your boat!
Pros
Easy to grasp
Extremely versatile
High-end look and feel
Will add flare to any cabinets
Very durable finish
Cons
Not suitable for large cabinets and drawers
Best Vintage Cabinet Pull: St. Vincent Centre to Centre Bar Pull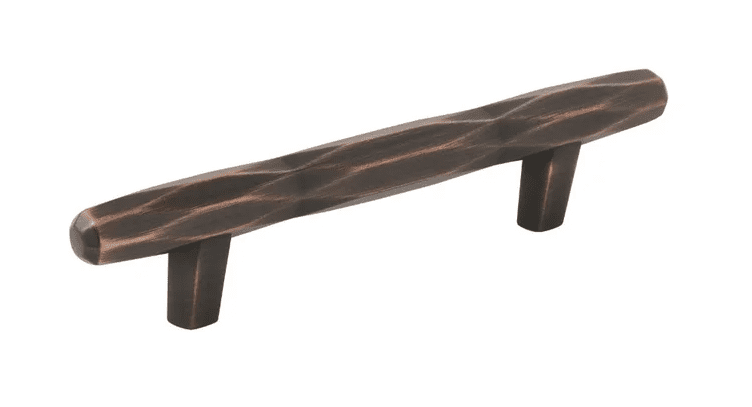 Looking for a gold cabinet pull to help turn any space into your own rustic paradise? Let me introduce this St. Vincent Centre to Centre Bar Pull from Amerock. This pull also makes for an excellent gift for anyone into rustic or farmhouse-style hardware.
Price Range: $15.76 – $22.80
Material: Metal
Count: 1
The other finishes for this pull are gorgeous, but there's just something about that champagne bronze that makes me almost drool. So beautiful!
Pros
Retails in six more finishes
Will create a subtly modern look
Comfortable to handle
Limited lifetime warranty against defects in material
Features sophisticated angular shapes and clean geometric patterns
Cons
Only one bar pull is included in the package
Other Finishes to Consider
"Do all the finishes in my home have to be the same?" Oh my gosh, I get this question all the time. The answer is (of course) not. Mixing and matching finishes are a great way to add interest to any space and award your home a more authentic finish.
If you agree, here are additional finishes that could look pleasing when coupled with gold cabinet pulls. When mixing finishes, it's best to have a dominant finish and one to two secondary finishes.
Brass
Brass finishes are standard in older colonial homes, particularly homes styled to match the early 90s. The widespread availability of brass makes it one of the easiest to find, making it one of the easiest to match with other accessories, fixtures, and hardware finishes.
Brass finishes come in three more distinct shades you can pick from. These include antique brass, satin brass, and bright brass. Antique brass finishes closely resemble the look of natural brass and feature warm looks due to their brown and golden tones.
Chrome
Chrome features a contemporary look & feel and shines best in simple, understated spaces. Since it doesn't stand out too much and blends with most styles and finishes, it's typically found in commercial spaces.
Don't be tricked into thinking it's institutional, however. You'll be surprised by how well the finish coordinates with reclaimed wood cabinets and golden hardware.
Copper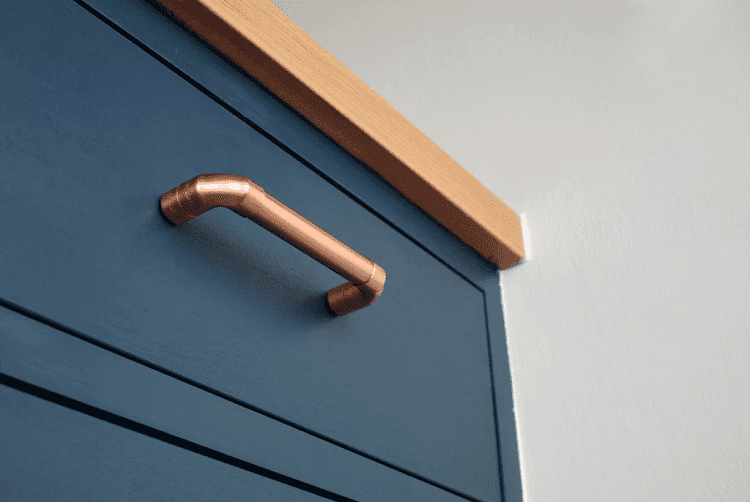 Copper, also called Rose Gold, is an eye-catching finish that always stands out in any space. Like the brass finish, copper also retails in several variations, including but not limited to aged copper, polished copper, natural copper, antiquated lacquered, distressed lacquered, and brushed lacquered.
Confirm if the copper cabinet pulls you're getting are lacquered. Unlacquered copper usually quickly develops a patina.
Black
Black is another gold alternative that has recently grown in popularity, and for a good reason. The shade not only adds drama to cabinetry but is also a neutral undertone that'll pair well with all finishes.
To pick the superior black finish for modern black hardware, consider the Matte Black finish.
FAQs
Question: Is Gold Hardware in Style?
Answer: Gold hardware remains a trendy choice for cabinet knobs and pulls, and it's considered an exquisite look that retails in a wide array of gold finishes. Find the complete list of gold finishes above.
Question: What Décor Style Goes Best with Gold Hardware?
Answer: Décor styles that go with gold hardware include transitional, industrial, Victorian, rustic, European, country, modern, and traditional décors.
Question: Will Gold Cabinet Pulls Tarnish?
Answer: Short answer? NO. Long answer? It really just weighs on how well you care for the gold cabinet pulls. Protect your pulls from tarnishing by rubbing thin layers of olive, lemon, linseed, or mineral oil over them after cleaning. Simply dip a clean paper towel in the oil of your choice and rub it along the pull's surfaces.
Best Gold Cabinet Pulls: Bottom Line
Switching up your cabinet hardware is the quickest, easiest, and most cost-effective way to change your kitchen or bathroom's aesthetic. With that in mind, I hope my guide has helped you decide on the right hardware type, style, and material.
I've also ensured that the reviews section carries something for every taste, every space, and every budget. If you want something modern that works across multiple styles, I'd suggest the Franklin Brass Bar Pull Multipack! If you want more recommendations, check out my other guides on the site.
Read More: