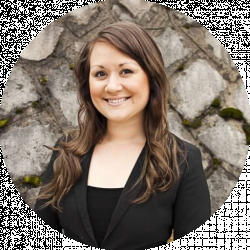 Latest posts by Lacey Jackson
(see all)
Knowing how to find the best cabinet latches will make it easier for you to keep all your cabinet doors shut and secure.
Cabinet latches serve an important purpose in keeping the cabinet door shut, protecting the contents from dust, pet hair, or pet intrusion. If we leave a cabinet door open, our cat just takes a little jaunt inside and around every stack of boxes or bags with her recently-used-the-cat-box-and-now-smells-like-gain-cat-litter paws.
Bottomline Upfront
I recommend the Flower Knob Turn Cabinet. It has the highest recommendation from customer reviews in large part because it's not only elegant in its design, but it's made from solid brass, so you get the sturdiest construction out of almost all available cabinet latches. If you don't want to see any visible hardware on your cabinetry, then I recommend the Magnetic Jiayi Latches.
Selection Criteria
Each of the items included here is a different type of latches because one size doesn't figuratively fit all. I only picked items that have durable construction, offer somewhat easy maintenance, and have good long-term prospects so they won't break immediately and need replacing.
How to Find the Best Cabinet Latches: Why You Might Want Them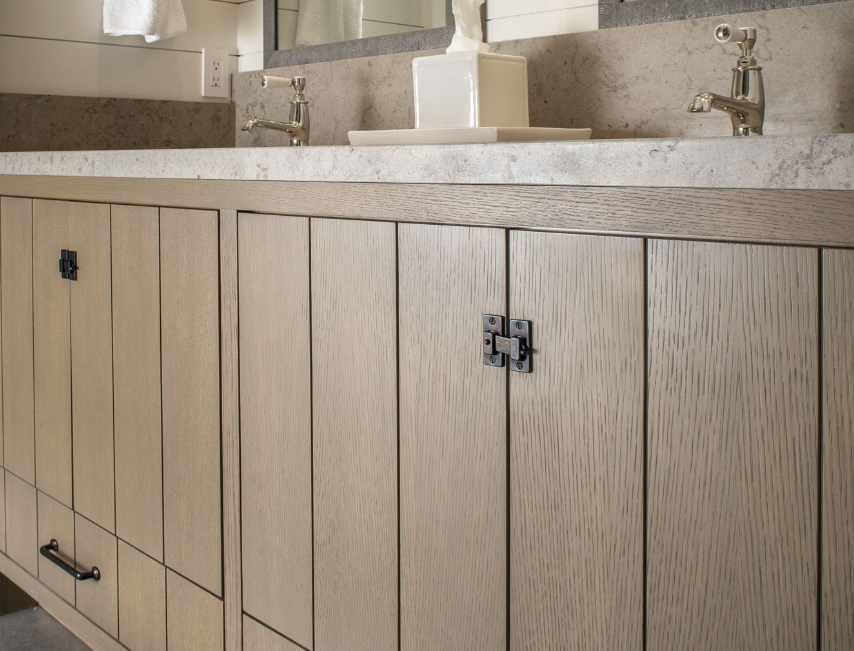 I have lived through many earthquakes in California, so I fully appreciate the security cabinet latches can afford when there is any type of commotion like an earthquake.  If you have an RV or any live-in vehicle, that commotion might be a swerving road. 
If you have a house full of teenagers, that commotion might just be cabinet doors slammed in anger, followed by "you just don't understand" or "this is so unfair."  In any case, the best cabinet latches can keep your space looking sleek while protecting whatever is inside. 
Below is a quick table of the benefits of cabinet latches:
| | |
| --- | --- |
| Visibility: | Latches attach to the front or outside of a cabinet, so they are always visible (just like a door knob) |
| Security: | Latches "lock" in place, but they are not a lock (with a key). They tend to hold your cabinet doors closed tighter than catches.  |
| Safety: | Latches offer some degree of child-proofing and pet-proofing, depending on the type of latch you pick. Butterfly latches or slide latches will keep a pet out, but at some point, all children get smart enough to learn how the latches work. Plus, they have opposable thumbs, so it's usually easier for them to figure it out compared to your family dog. |
If you have a modern kitchen with lots of cabinets on the central island and a tall, standing cabinet, you might consider a cabinet latch to keep them closed so they don't impede traffic. 
In our kitchen, because it was built in the 80s, there are no couches or latches on any of the cabinets. This means the cabinet doors near the sink like to hang open 2 or 3 inches at will. Many an outburst has transpired during mealtimes because of a kneecap that was skewered by the corner of the cabinet door. But new latches fixed that. 
How to Find the Best Cabinet Latches: Different Types of Latches
So let's go over the different types of cabinet latches so that you have a better understanding of which latches might work best for you.
Magnetic Latches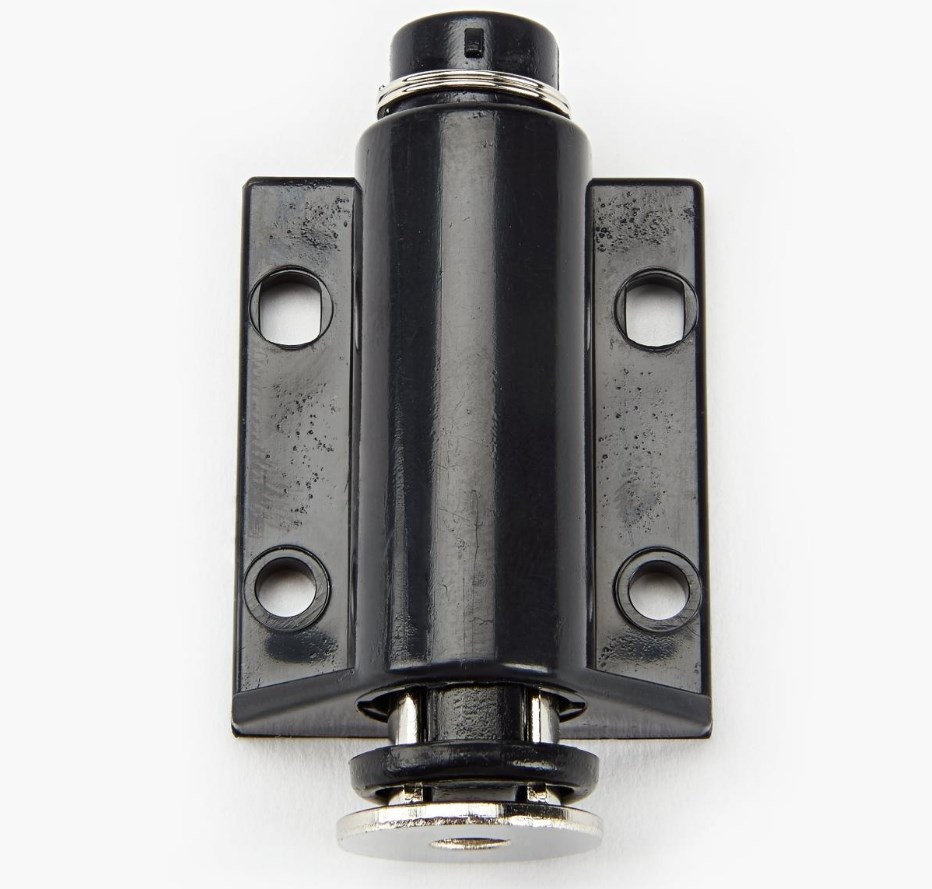 Magnetic latches have two parts:
The body

The strike plate
The body contains the magnet, and you mount this on the inside of the cabinet. The strike plate gets attached to the door. There are many types of magnetic latches varying in strength and durability.
For example, some require just a few pounds, maybe a flick of the wrist, to open the door, while others can require a heavy-duty 60 lb of pressure to get the door open. This is reserved for more commercial purposes and for RV storage. Regarding residential cabinets, the pull strength is usually no more than 10 lb, about the same as you need to open your refrigerator.
Best for: 
Magnetic catches are best for wooden cabinets because the wood can swell or shrink with the seasons, and they won't interfere with alignment.
We live at high altitudes and originally installed slide latches (also called bolt latches). They worked well in the summer. But when winter came, all of the doors swelled because of the change in weather, and the pieces didn't line up anymore. After two years of this chaos and never being able to shut cabinet doors for half the year, we replaced them with magnetic latches and haven't had a problem since.
Magnetic latches are fairly simple to install, and they can range and cost up to a few dollars each depending on the pull string. They are incredibly easy to maintain, and all you have to do is wipe two pieces. With very few moving parts, they are the least likely to break compared to the other cabinet latches, so they last longer.
Push to Open Latches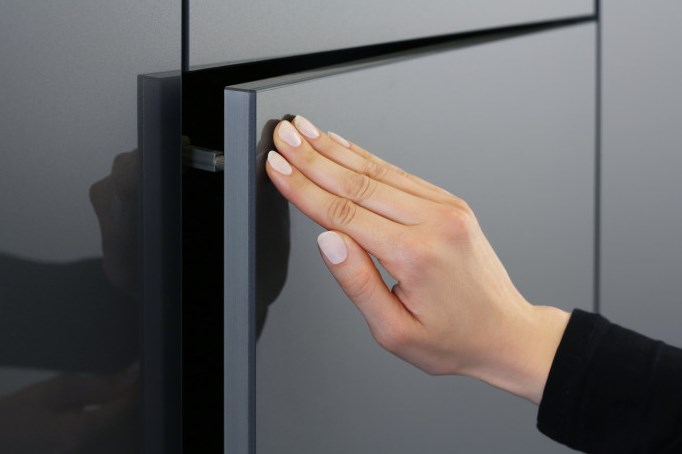 As the name suggests, push-to-open latches require you to push against the cabinet door, and then it pops open. These are usually spring-loaded, but they can also be magnetic. Push-to-open latches have slightly more complicated hardware and are designed to open with just a little bit of pressure.
Because of their work, you will always have a small gap between your cabinets and your cabinet door. This gap is where you would push in to get the latch to release. They work well for guest bathrooms or living rooms, places you don't access multiple times per day. 
Best for:
Push-to-open latches are best for people who don't want any hardware sticking out from their cabinets.
Turn Latches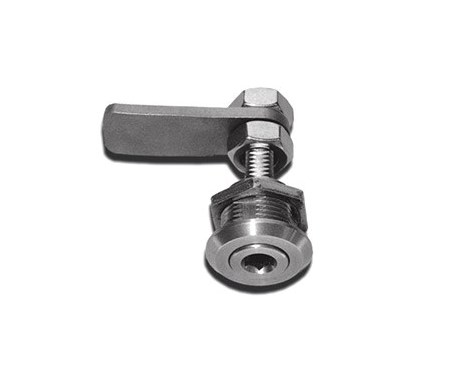 You have a spring-loaded bolt with turn latches that moves in and out of the catch when you turn the latch. These function very similarly to a doorknob in that you have a section that you grab and turn, releasing the door and allowing you to open it.
The nice thing about turn latches is you can find so many different styles, and many of them are very simple and rustic, available in many different finishes. My in-laws love turn latches because they are one of the few that their very smart dog can't figure out; they are a bit more secure. They can find different rustic finishes to go with the restored French Countryside look of their renovated B&B.
The downside is you have to turn the latch to both open and close. They are very secure because of this feature. The mechanism that is behind the design is almost entirely enclosed, so you don't have to worry about cleaning it, but if the hinges or spring wear out, you'll probably have to replace it entirely instead of repair it.
Best for:
Turn latches are best for people who want extra security and vibration resistance.
Slide Latches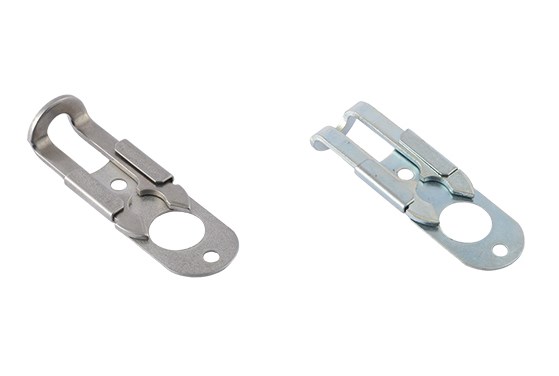 Slide latches, sometimes called bolt latches, have a piece that slides into another. These are very rustic but expensive. The hardware can rattle, and it's difficult to clean because of the sliding components. You'll just have to live with the fact that dust might get in there unless you have a compressed air can.
These function very similarly to the extra security locks you might see on a hotel door with a sliding chain. Of course, most slide latches for cabinets don't have a chain.
Best for:
Slide latches have to be manually locked and unlocked each time you use them, so they are best for places you don't access regularly and cabinets that have a rustic look to them.
Draw Latches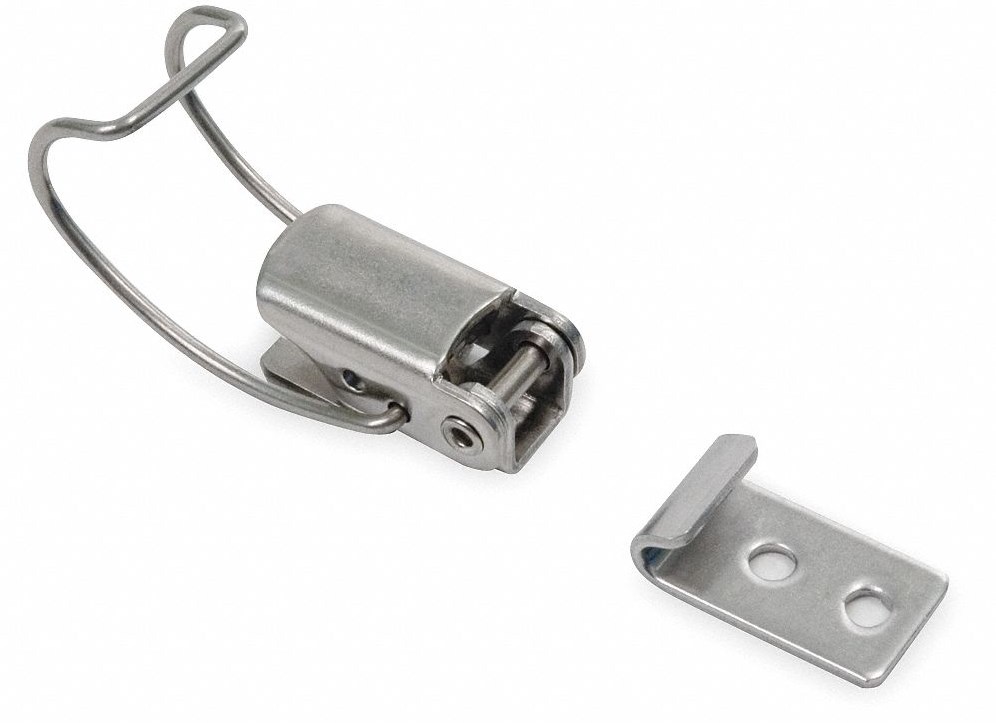 Draw latches mount to your cabinet door, with a small arm that hooks into the base when closed. When you open it, the lever arm detaches. 
You're probably more familiar with the older iterations of these with a swing arm that fits through a hole, usually seen in older gardens or homes. The modern versions are simpler, with good vibration resistance and a simple function. 
Best for:
These are best for RVs, kitchens, and outdoor spaces. They are robust and fairly easy to install and maintain. 
How to Find the Best Cabinet Latches: My Top Picks
JJY Magnetic Cabinet Latches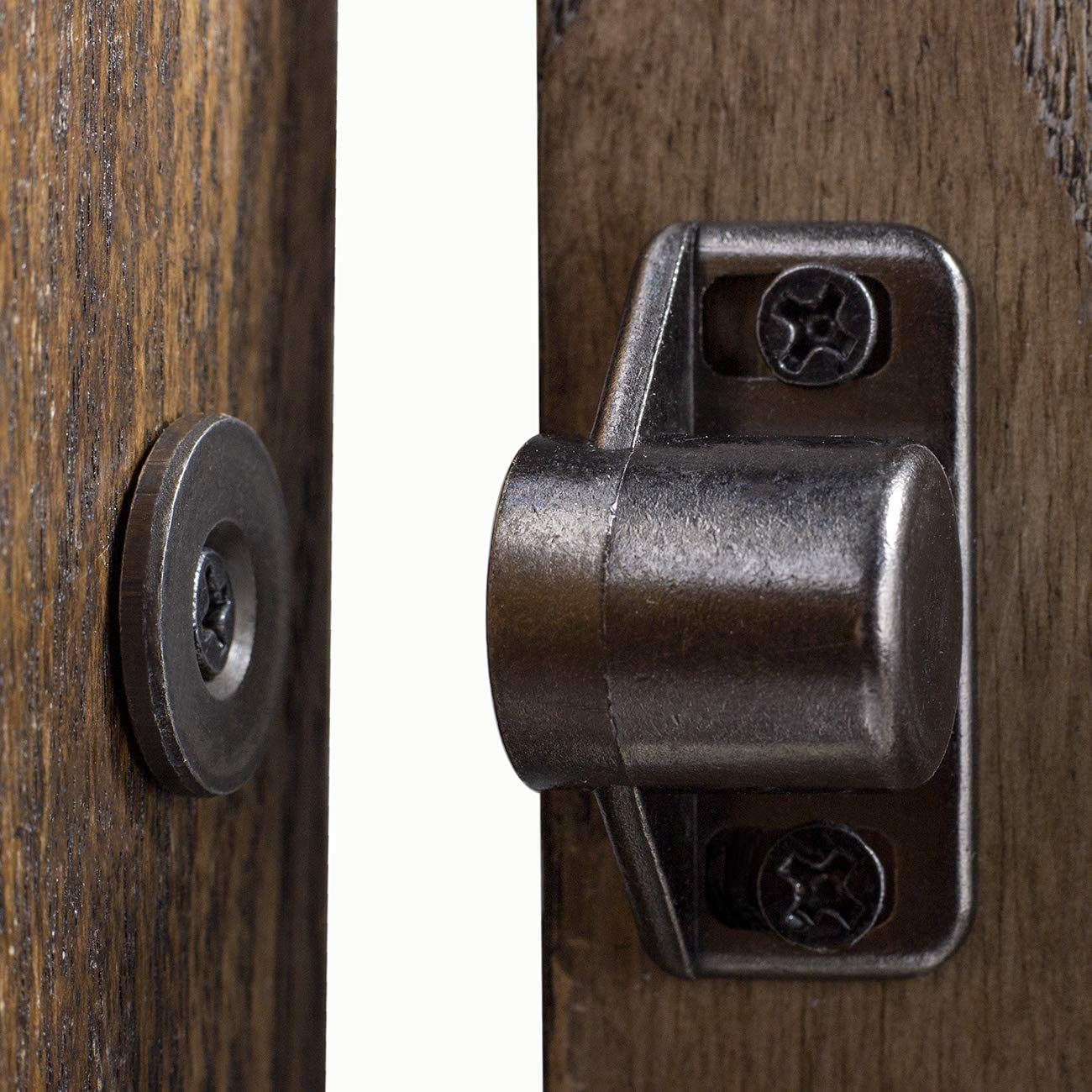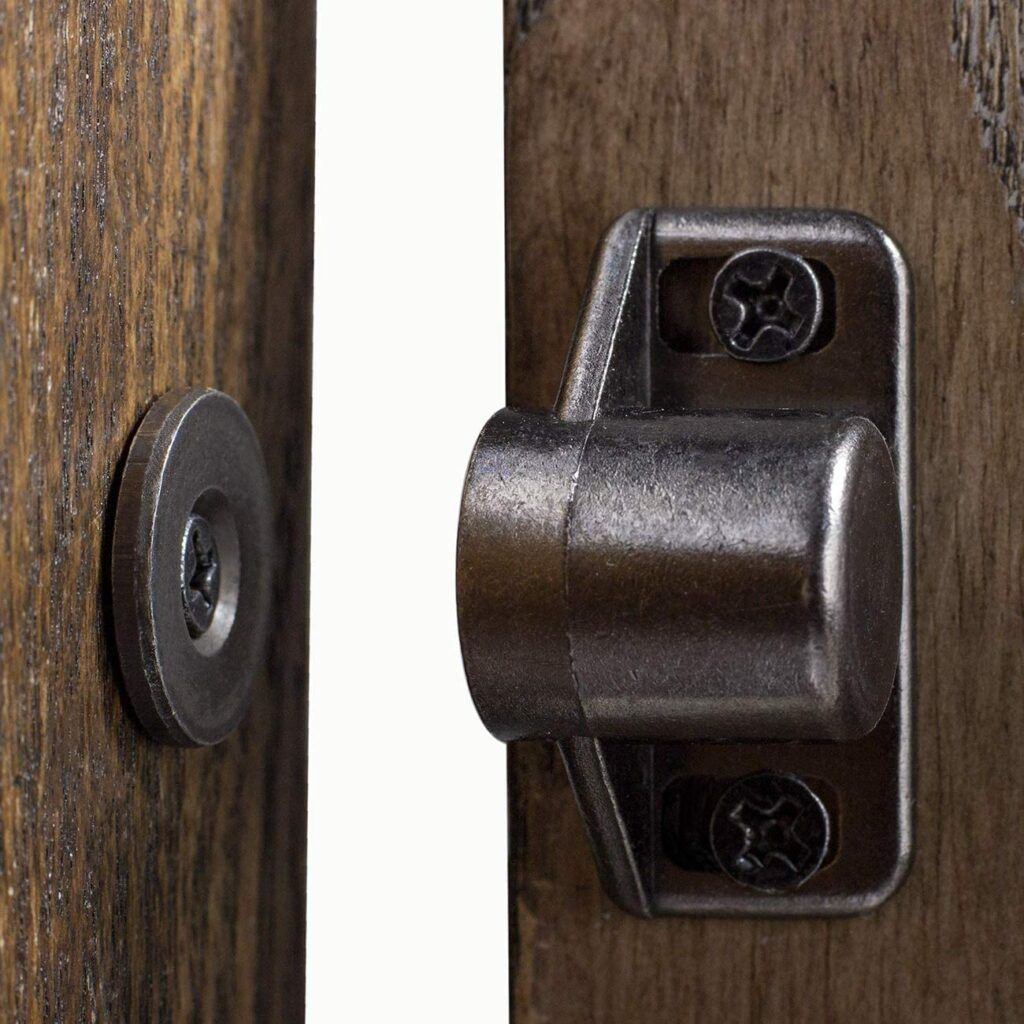 If you want magnetic latches, go with the JJY Magnetic Cabinet Latches. I love that they are discreet, simple to install, last a long time, and don't require a lot of pull force. 
The biggest downside is that if you slam it shut as a magnetic latch, the magnet will pull the cabinet door closed with a lot of force (I mean, it is a magnet, after all). So slamming them shut could damage the latch and the cabinet door.
Pros:
They are pretty cheap, at about $2 each. 

They look beautiful in modern kitchens and wooden cabinets. 

They are easy to maintain, and they last a long time. 
Cons:
They won't work as well if the magnetic pieces don't align. 
Magnetic Jiayi Latches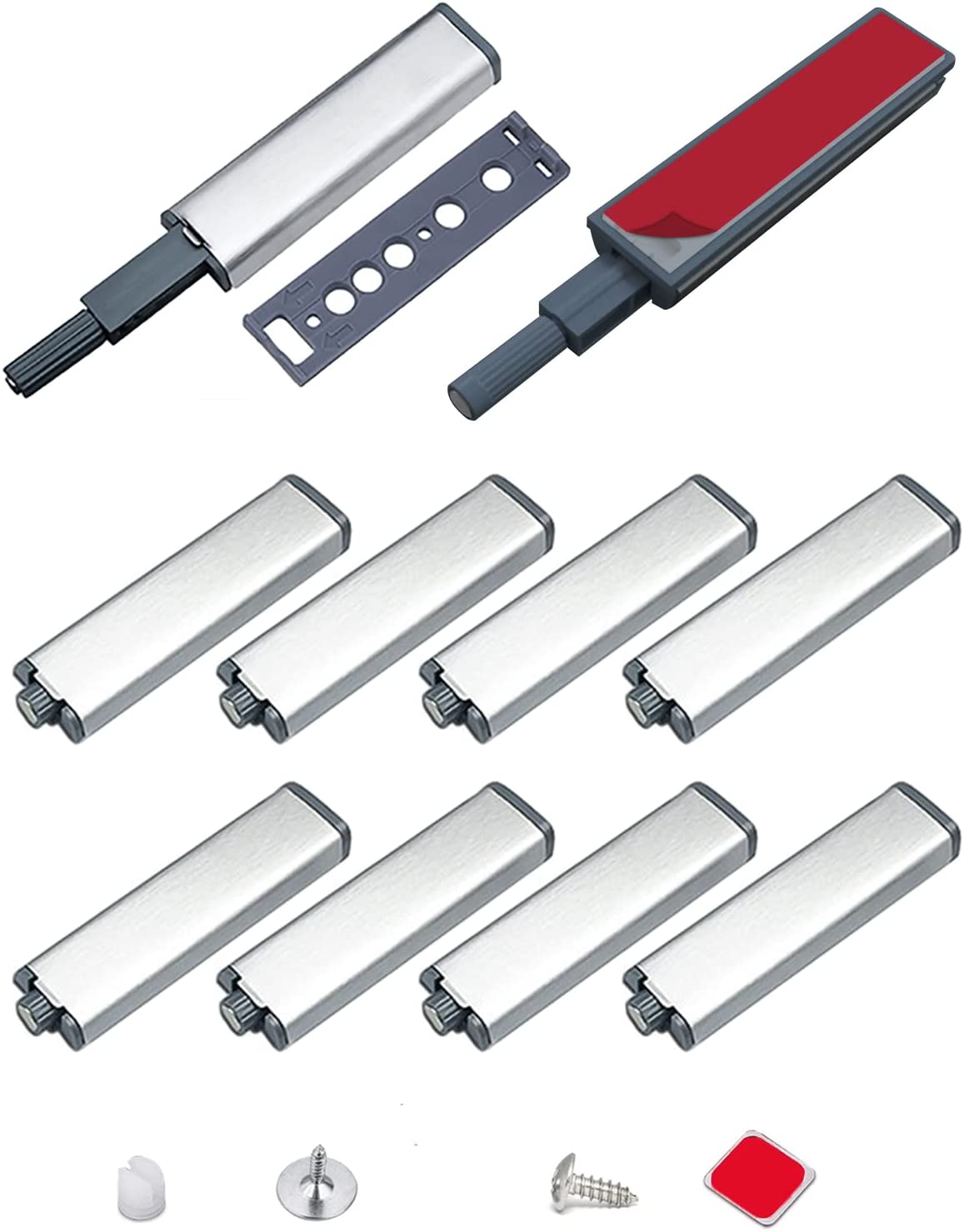 The Magnetic Jiayi Latches are a good consideration if you want push-to-open latches. These are especially great for any home you swear you don't want visible cabinet latches. The more of them you buy, the cheaper they are. 
The installation uses adhesive, so it's a pretty easy process. You can choose top mounting or side mounting for drawers and cabinets. The main body has a slot that you screw onto the cabinets, and the push latch screws to the cabinet door. Make sure they are aligned so that the push latch and its corresponding magnetic strip always make contact.
Pros:
With these options, you don't need door knobs or cabinet hardware. You can use a hands-free design for your cabinets. 

With these latches, you can push cabinets open and closed with a hand or a foot (if you're like me).
Cons:
These are a little more complicated to install compared to other cabinet latches.

They don't work well in high-traffic areas like the kitchen cabinets you open 47 times per day.
EverBilt Cabinet Latch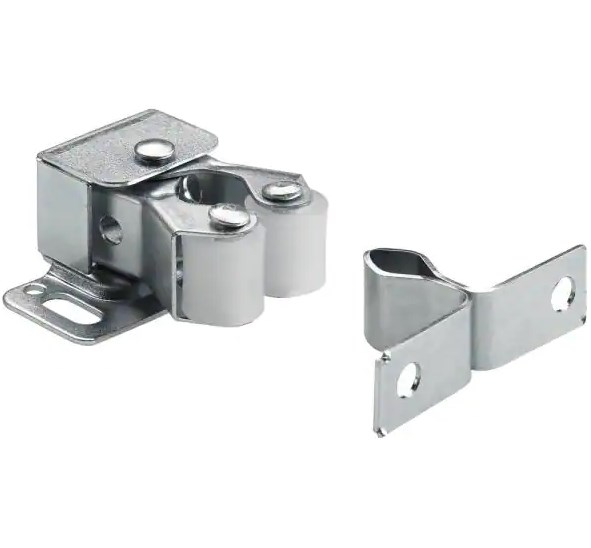 The EverBilt cabinet latch is designed for indoor cabinets. You can find bright brass, matte black, or satin nickel finished. They can be easily installed on any indoor case, box, or cabinet door to easily latch it shut. They are surface mounted with a satin hardware finish.
Pros:
It is made of steel with fasteners.

They offer a decorative finish to your doors.

These can be used for trunks, storage chests, and boxes too.
Cons:
 It doesn't offer a lot of support for heavier doors, just easy cabinetry and boxes indoors 
Don Young Magnetic Latches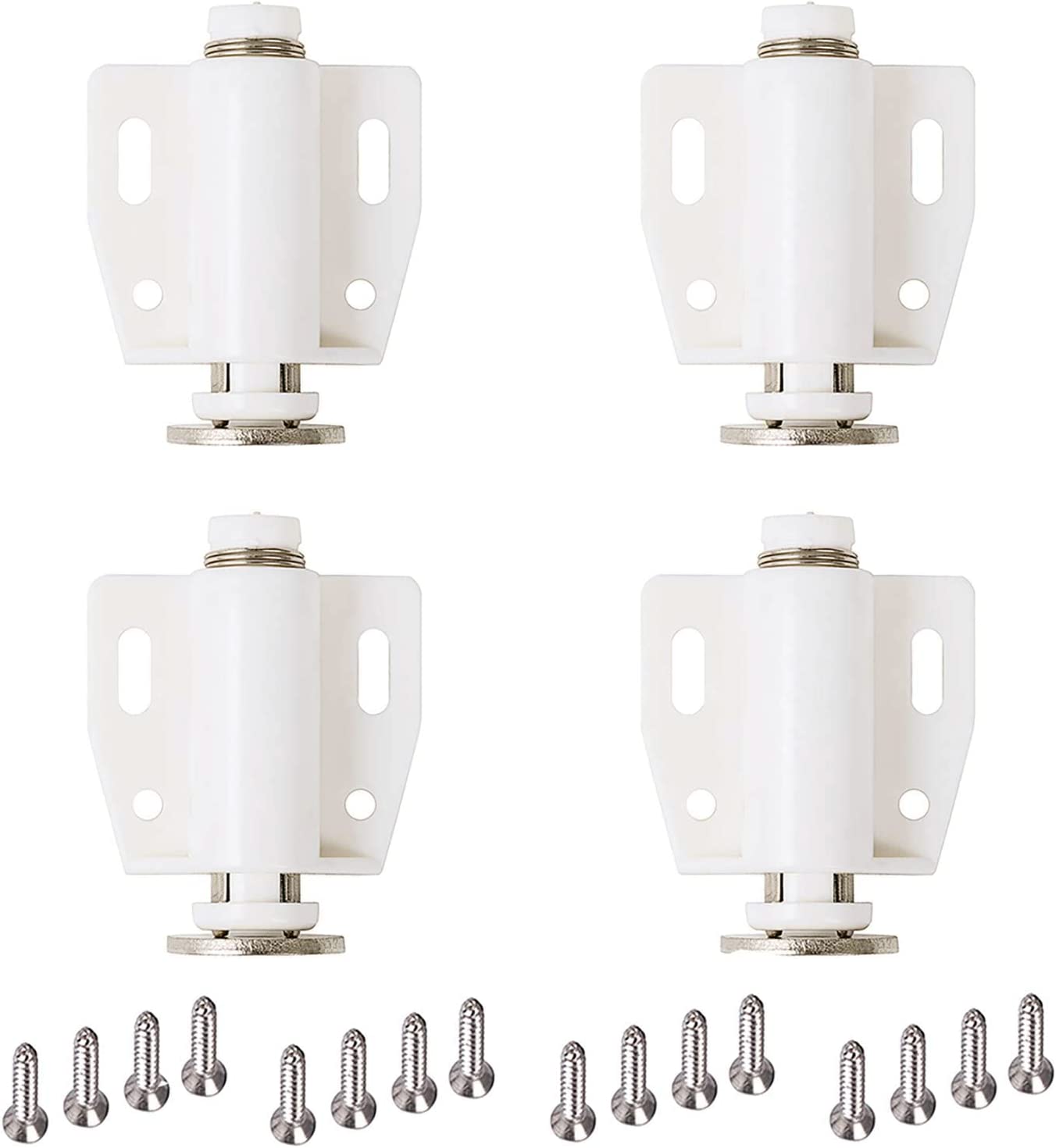 An alternative is the Don Young Magnetic latch. These come in white, and they have a built-in spring. They are ideal for keeping drawers and cabinets closed in RVs, bathrooms, bedrooms, and kitchens. The material used for construction is primarily plastic, so it's not as strong and durable as the Magnetic Jiayi latches, but it's close. This also makes them much more affordable.
Be advised that because they use magnets, any vibration in the nearby area might cause them to accidentally open on their own; no, it's not a burglar, it's just your children running through the kitchen.
Pros:
These are the best option for a minimalist look in your home.

They are designed to work over 120,000 times opening and closing them, which basically means they should work for however long it takes you to get into your cabinets 60,000 times.

These offer great value for the money and are easy to install.
Cons:
They can't stand up to a lot of wear and tear.

These aren't as sturdy as other models.

They are designed to open and close easily, so you don't get a lot of security.
PrimeLine Chrome Slide Latch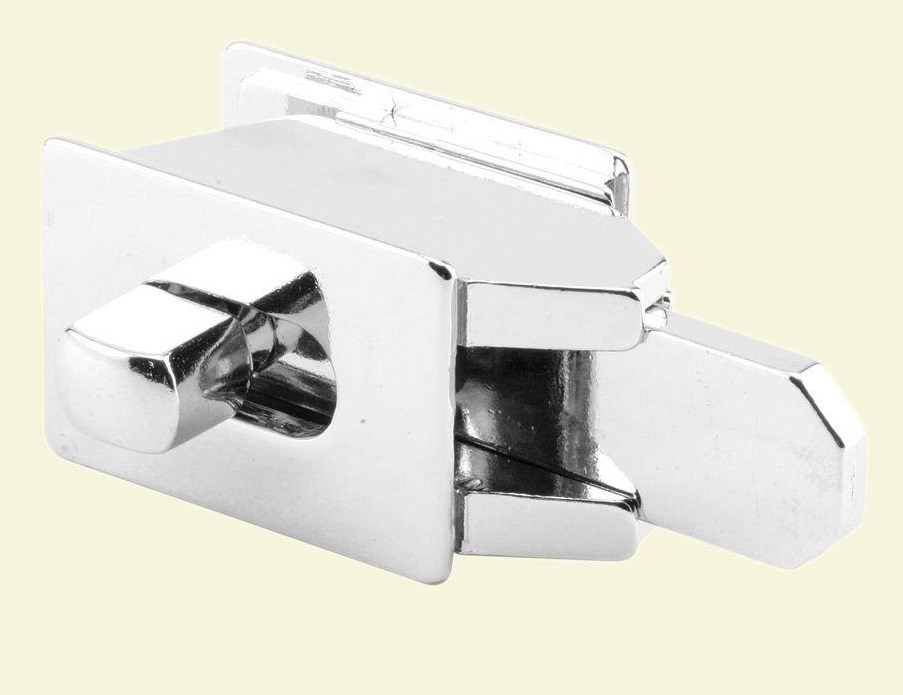 As the name suggests, the PrimeLine Chrome Slide Latch is a chrome latch that moves to the side. It, like the EverBilt, requires you to move it to both open and close the cabinets. So, if you forget to slide it back into place, your doors won't be secure.
The design of this cabinet latch is fairly standard, much like the sliding latches you see in public restrooms. They are four inches tall, including the areas designated for screws, but because it has a diamond shape to the structure, it isn't as invasive as it sounds. 
Pros:
They work well for indoor RV cabinets or bathroom cabinets where you already have a lot of chrome. 

They are quick to install, but they don't come with fasteners. 
Cons:
They are only available in surface mount design and in chrome.
Rhombus Bronze Square Latch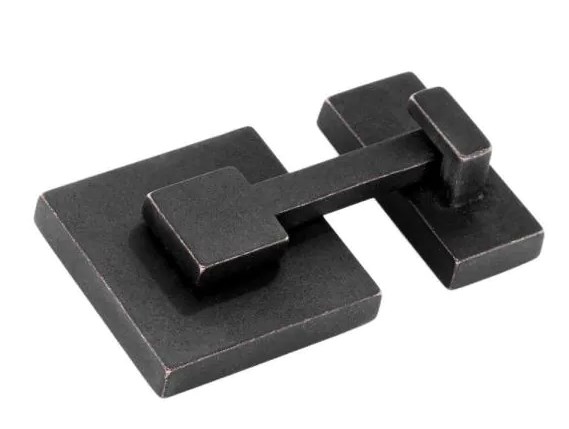 Now, if you aren't as keen on the chrome bathroom latches but you like the slide design, the Rhombus Bronze Square Latch is a much classier option. This personalized latch design is both Timeless but modern and perfect for bathroom or kitchen cabinets. Instead of having the slide latch, you have a lot that falls down and then is raised up again as it locks in place.
Pros:
Screws and hardware are all included.

It has an oil-rubbed bronze finish which hides water spots and fingerprints (yay!).

You can also get polished nickel or satin nickel.
Cons:
It isn't as secure as other latches because the bar just rests in place.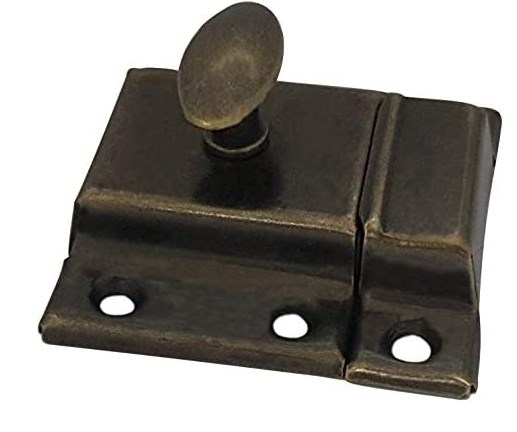 The QCAA Oval Turn Cabinet Latch is a classic turn latch design. You can buy gold, matte black, antique brass, or antique copper.
They have curved oval shapes for each latch. Be advised that these are not made of steel, so they have a pretty weak spring mechanism, and the metal is very thin. However, they look beautiful once installed. Just note that it doesn't lock your cabinets well. If you want security, add other locks. 
Pros:
They have a timeless, antique design. 

You can find different finishes. 

They are easy to install without a lot of complicated hardware. 
Cons:
They are much more expensive, at about $10-$20 each. 
Flower Knob Turn Cabinet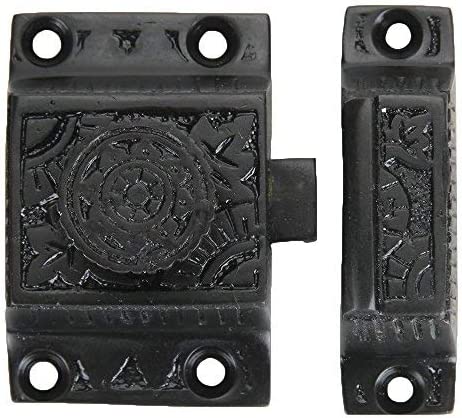 If you have the money, the Flower Knob Turn Cabinet Latch is a better investment compared to the QCAA option. With this design, you can pick a wide range of polished lacquer that looks gold, weathered bronze, oil-rubbed bronze, brushed nickel, black powder coat, antique iron or brass, and more. The knob is round instead of an oval shape, and it has a floral design to it.
These latches are very easy to install, requiring nothing more than a screwdriver. The spring-loaded mechanism is almost entirely enclosed, so you don't have to worry about maintenance. You can use them on anything, and the Windsor design really adds a royal and elegant touch.
These are the most expensive cabinet latches, but if you want sturdy construction, these are absolutely worth it. They are made from solid brass. One of the biggest complaints with most of the other latches sold today is that they are made from very thin, cheap metal or plastic, so they break more easily. The sturdy craftsmanship of these elegant designs is well worth it.
Pros:
The knob features a Windsor design.

It is made of solid brass, so the construction is much better than other latches. 
Cons:
FAQs
Question: Are cabinet latches and catches the same thing?
Answer: No. Latches are pieces that get attached to the cabinet door, and they generally get mounted on the outside of your cabinet door. Latches are arguably more secure than catches that get mounted to the inside of the cabinet door simply because they can hold the door shut a little more tightly.
Question: Can I use cabinet latches for security?
Answer: If you have something like an RV and you want to make sure all of your cabinets are locked and secure, especially when you aren't in the RV, cabinet latches (nor catches, for that matter) won't fulfill this purpose. A lock requires a key, even if that key is some sort of combination. Latches can easily be opened so long as you pull the right way.
However, latches can be paired with a separate locking mechanism to keep your cabinets completely secure. This is something to consider if you are trying to child-proof your cabinets or you have outdoor cabinets around your patio that you want to keep safe so children don't accidentally play with your propane tank.
Question: If my cabinet doors previously had catches, can I replace them with new latches?
Answer: Yes. There is nothing preventing you from replacing catches with latches; you would just have to uninstall the catch and install the latch in a different part of the cabinet door. But this is relatively simple and takes nothing more in most cases than a screwdriver. 
Bottomline 
I recommend the Flower Knob Turn Cabinet if you want sturdy construction that lasts a long time and is easy to install. It doesn't hurt that it's the most beautiful and elegant of all the designs. If you don't want something visible, then choose the Magnetic Jiayi Latches. They are the best out of the magnetic latches and push to open, so you don't see any hardware on the outside.