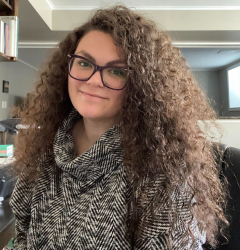 Latest posts by Candace Osmond
(see all)
Brushed nickel is probably the most common finish for cabinet hardware, in my opinion. Unsure which brushed nickel cabinet pulls work for you? Use my detailed list as your guide and narrow it down to the perfect choice. What's more? Is your intention to spruce up existing cabinets that need an update or build new ones? Whatever the case, I've got a killer selection that will accommodate everyone's needs and personal preferences.
Bottom Line Upfront
I appreciate the modern look, but I personally love the old-fashioned style. Call me an old soul. That's why I'd pick the Ormonde Cabinet Bar Pull for its gorgeous design. I can see this going well with a modern farmhouse kitchen.
Top Picks
Here are my top 3 picks from the list.
Most Modern Brushed Nickel Cabinet Pulls: Modern Metro Centre to Centre Bar Pull
Want to replace your old, forgettable hardware with eye-catching fixtures that'll showcase your interior decor and elevate your kitchen design? Try these Modern metro Centre-to-Centre Bar Pulls.
Best Brushed Nickel Cabinet Pulls for Farmhouse Style: Ormonde Cabinet Bar Pull
These Ormonde Cabinet Bar Pulls are one of the quickest and most affordable ways to update any farmhouse-style space.
Best Brushed Nickel Cabinet Pulls For bathrooms: Eddington Lane Square Bar Pulls
Are you scouring the internet looking for complementary pulls that'll help create a cohesive look? These Eddington Lane Square Bar Pulls could be the solution.
What Does Brushed Nickel Mean?
Authentic brushed nickel refers to a nickel plating with light abrasions in any particular direction, awarding it a brushed appearance. The goal of the 'brushing' is usually to create a more handcrafted, original feel. This, in turn, allows light and shadows to bounce off the surface, creating visually exciting features.
What's more? People tend to go for brushed nickel finishes because they hide dirt, water spots, and smudges. That also explains why you're likely to find brushed nickel hardware in bathroom fixtures, where grubby hands regularly interact with the tools.
Regarding its implementations, this finish is mainly valuable for applications like lighting fixtures, cabinet hardware, bathroom fittings, and kitchen faucets.
Types of Cabinet Pulls to Consider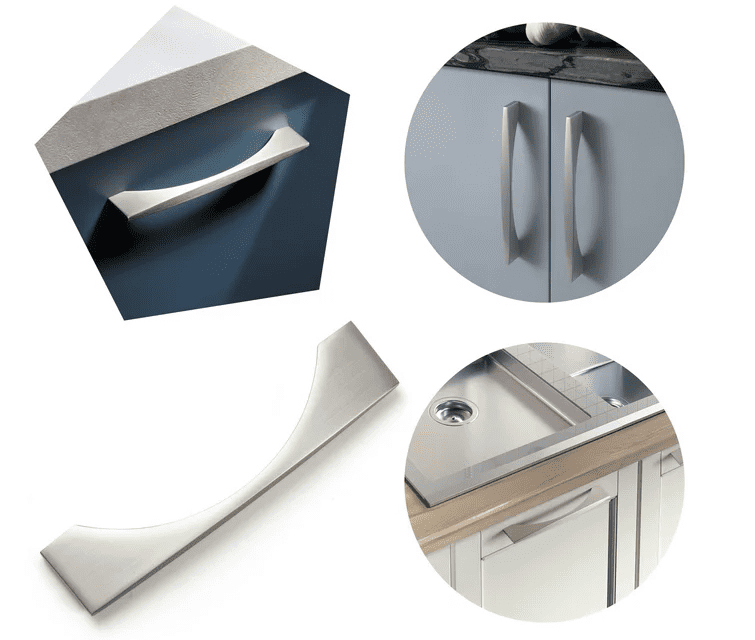 Before taking an in-depth look at what to look for in brushed nickel cabinet pulls, let's discuss the different kinds available. Each style of pull not only delivers its own look but in some cases, they'll even function totally differently.
Edge Pulls
Edge pulls are a modern cabinet pull design usually screwed into either the back, top, or sides of cabinet doors. They're screwed there using thin pieces of metals that wrap around the cabinet door's front to form the pull. As a general rule, pick a finger pull-style cabinet hardware if you're going for a sleek and contemporary look. Finger pulls are also quite common in kitchens with European flat panel cabinets.
Drop Pulls
Drop Pulls are hinged handle fixtures that attach to cabinet fronts and are found on ornate drawer items. The defining characteristic of drop-pulls is their handle's ability to swing up and down from the hinge when grasped.
Knobs
Knobs are fixtures you can connect to one point of the cabinet or drawer. Like the pulls we'll look at in today's guide, knobs retail in a plethora of shapes, sizes, and materials. Their unique selling proposition (UPS) is their singular mounting point.
Cup Pulls
You typically use cup pulls on drawers due to the way they function. To open one, you have to reach underneath and pull it out. That said, if you'd like to use cup pulls on your cabinets, I suggest ensuring that your cabinets pull straight out.
Pulls
Pulls are fixtures people attach to their cabinets and drawers at two points. Some allow one to grasp the cabinet hardware using only one finger, but others require you to use your whole hand. It all boils down to the design, shape, and size of the pulls you go for.
Bail Pulls
Bail pulls are classic cabinet pulls often associated with Victorian and Queen Anne styles. They consist of curved handles that rest against the face of the base plate or cabinet. These handles are always hinged and may require one or two mounting points.
What To Look for In Brushed Nickel Cabinet Pulls
You should consider these factors when looking for the best-brushed nickel cabinet pulls. When I was an interior designer, I had a checklist like this I'd give to all my clients, and they loved it!
Size
There is no one-size-fits-all size for cabinet pulls. That said, I recommend picking pulls with at least a 3-¾" center-to-center distance because it's the most common size used by manufacturers. This standard size will look appealing in most cabinets and is also comfortable enough to grip.
Width
Order a single cabinet pull and test its width before purchasing units for the entire cabinet. Feel it, touch it, and fit it in your hands. Does it cram your fingers or feel sharp around its edges? Does it feel nice? Does it fit? The bottom line, make sure you're comfortable with the width.
Quality
Is this your first time shopping for brushed nickel cabinet pulls, and you're worried you may pick sub-par units? Only go for the highest-rated cabinet pulls. Since these are already tried and tested by hundreds of previous buyers, you can rest assured they're built to last.
Also, make sure the pulls you pick are scratch and corrosion-resistant.
Price
The general rule is to ensure you get what you pay for. Don't instantly go for the inexpensive brand because chances are their finishes are also sub-par. A good price range for the best-brushed nickel cabinet pulls is between $7 and $30.
The longer cabinet pulls will usually cost more since more materials were used to create them.
Finish
Cabinet pulls offer a great opportunity to introduce some contrast to your kitchen interior. As such, consider hardware finishes and colors when picking the pulls. For instance, dark brushed nickel cabinet pulls will look great in white or bright cabinets.
Standard Sizes of Cabinet Pulls You Can Choose
Experts and interior designers recommend following a 1:3 ratio when picking cabinet pulls. This implies the pull length ought to be approx. 1/3 of the cabinet door's width. Smaller cabinet doors look best with 3 to 4-inch pulls. Larger ones require either two pulls or one long one in the middle.
Again, there isn't a set of rules regarding standard sizes of cabinet pulls. You should go with whatever makes you happy, or you think will accentuate your space's qualities best.
Best Brushed Nickel Cabinet Pulls
Give your dated kitchen cabinet doors a refresh with any of these best-brushed nickel cabinet pulls. I tried to include a great selection based on the actual material, quality, and style.
Most Modern Brushed Nickel Cabinet Pulls: Modern Metro Centre to Centre Bar Pull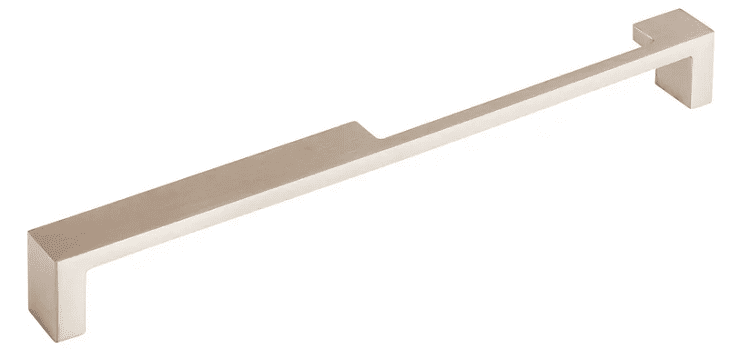 The unexpected asymmetry of this Modern metro Center to Centre Bar Pull is what makes it so fun. The handle is sleek with a Brushed satin nickel finish, and one half is thicker than the other. These features together award the cabinet pull a subtle touch of modern flair.
Price Range: $35 – $44
Material: Metal
Number of Pulls: 1
What's more? The pull sticks out one inch from the cabinet surface when mounted, and the center-to-center distance is 9 inches. Oh, and would you like to get the pulls as a present for another person whose favorite finish isn't black? Additional options, like aluminum and black, are available.
Pros
Mounting hardware included in the package
Backed by a limited manufacturer's warranty
High-quality build
Amazing center-to-center distance
It has a modern look
Cons
The asymmetrical design may not appeal to everyone
Best For Large Cabinets: Eddington Centre to Centre

Consider Eddington Lane's pack of 10 Centre-to-Centre soft square bar pulls for a real upgrade. The hardware features a flat design and clean lines that'll elevate any home's appearance in an understated but sophisticated way. Oo la la!
Price Range: $55 – $105.66
Material: Steel
Number of Pulls: 10
The cabinet pulls retail in four more finishes, from chrome and matte black to champagne bronze and brushed oil-rubbed bronze. This variety allows you to return for more distinct pieces of furniture throughout the rest of your home.
Pros
Easy to install
Durable and sturdy
Backed by a lifetime, but limited manufacturer's warranty
It will work great on large cabinets
Installation hardware included in the package
Look and feel great
Cons
Best Aesthetic: GOO-KI American-Style Pull Set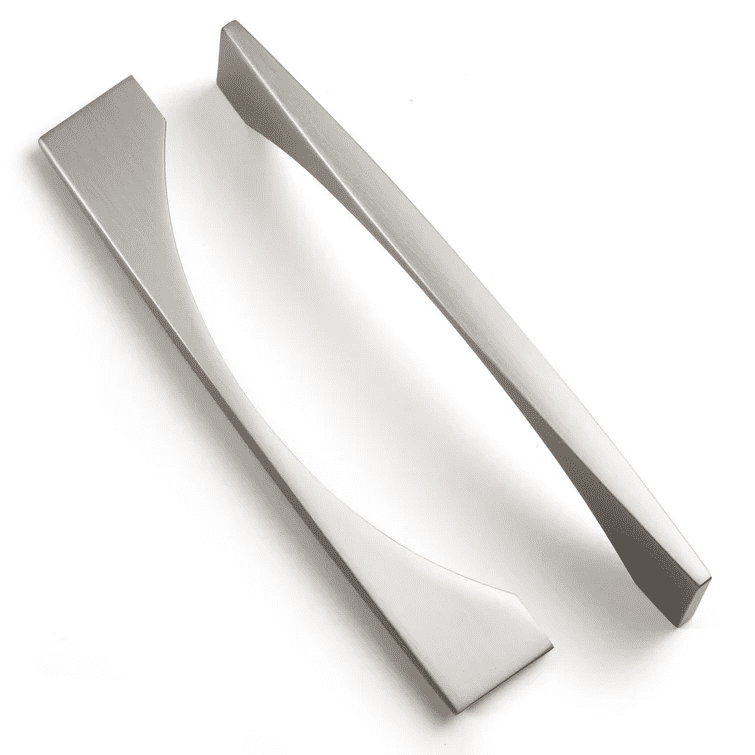 Oh, you fancy, huh?
I also think you deserve a kitchen space and cabinets that shine just as bright as you do. With that in mind, I suggest using these stunning sparklers from GOO-KI as a first step in the right direction. Just look at the design!
Price Range: $63.96 – $84
Material: Zinc Alloy
Number of Pulls: 6
These pulls' contemporary and nickel design will elevate even the most played-out, dusty, and dated drawers and cabinet doors.
Pros
Quality build
It will complement any interior
Anti-corrosion
Durable
Comfortable grip
Backed by a one-year limited manufacturer's warranty
Cons
Not easy to install for total beginners
Best Brushed Nickel Cabinet Pulls for Bathrooms: Eddington Lane Square Bar Pulls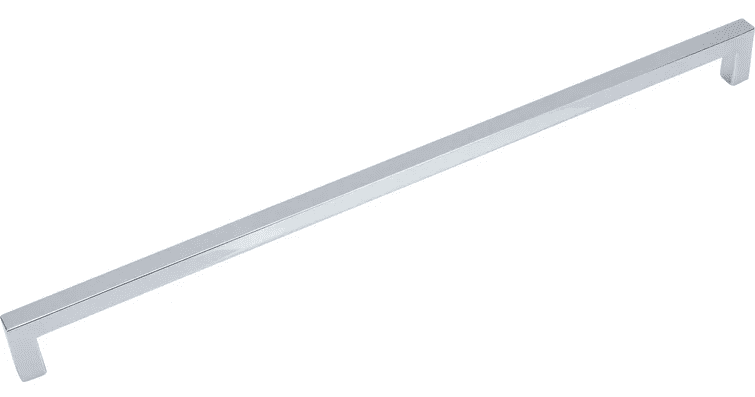 I bet you'll be hard-pressed to find cabinet pulls that compare to these Eddington Lane Square Bar Pulls. These units are molded into a functional (and timeless) silhouette to deliver effortless elegance to any cabinet and drawer front.
Price Range: $25.68 – 45.66
Material: Steel
Number of Pulls: 1
The clean lines help create a rich, lived-in beauty that'll keep glowing with each touch. I think they're great for bathrooms because of how easy they are to keep clean and they don't take up a load of visual space.
Pros
Retails in four more finishes
Built to last
It will complement any interior
Easy to install
Deliver a luxurious feel
Cons
Best for Ease of InstallationLuigi House Cabinet Pull T-: Bar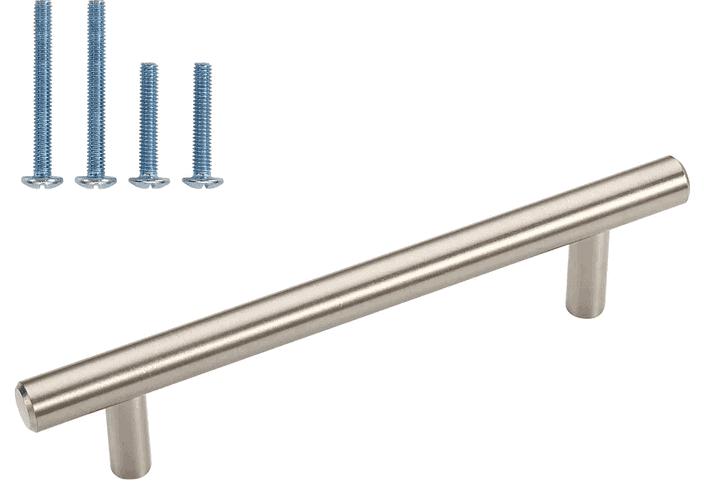 Are you searching for brushed nickel cabinet hardware with a contemporary look suited for both indoors and outdoors? This Cabinet Pull T-bar from Luigi House checks out. Its fine touch and durable design will appear at home in any modern, of-the-moment space.
Price Range: $40 – $90
Material: Stainless Steel
Number of Pulls: 20
To ensure these cabinet pulls keep serving you for years, Luigi House makes them corrosion-resistant and rust-resistant.
Pro Tip: The pull bar is also available in a black matte finish if you want to continue the same design in other areas of the house but switch up the color.
Pros
Comes aesthetically packaged
Backed by a 6-month warranty
High-quality build
Rust-resistant and corrosion resistant
Suitable for outdoor usage
Durable
Cons
Most Simple Pulls: Simple Chamfered Kitchen Cabinet Bar Pulls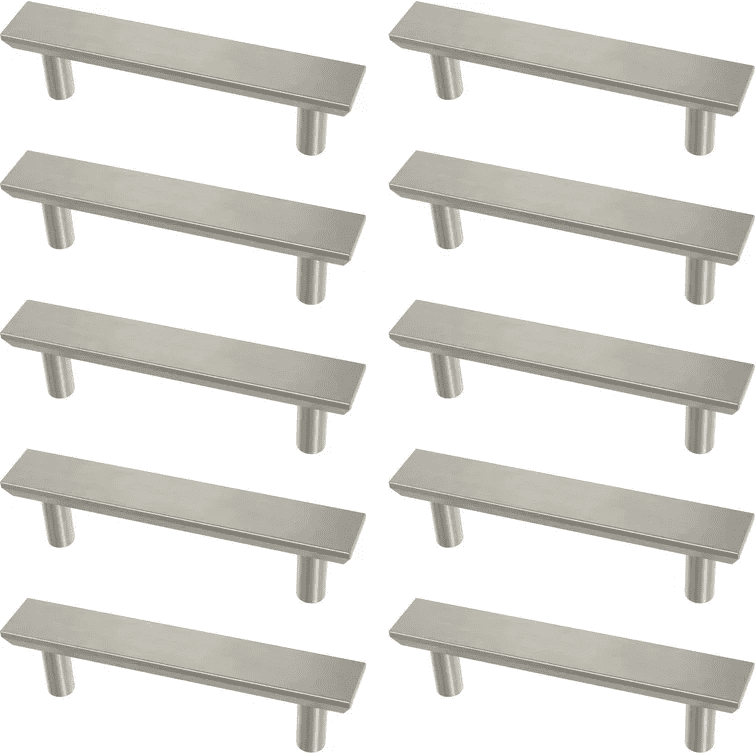 Kick up your traditional-style kitchen and cabinets five or ten notches higher with this set of Simple Chamfered Cabinet Bar Pulls. This classic hardware style is a staple in transitional and cottage-style kitchen cabinets and drawers.
Price Range: $26.99 – $50
Material: Aluminum
Number of Pulls: 10
What's more? The cabinet pulls' finish blends in marvelously with an array of paint colors and wood tones. My favorite aspect is how these can easily apply to both a modern and traditional space.
Pros
Comfortable grip
Durable and sturdy
Quality build
Super easy to install
Suitable for use near kitchen sinks as well
Cons
Not recommended for outdoor use
Best Cabinet Finger Pull Set: GoldenWarm Center to Center Finger Pull Set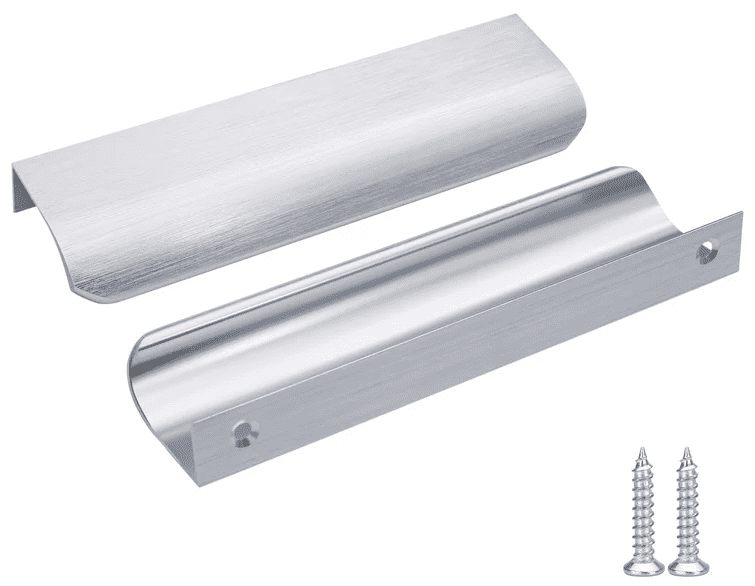 How sweet is this minimalistic cabinet finger pull? The Goldenwarm finger pull set is simple yet sophisticated and features a crisp design that'll match any cabinet door.
Price Range: $76.34 – $90
Material: Aluminum
Number of Pulls: 25
It's constructed from a high-quality aluminum material that will give your cabinets the upgrade they deserve. I always recommend to use this style in small spaces because they're so streamlined and almost flush to the cabinet.
Pros
Retails in two more finishes
Retails complete with mounting supplies
Easy to use and clean
Feel sturdy in your hand
Made from high-quality material
Cons
The screws in the package are a bit undersized. You may have to buy different screws
Not backed by any manufacturer's warranty
Best Splurge Option: Eddington Cabinet Arch Pulls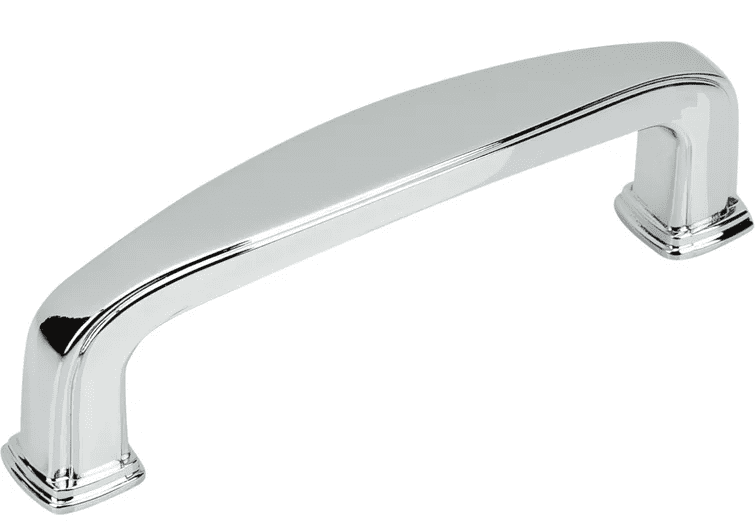 Want to go all out? Enhance your kitchen cabinets with a slew of arch-shaped cabinet pulls assured to add vibrant energy to the room. These clean, high-shine brushed nickel cabinet pulls can also update minimalist, contemporary, or mid-century kitchens.
Price Range: $119.69 – $135.87
Material: Steel
Number of Pulls: 25
If you need similar cabinet pulls later, but in a different finish, Eddington still has you covered. This arch pull retails in four more finishes: polished chrome, matte black, champagne bronze, and brushed oil rubbed bronze.
Pros
Boasts a unique, aesthetic design
Built to last a lifetime (as evident from the manufacturer's lifetime warranty)
Installation hardware included in the package
Great grip
Durable and sturdy
Easy to install
Cons
Best Budget Cabinet Pull: Barrington Channing Centre Cup Pull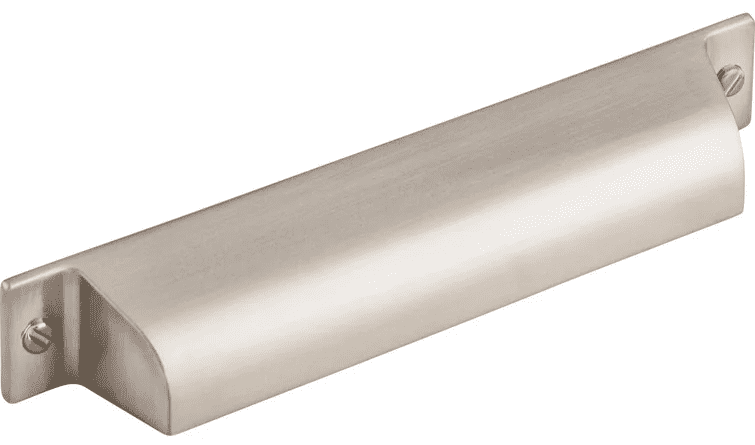 I love a good budget option! This is the perfect solution to add a casual but updated vibe to any kitchen cabinet door or drawer. The gleaming, whisper-thin construction will elevate any cabinet front and award the room an all-at-once timely and timeless feel.
Price Range: $16.95 – $25.74
Material: Zinc Alloy
Number of Pulls: 1
Top Knobs, the manufacturing company, allows you to choose between four distinct sizes. And if you ever need the same cabinet pull in different finishes, the company offers seven more. These include umbrio, sable, polished chrome, honey bronze, flat black, polished nickel, and ash grey.
Pros
Quality construction
Durable
Created to withstand the rigors of daily use
Backed by a lifetime warranty
Blends in seamlessly
Cons
Best Brushed Nickel Cabinet Pulls for Farmhouse Style: Ormonde Cabinet Bar Pull

Looking for something a bit more rustic and outside the box to match your farmhouse-style home or kitchen? Look no further than this Ormonde Cabinet Bar Pull from Top Knobs. It's made from a zinc alloy to blend a classic style with an unmatched level of sophistication.
Price Range: $18.45 – $ 29.66
Material: Zinc Alloy
Number of Pulls: 1
The brushed nickel and flat, round ends will instantly refresh your interior and pull your home together. I almost want to switch up my own kitchen hardware after seeing these!
Pros
Built to withstand daily use
Comfortable grip
Looks elegant on cabinets
It can complement any farmhouse-style space
Backed by a lifetime manufacturer's warranty
Cons
Requires some experience to install
Best Cabinet Cup Pull Set: Eddington Cup Pull Set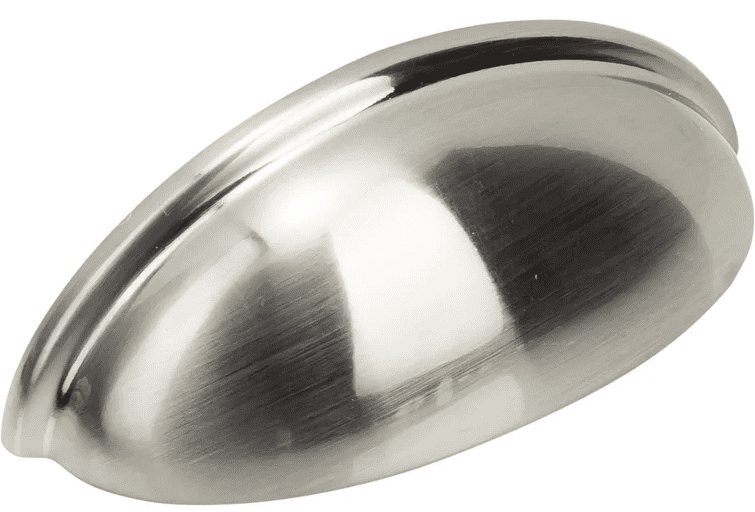 For a slightly edgier and shinier look, consider these cup pulls from Eddington Lane. The cabinet pulls feature a modern, sleek silhouette that's just the ticket to creating killer contrasts against most cabinet shades.
Price Range: $30.99 – $66.84
Material: Steel
Number of Pulls: 10
Consider pairing these pulls with charcoal or matte black cabinets for the most stunning results. The shiny-on-dark combination will appear both modern and understated.
Pros
Retails in three distinct sizes and five finishes
It will pair seamlessly with any interior
Delivers a decent clearance
Durable and sturdy
All mounting hardware included in the package
Backed by a lifetime manufacturer's warranty
Cons
Requires some experience to install
Other Finishes to Consider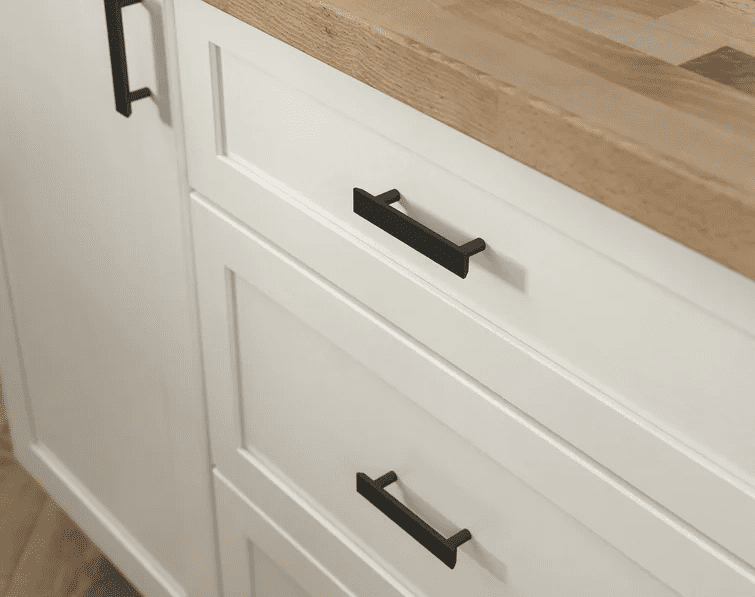 Have you been having difficulty distinguishing between different cabinet pull handles mentioned above and are looking to learn? The different types of finishes would be a great place to start.
Satin Nickel
Nickel handles look charming with a wide array of finishes, and one of the most famous is satin. Satin nickel finishes are the go-to for traditional and farmhouse-style kitchen cabinetry.
Stainless Steel
If durability is what you're going for, then stainless steel is a perfect choice. Arguably, it also requires the least maintenance efforts compared to most other finishes.
Chrome
With a reflective and glossy surface, chrome finishes provide a traditional and classic look in any space. Today's chrome pulls incorporate metal cores coated with thin chromium veneer.
Black
Black finishes are ideal if your goal is to highlight the contrast between the cabinet doors and their handles. You could also try them if you're going after a monochrome color palette.
Copper
I'm so digging copper everything right now! Copper cabinet handles are stylish and timeless, delivering a tender, metallic accent to interiors. Note, however, that copper may not suit all kinds of kitchen interior decors. Only pick it if you're going for a smooth, industrial feel and look.
FAQs
Question: What Are the Most Popular Cabinet Pulls?
Answer: Minimalistic and other contemporary/modern styles that love bar pulls remain very popular and have high resale value. That said, don't let this scare you from giving classic looks like cup pulls. The pulls you eventually go should only be dictated by the style you're going for.
Question: How Do I Choose Cabinet Pulls?
Answer: To pick the proper cabinet pull for your needs, consider the style you're going for and your cabinet's size. These two should help you narrow down your options significantly. The style you're going for will dictate the finish, type of pull, and even depth of the pull you get.
Question: Are Cup Pulls Still in Style?
Answer: Yes, Cup Pull handles are still very much in style, thanks to the fact they're easy to clean and operate. Designed with upside-down cups to be gripped from the underside, they've even been becoming popular alternatives to regular pull handles.
Best Brushed Nickel Cabinet Pulls: In the End
I know just how huge a difference the right brushed nickel cabinet pull can make on cabinetry. These are only some of the best-selling brushed nickel cabinet pulls in the market. But if you want something a little less modern, I'd recommend the Ormonde Cabinet Bar Pull!
Picking the best shouldn't be a hassle, provided you understand a thing or two about handle styles, materials, and finishes. I hope these options helped you out! And for more great recs, check out our other guides.
Read More Hardware Related Articles: