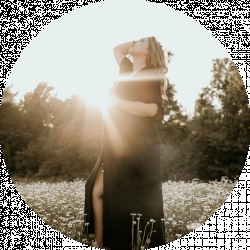 Latest posts by Ashley Class
(see all)
As a home designer and general contractor, I have been rehabbing homes in the Charlotte area for the past ten years. As a third-generation general contractor, I grew up looking at different elements and pieces of the rehab process and have learned the importance of knowing what to look for when it comes to fixtures and trim.
During the height of the pandemic, my husband and I crazily purchased our one-hundred-year-old home, knowing that we had a lot to update and change.
It was neglected for years and needed work. However, a full kitchen renovation was not in the budget for the first phase, as we had other big updates that were necessary to make (working electric, plumbing that didn't leak, etc.). With an outdated kitchen, I had to think about ways to update it without our budget, so it still looked transformed.
Cabinet hardware, faucets, and even hardware placement can completely change the look and feel without breaking the bank.
If you are looking for a timeless trend, cabinet pulls are the way to go. While knobs can be less expensive, pulls make both a statement and yet remain timeless. While in comparison to knobs, cabinet pulls take up more space, they can be used on drawers, bottom, or upper cabinets.
If you're looking to update your hardware, choosing between brushed nickel and chrome options was a concept in the past. Cabinet hardware now comes in various colors. From ultra-modern matte black to polished chrome to champagne bronze, you'll never have to worry about your style not shining through.
For our kitchen, we chose champagne bronze cabinet pulls so that we could mix the timeless style with a modified classic color. Champagne bronze is not only versatile when looking at color palettes, but it's an update to the classic brass of yesteryear. It can pop against white or lighter backgrounds while also warming darker wood tones and black cabinetry.
Bottom Line Up Front
As a home designer and general contractor, I have to stay up to date with current trends and styles. In this guide, I have shared several different styles and shapes of champagne bronze cabinet pulls that can be used in a variety of homes and kitchens.
Whether classic or more modern, champagne bronze is here to stay, and there are so many options to choose from when updating your cabinet hardware.
If there is one style that I believe is my personal favorite (and one I chose for my own home), it would have to be vintage-inspired champagne bronze cabinet pulls. I love different shapes and textures and believe that the timeless vintage styles are timeless for a reason. No matter if I change the color of my cabinets or room theme, these pulls remain elegant and still make a statement.
How to Find the Right Champagne Bronze Cabinet Pull for Your Project
If you take a moment and look around your home right now, you'll see there are cabinets everywhere. From kitchen and bathroom cabinets to media and console tables, cabinets are both functional and fun. They are perfect for storage and can accent a home to show personality.
When you add hardware onto a cabinet, it accentuates your personality while making it easier to use the cabinets. This best of guide will highlight some of the best champagne bronze cabinet pulls I have found during my search for not only my own home but for my client's homes as well.
Size
There are many things to look for when choosing the right cabinet hardware. Aesthetically speaking, there are different styles and shapes.
However, cabinet pulls are not just for looks. You also want to consider the size and shape from a functional perspective. Will you need a bigger handle to pull the drawer out? Or do you only need a shorter pull because the cabinet itself is smaller?
Grip
Grip is an important element when considering what cabinet pull to pick. Some pulls have a textured grip on the pull part in order to provide an easier way to open the cabinet. Cabinet pulls with textured grip should be considered for areas that come into contact with water, such as kitchen cabinets or bathroom cabinets.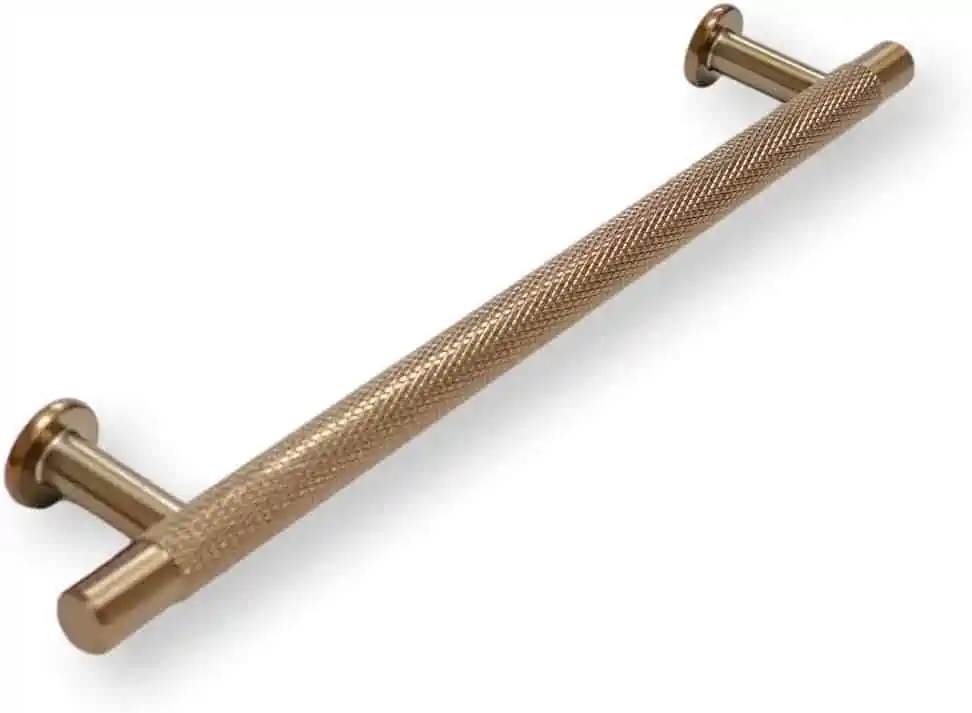 Pros
Textured handle pulls for easier grip

Classic Shape

Easy to install
Cons
Texture makes it harder to clean
Style
When looking at a quick update to our kitchen hardware, I looked at various statement styles such as modern, vintage-inspired, and classic to determine what fit best for our needs, what would weather trends, and what would give us the quick update that we needed.
Best Modern Champagne Bronze Cabinet Pulls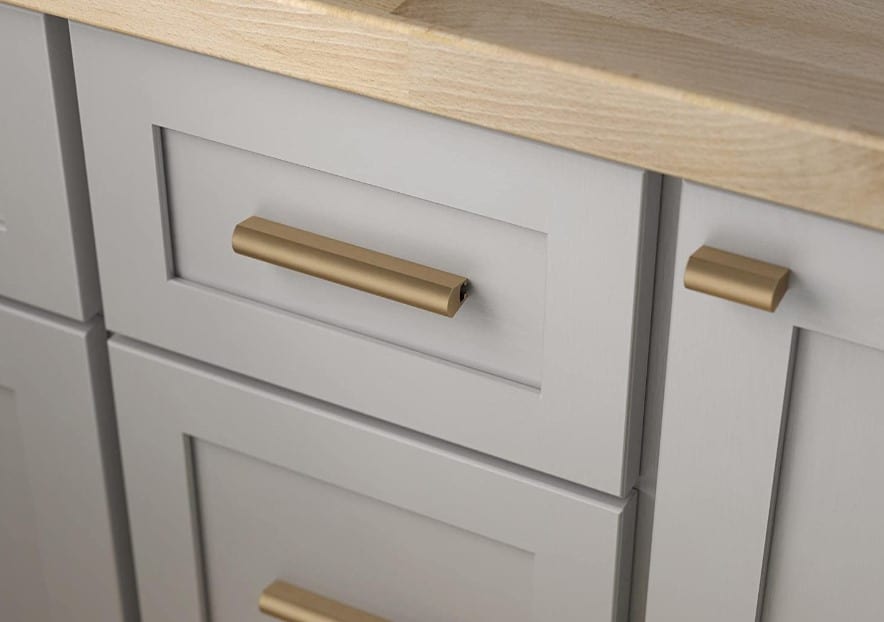 If your style is more modern, geometric shapes and patterned styles are in trend right now. I love sharper shapes like hexagons and cornered styled pulls. They make a statement and come in a variety of sizes, which can be beneficial when wanting to vary sizes between upper and lower cabinets. Sometimes modern also means simple lines and shapes.
Best European Modern Cabinet Pulls: These Franklin Brass Modern Arch cabinet pulls are one of my favorites. Not only do they show the modern shape, but they also remind me of a lot of the trending European sleekness we see in new homes.
Pros
Clean geometric shape

Easy to install

Length is fully adjustable
Cons
The sides are not capped off, so if you do hang them horizontally, you may see the silver backing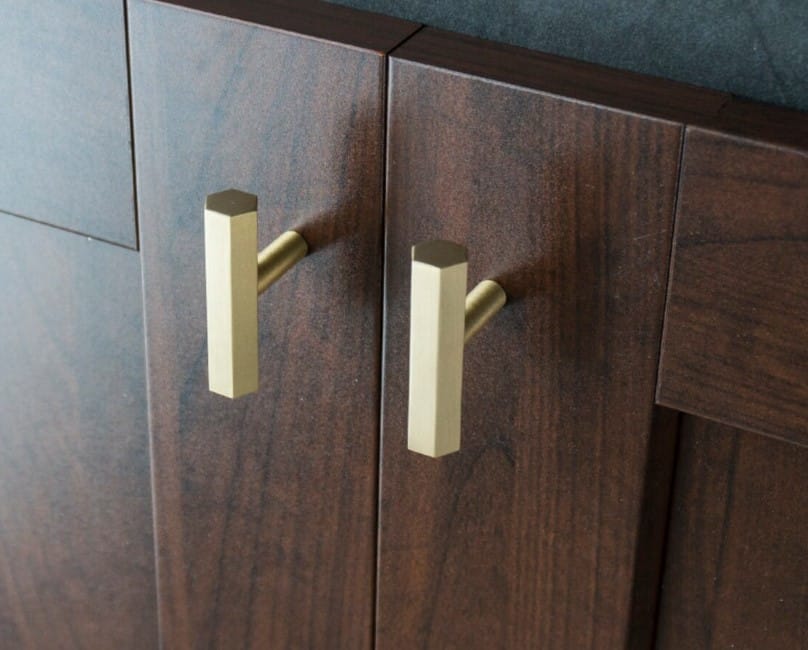 This cabinet pulls not only come in champagne bronze and multiple sizes, but they have one of the most unique shapes I have seen in modern hardware.
Pros
Unique hexagon shape

Longer "T" shape pull for easier grip
Cons
The pulls stick out more than usual and may not work in tighter spaces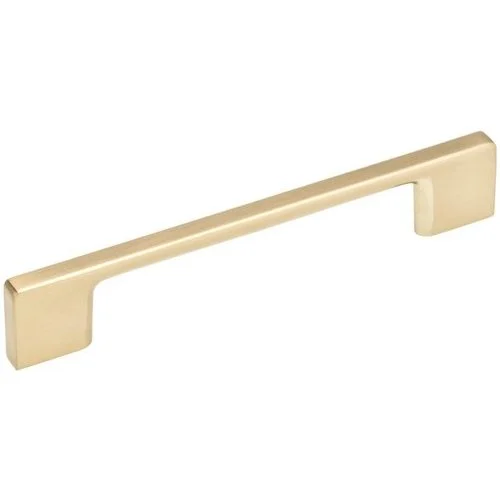 These cabinet pulls have simple lines and modern edges. The clean look of the hardware makes it easy to fit with a variety of styles and cabinet colors while making the champagne bronze pop. I love these against darker cabinets.
Pros
Works with a variety of styles and cabinet colors

Great on skinnier drawers or tightly spaced kitchens

Elegant look that elevates cabinets

Cost efficient
Cons
Thin handles may wear easier with a lot of use
Vintage Styled Champagne Bronze Cabinet Pulls
Vintage-inspired pieces are having a major moment right now, and I am here for it. Many DIYers are upcycling furniture and balancing out these pieces with warmer champagne bronze cabinet pulls.
If you're more traditional and want to stick with the vintage inspiration, I love romantic cabinet pulls with rounded features, or scalloped edged cabinet pulls that come in champagne bronze. The rounded edges add a romantic element to the cabinet pulls, and it softens the look entirely.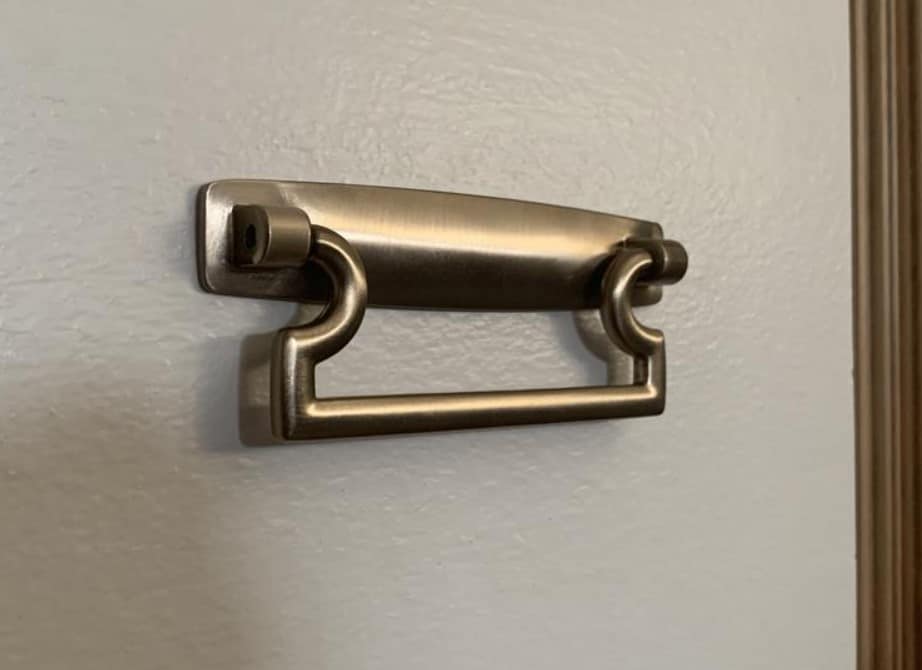 These pulls from Lowe's embody a classic vintage shape.
Pros
Back plate on pull protects cabinet from getting scratched

Elegant look that elevates furniture such as media or china cabinets

Easy to install
Cons
Not for high use cabinets like kitchen or bathrooms

Only available in 3 inch length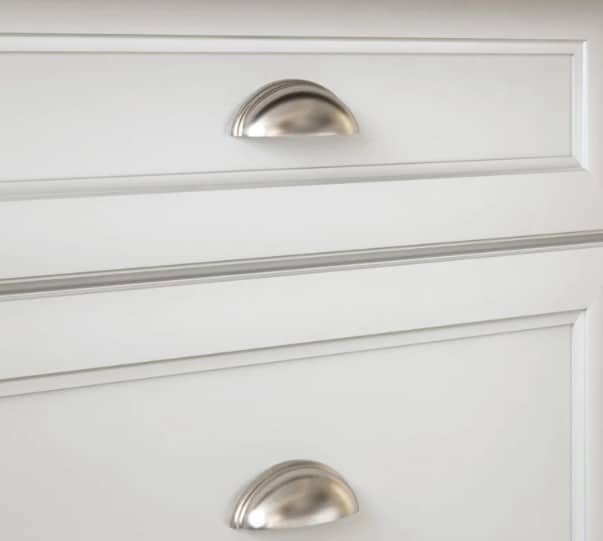 The Farmhouse trend has been in continuous popularity since Joanna Gaines came onto the HGTV scene. Soon trends around vintage classics like shiplap, gold hardware, shaker cabinets, and farmhouse accents rose in popularity. I love this farmhouse cabinet pull for it's rounded edges and timeless style.
Pros
Thicker weight

Good quality
Cons
Not for upper cabinet use; only drawers
Mixed Media Champagne Bronze Cabinet Pulls
I love the multi-material use of mixing champagne bronze and another texture or material like acrylic or lucite. The clear acrylic cabinet drawer pull isn't something you see everyday, so if you're looking to make a statement, look no further!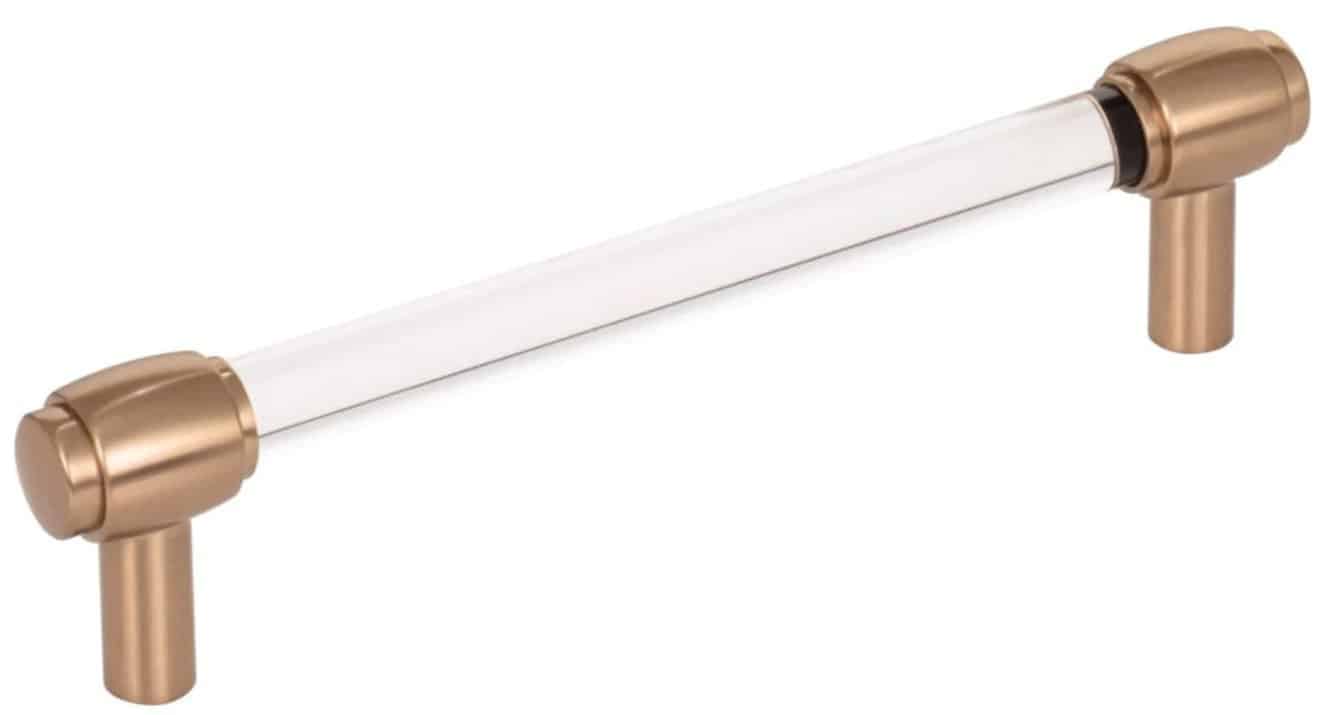 I love the champagne bronze accent trim against the lucite material. The gold pops against the clear handle for a stylish contrast.
Pros
Champagne bronze trim pops against the lucite

Lucite provides an optical illusion to show the cabinet through the handle
Cons
Not for high use cabinets as the lucite can be a softer material than metal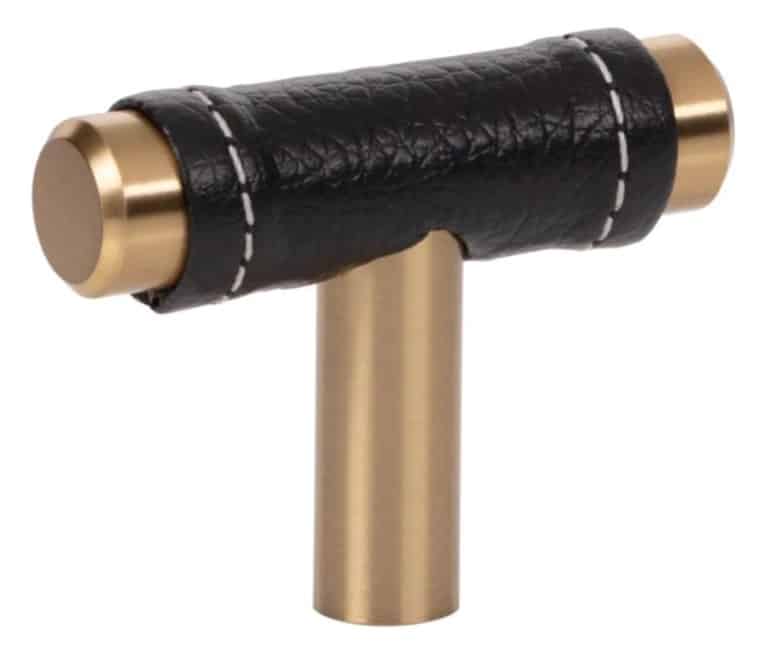 These leather wrapped champagne bronze metal cabinet pulls really make a statement. Champagne Bronze looks great with either white, brown, or black leather options, and the softer leather adds cushion.
Pros
"T" Knob Shape is versatile and works for both upper and lower cabinets

Leather detail adds elegance
Cons
Need to condition leather on cabinet pulls to avoid leather drying out
FAQs
Question: How do I know what size cabinet pull to get?
Answer: The size of a cabinet pull solely depends on your preferences. Do you want to create more of a statement with a longer pull? Are your cabinet drawers or doors? Do you want a better grip, or do you need the space to avoid cabinet drawers bumping into another one? For me, I always follow the rule that shorter cabinet pulls should be on top for the upper cabinets, and longer should be horizontal across a drawer.
Question: What's the easiest way to install a cabinet pull?
Answer: If hiring a professional is not in the budget, there are great cabinet hardware template tools that come with the proper drill bit that you can use to install them yourself. Check out Home Depot's DIY guides, Youtube, or Pinterest for great guides on how to properly install cabinet hardware!
Question: What color cabinet goes best with Champagne Bronze Cabinet Pulls?
Answer: From a design perspective, I have not met a color that I didn't like paired with champagne bronze. The color is a modern update to brass while looking both cool or warm depending on what color cabinetry next to it. My favorite current combination is green cabinetry or navy with champagne bronze!
Question: Are there any Champagne Bronze Cabinet Pulls that do not fit into those style buckets you'd recommend?
Answer: There are so many different styles to match your home aesthetic. I recommended the top styles I see the most in current trends and what I get in requests from clients, but there are so many more. Looking at websites like Houzz or Instagram can offer full kitchen styling to get an idea of the bigger picture.
Final Thoughts
Champagne bronze cabinet pulls are a home decor trend that is here to stay. Whether going for more vintage or contemporary/modern, you can still make a statement and let your personality shine through.
I love the versatility that the color gives on cabinets, from light to dark, while still remaining timeless. Due to our home being 100+ years old, we chose a classic inspired champagne bronze cabinet pull for added interest and texture to our existing cabinets.
Those Home Depot cabinet pulls worked with both our kitchen and bathroom cabinets and provided a wide enough grip to use on our upper cabinets. While we wish we could have updated the cabinets, the updated hardware completely changed the look and feel of our kitchen, and we've been happy with the results.
When looking at cabinet pull options, I recommend you look at styles that you like, colors that will withstand trends, and sizes of hardware that make it both functional and fun. With those added principals, you won't pick the wrong cabinet pulls!
Read More: