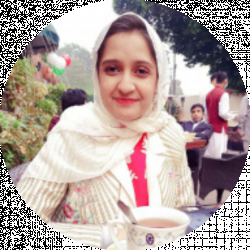 Latest posts by Zunaira Ghazal
(see all)
As a designer, I see many people agonize over what cabinet to pick every day. But you know what they overlook? The handles!
People just assume, "Oh, I've got the perfect paint color/finish, so I can be lax with the handle selection." Trust me – that should never be the case! Without the perfect handles, your cabinet is never going to look great!
I've been an interior designer for quite a few years, and black cabinet handles are one of my favorites! They're super charismatic, come in various designs, and are eye-catching when paired with the right cabinet finish. So, I aim to introduce you to some of the best black cabinet handles out there through this list. I hope you like them just as much as I do:
Bottom Line Up Front
There's just something so bold and eye-catching about black cabinet handles. But you need to make the right choice, and by that, I mean pair them with the right cabinet finish and style. This is where this list will help you. I've curated some of the best black cabinet handles out there, and I talk about how you can make them shine in your own way.
My personal favourite from this list is the Bird Shaped Black handle because I've honestly never seen something so unique. The sheer amount of detail on each knob is stunning. You'll love how they'll make a statement on your furniture piece!
Top Picks
My top picks from this list include:
Upscale Black & Brass Cabinet Handles
I love the posh, urban-chic vibe of these black handles. Plus, they've got gorgeous brass accents amidst all that black, which is another unique thing I noted about them!
Bird-Shaped Black Handles
Metallic and detailed, these handles are stunning. The bird-shaped sculpture will become a conversation starter once you install it on your furniture!
Hexagonal Cabinet Handles
The sleek, minimalist look of these handles instantly charmed me! I love how they feature a cool matte finish. I also love the subtle brass filigree along their edges. It would definitely go amazingly with a lovely modern cabinet unit!
Selection Criteria
Here's what I had in mind while curating this list for you guys:
Design Diversity
"Black Cabinet Handles" seems like a generic phrase, so I wanted to show the audience that there's a huge variety here. From modern to vintage, contemporary, eclectic and more, you'll find several styles on this list!
Uniqueness
I wanted every handle on this list to be as unique as possible. I admit to that being the hardest part, but to deliver a wide variety to you is certainly satisfying.
Cabinet Handles
​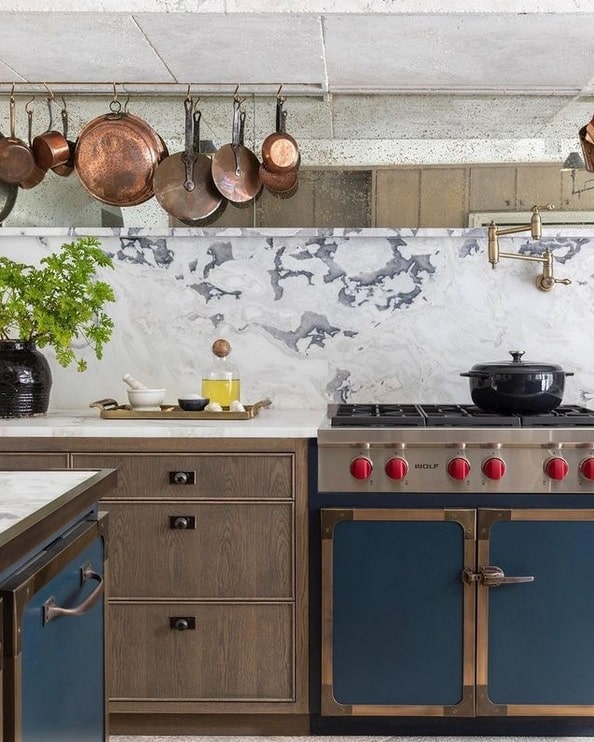 Round, black, and shiny! This cabinet handle features a fantastic, glossy body that would go well with any cabinet! But I like what they've done in this picture the best – the wood texture of the doors really makes the shiny finish of the knobs stand out. Both materials complement each other perfectly and give off a nice, harmonious vibe!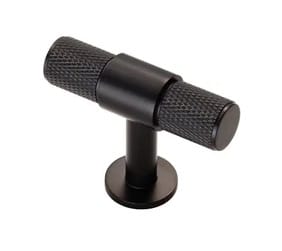 This T-shaped black cabinet handle attracted me because of its unique detailing. It's got this mixture of lovely texture that goes so well with the shiny bits. The glossy finish gives it that sophisticated look as well. It's effortlessly timeless and versatile, so you can pair it with many cabinet styles. I believe it would look just as amazing with wood as it might with something made out of metal.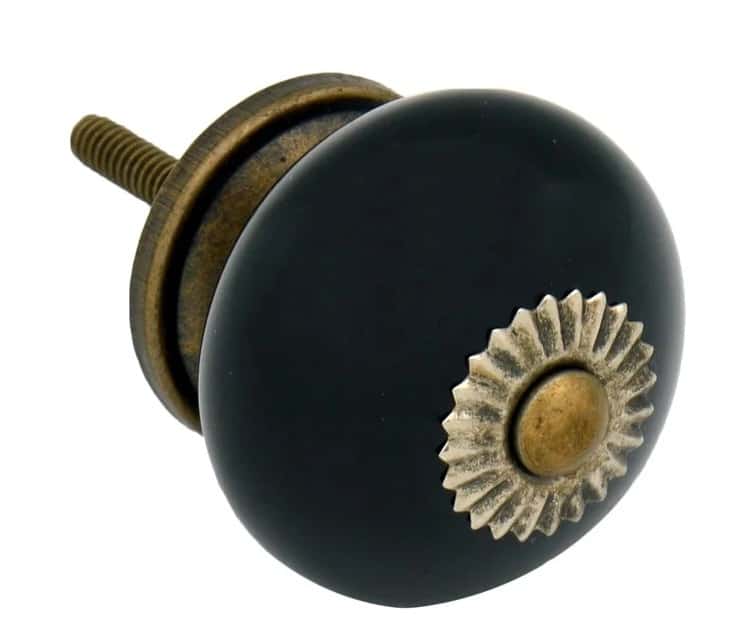 This lovely decorative black knob is one of the most unique ones you'll ever see. It's very compact and eclectic. I love how it brims with so much personality. I can imagine it paired with several cabinet styles, and it lends each one of them a ton of charisma! So, whether you're working with cabinets that are trim-and-modern or bold-and-classic, this black handle will go with them all.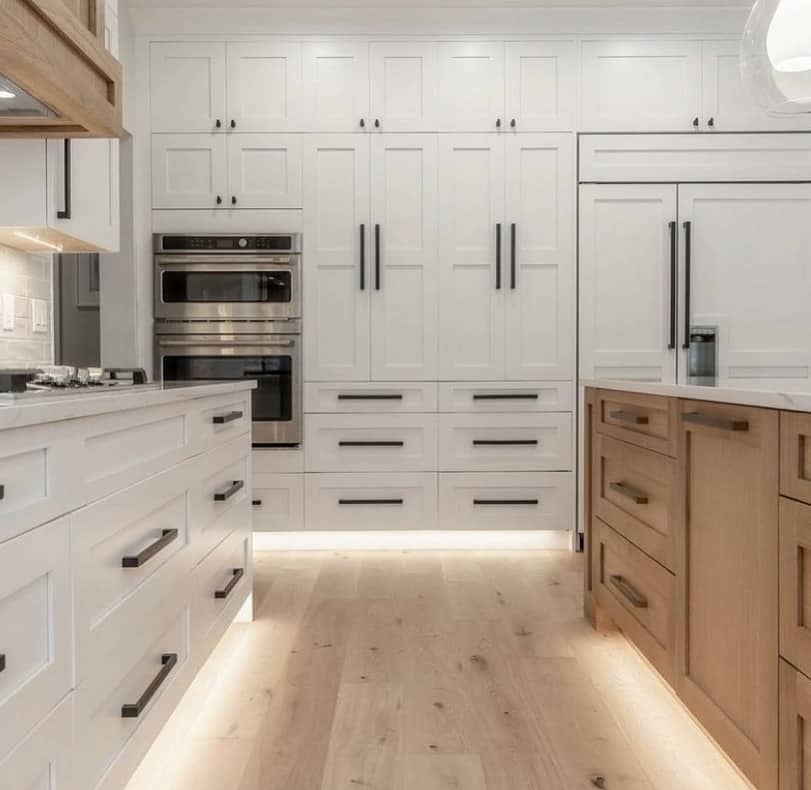 As a designer, I can assure you that the size of your cabinet handles matters greatly! That's because they are a really important part of the overall design, so you have to pick and choose their dimensions wisely.
I wanted to introduce these oversized elongated modern black handles on this list. At first glance, you'd dismiss them as typical. But take a closer look. Imagine them being smaller. It would seem unsettling, right? I love how their long, horizontal and vertical directions add charisma to the kitchen setup.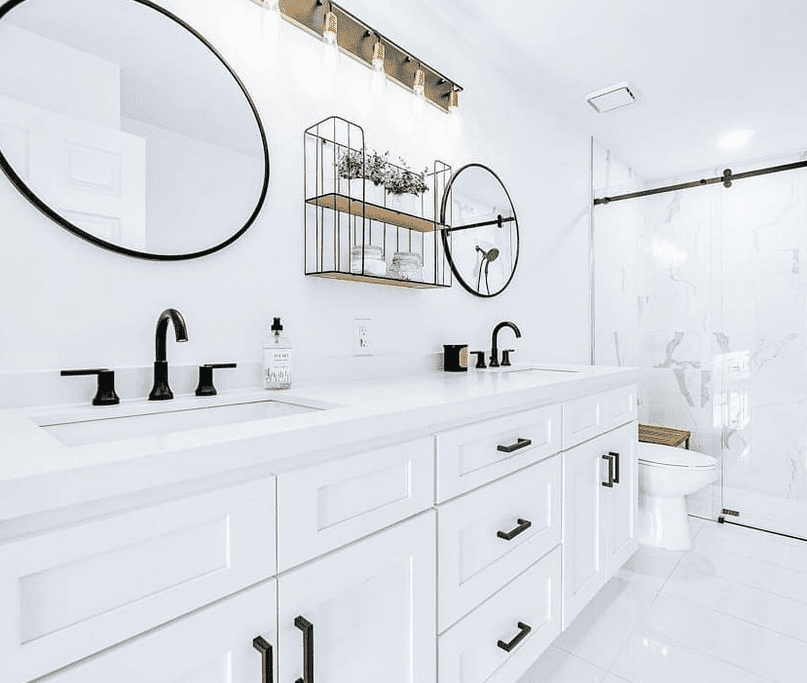 This is one of my favorite handle styles because it's so straight-laced and modern! All the sleek edges and clean lines excite the modernist in me, and this black interpretation is one of the best I've ever seen!
I also love how the black of the handles contrasts with the white finish of the cabinets here. It's all so striking and sophisticated! You'll likely see a combination like this in an upscale contemporary home magazine.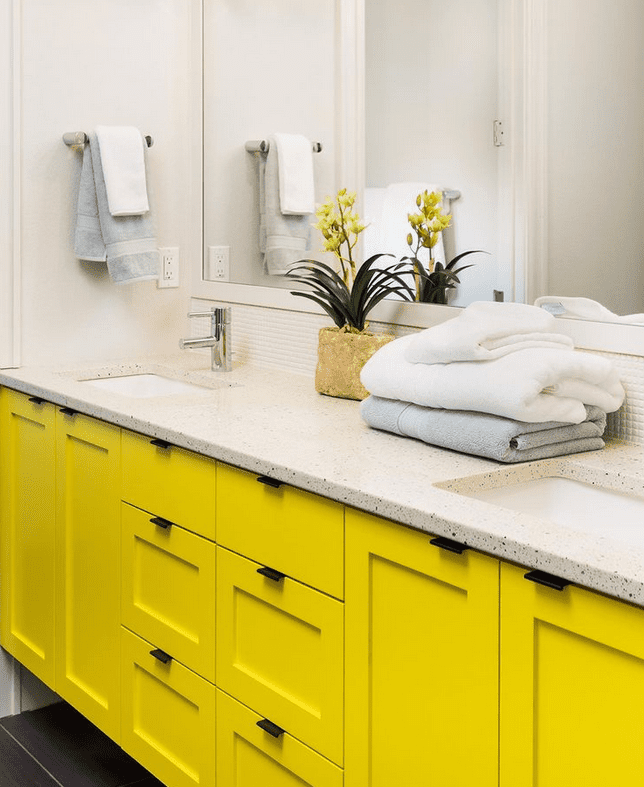 I absolutely adore the unique pullout style of these black cabinet handles. They're like a simple strip or tray you can pull to open the drawer/cabinet. Honestly, I've never seen anything like this before. Moreover, the slim handles paired with a bold cabinet color impresses me even more – because I can honestly say that the handles would not have stood out this much had the cabinets been finished in a darker shade.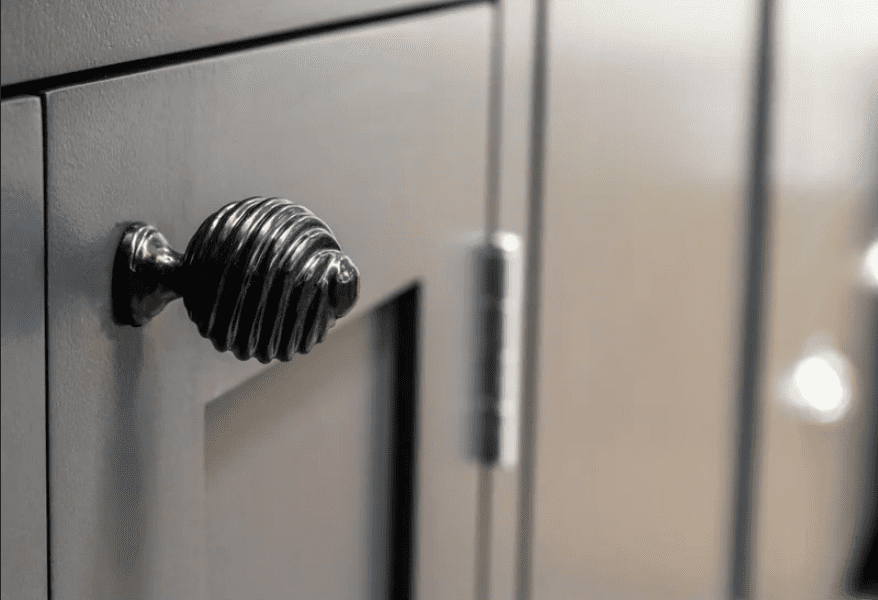 I love how elegant and sophisticated these black knobs are. Their bee-hive shape and artistic twist on the body give them a distinguished look. They are very dynamic, so I think that you should put these knobs on modern and minimalist cabinets. Shaker style is a great contender. They would fit nicely on the side of the panel and give the whole design a lovely, wholesome look.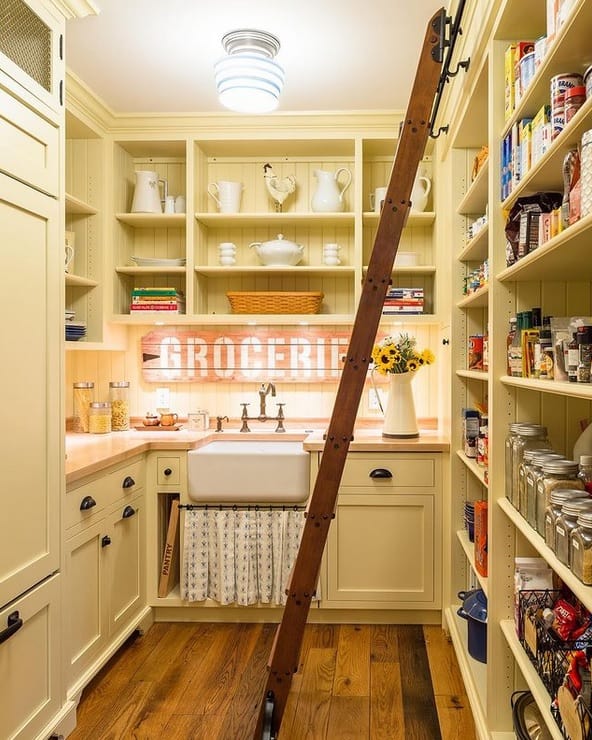 These circular vintage drawer and cabinet pulls stand out because of their black finish. You'll find some great brass variations in the market, but I love how these ones shine to their fullest, thanks to the funky, lime-yellow backdrop. In fact, it feels as if the whole ambiance has been specially curated to make the handles the center of attention – after all, they add a dynamism to the whole room and keep the eye moving from one point to another.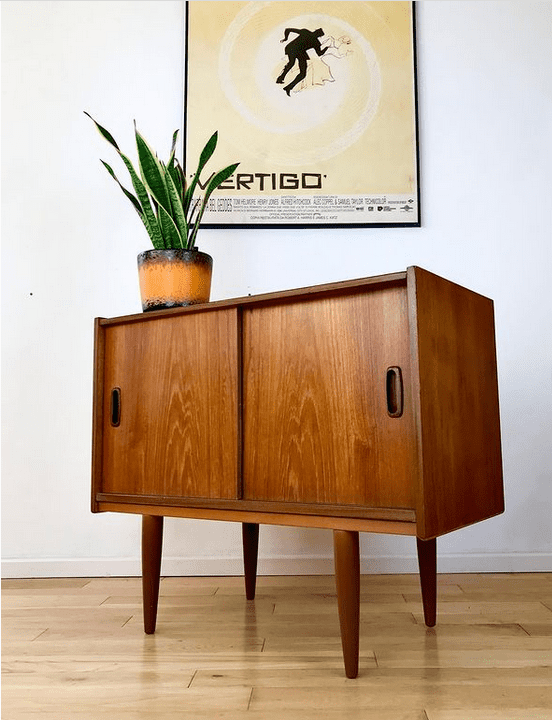 So, remember when mid-century modern furniture made a stylish comeback? These black handles represent that style – with a certain flair! Their built-in outlook is pragmatic, but the functional aspects do not take away from the design!
I admire the timeless nature of these handles a lot. The way they've been embedded within this midcentury cabinet sets them apart – and they can do so for other types of cabinet designs.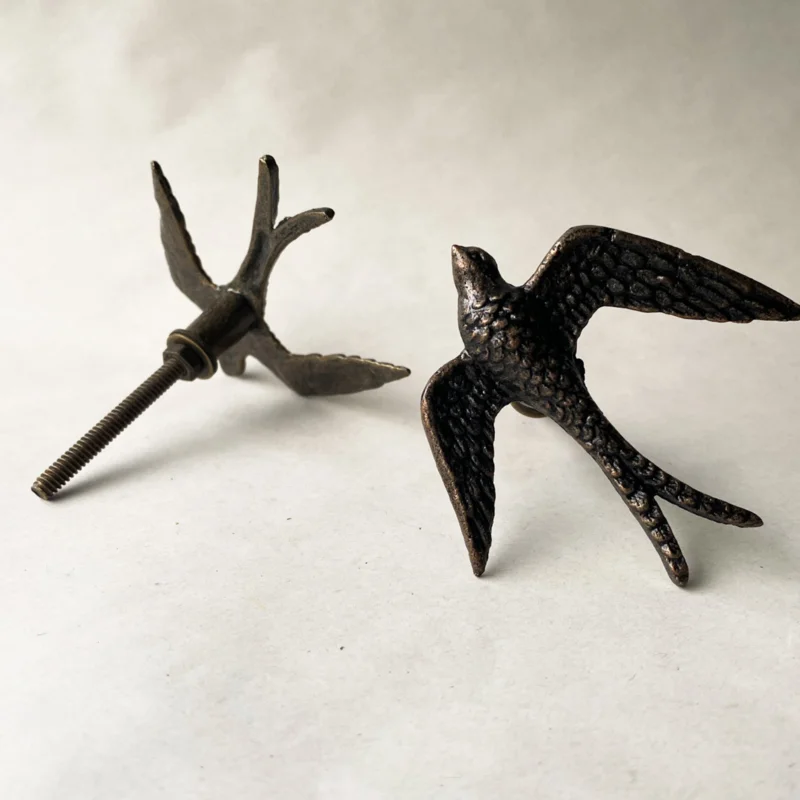 Whimsical and distinct, I was instantly drawn to these bird-shaped black handles. There's just something so…magical about them. I feel like this is something you'd find on an antique sideboard in an old, forgotten castle! So, if you're thinking about using them, try to think out of the box; pair them with a bold, eclectic, or vintage cabinet. Choose an aesthetic that would do justice to the beautiful detailing on each knob!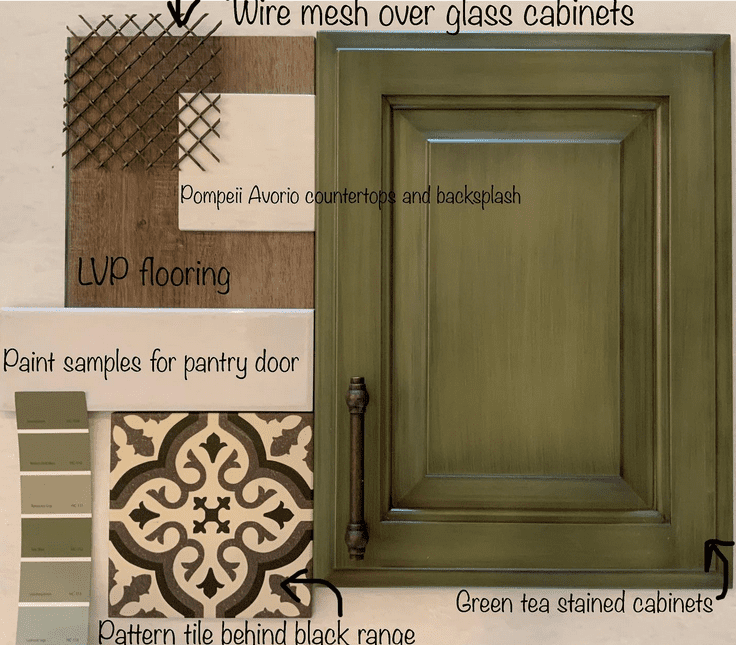 First of all, I am in LOVE with this mood board! It's so understated yet unique. Olive green cabinets are rare, but this aesthetic makes me want to get them right this second. The fact that they've been paired with antique black handles only adds charisma to their shaker-style aesthetic. If I were to implement this mood board somewhere, I'd make it an instant part of a residential project that's a cross between historic villa meets contemporary home!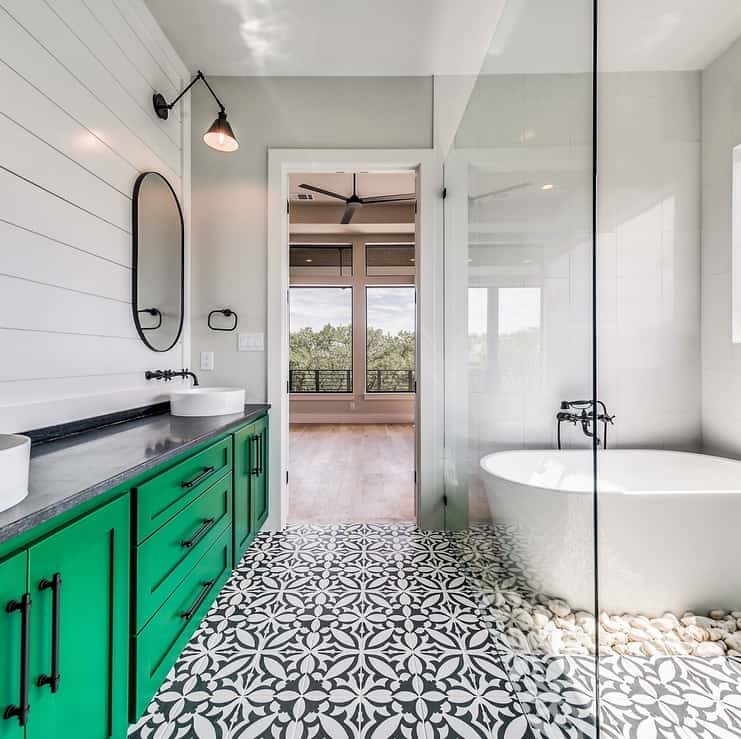 These contemporary black handles mostly stood out because of the cabinet color. The bold, brilliant green makes the handles stand out while adding an understated elegance to the design. The combination of the emerald cabinets, black handles, and patterned floor is absolutely genius! If I were designing a room that needed extra glam, then this is the combination I would go for!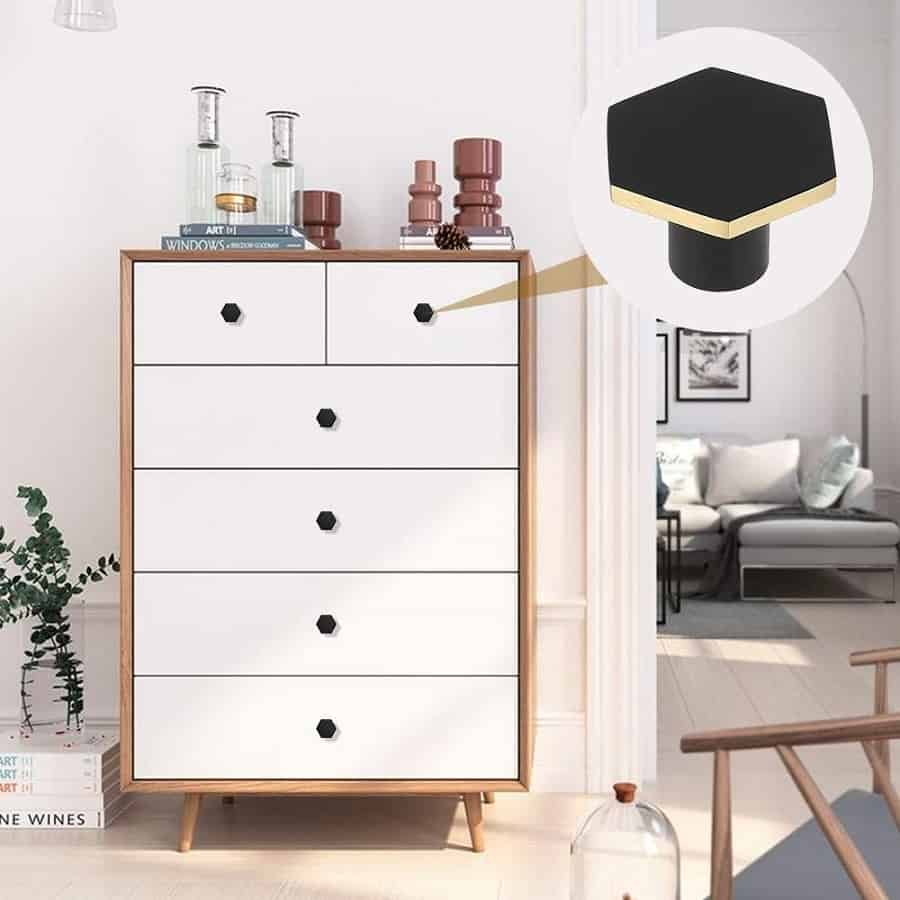 If you're searching for something smart, modern, and versatile, I'd steer you towards these lovely hexagon-shaped black cabinet handles. They're absolutely exemplary – I've seldom seen such an artistic style in the market. But that also means you'll have to pair them with a cabinet that can make them shine. There are two ways you could go about it; either choose something totally minimalist and matte-finished or go for a bold, eclectic cabinet in a brilliant pop of color to make it stand out.
The thing about these particular handles is that they seem straight-laced at first glance – but then you do a double-table and notice how they're curved at the front (or round-bellied, as I like to call them).
Here's a little secret from the design world: these curved handles are slightly more ergonomic than their straight counterparts. That's because they form-fit in your hand more easily. Moreover, I love how they've been paired with Paris grey bathroom cabinets – it's a unique combination as most such handles are usually paired with lighter paint colors. But this definitely works wonderfully as well.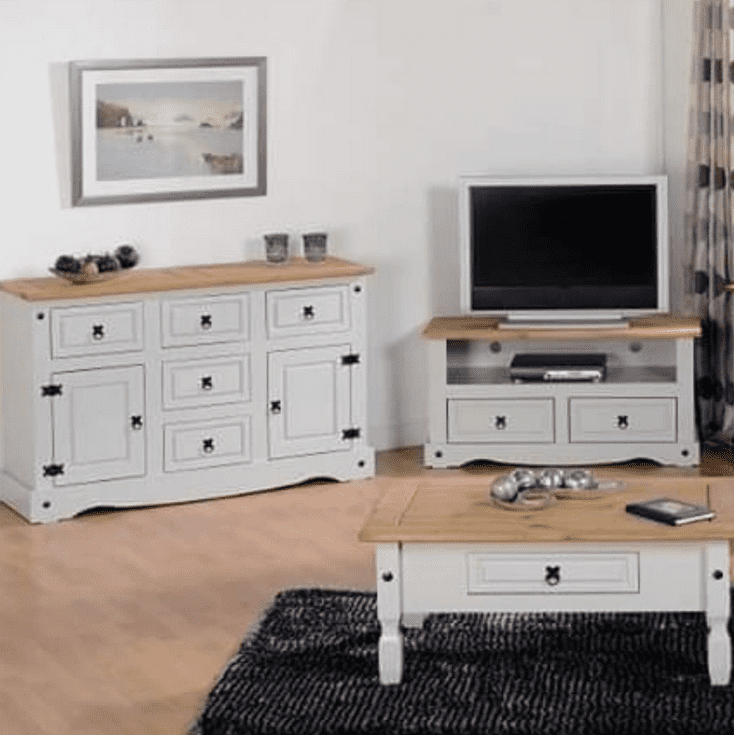 These black cabinet handles are cross-shaped – a design I've rarely seen before (and trust me, I survey the market a LOT). I like how they've been used in abundance throughout the whole cabinet. Just one or two would have gone unnoticed, but a whole plethora of them stand out beautifully against the warm white finish of the cabinet!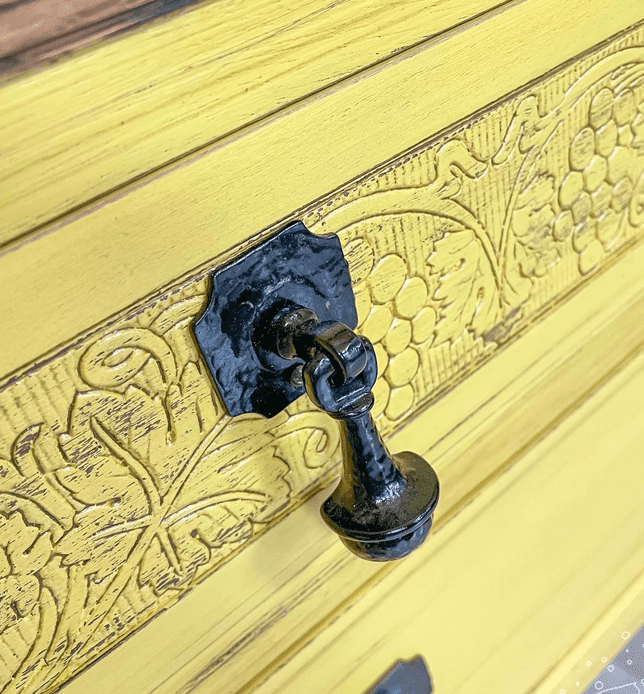 This antique vertical drawer pull in black is so unique! In fact, I really love the overall set-up of the cabinet! From the yellow finish to the colorful detailing and black handles, everything complements each other beautifully!
I think everyone would appreciate how the design of these pulls is not typical at all. Instead of a conventional handle, the knob is cantilevered in design. Plus, all the tiny detail on its surface makes it stand out. I feel like an antique/eclectic piece like this would truly shine when paired with a cabinet that is as unique as itself.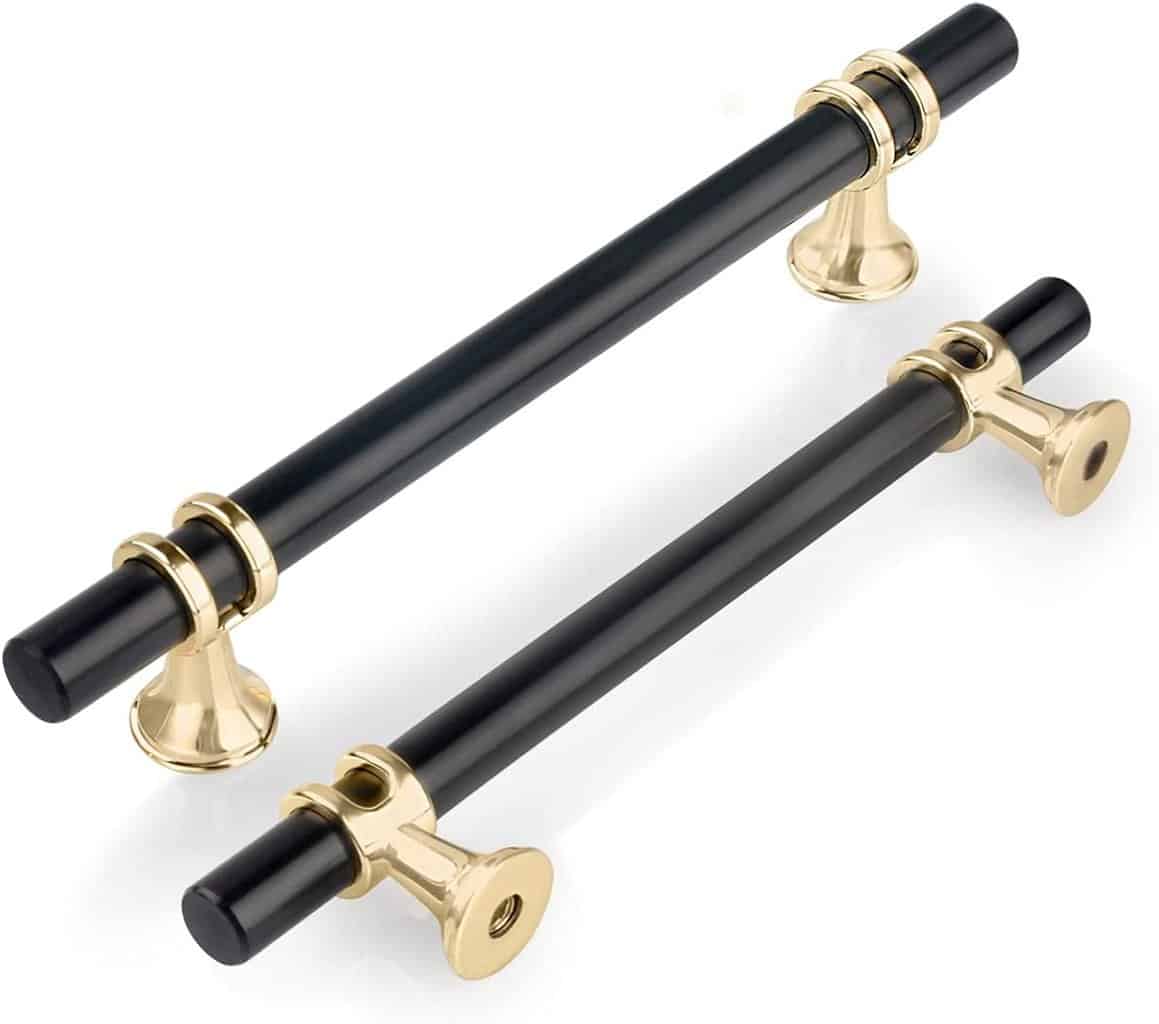 This black cabinet handle succinctly ends the age-old debacle between "black or gold!" I love how the entire body of the handle is finished in black, and then there are the small gold accents that completely shake everything up! If you have a solid-colored cabinet (be it black, navy, emerald, or even yellow), installing a handle like this would always add personality to it!
FAQs
Question: Which black handles should I choose for a traditional kitchen?
Answer: I would suggest you go for cup handles or antique handles, but it really depends on the paint finish of your cabinet.
Question: How to choose between knobs and handles?
Answer: Hmm, this is a tricky one. I think knobs are slightly less ergonomic, and handles or pulls feel more comfortable in hand. Ultimately it depends on you. I would suggest that you try out both options before picking one.
Question: Where do I put the handle on my cabinet?
Answer: This is another subjective question. You need to do some visual eye-balling to decide where you can put the handle. Bigger ones tend to be in the middle, while smaller ones can be placed either at the top or bottom of the cabinet door.
Conclusion
So, now you can see the huge variety in the black cabinet handle genre. With so many options, there's no wonder that they're one of the most used and coveted furniture accessories out there! My job as a designer has led me to see and experience a vast range of cabinet handles in the market, so I am very confident in presenting you these as the best out there.
That said, Bird Shaped Black Handles are my personal favorite from this list. I simply love their sculptural design and how detailed they actually are! I would definitely recommend these if you're searching for conversation starters.
Read More: